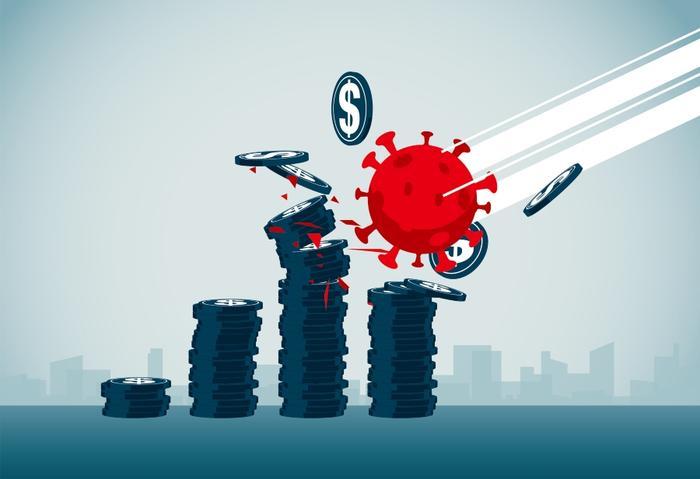 Coronavirus (COVID-19) tally as compiled by Johns Hopkins University. (Previous numbers in parentheses.)
Total U.S. confirmed cases: 6,036,569 (6,002,615)
Total U.S. deaths: 183,689 (183,203)
Total global cases: 25,533,086 (25,259,201)
Total global deaths: 851,647 (847,107)
Pandemic takes toll on Americans' emergency savings
Besides the rising toll on Americans' health, the coronavirus (COVID-19) pandemic has delivered a major hit to Americans' emergency savings. A SurveyMonkey poll finds that about 14 percent of consumers say they've exhausted their savings since the pandemic began.
But the economic pressure has had a positive effect as well. When asked to classify themselves as "savers" or "spenders," nearly half of both groups say they are now putting the emphasis on saving.
The survey also found that six out of every 10 Americans now consider themselves to be "savers," an increase of six points from a year ago.
GM to keep turning out ventilators 
GM and Ventec Life Systems are nearing the completion of their contract with the U.S. government to build ventilators at a GM facility, but the automaker expects the work will be extended to help the government stockpile the lifesaving equipment.
GM said it will lease a building on its Kokomo, Indiana campus to Ventec, the company that partnered with GM in April to produce a total of 30,000 ventilators. 
"The entire GM team stepped up and contributed for the greater good, but clearly our focus needs to be on automotive-related manufacturing," GM spokesman Dan Flores told CNBC. "Ventec is the expert here. We're going to step back and they're going to assume responsibility once the contract is filled."
Here's what's holding up another stimulus package
Republicans and Democrats have been at an impasse on a new round of pandemic relief measures for nearly a month. Until lately, there's been little sign of a breakthrough. But it turns out the two sides may agree on a lot of things that could help Americans.
White House Chief of Staff Mark Meadows says the biggest stumbling block is the issue of federal aid to states and municipalities. The Democrats have proposed $900 million while the Republicans have offered just $150 million.
In a broadcast interview, Meadows said the two sides agree on most of the other proposals, including another round of direct payments to Americans. Meadows said Republicans would offer a bill next week that includes just the items the two sides agree on, but Democrats have opposed that.
COVID-19 is shaping the future of education
When the pandemic hit, schools had to suddenly shift gears by closing classrooms and setting up online instruction almost overnight. Experts say that's likely to have a lasting impact on education.
The start of the fall term has been marked by tense debates between parents, who want their children back in class, and teachers, who are worried about health issues and want an extension of online instruction.
Bradley Marianno, a University of Nevada Las Vegas (UNLV) College of Education professor and expert on teachers' unions, says unions have led the fight against reopening classrooms in response to member concerns. He says educators will be required to resolve the inequities inherent in an online learning system since many low-income students lack the necessary resources.
Watch your language, you could be spreading COVID-19
Many factors undoubtedly determine how the coronavirus spreads, but a linguist from RUDN University has offered a novel explanation. The number of COVID-19 cases in a country might be related to the existence of aspirated consonants in its main language of communication. 
Languages heavy in words beginning with "p," "t," and "k" tend to expel more droplets into the air. If the person is infected with the coronavirus, that can cause its spread. Georgios Georgiou, Ph.D., a postdoctoral researcher at RUDN University, says the data can help create more accurate models to describe the spread of COVID-19.
He said it could explain why some nations have a lot of cases and other nations are less affected. "Although no clear relationship was observed, we do not rule out that the spread of COVID-19 can be partially due to the presence of aspirated consonants in a country's main language of communication," he said.
Around the nation
New York: New York City Mayor Bill de Blasio squashed hopes this week for an early return to indoor dining in the city. In fact, at a press briefing Monday, the mayor suggested that a return to some semblance of normal may have to wait until there's an approved vaccine.

Florida: The state has reached a milestone of sorts. On Monday, the state department of health reported 1,885 new cases of the coronavirus. It was the first time since June 15 that the daily count had been under 2,000. For much of July and August, the state recorded 5,000 new cases per day.

South Dakota: With its sparse population, South Dakota has avoided the spikes in coronavirus cases that some states have experienced -- until recently. State health officials say the number of positive tests has skyrocketed, mainly among college students who returned to campus two weeks ago.