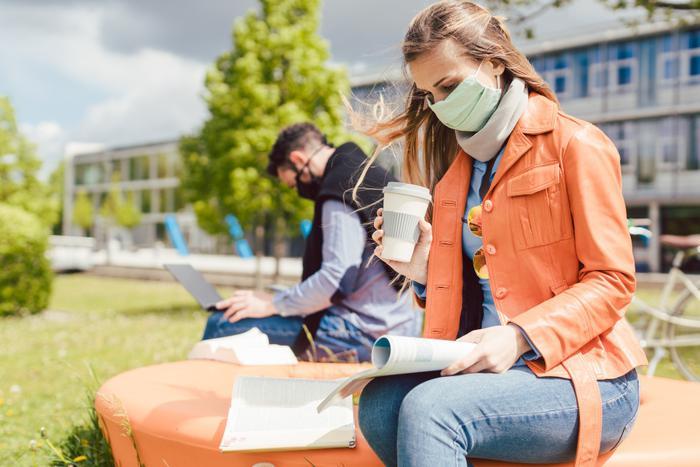 Coronavirus (COVID-19) tally as compiled by Johns Hopkins University. (Previous numbers in parentheses.)
Total U.S. confirmed cases: 5,838,695 (5,788,185)
Total U.S. deaths: 180,020 (178,758)
Total global cases: 24,242,062 (23,951,902)
Total global deaths: 827,165 (820,835)
A warning for college towns
Researchers at PolicyLab at Children's Hospital of Philadelphia (CHOP) say large Midwestern cities that are home to colleges will likely enter the fall with big increases in coronavirus (COVID-19) case counts. The researchers' models also suggest that New England cities, such as Boston, Providence, and Hartford, could see a significant coronavirus resurgence in the coming weeks.
The problem, they say, is that colleges are bringing students in from around the country and increasing the risk of the virus' spread. 
"America is on the move -- back to school, back home from vacation, back to some semblance of normal life -- and it remains to be seen how severely these transitions will impact the continued spread of COVID-19 as we head towards fall," said Dr. David Rubin, director of PolicyLab at CHOP
New jobless claims still top 1 million
Unemployment caused by the pandemic remains stubbornly high. The Labor Department reported that new claims for unemployment benefits came in just over 1 million last week. It was the 22nd out of 23 weeks that claims have been over 1 million.
The continued high level of new claims suggests that the economy is not recovering as quickly as hoped from the pandemic-induced economic shutdown. While many workers have been rehired, the economy continues to shed jobs.
"Continuing claims continue to drop, but still indicate a highly stressed labor market," Jamie Cox, managing partner at Harris Financial Group in Virginia, told CNBC. "Even a 1 million person drop in the total number unemployed isn't enough — there is a lot of work to be done because 14 million people are still receiving UI assistance of some kind."
Fast-results test gets fast-track authority
The U.S. Food and Drug Administration (FDA) has granted emergency authorization to a COVID-19 test that can be run in 15 minutes and doesn't require a lab to get the results.
The test is called BinaxNOW and is produced by Abbott Laboratories. The company is including an app that syncs up with the test results and gives people who test negative for the virus a "digital health pass" that they can display on their phone. 
"We intentionally designed the BinaxNOW test and NAVICA app so we could offer a comprehensive testing solution to help Americans feel more confident about their health and lives," said Robert B. Ford, Abbott's CEO.
COVID-19 will likely reduce 2020 car sales
The Freedonia Group, a market research firm, predicts that the COVID-19 pandemic will cut the value of U.S. car and truck sales by 23 percent from 2019 levels, with the number of units sold falling by nearly as much.
The reasons are not that hard to figure out. The researchers point to consumers' loss of disposable income, rising unemployment, and jolts to consumer confidence as the main catalysts leading to a reduction in retail vehicle sales.
On the bright side, low interest rates will make financing a vehicle more attractive to consumers, and the possibility of another round of stimulus from the government may help consumers overcome some of their COVID-19 hesitation.
It may be hard getting workers back in the office
A poll of workers by the Manpower Group shows that most believe the pandemic has permanently altered the work landscape, and they're fine with that. After health concerns for themselves and their family, the poll found that workers are most worried about returning to an old way of working and losing the flexibility they have gained
"What started as a health crisis has evolved into an economic and social crisis. While thankfully a small proportion of the population will be infected by COVID-19, 100 percent of us will be impacted by it," said Jonas Prising, ManpowerGroup chairman and CEO. 
The poll shows that workers overwhelmingly approve of working from home, saying it has vastly improved their work and family balance. Manpower concludes that companies offering the virtual workplace option may have an edge when it comes to recruiting and retaining employees.
Around the nation
Connecticut: State health officials say they have no plans to alter the state's current testing protocol to comply with changing CDC guidelines. The agency previously recommended against testing people who were exposed to the virus but were not displaying symptoms.

Texas: Schools have reopened this week, but with a twist. In most jurisdictions, classes will be conducted online for the first three weeks. After that, education and health officials will determine whether kids can go back to class.

South Carolina: South Carolina is the latest state to apply for the extra $300 a week in unemployment benefits under President Trump's executive order earlier this month. Gov. Henry McMaster and state employment leaders announced that the state has submitted its grant application for FEMA's Lost Wages Assistance (LWA) program.