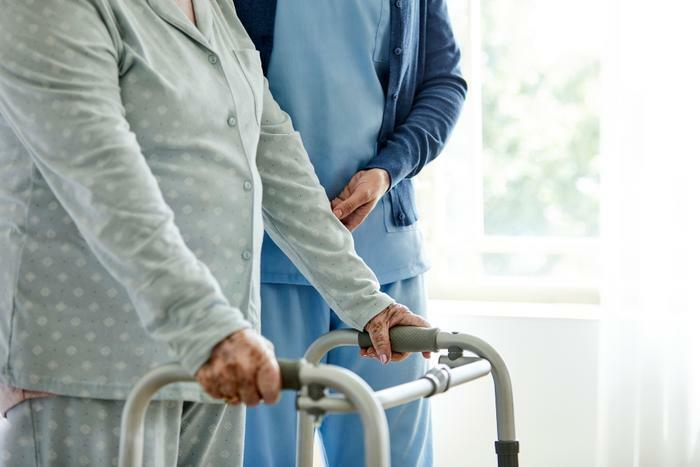 COVID-19 ‌tally‌ ‌as‌ ‌‌compiled‌‌ ‌by‌ ‌Johns‌ ‌Hopkins‌ ‌University.‌ ‌(Previous‌ ‌numbers‌ ‌in‌ ‌parentheses.)‌
Total‌ ‌U.S.‌ ‌confirmed‌ ‌cases:‌ 90,977,761 (90,739,623)
Total‌ ‌U.S.‌ ‌deaths:‌ 1,028,819 (1,027,924)
Total‌ ‌global‌ ‌cases:‌ 573,920,711 (572,665,174)
Total ‌global‌ ‌deaths:‌ 6,393,783 (6,389,649)‌
New COVID-19 cases on the rise in nursing homes
At the beginning of the COVID-19 pandemic more than two years ago, staff and residents of America's nursing homes were the first to suffer outbreaks. Health officials now say nursing homes are seeing a new increase in cases.
AARP reports that one in 35 nursing home residents in the U.S. tested positive for COVID-19 in June. That's a 27% increase from May. The death rate also nearly doubled, rising to 0.07 deaths per 100 residents.
"This is a level of cases that's comparable to what we saw during the first COVID summer in 2020," said Ari Hauser, a senior analyst for AARP's Public Policy Institute.
Drug companies struggle to improve vaccines
The current COVID-19 vaccines are highly effective against the original strain of the virus, but they offer less protection against the variants and subvariants that are currently causing most infections. The White House has urged drug companies to come up with more effective versions of their vaccines.
"The vaccines we have are terrific, but we can do better than terrific," said Ashish Jha, the White House's COVID-19 response coordinator.
But according to Science Magazine, drugmakers face challenges. Not only is funding for new research tight, but the sense of urgency surrounding the pandemic has dissipated. While current vaccines are much less effective at blocking infections, infections in vaccinated people tend to be much less severe.
Sensory loss can last for months
One of the symptoms of COVID-19 is a loss of taste and smell. It's usually just a temporary condition, but it can last for a very long time for millions of people who suffer from a condition called "long COVID."
An analysis published in the BMJ (British Medical Journal) found that about 5% of former COVID-19 patients – about 27 million people globally –couldn't smell or taste for months after recovering from the virus.
The analysis looked at 18 previous studies of sensory loss around the world. About three-quarters of those affected by a loss of taste or smell from COVID-19 were able to regain those senses within 30 days of recovery.
Around the nation