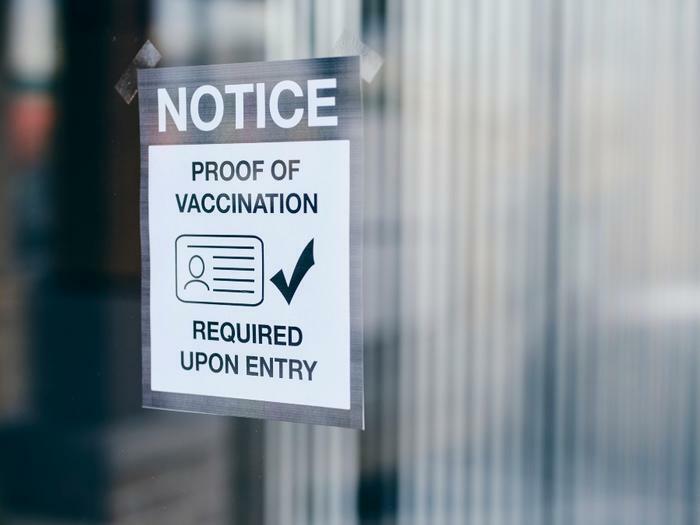 COVID-19 ‌tally‌ ‌as‌ ‌‌compiled‌‌ ‌by‌ ‌Johns‌ ‌Hopkins‌ ‌University.‌ ‌(Previous‌ ‌numbers‌ ‌in‌ ‌parentheses.)‌
Total‌ ‌U.S.‌ ‌confirmed‌ ‌cases:‌ 72,195,617 (71,711,514)
Total‌ ‌U.S.‌ ‌deaths:‌ 872,370 (868,530)
Total‌ ‌global‌ ‌cases:‌ 359,362,908 (355,591,211)
Total‌ ‌global‌ ‌deaths:‌ 5,619,931 (5,606,929)‌
Biden drops plan to pursue vaccination mandate
The Biden administration said it does not plan to try to force large, private businesses to require employees to be vaccinated against COVID-19. Earlier this month, the U.S. Supreme Court blocked the administration's emergency temporary standard that was part of a private employer mandate.
In a statement, officials at the Occupational Safety and Health Administration (OSHA) said the mandate is being abandoned, at least for the time being.
"Although OSHA is withdrawing the vaccination and testing ETS as an enforceable emergency temporary standard, the agency is not withdrawing the ETS as a proposed rule," the statement said. "The agency is prioritizing its resources to focus on finalizing a permanent COVID-19 Healthcare Standard."
Omicron deaths are rising in the U.S.
Hospitalizations have begun to fall, along with new cases of COVID-19 in some areas. However, nationwide deaths from the Omicron variant have now exceeded the number of lives claimed by the Delta variant.
Health experts say it's a numbers game. While it's true that Omicron symptoms tend to be milder than Delta symptoms, it's more transmissible, meaning many more people are getting it. If those people are unvaccinated or have chronic health issues, Omicron can be just as serious as Delta.
Doctors also point out that deaths from COVID-19 have always been a lagging indicator of the virus' spread. They say deaths usually continue to rise after new cases have peaked.
Researchers say there are two paths to 'super-immunity'
There's been a lot of debate about whether vaccination or recovering from the coronavirus offers the best protection. Scientists at Oregon Science and Health University (OHSU) say they're both pretty effective, as long as the recovered patient then gets vaccinated.
Their study finds that two forms of immunity – breakthrough infections following vaccination or natural infection followed by vaccination – provide roughly equal levels of enhanced immune protection.
"It makes no difference whether you get infected-and-then-vaccinated, or if you get vaccinated-and-then-a-breakthrough infection," said co-senior author Fikadu Tafesse, assistant professor of molecular microbiology and immunology in the OHSU School of Medicine. "In either case, you will get a really, really robust immune response – amazingly high."
Around the nation