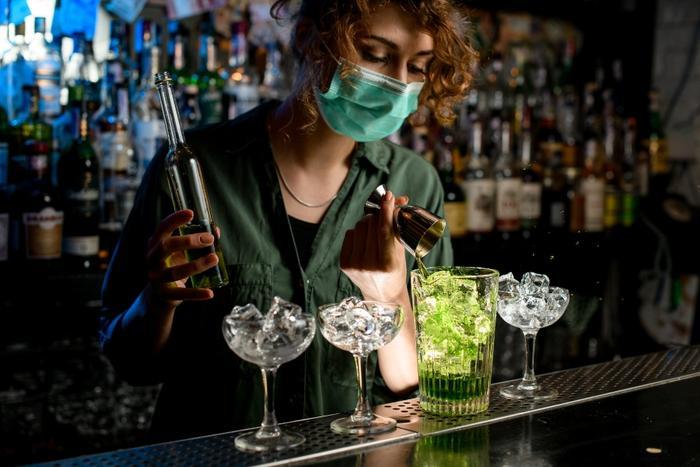 Coronavirus (COVID-19) tally as compiled by Johns Hopkins University. (Previous numbers in parentheses.)
Total U.S. confirmed cases: 2,141,306 (2,118,798)
Total U.S. deaths: 117,033 (116,191)
Total global cases: 8,214,571 (8,075,962)
Total global deaths: 444, 853 (437,604)
Bars are becoming hotspots
States that reopened first are seeing a surge of new coronavirus (COVID-19) cases, and at least one governor thinks bars are at least partially to blame. Texas Gov. Greg Abbott says the new cases the state is seeing largely include young people from "bar-type settings."
The connection may be a little clearer in Florida. A group of 16 friends who had gathered at a bar to celebrate a birthday all tested positive for the virus, along with six bar employees. Three of the friends related their story to CNN's Chris Cuomo.
The young people said the bar was crowded that night and no one was wearing masks.
Pandemic causes widespread hunger
A researcher at Brookings has reported on another health side effect of the pandemic: food-insecure households are finding it even harder to put food on the table.
"Rates of food insecurity observed in April 2020 are also meaningfully higher than at any point for which there is comparable data," the author writes. "Looking over time, particularly to the relatively small increase in child food insecurity during the Great Recession, it is clear that young children are experiencing food insecurity to an extent unprecedented in modern times."
There are reportedly a number of contributing factors, including sudden and widespread unemployment and a run on food banks in urban areas that exhausted supplies.
It's showtime
Cinemark has announced the phased reopening of its movie theaters in the U.S., which have been closed since the pandemic shut down much of the economy. 
The company says it will begin a four-phased reopening with select Dallas-area theatres beginning Friday, June 19. The other phases will take place between July 3 and July 17. 
"All will reopen with enhanced cleaning and sanitizing protocols and showcase some of moviegoers' favorite films before welcoming this year's newest hits," the company said in a press release.
A tool helps predict where the virus will spike
Along with contact tracing, health officials need timely access to highly localized data to help predict which areas will suffer an increase in coronavirus cases or may be more at risk.
A new city-oriented COVID-19 Local Risk Index is designed to help leaders identify cities and neighborhoods with populations at higher risk of infection and more severe illness by incorporating key risk factors of race and ethnicity, age, household crowding, poverty, and underlying health conditions like diabetes and obesity.  
The new Index is now available on the City Health Dashboard, an online resource containing data for 750 cities. It was developed by researchers at NYU Grossman School of Medicine with support from the Robert Wood Johnson Foundation.
Trump asked to move his rally
President Trump plans to hold a political rally Saturday in Tulsa, but the New York Times reports that the president is being asked to move the venue. Currently, it's scheduled to be held indoors in a 20,000 seat arena.
"It's the perfect storm of potential over-the-top disease transmission," Bruce Dart, the executive director of Tulsa's health department, told the Times.
The Trump campaign has reportedly been asked to either postpone the rally or move it to an outdoor venue, where the risk of transmission is lower.
Around the nation
Arizona: The state's spike in coronavirus cases is growing, and health officials are increasingly worried about the strain on hospitals. Doctors also say many of the new cases are young people, who might have thought they were less vulnerable. 

New Jersey: Christopher Neuwirth, a former New Jersey Health Department official, says he was fired from his job early in the pandemic when he refused to give coronavirus tests to Gov. Phil Murphy's chief of staff and family members. Neuwirth filed a wrongful termination suit against the state on Tuesday.

South Carolina: A group of state educators has submitted proposals to safely reopen schools in the fall. Taskforce members say parents and students should prepare for changes. "While much of what happens in the fall is uncertain, we do know for certain that things are going to look different," said Dr. Latoya Dixon, director of Elementary Programs and Gifted Education at York County District One.