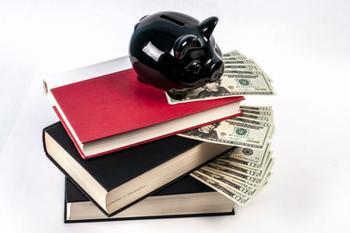 Besides skyrocketing tuition, college students have long complained about the high cost of textbooks. A racket, some have charged.
So the brainchild of a University of Rhode Island student may have come at just the right time. Anthony Markey built an ecommerce site where students can sell their used textbooks to other students.
The idea is this: the selling students would get a fair price but the buyers would save lots of money over buying them new. Last year, Markey placed third at the Rhode Island Business Plan Elevator Pitch Contest in late November. The following month, he was invited to attend the first MassChallenge Bridge to Rhode Island Bootcamp, where he was one of 12 finalists.
The site, at www.uselibby.com, not only sets up student-to-student textbook transactions, it also helps students find a better deal if it's available on commercial textbook sites like AbeBooks, ValoreBooks, and Chegg.
Up 1000% since 1977
A year and a half ago NBC News aired a report on the soaring cost of college textbooks, noting they have risen over 1,000% since 1977. NBC interviewed an academic publishing expert who likened the sale of college textbooks to the marketing of pharmaceuticals.
"They've been able to keep raising prices because students are 'captive consumers.' They have to buy whatever books they're assigned," Nicole Allen, a spokeswoman for the Scholarly Publishing and Academic Resources Coalition, told the network.
Markey, an accounting major, and Laionel Cintron, a recent Stetson University graduate, worked up the proposal after Markey tried to sell some slightly used textbooks through online retailers and got very little for them.
Just want what's fair
"We started Libby because we felt college students don't receive a fair resale value for their textbooks through the traditional options like the bookstore and online retailers," Markey said. "These options buy back textbooks at low prices and sell them at much higher prices, profiting at the expense of students. Our goal is to encourage the fair resale value of used textbooks."
It sounds like a recipe for disruption, much the way Amazon became a disruptive force in book selling two decades ago. Markey doesn't shy away from the comparison, but says there is an important distinction between his start-up and the online retail behemouth.
"Libby is solely dedicated to the fair resale of used textbooks," he said. "Also, Libby is specific to each college and university and offers a tailored experience for students, such as being able to search for textbooks by specific courses and professors."
And unlike most textbook companies that he says "buy low and sell high," his goal is for Libby to put the power back into the hands of students.
"It is hard to compare a startup to the likes of Amazon, but I am certain that Libby will disrupt the way college students buy and sell textbooks," Markey said.