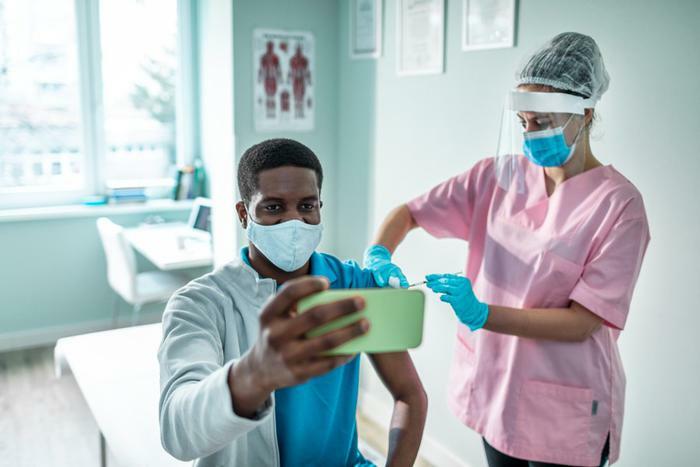 People who are completely vaccinated have been advised to continue wearing masks and stay six feet apart to protect others. Now, a new study from the Centers for Disease Control and Prevention (CDC) suggests that may be unnecessary.
Previously, researchers weren't sure if fully vaccinated people could somehow carry the virus and spread it to others, even if they didn't get sick. They studied thousands of fully vaccinated first responders and have now concluded that it is highly unlikely that vaccinated people can carry the disease.
"Authorized mRNA COVID-19 vaccines are effective for preventing SARS-CoV-2 infection in real-world conditions," the authors of the study wrote. "COVID-19 vaccination is recommended for all eligible persons."
Dr. Rochelle Walensky, director of the CDC, put it this way: "Vaccinated people do not carry the virus, they don't get sick," she said on MSNBC. "That's not just in the clinical trials, but it's also in real-world data."
The study focused exclusively on the mRNA vaccines -- those produced by Moderna and jointly by Pfizer and BioNTech. The study did not include people who got the Johnson & Johnson vaccine, but the same principle may apply.
If you aren't infected, you can't spread it
In short, the researchers determined that if you aren't infected with the virus and are vaccinated, you can't spread it to others who have not been vaccinated. So, can fully vaccinated people toss their face masks in the trash? The CDC isn't quite ready to say that.
The health agency has not issued new guidance on how vaccinated people should behave in public. Until it does, the current policy is that the vaccinated population should continue to mask up in public and take other precautions.
But the CDC study is evidence that the day when things start getting "back to normal" may not be that far off.