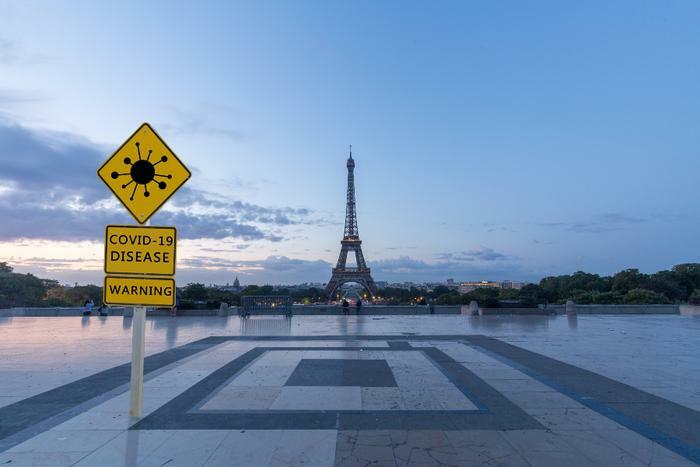 Are you planning on traveling outside of the U.S. anytime soon? If you are, then you should be aware that the Centers for Disease Control and Prevention (CDC) just added seven international destinations to its "Very High" COVID-19 travel risk list. 
Just a week ago, the CDC added 16 to the highest level of its riskiest places to visit.
At the top of the list is France, where more than 3 million Americans visit each year to take in the Louvre, Eiffel Tower, Euro Disneyland, and sip on a little Beaujolais. The other six include Aruba, Eswatini (aka Swaziland), French Polynesia, Iceland, Israel, and Thailand.
To be clear, the CDC doesn't say you "can't" go to these places. Rather, it says you should "avoid" traveling to these places. But if you "must," the agency says you should be fully vaccinated before traveling.
Delta variant flips Iceland on its head
One might look at that list and question why Iceland was mentioned. Yes, the same country that was a shining example of protecting its own citizens and monitoring travelers against the coronavirus has now reversed course. 
Less than two months ago, the average number of new daily COVID-19 cases in Iceland was… one. Pandemic watchers say that was primarily a result of the country's vaccination rate -- 96% of females and 90% of males 16 years or older have received at least one dose of a COVID-19 vaccine, making it the third-highest vaccinated country in the world behind Malta and the U.A.E.
In fact, things were so good that the Reykjavík government felt that it had beaten the pandemic and lifted almost all restrictions. Then came the Delta variant, and all bets were off. Iceland's 7-day average for new cases is now well over 100.
The positive impact of vaccination
While travelers who'd like to go to Iceland might have to press pause for a while, the country feels that its high vaccination rate is paying dividends when it comes to reducing the impact of the Delta variant. 
"Evidence shows that the vaccines used in Iceland protect about 60% of those fully vaccinated against any kind of infection caused by the Delta variant of the virus and over 90% against serious illnesses," Iceland's Director-General Bryndís Kjartansdóttir said.
Kjartansdóttir reported that nearly 97% of those infected have experienced mild or no symptoms. While that's a good selling point, the country as a whole has decided to wage an all-out war on the virus. It's preparing to roll out the Pfizer vaccine among 12- to 15-year-olds, bring back travel and social distancing restrictions, and once again require masks.
"This and other pandemics are here to stay," Páll Matthíasson, director of Iceland's National University Hospital, reminded the Icelanders. "We must strengthen the healthcare system so that it is not always on the brink of collapse. We are all in the same boat in this society. It's a pretty good boat despite everything, but we must work together to ensure success."