---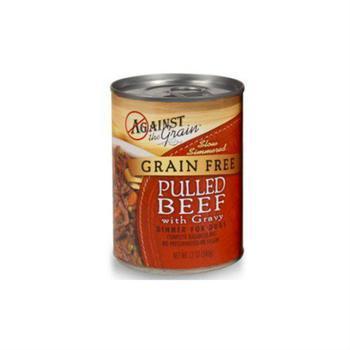 Against the Grain Pet Food is initiating a recall for one lot of its "Against the Grain Pulled Beef with Gravy Dinner for Dogs" dog food. Company officials say that the product may be contaminated with pentobarbital.
Pentobarbital is a barbiturate that can cause several side effects for dogs who consume it, including drowsiness, dizziness, excitement, loss of balance, nausea nystagmus (wherein the eyes move back and forth in a jerky manner), inability to stand, and coma. 
The product was manufactured and distributed in 2015 and has an expiration date of December, 2019. The lot number on affected products is 2415E01ATB12 and the second half of the universal product code (UPC) is 80001. These figures can be found on the back of the product label. 
What to do
There have been no complaints reported to Against the Grain about the product at this time. However, consumers in possession of recalled cans are urged not to feed it to the food to pets. 
The company recommends returning the product to the place of purchase. Consumers who do so will receive a full case of Against the Grain food for any inconvenience.
For more information, consumers can contact the company at 1-800-288-6796, Monday through Friday, between 11:00 a.m. and 4:00 p.m. CST.
---