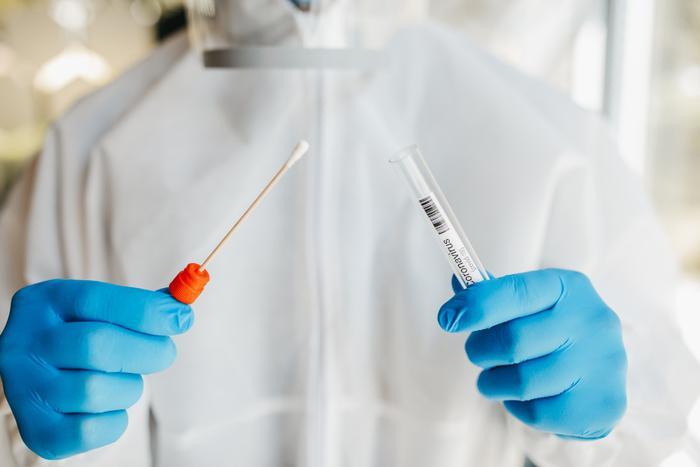 Abbott Laboratories has received emergency authorization by the FDA for use of a $5 COVID-19 test that could help mitigate testing shortages and delays in the United States. 
The test, called BinaxNOW, works without lab equipment. Like the standard COVID-19 test, BinaxNOW uses a nasal swab. However, the new test also uses a small reactive card and lateral flow technology to detect an antigen collected from inside the nose. 
In a clinical study, the test demonstrated a sensitivity of 97.1 percent. The test can be administered by doctors, nurses, school nurses, pharmacists, and a range of other health care workers "with minimal training and a patient prescription," Abbott said in a press release.  
Antigen tests
Abbott plans to manufacture about 50 million tests per month by the end of October in an effort to address a rise in demand as consumers return to school and work. 
"The massive scale of this test and app will allow tens of millions of people to have access to rapid and reliable testing," said Joseph Petrosino, Ph.D., professor and chairman, Molecular Virology and Microbiology, Baylor College of Medicine. 
"With lab-based tests, you get excellent sensitivity but might have to wait days or longer to get the results. With a rapid antigen test, you get a result right away, getting infectious people off the streets and into quarantine so they don't spread the virus."
Charles Chiu, a professor of Laboratory Medicine at University of California, San Francisco, said the availability of rapid testing for COVID-19 will "help support overburdened laboratories, accelerate turnaround times and greatly expand access to people who need it."
Abbott plans to start shipping out the rapid antigen tests in two weeks. 
Mobile app connected to test
Abbott is also launching a mobile app called Navica that will allow people to keep an electronic record of their COVID-19 status. Those with a positive result will be told to quarantine and consult with their physician, while those with a negative result will be able to resume their normal activities. 
"While BinaxNOW is the hardware that makes knowing your COVID-19 status possible, the NAVICA app is the digital network that allows people to share that information with those who need to know," said Robert B. Ford, president and chief executive officer, Abbott.
"We're taking our know-how from our digitally-connected medical devices and applying it to our diagnostics at a time when people expect their health information to be digital and readily accessible."