Where to buy wardrobe boxes
Move your clothing without the hassle



Written by

Edited by
Find Moving Companies near you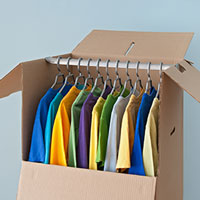 Moving is a stressful experience, whether it's across the country or to the other side of town. Either way, you need a plan to get your belongings from point A to point B in one piece and within a time frame that works with your schedule.
The key to an efficient move is ensuring you have the right supplies for the job. This requires finding enough boxes — and the right size boxes — to accommodate all your things. You may find that you want at least a couple of wardrobe boxes. Most people don't keep these on hand, so we have tips on how to get your hands on one (or two or three) to protect your possessions and simplify your move.
---
Key insights
Wardrobe boxes take up a lot of space, but they can significantly streamline your moving process.
You can use wardrobe boxes for more than just hanging clothes.
Wardrobe boxes come in several sizes, so assess your needs before buying one.
How to pack a wardrobe box
A wardrobe box is essentially a makeshift closet that lets you hang clothing for shipping rather than folding and stacking it in a regular cardboard box. It can make packing and unpacking a breeze, protect items from damage and give you an instant wrinkle-free wardrobe when you get settled in your new home.
If you know your things will be in a storage facility for several months while you're between housing, a wardrobe box can ensure your clothes stay looking sharp.
Wardrobe boxes come with a metal rod across the top for hanging clothing (much like a portable closet).
The number of wardrobe boxes you need and how you pack them depends on a few things. Every wardrobe box has a metal rod across the top that's roughly 2 feet long, so you can calculate how many boxes you'll need by measuring the total hanging space in your closets.
Some people opt for wardrobe boxes for everything in their closet, including bulky winter clothing, while others fold some items and leave others on the hangers.
In general, less bulky items, like blouses or skirts, can be packed more tightly, while larger items (winter coats and evening wear) will take up more space. Because of this, it's best to approach your packing in terms of how much space your clothing takes up rather than how many items total you'll be able to fit in.
If your closet is tightly packed, you may want to purchase an extra wardrobe box to ensure enough space so there's no damage to your clothes during transit. You can maximize your space by paying attention to how you pack.
"When it comes to wardrobe boxes, it can sometimes be a good idea to pack things in the bottom of the box before adding your hanging clothes on top," advised Roland Foss, senior operations manager of Bellhop, a moving company, in Phoenix.
Foss suggested packing lighter items in the bottom of the box before hanging up clothing on the metal rod to avoid unintentional damage. However, if you do add a lot of weight to the bottom, he reinforcing the bottom with extra tape and label it appropriately so your movers know what they're getting into. A large wardrobe box shouldn't exceed 50 pounds, though in some cases your movers may be able to use strapping materials to give it extra strength and rigidity.
Some professionals recommend placing your clothing in plastic garbage bags first to protect against rain damage, but if you're using a reputable mover this shouldn't be much of an issue. However, if you feel better knowing your wedding dress or grandmother's fur coat has that extra level of protection, it can't hurt.
If you're feeling overwhelmed by the packing process or don't have enough time to do the job yourself, consider hiring a professional packing and moving servicer to do everything for you. For some, hiring a full-service mover makes sense; you can focus on other tasks, such as finding a new apartment, new job or new school for your children.
Wardrobe box dimensions
Even the smallest wardrobe box is still significantly larger than a standard packing box. Most wardrobe boxes are 20 to 24 inches wide by at least 24 inches long, but they vary in height. Shorter wardrobe boxes are typically around 36 inches tall and are ideal for holding smaller items like shirts or sports jackets. Shorter boxes will have less room at the bottom for storing other items, but they should still be able to hold a good amount of clothing.
The larger boxes go up to 48 or even 60 inches tall and can accommodate longer clothing items like dresses, overcoats or suits. All wardrobe boxes come with a metal bar across the top so you can easily transfer clothing directly from your closet to the box. Note that the boxes will come disassembled when you buy them, but putting them together and inserting the metal rod will take hardly any time at all.
Average wardrobe box size
| | Height | Width | Length |
| --- | --- | --- | --- |
| Short | 34" to 36" | 20" to 24" | 24" |
| Medium | 44" to 48" | 18" | 18" |
| Large | 48" to 60" | 24" | 24" |
| Laydown | 10" | 21" | 36" |
There are also laydown wardrobe boxes (or "flat" wardrobe boxes) intended for storing bulky items like folded sweaters, towels or robes that don't need to be hung, but they may require more room than a standard box. These boxes have the added benefit of being able to slide easily underneath most beds for storage. Consider using a laydown wardrobe box for off-season clothing you won't need for several months after your move.
How much are wardrobe boxes?
An individual wardrobe box usually costs $10 to $24, but your total price will depend on the retailer, what size box you choose and how many boxes you need. If you only need two boxes, plan on spending around $30; however, this doesn't include shipping costs, which can add up due to the boxes' size.
You may be able to get them cheaper by buying multiple boxes at once, and many stores and online retailers sell them in sets of three or more. Because wardrobe boxes are significantly more expensive than other packing boxes, you may wish to use them just for your most valuable or cherished clothing items.
Calculating how many wardrobe boxes you need is fairly straightforward since the average box has a 2-foot-long metal rod. So, if your closet is six feet wide, you'll need three wardrobe boxes to fit all your clothing. Of course, you'll want to perform this rough calculation for all closets in your home, including the coat closet.
Where to get a wardrobe box
If you're lucky, you can get packing boxes from friends or neighbors who've recently moved, but specialty cardboard containers like wardrobe boxes may be harder to come by. Fortunately, you can usually find them online or at local stores. The key is to plan ahead and not wait until the last minute to purchase your supplies so you're not left empty-handed.
It's a good idea to procure your wardrobe boxes early in the process so you don't have trouble finding the right one at the right price during crunch time.
Typically, you'll find a wider selection online, so if you know you have specific needs (e.g., many wardrobe boxes, specific size), start shopping early to ensure enough time for delivery.
Home improvement stores
Large home improvement stores (think Lowe's, The Home Depot and Menards) and even smaller stores like Ace Hardware or True Value sell packing supplies, often including wardrobe boxes. The advantage of purchasing from these stores is that they have a large inventory, so you're more likely to find the right size box for your needs — and you'll usually find them in packs of two or three.
If you're only shopping at brick-and-mortar stores, your closest The Home Depot or Lowe's may not have all items in stock. If you plan ahead and aren't packing at the last minute, though, these stores can almost always accommodate your needs. If you don't want to or don't have time to shop online, you can at least check the company's website first to see what's in stock at your local store — this way, you won't waste time driving from store to store.
Moving and transportation companies
A company that specializes in moving and transportation will often have a wide selection of boxes available with its packing supplies. If you've opted to use a professional moving company, always check there first to see what's available — you may even be able to get boxes for free.
These companies tend to have the widest selection of box sizes, and many customers find the full-service business model extremely helpful. For instance, Susan, a ConsumerAffairs reviewer from Florida, said about their experience with U-Haul: "I absolutely would use the company again, especially for its boxes."
You may be able to get a discount on your supplies if you're using other services from the company, like freight shipping, renting a truck or renting storage space. This can make the moving process a bit easier, since you'll only have one company to work with. Also, look for pre-made moving kits with everything you need to pack up your house: tape, assorted sizes of boxes, bubble wrap, wrapping for breakable items and cushion foam.
Some rental truck companies also offer additional services to reduce costs, like box buyback guarantees, where you can get a full refund for boxes that are still in good condition if you have the original receipt. There are also box exchange programs, which allow you to drop off used moving boxes and pick up free boxes left by others.
Online retailers
Of course, it's smart to check large online retailers for access to several different dealers or brands. If you do choose this option, be sure to read reviews first and check product information like maximum weight limit, because not all cardboard boxes are created equal.
Additionally, boxes found through big online retailers may only be sold in bulk, so unless you're anticipating packing up multiple closets this way, it may be more than you bargained for. That said, if you can get free and expedited shipping, it may be the best option if you're packing at the last minute.
Big-box stores
You may also have luck finding moving and wardrobe boxes at places like Walmart, Target or some office supply stores. However, since wardrobe boxes aren't a common item, you're more likely to find these products through their websites rather than in the store.
Still, these stores often offer in-store pickup, which can reduce or eliminate shipping costs and may be more convenient than having items shipped to your home. Alternatively, you may be able to call ahead to see what's in stock — or just keep an eye out the next time you're doing your regular shopping.
What else can you fit in a wardrobe box?
Because wardrobe boxes take up so much room in a shipping container, you can maximize the space by packing items other than clothes in them.
Any household items that you don't want to get wrinkled or banged up during a move can be draped or hung over the top metal rod — for example, shipping curtains this way can ensure they stay smooth and ready to be hung once you get to your new space.
Even if you use the boxes for hanging clothes, there should be extra space in the bottom, especially in the larger wardrobe boxes. This is a good place to pack linens, towels, blankets and shoes.
It's a good idea to keep boxes no heavier than 50 pounds each, even if you have moving help.
One caveat is to watch the box's total weight. Even though professional movers are used to carrying around heavy boxes, always give it a lift to see if you can safely carry it. A good rule of thumb is to keep all boxes, regardless of size, less than 50 pounds. If a box is too heavy for you to comfortably move, consider taking out a few items and replacing them with lighter, bulkier items, like pillows.
Wardrobe boxes can also be used to pack taller household items like lamps, bar stools, framed pictures and mirrors, though these items should be wrapped in cushioning material to prevent breakage — and you should only pack one large item like this per box. Your clothes will also act as added padding to keep them safe. You can even ship yard tools, like shovels or rakes, as long as there's enough padding to prevent them from damaging other items in the box.
Once your clothes are nicely hung in these sturdy boxes, the boxes can serve as temporary closets in your new home if you're planning on renovating your space and need to live out of a suitcase for a while.
Bottom line
When it comes to moving, especially for longer moves to another state, you'll want to make the process as easy as possible. If this means splurging on a few specialty packing supplies like wardrobe boxes, it's not a bad idea. Even using two or three wardrobe boxes will make the packing process easier — and make settling into your new space less stressful.
Did you find this article helpful?
|
You're signed up
We'll start sending you the news you need delivered straight to you. We value your privacy. Unsubscribe easily.