8 cheap ways to move across the country
Can you relocate without breaking the bank?

Written by

Edited by

The cost of a cross-country move can vary based on the size of your household and your starting and ending points. Whatever your reason is for moving, you'll probably want to save however you can. The good news is there are simple ways to save money on a long-distance move and make the entire process less stressful. These tricks can help you get your belongings to your new home without going over your moving budget.
Key insights
Generally, you can expect to pay more if you're moving a longer distance or if you have lots of antiques or heavy items, such as pianos and freezers.
It's important to compare companies and get multiple quotes to find the best prices available.
Price can vary significantly depending on the type of mover you work with and whether you opt for several additional services.
8 tips for moving cross-country without breaking the bank
Moving will probably never be as affordable or painless as we'd like it to be, but there are ways to cut down your relocation costs. We've outlined some ideas for savings, whether you're moving for work, school, family or just because.
1. Declutter and donate (or sell) your things
If you're not known for Marie Kondo-style minimalism, it might be time to take inventory of your things — and lighten the load where you can. Not only can purging things you no longer need simplify your space and your life, but it can also save you in moving costs. The more you get rid of before you relocate, the less you have to pack and pay to transport.
Consider a garage sale if you want to try to make some cash, or donate to a local charity if you've got items in good condition you just don't need anymore.
2. Rent a moving truck for a DIY move
One of the best ways to save money on a move is to rent a moving truck and do the move yourself. By going the DIY route, you can avoid the high costs of hiring a moving company and have more control over your move.
Make sure you get the right size truck — one that's too small may require multiple trips, which can be time-consuming and costly. On the other hand, one that's too large may be more expensive and difficult to maneuver. Once you've chosen the right truck, take the time to pack it efficiently, using all available space and packing items tightly to prevent damage during transit.
Compare prices from multiple companies and ask about discounts (for AAA members, military personnel, students, etc.). Before renting a moving truck, be sure to read the rental agreement carefully so you understand all fees and charges.
» MORE: How to rent a moving truck
3. … Or rent a moving container
Another DIY option is renting a moving container. These are large, portable storage units a rental company delivers to your home for loading and then transports to your new destination.
One benefit of using a moving container is that you can pack and load at your own pace. This can save you money on labor, but you'll probably need to enlist the help of family or friends. Keep in mind that some rental companies charge additional fees for container delivery or pickup.
As with a moving truck, it's important to choose the right size container for your needs. Most companies offer a range of container sizes, so you'll want to choose one that's large enough to fit all your belongings but not so big that you're paying for unused space. It's also a good idea to use furniture pads or blankets to protect your items from scratches or dents during transport.
4. Don't move in the summer or on the weekend (if possible)
Summer is the most expensive time to move — families are getting settled before the new school year, and college students are making their treks away from home. If you have the flexibility to move during the week or off-peak season, you might get lower rates or waived fees.
Mike Harvey, managing director of 1st Move International, an international shipper, explained, "Moving is expensive — don't get me wrong — but I believe moving across the country between September and November is the best time of year to do it for many reasons, including the price." Try to move in the middle of the month or on a weekday, if possible, when there's less competition.
5. Look for moving discounts
While you're shopping around, don't forget to ask for available discounts. For instance, AAA members often get discounts, and some military moving companies offer special deals for service members, veterans and their families (and also understand any specific needs military moves require). Popular companies, like Budget Truck Rental and Penske, may also offer reduced rates for military personnel.
Many retailers also offer discounts on packing supplies like boxes, tape and cushioning material — check with local stores or search online to find promotions or coupons.
6. Save on supplies
Rather than buying boxes from a retailer, visit grocery and department stores to collect any boxes they have on hand for recycling (liquor stores are good for this). Remember that the packing tape you buy at a discount shop is probably just as good as the packing tape from a high-end retailer.
7. Ship your things
You can also travel with your stuff while someone else does the driving. If you don't have furniture or other large items to move, you can ship what you need to your new home using FedEx, UPS or the U.S. Postal Service, for instance. You can get on a bus or a train or even book a flight across the country to your final destination. You may have to pay for extra baggage fees, but those might cost a lot less than what you pay a moving company.
8. Accept help
Accept assistance when it makes sense, whether your family offers to help you pack or a friend wants to donate their frequent flyer miles for your trip. If you're moving solo in a rental truck, think about which friends might enjoy the road trip.
Types of moves
The price of your move largely depends on how you go about it — are you going to do it all yourself with a truck, or will you pay movers to help with packing and transportation? Some reviewers on our site prefer the do-it-yourself option, while some prefer a carrier that transports everything for them — so they can enjoy a road trip while their things are safely en route to their new destination, for instance.
No matter which services you decide to pay for or forego, make sure to shop around. Don't go with the first mover you speak with. Get estimates from long-distance movers that specialize in cross-country moves, and compare prices.
Remember to look at what services are included — a company that calls itself a "discount mover" might offer lower starting prices, for instance, but it might not include extras others provide at no additional cost.
Moving containers/pods
One of the simplest ways to move out of state is to use a portable storage container. Mobile storage units can help you cut down on costs and stress by keeping all of your things in one place until it's time to relocate. Companies like PODS provide an easy way to store your belongings before and after the actual move (and some also have transport options).
DIY/moving truck rental
Handling the move yourself with just the bare essentials is one of the cheapest ways to move across a long distance. If you want to move your things yourself, make sure to shop around to find the cheapest truck rental option. These rentals are typically reasonably priced through companies like U-Haul and Budget Truck Rental, and most of these companies offer one-way rental trucks.
If you really want to keep your costs low, pack up your car with only your most critical belongings — and maybe hitch a trailer to your vehicle. This is a good way to save money and start fresh with your relocation.
» LEARN: Moving yourself vs. hiring movers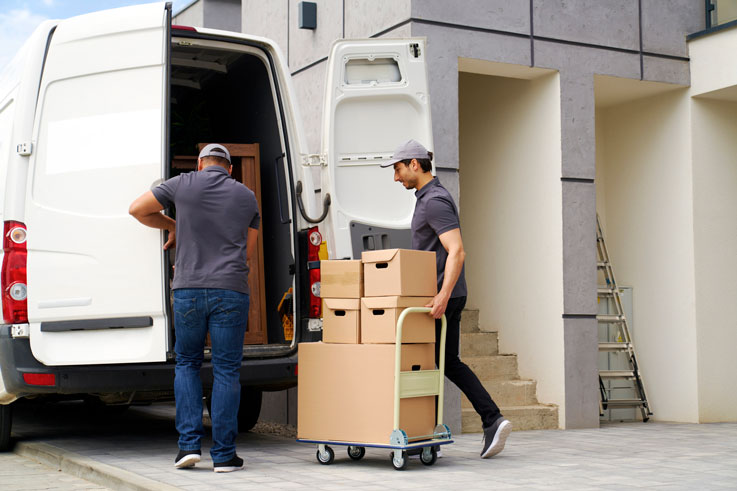 Full-service moves
A full-service mover can help with packing and unpacking in addition to transporting your things for you. This is generally the most expensive way to go about a cross-country move, but it can significantly simplify the process if you have the money on hand. Especially for high-cost moves like these, it's important to get several quotes (and make sure you know the difference between a broker and a mover).
Professional freight trailers
You can also pay for a company to deliver a large freight trailer to your starting point. You then fill the trailer yourself (or hire labor to load it) over a certain number of days, and the company will attach the trailer to a truck and deliver it to your destination. With this option, you typically pay by how much space you use rather than weight.
How much does it cost to move cross-country?
You can estimate the cost of your move by looking at the average moving costs for the size of your home and location. Labor (measured in mover hours) is the most significant factor in the total cost of a local move, while long-distance movers use the volume of items and the distance traveled to determine prices.
However, gathering multiple quotes is still the most accurate way to get context for what your move should cost.
Cross-country moving quotes for a three-bedroom home
| Distance | Example move | Average cost |
| --- | --- | --- |
| 1,000 miles | Tulsa, Okla., to Detroit | $5,930 |
| 2,000 miles | Seattle to Kansas City, Mo. | $7,713 |
| 3,000 miles | Sacramento, Calif., to Raleigh, N.C. | $10,500 |
Preparing to move out of state
Put together a moving checklist to help keep you on track, and create a budget for everything you'll need to fund, including deposits, tips for the movers and gas. Planning as much as you can as early as you can helps keep your move within budget and stress-free (or, at least, less stressful). If you want to save money on your move across the country, it's a good idea to be prepared and organized.
Preparation can help you settle into your new home more easily, especially if you're moving with your family, and ensuring you're organized from start to finish will make unpacking simpler as you establish yourself in your new state.
FAQ
What is the cheapest time to move?

You may find reduced rates in colder seasons or in the middle of the week, when moves are less common, though some movers may keep their prices consistent year-round. Don't be afraid to ask about rate fluctuations when gathering quotes.
Can you negotiate with moving companies?

You can try. As with any service, prices may be negotiable, depending on the policy of the provider. The best way to gain negotiating power is to gather multiple quotes, which you can use in your conversations with competitors.

Don't shy away from asking for a lower rate — there's no harm in trying. The worst thing that can happen is you're told no; you then either accept the higher rate or keep going in your search.

Once you get a quote, try asking if there'd be any changes in price if you were to book on a different day of the week. Also, ask if you qualify for any discounts based on your age, military status or memberships. Are there any services you could add or remove to make the quoted price more comfortable?
How do I find moving discounts?

If a company doesn't disclose any particular discounts (and even if they do), just ask. Many movers provide discounts for veterans and active-duty military personnel, but you can also ask about senior discounts or savings for certain professionals, like teachers, law enforcement officers and first responders.
Are moving expenses tax deductible?

Previously, your moving expenses could be counted as a tax deduction if you relocated for a job, but the Tax Cuts and Jobs Act of 2017 suspended these deductions until the 2025 tax year.

According to the IRS, there are still some situations in which your move could be tax deductible, but this isn't common. Active-duty military relocations are the most notable exception.

You can use the IRS interactive tax assistant to complete a short quiz to find out if your move is tax deductible.
Bottom line
Moving takes a toll on the mind, body and wallet, even when it's for an exciting life change. But there are ways to make the process easier, including finding savings and sticking to a moving budget.
If you're more worried about physical and emotional strain than money, it might make sense to go with a full-service mover (make sure you know the signs of a moving scam). If money is tight, the DIY truck rental route — or paring down your things to fit into your car — might be the way to go.
Did you find this article helpful?
|
You're signed up
We'll start sending you the news you need delivered straight to you. We value your privacy. Unsubscribe easily.