Consumer Complaints and Reviews

Warning. Keep copies of all receipts. Sent in required paperwork for $10.00 rebate on deck over paint. After three months of waiting, they say I didn't purchase the deck over paint. Of course I had sent them the original receipt. I failed to make a copy. I can show them the 1/2 full can of paint, or the picnic table I painted, but don't really have time to deal with them.

Worst experience ever. I wouldn't advise anyone to buy anything that needs to be delivered from Home Depot. I bought a washer and a dryer from them. Was supposed to be delivered 30th. I called at 12:30 pm asking time of delivery, "Ooops sorry our truck broke." No call no nothing, hubby took time off. Called Home Depot to see why this delivery wasn't coming on another truck later or next day, why I need to wait 10 more days to get it. She said they forgot to put it on the truck and they aren't gonna correct their screw up, stuff happens. They are full till then of deliveries so I can't get squeezed in the other, customers come first. So I call corporate. First guy passed me on cause he didn't wanna deal with it. So I called back the next corporate lady apologized and said they're gonna make it right. She will call me tomorrow get my order expedited.
I got a message today from Waneda at corporate telling me my order can't come before the 9th, "if you wanna cancel go ahead." I kept the message cause they aren't doing anything for me. What kind of customer service is this? I'm going tonight to get my money back. The worst. I would rather get my furniture from rummage sale than to ever buy anything from them again. They do not care. Customer service is ranked a zero. Don't even wanna give them a star cause it isn't worth it. I wish I could post her message to me on my iPhone - um was used 15 times, very disrespectful like I was wasting her time.

I am an asian, but sales people here treated you as if you are a thief. Because I think they suspect all brown skin are illegal mexicans. A sales rep refuse to duplicate my keys (HOME depot) for some reason which I do not know. One accused me while having a browse in their store and followed me wherever I go (ACE hardware). A chinese salesman laugh and look at me in suspicion when I picked up a digging bar I ordered online (HOME depot). I used my credit card and instead of just looking at the face and signature, the ** sales lady interrogated me with questions which I answered in truth that it is mine (Home Depot). I will never returned nor buy from these stores. I will use their toilets.

Contract asks for color of siding. I chose Gray, to match existing siding and trim. Apparently, they require a product code from "chips" that were not provided. Contract asks for color only. Salesman apparently color blind - kept focusing on color 'greystone' (NOT gray!) in brochure, despite my insistence that I wanted "Driftwood", a true gray color. Brochure is not numbered or dated, and 'colors' are also not numbered. 17 days of calls. Finally told them to install something and I will paint it. I have thousands of dollars of work to be done on my home. You can bet that Home Depot will not provide materials or labor!

As a disabled veteran I was appalled that this Home Depot for not honoring my military discount today. Went to Lowe's and bought the item I needed with the military discount with no problems. Home Depot stated because it was on sale my military discount was not going to be honored. Well my patronage to Home Depot will no longer be honored at that store. To all veterans out there, beware of this particular store and its non-support of all our brothers and sisters out there.
How do I know I can trust these reviews about Home Depot?
637,576 reviews on ConsumerAffairs are verified.
We require contact information to ensure our reviewers are real.
We use intelligent software that helps us maintain the integrity of reviews.
Our moderators read all reviews to verify quality and helpfulness.
For more information about reviews on ConsumerAffairs.com please visit our FAQ.

HD cancelled my order because "we were unable to reach you using the contact information" which was all entirely correct information, it's even shown on all of the conformation e-mails as correct. They never made an attempt. So I called and resubmit the order. New fridge arrives with 3 dents right on the front of it. Have to reschedule to get a non-damaged one. Rescheduled for a Saturday delivery because that's the only day I'm available (I expressed that several times). They tell me that is no problem... They show up on a Friday. Have to reschedule.
Delivery driver arrives outside of the delivery time window, yells at me on the phone because the homes are not in numerical order (even though they are), then refuses to haul away old fridge even though we paid the extra $15 to have them do exactly that. THEN refuses to bring in the new fridge because the old one is in the way. Have to reschedule again even though the drivers were right there. It's been over a month and still no working fridge. Hopefully the next delivery attempt goes better. - Doubtful.

I purchased PT lumber to use for outdoor decking and it all twisted and warped within a couple of weeks. They refused to replace the material and labor stating that other people use it for that application with no problems. I had planned on buying redwood and their employee insisted that this would hold up as well and last 7 times longer. I filed a claim in small claims court and they claim to be seeking an order to keep me out of their store because I did so.

On Monday 11/13/16 purchased two appliance from Home Depot. Whirlpool dryer and Samsung dishwasher. Give the employee my phone number and my information came up. Bought both item made sure that my number was right. Employers stated that they would give me a called before or on the or delivery. So Saturday here and was waiting for Home Depot to call while waiting at work realizing that it get late and still no call!!! I know maybe I should have call sooner but my son was home waiting. So I call Home Depot and they say to me "we tried calling and no one answer." By this time I am heated. I replied "what number did you call can back with 516 **." I have used that number ever since I left NY.
Been down south over 10 years and have order from Home Depot before and made sure and paid the bill but even if that was the case they should have made the delivery ANYWAY. What kill me the most that they stated they were in the (AREA). So Why Did they stop at the house if I was on the list? Anyway I tell you why. This driver that they hire are just too ** lazy to drive to a customer house that would have took five minutes to knock on a door and see if someone was home. SO NOW HOME DEPOT LOST ME AS A CUSTOMER AND APPLIANCE.

Said would check on status of a purchase made a week ago. Was told there was one on a truck on its way down by Monday and 18 in warehouse in Anchorage. A week later two trips there and said would call with status. No calls. Customer service really bad. Had to call toll free number and ask for assistance. They called the local manager. Said would check and call back. Actually did call back and said he found one in back. Hmmm was just in there yesterday and they said there wasn't one back there. Poor quality customer service. They just don't care. Buyer beware.

I had an awful experience with Home Depot. I ordered tiles and the delivery was scheduled. On Monday nobody came, no telephone, nothing. Day After I called the store to ask what is going on, and nobody was able to give me an answer. Nobody knows when it will be delivered, no news neither from the chauffeur, nor from Home Depot. Employees are just incompetent, I tried to call 20 times, employees just don't care. This store is a big mess, don't give your money to this people.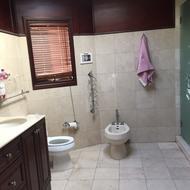 I went to 7605 Tonnelle Ave, North Bergen NJ on 11/12. There is sample of Highline Biscuit toilet for $169.00, one male employee helped me to bring down the only one left for this item which was opened and taped. He double checked for me then load on cart. I got home and gave to the contractor. 2 hours later when I came home the toilet was on but color was white. It is not match with the bidet next to it. I went back to the store talked to manager **, he refused to do anything but to "more welcome to take it back".
I called after I left to the store, waited 8 minutes for him to answer the phone, after two more minutes waiting, got hanged up. I went the second day to the store, ** was not there. Also waited more than 10 minutes for manager. Manager was too busy to come to the service desk, only talked to me on the phone and asked me to deal with **. That is the service from Home Depot. I would suggest any one if you still want to buy things from them, don't buy any open box items.

After spending thousands of dollars with this co. I attempted to buy an appliance from them only to find out they were going to charge me a delivery price that was equal to half the price of the purchase. I will never set foot in this business or spend one dollar with them ever again. I will do all I can to cause my family, friends etc. to respond to them in the same way. Trust me, your business is not appreciated!!!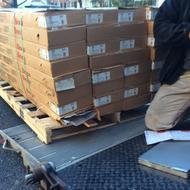 During unloading of pallet of hardwood floor the truck driver broke 2 boxes of bruce solid floor, after I refuse to accept the delivery, he demanded from me to sign the delivery's papers. I emailed about this issue to customer service of the Home Depot (I have the foreign accent and prefer communication via e-mail) and it took for them 24 hours to respond only after my girlfriend called them. They cancel my order without notifying me. I have already agreement with contractor therefore I will lose my deposit because I cannot provide the contractor with material to work with.

I purchased a dishwasher about 2.5 weeks ago from the Woodbridge Va. Home Depot location. A week later they came out to deliver and install my dishwasher and couldn't because I had welded copper pipes. They said I needed to get a shutoff valve installed. So I called a plumber and got that handled. About a week later they were going to deliver it again, but there was a dent in it. So they scheduled it again for a few days later and the drain hose kit all of 4ft they brought with them was too short. Because they came before my appointment window I asked them to wait while I had my wife go to Home Depot and pick up a longer hose. They didn't want to wait, so I called customer service and they had them wait while my wife went to get the new hose. As my Wife was leaving the house, she noticed the dishwasher was the wrong color!
Three failed attempts to install my $1,000 dishwasher that I purchased almost three weeks ago. My wife and I took three days off from work and hours spent on the phone with many different Home Depot reps. I truly have never had a worse experience and will never shop at Home Depot again. Your customer care center has a million different prompts before you can even speak to a human being.

I received a personal email from Home Depot in response to a wait list request for a dehumidifier on sale for $198.00. The item was listed in my personal email for 198.00. I clicked on the buy now button in the email within one minute of the original email time stamp. The price in the cart was $299.00. I called customer service, spoke with two supervisors, and was denied the price quoted in my email. False advertising.

Do NOT buy appliances here. We chose Home Depot because they were $45 cheaper in delivery than Best Buy. What a mistake. First, they showed up to install the dishwasher on a Friday, but FORGOT the dishwasher. Then, after the 4th call, they told us they, "found it" and it would be delivered on Saturday afternoon. We were able to try it out on Monday and it turned off halfway through the cycle, repeatedly. We called first thing Tuesday, and they said "Sorry, it's been 48 hours, Whirlpool will have to fix it."
So, today, a month later, we have had Whirlpool out here THREE times to fix it. They told us that the computer board was defective. Home Depot customer service told us, "Sorry, we can't help you. We'll replace it if he's out more than 3 times." And Whirlpool just told me, "Home Depot will NEVER replace it" and that they just keep sending Whirlpool technicians out. It was defective the moment we got it, technician confirmed it was, and now we're stuck with a defective dishwasher. HORRIBLE HORRIBLE customer service... Go to Best Buy and don't buy a Whirlpool.

Drove all the way into Home Depot to pay off my credit card I have with them, only to be told I couldn't pay my bill because I didn't have my driver's license with me. I am paying with cash I told them "Why do I need my driver's license?" Company policy I was told. So I left mad and not paying my bill, I guess they really showed me?

We bought 4 kitchen appliances with protection plan. The Samsung DW80H9950US dishwasher stopped working the first 6 months and we continue to have service people out to fix it. I spend at least an hour each time I call the protection plan to get service or help. I have taken numerous days off to be home to get the Samsung dishwasher fixed. Protection plan asked me to wait to talk to a Samsung technician, 20 minutes later, my technician had no idea about my dishwasher and wanted to make another appointment to have someone come out. Do not buy Samsung dishwasher and do not go through Home Depot.

Oct 24, 2016 I attempted to purchase a $2.56 plumbing item from online at the store #1544 that wasn't available in the store. Cash nor Store Credit was acceptable and I was told that I needed to purchase a gift card for the amount. Then I was told the minimum gift card was $5. I am not only a senior who doesn't care to use my credit card on small purchases, but I a veteran who couldn't get the veterans discount. Poor customer service, but typical for The Home Depot.

I recently bought a Samsung washing machine for my mother on 9/26/16. The delivery date was October 4th 2016. The machine was deliver the appearance seem ok so we accepted delivery. I've been away racing for a few weeks and October 24th I went to I install it. First thing I did was plug it in to see what display looked like. I hit power button and machine would not power up. Tested outlet ok. You can feel that when you press the power button you get no click. Tried other power outs still no activation. Call Samsung and explained issue. They said it hasn't been 30 days so bring it back for refund or exchange. Went to Home Depot thinking it will be a easy exchange boy I was wrong. Home Depot return policy is you need to call manufacturer within 48 hrs of delivery.
At Home Depot once you purchase a major appliance they have zero liability for the product. They transferred me to some Home Depot department for customer service and I got the same answer. All in all I spent 900 on a washing that doesn't work. Called the number for Samsung tech and they said I will hear something within 48 hrs to schedule appt. So who knows when some will get out there to diagnosis problem. It's brand new and never been used. I don't want it repaired. I want a new and Home Depot could care less.
All in all every other appliance place has a 30 return policy. (Lowe's, Sears and P.C. Richards.) My advice never NEVER BUY A MAJOR APPLIANCE FROM HOME DEPOT!!! Their customer care program is pitiful. I will be in contact with main headquarters tomorrow to see if they offer any type of compensation but after reading most of the reviews it's very doubtful they will help. Highly disappointed in Home Depot and will tell everyone I possibly can to stay away from Home Depot major appliances.

In process of building a new structure where construction started Aug. 22. In anticipation of start date orders $** of stock Anderson windows at local HD. Asked to have them delivered to the construction company in another state. 5 days before start time contractor told me no windows had been delivered. Immediately went to HD and found out that, despite assurances of HD staff, windows could not be delivered to contractor, only to store or my house.
Next thing I found out was that because of this delivery issue HD had canceled my order without informing me. Since I had already paid $** had to restart the order and the clock which meant another month before windows would arrive at local HD and I would have to drive them to construction site. Because of this delay I had to dismiss the construction crew for a month, contractor had to entirely re-arrange his crew schedules and I came very close to not having this structure completed before access to property is blocked by snow (mountain property). We have recovered from this schedule problem due entirely to cooperation by the contractor. The only compensation we received from HD was the use of a truck for 2 days to transport the materials to the building site.
As part of construction planning also cashed in about $1200 of credit card rewards for HD gift cards in the standard $25 denomination. Main purpose was to purchase $700 wood stove. When I tried to order the stove (both online and in-store with help of customer service) it turns out that you can only use 10 gift cards per order through HD online for a single purchase. This policy is not described in any HD information online and in fact there is contradictory information available. I called HD customer service who tried to blame the issue on my credit card company. After every incidence when I replied to the customer service person she entered "case closed/resolved" despite no resolution. When I attempted to pursue this problem further up the chain ran into a brick wall of people who will not give e-mail addresses, last names or any other way of documenting their responses except for online chat personnel.
As a result I am stuck with about $700 of gift cards that I will either have to sell in secondary market or bleed off in minor purchase over time. My direct email to the HD general counsel office concerning the lack of upfront consumer disclosure on this issue has, as most other issues related to these transactions, been ignored.
On the positive side, the individuals at HD we have dealt with have always been polite. But they clearly have not been given the support they need to attempt to resolve issues beyond the local manager's access to small funds to deal with big issues. I understand that ConsumerAffairs has financial relationships with companies reviewed on this site that are also not clearly disclosed. However, if this service can get the attention of HD and settle my complaints I am glad to give them a chance before resorting to other alternatives.

Do you see me walking out empty handed? Do you wonder why? You've got that person at the entrance handing out stupid papers, but no one to ensure you were successful in your search. I walked in for help with a damp basement. I don't even know what aisle I should start at. I swear, any orange vest made it a point to walk the other direction from me, out absolutely NO eye contact. I approached a worker. He acted like I was stupid. Sent me down an aisle for "charcoal" bag to remove smell. I go to that aisle. Three young men there, in orange vests, so, yes, they're workers there. I'm looking for this bag. They see me... No biggie I think, because I can locate this simple item but, I don't see it. Then a man walks by me, they jump to attention and ask him he needs help finding anything?! Really?! Why I'm still there, nearby... I'm ignored?!
You know, I'm not going to waste time here. I'm leaving. Why should I shop here. Thinking the "welcome" person might ask me, "How was your experience", or, "Did you find what you needed?" My short summary on this Home Depot... Ignorant, selfish workers who don't give a hoot about keeping customers or if they aid in bringing in a profit for this store.

I went on the Home Depot Website to launch my last complaint and now I get an answer from Consumer Affairs. Who are you? I don't know you and I have no business with you. Why does a "Moderation Team" have to "process" my complaints? What is it your business to even consider altering or rejecting my complaint? What kind of university educated idiots are you? I make a complaint because something is wrong with these businesses and I wish not to have my complaint altered but used to make useful changes to their questionable business practices. I do not prescribe to this social engineering of society today and creating a population of stooges! People like you are twisting the facts and can't take useful criticism. I find that most of your kind hang up the phone on me because you cannot "deal" with the truth and have too thin a skin! You wouldn't know Customer Service if it hit you in the face!
Go and take an example from Customer Service in most European Places and weep! This is the bull you sent me! It should not take a "moderation" anywhere for complaints! Don't bother answering to my complaint and just get to work and make the Customer Service you are working on BETTER! You are not the people I have complained about!

I was shopping for some electrical items at the Country Hills Home Depot in Calgary and needed some questions about the Electrical Code answered. The fellow told me that the "Electrician" was not in until Evening of that day. What use is any Home Depot department if there is nobody with trade knowledge there. The commercials on TV always brag about the knowledgeable staff at the Home Depot? I have very rarely found any! Why would a qualified tradesman work at the Home Depot, instead of in his own trade outside, making many times the income?
It is about time that these big box stores are being set right by the customers here in Canada; they have totally perverted the trade of Hardware Stores and Lumber Yards. Maybe the young punk population is in acceptance of this miserable change in quality, but I as a senior am not and I am doing everything in my power not to shop in any, going out of my way to find small Hardware Stores at Hillhurst Hardware in Kensington! And for the rest! I don't give a flying **... about your Review Guidelines and any other garbage you are forcing on us. You are nothing but a social engineering company!

I bought 4 appliances from Home Depot; and from the day they were supposed to deliver them, July 6, 2115, and didn't show up, I had so many problems with them that I can't begin to list them. After a very shoddy installation of a dishwasher (trim from cabinet removed and taken out of my house, extra long water hoses left coiled in cabinet space so that space was unusable, large gaps on either side of dishwasher. Job not even finished. Had to be re-done), the last appliance was finally installed in November, five months after purchase date.
Home Depot's scheduler/expediter refused to take my calls. My husband had gone and talked to her. No help. I finally had to demand that she see me. She tried to get out of it. The young man at the Customer Service desk told her: "You need to talk to this lady." I still had to yell and threaten to get her to sit down and listen to me. I was told they couldn't replace the stove top, after getting THREE that were chipped. She told me that they didn't have one in my color. A lie. I called GE, got two more delivered, both chipped. I kept the one with the smallest chip; because my nerves were in such a shape (I'm 78 years old) that I couldn't handle anymore of their incompetence.
It took them two months, after two men came to measure for installing a wall, to figure out how to make a "template" for the opening to install it. When I called to ask when it would be done, they couldn't find a record of the two men having been here. I could've done it myself, by drilling a hole in the corners and using a small saw to cut from one hole to the other (a piece of wood about 2" by 24". The oven shelf slants down infront, faulty from the factory). A griddle, with shallow sides full of bacon grease actually slid forward and could have burned me badly had I not been using an oven mitt. Home Depot (once again) couldn't replace it because GE didn't make that color anymore. Not true. I asked, "So I bought the last one in the whole country?" They said, "probably."
I left a letter for the Manager (Sean **) with his assistant listing all the problems I'd had with Home Depot. He didn't reply. This week I made an appointment for the repair of a dishwasher, which won't drain. The appointment was for "between 12 and 4 PM". I got a call from the serviceman, saying I had an appoint between 9 AM and 12 PM to repair a "dispenser." He called me later, saying he couldn't do the job; because he had a bad back.
The next day I got a recorded call from Home Depot, telling me they were happy to inform me that my dishwasher had been repaired, everything had been thoroughly checked and was fine. I called the same number as before to make another appointment and had to go through another hour of frustration, while they tried to find the original one. Even though the recording answered as "Home Depot", the agent said I was talking to GE. After another call to the local Home Depot, which was another ordeal, Tammy called and said they'd made another appointment. We'll see.

On October 20, 2016, I visited the North Frisco, TX Store around 3:30PM. As I was walking into the garden entrance, I noticed a customer load up numerous 1 gallon cans of paint into his car. Well he dropped one and it spilled on the parking lot driveway. His wife asked a cashier in the garden center check out for help and she called someone. No one came.
After another 15 minutes, I asked another cashier at the same register for someone to come forward to clean up the spill. He said the cleaning crew had left for the day. He did not care and just stood against the register counter with his armed crossed. Wow! Then the couple just took off, letting cars drive through a pool of paint. I went to the front desk and asked for a manager to be paged, not one came! I hope you get several claims for paint on cars because of your company's total and complete failure to clean up a paint spill in the parking lot driveway which was right in front of garden entrance. Service is terrible at this store. I thought Lowe's was bad. See photo of spill.

I, (** male), have shopped at Home Depot for years. I have remodeled 4 homes using Home Depot products and I have Never had a security concern or problem. I, as a retired former business owner, am 100% against any kind of shoplifting etc. I nor my wife would ever think of it at any time no matter what. I normally go to Home Depot on my own (My Day). A few times this year my wife (a lovely ** woman) went with me also. We went to Home Depot on West Charleston, Las Vegas, Nevada. Upon entering the store a Home Depot employee, (apparently a security person, ** Male), immediately began following us down every aisle (pretending to be texting and looking at store items). He followed us to the product we wanted. Then to the self check out and watched us check out. He then stood at the doors and waited for us to pass through the security sensors and out the door.
We left the store without products, stopped for lunch. This incident really bothered me to no end and I got angrier by the minute. I told my wife that we were returning to the store and returning the items and I would never go back. We returned the products to Home Depot. I then spoke to a person there, (there were four others behind the counter and the "security person who harassed my wife" was close by watching. I informed them of what occurred, how angry I was that my wife was treated that way and considered a thief obviously because of her color and that I have never, ever, in all the years of going there had someone follow me. I told them I would never come back.
The security person then glared at us and walked toward us as we left the store. I did give him angry looks and stopped to face him off if necessary as I was boiling mad. My wife kept pulling my arm to leave, and we did. NEVER TO RETURN. It is a very sad day when companies PROFILE people because of their color but it does happen all the time.
My many years of being a content customer are now gone forever. Home Depot never has been customer friendly and their customer service is the worst. But this beats all. You know what? With all my anger and talk at the store, NOT ONE MANAGER or supervisor was called over to try and calm me or to try and deal with the situation... Show you how they are. SO, BE AWARE. HOME DEPOT MAY BE PROFILING YOU WHEN YOU GO THERE.

Siding install project - Home Depot home services contract 7/22/16. They required payment in full on same date. Now 10/14/16 Home Depot no show, nothing done, litany of excuses as to why they cannot get a crew out to do the job. Yesterday sales manager Denver ** claimed he could not guarantee getting it done in November.

Think twice before shopping at Home Depot! In late June, HD ran a rebate promotion on Behr paints. $40 on 5-gal and $10 on 1-gal containers. I talked to the Behr's sales rep who was in the store and bought a 5-gal & a 1-gal. Couple days later, I got another gallon. Had to submit separate claims. HD approved one but not the other. I spoke to Behr's rep who said he saw no reason for rejection, but said he couldn't help. I won't do business with a company who falsely advertises and reneges on promotions.

I purchased a Maytag with Steam Top of the Line Washer from Home Depot Simi Valley (October 02, 2016) with the proviso that Home Depot will install the catcher pan, as part of the installation. I purchased the washer through the salesperson named Perdomo (not sure of the exact name but around this name at Simi Valley Home Depo Washer Appliance Department). He certainly assured me (verbally and with my wife present) that the delivery/installer person will install the new pan (since this is a new washer) as part of the purchase and even sold me all the parts (the pan and the small pipe to be given to the installer upon delivery). From this negotiation, I decided to purchase the $750 dollars washer believing that it will be installed without any issue at all.
I waited for a week. On the day of the installation last Saturday, a very rude delivery person entered my home and said, "No! I am NOT installing your catcher pan. It's not part of my job!" I called the manager of the Home Depot in Simi Valley where I bought the washer and she also said that they will NOT install the pan as stated by the delivery/installer person due to liabilities.
The manager even sarcastically commented, "If you should have been nice to the delivery person, they would have installed it for you." I then said, "When the installer came, I just politely asked him to please make sure that that pan is correctly installed since it's a new washer." I am truly disappointed that Home Depot of Simi Valley treat their customers like this. I notified this location that I PLAN TO TAKE LEGAL ACTIONS FOR THEIR NONCOMPLIANCE OF THIS CONTRACT. Had I known that Home Depot did not install the pan, I would have gone to another store that does.
Home Depot Company Profile
Company Name:

Home Depot

Year Founded:

1978

City:

Atlanta

State/Province:

GA

Country:

United States

Website:

http://www.homedepot.com/