Consumer Complaints and Reviews

I placed an order for custom blinds on 12/7 of 2016. I opted to pay the bill in full immediately, and put this on our credit card. There were some issues with the drapes when we were sent the wrong blinds. This had to be reordered and the installer came back out several weeks later to install that remaining blind. I wrote him a good review as he had done his job well. Several weeks ago I received a call from Home Depot saying we still owed around $114 on our bill, with no explanation as to why. I called them back and the person I spoke with couldn't see any amounts that I owed, so she said it must have been a mistake. I assumed they had mistaken me for another customer, until I received a letter from Kenneth ** dated 7/25 saying that if the bill wasn't paid it would be turned over to a collection agency.
I sent him a certified letter requesting additional information for exactly what the amount was for. I also called Home Depot again and was given an explanation that their system had made an error and did not charge sales tax on the order. I requested more information and was passed to several departments before finally getting the voicemail of customer service. I left a voicemail requesting more information and for someone to call. I received NO phone call and no response from Mr. **, but rather yesterday in the mail I received a letter from a collection agency demanding payment. I have impeccable credit, and ALWAYS pay my bills on time, so I went ahead and paid this online rather than allow Home Depot to affect my credit.
I believe that Home Depot's tactics border on fraudulent at best, - that MANY months after a sale is made the first contact they make with a customer is to demand payment without any documentation to prove their claim, and then they simply turn the matter over to a collection agency. There are MANY other options of stores in our area, - and I will be using any one of them from now on, and sharing my story with as many people as I possibly can.

Was very disappointed in HD today. We hardly ever ask for help but today we did. We asked a gentleman to help us load some lumber. He said he would find someone to help. After waiting 15min. finally a gentleman showed up. Said he had to get a different cart than the one we had but NEVER returned. My wife and I are in our late 60's. I have an injured shoulder and she has a bad hand. We ended up loading the 4x4's 12' long on the cart we had ourselves!!! Thinking about Lowe's to finish our project; hopefully they will do better!!! The amount of money we have spent over the last 20yrs. at HD, I am really ticked off!!!

I purchased a $30,000 home remodeling project. It was supposed to take five days. 6 months later, the kitchen is half done. I have called repeatedly and have had to take off multiple days of work for contractors to come and re-measure to get the appropriate cabinet sizes. They have come by 4 times and still have no idea what products are still missing when I call and ask them when they are coming back to finish the job.
In addition, the quality is extremely poor. The "wood" cabinets are really more like MDF. The craftsmanship is extremely poor–with nail holes, mismatched wood pieces. I can go on and on... Extremely disappointed. I finally called Home Depot Corporate office and they were of no help. There is nobody from Home Depot that I can call to hold these contractor people accountable. It's incredibly frustrating and I will never use Home Depot again for any project.

After getting prices from several contractors and consulting online reviews I chose Home Depot to carry out our kitchen upgrade, i.e. replacing laminate countertops with quartz ones, repairing under-sink cabinet, installing cabinet pull-out shelves & installing a new sink with faucet, water filter & instant hot water system. Because our daughter's wedding & reception were going to happen in our home, they were given a 60-day deadline or if not possible, not to begin the upgrade until after the event. Home Depot contracted to get the job completed before the event. The process & final workmanship is acceptable but not great.
We were told to empty kitchen cabinets but not warned about dust that would cover every item in the surrounding areas, so every fork, every plate required washing. Several kitchen-less days later when the quartz counters arrived, there was confusion between workmen about who was responsible for installing windowsills vs. backsplash vs. trim... & when. Home Depot's coordination of tasks was sub-optimal & communication with me was even worse. My repeated calls, voicemails & text messages were mostly ignored. Home Depot, employed for its expertise in construction management, failed in this regard. I was left feeling like I was an annoyance they wished would go away. The job was not completed before the family event. I do not recommend Home Depot's contractors services.

Home DeNOT sold a business a $1297 refrigerator for their office on a business account and an extended warranty for $150. When the refrigerator turn 13 months old it stopped working. Warranty dept sent out repairman who came 3 times and couldn't fix it. Then suddenly the warranty dept wouldn't cover it because it is in a business. After arguing with them that they sold a business on a business account an extended warranty that they wouldn't honor they agreed to fix the refrig then they would cancel the warranty and refund the price of the warranty. Bottomline they never did get it fixed after 5 visits and now they refuse to do any more repairs on it. The Whirlpool refrig was only 13 months old so I am now telling folks don't purchase from Home Depot or any Whirlpool products and especially any warranty supported by Asurion.
How do I know I can trust these reviews about Home Depot?
852,533 reviews on ConsumerAffairs are verified.
We require contact information to ensure our reviewers are real.
We use intelligent software that helps us maintain the integrity of reviews.
Our moderators read all reviews to verify quality and helpfulness.
For more information about reviews on ConsumerAffairs.com please visit our FAQ.

I would like to warn people to avoid Home Depot and their Protection Plan. MY LG dishwasher hasn't worked for the last 4 month, keeps throwing the same code, they send people out to replace parts, and it still throws the same code. 6 times they have supposedly repaired it to no avail. The repairman finally signed a paper saying it is unrepairable but the protection plan people claim that since they have replace various parts in an attempt to fix it, it is not all the same problem so they won't warranty it, buyer beware!

New Windows and Install - Extremely dissatisfied with the project's completion. The install team forgot to bring our screens. At the end of the job, we paid in full with the assurance that our screens would be installed the next day. It's been over three weeks and we have not heard from Home Depot, though we have made multiple phone call and email inquiries. We are repeatedly told that they will contact the local team and that they will follow up with us. Ridiculous. Recommend not using Home Depot. And if you do, do not pay in full until the project is fully complete.

Today after making a purchase from Home Depot I went to exit the store. Unfortunately there was a tremendous downpour. My friend and I decided to wait to see if the rain would subside. After just a minute or so an employee approached us. He had a large umbrella and offered to walk us to our car or bring our car to us. This is how a company goes above and beyond expectations. Way to go Home Depot!

I was thrown out of Home Depot for saying **. In which we all have slipped on occasions. No one's perfect. Then the rude manager throws my husband out which did nothing. Didn't cuss at all and after I cussed that was an embarrassment of as it was since he doesn't like me cussing and then the lady manager blonde hair toss him out. So the humiliation and an embarrassment all the same time so I think he was treated unfairly. And I was treated unfairly as well. Then you have the security guard. They couldn't get his little become a cop or something who wanted to follow us out the store right on my ** and tell me I'm trespassing. My husband is a senior citizen barely can walk. He's 86% disabled and the man's telling him to get you to get off the property that we're trespassing. Didn't even give us a chance to get in the car. I think the ** was trying to get me to fight him or something or try to get something so they can have something going on.
Maybe they were bored and didn't have a exciting evening. I have no idea. I wrote your letter the night of the incident. I have not heard nothing back. I think this customer service you guys need to train them differently. They are rude and by the way I was calling my dad an **. I wasn't calling the store clerk person that so she had no business getting into my conversation. The moral of the story is they're really jerks down there at the Home Depot who have no customer service relation qualifications at all.
Now the manager as she's telling me to leave was so rude that yes I called her a ** three times as I'm walking out because she was rude. My husband throwing him out and he did everything cussed. He was taking up for her when she said "You don't has my store get out". My husband said "Yeah there you go Vanessa. I told you not to let her be cussing in stores or anywhere". So she turns around with him and says "I think you should leave two cheeses out right **". So I'm not shopping Home Depot anymore. I will go to Lowe's and you people are rude at Home Depot get a life.

After ordering a washer and dryer, hoses, vent hose, delivery and installation from Home Depot online with no problems, all that needed to be done was to deliver the washer and dryer from the warehouse to my daughter's apartment. Apparently that was just was too difficult for the contracted company to be able to handle. The first time the delivery was attempted (yes there was more than one attempt!) there was no call the night before as expected, there was no call the morning of the delivery, and apparently the washer and dryer left the warehouse but never made it onto the truck. Hmmm - where did they go? After missing the delivery window came and went, along with multiple calls to the Home Depot number - who by the way were the only good part of this process and actually did compensate me for the problems - and calls the delivery dispatch unit did they confirm that the W&D did make it onto the truck but nobody on the truck knew about it!
OK - stupid mistake but let's try again the following weekend. Delivery attempt number two. No call the night before. Call to HD - "Oh yes, it's scheduled for the next morning between 7:00 and Noon. But did you order two sets?" "No, there should only be one washer and one dryer being delivered." (oy vey!) Next morning - no call between 7:00 and noon. Start the process again of tracking down where the hell the washer and dryer are. Delivery dispatch claims there were multiple calls that morning at 7:20 and the delivery guys were waiting in the parking lot till 7:50. HELLO? Why did they not go to the door and ring the bell since they were expected? So they left.
More calls back and forth ensue - ok the truck is in two cities over and they will deliver by the end of the day (7:00PM) Fast Forward to 7:00 PM - no delivery - surprised? no, you're not, are you? Called dispatch again - the truck actually runs until 9:30. Fast forward again - nothing by 9:45 PM. Next day I'm contacting HD and canceling the order because I am done with this crap! Lowes now has my business and about $125 more from me just so I can feel confident that someone at the same company selling my the goods will deliver the goods.

I purchased a Titan battery for my elderly father's car on 03/20/16 after one year it stop working. I followed the recommended steps to take to get the battery checked at the local auto parts store. They told me it would not hold a charge. I took the battery to the Home Depot (San Antonio, Texas Bandera #6547), they told me they would not honor the warranty, that their warranty is good for only 90 days. There is no place on the receipt or posted anywhere that states they are obligated for 90 days. In fact, where the batteries are displayed there is a sign posted stating, "two year warranty". They would not assist me in this matter they told me to contact the company.
The manufacturer Exide that makes the battery their customer service is just as worst as Home Depot no help there. In addition, the manager at Home Depot explained: "that they could not swap me a new battery for the non-working one because they cannot store environmental hazard materials in their store". Which I thought was odd because half of their products they sale are environmental hazard materials. I have spent thousands of dollars at Home Depot for all my remodelling projects in the last 3 years, I told the manager that if they cannot back up their warranty on their products. I would be shopping at Lowe's for all my future purchases.

During last year's Florida Hurricane - a tree fell on the roof of my Palm Coast Florida home. In December of 2016, I contracted with Home Depot to replace the roof completely at a cost of $9821.93. Waited 3 months because of big back log but did not mind as I have had numerous home remodeling projects performed by H.D. a company I trusted 100%. The new roof was installed perfectly - crew was excellent and job was completed Feb. 2nd, 2017. I paid for the job same day on a H.D. credit card. Problem resulted a few days later when H.D. removed a large Steel container with roofing trash from the property.
The truck driver somehow got off the driveway with the long trash container and truck moving back and forth across the width of the concrete driveway. The container and truck tore deeply into the lawn leaving wide deep truck tracks far out onto the lawns. The metal container wheels gouged the cement. Eventually after many back and forth attempts to get the truck/container free, the H.D. driver flagged down someone with a big truck to help him get out of the lawn and off the driveway. Between the loaded H.D. Container truck and the large second truck up on the driveway, a section of concrete sheared and a large slab of driveway sunk almost 2". Photos were taken by the H.D. Job supervisor and myself.
The supervisor acknowledged and apologized for the damages to both the lawns and driveway, and told me it would be resolved quickly. It's now 5 months since this comedy of errors and after numerous phone calls, high quality photo submissions, contractor quotes for repairs to the driveway ($1700), a legitimate claim for damages was refused by Home Depot's, Sedgwick Consumer Complaint Division. Reason - it is not Home Depot's responsibility for damages that the H.D. contractors caused to my property. I contracted with H.D. not its sub contractors - the contractors were paid by H.D. It has been a particularly disheartening and futile pursuit to just get this fixed. I do not want money. I just want the driveway to be repaired. It was fine before H.D. arrived and it is not fine now. Just to complete this venting - do not think that H.D. stands behind any sub contractor it sends to your home - their objective is to shift responsibility to a third party.

I ordered a refrigerator and washer/dryer one week prior to moving from Florida to Boise, Idaho. The refrigerator was to be delivered the day I closed on my new home. The Boise store had the contact number of the person who would be at the home on the day of delivery. The person who took my order was informed that my landline in Florida would no longer be valid; I provided her with my cell phone number so that she had both the person she was to contact, as well as me. The refrigerator was not delivered.
My contact person (builder rep) and I went to the Boise store on July 21st. They promised that the refrigerator would be delivered on July 25th. I confirmed delivery the morning of the 24th. During the evening of the 24th, I received an email stating that the refrigerator was not going to be delivered on the 25th. In fact, they weren't even sure if it would be delivered with my washer/dryer scheduled for the 28th. I cancelled both orders and phoned Lowe's. The order for identical appliances was placed on the 25th and all were delivered on the 26th. I will never purchase anything from Home Depot - anywhere - again.

When I 12 July order it, after one hour I call HomeDepot.ca cancel it. But 18 July, I was check my Credit card account, show this order is still available. I come to store want cancel it again, store call me back, told me "this order canceled". But today, I check my Credit card account again, still no money back. Please reply me tell whats happened? I for this order, call HomeDepot.ca online one time, email HomeDepot.ca online one time. But never reply. HomeDepot.ca online servers is very terrible. If HomeDepot.ca online want be a good online business, please study Amazon.ca. Thank you anyway.

Unbelievably bad online service, redacted review online. I was going to purchase a shed from Home Depot and used the "online only" service as I need all deliveries made to my house (age & back issues). Purchased the unit on the 18th July, and waited... and waited... No call, no message... waiting. Emailed deadline expired, received no updates from Home depot. 28 July still no sign of the unit, after emailing and calling Home Depot for 30 minutes (thanks for the music:-)) it appeared that "something happened" and (after 10 days) I could get no immediate delivery although I could arrange something "for the middle of next week".
Too uncertain & late for my contractor so I cancelled and looked elsewhere. Went to a competitor's website (we have only one of these here) got it at a better price including delivery, and immediate email and phone response. Unit was delivered next Monday. However, this was not all, I wrote a comment about the purchase at Home Depot reviews with the intent of warning other elderly people that depend on online services what they were into. Well my review was redacted/refused twice and likely will not appear. (I could not really comment on the shed as it had not been delivered). WARNING: Given my experience I suggest not using the online service of Home Depot. And please take their "reviews" not too serious.

I purchased several products from Home Depot and the products/service was not delivered. Home Depot is a scam business. The service after the sale is non-existent. Customer service is no more than a ear service. The store in my area is and has been mismanaged for as long as it has been in our area. I truly recommend you conduct your business with a local reputable well known business. Where you may think dealing with local small business may not be cost efficient, you should strongly reconsider your thought process. During my experience, had I gone to small local business, my purchase would have been satisfied. Home Depot cannot manage themselves from a corporate level.

I don't even know where to start. What a poorly run company. Placed an order online and realized after I hit submit, the city and zip code were wrong. Called the 800 number within 1/2 hour of my order being placed to correct it only to be told they can't correct things like those. Was advised a cancellation would be submitted for the entire order, which I was okay with and then I just placed a new order with the correct information. Got an email the next day stating my order could not be cancelled, but no reason why. Also got an email that one of my items had shipped. Called again that night only to be advised there was nothing they could do because the vendors are closed in the evening and they would have to call the vendor to cancel or recall the package. Wow... would have been nice to know that the previous evening!
So then I call the following morning and we were able to recall the item that had shipped, but the second item had left the warehouse and was on its way to the trucking company so they couldn't cancel that. Was told to call back the next day in hopes of cancelling. The next day is a Saturday so that's out. Then told to call back Monday as it would be on the truck by then and we could probably cancel. I am taken aback by the lack of customer service and ass backward way they do things at Home Depot. I work in manufacturing and have never seen anything like this. The CEO should be embarrassed by their processes. Do yourself a favor and buy your stuff from your local plumbing warehouse where they actually take care of their customers. Wow.

Ordered fence package it arrived, 1/2 the order was missing. Driver ended up making 2nd delivery of 30 bags of cement. Still I was missing screws to put the fence together. I went to Home Depot and complained. The employee that filled my ordered denied he would make a mistake like that after I told him what wasnt delivered. I went to the supervisor she defended her employee making excuses instead of admitting to their mishandling of my order and fixing it promptly. So after insisting, they finally gave me the screws that were suppose to be in the order. They acted like I was lying until the driver that delivered my order came forward and said in front of the employee... Did you finally get the screws so you can build your fence? The customer service was dissapointing and sad.

This is a routine occurrence at my local Home Depot. Customers approach the checkout line and look for a checkout person standing near a cash register to simply scan their merchandise, pay for it and quickly leave... you know, like every other damn store in America. At Home Depot there is automated checkout, which is a time consuming disaster. The machines are non-intuitive with instructions written in small type, so you have to spend time reading instructions for a 12 second checkout process. The difference between credit card payments versus cash payments are not clearly described. If you are lucky enough to have a person check you out, they will ask for a "job number". I am not a Tradesman and shop once per month. I guess automated checkout is OK if the machines WERE INTUITIVE! The technology seems like it is 1987.

What a difference a day makes. With all the trouble trying to rent the truck at Lowe's in Menifee, CA yesterday, we never got the truck. We called Home Depot - Perris, CA this morning, they took our name and phone number, they called us within an hour, held the truck while we drove over to the store. Easy, no stress, would recommend Home Depot Truck rental to anyone. Great experience.

Hired Home Depot Exteriors to professionally install James Hardie Board on our home on Oct 25, 2017. As of July 25, 2017 (272 days later) the installation is still not complete and what has been done is not a professional installation. Trying to talk to someone at Home Depot Exteriors to come up with a plan to remedy this nightmare is impossible. No one at Home Depot is proactive to resolve this nightmare. Unless I contact Home Depot I hear from no one and even with contact nothing has been done. Home Depot Employees that have been to the house state how unprofessional the installation is, point out the errors, state the errors that do not adhere to James Hardie installation guidelines, state that if this were their home they would not be satisfied but also state, "Don't tell anyone I said that, I would lose my job." Day 272 of Home Depot Exteriors Nightmare.

Contractors & Home Owners Beware! Sterling Deluxe series shower doors with pebble glass do not meet IBC building code requirements for tempered glass. Manufacturer omitted the etched code compliance for tempered glass on the doors. Failed building code inspection and had to tear out the door on finished tile installation and order a new door from a different manufacturer. Home Depot personnel were reasonable and refunded the cost of the Sterling door, however, additional labor cost and 1 month project delay - unforgivable!

I am having a bathroom redone. I called various Home Depots to find the one that had my tile selection. There was only one in our area, so I went to that store. I only needed 7 cases of the 40+ tile they had in stock. I paid the complete balance and told them it would be picked up the following Monday, getting assurance that this was acceptable. I have just received a call from my contractor that when he went to pick up the tile, they are out of it! How can that be??? I have already paid for it, and they resold it. Not only is this a horrible way to do their business, it impacts the business of the contractors that are scheduled to do a job.

I was told by the salesperson that my roof would be completed in one day. Here we are five days later and not finished (not due to rain) due to general contractor not knowing what is going on at job site.

July 21, 2017 I went to Home Depot in Yakima, Washington hoping to get some help with a defective patio chair. It was a Hampton Bay chair that broke at the weld marks. I went to the customer service department and waited for the home depot person to finish with another customer. The Home Depot person said he would research what he could do for me when he finished with the person in front of me which took a long time. The Home Depot man also was answering the phone even though there were other employees behind the counter.
When my turn came the Home Depot person said he had to talk to the person on the phone that was on hold. The Home Depot man asked another employee who was coming into the area and was putting an apron on to help me with my chair issue. She made some remark about a chair she had in the back and then started helping another Home Depot employee with some questions he had with an order. I had waited my turn and I will not have to wait any longer because I will not be back.

It seems that appliance delivery system is where Home Depot is having trouble. We purchased a refrigerator. The delivery company called the wrong number to say they were coming; no one was home so they left. They said that they could not deliver for another two weeks!!! We purchased a range for our rental property a month later. The delivery company called and said "Will be there in 30 minutes." I went to the property within 20 minutes, but they had come and already gone! When I got in touch with the Home Depot, they said they could not do anything, but if I wanted they will cancel that order for me. How about contracting with reliable delivery company? I should have listened to the sales rep when I was purchasing it... he said that the delivery company contracted by the corporation was the WORST.

I actually like Home Depot and shop there most of the time. I think it is better in few areas than Lowe's. I recently ordered items online that I had a hard time finding in Amazon and they were cheaper than Amazon! However, something happened during the last trial and it gave me an error message and since then denies "access." I can still use work computers. I called their 800 number and got an incompetent rep with stupid comment that I could order through them and did not think this was any problem for Home Depot and said they do not have an IT department!!! Home Depot is going to lose a loyal customer who has shopped there for decades.

Home Depot stinks. Made an online order. It was canceled for no reason. Received a refund. They reordered it without my knowledge and said I would get money back. Instead I got the merchandise that I no longer needed because I went to Lowe's and got it so the roofers could complete the job. So when I tried to return the merchandise HD refused to give me my money back said had no cash value so I called them and they said I could take it back and give it to store but I would not get money for it. So they stole 89.12 from me and wants me to give it back to them so they can resell it again. Do not order online with Home Depot.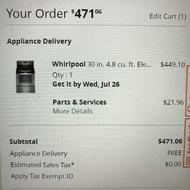 I ordered a stove online for 471.06. When I hit place order, it said, "thank you for your order of 509.92." I tried to cancel online since I didn't approve this amount. Luckily, I had taken a picture of the last step and sent it to my husband to see if he wanted it. It had proof that the total (NOT SUBTOTAL) was 471.06. I was called and placed on hold and 21 minutes of my time to cancel the order but not without the rep telling me I was a liar (saying his side shows otherwise). Even after I told him I have a PICTURE of it. I told him he can either keep the price I agreed to or cancel the whole order. He canceled the whole order without any reconciliation for their error. Now, I am just out 509 dollars for 5 days, and have been insulted by their team, and 20 minutes of my time wasted.

To make a long story short about the rental process, let me begin by stating that probably most of the equipment rental at HOME DEPOT does not fall under my complaint. But when you have to schedule workers, deliveries, materials days ahead and then schedule that around weather it is not feasible to NOT be able to reserve the equipment needed to do that work. Home Depot has a no reserve action in their rental procedures. I need to know the availability days ahead. Not the night before nor the morning of the project. Yes, of course, I will rent from someone else who is more customer friendly... Home Depot Rental won't last unless the other departments' revenue keeps them afloat. Just like a big box store customer service... there isn't any.
Home Depot Company Profile
Company Name:

Home Depot

Year Founded:

1978

City:

Atlanta

State/Province:

GA

Country:

United States

Website:

http://www.homedepot.com/