Consumer Complaints and Reviews

April 15/17 #** Overall problems: Hours on the website and from CS are inconsistent. I got three different opening hours for Buckhorn! Drop-off locations are confusing. Requested a drop-off at one location but not allowed in the system and had to drop-off at another! Peterborough UH - I booked in advance by one month for Peterborough pickup. Two days before pick-up, I got message saying that the nearest truck was in Buckhorn! Buckhorn UH - Location had NO sign whatsoever. I was also first in line but last served, as he was operating a bakery onsite. When I asked if he could take care of us, he replied that the bakery "was his preference"! He started paperwork once again but went away to take food orders. I had to wait 1/2 hour. It gets worse. He was so busy he told me to go into the U-Haul system and book it myself!
2 Upton UH - I eventually dropped off at 2 Upton (also NO signage btw!). I find out that the gas attendant is UH rep! But when I ask him to sign-off, he REFUSES! He says he will not sign for a truck he knows nothing about! I asked him for his name and he would not provide. He starts yelling! I eventually had to sign the release MYSELF and take pictures for proof I returned in good condition. Wow what a bad experience!

I had rented from U-Haul many times in the past. Reserved a trailer to pick up today. I had hired a guy (I did not know him) to drive the truck that was to pull it. When I got there to pick up, they wanted driver ID. They entered his driver's license and it showed he owed them $44 (which they even admitted was being disputed). They also said the guy he normally worked for owed them money. So... they said the guy's name would always link to his boss' name and both of them would always be linked to my name until their accounts were paid off and that I will be denied rentals! They would not even let me hook it up to my own SUV. I was stuck with no trailer for my long distance move and ended up having to put it in storage! They said this is policy throughout U-Haul.

I am firm believer of the "if you are sick, stay home until you are no longer contagious" movement. Apparently these people are not. I came in to buy some things and rent a truck, the woman at the counter was visibly sick. She had no hand sanitizer near her computer, she followed me around and got very close to me, made no attempts whatsoever to keep her distance or germs to herself. DayQuil may make you feel well enough to go to work, but it DOESN'T make you not contagious!!! If you are sick DO NOT GO TO WORK, DO NOT go to the STORE have some respect for yourself as well as others and stay home until you are no longer contagious, which is 24 hours after your symptoms go away.
Now I am sick, miserable, and have to take off of my work and lose my pay and I'll be having to care for some sick kids while I do it. Thank you sooo much for making no attempt whatsoever to stop the spread of disease. No Respect for other people!!! I went all winter long without getting sick once, now the weather is beautiful and I have to be stuck inside because this lady doesn't know how to use sanitizer, keep her distance, or most importantly not leave home when sick!

I've been renting from U-Haul for each time I make a move. I will NEVER give them my hard earned money and business again. I booked a U-Haul a week or 2 in advance and requested I be able to drop my truck off at a different location. However, U-Haul sent me somewhere I could do that because that was this company personal truck. I had no choice but to get the truck on my moving day after calling around for a different location because they were the only ones that had the 26 in truck at the time.
This company (SkyRocket) at 1501 W Little York in Houston Texas provided me the truck. The owner ** did not attempt to give me a walk around the truck, show me the mileage nor gas. But because I am a U-Haul renter I knew the guidelines that they followed and I asked him to give me a tour of the truck. He only showed me the key that goes to the lock in the back. I noticed damage all around the truck so I brought that to his attention so that there wouldn't be no misunderstanding when I returned the truck. The contract he gave me, I noticed it said the tank had 3/4 worth of gas which was untrue so I blew the horn and called Mr. ** back to the truck to show him it was a little above 3/4 of a gallon. So we went back and forth and he said just return it where the gas level is now. I said okay and drove away.
As I was driving I tried turning on the AC. There was hot air blowing out. I quickly called the shop back to tell them this problem and to see of they knew. ** stated he would write something up on the truck and get it fixed for next customer and rushed me off the phone saying he would call me back. Never did he call me back to check on situation. So I pulled over to roll down both windows. Then I noticed blazing heat on my feet as I was driving. I looked down and I kid you not I could see the whole motor/transmission of this big 26 inch truck. The heat that was burning my feet was coming from the motor plus outside heat. I immediately panicked and called ** back. He stated he didn't know what I was talking about and said he would put in a order to get situation fixed when I returned the truck.
So I pulled this truck over again and showed my husband who was following right behind me what was going on. He had to latch down the coverage in the middle of the truck to cover the motor/transmission that was causing fire heat to my feet. So by this time I am absolutely upset and I'm hot from no heat in this truck plus I'm moving around so much on my moving day, just to get back into a truck with no a/c. So unpleasant!
I finished moving at about 645pm. ** said to just call him and update him the time I will be bringing the truck back because he close at 7 but will wait a little time soon could return truck. I explained to him I could get the truck back to him at about 7:10 pm. He stated I could bring it to him as soon as they opened at 10am and he wouldn't charge me for the extra day because I'm guessing he was ready to go home. Okay fine! So I return the truck at 10am sharp. Another customer and I waited on ** for about 15 minutes to get to his business that was supposed to be open at 10am sharp. So that was just the start of ** putting me behind schedule of a busy day. I had to take my daughter to a party, and my mom was waiting on me to pick her up from having her the previous day so that she could start her day.
** checks the truck in the system and tells me I went 166 miles. I immediately got upset and wrote down every single location I went to, got on my Google Maps and wrote down the mileage from location to location. His whole attitude was he didn't care. So right in front his face I called U-Haul customer service. The representative stated that he had charged me for 166 miles plus a extra day of having truck and the insurance I added on. So while on the phone with her I asked him didn't he tell me he was not going to charge me for a extra day. He stated, "I did tell you that". Then he all of a sudden changes his demeanor and says he needs help taking it off, when at first he had this cocky attitude.
I explained to the representative I only went 63.9 miles in this big truck I was skeptical about driving in the first place so there's no way I would have even went that far. She took my complaint and I still ended up paying for 166 miles when I only drove 63.9 miles. He called his area manager ** to learn how to get the extra day off plus insurance coverage but ** kept throwing him off telling him to call U-Haul customer service, and customer service said that ** was who he needed to speak to.
So after 3 whole hours, they finally get the extra day off of my balance but I still have this 166 miles that I have paid for. Over a $100 I have paid for someone else mileage. I waited 5 business days to receive a call from someone in corporate but no one reached out to me on this issue so I called U-Haul back. Representative stated, "Oh they refunded $50 to your account". I told her I have not spoke with anyone regarding that and I wish to talk to someone before they just throw my situation away and just credit me $50. I spent well over $50 for miles I did not drive. She gives me the manager who worked on my case and come to find out, it's **, buddy of **.
So I spoke with him and he says, "Yeah I emailed you and called you (which was a lie) but I only gave you $50 because of your experience with the truck as far as the transmission showing". We checked the mileage and the mileage was correct. I told him there was absolutely no way the mileage was correct. I don't know if someone personally used the truck and did not update the mileage or what, but I know there is no way I have went 166 miles. I calculate my mileage everytime before I get a truck from U-Haul so I will know how much my ending balance would be. He insisted that he was right, I was wrong and that he would compensate me more money if he call the customer who has the truck now and they say the air is not working.
So he emails me finally today and says the customer said it was no issue with air. This has to be a joke right? Why would I lie about not having air? Why would I take out time to call them back and state I don't have air on my busy moving day. I never asked for a discount for not having air ever, so what would my intentions be to lie about not having air? I emailed ** back and said they were a scam and I would not stop until my voice is heard.
I spent nearly $300 for U-Haul that was supposed to be no more than $150 with insurance for my ending balance. This issue has caused me stress and extra money I do not have. I'm so disgusted with U-Haul. They don't even deserve 1 star. I will be writing a letter to the corporate office since no one will call me back from their office. I don't want anyone else to go through what I have been through. So just like I'm taking time out of my busy schedule on my lunch break right now to write this, I will continue to take time out of my busy life to get this matter handled. If U-Haul cannot resolve this issue and recompensate my money, I will definitely be taking this to court. That's a promise! I work entirely too hard to provide for me and my daughter for someone to take advantage of me and rip me off like that.

I am a military brat and was in the service myself, so I had a lot of experience with moving. This was, by far, my worse experience with that. We hired Move 4 Less to help with loading and unloading, packing, and home cleaning. We had a household set up already, so the remaining furniture and other goods were to be moved to a storage unit.
First is packing. We had packed most of the goods, so there was probably about 2 dozen boxes that the workers needed to pack. The workers were provided with packing materials by us. Boxes, packing paper, tape, and markers. What they called "packing," I call "throwing things in boxes and sealing them." Most of the boxes were half full and no attempt was made to use packing paper or other materials to make sure they were full and wouldn't collapse when things were stacked on them. And fragile items were thrown in with other things, and again, the provided packing paper was never utilized.
Then, the loading and unloading had gone rather well, or so we thought. However, when we went into the storage unit we found that every box marked as "fragile," "very fragile," "crystal," "stemware" or other label indicating that the item needed to be handled with care were on the bottom of book boxes or other heavy things. All of them. Every one. In addition, the half-packed boxes mentioned before were near the bottom of the stacks of other things so everything had collapsed on themselves. Mind you, they had only been in storage for a week when we found this. The home cleaning that was actually done was that the carpets were vacuumed. Since we had already vacuumed the floor, it amounted to them cleaning up their own mess. We spent about 12 hours cleaning the house after they had cleaned it.
Despite all of this, the worse part of the entire ordeal was dealing with the gentleman in the front office. I admit that I had underestimated the time it would take to pack, load and unload, so I told the person on the phone that I needed more time than was originally ordered. He told me I needed to go online and create a new contract. I proceeded to spend the next three hours trying to get the app working on my phone. As I was attempting to do this, the front office person was calling me, harassing me about payment, and threatening to call the police. I asked him if he could just take the credit card payment over the phone, and he was adamant, "No." So I asked him to walk me through getting the payment done on his worthless app. His response was that it was not his problem.
He then contacted the workers and told them to stop working. It took me about 90 minutes to get it fixed, while the workers were doing nothing. This was an hour and a half of paying them for no work. Approximately $270 that hour and a half for nothing. And for this, I got rudeness and harassment from the gentleman at the front office. At one point, that person yelled at my wife when she asked about the cleaning issue and he berated her so fiercely that she had to hang up. But he continued to call back until she told him that she was calling the BBB. He laughed at that notion and said the BBB was a joke and nobody would believe her anyway. Please stay clear of this outfit. We were taken badly.
How do I know I can trust these reviews about U-Haul?
744,857 reviews on ConsumerAffairs are verified.
We require contact information to ensure our reviewers are real.
We use intelligent software that helps us maintain the integrity of reviews.
Our moderators read all reviews to verify quality and helpfulness.
For more information about reviews on ConsumerAffairs.com please visit our FAQ.

I am really disappointed in the service of OC Rentals. I was overcharged. I returned the key back on the same day, but I was charged for 2 days. When I called them to claim about the issue, they didn't believe so I drove 20 min to their office and showed a video that I recorded when I returned the truck back. After showing the video to the person in charge, they refunded. HOWEVER, MOREOVER, they tried to refund only the rental except for insurance and tax. They refunded correct amount after I said to them about my calculation.

I placed an reservation to rent a trailer from U-Haul in Calgary Alberta, from the U-Haul Moving & Storage at Barlow Trail, 520 Meridian Rd NE., Calgary Alberta. They requested my visa to "Hold" the reservation which I gave to them. I was told that they would be in touch with me. Then 5 minutes later I received an email confirmation with the reservation number. In the fine print I saw that they would be in touch with me about this reservation. I then received another email, from U-Haul telling me to confirm the towing truck, the towing capacity and how to check it, and they would need to verify the towing capacity. So there was much contact from U-Haul. 4 hours later I received a phone call from U-Haul saying NO trailer is available for rent in Calgary until Monday sometime maybe.
They told me I could drive to Windermere BC, 3 1/2 hrs each way!! I had already had 2 guys flying from Toronto to Calgary to use the trailer to return to Ontario (3 day drive). I tried 4 times to explain the situation, and problem, to try to find any solution. U-Haul does NOT CARE. They DO NOT CARE ABOUT their customers. DO NOT USE U-HAUL!!! You could get burnt like I did, and they do not care.

My daughter was moving from Austin TX to San Rafael CA and a U-Haul trailer was the most economical. I attempted to visit with some local dealers since I do not live in Austin, with limited success as their primary business was something other than U-Haul. I called the dealer on Ben White Freeway in Austin and they were very professional and friendly. They told me that they needed to order the trailer hitch for my daughter's car at least a week in advance. My daughter went by the dealer and they treated her as professionally as they did me, ordered the hitch and she had it installed a couple of days prior to her needing to pick up the trailer, priced as originally quoted. Everything occurred as they explained. She picked up the trailer a couple of days later with no problems. The trailer was clean and in great shape, tires relatively new.
I helped her pack the trailer and we took the trailer to San Rafael CA with no issues. When we went to drop off the trailer it was obvious this was a large U-Haul dealer. It took all of 90 seconds to drop off the trailer. They had a "gun" to read some codes much like a rental car company. I was pleased that my daughter was treated with so much respect. I would say that if you want to rent a U-Haul, go to a larger dealer that has this as their primary business, not as a sideline. Both Austin and San Rafael appear to be active communities in regards to people moving and their dealers were great. The dealers had an ample supply of rental options and their people viewed this as their business, not as a sideline. Also, I prefer to do business face to face and had my daughter do the same since she lived in the neighborhood. This seemed to create a smooth process with no misunderstandings.

Like many others, I was told the day prior that the truck I had reserved online, and received email confirmation, was not available. I was then given the option of driving an hour the opposite direction to pick up the truck that I needed. I changed my plans of settled on a smaller truck. I picked it up and turned it in the same day. Unfortunately, the location I turned it in to didn't check it in until 2 days later, and then proceeded to charge me an additional day of rental. I've rented from U-Haul a dozen times in my life, but never again. Don't make the same mistake, other companies have much better customer service.

I reserved a rental truck with my credit card. Upon delivery I paid with cash. I did not look at my receipt at the time but the cash was taken from me and my card was charged 3 times. My first problem is I rented the truck on 2/28/17, my card wasn't charged until 3/3/17. I called immediately and was told the charge was being reversed at that time. Then on 03/08/17 my card was charged again. This time causing 5 items to be returned NSF. I contacted U-haul again and was told they would contact me regarding the matter.
On 3/16/17 I called U-haul to see what was going on and was told the GENERAL MANAGER looked at the tape and doesn't see me paying cash. Now this is when the light bulb went on. The GENERAL MANAGER is in on the fraud too because had he looked on the tape he would have seen me digging in my purse looking for the coins. He would have seen me turn and ask my daughter if she had any change on her. He would have seen me take money from my daughter and give to the clerk. I wonder how many people they have stolen from. U-haul is not trying to resolve the issue and they don't seem too concerned with the fact that employees are committing fraud.

So not only does it not matter what location you during your online reservation process because although you will receive an email confirmation, you might receive a second email & text telling you to go to another location to pick up your truck. This happened to me. I made the reservation at the U-Haul closest to me but on the day of had to travel 11 miles to pick up the truck and 11 miles to drop it off for a grand total of 22 miles. It gets better.
Rental pick up time 12:00 pm after a long day of moving returned the truck @ 8:00 pm and now you have to go through their new online check in process which involves a series of pictures you have to take: the odometer & gas pic, the cabin pic, the pic of the back of the truck, and lastly the pic of where you parked the truck!! Their online system may not upload the pics so you have to keep trying until it does. Here you tired as hell, maybe hungry & youre taking pics. It gets better. After all this, they charged me double!! Yes indeed, I was double charged. So if you happen to have rent a u-haul review your statement. Better yet dont rent from u-haul. Lets see how long it takes to get my money back. Worst truck rental experience.

Ordered Uhaul service for a move. I prepaid charges online. I went through all the screen offering additional products and said no to them all. Picked up truck and did what I had to do. Viewed my account statement a few days later and noticed 2 charges on my bill both more than $90. I called Uhaul to find out why and was told that I had ordered a bunch of moving supplies. No ma'am, I did not! I was transferred to the supply department who advised he would email uhaul requesting a refund. I waited a few days and of course, Uhaul had no email, but told me I had to talk to the owner of the establishment and of course, she never talked to me, called me back. I am due a refund for products I never received nor requested and have made several calls to this company to no avail. They are not trustworthy. Do not use them, go to someone else.

The U-Haul on Blackwell Rd in Belville NC is easily the worst experience in customer service I have ever encountered in my 57 years. I didn't know the exact name of the type of dolly I wanted with the truck & she became extremely rude & vulgar. She was horrible picking up & when we dropped it off I stayed outside while my daughter went in & the woman told her that I was an **. My daughter defended me saying I was not & the woman then told her that I was an idiot. She should have her license or permit to rent U-Hauls revoked. Terrible experience!!!

Do not hire these folks for your U-haul Move. They are unprofessional and the help complains the entire time. They came to my home without a dolly, without moving straps, without security equipment. They took much longer than expected because of this. Then tried to charge me. They arrived an hour late. The young women that took my order and managed the job was very nice, just in the wrong business. The workers were in terrible physical condition and struggled moving a one floor to a one floor unit. The last company I used at U-haul were great but I could not locate them on a past order for some odd reason. I would have called them first. When you have unprofessional workers damage occurs and many times you don't see it until everyone is gone. Lesson learned!! Never again. The U-haul Truck company, they are the greatest!! The movers: the pits!

I rented a U-Haul truck on January 28th. Within the phone call to rent the truck the customer service girl on the phone suggested to pick up in one location to drop off in another so that I can get a free month of storage unit and combined the deal. I went over pricing to just rent the truck from one place and return it to the same location and get my own storage unit at a different location (not U-haul), the price was not significantly different but did save me around 20 something dollars. So I went ahead and I took her suggestion and I picked up the truck and Vero Beach Florida to drop it off in Fort Pierce Florida at a U-Haul owned storage facility.
When arriving at the facility we were shown the storage unit that we would be receiving, this is where the problem began. To begin with the storage unit had a particle board door with exposed hinges and a lock that was only screwed on with a Phillips head screwdriver (but they require a $15 round lock to be put on it for security). The door had about a 4-inch gap on the top of it and about a three-inch gap underneath of it also. When asking about my PIN number to get in the gate they told me I don't need it right now because the gate is broken and it happens all the time. They can't catch the person who keeps breaking it (which indicates that the cameras are even lax also). They refused to do anything (other than what I could have done online myself) to satisfy.
I asked for a Real storage unit for the same price as what they were trying to pass off a broom closet for, they refused very unprofessionally, the guy in the office hung up on my fiance when he called to request a different unit. I have pictures of how ridiculous the unit was, I also have video of how we were treated by the staff. Now, as recommended by your employee, I had no choice but to leave my belongings in a bigger unit (with a real door) but also at a higher cost, and in a facility with no gate half of the time. I feel that something should be done about this situation. I have also already called customer service to complain (with no response from U-haul, of course).

I can't believe this irresponsible, abusive, fake people have the license to wrong this business. I feel so Abuse. The mgr. Act like a caribbean Macho. And treat awful. I still have nightmares. I went there. Because is closer to where I live, which is an upscale, high... Rentals neighborhood. My total from my rental was 48$. They charge my card 114.48$. They supposed to charge me.74 cent. The guy promise.
But instead. They charge me 99 cents a mile. I live in lake Nona and was carrying some moving boxes to st. Cloud. Fl. One route straight from my home. I rented from around 9:20 am to 4 pm I drop it off. I dislocate my arm trying to close the big door on the truck. And after an hr my neighbor came and help. And I didn't complain about my arm, which I got some witness. When I try to complain the guy on the phone was acting sarcastically and said. "I drove the car to Tampa. I already complain to corporate and answer.
I just find out last week. I am not the only one who been abuse by this business. The mgr. Was extremely... Sarcastically and show up in the front desk, didn't introduce himself and walk away with offering help. MOST. AWFUL BUSINESS. I AM WRITTEN ALL THE REVIEW I CAN FOR THIS BUSINESS. I RENT THERE ON Dec 4, 2017.

Had very horrible service from Rutland VT and customer service when I tried to get trailer switched at a closer location to where I needed to pick up truck. Had to make an extra 146 mile round trip back to Rutland VT after finding trailer given to be wrong size. Because I was given the wrong trailer and could not trade it for the correct size at another location due to trailer being "owned" by local location though it's not even registered in the state it's housed. I received no sympathy and only received a $32 credit that did not even cover cost of gas to correct mistake made because the Rutland worker said "He was too lazy to shuffle trailers around" in the a.m. to get me my assigned trailer. Was also an hour and 15 minutes later getting out with the wrong trailer in the a.m. as another customer was shuffled in before me also having issues.
The system was not allowing the change of trailer worker made so he just bypassed it scratching out original trailer number and writing in the wrong one he gave me. Had to readjust straps because they were put on wrong and bound up in ratchet, and had to scrape out slide for ratchets in front that were caked with dirt to adjust for proper fit of straps on the correct trailer. This kind of service is not acceptable!

I have been a loyal customer of U-Haul for many years. I have never had a problem with them as far as their customer service and quality of their service until Jan. 19, 2017. I had rented a van, unfortunately it ran out of gas. When I returned to the van with the gas, it had been towed. It was hours before I was able to get the location of where the van was taken to. As my property including my purse which held my DL, Medications, Credit Cards etc. The manager, Chris, stated that the van was empty when it came in. I asked to see the van and he told me it had been rented. When I asked him to put it in writing he refused. So I asked him to state on recording that the van had come in empty and was currently out on rental.
I then exited the building and instead of leaving, I went to the back only to find the van with my property in it, totally ransacked. It was sickening. I still had the key and unlocked the door to grab my purse and Chris slammed the door on my hand then proceeded to manhandle me with his body trying to get me away from the van. Because I was taking pictures. I have the recording and the pictures to back up my statement. The result was I called the police who then ordered Chris to allow me to get my things. The van was so jumbled I just threw everything in my friend's truck. When I got home I noticed quite a few items missing. Mainly my laptop. It isn't worth much. But, it has irreplaceable pictures of my grandchildren, of my grandma who passed away that I can't get back. Chris denies stealing items from the van and has refused to return my laptop.

Negative, negative and negative! They owe me gas money for driving 80 miles. Was going to go pick up a car in Montana with a CAR HAULER. Looked on the uhaul.com at our local dealer to see if they had one. The website did not show one available to order today. So looking on the route to our destination the website showed one available in FARGO and allowed us to reserve it. Drove to Fargo on our way to pick it up and they were ready to give us a tow dolly which would not work for what we want. That is BAIT & SWITCH!
Fix your fudging website! Inventories are real-time and that's why you have these computers in all your stores! If there isn't one available then don't allow us to reserve one thinking it will be there when we get there! And don't blame it on the local franchise, it's squarely on U-haul and its website! Thank god I didn't see one in a town farther away! Apparently they didn't charge my card but they didn't say it wouldn't be available either! I guess ACME Rentals is my new Rental outfit!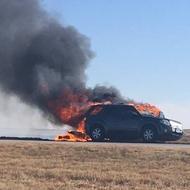 Briefly, I bought a tray, bought a hitch, U-Haul installed, no warnings or paperwork, contents of tray caught fire & entire car was totally burnt, U-Haul denies any responsibility. Zero. Not even the lifetime hitch warranty. This was NOT my fault. People need to be warned - someone is going to die from this. We almost did. Below is my claim number with U-Haul's insurance company. There are 3 types of tailpipes - some point straight back, some to the side, some downward. I told them what I was doing - driving my daughter to Eugene Oregon from Tulsa. I told them to be sure to install the kind of hitch that would support that tray, and that I would be loading the tray for the trip. I had a suitcase & a Rubbermaid type set of drawers bungeed onto it. I had no way of knowing that the tail pipe was incorrect for this arrangement. No way. This was purchased at the U-Haul Moving & Storage on West Maple in Omaha, Nebraska.

U-HAUL are crooks! The Dallas area has toll roads that charge you 50 cents to a dollar seventy five or so every couple of miles. U-Haul charges $1 per toll to collect the tolls. So, a 50 cent toll costs you $1.50 200%!!! My tolls added up to $33 and these crooks added $17 for a service charge. Obviously not happy!

I ordered a hitch bar kit for my vehicle from U-Haul that came with the hitch receiver bar, drawbar, hitch ball, pin & clip, and trailer lighting hookup. The appeal of the kit was that it was convenient - all I had to do was enter the year, make, and model of my vehicle and the kit was designed to fit my car and the standard height of the U-Haul trailers.
Going for convenience was a mistake. The drawbar sent with the kit was too short to fit the vehicle. I called U-Haul to notify them of the problem and ask them to issue a return packing slip for shipping that item back. I was told by David that U-Haul does not print return shipping labels (yes, not just in my particular situation, but for any reason). He said however, that I could return the item to a U-Haul center for a full refund. I informed him that it took an hour and a half, one way, to get to the nearest U-Haul center that could accept the part. He told me that my only other option was paying the full shipping amount to return it. I complained that this was their system's failing and I should not incur that cost and David said that he would have the system's manager, Jeff, review the case and give me a callback.
4 days later, with no call received, I called U-Haul back to find out that the message hadn't be relayed properly (surprise!) but that the case had been reviewed and it had been determined that the bar was the correct length. I guess Jeff has never had his hands dirty actually installing one of these bars, because it was most definitely NOT the correct part. So, not only was my time wasted with a last-minute scramble for the correct drawbar right before our move, and wasted getting shuffled around departments within the U-Haul call center, but was ultimately wasted in the end by a stubborn and egotistical systems manager with no experience under a car and I still did not get a satisfactory resolution to my problem. Thanks, Jeff!

I reserved a 15' truck about 1 month ago. Someone from U-Haul phoned this morning (pick up is tomorrow morning) to let me know they only had a 26' truck available but I could have it for the 15' truck price. I told them to cancel as I am not driving a 26' truck! I am really angry as I booked this early so I wouldn't have to do any last minute scrambling. Thanks to U-Haul I had to make many last minute arrangements and it cost me dearly... I found this company to be very unreliable and would not contact them again.

I made my reservation back on Oct 24, 2016 for my move from SC to TX. They explained to me about 3 different charges that would occur on different times. Which was upon empty box delivery, 5 days before my boxes arrive in Tx and then delivery to my new home. Ok they delivered my boxes like planned on schedule. I packed my boxes, nice friendly guy picked them up when he said that he would. Then the nightmare began. My boxes were scheduled to leave SC on Dec 11th and arrive in Tx on the 18th. Well I ended up getting a email stating that I owed rent for the boxes and that they were late. So I called about this rent that was due on the 10th and my boxes was suppose to be in transit to TX. To only find out my boxes had not left and that my order had been cancelled by an unknown employee. But no one got a red flag or the notion to give me a call.
So I talk to the regional manager in SC. She tells me oh they can have my boxes sent as soon as they find a carrier with a possible ETA being Dec 22, 2 days before Christmas eve. Well on the 15th I get a call from the SC regional manager as I'm boarding my plane for to tell me that my boxes had left and would arrive on the 16th or 17th. Well that was a lie. No one knew where my boxes were and was still telling me that my boxes were scheduled for Dec 22nd. Ok I get a call on the 19th from U-Haul delivery lady to schedule delivery time, but she can't deliver on the 22nd, she can only deliver on the 23rd!!
So I call today the 20th and I'm being transferred from 1 place to the next about my boxes and get told by the location where my boxes are suppose to be that my boxes arrived today. Yet 30 minutes later after I talk to the regional office in TX that my boxes arrived on the 16th!! They are disorganized, a bunch of liars and have not done anything but pass me around the berry bush to pacify me. I will never do business with them again!! Then they had me down for 3 boxes to be shipped and my reservation and quote was for 2 boxes later to find out that was incorrect quoting as well. The only thing they did do was reimburse me for those 2 payments charged to my card for rent that I was unaware of.

I rented a U-Haul to move into my new apartment. I didn't check the back before I left because I didn't know that I should have. But when I arrived to pick up my mattress and couch, I opened the back and an extremely potent cat pee odor hit me right in the face. I check out the truck to see if there were any wet spots before sliding my furniture in and I didn't see any. So I figured, and hoped, that it was just an old smell. When I got to the apartment and unloaded my furniture there was a huge wet spot on my brand new $700 mattress. You know, the thing that I SLEEP on. I immediately sprayed it with vinegar water and baking soda to lift the smell. So, that was a bad experience. I called to complain and STACY the store manager was very sweet and helpful. She apologized for their error in missing that and refunded me half of my bill which I was more than thankful for. So thank you Stacy, you are appreciated.

While I had no problem with the U-Haul location or the employees there, I do have a major complaint about how U-Haul as a company advertises their sizing of the trucks. I feel that I was misled and the truck was misrepresented. I recently rented a 15' truck for my move as I had a 26' box truck from another company as I did not fit everything in the 26' truck. I figured a 15' truck would be plenty.
After I started loading up the truck, I realized that the truck seemed a lot smaller than what it should be. Once I got done unpacking, I measured the inside of the box. The main part of the box was 12' long, not 15'. Granted, there is what is called "Mom's Attic" but that is only about 2' high and at the top of the box where heavy stuff cannot be placed. This special section adds another 2 1/2' to the 12' total which still gives you under 15'. When I called up Customer Service to complain, the lady was argumentative with me and then made it like she couldn't hear me and hung up. As far as I'm concerned, this is the last time I'm using U-Haul.

I was to pick up in Middletown and made a reservation weeks in advance for a 26' truck. On moving day the only 26' truck was one for sale and it wouldn't start. They didn't have any 20' trucks available. It took 45 minutes for Jake at U-Haul in Middletown to figure this out. I was sent 20 minutes away to Moraine for a 20' truck and when I got there the 20' truck they had was already reserved for a couple behind me that had been sent by the Miamisburg office to get a 20' truck. Miamisburg didn't have the 20' truck available they had reserved. Fortunately, the couple were kind enough to let me have the 20' truck and they took a 17' truck. Two hours lost while I had people at the house ready to help me move. I'm supposed to get a $50 reimbursement because U-Haul didn't keep their promise, but let's see how easy that will be!!!

I rented a U-Haul truck from this business. It was both dirty and the gas tank was on E though I was charged for 1/4 of a tank. The truck was rented for a 1300 mile journey to the Denver area. It made 500 miles before the first problem. There was a leak in the power steering system when it was started the next morning. It was resolved in 2-3 hours and we started on our way, with no complaints. 75 miles down the road we got a flashing warning sign and pulled off immediately. Oil was covering the truck and my car that was being towed, and more power steering fluid had leaked from a loose hose. Nearly 6 hours later it was fixed and we continued on our way, again with no complaints.
Within another 30 miles the same alarm went off and again we pulled over quickly. This time there was oil mixing with the water system. The same mechanic was sent and said this truck was not making any more miles. This took nearly 5 hours to get towed and checked into a hotel. We made a total of 100 miles in around 15 hours. The next day we had no option but to move the load ourselves into a new truck. This put us behind schedule even though I had allowed for an entire day of extra time. We had no choice but to drive through the night and then on less than a couple hours of sleep, unload the truck to get it to the return dealer on time, and so that my helpers could make their flights. In total we were delayed about 30 hours.
The customer service (U-haul) was mostly unhelpful in actually accomplishing anything despite their mildly apologetic attitude. Since the return they have been slow to respond and with an offering of $270ish for a refund of the $1033. Considering the position they put us in after delaying us by 30 hours due to their defunct truck this is not nearly enough. This truck had at least 3, likely 4, SEPARATE issues, which is clearly not a truck that is functional for a trip across the country. I consider the 'help' they offered the absolute bare minimum, not what should be compensated for this size of failure.
Their customer service follows the plan of make them give up before you give in. Not one time did I get an actual solution to any problem without having it dealt with on my own first. They never offered help in any way that was useful to me but only in what it would save them time or money. This all being said, the actual in person GMs that I spoke with at 2 different dealerships were friendly and as helpful as they could be (not very, due to corporate constraints).

I used U-Box to move my daughter from Ky to New Orleans. It was a nightmare. We loaded the box on 10/31/16, they guaranteed delivery on or before 11/10/16. The guarantee is in writing on my receipt. Based on that date, and even allowing for a day or two if it ended up late, my mother and I bought airline tickets and rented lodging in New Orleans to be there to help my daughter unpack and get settled in her apartment. Then I started getting emails confirming shipping on the 4, then 6, then 9th! I started calling U-Box to find out where the Box was in shipping and they could not tell me. What company nowadays does not have tracking?! To make a very long story short, the box arrived on the 15th, after I had to fly home. After I was out the cost of airline tickets, lodging, and food, we were not even there to help when the box arrived.
We looked at changing our flights to a couple of days later, but it was very expensive AND U-Haul could not confirm a delivery date. I called U-Haul at least 30 times over the course of the 2 week experience and I never got any help. At one point, they told us the box had actually arrived in New Orleans on Friday the 11th, but the truck was "broken", so they couldn't unload it there and had to take it to Baton Rouge. We said, well we can go get it there. But of course, the shipping company was "closed" all weekend. I don't believe any of it. I think they didn't ship it out of Kentucky when they said they would and just did not want to admit it. On the evening of Saturday the 12th, after I had called U-Haul corporate offices MANY times on Friday and Saturday, someone from the New Orleans location called to say the box was there and we could pick it up Sunday morning.
We thought "Woo Hoo", we can at least get it unloaded and get our daughter partially settled before we had to leave on Monday. We borrowed a pickup truck with a trailer hitch and went to get the box. Since we did not have moving helpers lined up for Sunday, we decided we would unload it ourselves. After waiting at the U-Haul counter for over an hour while they looked for our box, it turned out it was NOT our box. It was an empty box - someone there thought we had been calling to arrange for a box to load up. I could go on and on, but this would be too long. Just know that every single thing about this experience was a total nightmare. Do not use U-Box!

We have recently had 2 horrible experiences. The first we rented a truck to travel 1200 km with all our belongings. We filled up with gas and left home. About 100 km in, we realized that the gas gauge was not moving. At this point we were 100 km into the mountains, where there are no gas stations or towns for another 200 km (at least). We had topped off the tank before we left, however since the gas gauge did not work, we had no clue how much gas we currently had, or if the tank was even full when we left. We did make it to our final destination, and U-Haul gave us a 50% credit for the next time we rented. Uh thanks?
We then rented a trailer about a month ago. Figured, hey it's a trailer, what can go wrong? The U-Haul rep hooked up the trailer to our truck, we drove about 2 km, loaded up the trailer with a friend's belongings. We then drove about 400 km and unloaded the trailer. The truck and trailer were parked for the weekend, and then 2 days later we started to drive back to our original starting point. About half way there, there was a bump in the road and the trailer came off the hitch. It smashed into our bumper and did quite a bit of damage. When we initially drove with the trailer full, we stopped about 4 times in 400 km and tightened up the trailer, as the hitch kept coming loose. My husband said it was quite common with that type of hitch and was not surprised, which is why he kept checking.
On the way home we checked once, but it was soon after that it came off. When it came off, the trailer brakes did not work either. We made a claim with U-Haul and they said that they would have their insurance company call us back. We did end up hearing from an extremely cranky and rude woman at the insurance company. She kept changing her story as I asked her more questions. But basically, they denied any claim for the following reasons. We drove 399 miles before the trailer came off. (She originally told me that after 400 miles were drove, there is different insurance depending on how far you drive?, when I questioned her about this again, she changed it and said that we drove 400 miles, not 399, and it wasn't an official rule, it's just something they take into consideration).
She also said that because the trailer was away from a U-Haul location for more than 24 hours, they don't know where it was or if we did anything to it, so we could have caused the damages. She also told us that U-Haul is not supposed to connect the trailers themselves, we are supposed to connect it to our own vehicle. When we told her that U-Haul connected it, her story changed and she said that she was going to check the video to ensure it was installed properly. We asked her about the video. She said that she could see the U-Haul rep hooking up the trailer, but could not see his actual hands or the hitch. I asked how she knew he did it properly, and she said because of the time he was there. WHAT???? They also refused to provide any copy of the video to us.
Company Name:

U-Haul

Website:

www.uhaul.com