Consumer Complaints and Reviews

Clean facility, no hassle sign up or monthly pay, low rates. My only complaint is that I believe someone kept trying to get into my unit. Definite proof after changing the locks, one with a key, the other a code word. Still, with my own locks, I'd recommend this facility.

We liked that U-Haul locations are easy to find, and that they are one of the best known names in moving and storage. It made the hassle of packing up our home very very easy. But the sign in process was a bit of a hassle. We had registered online and when we went in to the store, they could not find our info. However, once they figured it out, it was easy. Other than the mix-up at the beginning, combined with the higher prices, we did not find other things we were unhappy with. We would use them again in a heartbeat. We were able to select everything online to start with. Then we were able to pick it all up, get everything packed, and moved into storage before we left for Europe.

I like that it is a recognized name and the prices are competitive. Knowledgeable people that make your things seem important to them, I like how my things were secure and stored properly... Experience was very good and would use again, everything was clear, up front and as advertised. Overall process was fast, easy and pleasant, and what I imagined.

My experience with U-Haul was good. It wasn't spectacular however it met my needs. I was moving into a new house and I had to store all my belongings and the belongings of my family. I was treated respectfully, the prices were decent and I had no problems with them. I first checked out their website and compared rates with other companies. From there, after deciding I thought that they were the best fit for my needs and at the right price, I called them. This was my first encounter with their customer service and my initial impression of them was great! I spoke with a gentleman who was polite, courteous, and well mannered. He was extremely professional and very knowledgeable as well. He walked me through the storage sizes and prices as well as any deals that they offered. Also, he answered all of my questions clearly and thoroughly.
The customer service was especially good. It was a very positive experience dealing with the U-Haul people in the storage offices. They were helpful and friendly. They were eager to help and they always made sure that my needs were met. Also, I was continually asked if there was anything else that they could do, that they could help me with. I enjoyed dealing with and communicating with these people. It was a very positive experience and everything was good for me whilst dealing with U-Haul Storage. It was not the cheapest storage I had found though. In comparison to the other companies I had checked out, their prices were average although I did find some others cheaper.

I rented a truck to move my drum set across Chicago. It was quick and easy service. Everything went smooth, I liked everything. I maybe had to fill up the truck with gas but I hope it takes diesel, if not oh well. All the workers were amazing, the only downside was the wait, but it can be avoid. I came at a busy time but they were able to move the lines fast. They were able to pack my 9 piece drum set for transfer without any damages. It was worth every single penny I paid for because jamming out on my drums made my day! 10/10 would rent again.
How do I know I can trust these reviews about U-Haul?
850,588 reviews on ConsumerAffairs are verified.
We require contact information to ensure our reviewers are real.
We use intelligent software that helps us maintain the integrity of reviews.
Our moderators read all reviews to verify quality and helpfulness.
For more information about reviews on ConsumerAffairs.com please visit our FAQ.

It was kind a hectic situation. We were making a move from Michigan to Florida, and the SAME DAY we got the unit to start packing, my father had a massive heart attack. We had already signed our 'contract', but we needed to get to Connecticut ASAP! We tried pleading our situation to the company, but to no avail... we were 'locked in' to our contract. We packed the unit as quick as possible (because of this, many items and valuables came loose in the back, and were broke beyond repair... we lost a lot.
That was NOTHING though. We left Michigan the very next morning, traveled straight through, no over night stops... it was a mess! We then needed to UNPACK just as quick, and I was heart broke to see that much of my antique glassware was shattered, along with many knick-knack type items (some I had from childhood).
So now, we get one night of 'rest' (which was NOT very restful) and had to return the unit the following morning, and then straight from Florida to Connecticut, because my father in law was not expected to make it. We drove straight through, once again, but we were too late... he passed in the middle of that night. The entire family (although we explained our situation thoroughly, about having to return the unit within a certain period of time) they did not understand, and to this day, do not talk to us. My husband was/is heart broke over the entire situation. If the company had just been a bit more UNDERSTANDING, and allowed us a few more days to return the unit, my husband would have been there to say goodbye to his dad.
It was one of the WORST experiences I have had to deal with, with a company. I thought it was a greedy, unreasonable way for them to handle a situation that was completely out of our control. Just talking about it still upsets me... as I said, some of the family will have nothing to do with us. They think we 'lied' because SURELY a company would more helpful under an emergency... but, they were not. :/
After 'all' we were put through - the RUSHING, the PACKING/UNPACKING, the BROKEN VALUABLES... no, I have no good memories of that incident at all. With all the $ they make, I just thought they could AT LEAST give us a discounted price, so we could AFFORD a couple 'well needed' extra days. As it was, we were flat broke, and borrowed the $ to 'see' my father in law, which was all in vain. I will never forget how hard my husband cried, his Mum wouldn't even talk to him. He is a BIG 'TOUGH' MARINE, but that day, he cried like I have NEVER HEARD 'ANY' MAN CRY. It was a disaster. Their greediness, which led to all our other problems during that move. I won't say I BLAME them... but, they did start what ended up a domino affect.
As far as their rules, pricing and convenience, I must say, they were a good choice. I just wish they could have been more understanding. I wrote them a letter after, along with my father in law's obituary, showing them how wrong they were in their decision to not give us even a small break. I figured, if nothing else, at least it MAY help the next person.

We were in-between houses and needed temporary storage. We initially looked online to see what was available to us. Then we called U-Haul Storage with a couple of additional questions as to how we would be able to get the unit and what the inside would be like. They were very helpful in giving us all the information that we needed. We like that it was in a great location and it was easy access to get in and out. It was very convenient for us in the process of our move. The storage unit was easy to use and set up. They were clean and spacious. It was in great condition and helped us to stay organized. With the unit that we had, sometimes the door would jam. We were able to lift it when pulling it open which had helped. It wasn't much of a problem in the long run. It was a great experience.

Signing up and turning back in was not complicated. The website was intuitive as well, and I was able to do all of it on my own, in regards to set up. I also liked how easy it was to set up/use. I was able to store everything that I needed. The employees were quite nice and polite as well. I was in and out in very little time. It was pretty expensive, in my opinion, but there weren't any other options available. I really wanted PODS; however, they were not available in my region. When I was done, I went and talked to someone and ended the contract.

They have very good, kind people that took their job very seriously. And have helped answer all my questions. Very professional. Handle all my problems quickly, efficiently and effectively. Everything seemed to go just fine. The people were courteous, helpful and knowledgeable. The company was very organized and achieved my satisfaction. I would use this company over and over again. They are the new company my company will use in the future.

The whole experience was excellent and I would do it again, any day. Very much so. The company was great. They provided excellent service and good prices, with no trouble at all. The whole ordeal was memorable and very eye opening for all. The prices were great and how available certain trucks were and easy to return. Everything worked out just as I expected. Quick, easy, and friendly people. They provided the exact truck I needed and anything additional was offered, if needed. As a whole, I had no issues or problems doing business with these people. This company has a great reputation and knows how to run a business.

U-Haul took a little longer than they said and they were giving me ** excuses every time I called them for an update on what the hell is going on. This is the sorriest customer service department of all time. These morons tried to rip off my grandfather!!! Piece of crap! The entire crew I talked to were morons. I will never use this particular company ever again. They suck royally!!! Shopped around for the best deal to move stuff from California to Texas. Got hosed!

U-Haul Storage is a good company and priced well. I was moving and needed to buy packing products and rent one of their trucks. I called my local U-Haul to confirm a date and availability. I went there on that day and got the truck which I used for 3 days. When I was finished, I returned the truck. They were great. Everyone I dealt with was very friendly too. Some companies forget customer service and it's a shame. The truck was well-maintained and clean. I was pleasantly surprised. I was also extremely satisfied with the services I received. I will go to U-Haul for all of my packing and moving/storage needs. It was easy and a positive experience.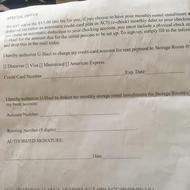 My former storage unit, door to door was purchased by UHaul and or Ubox. I was unaware of this acquisition and was rather perplexed when I received a two letters on the same day. Both letters are from Jess ** and written a few days apart, however, the date on the back had an accurate date as to when this letter was generated by their system. One was a late notice and the other a Pre-lien, both of these letters arrived on the same day. I called the number listed and after being transferred and spending far too much time on the phone I finally was able to speak to Jennifer in customer service. She assured me this issue would be resolved and either, Jess, Orhan and/or someone from customer service would call me within 48 to 72 hours.
I called again 80 plus hours later and spoke to Ryan a manager in the corporate office, who took my complaint and then once again transferred me to the regional office in hopes once again I would resolve my own issues. I have now left yet another message for the regional manager Laura and James, asking someone to please help me resolve my issues. What kind of company acquires another and doesn't inform their customers??? I have been using the same cc since 2/2/2013 without issues and now they are unable to utilize the same one? If there was an issue with my account, why wasn't I contacted? Why are they sending out letters without calling first and why were these letter generated on the same day? Why did my price change from $60 per month to 93.12 without any notification whatsoever? Even when I called in, my letter stated an incorrect storage number and this alone took a long time to resolve.
I am so disappointed with this company, I even more upset that I didn't choose to utilize their service and my storage unit was acquired by them and they are unable to help me resolve my issues. I hope and pray my things are not sold in an auction, considering I can't even get any person to explain the high increase and or take my CC again. I can't fathom why someone in the corporate office was incapable of assisting me on these issues and once again chose to pass me along to someone else stating, this is NOT his area until the Regional Office is unable to resolve it. What part did he comprehend? I have been trying to resolve this issue since last week and no one and I mean NO ONE returns calls. I would not recommend Uhaul or U-box to any person. This is a horrific company, they lack proper customer service, professionalism and are clueless. Tomorrow I am contacting the BBB to file a complaint.

Payment Harassment. They send an automated email a week before the storage rent is due which is an acceptable reminder. On the due date, they call me to remind me that payment is due (I have 3 days before being charged a late fee). If I don't make the payment, I receive a call each morning of those 3 days. I have rented storage from them since Sept 2012 - and have very seldom been charged a late payment.

We always use U-Haul for all our packing, moving and sometimes storage needs and have never had a problem. We've used them so much and they often give us discounts in addition to the low prices. Everyone is always loving and kind.

It's easy booking online or by phone or in-person. I had a last-minute change for reservation, and everything went smoothly with minimal effort by me. They have convenient pick-up locations and better prices than other similar businesses. It's not cheap but competitive, and better.

A couple of people have since left and one good value associate remains. As for the manager who taken Darryl place has a poor customer relation as I was looking for a lost box 5 month back and said he look into it. Month passed I checked said could find it so a lady in the shop contacted her GM and a check sheet I left with him to check he tossed aside, so when I got the from the GM when it was he had a attitude. Commented he was busy but really never looked as I see it.

We had a confusing mess when we got to Washington to help our disabled daughter move. I specifically asked if the pod would be ready at the location we specified and it was not. We then had to hire another vehicle to get the pod from 2 miles away.

Trucks are always nice and clean, staff is always helpful and friendly and location is convenient. Based on our experience at this location, we also used a U-Haul service for storage and truck rental in San Diego, CA and had the same great experience. My only thought is to be very mindful of the mileage you use... that can add up pretty quickly.

It's too expensive just for a daily rate or for that matter for a week or two. Come down on prices and you will find you will be used more times than none.

I have used the U-Haul trucks. They are spacious, low to the ground for easy access to loading the truck for heavy items! They have loop grommets on the walls to tie items down so they don't slide around or fall down! You can rent blankets for keeping your items from getting scratched. The cab is roomier. I carry three people comfortably and they are automatic for those that can't drive a manual drive. They have plenty of power to climb mountains! The cost is very reasonable to rent!
They have ramps to walk up instead of having to step up or climb up into the back of the truck. You can also add on a towing bar to haul extra vehicles with you! They also have storage areas in some of their U-Haul facilities to store your good in a secure and climate controlled area to keep your items from rusting or getting moisture from your items and destroying them. They rent these spaces for a reasonable price as well! They have U-Haul dealerships in most towns across America for your convenience!

On Feb. 2, 2017 I attempted to rent a storage unit using a certificate that was issued by U-Haul for 30 days free storage. Premier Center refused to accept the certificate unless I planned to rent for 6 months or longer. The certificate had no such restriction on it. I had to rent from another storage facility. I emailed U-Haul, but they did not respond to my complaint. I have had good service from U-Haul in the past, but I can't believe that they issued me a useless certificate and then ignored my complaint.

We moved to a new city in September. Rented a one way U-Haul truck which gave us a free storage for 30 days. We had the storage from 9/16/16 to 10/15/16. Closed it out and had a receipt printed that showed our account zeroed out. A little over a week ago my father in law received a couple letters addressed to me (he was our emergency contact). One stating they hadn't received our payment that was due on 10/17/16 so they tacked on a $20 late fee. And another saying that I owed them $1709.25.
We called the location listed which was the location we had our unit. They were rude and snotty stating that they "didn't know why we were calling them because it can from another county". According to them the charge was coming from the county we moved from. We called them because that's the location listed in the letter. They gave us a phone number to call and I was waiting for my fiancé to call, but decided to use their live chat because it's easier for me since I always have my kids around and they're not quiet.
The lady was nice. She asked for a contract number which the letter does not have. It also doesn't list a unit number. It says #reservationnumber when it goes to list the unit. She had her manager look at the file and then told me they are sending it to the local and regional offices and someone would contact me. So I guess we will see if this actually gets resolved. Shouldn't have been an issue in the first place. Where does $1709.25 even come from for a month of storage???

The items in my two of my climate-controlled units were covered in fire repellent. U-Haul claims the renter of the unit next to mine is responsible but have not given a satisfactory explanation of how it happened and won't provide me with the report of their investigation. They rejected my claim. The Restoration company provided an estimate of over 4K to remove, clean, and restore my items. That does not include clothes and fabrics nor a mattress that is not salvageable. Total costs could be between 6-8k.

In spring of 2015 I arranged for a ubox in NMB Florida. Unfortunately due to printer problems they couldn't print me a copy of my contract. Nevertheless, it took me several days to pack but by the time I was finished, my circumstances had changed. My partner, and reason for the move, was now employed with Delta which meant I could ship everything for free via the airline. Rather than unpack the box, I made an arrangement with U-Haul to keep it in NMB on a month to month basis. But, 2 days later after I left town I received a call from U-Haul saying they erred and shipped the box via a third party and it was out of their hands and they were unable to track or return the box to NMB.
I asked U-Haul for a copy of the contract but the original file they sent me multiple times via email is empty. It had been deleted from their server. However they have a new copy of a different contact at the destination, near Seattle Washington. Which is where they're holding our stuff for over a year and I've been paying storage fees of approximately $90 a month until I can pay the shipping cost of $2000. Now, it looks like I can't come up with the $2000 so I'll have to default losing our belongings, $1000 in storage fees and risk collections just because they shipped the box when it was supposed to remain in storage in NMB.

Who would ever think by storing everything you own would be ruin in less than 10 days. My apt was not ready so I used the storage facility to store my things, when I picked my stuff up it was full of insects and bugs. My things were stored and packed as if I was moving out of state. Repwest their insurance carrier is doing nothing about it. The facility itself is doing nothing. I had to throw away everything, my stove, fridge, all my furniture. I am so sadden and disgusted to lose everything and they are doing absolutely nothing about it. The filing claim process is a joke. These people have ruin me and my kids lives for the moment with no care or concern.

When I got the bill back, I was charged with a charge for a dolly. Typically when you rent something, someone walks you to the car, to show you the vehicle, to make sure there aren't any damages when you return it. They charged me for having used a dolly, due to a broken seal. It seems terribly unethical to charge somebody something when they don't confirm with you the condition beforehand. The man I spoke to over the phone was terribly unprofessional and forced down my throat that I used it. I didn't even touch it - I recall very vividly that the seal looked similar to a clothing tag in a department store, and that I shouldn't even touch it, lest I get charged. Whether the small slither of plastic tab broke during the bumpy ride, or the man was mistaken, nobody ever responds well to accusations. The very least I would expect is an apology for the mishap of a broken tab. What TERRIBLE TERRIBLE POLICY AND CUSTOMER SERVICE!!!

I rented a 10' truck from Elizabeth, NJ and returned to Princeton Junction, NJ. I drove 46 miles (mostly on Highway 95) and added 4 gallons gas (I still have the receipt). When I picked up the truck, the gas is not full, which can be proved by the contract I have. When I returned the car, the manager in Princeton Junction refused to look at the mileage and gas right away and asked me to leave. They claimed the gas is full when I picked up, and charged me $6.50 for the gas. I wonder how I can get my money back, or how can I sue U-Haul.

I have been renting a storage unit for a couple of years and the price has been raised twice, both times illegally. I have been overcharged the whole time, had my property illegally withheld, been threatened with liens and with having my property sold (all while being current on my account). I have talked to corporate headquarters and notified them about a problem with their billing, yet months later I am still being harassed about money I don't owe. Time for legal action. I would recommend that anybody looking for a storage unit steer well clear of these jokers.

My pre-reserved and pre-paid climate controlled storage unit was miraculously not available upon arrival on the scheduled afternoon. I was offered a non-climate controlled unit on the exterior. Considering I had a truck full of my things and 2 men there to help me, I accepted this unit, as a last resort. 4 months later I moved my things out to find mold growing on certain items, and general mustiness in the unit. The huge poison box they had placed in the corner did not keep out all the critters, as I also found small pellet droppings on my items (mice?).
Upon moving my things out and closing the contract, I requested a prorated refund for the 27 days of the prepaid month that I would not be using. I was informed that they do not prorate under any circumstance, as a policy. The customer pays a full month's rent in advance no matter how many days of that month they occupy the space. This allows U-Haul to rent the unit and receive double income for the space, which seems very unethical to me. Throughout my experiences I received poor customer service and long wait lines. I would not recommend this company to anyone.

ConsumerAffairs Research Team
The ConsumerAffairs Research Team believes everyone deserves to make smart decisions. We aim to provide readers with the most up-to-date information available about today's consumer products and services.
U-Haul is a self-move and self-storage company that launched in 1945. Along with trailers and trucks, they rent U-Box containers that allow consumers to pack a room's contents for safe moving or storage through various delivery and pick-up solutions.
Local and long distance moving: With U-Box, consumers can work around their personal schedule. Moving helpers are available to accommodate any moving needs, or a self-service option is available. U-Box containers are a great option for overseas shipping for consumers making an international move.
Storage: The containers can fit the contents of about one-and-a-half rooms of household items. U-Box offers short and long term storage on-site or in a secure warehouse.
Dimensions: A U-Box container is 96 inches long and 60 inches high with a capacity of 257 cubic feet. Each container can hold up to 2,000 pounds. Consumers can find a simple calculator online to help determine how many containers are necessary.
Delivery options: U-Box offers three different delivery options: a low-cost self-delivery, moving help delivery and truck delivery. They also give consumers the option to load/unload at a U-Haul location, and Hawaii residents can use U-Box for inter-island shipping.
Rates: Rates include cost for delivery to and from the consumer's home, shipping costs and storage costs. The rate is guaranteed to be final so no unexpected costs arise.
Best for Consumers moving internationally, locally or cross country.
Compare Self Storage and Portable Storage Companies
U-Haul Storage Company Profile
Company Name:

U-Haul

Website:

www.uhaul.com