Consumer Complaints and Reviews

I purchased a refrigerator at Lowe's due to buying a new home. At purchase I requested it to be delivered on the morning of Saturday August 12. The day before delivery they called and stated it would not be delivered until 6:30 PM. I called the manager at the Bunker Hill Lowe's in Houston and she refused to do anything. I will never shop at Lowe's again. Also, online they indicated delivery was free. I had to pay $135.00.

On Saturday Jul 15, I purchased a fridge at Maple store in Vaughan Ontario and explicitly asked salesperson to just bring and install new fridge and no need to remove old working fridge from home because it was in a very good condition (he confirmed it was indicated in my order), I ordered new fridge because we have a tenant with bigger family and they need another fridge, Lowe's delivery company brought new one on time but took old fridge despite what I asked, after calling four times to customer service, assistant manager called me in two days in row asking same questions in each day and obviously I gave her same answers, she was supposed to find a solution within two days but nothing happened even after one week.
Again I called two more times to customer service and then store manager called but he was trying to put all faults on us and saying why our tenant did not stop delivery person to take old fridge out, I explained it for 20 times that my tenant is very new to Canada and not able to talk English, it was indicated on my order to leave old fridge and I did not pay any extra charges at store to haul away old fridge. It was full size, very clean and working conditions fridge. Surprisingly no one called me after my last discussion with store manager and it seems they don't want to accept any responsibility. Unfortunately customer service is very poor and they don't respect customers.

Went through Lowe's for ductless split system. Bought 6 units, 2 compressors per their suggestion at consultation at a cost of $17,000.00. Had system installed by All Weather the company Lowe's suggested. All Weather butchered install, left my yard a mess and had to come back next day to "fix". All weather wired one unit wrong so it never worked, I had to wait 6 weeks for them to get it corrected. They didn't care that it was a new install and never worked. Compressors were left loose and they shifted on the platform. They ran AC lines down the middle of 2 rooms' ceilings instead of where we discussed them to be. It looks terrible and now I need to get them moved. The tech told me the units are not anchored to the wall correctly. I now have water leaking into my basement from 2 of the 20 3" holes they cut in the side of my house. They didn't caulk around the holes they cut well enough.
It's been 5 months of issues since install. The incorrect wiring was a fire hazard and I have an infant child. Have spoken with Keisha at Lowe's customer service and she only called All weather to come back and that Lowe's won't pay for another company to make this right. I hired Lowe's because they promised no issues and all I have had are issues. I don't want All weather to destroy my home any further. I could not be any unhappier with All weather.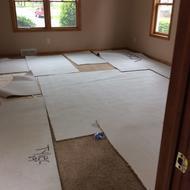 When they didn't contact me back, I called the number in the email and the person on the other end said that they couldn't help me and that I had to deal with the store. They were not willing to reimburse me for the 25% extra carpet because it was not in one piece. I explained that my issue was with the fact that they over-estimated in the first place. They are requiring a professional measurement and basically can say ANY amount they choose. They contacted the store for me but "unfortunately" they won't reimburse because it was the installers estimate that they were using. SO FRUSTRATING! The woman on the other line said that she would call the installer to see if he was willing to make any compensation. Is that how this company works!! I plan to submit a complaint to the Attorney General. I hope that others do as well. Maybe the next person won't get gouged by Lowe's.

I have 3 properties in the triangle and I buy appliances all the time from Lowe's, so last month they have a promotion if you buy appliances you will get the gift card, so I bought 4 sets of appliances thinking it will be nice to have the gift cards, so they send me 1 of $50 dollars because I got just 2 appliances, then the rest they said that they cannot give anymore, because it's just for one household, so they decide to send me the cheaper gift card. Are you serious. Now I closing my accounts with Lowe's, going take my business somewhere else.
How do I know I can trust these reviews about Lowes?
851,205 reviews on ConsumerAffairs are verified.
We require contact information to ensure our reviewers are real.
We use intelligent software that helps us maintain the integrity of reviews.
Our moderators read all reviews to verify quality and helpfulness.
For more information about reviews on ConsumerAffairs.com please visit our FAQ.

Purchased a water heater with install. Contractor came to house. Removed PVC pipe from drain pan that was designed to prevent damage to sub flooring and furnace then was unable to finish install (we were unaware he removed the pvc until we contacted another plumber who asked us to take pics). That's when we noticed water pouring onto our flooring in and around our furnace, contacted contractor who wouldn't answer their phone, contacted Lowe's and was greeted by the worst customer service imaginable. Lowe's will not return phone calls or emails and the contractor Lowe's hired apparently was uninsured. DO NOT SHOP AT LOWE'S. They could care a less about their customers. Seems their policy is to ignore you long enough and hope you will give up and go away.

Customer no service regarding 2 yr old GE lemon washer and dryer set that they replaced the washer, delivered to me already needed repair upon delivery. It sounded like it was falling apart. Read all the prior reviews and I have had almost all the same problems with this set as other customers. The Mngr and Asst Mngr at the Lowe's in Hutto, Texas could care less! We purchased our first set 25 yrs ago and they still worked. Wished I had kept them. Lowe's and GE you have lost our business forever. About $100k we have spent there in 30 yrs.

I purchased a dishwasher from Lowe's online mid July. I didn't notice that brand wouldn't be available until July 31 but okay so I wash dishes by hand for two weeks. After placing the order I was to call for installation information however, I was told once the dishwasher comes in, I would be contacted. So why tell me to call? You know, when you do business over the phone and the other person doesn't sound confident in what they are saying, it kinda bugs me and maybe you. I am a disabled senior and have trouble walking distances and shop online a lot. But I called the local Lowe's store and right away asked to speak to the manager on duty.
First he told me he was glad I called as the person who took the order put in a discontinued model number and the order would just have sat who knows where and for how long. Secondly, I wanted to verify that the particular model indeed has to be ordered. He said yes. He said when the dishwasher comes in, the installation people will call and set up a date. Makes sense. The product came in this first week of August and I'm waiting and waiting for an installation call. Nothing. This past Friday afternoon I called the local Lowe's store and asked for the assistant manger I talked to previously. No go, he was in a meeting with the store manager. Okay so I got ahold of another assistant manager. I've never seen a store with so many managers!
Now this assistant manager tells me that the reason their CPO? Unit hasn't called to get the installation rolling is the model number was wrong. So much for taking care of business! Lowe's has outsourced their installation folks I guess. I just heard it Friday afternoon. So when your appliance comes in at the store this outsourced CPO unit calls the installer who then contacts the customer. If I hadn't called Friday afternoon the darn thing would have just sat there. So there's your world class Lowe's customer service for ya. Was gonna wait before writing this and see how the installation goes. I just hope I don't get a runaround with that and that the job is done correctly!! We have no Home Depot here and some might disagree but I've always dealt with Home Depot and they are far superior no matter where I lived and even their stock price shows it compared to Lowe's.

We decide to redo our galley kitchen, after looking around I decided to order thru Lowe's, KraftMaid. I paid over $12000 for the cabinets. I got the estimate from Lowe's about a week later, over $5300! Well over the estimate of $1100. I told them I would do our own demo. They wanted $2300. We took out the old kitchen, a friend who does sheet rock, fixed all walls, as we then painted ready for our install. Lowe's was not happy about our self demo. I kept asking about the install date... They kept saying, "No worries, the installer has to come by first to check your work..."
I received an email. The kitchen will be here in 6 days. A few days earlier than expected. Since we are also redoing the floors, this was a huge problem, since it will be raining. No other dates available for delivery. I asked my neighbor if they can store them overnight till our floors are dried. I called Lowe's to let them know. They said if I stored the cabinets overnight at my neighbor's house, I would lose my lifetime warranty! I then pressed on about the install date. Since I have out of town visitors at the end of the month (which they knew) I was given a date over a month out! We have already have been without a kitchen for 3 weeks, now they are postponing another month.
They are paying us back because we did the demo ourselves. So my next step was to call the corporate office. I received a call from a Kimberly. I want to speak to the CEO, Mr. Niblock. I was told, after this they will not do the install at all! I would have to find my own installer! They have taken my money, and made promises of dates and here we are, a kitchen coming early with no installer. I will blog this everywhere I can. Do not buy anything from Lowe's. I will be seeking attorney advice on the matter. Buyer beware!!! Lowe's are CROOKS!!! My blog page will follow.

I ordered a gazebo and it was to be delivered free within a week. I got a bill for $204 for delivery charges and never received the item. I called in, they removed the charge and set up delivery. I waited all day, no gazebo. I called and they said order was cancelled due to no stock. They found one 45 minutes away. I went to pick it up and they said it was cancelled due to no stock. Called internet sales and they said they had one an hour away but would not deliver for 3 more days. I've had enough!!! Stay away from Lowe's!!!

I purchased a ceiling fan online, which stated that the delivery would take place to my home by Aug 4th. There was no tracking information available on the site. This morning, the 4th, I checked the order online and it now stated, "Delivered". I had not received it. I called in to the contact number on their site and was told that the item was actually on backorder and wouldn't be available until at least the end of October. I then requested a cancellation of the order (doesn't do much good to get the fan after summer is over). I then checked my credit card statement and found that Lowe's had billed my account at the time of purchase.
Had I not called them, I would have been charged for an item that would not be delivered for at least 3-4 months. I asked them why their site didn't mention that the item was on backorder to which he replied that they just found out when they call the mfg. for my order status. Would like to know how they can change the status to delivered when it hadn't even been shipped. Sounds pretty shady to me.

I had a really bad experience with Lowe's company. I am really disappointed, and upset which I gave my business to them. Lowe's company team are so unorganized, not on time on their promises, and not responsible at all. They just want to get the job and take the customer money and leave and not care about to finish the job, and follow up with customer. When I called corporate office of Lowe's, they did not take care of my problem and complain. They treated me like every was my fault and I drop the ball. It is a big shame for Lowe's company which cannot take care of their customers. I am so sorry for the president of this company. You guys can do better just care about your customer, do your job right and on time, respect your customer, be honest with them, treat them like the way you want to be treat. I never ever go back to them and I do not recommend them to any of my family member or friends.

Lowes offers 11% rebates during some week to match competitive offerings. The problem is that the Power rebate site instructions are wrong and misleading. To make things more confusing is that the Lowe's receipt do not CLEARLY have the info the rebates are looking for. After submission, Lowe's rejects the submissions. I plan to see if my newest rebates are rejected, I plan to seek State attorney general's assistance for false and misleading advertising gimmicks.

Paid $75 to have measurements for my kitchen. The guy working at the counter was kind of a ** about the whole thing. I went home. I called the store and ask for the Kitchen Dept. I got the same ** on the phone. He said he would have the Manager call me back. He never asks my name or phone number. (Sure, we will call you right back). So if he never ask my name and phone number or order number or anything else. How the hell were they going to call back? Anyway I called the Main service number (Timed the call). 35 min and 11 seconds later The rep said because of liability issues they can't give me a copy of the measurements for my kitchen. Guess I just got beat out of $75.

Moved to Bristol from Bensalem on May 3, 2017 and needed to update our new home's 1970's motif in the kitchen & two baths. As being a new resident we received a complimentary 10% off coupon from Lowe's and thought it'd be a good idea to use it since the items we needed would be pretty expensive stuff. We went to Lowe's store #1572 on 7/22 at 8:30 pm in search of a bathroom vanity, medicine cabinet, floor tiles, grout, kitchen sink and other items too long to list. Upon entering the store we found no one there to assist us in helping to find any items on our list and I mean NO ONE was on the floor except a couple of men talking to one another far away from where we were in the vanity isle. A lady employee kept paging over the loudspeaker for assistance to help customers every 3-4 minutes practically the whole time we were in the store which was an hour and a half.
We finally seen two male employees heading toward the break-room and asked them if there were more vanities that weren't in the one aisle we had been in and one of them said "no, only what's there" and continued into the break-room. We needed to look at tiles and again NO HELP in selecting a tile we needed. Found a medicine cabinet but NO HELP available to locate the box so my son used his iPhone to locate it himself which had heavy racks blocking the product from being pulled out on the floor level.
By this time I could feel my blood pressure so high and decided to NEVER shop there again. I saw an employee from afar & yelled to him to help us & he yelled to someone else to help us. The man who helped us was Ed who was very handy in getting the heavy rack away and got down on his bare knees to pull the box out & load it on the cart. After purchasing the med. cabinet & bringing it home discovered it's too large for the hole in the wall to install it. Am definitely taking it back and NOT shopping for another one there.
The Lowe's in Bensalem (where we moved from) is nothing like this store, their employees are always around to help. This store in Langhorne needs new management desperately and again I WILL NEVER SHOP THERE NO MATTER WHAT. Home Depot has 100% the advantage over Lowe's and I'm since a loyal customer of that store. BTW: I've written to the Lowe's store the next day of my horrible experience and GOT NO RESPONSE.

I am still waiting for my gourmet designer kitchen from Lowe's. I was told to get the best deal charge the $38,350 on my Lowe's charge I did even though I insisted to write a check and pay cash for it. Oh and I had to pay for it all up front first. This a very long story so I will sum it up. Purchased kitchen April 31st... Now 3 months later I have a ceramic tile floor and a few cabinets, Oh they made a mistake measuring, so completely reorder 3/4 of the cabinets, damaged appliances... So fast track my attorney has been called and Synchrony Bank told me that since the card has been paid off... Lowe's themselves would have to authorize any refunds.
I told them August 23rd it had to be done for I have company coming, found out today not going to happen... Long story I am out 40 thousand dollars I have no kitchen a temp sink microwave and my house is a pit because they moved everything out to do demo... And all I have is a crappy floor. I will never set foot in a Lowe's again not even for a tarp that I have to live in since my house is trashed thanks to Lowe's... Run far away...

Purchased a ceiling fan for my gazebo that was on sale on 7-3-17. Was told it would ship on 7-6-17 when order was placed. After I didn't receive it on the 7-13-17 started to call to find out where my order was, was told that it was on back order and someone would contact me. After a week more I called again. Was now told that there was an indefinite back order, I explained that I wanted to speak to a consumer management person. Once again told that they couldn't do that yet. I insisted. Finally I spoke with a woman name Linda. She looked into it, canceled my order and assured me that the Danvers Mass. store had one and would get it shipped to me for free. Once on the phone with a lady from that store for about 40 min she was having trouble locating the item stated someone would give me a call back the following day that day being 7-28-17.
At about 4:00 p.m. on 7-28-17 hadn't received a call so decided once again to call the customer care line. Got on the line with a Vincent who looked into it transferred me to the Danvers store. Once on the line with the store they had the product but the customer service employee had people in line and was on the phone. I asked for the manager got a man named Steven who told me I was going to be charged $50.00 for shipping. I told him I was assured that there would be no shipping charge. He said he would see what he could do and get back to me. Well surprise surprise no phone call back.
At about 5:42 p.m. on 7-29-17 from a lady named Destiny who listened to my situation and started the process all over again and we got off the phone and at 6:07 p.m. called me back to let me know the Danvers store would not ship me the fan for free but Warwick Rhode Island store would. I'm still extremely frustrated with the fact that after more than 4 calls and at least 6hrs of my time to track down my order it seems not one person seemed to care. Not to mention they are still advertising the product even though they know there is an indefinite back order.
I feeI I didn't get anybody to listen until I let them Know that they are misleading consumers by advertising a product they don't know when they will be able to deliver. At one point on 7-26-17 I received an email with the delivery on 7-31-17. Not but 3 min later another email stating 8-1-17 so called again. That's when I was told there was indefinite back order. I have all the emails for any doubts about this matter.

We hired Lowe's to install a roof on our garage. After the work was done, we had an abundance of material left over. They gave us partial credit not full credit for reasons we still don't understand. We also had not received an item we paid for. The store will not return our calls because they said they can't credit us for something we did not receive. I guess they don't understand you can't return something you didn't receive. Now after several calls to Corporate, even they won't return our calls. They basically are treating us like we are thieves and liars. For a company that prides themselves on customer service, what a joke. Our new slogan for them is not Lowe's knows, but Lowe's blows.

Purchased online email says ready for pickup. Go to Lowe's and everything was ready to go. That is when the NIGHTMARE begin. Incompetent employees unable to finish up with the payment. After 45 minutes I told them to give me my credit card back. I get home and I see a email thanking me for picking up the orders. I did not leave the store with one item. I had 5 orders I was picking up and they charged me for some of the orders. What a joke I had to call customer service to make sure that I was not getting charged and some of the charges actually went through. I would love to take them to court for charging me for items that I have not received. Do yourself a favor and go to Home Depot. I ended up going there and purchasing the stuff I needed and was in and out in 30 minutes. I will never never purchase anything from Lowe's. If I am doing work for or with my friends and they bought stuff at Lowe's I will not touch it.

I bought 2 storm doors at Lowe's because they told me it would be 6 months no interest. When I got the bill they charged me interest even though my contract stated 6 months no interest. They told me the reason was that I did not spend enough money for the no interest deal. That was not on my contract. It said "Six months no interest" and did not specify how much I had to spend. The same thing also happened to my cousin who bought her storm door the same time I did.

Went to Lowe's to purchase blinds for home. Nobody came to help. Finally asked a young girl if we could get help. Said she would page - we heard it 10 minutes later. No one came. Asked a guy to find us help... Said he couldn't help. Didn't work in that dept. Went to customer service. Asked for manager. They said, "why"? Told them my husband... Nobody showed. We took our business to Home Depot.

I purchased a Hustler Raptor Zero-Turn mower (60 in deck / 26 HP) on July 10, 2017. I requested home delivery and I was told it would arrive on July 26th. On July 26th I called the store to confirm the delivery time. The delivery truck arrived as promised. My wife was at home to receive the mower. My wife called during the delivery to inform me that it was not the mower that we had purchased. It was a Raptor 52 in zero-turn mower with no documentation at all. We talked with the assistant store manager on the phone and he had no excuse for the wrong mower other than they had no record of the correct mower being ordered? He offered to re-order the one that I had originally purchase and to leave the 52 in mower at my house to use until the correct one arrived. I thought that was a positive solution to an already unpleasant experience so we agreed.
The delivery person drove the mower into our out-building to store it. The next morning I went out to look it over. I filled it with gas (it didn't come with much), checked the oil and tires (both good). It started right up and I drove it out to test it. I went to engage the blades and nothing seemed to happen, the blades didn't engage. I didn't have any manuals but everything appeared that it should work. I tried again but nothing. I took it back into the garage and took a closer look. THE DRIVE BELTS HAD NOT BEEN INSTALLED!! That's why the blades wouldn't turn. I called the asst manager back and his excuse was "that's how we get them". They don't install the belts. Then who does? Why deliver an item that isn't ready to go? And why wasn't my original mower on the truck?
This was the WORST purchasing experience I have ever had. I went to ask for my money back and was given it back with no issues. However, I spoke with the Manager and he was indifferent to the experience. Not much of an apology and said "I guess I should look into it". I recommend not purchasing a large mower from Lowe's since it appears they have a poor policy of checking items that are assembled and checking for quality/completeness before delivery. I won't be going back.

When I bought a washing machine at Lowe's, I was told that I only need brand new hoses still in the package for the delivery guys to install the machine. That makes sense. I guess, they don't to be responsible if something goes wrong down the line, because they were using old hoses. Unfortunately, they did not tell me they have to be purchased from Lowe's. I was afraid to buy them right then and there, because, knowing myself, I would misplace them by the time the washing machine was delivered. The night before the scheduled delivery, I ran down to my local hardware store and bought the appropriate hoses. When the washing machine got delivered, I was told that they are not allowed to hook up the machine with brand new, good quality hoses, because they were not from Lowe's. SO, IF YOU WANT TO GET YOUR WASHING MACHINE HOOKED UP, YOU HAVE TO BUY THEIR HOSES.

Went to Lowe's to buy a wheelbarrow. Cashier called a manager at 9:20 to unlock the cable. I checked out at 9:23. 9:55 still no manager. Cashier called two more times before 9:55. I go into store to purchase a couple more items, tell another cashier my problem and she makes a call. Finally the manager walks up and ask me if I'm the one who bought the WB. I SAID yes, 35 mins ago. Three years ago I would have wandered around the store for 40 mins and had her wait on me, but things change. While I was waiting I decided to check out the reviews on Lowe's, needless to my surprise there were 1900 bad reviews. But where are you going to go, Home Depot, They're just as bad. They only give out one key per shift to one Manager per shift, how ** stupid is that. Whom ever makes up these rules has got to be, one asinine idiot. Every time they hire a store manager, this idiot thinks he has to change up the store, knowing he's not going to be there very long.
You can never find help. If you're in a hurry, just stay home. It is what it is and that's the way it is. We as customers are just **, and nothing we can do about it. If you are ever in a Lowe's you will see 10 employees gathered around in a meeting in the middle of the day. When the meeting is over, it's easier to go find Waldo. In construction sales they have three cash registers, most of the time only one is open and there will be at least 5 employees that are capable of opening the other two. Looks like the city working. You know what I mean.

I bought the Wood Look tile flooring from Lowe's on Millerville in Baton Rouge after the flood of 2016. I was using it throughout my house so it was close to 3000 square feet. It was delivered and the company they contract to lay the tile sent their guys out. I know after the flood it was crazy and some workers were hired that were very questionable in their skills and a few other things in their life so I won't name the company. After approximately 1/3 of the tile was down they decided to grout what was laid. It was horrendous. There was not a straight line anywhere and the grout was black, I had ordered a light tan. It looked like a 6 year old had outlined every tile with a black crayon except that would have looked better! My tile guy informed me that my tile was mass produced in China and that it was all crooked. He even had a sample to show me.
We called Lowe's and a manager came to my house to assess the situation. She left and said they would get back with us about the situation. She called later that day to pick up some of the "Chinese crooked tile" to show it to the tile company. Guess what, every piece of tile was perfectly straight and made in the USA! My tile guy was not known to show up on a daily basis, one day he had to visit with his parole officer, so we did not get to confront him with this info. He was fired by the company while he was at another job.
The great part of this story is that Lowe's replaced my entire inventory of tile. That was great because someone with a truck just like the one my 1st tile guy drove, came to my house around 930 pm one night and loaded their truck up with as much of my tile as they could fit. Our neighbor called to ask us if we were doing something with our tile because a truck just left with so much that it could barely make it out of our driveway. We were not living in the house at that time. Lowe's also paid to have the tile removed and redone throughout our entire house. The managers name is Tangi and we still see her on our many trips to Lowe's. There were no questions asked. They came through at a time that was very stressful for our family and I wanted to make sure I let anyone that reads reviews knows. Great job!!!

I do not EVER write reviews- but this one is so bad I feel like others should have a fair warning. We decided to use Lowe's for our fence installation for our newly built house. We ordered the materials 8 weeks in advance so they arrive in time for the installation to take place the day after we closed on the house. The week before closing, they called trying to deliver the materials. We specially told them that we could not do ANYTHING to the house until AFTER we closed. We were then told that our installation date would be pushed back until 3 weeks AFTER closing. So, we got all that worked out and they agreed to do the installation on the day we originally agreed upon. All seemed fine... WRONG!
The worker brought his wife and two small children with him (2 year old and a 5 year old)... They went out on my brand new screened in porch (without asking) and the smallest child leaned against the screen and busted through it. My brand new house was damaged within 24 hours of closing. The children ate food on the porch, got crumbs everywhere, now I have an ant problem, AND then they started throwing rocks at my neighbors house. These children ran wild while the dad worked on the fence and the mom sat in the car... Then, I was told that they didn't order enough materials and were FIVE panels too short to finish the fence. I'm talking like 60 feet of fence that just wasn't ordered.
I have been trying to get in touch with the Lowe's team member that we originally started with, paid our money to, and set up everything with, and have had NO response for 5 days now. I've left 6 voicemail and 4 text messages with no response (but before I had an issue he would respond within 20 minutes, funny how that works huh?). I have been up to the store and was assured someone would contact us- still have not heard anything. So, now I am left with an unfinished fence and a busted screen on my porch. DO NOT USE LOWE'S.

Bought Maytag washer 3/12/14 & 3 year extended warranty. Maytag warranties 100% the First year after purchase. An extended warranty implies beyond original warranty; but not according to Lowe's. They say extended warranty started on first day I purchased and expired 3/12/17. How can this be? I called Maytag Corp. & they said the extended warranty offered through Maytag would have begun after the first full year after the manufactures warranty expired. Maytag was completely surprised that Lowe's is doing this. I feel Lowe's should have fully disclosed that what they call a 3 yr warranty actually only covered 2 years extension. I feel cheated & that they are not being honest.

Do not buy the Haier Refrigerators sold at Lowe's, they do not even last through the 1st year warranty and then they send someone out to patch it and then it doesn't even last 6 more months and of course the warranty is out by that time... Oh the sealed system is covered for 5 yrs BUT you pay all labor and takes a while to get the parts etc... So why is LOWE'S carrying such bad quality refrigerators? Lowe's you're ruining your rep with these Haier Products...

Called to request truck rental. Told truck was out, left name. Called before noon, told truck was there, said we'd be there in about 10 minutes. Got there and was told that they gave the truck to someone else. We would have to wait. They took down our name, phone number, and put a note to call us when the truck was back. I called Lowe's a little after 2 pm, to check on the truck, and was told that they had given the truck out to someone else at 2 pm. We have wasted a day doing our part to rent the Lowe's truck, with no success. Talked to the store manager, who said we could have a $20 gift card, that would have covered the cost of the rental, but not the time or frustration of our day. I don't normally shop at Lowe's, and after today, I have no desire to shop there ever. Lowe's needs to better train their employees, customer service is the worst. I would give them less than 1 star if possible.

Asked about assembly/ installation of outdoor storage shed at local store. Was told to go to lowes.com, place order there then submit form to get quote. Did so. 3 days later, CS from home office contacted me and said that store didn't offer any assembly or installation service. I was standing in front of counter at Lowe's that said "installation dept" when I got call. Too much missing or wrong info online in product details and in store 90% of employees know nothing about dept they are working in. Ask them they'll tell you so, or they'll recommend an item you'll have to take back because it won't work. They'll never get another of my hard earned money. I'd rather pay 50 percent more at local hardware, at least they know what they're talking about or will get someone who does. Price is not everything, without proper customer service you'll end up losing money and time, both hard to come by.
Lowe's Home Improvement Company Profile
Company Name:

Lowes

Website:

http://www.lowes.com/