Consumer Complaints and Reviews

I just spent over an hour trying to pick up a special order. This is the second time I have been to the Northfield Lowe's and been treated this way. I first had a person who just wanted me gone because she wanted to go home. So rather than checking to see if she had the whole order she just checked me out and left. I was concerned about the condition of the box so I opened it to check it and found I didn't have the whole order. The order had been broken down into three separate orders. When I asked about the rest of the order, someone did check and yes the additional part of the order was there. It took 40 minutes to get someone to bring the order up front. When I complained one cashier said "If they don't have someone to get the product you have to wait". I will probably not shop at Lowe's again fire to failed attempts. I also never received a copy of the receipt when I checked out and the notification had a blank sheet it just said "Your order is ready for pickup".

We called Lowe's to get an estimate for the purchase and installation of high impact windows. A salesman gave us a very good presentation and a exact price for the job. In the contract it was very clear that windows openings would be brought up to code specifications included in the cost. 4 windows. Approximately 8 weeks later they arrived, the windows and 3 installers. They removed one window breaking it in the process, and installed a new window and secured it with a couple of screws and said the window frame was not up to code. They left. I contacted Lowe's and was told a licensed contractor would be out to assess the problem. After two days two men showed up and after a 30 second inspection said that the wall above the window would have to be brought up to code.
I went back to Lowe's and told them what their contractor had told me. I asked him who was going to pay for this work to bring it up to code. He replied that I was to pay for it, completely ignoring the contract that said "the price of the installation included the window frame upgrade." I had a building inspector inspect the window frame and he confirmed that the window would have to be updated to meet the newer code. Lowe's took the other two windows back to the store. Here we wait, two senior citizens with one partially installed window in a space that is not to code, two windows hopefully in the store, the hurricane season upon us, and no one wants to listen to our complaints. Lowe's is probably the worst large name business that I have ever dealt with.

Called Lowe's store #1726 off Hwy 280 Inverness, Alabama. Spoke with Victor regarding a specific carpet. Was told they didn't have it in that store but did so in their Hoover store. Victor took my payment over the phone for the cost of coming out to measure the rooms. Victor never said anything about a mileage fee for the trip out. Got a call on 6/2 from the measurer who was scheduled to come out on 6/5. He came out and did his part. My husband was told the measurements would be sent to Lowe's & we'd get a call w/ quote.
On 6/7 I called to check on the status and was transferred to someone in installation setup. I was told by this person the quote had been received but the order was on hold because the mileage fee for the measurer hadn't been paid. I told the rep I wasn't told a fee was required for that. Victor told me mileage would have to be paid when the installer comes out. Again, he never charged me on the phone for anything other than for measurements. I was told he should have. I was also told by the rep she would pass the issue on to her supervisor and I would get a call. I haven't received a call yet. I will never do business with Lowe's ever again.

We contracted for hardwood floors and vinyl floors. Spent $16,000. Meanwhile my husband was going through cancer treatment. We were at Duke a month. Delivery made of vinyl and hardwood. Installers showed up. Floor paper wasn't delivered, so they had to go to get it. Then informed us that they just do hardwood and had no idea that vinyl was to be installed too. They started after 10:30 and were there until 9:45 pm.
Vinyl had to be rescheduled 2 weeks later right after I had surgery myself. So the vinyl guy shows up at 9. By 11 he still hadn't done one thing. He had decided that he couldn't do anything without help with the furniture. As if he didn't know that if you were installing vinyl in the kitchen and laundry room, that there wouldn't be a table, refrigerator, washer, dryer. Then some warehouse guy showed up to help. Next thing my husband and I know, they were both gone. Lowe's or Legacy installation felt that a $50 gift card was compensation for their breach of contract.

Paid $1600 to have 2 rooms carpeted. Waited a little over 2 weeks before we were given an installation date. About a week before install we felt depressions in the carpet, so we lifted up the carpet to discover cracks in the subfloor. We took pictures of the cracks and brought samples of the gravel to Lowe's to find out who we could repair. The "floor specialist" I spoke to looked at the pictures and gravel I brought in and said not to worry about repairing ourselves. We were assured that the carpet installers fix subfloor as part of their prep work and any repairs could result in additional charges but would be handled for us.
Fast forward to installation date: the carpet installer says they do not do repairs and can't install our carpet until the subfloor is fixed. We call Lowe's and they offer no resolution. They merely say this is a "training opportunity" for their reps and recommend we fix the floor prior to installation. Waste of time and money. Never again.
How do I know I can trust these reviews about Lowes?
791,967 reviews on ConsumerAffairs are verified.
We require contact information to ensure our reviewers are real.
We use intelligent software that helps us maintain the integrity of reviews.
Our moderators read all reviews to verify quality and helpfulness.
For more information about reviews on ConsumerAffairs.com please visit our FAQ.

Absolutely disappointed with delivery services from UPS. We ordered a dining table with 4 chairs. It was supposed to come on Monday, got an email delayed until Tues. then delayed for Wed. The 4 chairs and the base arrived on Tues., the table top is missing. Why couldn't the whole table come together? I don't understand. It was not delivered on Wed. When I called Lowe's they said call UPS. Uhm? Excuse me it shouldn't be my problem to call UPS. So she was helpful and called them, they gave the EXCUSE that the package had to be repacked as the packaging wasn't really good so it's delayed AGAIN until Thurs. The package came all the way from USA. IT WAS FINE, when it reached the local UPS warehouse it wasn't safe to put it in the truck and deliver it? This was the first and last time I'm ever ordering anything from Lowe's not because it's their fault but because they are using UPS.

I ordered 5 windows from the salesman. At first everything was great. Then came the time for installation. The day before installation I get a delivery driver that calls me at work and tells me I will be at your house in 10 mins to deliver windows. Not one person called to inform me this was happening. As a first time purchaser I thought the installers brought the windows. We get our windows when they are taken them off the truck. One window was wrong, the driver refused to take it back. The installers come the next day and have to send the window back. The store promised to get my window on a rush.
I got my first window in 20 days. I have now waited for a window on rush for 30 days. They promised me that I could get a Saturday install so I didn't have to miss work. Well by the time I can get that it will be 49 days to get my window. I have talked to manager and main office still no resolution to the problem. They blame each other for the mistakes. Horrible experience.

I purchased a miter saw with the Lowe's extended warranty which they no longer stand by according to the customer service desk after January 2017 and I purchased my warranty March 2016. I will never shop at any Lowe's again. Am 58 and retired military and do a lot of home projects but no longer from Lowe's.

I bought a Delta faucet, paid cash and lost my receipt. I tried to return the un-used item for a store credit and they said it is a "high theft item" and could not return without a receipt. I said that I didn't steal it and was not sure why a good customer would be penalized for what someone else did. I called customer service and he said, "What do you want me to do about it?" I said, "To issue me a credit." He said, "I guess you are stuck with a faucet." Myself or my company will never shop at Lowe's again and I will let everyone I know that it is not a good company to do business with.

I'm not one to write negative reviews but the Lowe's store in Granbury, TX carries a dimly lit candle compared to other Lowe's stores where I have lived. They are not Customer Concentric in my estimation. We have an issue with a major purchase from a Lowe's vendor and though they are acting as a go between, it is in a very wimpy way. They are not holding the Vendors feet to the fire to get the issue resolved. In the meantime the air we breathe in the Master BR has been severely compromised and no one at Lowe's or the vendor seem to care. I guess the next step is to have a lawyer haul them into court and explain their lackadaisical attitude along with their vendor. If this was the store in Lufkin, TX we wouldn't be here writing this. That store is amazing and the whole crew there deserves recognition from the GM on down.

On 4/26/17 we purchased windows for installation from Lowe's Store #2643. Windows were paid for in full. Windows arrived on 5/14/17 and were supposed installed between 5/22/17 and 5/26/17. Never heard from the installer, so we went to the store again on 5/26/17 to inquire about the installation of the windows. We were told that they would call us to give us a date. Never heard from them. Called the salesman on 5/31/17 and got to speak with the installer. He said he did not know that the windows had been delivered because the store did not inform him.
Therefore, we have to wait until 6/8/17 before he comes to install our windows. Lost sleep worrying about windows sitting outside for two weeks and whether anything would happen to them. Had cabinets installed by Lowe's A+ on that job. We had a roof replaced by Lowe's A+ on that job. But now Lowe's gets an F- for the windows installation. Very disappointed. Being that I have been a customer with Lowe's for many years. Thanks for reading my review. Would not recommend that anyone buy windows from Lowe's.

Purchase carpet for the first floor of my home. Installers came. When I arrive home I realize the wrong carpet was being installed. I call to have it stopped but they could not stop the job, they had to complete it. Customer service told me to come into the store the next day and I did. They reorder the correct carpet. Told me once the carpet was installed they would give me adjustment for my inconvenience. Waited another three weeks - 6 weeks total to get the right carpet install. Go back to the Lowe's store, speak to the manager name Dorothy who told me once the carpet was installed she would give me a discount.
Went to the store twice. Left my phone number. She never gave me the courtesy to even call me back. The third day I called. I ask customer service for corporate phone number. Before I can call corporate, half an hour later someone from Corporate calls me, which I thought was strange that they would be calling me after I've been trying to talk to this manager for 2 days. The representative from the corporate office offered me $100 discount and I told her for all the inconvenience I've been through, couldn't put my house back together, couldn't have my Easter dinner, waiting 6 weeks to have carpet put down and to offer me $100 it was like a smack in the face.
At the time I was having work done in my house. I told her I will call her back. By the time I finish the project that we were doing in my home I just decided not to call her. If she was going to give me a discount she have all the information she needed to put the credit on my account. She never did. I've been spending a lot of money at Lowe's. Long as I was spending money I got great customer service. Once there was a problem the level of customer service from management and corporate Department failed me big time.

Over the last month I have made several large purchases at Lowe's in Fayetteville, NC on Raeford Rd. One of those purchases was for installing carpet in my home. I ordered and paid for the carpet over a month ago. We kept getting the run around about the install date from Lowe's and Legacy, the installation company. Finally we got a date, 5/30/17 between 1-3 pm from Legacy. We are moving from Greensboro and scheduled the movers to arrive on 6/1/17 with our household based on the fact that our carpet would be installed on 5/30/17. I took the day off from work. We got a call from the installer stating that their morning appointment cancelled and would it be okay to come early, we said sure, this was around 9:45 am. At 10:45 am I called Legacy to get a update. They said the installer has the carpet and is on the way. At 3pm I called Legacy to be informed that they could not locate the carpet and will have to reschedule.
I called Lowe's corporate and had a three way call with the representative from Legacy as well, concerned that the carpet would not be installed as agreed. The rep from Lowe's stated that the carpet was delivered to a warehouse in Fayetteville, NC. The Legacy rep said they can't find the carpet and that I should reschedule. The Lowe's rep stated that I should pick out another carpet and schedule another install date or wait until the carpet is found and set up another date as the carpet wouldn't be installed in the time frame that I needed.
I asked for a supervisor to get a solution to my issue and to get accountability because of what I went through. She said she was sorry for my inconvenience and that I should reschedule. As of 4:45 pm on 5/30/17 I have no carpet installed in my house and no reschedule date as the carpet is still missing. I guess I'm at fault for scheduling everything around the dates I was given by Lowe's and Legacy. Not one person has offered to make this right.

This company no longer cares about good service. I spent over 5K at the Wake Forest, NC store. Every appliance I bought was damaged or the installation was so bad my home was left damaged. The worst was the dishwasher install. They use a 3rd party plumber named R&R plumbing. Unbeknownst to us, they installed our dishwasher using a piece of bowed plywood to wedge the unit in the cabinet rather than spending the time to figure out how to properly install it. Worst yet, they informed us that we needed a cabinet maker to fix it properly or the installer could come back on his own time and charge us to finish the work needed.
We were confused by the experience so I got a second opinion and in doing so found out that the Lowe's installer used a sloppy method to wedge the unit in and cracked my granite in the process. I even put the second opinion plumbing company on the phone with the Lowe's delivery manager at the time so he could explain his findings. He told them that he felt confident that the bowed piece of wood the Lowe's installer used to wedge the machine in place cracked the granite. My plumber was able to install the dishwasher properly using the existing cabinetry/supports area available. Lowe's refused to pay to replace the granite even after speaking with a 30 year expert. The only offer was to reseal my granite. With an 8" crack, this was unacceptable to me. My second opinion installer is willing to give a statement if I want to pursue this since an estimate shows that replacement of the slab will cost me over $4000.
Even with all of this, their corporate customer service refused to make $1 in compensation. Now I have to consider suing them in small claims court if I want to fix my granite. Just a horrible company to deal with. One thing is for sure, I will never spend another dime in this store. It's not worth going through this to fix their work and have a damaged home. Buyer Beware!

I called customer service to ask for the refund of the washer (I canceled the washer the next day I ordered to order a different one). The first person hung up on me. The second person asked me to hold, but she then transferred me to a different line and I had to start over again. The third person I spoke to asked to call me back because she had to look at the paper and spoke to her manager. I am waiting for the call back right now. Let's see how long it is gonna take them.

Poor customer service at it's best. I went to replace a broken BernzOmatic torch tip that leaks... I told customer service that it was bought some time ago, and I didn't know the warranty period. They didn't either. I was told to contact the manufacturer about any claim, that they couldn't help me. I went into the store and checked the product display. It advertises a lifetime warranty. I got back in line for customer service again, told them about the lifetime warranty, and asked for an exchange. They brought over a manager who looked at the product, and simply dismissed my request. She was obviously bothered that I was asking for an exchange. I had the credit card used for the purchase. I, like many other former Lowe's customers, run my own business. I would gladly take care of any product warranty issue that deals with a product that comes from a current supplier. Home Depot is a little farther away, but they just gained a new customer.

I was in Lowe's in Longmont, Colorado shopping for granite, paint, and plants. It was amazing how few service associates were available. I waited 15 minutes only to be told that the person who knows about granite is at "lunch" and would be back in 20 minutes. I waited 15 minutes to get paint. The woman who was there was great but she had no help and there was a line of people waiting for service.
The final straw was when an associate pushing a flatbed full of boxes crashed into me while I was looking at the indoor plants! My glasses went flying and plants fell over. He may have said something, I really do not know, but he was on his way before I could even find my glasses. I spoke to his back: "You could at least say you were sorry." Without looking back, he said sarcastically: "I did." My visit to Lowe's was a disaster! I asked to speak to a service manager who apologized but used the excuse that Lowe's could not find people to hire. Well, this would be Lowe's problem. Pay people a living wage and hire more people. I HATE Lowe's and plan to never return.

So it's pretty easy, we buy two sets of outdoor furniture and a natural gas grill. The transaction went very well and the in store people seem very competent. That's where the story begins. So the delivery was supposed to be on Thursday and we waited and waited and waited until finally we got a call very late in the day that said, "We delivered it to the wrong house". There is no other street with our name and our town, and there is no other name like ours in the town. So something smelled wrong. So they call and say, "Great, we're going to deliver it on Saturday" which is plenty of time before our Sunday evening barbecue. So they deliver it and leave it and then I realize in the store must've realized that they delivered a propane grill and not a gas grill. So did they get the first delivery wrong to begin with in two ways? OK stupid people let's try for Sunday.
Mark the delivery expert said it would be here first thing Sunday morning. Lo and behold we got a call that says it will be here between 130 and 330. That's great except we're not here from 1230 until 530. So we call Lowe's and the idiot operator loses her cool and disconnects twice. Finally we talked to their third-party delivery company who said tough **. So we called Lowe's and one of them Anjou said he get right on it. I doubt this is going to happen and we have an 8 o'clock cookout. Home Depot is so much better and so much more competent at everything they do. So cut up the Lowe's card, not going to shop there ever again and I will tell everybody I know to go to Home Depot. Really pathetic.

We bought OneWash 3,100-PSI 2.8-GPM Cold Water Gas Pressure Washer with Generac Engine Model #6602 with 4 year Extended Warranty in October 2014.
We only used the washer 3 times, but last month when we wanted to use it again, the washer didn't want to start & we noticed some gas leak from the gas tank.
We called the extended warranty customer care, she suggested to take the washer to the store.
We took it to the store on May 5, 2017. When we got to the store, the employee stated that the warranty has expired and I need to initial pre-approval amount for repair of $125.00 if needed. I said "How could the warranty expires if I have receipt of purchase & 4 years extended warranty that was good until Oct 2018?"
He said, "Well... That's the policy." I told my husband, "Just leave it there & have them process and see what happen."
May 12, I called to see the status, they said it will be next week, but they will call to let us know when they received it. May 22, I went to the store since I haven't heard from them. They said it will be there tomorrow & will call once they received it. It took almost 3 weeks, and they didn't even call to let us know the status; However, My husband went to check on the power washer, they made him pay if he wants the power washer back. They said it's not covered under warranty.
I called the 888-775-6937 to resolve the problems, they can't even find my extended warranty to my washer. I gave them my Warranty reference #, they said that warranty was already tagged to other merchandise. Oh... My goodness... Really???? I said, "I don't know how it was tagged to other merchandise, I didn't have access to your system to begin with." It's all Lowe's mistakes, not mine. All I know I have proof that I had purchased 4 years warranty.
He called the store to see what's going on, then he told me that I need to resolve with the repair store myself, nothing they can do about it. It's so ridiculous. I was really upset. He was about to transfer me to his supervisor, but he was back on the phone and said his supervisor will send me the store credit for $80. I don't know if that's true or they just got tired with my complaint. I don't believe until I see it.
The bottom line is... I will never buy any extended warranty from Lowe's. They are not worth it. The way I see it, they will go around find any excuses possible from fulfill their responsibilities & you have to pull your neck to get what you paid for. The store personnel, didn't seem to know exactly what they are doing... Couples times I was dealing with this issue, they have to call somebody else to help. Take too long to figure things out... So frustrating.

The reason I am writing is I had Lowe's put in a new kitchen and floor throughout my apartment. We paid in full for the job in late September 2016 and it is now May 25, 2017 and the job is still not complete. The apartment was for my mother who is 84 yrs old now and I don't know how much longer it will be until they finish. All they have to do is replace 3 things and it's been three weeks waiting for someone to come. We still have not done the wall through. This has been a total nightmare and I think I have been more than reasonable waiting.

I went to Lowe's to inquire about fencing and I was told that I would have to pay a fee to send someone out to take measurements, etc. I paid the fee of $45.00 plus tax which totaled $45.20 right then and there. A gentlemen came to take measurements and stated that I will get a quote within 2 days. Two weeks later I called and inquired and asked to speak to the manager regarding the matter. I was told that he was out but will leave my info for him to call me when he gets back. I never received a phone call.
I then decided to call the complaints department and told Jack (the person who answered the phone) the whole situation. I told him that the service I paid for has not been provide since I have not received a call with the quote. I told him that I felt that I should have some money returned to me because there was no follow up to my paying $45.20. He stated that he could do nothing and that he could forward my call, but the problem is that their systems are down. This email is just to make the public aware that this may happen to them. I have since gone to Peel Fencing and the measurements and quotes were done within 4 days after placing my initial call.


Went out on the porch as I saw the truck pull up. Driver named Mike never even acknowledged me in any way, shape or form. Nor did he even ask me where I wanted the pallet of gravel. This is not the first time we had issues with Lowe's with nothing EVER improves & apparently they do not care! When he came to the door for me to sign paperwork, he was very rude. NOT GOOD FOR LOWE'S!

Installed this year in March. We moved in 3 days later, and by the 2nd week of April the flooring has huge tented buckling up that we can't walk on in a main hall, and various 'water damage' spots from a damp mop swifter. The Lowe's installation company took 4 weeks to come back and look at the damage. They took pictures and blamed us for the 'water damage', but the installer for the buckling. We were informed that a single drop of water can cause severe damage to the floor, so only dry mopping is acceptable. This damage occurs within 5 minutes, so it will bubble up while still mopping if damp mopping. The Pergo Max laminate flooring was supposed to be great for kids and pets. The manufacturer misrepresented the product with this statement, and goes even further by placing a picture of a dog on the box. This is a case of false advertising! We don't have pets, but I do have older children.
My own human toenails have scratched the flooring while walking barefoot in my home. So I have to wear socks at all times. No food or drink is allowed outside of the kitchen linoleum flooring. So, the damp mop is the only possibility for the 'water damage'. The installation company would have blamed a pet if we had one. In conclusion, even with the Pergo Gold underlay the Pergo Max flooring is not water resistant or child and pet friendly as advertised, nor scratch resistant as advertised.

Along with my eldest son, I have been looking for flooring (laminate), for both my son's home as well as my own. I live in the Cambridge/Kitchener area and have visited all the big box stores in my area in my search. In all stores (HD, RONA, Home Hardware) with the exception of Lowe's, the stores allow patrons to sign out a full sheet of flooring rather than those itty bitty samples you pay for.
When I asked the flooring rep at Lowe's to sign out a sample, he advised, in a not so polite kind of way, "we don't do that". When I advised every other store in the area does, he replied "well not here". I'm not so concerned about the impoliteness of the comment as much as I am about Lowe's policy that does not allow customers to sign out a reasonably sized sample. In any event, I certainly do not intend to purchase flooring from Lowe's, and in fact do not intend to shop there again as I do not like the overall experience of being in the store, very cold, very clinical, not very friendly staff. Hope this feedback helps.

I ordered a new refrigerator from Lowe's which I was hesitant about to begin with since my experience with this store had not been great in the past but where we live the choices are very limited. I was told that the model I wanted was not carried in the store and would be sent from a Wyoming store and it would take about 2 weeks. I was ok with that. On the Saturday we had it scheduled for delivery I never received a phone call and I had been told the appliance would be delivered between 8 and noon. At 10:30 I called Lowe's and was told after much waiting on hold that the appliance had never been ordered and I could either come to the store and choose something else or just wait for the appliance to come from the Wyoming store. One time the person apologized and that was it. They did not care that I had been waiting all morning. I told them to order the new one. This was a whole other issue.
Now the appliance is in the Glenwood Springs store but I did not receive a call saying it was going to be delivered. I had to call to check status. They told me it would be delivered on a Friday. When I asked what time they said they didn't have any idea. Someone would call me. I had a call the night before delivery from someone at the store saying they just wanted to make sure we were on the same page? Seriously. Never apologized and was not overly concerned they had screwed up. I am quite appalled by the lack of customer service.
I was notified today that my appliance would be delivered sometime between 1 and 3. I had already waited the day it was supposed to be delivered. Now they want me to wait again. And besides you would think since this was entirely their mistake they would be trying to get my appliance delivered as early as possible and go out of their way to accommodate me. This is the last time I will buy an appliance from Lowe's. The customer service is absolutely the worst. I would rather drive 90 minutes to another town and actually pay for delivery. Lowe's had lost my business and hopefully others I know. Very poor business practices.

IMPORTANT FOR ALL FUTURE COSTUMERS. DO NOT CONTRACT LOWE'S FOR ANYTHING. I paid to change a new fence and the installer with workers did not do a good work. They promised to come and fix the sprinkles and some details... And the installer promised to come to fix it and never show up. I called Lowe's again and they schedule a second time. He never show up again. & Other case. I went to the Store Lowe's and I tried to buy a set patio. The employees never attended me.

Purchased a ceiling fan from them and asked how to get it installed. Cashier told me to go to cust svc. Cust Svc didn't know how and sent me to electrical dept. No one was there (not to mention that I had spent at least 30 min in the lighting dept and no one ever offered help). Cust svc told me then I could set it up online or call the number provided on the website. I called the # provided and was told I would receive a call back. Finally, 2 days later, I received a call but was told it would be an extra $35 and it would require 2 visits because I didn't know the ceiling height. I told her the ceilings weren't too high, but she insisted they would have to do it that way and it would take 2 visits. I told them "no" because I was in a hurry for installation since it had taken so long to hear from them. Then I received a call from another local Lowe's the next day with a message to call back and ask for a certain person.
I called back today and was told that that person worked in plumbing and they had no idea why his name was left. Then they said I would have to come back to the store and fill out paperwork if I wanted an install. I called the corp office and they connected me again to the store and this time I was told they couldn't install the fan without proof of purchase, which unfortunately I had lost. I finally gave up! No way will I ever purchase or recommend Lowe's again! Why put up a big sign that says "ceiling fans installed for $100" and then not back it up. Why tell someone they have to go back to the store to set up installation when the person was at the store and asked 3 employees and no one knew? Totally unprofessional!!!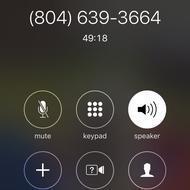 Lowes Chesterfield, VA - I have been screamed at by Gayle and her manager Al. She screamed over me while I tried to explain to her that the delivery company did not get my appliances from the store because they did not write it on the ticket. It was Lowe's mistake and I was blamed! No rectification, nothing. I was screamed at, left on hold for 40 mins (screenshot below) while Gayle pretended to look for the manager but, once Al came onto the phone he told me that he was standing there the whole time. So I guess it is funny to them to leave an upset customer on the hold for 40+ mins. Not once did they apologize or take responsibility for not putting my appliances on the truck.
Al (the manager) hung up on me twice (which I have a voice recording of) because I wanted my appliances delivered the next day, and he tried his best to have XPO not deliver them. I spent over 5K on appliances and have been treated horribly. PLEASE PLEASE PLEASE DO NOT EVER BUY APPLIANCES FROM LOWE'S (CHESTERFIELD, VA).

Bought a refrigerator and had Lowe's deliver it. When they delivered the refrigerator it looked like it was dropped out of an airplane! Sent it back with delivery guy. Next day they brought me another refrigerator that also was damaged. Horrible store to shop at. They didn't even try to make their wrong right. Do yourself a favor. Avoid lowe's!!!
Lowe's Home Improvement Company Profile
Company Name:

Lowes

Website:

http://www.lowes.com/