Consumer Complaints and Reviews

I used to choose Lowe's over Home Depot because of the customer service that Lowe's "used" to offer. But the last couple of times... especially yesterday 2-17-2017 I got so mad I stormed out of the door. Back on June 2, 2016, I purchased a replacement First Alert Smoke Alarm; this particular model does not come with an exchangeable battery, it comes with a built-in 10 year battery - part of the product, you cannot replace or fix. The smoke alarm failed a couple of months ago. The battery was dying and I had this endless chirp chirp chirp I had to deal with. It was also the same time I had a bi-lateral mastectomy. Not a good time to deal with trying to get the dang thing replaced by Lowe's.
Finally yesterday, I remembered that I needed to get the smoke alarm replaced. I have 2 others in the house, but this one was between the kitchen and the living room. I was not completely unprotected, but I didn't 100% safe either. Could not find the receipt, but found the basic instructions and off to Lowe's I went. I was greeted by TWO customer service reps and they both grabbed the instruction booklet (at the same time I may add) and began to read to me the part about... "batteries are NOT part of the warranty". Wait a minute! I am not an idiot and know this as a general rule, however the battery INSIDE this item was not removable or replaceable. This is not the standard 9 volt smoke alarm. They continue to tell me... "it is not Lowe's policy to EXCHANGE or REFUND because of the battery failure inside the unit and according to the Instructions, the manufacturer will not replace it either."
I told them they better put a notice on the display for all these smoke alarms because they don't sell just the 9 volt older model - only electrical or these 10 year life units. They said they have not had any complaints or attempted returns. Continuing with... "we can't do anything for you today." The conversation got a little more heated, but I can tell you... there is NOTHING at Lowe's I wish to purchase anymore and will definitely tell everyone I know about the horrible service. In the meantime, I have to contact First Alert directly to see what they will do about this $30, 6 month old useless smoke alarm.

Lowe's is my neighborhood store, but I will no longer shop here. The service is consistently awful and managers are clueless. I've complained about the incorrect information provided, or complete lack of service, on three occasions. Each time, the manager blamed corporate policy. Convenience, service, professionalism -- not represented by Lowe's. I'm taking my business elsewhere, even though the busiest store in the city is 5 minutes from my home.

We are very disappointed with our shopping experience thru the Lowe's store located in Keizer Oregon. Our first order for Midgrade windows with grids was made in the store last October. It is took about three weeks to receive our windows. We are paid for the rental truck to deliver windows. When windows were delivered to our house we are realize that this is wrong and cheaper windows without grids... We didn't accepted this order and then decided to cancel it because the weather was already getting cold and our time and money were lost...
Then about three month later we decided to make an order on Lowe's website with a hope that maybe this time the customer service will do their job more professionally... But to our disappointment we were wrong... The windows were delivered to our house were WRONG again. This time I don't want to cancel our order but requesting a compensation for at least some losses: our time, our money we paid for rental truck to deliver windows and receiving our windows with the grids as soon as possible to finish our house projects. But so far the customer service are making unprofessional excuses and blaming Milgard company for all the problems instead of taking all the responsibility's and fix a problem to satisfied and help the customer in current situation... I hope Lowe's Customer Service will take my complaint to their attention and act to help us and improve their service to customers. Thank you.

March 2015 We went to Lowe's (Sayre, PA) to get some expert advice on cabinets, countertop, backsplashes, lighting, flooring, sink, faucet etc. for a 11' X 9' kitchen. (We also got a 28" cabinet, quartz vanity top and fixtures for a small bathroom as well). We were keeping our appliances. Only needed an over the stove vent and microwave and ended up getting a combination unit. The idea that someone would be overlooking this project, being able to size it all correctly and that it would be done in 3-4 weeks was very appealing. The cost of all of this was about $25,000.00. Higher than we thought it would be but we agreed. We did opt to save some money to do the demolition work (take out the old cabinets, the old Formica countertop etc.).
The work started - first the cabinets which we have adjusted to but were disappointing at first because they are white, showed gaps and some had flaws. (They are not really customed made). These were replaced. And some changes were made because it did not "look right." The counter top we liked but made a change to have a partial (4") backsplash instead of going directly to the wall. The backsplash we chose to go with the countertop we replaced as well because it did not "look right".
The flooring we liked except that it was done poorly and many of the tiles were uneven - ridges. These were corrected for the most part. There is still some minor unevenness. We changed some of the unpicked parts such as the pieces that go in the doorways to connect the flooring with the carpet of the other rooms - an industrial looking piece of metal was changed for a wood piece which looks much more fitting than the cheap look that was initially done.
The painting job was also not the best, or even a finished look. We took care of some of the unfinished paint work that was left because we did not trust it to be done correctly anyway. The measurement of the cabinet above the stove which was also to fit the microwave/vent unit was completely off. The microwave was a pan size away from the stove. It looked ridiculous and it was argued about that it was close to the approved distance required. We were angry about this and it was all changed. We had to point out a lot of things in order to have it done to our liking otherwise it would probably have been left as done. The job started at the last week of May 2015 and was not complete or unusable until August 2015. (So much for 3-4 weeks).
The vanity cabinet was also the incorrect pick and we had to wait for this. The people that did the work - we believe that the main persons were OK (knew their stuff) but their sidekicks were not up to par. At the end the cost was around $30,000.00 plus total. Your team had come to inspect the final project - they knew and sensed that we were not that satisfied but had us sign off. What could we do? We were ready to get on with our life and knew that our dissatisfaction with the job (in particular - the painting and the unfinished look) was not going to be remedied by you.
It is now the beginning of 2017 (about 2 years). There is a small crack in one of the tiles of the floors which we had checked out by you but the consensus was something dropped on it. We have no recollection of such an event. The floor to us we feel has a slight unevenness (? subflooring) to it but to replace a tile (we have replacements) may make the floor look more like a botch job so we are leaving it alone. We hope it does not get any worse. The Delta faucet, the fixture to the sink, had started leaking after a year and was replaced by you. It started to leak again this past month. I called Lowe's Feb. 1, 2017 was told to call the installation team 877-505-4923. They were going to call someone to help us with this issue. I was told we should get a call in 24 hours. None came. Called again Feb. 3, 2017 - same deal - no response from any help.
I did manage to get a number for Delta (1-800-345-3358). Called them. They sent us a cartridge for free - we watched their video and managed to put the cartridge in and the faucet seems to be working again. Our complaints are the cost for a kitchen that does not look like a $25,000-$30,000.00 job. (Note again - this did not include any appliances.) Also not sure of the system - first you get a designer who is finished with you once it all starts going unless you have to order something, then a coordinator who you barely see and these people change around and you have to email because you can't get on the phone. And probably if you sign off which is required when the job is "finished" they are finished with you and you can no longer complain. A kitchen should last for a number of years without any problems. We are a senior age couple and not very hard on anything.

I had a business account that I cancelled because I was unable to access online and was unable to make payment online consequently. I do have a consumer account. I have had repeated problems making payment online. My first attempted payment did not go through and the message read that I cancelled the payment myself which I did not. The second payment was made one day before due date. I attempted a third payment in case there was a problem with that and the message read that I already had a payment scheduled. Today, I see a late fee. Nothing but incompetence on their end. It appears I am acting in good faith and they are rejecting my payments so they can void the 6 month 0 percent interest and charge me interest. No faith in Lowe's whatsoever.
How do I know I can trust these reviews about Lowes?
699,348 reviews on ConsumerAffairs are verified.
We require contact information to ensure our reviewers are real.
We use intelligent software that helps us maintain the integrity of reviews.
Our moderators read all reviews to verify quality and helpfulness.
For more information about reviews on ConsumerAffairs.com please visit our FAQ.

Last Sunday (02-05-2017) I went to the Aransas Pass, Texas Lowe's and purchased a new washer. I ordered at the store so I could set up the delivery as I had no working washer. Delivery was scheduled for Tuesday (02-07-2017) which was only 2 days and acceptable. Well on Tuesday I got a call from their delivery department saying they couldn't deliver that day so how about Thursday (02-09-2017). I asked "what time" and was told they would call back the next day (Wednesday) and let me know. Well I never heard from them on Wednesday and Sat home all day Thursday waiting for them to show up with the washer. Finally at 7:00 PM Thursday I went to the store to inquire about the washer I had purchased. The lady at the returns desk told me the washer delivery had been rescheduled on Wednesday for 02-28-2017. That's 19 days from now???
I wasn't rude to the guy from their delivery department when he called on Tuesday so am dumbfounded why they would do this. Looks like someone has a personal grudge against me. Well I canceled the order and got the charges reversed and went online and purchased the same washer from HomeDepot. There was another employee (supervisor?) there and I could tell from their actions and demeanor that this was done deliberately. I won't be doing any more business with Lowe's in Aransas Pass, Texas. Very disappointed, but I will not shop there anymore.

I contracted with Lowe's of Roseburg Or. Store 1741 for 2 new roofs. The contract says I may only go to arbitration to settle my dispute. Two new Owen Corning Hi Definition roofs were installed, complete tear off and installation. Within 36 hours the garage roof was tearing off. The house roof was SEVERELY leaking. The house roof is leaking water Down the Interior Walls onto the floors. Ceilings are Destroyed. I have lost Thousands of dollars in rugs, furnishings, personal items and lost work time.
The subcontractor had subcontracted the job. The subcontractor, J. King Construction Company of Roseburg came out twice to repair the damages. Each time they try to repair the roof the interior and exterior damages get worse. The store salesman is very intimidating, threatening and self absorbed. The salesman and subcontractor are refusing to tear off the misapplied roofs and start anew. The store manager has not yet contacted me. Some of the charges were put on my Discover card. Discover has accounted the money to my account until this is settled. Buyer Beware of the Arbitration clause in your contracts with Lowe's. Do not expect this store to make amends for their wrongdoing.

We purchased a 5 light vanity bar and 2 of the globes were broken. It very clearly states in the instructions to contact customer service at 1-866-439-9800, 8 a.m. - 6 p.m., EST, Monday - Thursday, before returning the product to your retailer. I did so. When I called in, there is a menu to choose from. I selected lighting and ceiling fans. I was transferred three times before I was even able to talk to anyone. When I was finally able to talk to a woman she was eager to tell me that I didn't have the correct information and I was going to have to call back because I offered the model number and not the item number. I told her to hold on and I would give her the item number. The service was extremely rude. What should have been a quick, cordial call turned into a 20 minute headache that left me wishing I had settled for candles.

Do not ever order doors from LOWE'S, informed the staff that we wanted a 6 foot opening to replace the existing rough opening. We signed paperwork then he added a 5 foot rough opening afterwards. Doors came out late and for the weekend set up a carpenter to the tune of 800.00 dollars. Called Lowe's and they told me it was our fault and nothing they can do. We are now into 8000.00 in doors 800.00 plus in labor plus my time off work and nothing. We also ordered dishwasher it was damaged and we waited about 2 and one-half months. DO NOT BUY anything from LOWE'S. CHINA CRAP.

My wife and I purchase countertops and a stainless steel sink from Lowe's in Elk Grove, California on Calvine Road. The installers came and install the countertops and sink. Upon completion of the installation, the installers left a six foot long, 1 inch gap from the countertops to the counter! My wife was at home alone and was intimidated by the installer so she signed off on it. I was outraged.
I went to the Lowe's store in Elk Grove, California on Calvine Road and spoke with assistant store manager Shannon. Assistant store manager Shannon told me there is nothing they can do about the six foot long, one inch hole in my kitchen. I was highly upset! Assistant store manager Shannon was very disrespectful and highly unprofessional. As a loyal customer to Lowe's for years, I could not believe I was treated in such as unprofessional, disrespectful manner. Assistant store manager Shannon then told me that she would give me $50 and supplies to the fix six foot by myself! Seriously! After spending $4,000 of my hard-earned money as a retired army paratrooper, I could not believe what assistant store manager Shannon was telling me. I then walked out of Lowe's embarrassed and feeling highly disrespected, vowing never to shop at Lowe's again.

I came to the store on January 2nd 2017 to order new carpet. They came out to my home the next day the 3rd. Great. I received the call on the 4th telling me my measurements have been submitted so I came back to the store to purchase the pad and carpet. The carpet Associates were very friendly and helpful. I signed the paperwork and they advised me the carpet I picked out had to be ordered which I was good with that. They said it would take about a week so I agreed to the contract. I was expecting no later than a week and a half 2 max.
I received a call on January 17 advising me my carpet and pad had arrived. Later on that same day I received another call for the installation appointment. The soonest available day was January 23rd today so considering my work schedule and I work on the weekends that work perfect and I told the lady on the phone that would be great. The installation people called back on Friday to reconfirm my appointment to make sure I was still available which I was I appreciate the follow-up calls. I finally got my carpet laid today and your installers did a fantastic job. I am very satisfied and very happy and they were very friendly and professional. I'll be sure to use Lowe's carpet Professional installation again in the future.
The only thing I was a little disappointed in was the amount of time I had to wait all together for this job to be complete. I basically waited 3 weeks. The timing could have been a little faster. I also wish the flooring Associates could have advised me that it could have been that long as I could have prepared myself a little better but that's alright. Next time in the future when I need new carpet again I'll be better prepared. Again I am very satisfied with the service and the new carpet that was put down. It's very nice and once again I thank you very much.

My Frigidaire Free standing electric range model LGEF3033KB required servicing. A call was placed to Lowe's on 12/16/16 to arrange servicing that was covered under their Lowe's Advantage plan. A technician was dispatched on 12/19/16. The diagnosis was a bad control unit, heating element, and 2 screws. I was told that the parts would be at their location in a week. Fast forward 1 week, after numerous calls to Lowe's and Kelly's Appliance, Inc. I was told that the 2 screws were on back order and would be here after the holidays. It is now January 23rd, 2017 and they are now scheduled to come out tomorrow to make the necessary repairs. I can't believe that 2 screws would deprive me of my stove for so long! I was a long time loyal Lowe's customer, but after this experience I cannot in good conscience recommend them to others.

When shopping for a new appliance set, I went to Lowe's to get the refrigerator, microwave, oven, and dishwasher. At the time, they had a rebate and if you buy 4 appliances, you get a $200 rebate. I bought 4 appliances, and somehow only 3 appliances were put on the receipt that qualify for the rebate (dishwasher, microwave, and oven). I called in and the customer service agent said that the microwave did not qualify because it was under $395. She then said that since they did add the microwave as a qualifying rebate item on my receipt, that they would honor what the receipt says and count the microwave, plus add the fridge. I sent in the receipt for the rebate and finally got my rebate which was only worth $50, not the $200.
Called customer service again, and the guy was not much help. He transferred me to his supervisor, Tina (a guy), which he was rude. Would talk over me and basically said they aren't honoring what the receipt says. I told him about how the other agent said they would, he would not care to hear about it and said that he will 'listen' to the call and train the agent again. Which is obviously a lie. I am very disappointed and am going to return all my appliances.

Trying to find products on their website is almost impossible. You have to type in the exact product name or you're probably not going to find what you're looking for. And when you do find what you're looking for their system is not up to date on whether the item you want to get is actually available. And then waste time coming into a store to find it's not available or you have to call every time to double check, it's so pathetic.

I purchased a home in Tappahannock Virginia in the Spring of 2016. Needing improvements at my new home before moving in, I went to the local Lowe's who sent a Project Coordinator to my home on 5/3/16. We agreed to improvements in my kitchen to include a new floor, countertops, sinks, etc. and sliding glass doors for three baths. The job was over $12,000. I was expecting professional, trained workers for this price. The job was estimated to take 3 days, to this day it is not done. On the date agreed upon 6/9/16 a crew of 4 men arrived, one supervisor and three helpers. This "crew" consisted of different untrained workers who admitted that they had never done some of this work before, and a supervisor, he stated "it's OJT, it's how they learn", they complained about being paid $10.00 an hour.
They would arrive around 11:00 a.m. and leave around 2 or 3 p.m. Between the lunch and numerous cigarette breaks (leaving butts in my driveway, or crushing them out on the bricks) this was far from what I was sold in the contract. I had to go to my old home and pack it up, so I left the "crew" expecting to return to a finished job. To the gentleman who was told you had to oversee the job, not true, they had my key and worked while I was gone. When I returned I could not believe what I found. There were muddy cinder blocks on the counter to hold the backsplash in place, a round bar sink sitting in a square hole (no water), main sink had caulking slopped all around the countertop, no water.
When I turned on the water it poured out of the bottom, caulking all around countertop, was running down the backsplash. My new refrigerator was in the formal dining room with dents in the refrigerator and scratches on my floor. (They sent the night manager's brother-in-law over to sand the scratches and put polyurethane which left shiny dark spots.) My custom cabinet over the refrigerator was torn out and when replaced left a space and they covered it with trim made of Styrofoam covered with contact paper (not the same color). The kitchen floor was not put down correctly. It had a bump and when walked on it was like walking on a plank board. My solid oak trim is replaced with unfinished pine. I was told to stain it myself. Lowe's sent store personnel to see this mess, and they agreed it was "sloppy" to say the least.
I will not list the other things because I will go on and on. I will say that during the entire job it was a no call, no show from Lowe's. The Project Coordinator now would not return my calls, they would say they would be here and I just waited and waited most of the time, never showed. Part of the same "crew" was sent to fix what they had botched (two were fired by now). You can't get something from someone that has no idea what they are doing. I did go to Corporate Support and that ended with a certified letter from the Vice President of Store Operations, who I am sure does not know the whole story. They are sorry they were unable to meet my needs and their final resolution was a $500 offer to get the final things done myself. Oh and I had a deadline so they could close my file. It was insulting and hurtful to me. I am a senior citizen and all I wanted was Lowe's to get my home back the way they found it.
I don't want cheap materials, or sloppy cover up repairs. I just want it back the way it was before they came. If Lowe's had of told me I was NOT going to get licensed professional people to do my work at the cost of $12,000, I would have never hired them. "If there is any problem at all, or if you are not satisfied for any reason, Lowe's will make it right, 100% Guaranteed." This if false advertising. Last I heard was to take their $500 to put down the kind of trim they tore up at the beginning. They want to close my file.

I went in looking for wallpaper remover and they said they didn't sell any. I checked online and that location had it in stock. Several times this has happened. Educate these employees. They are always just standing around. Way too many workers.

In October I purchased a dishwasher from Lowe's. In December it quit - after the store warranty expired. I called GE and they sent their repairman. He ordered a part that did not arrive before Christmas. All events in my home were off! After New Year's the part finally arrived - but did not solve the problem! Another part was ordered with another wait! Finally it arrived - but again did not solve the problem! Another part was ordered. My kitchen has parts everywhere but 1 month later - still no dishwasher! Today I went to the store and spoke with Eddie **. He went beyond the call of duty and took the responsibility that belonged to GE and exchanged it! THANK YOU LOWE'S!!! You have my loyalty!!!

This picture rather says it all... And if you like 3, not 1, not 2, but THREE lost orders, non-deliveries, missing 2 days of work to receive a scheduled delivery when they never showed up, and 5 different stories to appease you from 5 different employees looking up your order, then Lowe's is the place to go.

On 11/27/16 we purchased a suite to replace our kitchen appliances. It is now 1/17/17 and we are still waiting for our dishwasher install. We know for a fact (our son works at the store part-time) that our dw has been sitting in the store since we purchased it, with our name on it! The fridge was delivered about 3 weeks after we purchased it, the microwave installed about 6 weeks after, and the range delivered two days ago!
This is all unacceptable, especially after my husband went to the store early January and met with the store mgr., who was very nice and apologized and apologized! This morning we finally got a call from an installer who said he could not install the dishwasher until 1/27- that is 60 days after its purchase! We have been told that Lowe's now out-sources its delivery and install, well guess what Lowe's, it does not work!!! I have made 2 payments on appliances I still do not have yet! Crazy!!!

Long Time Shopper Leaving - I have been shopping at this store, since 2006. I was sooo in love with this store! I felt like everyone in there was my "buddy." I would go there sometimes just to "feel good" because of my love for home decorating & restoration. However, on January 14th, my husband and I went there to purchase a washing machine & dishwasher. The appliance salesman did the order fine with delivery Monday (holiday, we're home). Since I didn't have my Lowe's card, he had me to go to customer service. The CSR there, obviously, had no clue that there was an 18 month no finance sale (Dear Store Manager, it is important your employees know what's going on in the store.). She called to get my card number to charge us, and asked me if I wanted 5% off or 6 months financing, which is standard.
I had the huge flyer in hand on the counter, and I kindly raised it up and said, "isn't it 18 months no financing??" She looked baffled and confused, hit a button on the register and mistakenly put the sale through. "Dang it," she said, because she did not do the 18 months financing. I then had to wait about 30-40 minutes for the appliance gentleman to put the order through and cancel the original one.
On Monday morning, after not receiving a call the day before, I call to inquire about delivery. Once the order was found by the woman on the phone, she stated it was put through to a delivery on Wednesday with an old telephone number. I even said to the CSR, who messed up the order, "do you need me to go back there to make sure it's right?" She said no he would put it in the same. I checked, "with delivery Monday?" "Yes." On top of that, I now have a fraud charge on my account that went through today. So, I can only guess that CSR had something to do with it. My account number was never said aloud, and I had the piece of paper with the number. Maybe another guest copied it? I will no longer shop at this store, which saddens me. Totally, the opposite over 10 years ago.

We ordered a whole kitchen - microwave, French door refrigerator and a stove 1st of November, was supposed to be delivered before Thanksgiving. They called the day before said it wasn't going to arrive. They've been putting this off. It is now the 12th of January, now they tell us we won't get it until 20th of January. We've been put off for 3 months, I'm very unhappy. Lowe's won't do anything to make it any better, nothing comparable, we just have to wait. I think this is unacceptable.

When I purchased my riding lawn mower, I was told that it would cover routine maintenance and transportation to and from the repair shop. When I called to scheduled maintenance, I was told that it would only cover mechanical and electrical issues, except a dead battery, a flat tire, the carburetor, or anything that the plan administrator deems to be caused by abuse or misuse. Basically, they are taking your money and giving for nothing.

Had a garage door bend with normal use. Lowe's wouldn't stand behind the door produced by one of their suppliers (Amarr). Amarr's installer told me that this shouldn't have happen. Lowe's didn't care. I won't be shopping at Lowe's anymore.

I have always bought my appliances from Best Buy but the washer and dryer set I wanted was on sale at Lowe's so I bought them and the protection plan. My washer went out mid December and I called immediately to schedule service. It takes 7 to 10 days before anyone comes out and then, the repair folks are lowest bidder I'm sure, and they show up realize they need parts (Duh that's why we give you a detailed description of the problem) then the repair has to be approved by Lowes, then they order the part. Bottom line I will be without a washer for almost 5 weeks before they fix it. I have 5 people living in my house... That's ridiculous. When I call Best Buy for service it's usually fixed within 3 to 5 business days! Stay away from Lowe's appliances and their protection plan.

Went to Lowe's with my daughter to purchase a new electric downdraft cooktop. When we got to the appliance dept we looked over the cooktops with not one employee in sight. When we decided to purchase one we liked, we found a man in the appliance section sitting at his desk. He was there the entire time and never once offered assistance to us. I asked him to come and help and the attitude he gave us was deplorable. He was negative and disinterested.
We left the store and decided to buy the cooktop online instead which we did. We ordered the cooktop on 1/2/17 and as of 1/12/17 we still have not heard a word on when our cooktop will arrive. Item has not even shipped yet and I have guests coming to visit me next week. I have no way to cook. I am completely disappointed in Lowe's and will never buy anything from them again. I will buy all my appliances from Best Buy because I have had nothing but positive experiences when shopping there. I am willing to give Lowe's the opportunity to make this right, but if I have no cooktop by the time my guests arrive, I am done with them. Will not however buy another appliance through them.

Visiting Show Low, AZ from our home state of Maine, and showed my state drivers license with my Veterans Insignia for the veteran's discount. The clerk refused to give me the discount or to even look at my drivers license and said I needed a DoD veterans ID card. I served in Vietnam some 40 years ago and I was not issued a veterans ID card. In my hometown the Lowe's accepts the state drivers license with the veterans insignia because they require a DD214 for proof to add the designation on your drivers license.
I called Lowe's and they told me this was company policy and they would not even accept a copy of my DD214 as proof of service. I am deeply disappointed that Lowe's will no longer honor a veteran's service. We just bought a house here and are preparing to spend money on new flooring and appliances. Too bad for Lowe's, but the Home Depot across the street accepts the drivers license with the military insignia. I have asked Lowe's senior management to address this with a reply to my email. Hope I get a positive response. Signed: A Vietnam Veteran.

No Service on GE products in my location of Celina, Tennessee 38551. Washer-Dryer GE GTUP270EMWW - bought 2013 a stacked washer and dryer
Lowe's delivered at that time was satisfactory. This fall the washer stopped spinning. I called Lowe's for repair. The company they gave me does service my zip code of 38551. Called them back that I had received a notice to reup my warranty but before I did I called the Lowe's Protection Plus number to find out that no they didn't have a repair person in my area. I should check the local advertisement for someone. I did and found Sears, called them - guess what - no service in my area either. Maybe if I called the Nashville store they might have someone. Can't believe GE or Lowe's can sell a product that they can't provide service people.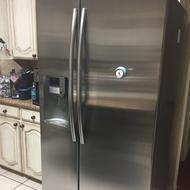 I'm sick to my stomach that we've been giving Lowe's great business over the years, including remodeling our kitchen two Weber grills (one for our son in law).
We bought a Samsung refrigerator 2013 almost immediately we had a loud (very) noise. We've had multiple calls, repairs since. We spent $1500 on a lemon of which Lowe's will not stand behind and replace. I have had refrigerators that I didn't have one problem with over a period of years. I will not be back to Lowe's! Just the reviews alone at this point is convincing enough it's a lemon!

Of course after buying a washer from Lowe's, the electronics didn't work. Then reordered another, was damaged to the external legs of the machine. And lies about when it could be delivered. Salesman said next day. Took 2 weeks combo of both incidences. Eventually cancelled and went to hhgregg that did a great job. And I notified the Better Business Bureau.
Now, my daughter who didn't know of this incident buys me a snowblower from Lowe's for Christmas. A $700 item. I didn't even have to put gas in it yet to see that the crank that turns the chute doesn't fit appropriately and doesn't complete a full turn. For this money, that snowblower should be working perfectly. So going to return this crap. Further entries to be placed, since I'm sure I'm going to get a hassle with returning this thing. I'm so sick of Lowe's. Can you do anything right? Just got back from Lowe's... Very impressed with the lack of hassle in returning the snowblower. I guess they perfected the return department.

Bought a Maytag washer July 19th 2016. It has been serviced over 10 times, rebuilt by the service tech, still doesn't work properly. Lowe's of Dalton always puts the blame on someone else but if I wouldn't have been made to wait 2 weeks on the first call I would have received another washer in the beginning but due to waiting for a repair guy I'm still without a washer almost 6 months later. I have been transferred over and over with no answers still as of today January 5, 2017. Never again will I buy an appliance from Lowe's or MAYTAG.
Lowe's Home Improvement Company Profile
Company Name:

Lowes

Website:

http://www.lowes.com/