Consumer Complaints and Reviews

Lowe's promised us a quick and quality siding install at the beginning of August. It is now the end of november, and less than half the job is done. What is done is at best inaccurate, and at worst will void the material warranty. When I have brought up our concerns numerous times, nothing changed. I was forced to fire them and ask for some money back, but I'm not too hopeful. They said they wanted us happy, but would not change the methods of the installer. I have the printed installation instructions that he was violating. Apparently it doesn't matter.

We purchased a closet door in April. It was a custom size, came in about 5 weeks from ordering and was the wrong size. Our money was refunded and we reordered a different door, this one with trim as we were told we did not order trim originally. We still have not received the door. The first person I dealt with blamed everything on the door company but would never call back. When I called I could not reach him. Finally caught him at the store. He assured me he would call back, never did. That person is no longer with Lowe's. The new person, Jonathan, assured he would get things moving. He did call me back and it seemed like he would get the project done. But he quit calling and when I did get hold of him he assured me he involved the assistant manager and action was being taken.
One day an installer showed up and installed the wrong door and no trim. I talked to Jonathan again, he apologized, agree it was a mistake and would figure out what happened. At this point, early October, I am begging for it to be installed by Thanksgiving. I was told that it would be possible. Well, we joked about the goofy doors with no trim to our friends and relatives as we sat around the table for Thanksgiving. It's an open space and the closet is very visible from kitchen, dining room and entrance. But it not a joke and I'm sick of trying to track someone down for an answer. It just closet doors. They have been paid for but I have been living with an eyesore for 6 months still trying to get an answer about when they might be installed. My understanding is that they have been at the store since 11/11 but no installer, we were told we could pick them up.

RE: Abingdon, MD Lowe's. Ordered a new washer and dryer and scheduled delivery for the following week. Lowe's Delivery Manager Alicia called the day of delivery and gave us the delivery window. She then called back 30 minutes later and said that the dryer was dented, did we still want it. We replied no (who wants a dented dryer for $850) and she said that they have another dryer and would be delivering that day. As she hung up the phone she said, "This woman is gonna be a **," to a coworker. Our next call was another 30 minutes later from the same Delivery Manager stating that now the washer was broken and would have to be reordered with an estimated wait time of 14 days. At this point my wife went ballistic after being called a ** on the previous call, she proceed to get very angry, using profanity.
The delivery manager then said she was transferring the call to the Asst Manager, Scott. He picked up the phone and laid it on his desk for several minutes before answering (we could hear but he would not talk). Next, he told us that there was nothing we could but wait the 14 days and that he was very busy and didn't have time. Next he said "we needed to decide if we wanted to wait" and HUNG up on us. What a JERK. I called and got a full refund from Scott and then purchased the same exact units at Home Depot for less money with a quicker delivery date. What's most shocking is that never once were we offered any type of help or consideration for the situation. And what are the odds that two new units would be damaged just prior to delivery. Senior Management must not care about $2,700 orders or their customers very much!

I purchased a washing machine with all the warranties in December of 2013. I have had to have this washer repaired twice and I am waiting on the third service call to be completed. Then repair team wants to reschedule. We at already a family of 5 going on a week with no washer and the repair appointment is getting pushed back to next week.

Years ago, we bought a washer, dryer combo from Lowe's Home Improvement. We were given a choice between AM or PM delivery. Best they could promise. We chose AM and I plead that "Please as early as possible. (I have some additional errands and chores I would like to take care of that AM." They finally arrived at 5:30. If I had not been in great need, they would have taken the pair back. Their excuse was that they loaded mine first so we had to wait until they unloaded everything else.
On Thanksgiving Day this year my dryer quit. Black Friday we went and found the one we needed. Ask when they would deliver. We were delighted that they could deliver this afternoon. In preparation we disconnected everything and moved around furniture to make everything go smoothly and cost them as little time delivering as possible. Someone calls today and says they want to deliver in the morning. (We will see about that.) After I expressed disappointment, he say he could bring it about 10 PM. Excuse, Black Friday. This should not be my problem. They knew for as long as they have been in business today would be Black Friday. Baseball players and children sometimes get three chances. I give adults and businesses max of two. What a terrible inconvenience they have caused. Next time I need a major appliance or a roll of duct tape, I will look elsewhere.
How do I know I can trust these reviews about Lowes?
633,474 reviews on ConsumerAffairs are verified.
We require contact information to ensure our reviewers are real.
We use intelligent software that helps us maintain the integrity of reviews.
Our moderators read all reviews to verify quality and helpfulness.
For more information about reviews on ConsumerAffairs.com please visit our FAQ.

Purchased freezer October 2015, purchased 3 year extended warranty, was told it was replacement. Appliance service co. came out after they called. Told them cold control seemed to be bad, they had model and serial numbers, part could have cost less than $60.00 could have brought with him and saved a trip. Repairman returned at a later day, part had to be ordered, even if he bought and brought with him on first trip, and part was not installed - it could have been returned.
We filled out a reimbursement form, sent in all receipts for meats and etc... Also had lot of vegetables from the garden this year. But the main thing is my wife and I lost our wedding cake top, this has absolutely destroyed her. The Amount lost was a little over a $1000.00 with all the meats, vegetables, cake top. Was sent email when they received my reimbursement paper work stated I should receive my reimbursement in 14 business days. Have not received nothing. It's been 16 business days now, have called. They claim they cannot call claims. This is a bunch of **. I would not ever buy anything from them, hope lots of people read this and do the same.

Bought a dishwasher (about the 5th appliance we have bought from Lowe's). Cashier would not give the 10% discount for immediate family of military personnel. Said he had to be there. It does not say that on the coupon. My son is on active duty and stationed out of state. He has been in the Navy 8 years. I offered to get his badge # or get him on the phone. The cashier and her supervisor were very flippant. This will be the last appliance I ever buy from Lowe's. They need to take misleading coupons off the internet or list specific requirements. Also need friendlier employees.

I purchased a free range stove on 11/1/16 which was supposed to be delivered either 11/16 or 11/18 and they would call before they came. Got a call on the 16th stating it hadn't come in & to contact the store for more info. Called for 2 days and nobody answered the phone. Finally called Lowe's the next city over and they said they'd call the Odessa store and have them call me back, which they never did. Finally got thru to someone and they said it was showing received on the computer and in the delivery area and they would set in to be delivered on the 18th. When I called on the 18th they said it would be 5 days.
Since they only deliver to my town on Tues & Thurs that meant I still didn't have an answer. I have gotten nothing but lies and excuses from Lowe's. I should have come to this website before ordering from them. Now I find they cancelled my original order and placed another without getting my authorization which is FRAUD. I ordered the range in plenty of time to receive it for Thanksgiving but who knows when it will come in. Since I did not give my authorization for them to cancel or reorder the item and have no idea when it will come in, I am not going to pay for it. I will write the bank that issued the credit card and send notice to their customer service dept. Lowe's doesn't return calls, has poor customer service and delivery service. BEWARE - ORDER FROM LOWE'S AT YOUR OWN RISK!!! But I'm telling you they are not worth all the aggravation.

I bought. Repaired refrigerator at a discount price from them. They delivered to a rental home that I have... The refrigerator never worked. I called for repair service couple of time. They use to come and pick it up and it stays with them for few weeks and they would return it in the same condition they picked it up!! I asked for them to exchange it and they never agreed! I got stuck with a lemon. Bad customer service, Bad servicing company that they are using... I spoke to Keisha at consumer related dispute and she never did anything at all. Thanks Lowe's!!! I will never buy anything from you again!!!

I have owned a home for 25 years and have had plenty of work done on my home during this time. Doing business with Lowe's is the worst decision I have ever made. I ordered carpet for 2 rooms on Sept. 19th. As of Nov. 21st I have had one room of carpet installed (after a lot of headaches) and cannot convince anyone that it is important for me to get the second room done too. I have contacted the production office no less than 12 times and the store at least as many times. The list of excuses are as follows; carpet is back ordered, "someone forgot to call you about installation", the carpet wasn't cut correctly, "you didn't answer your phone", and "I really don't know what happened". Clearly, Lowe's does not value their customers. Every promise made about rectifying this situation has gone unfulfilled. I don't know anymore if this is malicious or sheer incompetence. DO NOT SHOP AT LOWE'S.

I bought a samsung washer in Feb of 2015. I disliked it but used it, well to no avail it was one that was on recall list. So I call to get refund for my protection agreement and they said it would cancel my dryer also. I bought it for both of them. So why can't they figure out how to cancel agreement for 3 yrs and 4 months? At $19.39 a yr = $58.17 and $6.46 for 4 months = $64.63 that they get to keep FREE because the washer went to the scrap yard so it would NOT BLOW UP in my home. Lowe's will not be getting any more of my business. I will go Menards for all home improvements. Sad part was I just bought metal roofing for 2 homes there. This is how they treat customers. Sad Sad Sad...

About 8 weeks ago we purchased a screen door for our patio and contracted for Lowe's to install it. The door was to have been installed on November 8, 2016 and as that day came and went I called Lowe's to get a status of the door. The sales representative told me that I would have to call back the next day. I called the next day and the sales representative once again told me that she could not provide any information about the door and that I would have to call back the next day. With Lowe's it is always call the next day. Still no door or any idea when that door might be installed. Lowe's required full payment at the time the door was ordered and trying to get any explanation is difficult at best. Found the CEO's E-Mail address online and sent him a note. Wow what happened next will amaze you.
About two hours after sending the CEO E-Mail Lowe's contacted me from their headquarters in North Carolina. Wow I thought my door was on its way but what I got from the representative was that Mr. Robert Niblock was extremely upset that I sent him an E Mail about bad customer service. The representative that called me told me that if I complained to Niblock again he would see that I would be dealt with firmly and immediately. So no door... no idea when they are going to meat out that firm discipline but I am waiting for both Mr. Niblock. So what I did today was to buy 100 shares of Lowe's stock... now I am an owner Niblock and I am writing to every board member about you and your heavy handed tactics. People stay away form Lowe's. They are a bad company and their leadership is well... let's just say it is something a stand up comedy star tells.

I placed an order with Lowe's in Monroe NC for cabinets and countertops. They have the worst customer service I have ever experienced. First when my order came in I had to wait 2 and a half hours to pick up my order because they didn't have it right then. I had to make several trips back to bring back damaged items and wait for replacement to come in. Well after 3 months finally got cabinets then ordered countertops just to have them come back too short 2 times because they don't listen. They just pass the job on to the next person. Well now they're saying I won't have tops till Dec 2. That will be 5 months after I started. You can build a whole house in this amount of time. They have been terrible. They lie and just keep giving you the runaround. I WILL NEVER DO ANOTHER PROJECT WITH LOWE'S.

The installer for Lowe's of Worcester Massachusetts has left a large dumpster in our driveway, blocking one of the garages, for a month. Lowe's began installing a deck for us around October 12 and finished it about a week later. We have no complaints about the deck, but the large dumpster brought in to hold the debris from the old deck is still in our driveway. A month later it is still here blocking our garage. Repeated calls to the installer, to the store and to the estimator have resulted in no action. The latest was when we spoke to the store manager two days ago. He promised to call us back to tell us how and when the problem would be resolved but still nothing.

I've been trying to reach Lowe's to make sure they are no longer selling Samsung refrigerators to anyone, after two years of our $3345.00 Samsung refrigerator purchase (3/1/14 Cotati Lowe's Samsung Model #RF32FMQDBSR Transaction #**) not working. The ice maker never worked, despite service calls and attempted fixes, so we finally used cardboard and duct tape to seal it off. This past year, despite service calls and attempts with repairmen, the freezer still works but the refrigerator won't cool and all of our food is going bad.
Consumer Reports rated it highly, but if Lowe's had done their research before selling it to us, they would see there has been a class action lawsuit against Samsung for their failing refrigerators since 2010. I can't reach a human being at Lowe's. Now we're just trying to find a fridge that works on Craigslist, while we pour gallons of milk and half down the drain and drink our morning coffee black. Then figure out how to get this shiny giant pile of fraud out of our house.

This shed is $399 in most Lowe's stores in Florida. But not in Port Orange. It's $499 in the Port Orange store. So if you're in Port Orange, and want this shed, go to the Ormond Beach store. Only 14 miles away and you save $100. They told me in Port Orange that they would honor the lower price, but went back on their word. Rip off. Home Depot is just about next door...

What's at my local Lowe's on Monday ordered a washing machine. The nice young lady help me get everything set up. Showed me all the delivery times that were available and the dates. Now they call me the night before my delivery telling me my delivery time has change. Not happy with this I made arrangements with my employer to leave work to be here with the time that we agreed on and now they want to change it. That's good way to do business. They said I could reschedule for another day and gave me the same time options.
Now if you cannot deliver between 4-8 on Wednesday because it's too far out why in the world would you offer me the same time just a different day BUT it still the same thing too far out from your warehouse. Really pissed off and disgusted at this time. It's a crying shame you can't go somewhere and buy a washer and take it home and do your laundry all in the same day. Now I have to call my boss and see if I can rework my schedule in the midst of our hectic work week.

We purchase $5, 200 worth of vinyl plank from Lowe's and had their installation team install it. That was on August 4th 2016. Approximately September the 4th, one month later we called in a warranty claim because of vinyl plank was coming apart. On September 16th the gentleman that installed it and come out and looked at it and said he would get with Aaron's floor coverings which is loads contracted installation people for flooring and the Asheboro North Carolina area. It is now November the 7th. Lowe's says the money has been allotted to fix it.
The flooring that we bought is Lay floating floor. We have been going back and forth since September 16th 20/16. I have talking to the store. I have talking to the corporate people and nothing has been done. They keep saying they'll call us back which they never do. I talked to him yesterday for about the 15th time and they assured me this, somebody would call me today to get a date scheduled to repair a flooring.
Lowe's of the many floors for me in the past with carpet and vinyl and I never had any issues this is the first one that I've ever found. But with the way you're handling the warranty work I will no longer be shopping at Lowe's and less it's the only place close by. I have many rental houses and I have declined 2 more estimates from Lowe's. If you decide to use Lowe's you better hope it's done right the first time because of warranty is way out of the question. I will not be buying any appliances to furnish my house as well that I sale or rent or nothing in the future. I spend approximately 60 to $70,000 a year at Lowe's but not no more. I hope this helps you out and deciding whether you want Lowe's to do anything for you.

I have called 3 times to use my extended warranty on my Samsung dishwasher. I called in mid Oct 2016. They could not come until Nov. 7, 16 in the am. I called a couple days later and they were able to put me in on Oct. 31, 16 in am. No one came. Called Lowe's - a miscommunication between call center and the service co. They said I was not on the schedule for the 31st but for Nov. 7th in am. Now a phone call at 10:30 saying the tech called in sick. What only at 10:30 he called in sick when he was to be here between 8-noon. Now only coming on Thu. Nov 10 between 1-5. I will never purchase an extended warranty again from Lowe's. If you have to take these days off to be here for service how fair is that to me and my employer when I am sitting here waiting for service? My time is just as important as someone else time.

11/8, I wrote an email to Lowe's corporate headquarters customer service regarding the difficulty I was having communicating between sales & delivery/installation of a dishwasher purchased 10/31. Within a few hours, a customer service person called from corporate listened to the problem & said it would be resolved soon. Within an hour of that call the Lowe's manager from the Bloomington store where I purchased the dishwasher called. After that conversation & on the same day within a few hours a customer service person called from Indianapolis where the installation service is located. Long story short the new dishwasher was delivered & installed today 11/10 by a very nice Kevin.
Original Review
Buying a dishwasher is easy at Lowe's. The most difficult and frustrating part of the contract is installation. There is a communication disconnect between the Lowe's store and the company in charge of "reaching out" to the installer (the customer service rep - 1877 505 4923, installation). Purchased on Monday, 10/31 and promised by sales that an installer would contact me in at least 3 days. Still waiting for installer to contact me to schedule installation. Three calls to Lowe's installation has not produced a call from installer... Am so frustrated, wish I had purchased the dishwasher from Menard's... The installation rep blames the Lowe's sales and Lowe's sales blames the installer. I am stuck without a dishwasher in my home.
Updated on 11/09/2016: Installation of dishwasher scheduled for today between 10 and noon. Called by Lowe's Installation at 9 AM saying that truck was broken down and delivery will be postponed until tomorrow. I took off work and rearranged my morning to be at home now I have to do the same for tomorrow. Who will make Lowe's great again?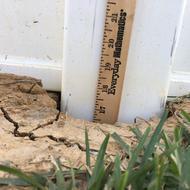 May 2016 I inquired about purchasing a 6x8 privacy panel fence and having it installed through Lowe's. My Lowe's representative was very great with getting me set up with a quote, and working with me on getting it in my budget. I went ahead with what was set up, and they went ahead and ordered the parts. August 2, 2016 was the day the install was performed by the contractor Lowe's hired. They started in the morning and were done by 6pm when I got home from work. I have it a quick walk around, and it appeared to be straight and sturdy. I questioned them on why I was left with all 7 bags of pea gravel that were ordered, and why I still had 9 unused bags of cement (out of the 28 ordered). They assured me they were not needed and I could return them.
Fast forward 2 months, the fence is still looking good, no bad had come through, no heavy rain or stronger winds. But come October 10th after the strong storm that hit Myrtle Beach, 80% of my fence was now leaning over and in pieces in my yard. I understand it was a strong storm, and that the damages were to be expected, but the damages I endured were not due to strong winds and heavy rain. Upon inspection of the damages we noticed only 1 out of the leaning posts had snapped, meaning the other 9 had simply fallen over.
I talked to Lowe's install about what had happened and they told me they wouldn't even send the installers out to look at due to the fact it fell during the storm. So I went along with the cat and mouse game and had my insurance adjuster come out and assess the damages. I also have had two private contractors come out and all have told me that the installation was not done correctly and there should have been more cement on each post.
I was able to pull two posts straight up out of the ground with ease, revealing no signs of cement on the posts, and little to none cement in both of their holes. I know there's two other posts where I can pull them right out of the ground and reveal the same thing. I took the many pictures of the damages and the video of me pulling out a post revealing no concrete into the Lowe's I had purchased the fence from, and they agreed that it does not appear it was installed correctly and that the contractor needs to come out and address it. The issue is they are telling me they cannot make that judgement call, and that is ultimately up to the Lowe's install people.
My issue is I paid $3883.67 for a fence and within 2 months and 8 days it ended up scattered across my yard in pieces. I would not be writing this complaint or pushing the issue at all if all my posts had snapped due to the storm. Snapping posts would mean that they were properly installed and cemented into the ground like they should have been. My issue is 9/10 of my posts that are loose and simply loose due to cutting corners on the install and not cementing the posts like they should have been. I've now had to deal with two dogs and no fence for almost a month now, with no end in sight from Lowe's and their subpar contractors, neither of which will even come out to see it in person. Extremely disappointed with the service I have received from Lowe's install, to not even take the time to come out to my property to see the poor job their contractors did just blows my mind.

Process started 9/15. Job not completed until 4/16. Went with Lowe's design service and Lowe's managing the project. Never again. Problems. Subcontractors would not show up for days, did not follow design plans, and when I would call Lowe's I would have to leave messages and routinely they would not call back. Products would be taken back by Contractor for store credit that I have not seen yet. Was charged $600 for permits that cost $331. When I asked about the difference... pretty much told it was a wash. Never will I use Lowe's again for anything.

So disappointed in our experience buying a new window from Lowe's. We ordered the Window in August and 2 1/2 months later we still have not had it installed. This is the 3rd try at getting the window installed. The first 2 windows were broken at Lowe's. But you don't get told that until you have waited the 2 weeks and it is the day that the window is to be installed that you are told, "Oh sorry the window is broken." So then you have to wait for the window to be made and shipped to Lowe's and then you have to wait all over again for the installer to call and set up a day to install it. It is always 2 weeks out.
Talked with manager Dominic and let him know, after the 2nd window was broken, that we would like a discount on the window and we would like it installed as soon as the window is received by Lowe's. He said that would be fine. Called Lowe's and was told that the window was in, talked with the manager Mario and he said that he would talk to the installers and ask them to get our window installed this week. Just got the call tonight from the installer that they are already booked up and we need to wait another 9 days and that I had better take that opening because it would be gone if I didn't take it. Very rude. Very unacceptable. I do not recommend you buy windows from Lowes. I guess you get what you pay for. Won't be buying windows from Lowe's anymore and will shy away from buying big ticket purchases from Lowe's in the future.

After waiting almost a month to have a fence installed, I am extremely unhappy with the quality of work performed on 10/10/2016. Lowe's hired a subcontractor to install my $9,000.00 fence. Not only is the fence crooked on one side, but instead of getting a privacy fence, I have a peek-a-boo fence. I can see my neighbor's yard through the fence. In addition, after the tacky job was completed, I did an inventory of the leftover materials and realize either Lowe's charged me for materials they did not deliver, or the contractor helped himself (stole) to materials I pay for there are materials missing. After getting nowhere with the Williamsburg store who was contracted to install my fence, I filed a report with the Better Business Bureau. I was contact by Tyler ** from Corporate who promised to call me back on 10/27/2016 and to date have not done so.
On Saturday 10/29/2016 a store rep named Michelle came to the property and witness the horrible fence install job. She too agreed that I am missing items from the inventory. I am still waiting on resolution as I do not believe I should have to pay $9,000.00 for such a poor job. What is so disappointing is that I kept my end of the bargain - I started paying on the fence even before the job was started. I had no reason to believe that I was going to be the receiver of such a poor install. Lowe's quality has gone to the dumps. I would not hire Lowe's to do any more install jobs.
I am making it my main mission to alert the public not to use Lowe's unless their standard is subpar quality and disappointments. I am giving Lowe's one more week to resolve this then I am going to file a civil lawsuit. I need to be made whole. Lowe's should only sell merchandise and leaving contracting and coordination of contractual services to real professionals. I am so displeased and disappointed with the fence install I get upset looking at it every day.

I received the wrong paint to finish my exterior painting of the house. For the window trim I decided to change colors and I went back to purchase one gallon of paint. The newly painted house is with satin paint and the new trim paint they gave me was Flat. It looked terrible and I wanted to exchange it for satin. I got the Flat paint on the recommendation of the paint counter lady who said it would hide defects better. She should have advised me not to mix finishes. No matter whose fault they would not exchange the paint. Tough luck. Then why advertise 100% satisfaction? One $34 gallon of paint has pissed me off. I trusted their advice and they don't care.

About a year and a half ago I purchased new flooring about 4500. worth. Being a single women I had Lowe's install the flooring. I removed all of the old floor and had the entire upstairs of my home done. I also bought new cabinets for my kitchen and had completely gutted the kitchen. The floor was put down, before the cabinets were put in. I put the cabinets in my kitchen after the floor was installed. Since then it has been a nightmare. The floor is buckling, there is a large object under the flooring in the hallway, and there are pieces missing from one of the planks.
I called Lowe's and have spoken to different people and always get different answers. The last one was that I should have had Lowe's install the cabinets because that was the problem. Then the subcontractor told me that I need to buy over $100. worth of floor molding, stain it to match the cabinets and then they would come back and cut the floor around the cabinets and put the molding on, and call us when you have everything. This was in the dead of winter I was suppose to do all this. I paid over 4000 for the floor and another 6000 for the cabinets which are not wearing well at all. I feel taken advantage of, and feel I really wasted my money. The floor looks terrible and I am so disgusted it has taken me months to even write this review. It looks so bad I hate to have anyone at my home. Never again would I buy anything major from your store. Total disappointment.

1 October 2016, signed a contract $3,000.00 with Lowe's Garner, NC store representative. Was informed a city of Raleigh would take a week to get and cost $300.00. Following that an installation crew would have the fence up in about two weeks, and that about the 21st of October a fence would be up. Around the 14th, 15th, 16th I called my Lowe's sales representative, left several messages and never got a call back. On the 16th I called the stores manager at the Garner store. The assistant store manager apologized and said she would make this right. She looked up my account and said a fence had been installed at the ** residence. I informed her that I am not Mr. **. She said she would research this and would call me back.
Two days passed, never received a call, so I went to the store in Garner and was informed that it was not the Garner stores responsibility to build my fence, but rather the Lowe's store in Northwest Raleigh because they got credit for the sale. I contacted that store and they said they were not responsible because they didn't measure and sign a contract with me. That day I called the corporate 1800 help number, received more apologies and was assured they would fix this.
October 19th I emailed Lowe's CEO Mr. Niblock, relaying my frustration with Lowe's and requested his assistance. The following day an executive assistant contacted me and again apologized and said Lowe's would make this right. The gentlemen did call me back and informed me that I needed to be patient, because the job was only put into the computer 5 days ago. I again informed him I signed a contract on 1 October, at which point I was informed that I had the option of waiting for a contractor to be assigned or to request a refund, which is what I did. I had long been a dedicated Lowe's shopper, but after this experience it will be a very long time before I shop in Lowe's again.

Lowe's use to match competitors ads but I found out the hard way they don't care a damn about their customers. I bought a Char-Broil, 4 burner, grill from Lowe's. The exact same grill at Walmart was about $25 less. When I showed the ad to Lowe's they stated they did not match Walmart. Lowe's would rather lose a customer over $25. That is pretty sad.

Our first visit to Lowe's for cabinets started on the wrong foot. We went in wanting to visit with someone about cabinets and was told they were unable to help us until we met with a project manager. They didn't offer to walk through designs, type of cabinets, styles, absolutely nothing. I had to call the store the following Monday to arrange a meeting with a project manager who wanted to know the "maximum that I was wanting to spend". Who gives that information? We didn't need a project manager. I am fully capable of making my own decisions and putting an order together. We simply wanted cabinets with this order.
One claim the Lowe's manager made in regards to our cabinets was that we made numerous changes to our floor plan which created confusion, which then led to the wrong cabinet being made for our cook top. We only made two changes to our cabinets that had NOTHING to do with the cook top. One change was the style of doors on a section of cabinets and the second was to swap the refrigerator and double oven locations in the kitchen. Another claim in regards to the cabinet for the cook top was that Schuller only made a top drawer cabinet for the cook top. This is incorrect. There are several options. There were only three visits made to Lowe's for our cabinets. I don't think this would justify several changes being made to our floor plan.
No actual floor plans (measurements) were ever given to us by the Lowe's designer until AFTER the final paperwork was signed. When I asked for it (to ensure everything was correct) the comment was made that it was against policy. Common sense tells me that someone would want to verify that ALL information is correct BEFORE signing FINAL documents. If Lowe's is so worried that someone will take the plans and go elsewhere, then I would suggest a deposit. It was a HUGE risk on our part to sign final papers with the assumption that your staff didn't make any errors. I contacted Lowe's and sent pictures (while still in the box) of our cabinets that had shipping damage. Not one phone call was returned. I then called a few days later and the rep stated the replacement cabinets would be delivered to Lowe's in 7-10 days (it took 22 days).
We went to install our microwave and the door will not open because of the area being tight and the door sits right up against the wall. Per our plans, our cabinets were supposed to start at the wall. Lowe's knew every appliance that was being installed. We not only purchased them from Lowe's but we purchased them at the same time as our final cabinet appointment. If their designer doesn't know to put fill next to the wall, then they may want to educate. Another comment made by the manager at Lowe's was that our cabinet installer should've just moved the cabinets over to make room against the west wall. A little side note nobody wants a gaping hole and a designer should know to add fill to the design. Our installer (who by the way has installed cabinets for Lowe's numerous times in the past and has been doing it full time for over 20 years) followed the cabinet plans that were printed by Lowe's.
I called Lowe's October 10, 2016 and told the rep to order the fill so that we could get the microwave area fixed. I would need enough to add to both sides of the window. She stated she would call me back and never did. I get to be the one who forks out the money to have the entire top row of cabinets moved because Lowe's did not add fill to the design. I also get to pay someone to change the cosmetics of a cabinet because the designer put a top drawer in the cabinet stating it would work (NOTE: we had to cut three cabinets to get the cook top in and the drawer is now a face plate). In addition, our kitchen sink and faucet was never shipped with the order.
If you look at my Lowe's account, in the past two years, we have spent over $30K with Lowe's. We still have paint, railing, flooring for a 3600-square foot home, two bathrooms and the laundry room to finish. I believe I will take our business somewhere that knows the meaning of customer service and someone who will stand behind their work. Mistakes happen but Lowe's will not own up to flaws in the cabinet design and they have horrible customer service.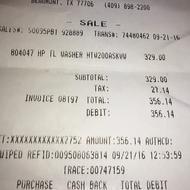 Bought a new Hotpoint washer. I needed it bad so I couldn't wait for them to bring it to me so I brought it home, hooked it up. It worked great for 2 1/2 weeks then it just stopped. So I went up to see if they could bring me a new one or come look at it. They said, "NO". I had to bring it back and exchange it up get my money back. I came home and I am handicapped. It took me 4 hours to get it in the house and hooked up where anyone else could have did it in 20 minutes. But I got it out loaded it up and took it back. They refused to take it back or exchange it because I didn't buy the 4 or 5-year plan to go with it. I told them it's been 2 1/2 weeks.
After fighting with the manager they was going to come out on Thursday Oct 20, 2016 to look at it. Well I had to cancel, going to see my doctor but I need that washer. Right. And they called me on the 19th and told me it will be the 25th before they can come look at it. LOWE'S I have always bought everything from you but never will you get another dime from me if you don't get your act together.
Lowe's Home Improvement Company Profile
Company Name:

Lowes

Website:

http://www.lowes.com/