Consumer Complaints and Reviews

I have always bought my appliances from Best Buy but the washer and dryer set I wanted was on sale at Lowe's so I bought them and the protection plan. My washer went out mid December and I called immediately to schedule service. It takes 7 to 10 days before anyone comes out and then, the repair folks are lowest bidder I'm sure, and they show up realize they need parts (Duh that's why we give you a detailed description of the problem) then the repair has to be approved by Lowes, then they order the part. Bottom line I will be without a washer for almost 5 weeks before they fix it. I have 5 people living in my house... That's ridiculous. When I call Best Buy for service it's usually fixed within 3 to 5 business days! Stay away from Lowe's appliances and their protection plan.

Went to Lowe's with my daughter to purchase a new electric downdraft cooktop. When we got to the appliance dept we looked over the cooktops with not one employee in sight. When we decided to purchase one we liked, we found a man in the appliance section sitting at his desk. He was there the entire time and never once offered assistance to us. I asked him to come and help and the attitude he gave us was deplorable. He was negative and disinterested.
We left the store and decided to buy the cooktop online instead which we did. We ordered the cooktop on 1/2/17 and as of 1/12/17 we still have not heard a word on when our cooktop will arrive. Item has not even shipped yet and I have guests coming to visit me next week. I have no way to cook. I am completely disappointed in Lowe's and will never buy anything from them again. I will buy all my appliances from Best Buy because I have had nothing but positive experiences when shopping there. I am willing to give Lowe's the opportunity to make this right, but if I have no cooktop by the time my guests arrive, I am done with them. Will not however buy another appliance through them.

Visiting Show Low, AZ from our home state of Maine, and showed my state drivers license with my Veterans Insignia for the veteran's discount. The clerk refused to give me the discount or to even look at my drivers license and said I needed a DoD veterans ID card. I served in Vietnam some 40 years ago and I was not issued a veterans ID card. In my hometown the Lowe's accepts the state drivers license with the veterans insignia because they require a DD214 for proof to add the designation on your drivers license.
I called Lowe's and they told me this was company policy and they would not even accept a copy of my DD214 as proof of service. I am deeply disappointed that Lowe's will no longer honor a veteran's service. We just bought a house here and are preparing to spend money on new flooring and appliances. Too bad for Lowe's, but the Home Depot across the street accepts the drivers license with the military insignia. I have asked Lowe's senior management to address this with a reply to my email. Hope I get a positive response. Signed: A Vietnam Veteran.

No Service on GE products in my location of Celina, Tennessee 38551. Washer-Dryer GE GTUP270EMWW - bought 2013 a stacked washer and dryer
Lowe's delivered at that time was satisfactory. This fall the washer stopped spinning. I called Lowe's for repair. The company they gave me does service my zip code of 38551. Called them back that I had received a notice to reup my warranty but before I did I called the Lowe's Protection Plus number to find out that no they didn't have a repair person in my area. I should check the local advertisement for someone. I did and found Sears, called them - guess what - no service in my area either. Maybe if I called the Nashville store they might have someone. Can't believe GE or Lowe's can sell a product that they can't provide service people.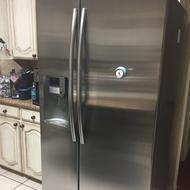 I'm sick to my stomach that we've been giving Lowe's great business over the years, including remodeling our kitchen two Weber grills (one for our son in law).
We bought a Samsung refrigerator 2013 almost immediately we had a loud (very) noise. We've had multiple calls, repairs since. We spent $1500 on a lemon of which Lowe's will not stand behind and replace. I have had refrigerators that I didn't have one problem with over a period of years. I will not be back to Lowe's! Just the reviews alone at this point is convincing enough it's a lemon!
How do I know I can trust these reviews about Lowes?
671,225 reviews on ConsumerAffairs are verified.
We require contact information to ensure our reviewers are real.
We use intelligent software that helps us maintain the integrity of reviews.
Our moderators read all reviews to verify quality and helpfulness.
For more information about reviews on ConsumerAffairs.com please visit our FAQ.

Of course after buying a washer from Lowe's, the electronics didn't work. Then reordered another, was damaged to the external legs of the machine. And lies about when it could be delivered. Salesman said next day. Took 2 weeks combo of both incidences. Eventually cancelled and went to hhgregg that did a great job. And I notified the Better Business Bureau.
Now, my daughter who didn't know of this incident buys me a snowblower from Lowe's for Christmas. A $700 item. I didn't even have to put gas in it yet to see that the crank that turns the chute doesn't fit appropriately and doesn't complete a full turn. For this money, that snowblower should be working perfectly. So going to return this crap. Further entries to be placed, since I'm sure I'm going to get a hassle with returning this thing. I'm so sick of Lowe's. Can you do anything right? Just got back from Lowe's... Very impressed with the lack of hassle in returning the snowblower. I guess they perfected the return department.

Bought a Maytag washer July 19th 2016. It has been serviced over 10 times, rebuilt by the service tech, still doesn't work properly. Lowe's of Dalton always puts the blame on someone else but if I wouldn't have been made to wait 2 weeks on the first call I would have received another washer in the beginning but due to waiting for a repair guy I'm still without a washer almost 6 months later. I have been transferred over and over with no answers still as of today January 5, 2017. Never again will I buy an appliance from Lowe's or MAYTAG.

To be perfectly honest I didn't let these guys (Lowe's) get far enough to cause me a problem. When the salesman presented me with a two or three page contract in small print and wouldn't give me a firm installation date I ran. One of the items in the contract that turned me off was the one that mentioned giving Lowe's permission to take pictures of my home. The other was the salesman telling me that I could sign first and read later. Ha ha. Rosner's, a local firm in West Palm Beach was recommended so I contacted them. After they install it I will write a review about them.

I am writing to let you know that your company manager John and the delivery company are very rude and unorganized. I got a call Friday night telling us delivery would be Saturday between 10:30 am - 12:30 noon. Saturday I was at the gym until 10 am, when I came out I received 2 messages around 8:40 am, the manager John left message saying the delivery guy was in front of my door. They will wait a few minutes and then they will leave. I called back to the number & the delivery guy said, "you can call Lowe's to reschedule," they won't come back.
We called Lowe's manager John and told him why did they come earlier? He seemed annoyed at me, he didn't explaining why they came early without notice, also he didn't apologize. I decided to cancel the order, he said "OK", seeming he didn't care and hung up. One apology would make a big difference, how can I trust them again. Please respond if anyone receives my complaint. Hope I get an answer soon. Very upset customer. Thanks.

I made a payment on my Lowe's credit card at the beginning of December, from a bank account that had plenty of money to support the payment. Then I start receiving phone calls from Lowe's Credit collection agency. I told them I just made a $300 payment and the person I spoke with stated "Yes I see your payment. It hasn't been posted to your account yet. You may receive more of these phone calls before It posts to your account." So the next few times they called I ignored the call assuming that my payment hadn't posted yet.
Now it is December 30th, I log into my Lowe's credit account. The payment still has not been posted. I called the Lowe's credit department and they tell me they have no record of any payments being made, no record of me ever speaking to anyone and now I have a late fee and my minimum payment has been raised. I finally spoke to a manager and had the late fee removed, but I still don't understand why my payment never went through. I'm not sure if this is a Lowe's problem or a Synchrony Bank problem. Either way it was very frustrating. I don't think I will be using Lowe's credit or any other store credits that use Synchrony Bank again.

Bought a kobalt 60 gallon air compressor. 6mos later it quit. Took it back to lowe's to get it fix or changed at and the general manager said that I would have to fill out a release form to relieve them from this air compressor to where they won't have to replace it again and never mind. I bought it April 2016 and took an extended warranty out on it plus 3 yrs that came with it. When I wouldn't go for filling out a release form he called the cops to have us remove from the store and told us to never come back after I told him the date on the air compressor shows it was made 01/06/2016. Poor management and sorry company. Lowe's and their tools kobalt need to be blackballed all over and this took place in Sikeston Missouri.

I bought a $290.91 Protection Plan with Lowe's for three major appliances despite warnings. Sears always took care of issues with my appliances so I expected the same. A Whirlpool refrigerator shelf fell apart due to poor manufacturer quality, they referred me to Whirlpool who refused to help. Then a cheap piece of plastic used inside the Samsung washer fell off due to corrosion and they told me I would have to pay to get it fixed.

I recently bought a door from Lowe's, love my door and the people who sold it to me were wonderful! My complaint is their credit dept... I knew my bill was late so I drove an hour to pay my bill directly to the service dept. desk people. Told them my story. Paid the late fee and paid the bill off which was over $1000. I start getting a bill for a finance charge. So I call the main office. After explaining my whole story to the man who has no sympathy instead he ask me if I'm having financial difficulties in a demeaning way. I paid my bill over the phone with discontent. So beware on how Lowe's have their hidden charges, I know I've learned my lesson with Lowe's!

I had bathroom flooring installed in 3 bathrooms 3 months ago with the Lowe's in West Chesapeake, Va. All of the flooring was the same with the exception of 1 bathroom which had a different flooring. I was told that the project should take 2 days to complete. On the day of install, only 1 installer arrived and said there was supposed to be another guy but he called in sick. I informed him that the project was a big project for just 1 person to complete in 2 days. The project took 4 days. That's not the worse part. One of the flooring was installed in the wrong bathroom which was not the installer's fault. The diagram that was done by Lowe's was incorrect. I noticed the mistake half way through the install because I was preparing dinner for my family.
When Lowe's was notified of the mistake they said that it was my fault for not supervising the job. I immediately told them that I didn't pay them for me to supervise the job. When I paid them I was entrusting that they knew what they were doing. They offered me $300 for the inconvenience. Up until that point I had paid Lowe's over $20,000 to do renovation projects to my home this year alone. I could not believe the customer service that I was receiving. I will not buy so much as a light bulb from them. I now go to Home Depot for my home projects and have encouraged my family to do so as well. My mother was in the process of considering Lowe's for her kitchen renovation and upcoming hardwood floors project. After my last experience she is allowing Home Depot to do her projects.

There is one screen need replace for my windows. I call to store few times and nobody knows how to help me to fix, they just give me phone number to contact the salesperson who sale the windows to me. I called the guy couple times and no answer the phone. I left the message and no responds for. Until I went to store, talked to windows department, they looked my order history, there is no screen replace note either. However the person who help me went to a room, find out my replace screen was there. I looked the date, it was two months ago they have had order for me. It's unbelievable, that so suck for they service. If I didn't go to the store that I may can't get the screen forever. How can I trust them again to get good service from Lowe's.

Ordered a dishwasher from the website on Dec 1. Called the toll free number before ordering as instructed. Representative completed the transaction over the phone and emailed me the confirmation details. Unit was to be installed in 1-2 weeks. It is now Dec 26 and neither the local store or the national customer support line can tell me where my dishwasher is. There has been no follow up by the company. I am doing all of the legwork to make calls and try to get status. No one wants to own resolving the issue. It seems their attitude is that they have our money so it really doesn't matter when if ever we actually get what we paid for. I am old enough to remember what good customer service is. Apparently the people running Lowe's are not. Will never buy a major item like this from a big box store like Lowe's again.

I purchased a complete set of new appliances in November. I was told the dishwasher would be 10 business days, it's been 30. I called multiple times about delivery and status and asked "what do I get in return for your poor supply chain management?" They are currently holding my paid for merchandise hostage. I called and asked for delivery today and was told no. As a consumer all I can do at this point is return the merchandise. You have no recourse and they do not care to work with you as a customer. I am a director of customer service for a 30000 end user software. You always have no or low cost solutions for customer service. If not you hired the wrong people.

If you are considering buying a garage door and door opener for install from Lowe's Florence, KY and AMARR in Cincinnati, "STOP"!!! You should not expect a "standard" garage door to arrive and be installed in 54 days and counting. AMARR install service is horrible. After waiting for 53 days for the garage door to be made and delivered, the install service call was set up for 12/22 between 9 and 11am. The installers did not show up until 1:30p.m and guess what? Their drill was on another truck. I hate when that happens. They said they didn't like ask customers for their tools so they refused to use mine. The installers said using my tools would make them feel like they were not prepared for the job. Too late!! They finally were able to start work on my garage door and opener install at 3:00p.m.
The installers promptly left at 4:45p.m, promising to be back first thing in the morning at 10:00a.m? I need that job!! The installer called at 10:00a.m the next day, he obviously just woke up and stated he had to do another job before he come back to mine later that next day. I advised him that this was unacceptable. I turned to Lowe's customer service, who are inept, and were able to provide no help to get the install service complete. The lack of help from Lowe's "Customer Care" service to get my garage door installed has been consistent throughout this process. Save yourself the headache, don't buy a garage door from Lowes Florence KY and AMARR Cincinnati and expect to have it installed anytime in your lifetime. You're Welcome!!!

I purchased warranty for water softener from Lowe's and as it turned out it failed after a year. I was informed to submit an invoice for reinstallation and will be reimbursed from 14-30 days. I first submitted the form with required document on Oct 14th then on Nov 14th I called to follow up. They said the claim dept never received it so I forwarded my original email with support again. I also received a confirm email from them that they did received it this time and forwarded claim to be processed. Today is Dec 21st, I called and was told the information was resubmitted for processing again two days ago and there is no way to know how long this will take. Every time I call they have to resubmit again. I am so frustrated with this whole process. This was the 1st warranty I purchase and it will also be the last. I feel as though this is a scam because no one can give me an answer. I'm not sure I would go back to LOWE'S for anything from now on.

Ordered an item on 12/04/16 for my two grandchildren, one is 10 years old and one is 11 years old (who had pooled their money), to give their dad this for Christmas. They were so excited, because they worked all summer with their dad to make this money, see their mom died of cancer two years ago and so dad is all they have. Was given an order number and confirmation number. I started calling the store on 12/13/16 and they would not take the time to look anything up. Just say it is not here. I then started calling the 800 number and was told several time that the vendor approved the order.
On 12/19/16 I got a nice man that dug deeper, and found out that the vendor claims he never received the order and they would not be able to fill the order. I could not believe that I was going to have to tell my grands that this had happened! We got out and went to several stores that might carry this and found one. Had to pay $50.00 more for it. But at least Christmas is not ruined for my grandchildren. BUT NO THANKS TO LOWES!!! Sorry service.

Called Lowe's on Saturday to replace a broken water heater. Sales person convinced me to purchase a water heater and she said that I am all set for Monday installation. No calls on Monday from installer or Lowe's until I called them back around noon on Monday. At starting, they said not able to find any information about the order, later, they were able to locate the order and found out that the purchase order never received the installer at all. So far no updates from Lowe's, very upset with the way I have been treated at an emergency situation. All they cared about was that I pay in full before they raise a purchase order. Stay away from these folks, it is a lesson learned for me clear and loud.

I ordered a Christmas tree from Lowe's on December 6th. They sent an email indicating the estimated delivery date was the 12th. I emailed for a status check on the 14th, and they responded 2 days later to tell me the order was being shipped from the manufacturer and they WERE NOT RESPONSIBLE if it didn't arrive on time. They said the tree should arrive on the 20th, 5 days before Christmas. LOWE's is responsible to their customers to provide accurate timeframes. They should hold their vendors responsible to their guidelines. I wouldn't order anything from LOWE's. They don't have your best interest in mind. I ordered from Amazon and got a tree in 2 days. AMAZON holds their vendors responsible to their guidelines. THANKS AMAZON!

I came into your store at 1:45 pm on 12/15/2016 ready to spend over $1,100.00 on a snow thrower/blower. I looked a various models for over 25 minutes. Lowe's employees walking right by me and never said a word. I left at 2:11 pm and drove to an independent dealer (Patton's Power Equipment) and purchased a brand new Husqvarna snow thrower model 224P. Not only did I get great customer service but they delivered it to my home the same day! Lowe's continues to have and will always have horrible customer service!

I am disappointed in the lack of service for my online order, I placed on Nov. 23 and I will not get my item until Dec 24. Not because it was back ordered but because of Lowe's lack of service. I called a week after purchasing the item because I thought it would be delivered by then. The customer service rep told me that the item was not in stock. So I called a week after that and another customer rep told me that my order was canceled.
My order still says processing right now (3 weeks later) even though they said it was canceled. I have no clue why my order was canceled and I had to place the order over the phone. The customer rep told me that they will try to deliver the item asap because of my delay but 5 days later I get a call from my local store and they told me they won't be able to deliver my item for another 2 weeks (Christmas Eve). This is terrible service. Why would anyone with this kind of experience want to purchase from Lowe's if this is what they should expect. If I had known that I would have to wait a month to receive my item I would have never purchased it from Lowe's. I only purchased the item from Lowe's because I held them to a higher standard and I realized my mistake in doing so. This is ridiculous.

My experience in making a purchase of a refrigerator with Lowe's has been a negative experience. I bought the refrigerator as a clearance item in which it was stated on the appliance that the reason it was on clearance was due to the water/ice dispenser not working when sold and that it had been fully repaired and that the appliance was under warranty. Because I was waiting for closing on my new house, Lowe's told me they could store the refrigerator until I needed it, which they did. However, when the refrigerator was delivered, there was a large dent in the side that was going to be exposed for viewing. I decided to return the refrigerator for this reason and they agreed that I could return it. However, store staff then began telling me that the dent had always been present and that I was foolish for returning such a good deal.
I had to go home and retrieve the original for sale sign with the notice that the reason for clearance was due only to the water/ice dispenser not working. The staff continued to argue that they only put dented appliances on clearance and so even if the for sale sign does not say dented it is. There had been four refrigerators on clearance when I bought this one and the others had been clearly dented and had also stated such on their for sale signs. I had purposely chosen this one because both the sign and my inspection of the unit had indicated no dents. Anyway, the store staff was very rude. So I asked to speak to a manager. The manager then agreed to sell me a new unit for store cost, which I bought and have no problems with.
However, I now have a problem with the Lowe's credit card. I made the first payment for November early and then decided to make the second payment for December early a short time later on November 2. I also paid $300 on my account, which was much more than the required minimum payment. So I was surprised to be sent a notice that my December payment was past due. When I called the creditor card company they told me that because I had paid the second payment in the "old billing cycle" which ended on November 3 that they had given me a $25 late fee because they didn't consider my payment to be for December. When I explained that the payment had been intended for the December bill, they said that was too bad because for it to apply to the December bill it had to be paid after the third of the month. I told them that was ridiculous and that I wanted the late fee waived.
They said that that would only be possible if I paid the minimum required payment of $59. I ended up paying it and will immediately now have to pay the January payment, but only after January 3 or I will be "late" again on my January payment. The lady condescendingly told me that it was "nice" that I wanted to pay extra money on my card so that I could pay it off early, but that, basically, rules are rules and if I don't want late fees I have to pay the card according to their billing cycle and rules. So now I am "patiently" waiting for January 3 so that I can pay my credit card "on time." In addition, my minimum required payments keep rising. The first month the minimum required payment was around $22. The second month's payment was higher and now the required minimum payment is up to $59. Seeing that Lowe's isn't the only supplier of appliances, I will not be using their services again.

$1,400 taken by Lowe's with no window install after 3 months by Torio Construction in NJ. Lack of returned calls for 3 months by Christian ** and Park **. Immense run around and failure to meet contract agreements in conjunction with Lowe's. I will be filing a racial and gender discrimination complaint with the NJ State Licensing Bureau and courts against Torio Construction and Lowe's if the window is not installed Saturday. Lowe's corporate called my house late last night and stated to me that the installer Torio Construction is to pick up the window. No one told me the process. How would I know. Whose job is it to tell me? Corporate planned to call Torio Construction regarding why he was not going to do so, this was their words to me. I also shared concerns regarding why if I did not call to confirm install for Saturday no one would have told me the process.
I also recently found out it is not a morning install that I waited for over 3 months to arrange. Because I asked him why he is not picking up the window (based on what Lowe's stated to me last night and to give him a heads up of the call), he says he is not doing install 2 days before the scheduled date. That is massive retaliation and intentional racial bias practices against a ** female customer's complaint for filing with BBB of NJ. I will be suing his business and Lowe's for my money if the install is not completed. Lowe's may think they can hire contractors who engage in these practices of retaliation or discrimination but there will be a massive state complaint regarding this concern. No agency will be left out if not resolved. This is a nightmare from hell but rest assure hell will go both ways. Torio Construction and Lowe's will be answering paperwork for the next two years.
I may be ** and female but I am not an ignorant fool to these race based under handed gender discrimination actions and tactics. I will be filing a complaint against every single person and party involved for implied and written breach of contract. Taking $1,400 from this customer over 3 months ago and never returning calls and failing to meet installation agreements based on bias in contract business. Mr. ** fails to give me his supervisor's info numerous request made, Parker ** of production department has not returned a call since October. Give me your supervisor's telephone number and information. I would like to talk to him or her. Thank you.

Estimator came to our property on 10/11/2016 and was very professional. Installer called a week or so later to schedule. Was supposed to be here on 12/5 between 10am and noon - so of course we schedule our day around him and finally after calling Lowe's at 4pm to find out where he is, the guy shows up at 5pm - when it is dark! Said he's late due to a water leak on a job he is on - Ever heard of calling the customer to let them know??? Says he can't start until he knows where PGE and water lines are located and blames that on the estimator. He calls PGE and when PGE came out to mark the location of lines, they said they called him twice and when they asked for him by name, he said no one here by that name and hung up.
Who is this guy hiding from??? Yes, they did have the correct number. He called today at 4:45 to get the address (he was already out there once and has the plans with the address) and my husband told him not to bother showing up. So disgusted with Lowe's at this point. They did refund us 10% or $110 of the cost of materials, but installation charges are another $2,000. Now it is 10 days past our original installation date and we have told Lowe's to pick up the materials. It would be nice if these big box stores got some references and background on these guys they contract with. I will NEVER do business with Lowe's again!!!

We ordered a new vanity to be put in our half bath on August 28th. We were never notified that the vanity came in. We had to find out ourselves two weeks after it came in by going into the store. Since then this has been one blunder after another. If it can go wrong... it will. What should have been a very simple easy installation has turned into a nightmare. It took Lowe's 2 months to get an installer to put it in. Then we find out the person who measured put the drawers on the wrong side of the cabinet and now they can't open because of the trim on the door and the shut off valve for the sink.
Lowe's was supposed to order us a new vanity on 11/28/16 with a rush. We find out yesterday that vanity was never ordered. I ordered this in August thinking I would have it done by Christmas. Now I won't have even a working sink for Christmas. I've been very patient with them but now I'm losing my patience. Their people don't seem to care about the customers and do not follow through with anything. This has been a joke. I will never use Lowe's for any installation or renovation again. I should have learned 5 years ago when we bought a new front door and it took them 4 months to install that because they broke the first door.

We recently purchased an LG Smart Sensor dryer from Lowe's and opted to have the unit installed by a "certified technician". Lowe's works with a company by the name of North Country Install in our area. These installers are so uncommunicative and unprofessional. They wait until the day of the scheduled install to tell you what time they will be to your home, leaving essentially no time to get your affairs in order. With our purchase, we have had to have this company out almost 4 different times to get the dryer properly installed. And even after that, the unit itself did not work properly! Not only was the installation unsatisfactory, but the level of service (or lack thereof) we received from the Customer Service team was laughable. We ended up returning the dryer outright and will never be purchasing from Lowe's ever again after this fiasco.

Lowe's damaged my hardwood floor while delivering an appliance. The flooring goes through my whole house which has an open floor plan. The damage was noted on the delivery receipt. Two contractors gave estimates for $22,000 for flooring plus another $8-9,000 for moving the furniture in and out plus storage while work is being done, etc. My own insurance has denied the claim because it was caused by the refrigerator being dropped, which is excluded in my policy. Lowe's is offering $18,000. Very expensive refrigerator plus Lowe's insurance is a nightmare to work with.
Lowe's Home Improvement Company Profile
Company Name:

Lowes

Website:

http://www.lowes.com/