Consumer Complaints and Reviews

I recently received a format letter from Amazon that I had abused a customer on a discussion board. I contacted the customer service department to make sure that they had the right person. Many people on their board post their comments under "Amazon Customer." None of my posts were deleted, and more than one person posted a comment. One customer, however, made eight comments about my review of a novel. All of his/her comments kept saying the same thing. This book is plagiarized and that no one should read it. The book, To the Sky Kingdom, in its original format was written in Chinese; I would not know whether it was plagiarized or not because I do not read Chinese.
Amazon asked for customer feedback as to how they handled the situation, and I gave them a negative rating along with an explanation as to why I gave them that rating. Since then, I have received three letters from Amazon's Customer Service department telling me that my post(s) is "spiteful." Again, none of the posts that I wrote about the novel has been deleted by Amazon.
I finally sent them a copy of the entire transcript and explained to them that more than one person posted a comment, and I told them which two comments I made. They have refused to acknowledge that they mishandled the situation. A simple "we made a mistake" would have sufficed. I think that their conduct is reprehensible. Customers like me keep their employees working and their investors happy with big dividends. I cannot recommend this company to anyone, and I do not intend to do business with them again.

When you push the return button screen, it will take you to the page that says return which is auto selected by the computer and underneath that there are two options given where to refund your money. The first one is already auto selected by the system with fade orange color that is called Amazon Gift. If you do not notice that, your refund will go the Amazon Gift. Thus, unless you buy an another item, there is no way to get your money back since they are going to blame you that you made the selection and they can't do anything about that.
I have been a prime member of Amazon for years now and buying many things on Amazon. Mostly do not return. However, I had to return several items at this time. I was not careful enough to see that choice made for me by Amazon already before I click return button. Now I can't get my money back unless I buy items on Amazon. I found it that it's very sneaky way to trick the customers to have their refunds to get credited to Amazon Gift so they can keep your money unless you buy an another item on Amazon. I was very frustrated when I realized the problem.

Please add a method enabling the customer to request a delivery window. I have all my packages sent to my business address for security purposes. Unfortunately my business closes at 4:00 PM and your delivery people are very seldom here by then. If I put a message on "Gate Access Codes" stating this is a business and it closes at 4:00 PM. The packages most always say "Delivery Attempted At 4:31 PM/Business Closed". The last 2-nights this happened, April 12th, 2017 & April 13th, 2017. We were in the office, lights on doors unlocked... never saw a delivery attempt on either day, yet the delivery person claimed to have been here??? What's the use of having Amazon Prime if your delivery system is so poor?? PS, couldn't figure out how to attach the receipt??

Very bad experience ever. I have bought Redmi 4A and wanted to return it so they are saying we could not. However, unit having issue and Amazon is saying to diagnose that on basis just a app. I completely against this type of thing and I wanted to return this unit.

I was an individual seller on Amazon. Which means I have a couple of items that I wanted to sell, but I am not a business. I listed 3 items on Amazon after making an account. Fast forward to yesterday, I receive an email, one of my items have sold! In order to get the buyer address, click link, then find out my seller account has been deactivated. I called seller customer service to be told 2.5 million accounts have been deleted, but they left the merchandise on the website for sale. There is no way to re-activate my account, no way to send the product to the buyer. This is poor customer service on both the seller and buyer end. Very disappointed in Amazon. But it does explain why I have not received the last three orders that I placed as a buyer! Very frustrated with the whole Amazon experience lately... maybe I will have to go back to traditional shopping at a brick and mortar store.
How do I know I can trust these reviews about Amazon.com?
743,097 reviews on ConsumerAffairs are verified.
We require contact information to ensure our reviewers are real.
We use intelligent software that helps us maintain the integrity of reviews.
Our moderators read all reviews to verify quality and helpfulness.
For more information about reviews on ConsumerAffairs.com please visit our FAQ.

Amazon used to be a great company. Sometimes you would get your order within two days, free shipping. Apparently they realized that nobody would pay for their "two day shipping program" if they continued to provide excellent shipping service. So if you pick "free shipping" then check your order everyday and it will say "preparing order." Now that preparation takes a full seven days. Once it is shipped regular, it usually takes anywhere from 2-5 days to get to you. I have gotten some things a full two weeks after paying for the order. So Amazon has lost a lot of my business to Wal-Mart (free 2 day shipping), and any other online sellers that seem reputable. You order something from a random seller, and they put it out for shipping ASAP, so you do not have to wait one week as an Amazon Penalty for not buying into their shipping club.

Amazon used to offer great service, but not anymore. I've stopped buying from them and cancelled my $99 Prime service. They no longer provide 2-day shipment as agreed. They've changed their delivery service to include UPS SurePost for home delivery. That requires several extra days, and USPS simply will not deliver anything to my door. If a package will not fit into mailbox it is returned to P.O. for pick-up.

I ordered some moving boxes on 3/31/17. I placed an IDENTICAL order a few days later. The second order arrived as scheduled. The tracking number on the first order showed that the package label was printed, including the package weight, but for some reason, the package never reached UPS. I requested a replacement package as soon as their website would allow. Now they claim the moving boxes were not in stock, and that the manufacturer didn't provide any details on when or if they'll be back in stock. It makes ZERO sense that my second order, placed a few days later, WAS in stock, but my first order supposedly was NOT. The package HAD to exist at some point, because they printed a shipping label for it, including the package weight, which they would not have known if the package didn't exist.
They gave me the choice of waiting an indefinite amount of time to see IF the boxes came back into stock or a refund. I got a REALLY good deal on these boxes, which I need quickly, as I will be moving soon. Obviously, I need the boxes more than I need the refund, but apparently Amazon couldn't make the great effort of picking up the phone and calling the manufacturer so they could give me an approximate delivery time. A week? A month? Six months? Who knows? They refused to answer my very simple question and stopped communicating with me completely, leaving me no feasible choice but to file for a refund. I hope the refund arrives without further issues.
I will not be renewing my Prime membership when it expires, nor will I order from them again in the future. I am disabled, without transportation, and cannot go scrounging around for used boxes. Yes, other companies sell boxes, but their price is double or triple the price of the boxes I tried to buy off Amazon. As you can imagine, this has left me in a terrible bind. Amazon, you have lost a customer who, over the years, has spent literally THOUSANDS of dollars.

I bought a phone and paid for overnight shipping. When it hadn't arrived by the original delivery date, I logged in to find that it had not been shipped yet. I tried to cancel the order, and was told I couldn't. I contacted support who first offered me a partial refund, then a full refund and the phone for free, then a 100 gift card, all in the hopes I'd not cancel. All I wanted was to cancel and get my money back. The next day I logged in to see a gift card balance for the value of the phone and the shipping. I went to use it, and it vanished. I called Amazon and was told "there is a glitch, we can't refund you, but here, have $80 in promo credit to reorder the phone". I tried to re-order, and there was no promo credits at check out as promised.
As of today, the phone is a week late (and may or may not have been shipped, no one knows). I finally called my credit card to do a chargeback, and it seems Amazon refunded me, but didn't bother to send a message letting me know. HOWEVER, they didn't refund the full cost, only what I paid for shipping! I once again called Amazon. This time, they offered me a full refund, to send me the phone I bought, or the next closest model, and a fire tablet as a "thank you" for my patience. I accepted this, until I saw the charges on my credit card for the cost of the new phone and the tablet. Needless to say, I started a chargeback. I also canceled my Prime subscription and will be closing my account if and when I ever get all this sorted out.

Horrible experience and never again will I buy anything from this company. Ordered a ring which didn't fit and exchanged it for another size which unfortunately didn't fit well with my e-ring so I returned it as well. They won't refund me the money. I have both UPS tracking numbers proving both items were returned, I emailed, called twice (was on hold for almost an hour) and no result. It may have been a good company years ago, but it is no more. I had to learn the hard way. Looks like now customer satisfaction comes... Last for them, pinching pennies comes first. I'll make sure to tell everybody I know.

Pay more for Prime and get less! Bait and switch delivery unacceptable! Website promises delivery date EARLIER than the ACTUAL delivery date once the order is placed (when ordering within window of time the website states). Website states "Get it tomorrow, April 11. Order within 17 hrs. 45 min. and choose same day delivery at checkout." This deception occurred today and same deception occurred several other times within the past 6-12 months. Totally unacceptable! I talked with customer service rep Kadene, then at length with supervisor Aseem. No action from either other than apology. No customer compensation. Nothing! Stock prices soaring. Customer service declining. "The Most Customer Centric Company on the Planet?" Really? Get a new tagline, Amazon! Or start delivering on promised delivery!

Can't find products/terrible customer service. Amazon service reps are just warm bodies these days. They are unwilling to assist, investigate claims or help for sellers and buyers alike. As far as misleading feedback in making decisions about the seller... IF they are FBA sellers, Amazon promises to remove negative feedback if something is damaged or delayed in shipping that is Amazon's fault or will affect a sellers' ratings. I have had to make multiple attempts the past few months and I may as well be talking to the wall. IF you can understand them is a 1/4 of the battle. It's not the Amazon we all once knew and loved.

We purchased toilet paper on Amazon 4 months ago. In January they said it's going to be delivered in February. In March they said it was delivered in January. Four months later we don't have toilet paper and our review on Amazon was blocked, so they cover this scam company "selling" toilet paper. Nobody from Amazon contacted us to resolve matter, charge is still not reversed. There is no button "contact seller". Huge scam! Customers be aware - you order, get scammed, Amazon blocks your feedback and keep scamming simple people and most interesting part seller is Amazon.com LLC. :)) Of course they don't want people know they are scam.

The Amazon Warehouse sent me a used version of a camera lens which was described as "Like New" but what I received was a lens someone cross threaded a filter on and then tried to sell to someone else and it obviously was not inspected by Amazon before it was shipped. One would think it would be safer to order a used item fulfilled by the Amazon warehouse, but that is obviously a false assumption. Once I realized what had happened, I figured no worries because Amazon has an excellent return policy. Well after Amazon has received the item and has had it for 4 days, I was just informed the refund could take 2 weeks by customer service despite their written 7 day policy on the Amazon Website.
The whole conversation I just had over chat support with their entry level support representative and "support leader" once it was escalated was deplorable. They provided written evidence where they said despite the written online policy of 7 days, to not contact them until it's been more than 14 days before I was refunded. I've never seen a more disorganized business in my life... They said they cannot contact the returns department where the item is received... Any brick and mortar store would be facing lawsuits if they treated their customers like this. Pictures of the item taken fresh out of the shipping package is below. It's very obvious the damage did not happen in shipping as it takes a person to cross thread a filter. If the inconvenience of receiving a broken item was not enough, not Amazon is telling me they will hold my money hostage for 2 weeks.

Since March 29, 2017 I have been trying to purchase a Brother CS6000i Sewing Machine at Amazon.com. The first one I purchased was from seller "Will Retherford." The next afternoon on March 30th I received an order cancellation. The cancel reason? Technical problem, the email said. So on March 30th I ordered the machine a second time from seller "WI_RN_Student." The next morning on March 31st I received an email confirming that the sewing had indeed been shipped out to me. A few days later on April 4, 2017 I received an email from Amazon stating that I was being refunded for the machine. The reason for the refund? Account adjustment, the email said.
By this time my frustration was growing so I contacted an Amazon representative to speak with via a chat session. I spoke with Tushar who recommended that I order again from a different vendor and he would expedite the shipping for me. So on April 4th I ordered the machine for the third time from seller "Christina3373." This time Amazon was offering me an additional warranty for the sewing machine. The price was good so I accepted it. Two hours later I received an email that my order for the sewing machine was cancelled. Reason for cancellation? Technical problem, the email said. However, the warranty for the product that I could not get was shipped out to me!
I was beginning to get very angry at this point because something did not seem right about all of this. I again contacted an Amazon representative via a chat session to complain. This time I spoke with Shweta. This person assured me that I would receive the sewing machine this time and to please re-order. So I ordered a fourth time from seller "My3Kids." Shweta said that she contacted this seller and that they indeed had some sewing machines available to send one to me! Two days later I received an email saying that the order had been cancelled. Reason for cancellation? Technical problem.
I sent messages to a couple or so of these sellers too, and not even one of them ever responded to my messages. Either these vendors do not actually have the product to sell, or they have them but decided they did not want to sell them for the low prices they posted. All of these machines were advertised as NEW CONDITION, not used and not refurbished! Either way appears to be fraudulent to me.

I ordered and received 12 cans of Cento Tomatoes. 11 of them were dented at either the top or bottom seam or both. USDA website says safety of food inside such cans has been compromised and should not be consumed. They were double boxed. Outer box was flawless, inner box showed signs of wear and tear, but no sign that could explain how the cans got dented. My first attempted review was 1-star because almost all cans were dented. Amazon rejected it but said to try again after reading their guidelines. So I read and could not find anything which said one could not comment on product defects, but altered my second attempt by giving the product 2-stars (It was more important to me to let fellow Amazon shoppers know the cans were seriously dented than to quibble over "stars".) It too was rejected. They said I had reviewed the seller, not the product, Reviews of the seller are to be posted in a different spot and they gave me the URL.
Despite the fact the seller could never have known of the problem without opening the factory sealed box, I looked at the URL. It would not allow me to post feedback of this particular seller, presumably because the seller was Amazon itself. No problem, I would never expect a seller to open a factory sealed box. This one happened to be glued together at the flaps, no less. I would be alarmed if I received such a box with the glued flaps not intact. So I opened a chat window. The person at the other end said the matter would be directed to "Communities". Communities wrote me that my review was about the seller, sticking with the original boilerplate.
Basically I really like Amazon. But as the old proverb goes: "When you see one termite you can be sure there a plenty more where it came from." In any case, this is one case in which they absolutely stonewalled it with an objection that simply does not make sense. The product, not the seller, was defective. They did not want that comment to see the light of day. Shame on them. But understand my 1-star is about the way they are manipulating "feedback", not the company as a whole. It is a good company, assuming practices such as this do not become overwhelming.

I brought a used book from Amazon, for $18, and found out the total cost $60, so cancelled the used book order, within the hr, and got email confirmation, and also, cancelled online. Zoverstocks do not answer customers emails UNTIL they say... 'a couple of days', but, DO ship the product and send you an email within 12 hrs! (I would have liked a confirmation of cancellation instead!) - I buy books online, first time ever, I've been charged $40 for post/hand charges! for overseas, for a small book. It is 2017 not 1720, an electronic age, Zoverstocks obviously, do not reply to cancellations, HOWEVER they DO send you an email, for telling you the used book is shipped - when they totally ignore your email for cancellation (remember, order was cancelled, within the hour, after ordering the book, which is acceptable).
So, how can they not keep up to date and reply within a normal reasonable time to a cancellation, BUT, can reply to you and tell you the product is shipped? Is this illegal? I mean, to take money out of your account, when they have been emailed an hour of purchase, that the product is cancelled? And send you an email 12 hrs later saying the book is shipped to you. The used book, was noted as 'processing' when I cancelled the order. I have copy of email Amazon sent to Zoverstocks for cancelling and that is timed within an hour of my purchasing. Amazon should be accountable for letting Zoverstocks on their site, to sell books to people, with getting back to people 'within a few days', is an extremely bad policy. I can only assume that Amazon agrees with this 'will reply in a couple of days time', satisfactory. Also, it took 40 mins on phone to get Amazon to send to me the email they sent Zoverstocks of cancelling my order.
Glad I pursued all this, as have proof, twice, of cancelling the book, did it also, online. Cancelling within an hour is acceptable, but Zoverstocks ignore that, and just go a head 12 hrs later and send you an email saying the used book is shipped. I encourage people to take their money elsewhere if possible, as these two Companies have lost the customer service you get from other online sellers. Come on... It's an electronic age, 'reply in a couple of days', is totally a shame in my personal opinion. They get your money! And you are left with a big problem... I will never buy again from these two Companies. Zoverstocks priorities are wrong, email first confirmation of cancellation, not email product is shipped after 12 hrs of cancellation. It's a sham? There are heaps plenty out there now, that give you better service. I encourage you, to give your money to sellers who appreciate and practice good customer service.
You may not have had a problem with these two sellers, but, this is what happens, if you do, check it out, Zoverstocks do NOT refund - is this against the law? To take money out of an account, when the order was cancelled an hour after ordering? There has to be some legal standing here, somewhere, for the customer? I have proof that an email Amazon sent Zoverstocks, a copy, that Amazon sent to me, showing the time, and also have proof of cancelling on my account within the hour. Anyone know a place to take action? To retrieve my money, taken out of my account, when order was cancelled, and they were NOT given permission for the sale?
Surely sellers are accountable for not cancelling orders, and yet manage to email buyers having shipped a product that is already cancelled... Hope someone can help with email address to get my money back besides these two companies online, as they have not handled this well and do not have my best interests at heart... I have lost all confidence in them totally. Much appreciated, thanks... from Avid Reader.

It was a bad experience with Amazon. Delivery man not willing to deliver the product to given address. He asked to collect the protect from 5 km distance; I informed the same to Amazon multi-time, I got auto-acknowledgement each time; if I called; they are reading the same script. Now it's more than 10 days showing "Out for delivery". Note: one mail from Amazon says, "Amazon.com" is international, it won't cover India's (in) issue. Dissatisfied reviews won't displayed in Amazon.in.

After the CSR greeted me and asked for my name, I provided my female name and the CSR continued calling me SIR!!! I corrected that CSR and explained that I am not a SIR but Mam and he continued to apologize calling me SIR. I asked to speak with a supervisor and he placed me on hold and picked up about 2 minutes later pretending to be a supervisor. I then asked to escalate this call to a manager. He again placed me on hold for about 2 minutes and answered pretending to be a manager. I know it was the same CSR because he had the same issue with his voice sounding far away.
This is the worst customer service I've ever received. "AMAZON NEEDS TO STOP OUTSOURCING." Hire someone who knows the difference between a woman's name and a man's name and at least speaks and very well understands the English language. I was so upset that the CSR refused to provide me a contact number or email to complain to the Corporate office regarding the situation that I am still considering closing my account. I like using aliexpress.com as an alternative to better prices.

I have purchased from a seller on Amazon.com and did not receive the order. I have sent numerous letters of reply to the seller with no avail. I feel Amazon should be held responsible for the purchases made on this site as they are the ones allowing these sellers to advertise their products. I thought Amazon was a good place to shop, but after my experience dealing with them, I would not recommend anyone purchasing from them.

After years of disappointment lately with Amazon, they've managed to keep their record intact yet again. I just bought a solar panel, paid the extra $16.99 to receive it the next day. I track everything down to my keystrokes when I correspond with them anymore. 5 days later it may get here... but the refund for the shipping isn't posted and doesn't show pending. The refund for the "lost" product they indicated would happen hasn't posted and isn't pending either. This has happened 18 times now in 11 mos. with orders shipping by UPS who never makes consumer deliveries before 630 pm and doesn't deliver on weekends. Hey, that's who gives Amazon the best deal obviously. This has happened 2 times with USPS products, and once with FedEx. I've spent just over $27K with them in that time frame as I'm a business out of my home address. I've spent $71k in the last 20 months and well over 100K total with Amazon.
There are LOTS of opportunities to have things go wrong just based on sheer number of orders... and they have. But, when I get guaranteed dates I hold them to that. They now hear from me within minutes and guess what? It MAKES NO DIFFERENCE! They have now broken through a 10% failure to perform as promised with my orders alone. They promise "next day" and ship UPS? They pulled their corporate phone #s. They offer $5 credits or an extra month of Prime? If they did what they said they'd do, hold their delivery agents accountable and take care of problems courageously they wouldn't be getting dogged like this. But... who else has DRONES?! Seriously. If we let them hide it's our own fault.
I stumbled across Wikibuy without trying. It takes longer but it gets here when I'm told it will, usually much sooner. It compares directly to Amazon Prime, including tax and finds the lowest price. I've only ordered directly from them once, but several times through eBay and now DOZENS of orders from Jet.com. It doesn't matter who the carrier is, it's always on time or early, delivered during daylight hours and even on weekends. They don't have everything Amazon does, so Amazon will still get a trickle of my business, BUT THAT'S ALL... I'VE HAD IT! When 2 of the last 3 orders I've placed don't show up they've got problems even I can't fix! And I managed to for years with the largest Home Improvement company around. It was part of my job as manager until I retired on disability.

My experience with Amazon was to BAD. I ordered JBL FLIP-3 PORTABLE WIRELESS SPEAKER on 25 March 17. And on 26 March I received the order but in the box I got 3 pieces of STONE instead of wireless speaker. And they said it was the mistake. Fake.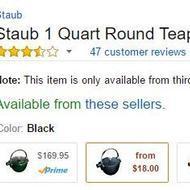 I found a cast iron teapot on Amazon and found it listed "from $18.00". I tried to purchase it for this price and could not find the vendor or detailed listing on their site. I emailed them asking how I could buy this item at the listed price and got an email that was vague and patronizing. I asked again that they answer my question, and they refused via email. I asked one more time and did not receive a response.

Amazon has went the way of Walmart for Customer service the quality has went down. Calling Amazon is more annoying than wasting money on a product that reviews Amazon has carefully screened to make you want to purchase it. The reviews are misleading and paid a Rosy picture of what Amazon wants you to believe. I have found little to no Customer service in the last few years and the company has no desire to improve the image. The prime is waste of money if you are looking to receive your purchase in the two day shipping. The abate for me is closer to a week. Amazon once was 90-95% of all my purchases and now makes up less than 5% of them.

Living outside the United States of America makes it hard or expensive to buy a lot of articles. Amazon.com has changed this for me for a long time. Interface is super user friendly, inventory of items is pretty much limitless, customer service is one of the best I've found and my information is 100% secure. Never had an issue that they haven't been able to remedy. Will highly recommend to anyone (and do every chance I get).

A lot of issues with the orders now, they have been taking a long time to ship and denied me a refund for some children's boots which I never received. Ridiculous! To make matters worse, when you call they are not very helpful, I will not be using Amazon any longer.

Amazon.com... Buyer Beware!!! I've been doing business with Amazon for years because I felt safe doing business with them over the internet... I bought a back brace through Amazon last week after much checking and pricing, but thought Amazon would protect me from price gouging, poor quality, & rip offs. Not so! The brace arrived today and I found that it runs small, so I called the customer service # on the packing slip and guess what? Amazon charged me $25 MORE than the brace company charges.
When I asked about that, the company said I had to contact Amazon and ask them and also to return the brace. So, directly from the company (not Amazon) I ordered the next larger size, paid them and now I wait for Amazon to get back to me about a RMA label AND my MONEY BACK. However, I now wonder if they'll return ALL my money and then charge me for postage to return the item. There's no way to reach them other than via email. Very unsatisfying way to do business... So BUYER BEWARE with AMAZON...

I am a Prime Amazon customer that orders items regularly on the site. I truly appreciate the quick response and effort to solve problems and concerns I have had with items and shipping. I have not experienced other online companies that are as accommodating.

On February 8 I placed an order with Amazon. Today March 22 I am still waiting for delivery. I am starting to smell a rat. At this stage I wonder if I will ever receive this order. Where is my parcel?

I called Amazon regarding this purchase (of an Acer laptop - listed as NEW by seller Silicon Depot) due to the fact I was given a broken product. The issue was a hard drive failure that slowly manifested over time. After about 4-5 months, the laptop was unusable. Typically the seller offers the warranty after 30 days, and on electronics like laptops it is almost always one year. I contacted the laptop manufacturer (ACER) and was told one year warranty. The manufacturer has online warranty claim on their website via serial number. I used the serial number of my supposedly new device, and the MANUFACTURER listed the warrant as expired as of 2013.
The seller, Silicon Depot, had already registered the warranty under their name (or their customer's). That means the laptop WAS NOT new, but was used either by the company Silicon Depot, or it was a return which they repackaged as new. This is FRAUD from the seller which was facilitated through the Amazon store. I tried contact the seller, Silicon Depot, but they do not have a website listed on Amazon. I tried Google to find them, and I can find no contact information, website, email address, or website registration records for a company with this name. They are a ghost. I believe, based upon my experience, that this company is defrauding the public and hiding behind Amazon storefront to facilitate their fraud. I cannot believe Amazon does not qualify their vendors better than this upon accepting them into their program.
I called Amazon and explained the situation. I was PROMISED a full and complete refund with no restocking fee and NO SHIPPING CHARGES. I was lied to by the Amazon representative as my refund was not for the full amount, but in fact Amazon had deducted both a shipping charge and restocking/late return fee. I am appalled that Amazon representative lied to me and further that they allow fraudsters to sell on their store without offering any support for Amazon account holders. Instead of fighting Amazon for an additional $80+ dollars, I simply just cancelled my Prime Membership. Further, because Amazon straight out lied to me, I will be writing a full review and putting it on every online review site I can find.
I simply cannot stand liars, including big corporations who employ them and hide behind return policies that benefit scamster sellers and screw their customers by giving them no recourse on issues. Forget Amazon. I will shop locally and give my local vendors the benefit of my money, even if it costs more. I cannot fund a company with highly suspect ethics that employs liars and further hides unscrupulous sellers.
Amazon.com Company Profile
Company Name:

Amazon.com

Website:

https://www.amazon.com/