Consumer Complaints and Reviews

Paid for a Prime membership and packages NEVER arrive within the 2 days promised... even within 3-4 days. Today they pretended that my "address does not exist" as the reason for non-delivery. You know... the address they've delivered to a million times before. I used to be such a fan of Amazon and now I just think they are crooks - Prime membership is worthless.

I tried to leave a review of Amazon's shipping performance - and while they will allow a review for their "merchants" they don't allow a review for their own performance! "Thanks for submitting a customer review on Amazon. Your review could not be posted to the website in its current form. While we appreciate your time and comments, reviews must adhere to the following guidelines: http://www.amazon.com/review-guidelines."
Amazon used to ship very quickly, and that was why I bought so much from them. But they are taking way too long to ship free shipping these days. I think that they are doing it on purpose to force people to switch to Prime. Well they can keep it - I will shop somewhere else. Signed - Pissed off customer tired of waiting for 2-3 weeks to receive basic shipments!

Ordered high value item on 11/23, paid for expedited shipping for item to arrive on Saturday 11/26. On Saturday 11/26 package passed FedEx's stated delivery window. Called FedEx to see what the issue was. FedEx rep - claimed package not received and to call Amazon as delivery might not take place by guaranteed Saturday delivery date if they did not deliver the package. Frontline Amazon Rep - said package was delivered to FedEx and should arrive by 8:00 pm, same as online system stated at the time (and still states). FedEx Rep - Claimed package was not received, or could have been delivered after the cutoff, said might be delivered Monday, Tuesday or Wednesday but wasn't sure and couldn't confirm. Frontline Amazon rep - confirmed FedEx was not going to deliver on-time, refunded me expedited shipping cost ($74).
On Sunday 11/27 checked delivery status, saw that package was indeed delivered to FedEx and was sent to Memphis, TN, when it was originally an hour away from my location in Los Angeles, CA in Ontario, CA. Sent half-way across the country incorrectly. Called FedEx. FedEx rep - verified package was indeed sent to Tennessee. Asked them to send this package back to Amazon so I could get a refund. They confirmed this action.
Frontline Amazon rep - called FedEx to confirm that the package was being returned to Amazon. Stated that she wasn't sure if a replacement could be issued for several days as package was going to be shipped to me (it wasn't). Escalated to supervisor as felt she couldn't resolve fully. Chris (Amazon supervisor) - discussed options for a replacement, but replacement couldn't arrive for a week and a half since it was coming from Florida now instead of California like the first order. Stated I'd like to go a size larger from a third party seller and wondered if I could just cancel the order and receive a refund to place a new order with them, as that would potentially arrive on Wednesday. Chris confirmed that would work and stated that the refund to card would take 2-5 business days, so he'd help me out and process it to my gift card balance, so it'd be there within an hour or so.
Waited three hours for refund to be processed, but no refund came to gift card balance. Called Amazon again. Frontline Amazon rep - expressed that Chris' actions were unacceptable, said Chris didn't process anything and left a vague note: "Customer is going to buy larger television, item is going to be returned to us by FedEx." Said they needed to pull the recording and listen to verify that he'd promised a refund to the gift card, but the review could not take place today and had to wait until tomorrow - call review had to be requested specifically to a certain team, couldn't be done by supervisor immediately.
The team could review in the next few hours, but Frontline rep could not speak to me again until the evening which didn't work because I work late hours tomorrow (11/28), requested to be called in morning. Rep stated they don't know anyone in the morning to call me back and I'd have to call, and that the call may or may not be reviewed by that point. Would have to wait until Tuesday (11/29) at the earliest to call back to discuss review results. Said she submitted call review request. Confirmed to me that supervisors are allowed to issue refunds via gift card balance and that it does normally only take an hour, and if Chris had processed as promised it'd already be back in my account as he stated.
Felt that this review of what Chris did or didn't promise is irrelevant to the issue at hand (although it was promised, which can be confirmed in the call review): the extreme mis-delivery. Requested a supervisor, as I felt if this is standard practice, they'd give me the same resolution as Chris and might actually process it this time. Scarlett/Anna? Supervisor - Kept insisting the expedited shipping refund had already been issued (irrelevant, doesn't have to do with full refund promised), re-verified with FedEx again (ignored Chris' note), did not listen to me, cut me off several times and talked over me and the FedEx rep, stated she could send me a replacement since she was reviewing Chris' call further and Chris had offered to replace device first.
When challenged to review the whole call, placed me on hold to do "further verification" then after coming off hold claimed that the item was still in transit and still within the delivery window and that there was NO RECORDING of Chris' call (that she stated she was reviewing and previous rep claimed was impossible to do at supervisory level) so it was hard for her to review and verify - directly contradicting her own statements several times. Told me I was being escalated to her supervisor as she couldn't issue the refund, stated that she was attempting to reach a supervisor for a long time, but then continued to place me on hold and take me off to further "verify" or "review" my case offering me solutions that I had stated already I didn't want or didn't help. After two to three attempts to circumvent me with these non-solutions, I demanded to be escalated to the supervisor she claimed to be working with.
She then contradicted herself again and claimed my information actually had to be verified by her before being transferred. When I demanded again to be escalated directly to this supervisor, she claimed she would not transfer me, said she could handle it herself, was scheduling a callback for the same night with this supervisor as well arranging the refund (ostensibly to gift card, as originally promised). She claimed the refund needed to be verified by supervisor who she claimed was on a break and couldn't be transferred to immediately to speak with or process refund.
When I demanded to speak to someone else or the supervisor, either way, I was asked "if I wanted the refund or to speak to the supervisor," as if it was an either-or proposition. I requested that I wanted both the supervisor to call me back to discuss this as well as to process promised refund to gift card. She said both of these things would be done and attempted to disconnect the call in an extremely rude and condescending manner.
Before disconnection, I asked for email confirmation of refund to be processed, supervisor said she couldn't provide the confirmation of the refund in advance of the actual processing. I asked for email verification of callback from her supervisor, this supervisor refused to provide. I asked for supervisor that she had been looking for's first name and needed verification from and that was going to call me back, supervisor refused to provide. I asked for her supervisor's employee ID number, supervisor refused to provide. I asked for general callback window, supervisor refused to provide.
After the call, a vague email was received from "Scarlett **" - notification that she'd get back to me on November 27 (same day) to send a notification email within the day once the refund was processed. Called back to confirm that account notes and callback request was left on account by Scarlett/Anna? as I didn't exactly trust that she did what she'd claimed. Frontline Amazon Rep - claimed that callback would occur within 24 hours, then when pressed claimed callback would occur same night as promised by Scarlett/Anna? I then received another email from Scarlett stating that callback from manager would occur November 28 (not what was promised by both her and the frontline rep I spoke with after the call).
Called back again an hour and a half later after calming down from frustration. Florence (Frontline Amazon rep) - tried to deflect me several times by stating that it was still within delivery window etc., stated full refund for item had already been processed to store card by Scarlett and would return within 2-5 business days (which Scarlett claimed was impossible, and was not correct or promised method as it wasn't on gift card balance), then escalated to supervisor when requested.
Lyn (supervisor) - stated no refund had been processed to store card, needed to verify with FedEx again to process refund to gift card, then stated the amount was beyond her limit to process this refund, successfully confirmed return of item and case ID again with FedEx, and claimed she was sending immediately to someone who can process the refund, and will send an email confirmation within 1-2 hours maximum that refund has been processed back to my account in gift card balance.
Then received an email from an "Anna **" (which I thought "Scarlett" had stated was her name initially) which was identical to Scarlett's second email after Lyn's call finished, stating a supervisor will call me back tomorrow regarding the refund. I then received an email from Lyn shortly afterward that stated that the refund balance would be sent back to my gift card balance within an hour or two. This reflected in my account order info very quickly.
Got another email confirmation from Flor stating it'd be sent back to my card in 3-5 business days. Got another email from Carla (I assume another Frontline rep I spoke with) which was identical to Flor's email. Got another email after Carla from Flor which was identical to the first email from Flor. On Monday 11/28 refund balance still not received in account within a few hours as promised in Lyn's email. Called again to check on status of refund. Frontline Amazon Rep - did not know why balance had not yet reflected, said she'd get in touch with management and call me back within an hour.
Two hours pass, finally receive call-back from same rep, who states because it's "big money refund" that I need to wait and be patient and that it could be 24 hours, or maybe just a few hours, and that she'll call me back every hour if I want until she hears from her managers to get the approval and that the approval has not happened yet, even though she claimed she just spoke with her managers.
When asked why I can't get a callback from managers or speak to managers directly, she states that she will submit coaching requests, is taking care of it and that she has no way to transfer me to them and she'll call me back and also have managers call me back. Still frustrated with this answer. Called one more time with hope that US-based support (that treated me kindly the first time re: Chris even if the promised actions weren't processed or notated correctly) or at least someone more professional would be online and understanding, which fortunately they were, but still didn't resolve the issue.
Autumn (Frontline Amazon Rep) - was extremely kind. Confirmed the gift card refund was processing to the account balance, but restated and corrected what previous reps and supervisors had claimed - no approval from management was required to process the refund amount but that larger gift card refunds did take a longer amount of time to process, but that it should be back today.
Admitted that Amazon Customer Support/Billing had just failed to act within a timely manner and she'd be submitting a process/personnel review request and would try to act on my behalf to get this expedited if possible. Told her I was concerned that price may increase on alternative item, she stated they could at least replace the original item as long as it was in stock for the same price but nothing could be done about the purchase of the alternative item.
8 hours passed, no refund yet processed. Price on alternative item increased and original item went out of stock on Amazon, so unable to be replaced at this point for some time. Called Amazon again. Samantha (Frontline Amazon Rep) - screen froze, transferred to another rep. (Frontline Amazon Rep) - clarified that refund needed to be approved and was already approved. Stated that they were not sure why other than large dollar amount that it's taking so long to return to my account as normal processing time is 2-3 hours maximum.
Put on hold for additional research, but just came back with "it's in processing, because it's a large amount we want to make sure it's going back to the right person's account and stuff. Please be patient" and told me to check tomorrow. Requested to be escalated to supervisor since this was yet another delay. Spoke with a Supervisor, name unintelligible - clarified that I just needed to wait. Stated that I could not speak with a manager directly via transfer but he could put in an email request for a callback, but I told him that this had already been promised last night and no manager had ever called me back.
Stated it was out of Customer Care's hands and was now with the billing department. When asked, said I could not speak with the billing department as they don't have phone support. Stated he understood that my requests were falling on deaf ears and advertised timelines had been breached multiple times both verbally and in writing.
When questioned as to the technical nature of the issue since this was not a card transfer with payment processors but basically Amazon granting me their own "Amazon bucks" - and gift card balances can be transferred immediately via email claim code when purchased by customers but not done by their own billing department, he stated "yeah, that would be great if we could utilize the system in that way that customers can, but we are at the mercy of the billing department and can't do that."
Also confirmed that if the refund processed to the gift card balance in an additional day or two, and by then the price of the alternative item had increased further and was still out of stock on the original item, there was nothing they could do until the item came back in stock and the refund could not be transferred back to the store card and I'd be stuck with the gift card balance.
Only alternative was to cancel the gift card refund promised and refund directly back to store card, which was guaranteed to take an additional 3-5 business days to process at minimum. Told me at the end to wait again until tomorrow morning and await yet another request for a manager above him that he will send via email with an undisclosed timeline.
Staying with the gift card refund for now (unknown when it will actually process), possibly having to just eat additional cost for alternative item from third party due to their delays (and inability at this point to send a replacement item), overpromising and underdelivering, etc. They have said they will do nothing to assist further than what they've already offered, nor provide me with anything as a token of apology at the experience I've been through, nor even resolve the issue created with the gift card balance by returning it to the store card should the items be totally out of stock or back at regular prices.
At this point, this feels like abuse and an absurd run-around. The main issue is the repeated lying, overpromising and general incompetence. Not certain I will get the refund within needed timeframe and even further delays are unacceptable and make the situation even worse. Would appreciate some sort of actual solution or at least some kind of reimbursement for the time spent dealing with some of their belligerent agents and continual delays and breach of written timelines/inability to process stated actions.

I have been trying to get into contact with both Amazon and the vendor they have provided as to purchasing shoes. The shoes ran smaller/never worn as they did not fit. I have returned the shoes, paid shipping cost and have not received a notification from Amazon neither its vendor. The only email I receive from the vendor is - "We will return your money when you return the shoes." My UPS statement attached is showing the shoes delivered but no money back on my card. I will never order from Amazon again.

I ordered an Amazon Echo from Amazon. It was shipped and during this process Amazon lowered the pricing of item. I called and talked with customer service who informed me that Amazon will not price match themselves!?? I still have not received the item and they will not credit me the 40.00 difference in price. The only way I can get the current lower price is to return the item once received and reorder the same item. What kind of mixed up, crazy, lack of customer service is this? Not happy. Closing my account.
How do I know I can trust these reviews about Amazon.com?
635,598 reviews on ConsumerAffairs are verified.
We require contact information to ensure our reviewers are real.
We use intelligent software that helps us maintain the integrity of reviews.
Our moderators read all reviews to verify quality and helpfulness.
For more information about reviews on ConsumerAffairs.com please visit our FAQ.

I have been a prime member for a long time. Several times now, items haven't arrived in the 2 days stated. At times I've chosen to pay for next day in order to ensure I get the item when I need it. Again today, I waited for an item to arrive by 8pm. AFTER 8pm I got a notification (not by text or email, but within Amazon when I went to track my order) saying they were sorry the item hasn't arrived and they have now tacked on another 4 days for arrival! The item is in a city no more than 2 hours away from me! I'm so disappointed. If I could pay a reduced cost for UPS or Fedex delivery I would.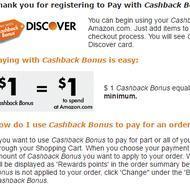 Amazon is sending spam mails with fake campaigns!! I received a mail from Amazon about using Discover CC and earning payback points!! I used my cc and made purchase, but didn't get any cash back points!! I called up Amazon cust care to check, none of cust exec had any clue what is this promo and even claimed that these mails are not sent from Amazon!! I had to forward the mail to them!!
Amazon cooked up excuses that I need to reach out Discover cust care and seller I bought was not eligible, etc... 4-5 cust care exec gave 5 different excuses which meant that all of them were unsure and giving poor excuses!! While I did go ahead and made purchase from amazon.com seller and still no cash back points!! This proves that this campaign was false and only fake marketing campaign by Amazon to cheat people!! I didn't expect this from Amazon as it claims to be most customer-centric company!! But with such things it's a scam company!!

I ordered a monitor from Amazon. I am a Prime member and expected that it will be delivered in 2 days. The guaranteed delivery date was November 26, 2016. It is November 27, 2016 today and Amazon website says "shipping now" and "expected delivery November 26, 2016". The customer support did not have a clue. They have a book in front of them from which they give you answers you cannot argue with. I had 3 more similar issues with Prime this year.

So upon hearing about some good black Friday deals I decided to do some homework in purchasing some video games this year. I was able to save enough money. I was able to buy 4 for the price of 2. One of the games I purchased was through Amazon. I purchased it on Thursday waiting in line at black Friday shopping. I was promised a delivery date of Saturday with my prime account. I took the deal and turned the other cheek every time I saw this game in stores.
Eventually Saturday came and so did that delivery window of 8pm. I finally called around 9pm and spoke with over 4 different reps until later a "product specialist" offered to refund me the money so I can buy the more expensive digital copy and pay the difference. At that point I asked for a supervisor and waited at most 30 min. Finally the supervisor resolved my issue with an option that got me that game in my PS4 today on the date of promised delivery. All I am trying to say is; sometimes people can only do so much and you have to go over their heads... Don't forget no matter how unhappy or frustrating the situation is. Those reps are people too. We as consumers can forget that in the holiday rush. Maybe they can't understand your frustration or situation and you need to go higher. It's not OK to treat people any less than you would want someone to talk to you...

TWO ORDERS PLACED WITH AMAZON AND BOTH THEY CANCELED FOR NO REASON - NEVER BUY any item from this Seller eCaliber and amazon. COMPLETE FRUSTRATION. Orders placed 11/25. I ordered 2 laptops at different times from AMAZON. After one order placed, got an email saying that it is canceled. Placed another order never received any cancellation. When I look my amazon account, it says CANCELED.
Called AMAZON customer service, they said TECHNICAL ISSUE, they canceled. Talked with Amazon manager and they will not help... COMPLETELY FRUSTRATING EXPERIENCE, 3 hours lost... both my orders canceled without My knowledge, complete frustration and amazon customer service is the worst ever I have experienced. We will never get justice from Amazon for the orders we place trusting Amazon and I paid the PENALTY.

Be aware every seller on Amazon, because dealing with crook buyers is not easy, they take advantage with A-Z claim department to help them stealing sellers on Amazon and get away with their money and the free stuff too, and the A-Z claim department is great in this, they will never care or even answer any seller, just they steal us with no regret, and they forget that we are the sellers who provide the merchandise to get the sales money. Having two very bad issues with a scammer buyer last August that she played all her games to steal the stuff and she succeed through A-Z claim department. Another issue with another buyer that she create false accusations to steal the stuff and get away and Amazon help her in this too.
When the seller profit is like $5.00 in the sale, and scammers steal the order of almost $100.00 or more so the seller has to lose the profit of 20 sales toward the scammer and the crook buyer and end up just working with loss and damages for Amazon and their crook buyers, even they don't remove any negative feedback from any crook or liar buyer and then they send the seller a message of happy selling, is this making any sense here!!! How the seller can have happy selling with this negativity and stealing and Rip Off.
If you want to be a seller on Amazon be prepared to work for them for free if you get any claims against you from some crook buyers. And Amazon Internal departments are bad from A-Z to Performance, they don't give any damn about sellers, the want their money only, and they give the sellers money for free to the crook buyers with no manners, and seller pay money to buy stuff to list it on Amazon to sell to get profit, not to get Rip Off and stealing by Amazon the some crook buyers. I think a class action should be in place against Amazon to stop abusing their sellers, and to stop their non stop damages to the sellers. Hopefully this review will help the sellers on Amazon to avoid Amazon stealing and Rip Off to give their money and their stuff free to their crook buyers, because it is very costly.

I started selling games dvds on 19 Sept 2016. I had sold 3/4 dvds a weeks with high fees but I never got any complaint from customer. Nov 6 Amazon suddenly suspend my account without giving me any reason. I appeal on same day Nov 6 and I didn't get any response until Nov 20. In between I open about 9/10 cases they why Amazon is not responding me and please I request to close my account.
14 days Amazon didn't give me any reason excuse but now 19 Amazon charged me subscription fee 39.99 and then I contacted to seller support that why they charged me subscription as my account is suspended and I'm not getting any answer why should I be charged a subscription fee however I have sales platform at all Other department response me that "Bad to hear that you want to close your account with Amazon but we cannot help it because your account is in under review performance department can only do that and we will forward your email to that department.
Nov 20 performance dept mailed me this: "We are still reviewing your account. We will send you an email when we finish the review." And then Nov 21 I asked the same question to performance team about charges and I got this reply: "We are still reviewing your account. We will send you an email when we finish the review. We may not reply to further emails about your review." 1st they are not sincere at all except their customers. 2nd how could they reply like this that "We may not reply your further emails." This is my right as I pay them monthly subscription or fee on every single product I sell.
That means I can't change bank account info. It's been 20 days Amazon suspended my account and I can't sell anything but Amazon want the complete subscription fee because they have your account info. There's not tab or anything to make changes that I couldn't overcharge you. If they keep my account under review for 3 months so they will keep charging me 39.99 a month This is injustice. Now I'm 200% don't want to work with Amazon if they suspend or retain my account because I don't want to be a part for future problems with Amazon.

I placed an order on Amazon.com for Two boxes of Old & New Moscow Mule Mugs. Each box was supposed to have two cups for 19.99. When the order arrived I only got one box with 2 cups but the email from Amazon stated I got both and was charged for both. I called customer service. What a nightmare! I was told to order it again as they could not help me because it was a 3rd party and Amazon is just the middleman. I just wanted them to fix my order instead Amazon is refunding me 19.99. I also had a cup holder on back order that I asked them to cancel. Had I not noticed I would have been ripped off. Charged double for half the order!

I had ordered one product in Amazon and when the delivery people came to deliver they didn't give a call to me. Even they didn't send any message or mail confirmation about delivery. After week I had asked to them and they had confirmed that the order has delivered but after delivery I didn't get any confirmation message. First when I called they told that we will return the amount or we will give the product. But after one week they are telling that "we can't give anything to you and the product has delivered." As per the records they didn't give the product to the required customer. They had given to the person who is standing outside of my house without my confirmation. When I spoke with customer care they are not at all giving correct information. This is not a correct way to treat customers. Really it's waste website.

Your logistic team stinks. Every day from the 18th until now, my package is out for delivery, then a 'delay' occurs. This delay, according to logistics, is a driver thinking it is 'too late' to deliver my package. Every. Day. Through even a replacement order because they 'lost' the first delayed order. Delay on the 18th, 19th, 20th, 21st, and now 22nd. For 2 day shipping via Prime. THEN I get a rep who changes the delivery date to the 24th 'so you not have to worry about wondering when you will get your package'. This person must be high or something. So for a 2 day delivery that should have been here on the 18th, it has been 4 days past, and will be 6 days when I get my package. Why would I pay for prime when I get my packages slower than the no rush deliveries? If my package is not there tomorrow, you can bet your money that I will be contacting every supervisor I can to escalate this issue. I have a background it data mining. It isn't hard. At all.

I ordered 5 bottles of Dermaquest peptide from Amazon through a seller named Quinstra. I ordered Oct 27, On the 3 of Nov I signed for one box thinking the others might be backordered. Boy was I wrong. I never received them. I am out $548. I contacted Amazon 5 times and was denied coverage because I signed for the package. I appealed the claim and was denied everytime. The phone number on Quinstra's box they sent me is not a valid number. Also the email on the package is not a valid email. Amazon tried to contact Quinstra and they also could not do it. Yet Amazon refuses to refund my money. They said that I should have not signed for the one package if I ordered 5. I am done with Amazon. I have read other reviews about Quinstra and people not getting their orders. I asked Amazon if they could give me a way to contact Quinstra and they said no.

So I bought two items and waited for two days and nothing, then all of a sudden I receive an email from the vendor that oops we made a mistake; by now the other deal I was looking at was gone. So I spent 2 hours with their rep overseas (Cebu) I believe and boy was she rude. Even the supervisor was nasty; so when I asked for an answer from the USA this is what I got. Now I might be wrong but "Best regards, Lourdumary **" just doesn't sound right to me.

I was ripped off 435$ by these guys because they permitted a seller to sell their phone to me that was SECRETLY LOCKED (even though it stated it was UNlocked ). Long story short, after MONTHS of complaints to customer service about this nothing was ever resolved and they never gave me any of my money back at all. They basically don't care about enforcing people to not sell items with incorrectly listed/false information. They just say "there's nothing we can do" when you know that they CAN do something about it, they just don't want to. REALLY bad customer service reps in general.
As someone who does their eShopping constantly, I've gone to many websites and purchased from many different companies in the past, of all of these companies Amazon is BY FAR one of THE WORST. They have the single WORST customer service reps that I've ever had the displeasure of having to work with in my entire life. I honestly can't remember a SINGLE TIME that Amazon customer service actually helped me as a customer.
Due to this I have taken the vow to personally boycott this poor excuse for a company. Despite their colossal size and industry, they still choose to not put any efforts into providing good, efficient, and REAL customer service (instead of, "sorry I can't help you with that" or "sorry you'll have to do that yourself or re-do it again" BS). I've got way too much dirt on these guys to write here without posting a giant wall of text so honestly just message me if you want to know anything else about how awful my experiences with them were or what exactly happened. Bottom line, STAY AWAY FROM THIS SITE IF YOU DON'T LIKE TAKING RISKS WITH CUSTOMER SERVICES/GETTING RIPPED OFF.

Your service is too bad no one come to deliver my product and I will get msg from Amazon that is, "We could not deliver your order with Coolpad Mega 2.5D" (Royal@@ as customer was not available). We'll attempt again on next working day and I will be available from 10 am to yet the delivery boy not come and update status from his own place. Customer was not available. I have called him many time but he could not attending call yet. I will never and want to purchase anything from Amazon.

I have been an Amazon prime member since 2011 and I place frequent orders through Amazon.com. Lately, all of my orders have either arrived late or have defective in some way. I ordered a CD, as a gift for a friend. The CD arrived to her home with just the case (the CD was not in the case). The keyless entry lock, that I ordered, came without the keys in the box. I returned the lock but was retro charged twice for this item. Each time, I was told that I would be refunded for the retro charge but it didn't happen. I just cancelled my membership and returned an entire order that I just received from Amazon. Please, please do not waste your time with Amazon anymore. I am not sure what has happened to their service but it has diminished tremendously.

Very poor service. Charged my credit card for 2 items and I only ordered one. I am having to wait until the items arrive to return one of them before I receive my refund. And it wasn't my fault. I will never order from Amazon again!

Don't know what to say. Right from the beginning of the order looked for Amazon help in shipping this item in 3-4 days (I'm a prime member). I was on the phone for help and the rep asked me to place the order and he will help me later (this was on a weekend). After placing the order the rep couldn't make any change to the delivery schedule as the order was still in process.
Next day with Amazon (large item department) a manager confirmed my item will be delivered on time and can't help me expediting the order for early shipment other than "ground". This manager claimed that I should be able to make changed to the order once an carrier is assigned to my item. Later in the evening I got the carrier update and when I called them they refused to make any change as the order is placed from Amazon and they can't make any changes and take any money from me for airway to detour the item from ground. Days pass by and today I get the call from the carrier company that my item will not be delivered as scheduled. I have all the installers lined up for home theater installation and Amazon won't care for this order. Sorry this is an amazon issue and nothing about the product.

I have Amazon Prime and I love it. Amazon Prime allows me access to a huge array of online music, movies, and last but not least I get to get free shipping on most of the products I order that more than pays for itself. I get to avoid the crowded stores and still get everything I need delivered to my door. Can't beat it!!! You need Amazon Prime in your life.

In the past 6 months I have placed a total of 4 orders with Amazon. Out of the 4 orders, I received a substitution on 3 of the orders. This last order was for a Specific Dell computer. I had to have that model because I needed to swap parts with another one. I received a "Similar" computer. For this reason, I limit my purchases from Amazon to only those things that I cannot find elsewhere, which is not very many.

I have never had a good experience ordering with Amazon, but I heard at one time they were a great company. I have time issues sometimes for orders I place, so working with companies that are reliable are important to me. They can make or break me at times. So my first experience at Amazon was when I placed several orders four weeks ahead of when I needed the items and some items were not as important to me as others. My experience amounted to several orders all having issues, either damaged, wrong items, missing pieces. Amazon did honor everything and did their best to make sure everything I ordered got replaced for the most part, but the hours and weeks it took to get this accomplished is something no business has time to do. Every time they place an order, that part of it was extremely upsetting and very frustrating.
There was one order that never came in right. The description was totally different from what I received and after being sent the wrong item and really putting me in a bind for time, I went directly to the company to replace the order and I ended up having to return that and losing a client job because I didn't have the proper item to do the job. I was very angry. In a month ahead of schedule, this should never happen nor have I ever had it happen in the years of doing business with other companies. So a year later, I decide to give Amazon a chance to redeem this awful experience so I placed another order, nothing I needed fast just I saw some deals, needed some items and placed the order. Fantastic, everything came in great, no issues, no problems. I'm thinking, okay last year was just a fluke situation and Amazon redeemed itself.
So again, a business situation came up and I was in a very dire need, I had to have items as soon as I could and the ones I ordered were suppose to arrive in one week, so here I go. I'm learning when it comes to business orders Amazon is really good at causing you a real big problem. At first one order ended up being flown all over the US twice before it arrived. I was never told why by Amazon, but the shipper was kind enough to tell me they made a really bad error. I'm a stickler for honesty when it comes to business and I was extremely disappointed in the runaround I got at Amazon and what I would call deception to a customer. This made me a bit uneasy, but then the next order again came in just fine. The third order just really made me wonder what kind of company I was dealing with.
I ordered a very important product I needed to run my business. The box had looked used with pen scribbles on it which got my attention. Then I opened it and the description of the product was totally different from what I had copied from the item I ordered (I keep records and photos of everything these days to protect my business). So I'm thinking oh they accidentally shipped the wrong item, but no, the box it came in had the description of the product I did order. Gee, I'm thinking this is kind of weird. So I went to my account and emailed the vendor, for hours they had me on the phone, we started the device and no, it was definitely not the device I had ordered.
So they asked me to ship it back to them and they told me they would do a work around Amazon because they knew they didn't have the device that I had ordered but assured me that they still had the one in the description and they would send it as soon as they received the wrong item I had been sent. So I'm not one to take someone's word anymore after seeing the online scams that go on, and I made sure to take pictures of the box, of the device label that stated the wrong info, the damage (this device looked used and not new and had some damage on it), I even showed other things the device did not have that it was suppose to). So here is where it gets really just plain out of control. They get the device I shipped back and then they stop contacting me to let me know anything, they don't answer their phones, this goes on for a week, and mind you, I am now way overdue for the item I needed for my business. I was very upset.
So I finally called Amazon to ask them what I should do. They say we will take it from here. I was told they too could not get in touch with this company and they would make sure to get me the proper device, and I told them, "Are you sure 'cause I can't afford to wait much longer. This is starting to hurt my business." They told me they would totally make sure I got the right item and not to worry. So they were kind enough to ship it to me in two days and to my shock, I got the very same damaged, wrong item again in a different worn box with the right description, but as before, you open it up and there on the label is the very same wrong description of the device. When I saw the very same damage as on the last item, I became well aware of why I was asked to first return the item, they literally sent it right back to me. I won't say what I think of this, but I was not happy to have my time wasted again.
Within this second ship time, this company also had contacted me and they tried to tell me I had the right device, but I assured them that someone from their company had me turn the device on and it was clearly not the one I had ordered. It seemed to me to be an older model that did not have the updated features of the one I had ordered. She refused to believe me and I told her it didn't matter because Amazon had already taken care of the situation. So as if it can't get any worse stranger things begin to happen. When I make a call to return the second wrong item sent, I ask for a manager. I explain to her I can no longer tolerate the trouble. I'm having to resolve the issue and I explain since we seem to be having an issue here and I can't figure out who is making the mistake, I was going to hang onto the item they seemed to think I should get stuck with that is damaged and not what I ordered to make sure it was not resent again.
This time I was going to order directly from the manufacturer and because they had caused me a serious time issue I would no longer after resolving this issue be doing business with them and I was pulling an order I was waiting for on back order. To pull this order I had to cancel the credit I applied for so then I had to call for that. I placed another new order with the manufacturer, and then the next day I called Amazon to see what I had to do to cancel the credit.
After speaking to a representative, I was placed to a manager for some reason. This woman proceeded to ask me to explain what had happened. I began explaining things and then she asked me to ship back the wrong product and they would try to replace or refund. I explained to her I already tried that and it has cost me three weeks and hours of my time and I felt that I had given them a fair chance to replace the item and they did not correct the problem which caused me a serious issue in time for my business. I told her I had to go elsewhere to try and resolve and she asked me what I meant. I explained that the manager at Amazon I had spoken to the day before agreed I could hang onto the damaged wrong item I'd received until the manufacturer sent me the new order so I could be assured they would not resend the item they had now sent twice. The woman got upset and the line went dead...
This woman hung up on me and now I am noticing that my package seems to be sitting not two hours away for the last three days. I'm assuming I may get another old damaged product now cause they may not want me to have the right product because they know I took photos. I do know the right product exists because I've read recent reviews and I was also told by the manufacturer's representative they do have this item. I'm just afraid I said too much and now they want to cover their butts and I as the customer will never receive the right product.
In the instant of false descriptions, I have also learned Amazon will only briefly take down the product only to put it up somewhere else or after a few weeks go by. I also have found that Amazon places "New" descriptions for in particular, electronic products that are refurbished or hard to sell items and I feel the hard to sell items may be why you hear people stating they get the wrong item twice. It maybe some customers don't care or don't notice and maybe this is how they've found they can get rid of them.
At any rate, customers need to make sure they report these issues so more companies don't follow in Amazon's footsteps. It is not right to falsely advertise, nor is it right to intentionally send a customer a wrong item twice in a different box and as much as I feel Amazon has a great deal of great products on their site, to go through this and to waste so much time in a day is just not worth it when there are good, honest, reliable companies out there that treat their customers the way a customer should be treated. I will pay more money to be treated right by the people I do business with. No one wants to buy something and get something else and then have a company not understand the strain it can cost a business. I will have to buy elsewhere unfortunately if the manufacturer lets me down on this third order, and again wait more time before I can operate.I don't support deceptive business practices and it's a real shame Amazon operates this way.
The concept of Amazon is truly amazing, but it's definitely a buyer beware hit or miss situation from what I have experienced. It's cost me in losses more than what I saved by not going to a reliable company to purchase my items. I didn't want to blame the manufacturer if they are not to blame, but it is possible this is a totally cover up of both Amazon and the seller, I'll find out when my third order arrives! I may be having to visit my local store if it turns out to be a total deceptive product description. I won't hesitate to send it back AGAIN. I'm only writing this to warn others in case they have had the same issues. It's the only way I know how to protect the consumer because consumers rights seem to be failing in the online retail marketplace and no one seems to care anymore. It's not right and I wish someone would start to protect consumers again like they used to.

On Sept 25, 2016 I was on facebook and saw a ring that I just HAD TO HAVE, so I then opened an account with AMAZON.COM. I then placed my order, paid for it with my debit card that I receive my paychecks on. In October I began to wonder where is my order? I then emailed STUFFNTHANGS who is the seller of the ring and AMAZON who is shipping my order, in regards to my purchase. Amazon informed me that my order would be shipped to me through the USPS, gave me my tracking number, my order number, all necessary info needed. Well as it turns out the tracking number was not good, it could not be located. That is what UPS told me when I called them. They then informed me that the tracking number was a postal tracking number not a UPS tracking number. So I proceeded to call the number I received from UPS for our local postal service...
The postal service then told me exactly what UPS told me, the tracking number was invalid and couldn't be located... I have since sent NUMEROUS EMAILS to both companies, I sent a email to Brian ** on Nov 10, 2016. I've actually sent Brian more than one email. Needless to say, I don't have my ring nor a refund as of November 14, 2016. I went from being extremely excited to absolutely disgusted and disappointed in both AMAZON AND STUFFNTHANGS...I will DEFINITELY NEVER HAVE ANY FUTURE DEALINGS OF ANY KIND WITH EITHER OF THEM.

I'll go ahead and copy and paste a previous post since it is my identical thoughts and I need to get going with my day after arguing with Amazon again, pointlessly. But I will add that they do not honor any credits. Their top customer service supervisors claim they are going to put on your account for your horrible inconvenient experience with them where they just flat out DO NOT deliver what they say they will do. I am a small retailer and have always wondered how long it would take before Amazon started to crack. In the beginning they were on point. You would think as they raked in millions from Prime members like me they could hold it together. Not the case.
My copy and pasted review: "I have been a Prime member for more than 5 years. Amazon has gone DOWNHILL this past year. I will not waste another dime of my money with this unprofessional, unethical and downright rude company. Worst customer service and even worse supervisors. No point of being a Prime member anymore. This year has been horrible when it comes to deliveries. 2 day free shipping? Forget it! More like they will lose your items in transit, they will push delivery 4-5 days out and when you call to inquire, they are rude, condescending and impossible to deal with. Worst customer service ever. Supervisors don't know a CLUE of what they are doing, the customer service reps are like robots. They agree with everything you say but don't resolve anything. WORST!"
Oh, and they play games with your cart. It is better to order each item individually. Grouping ends up in a cat and mouse game of what they will include in "prime" shipping and what kind of money they try and get for expedited shipping if they suddenly determine that the item is no longer Prime eligible, which they do within minutes of adding more items to your cart.

I traded in some items with Amazon. Amazon wrote me on 11/7/2015 to say items were being returned because items were unauthorized copies. I called on 11/12/ 2015 to see when I would get items back. I was given all types of different stories. They could not provide me with a tracking number for the returned items. I checked UPS online and the items that I sent were showing never being received by Amazon. I called UPS several times and they told me items were in OHIO and that Amazon needed to call them to initiate a trace on items. He said if Amazon said they received them then that's all he had to go on. He said he could not do anything for me because he worked with Amazon because it was their label I used even though it was my items I sent. I called Amazon back and spoke to their Senior Member and she had not returned tracking number for me. She said I would just have to wait and see if I get the items back.
I told her that was very unprofessional. She did not seem to care and was very arrogant. So that is the story. I have 4 DVDs gone. UPS cannot help me because I used a Amazon Label. Amazon refuses to either give me my gift card for items or give me a tracking number for returned items. They say they sent back to me. So I sit and wait for what? I don't know. I have no tracking number and Amazon's top official as she calls herself refuses to help. In the meantime I cannot get my money back from the people I originally purchased the items from. One being Amazon's rival a top DVD distributor and the other being an online market. However, I am sure when this top DVD distributor hears that Amazon is saying quote on quote they are selling counterfeit items they will get a laugh just like me, especially since UPS still shows online that items were not received by Amazon in the first place. However, after the laughing I will be contacting an attorney.

I have had some bad experiences with Amazon lately.
1) I just realized that I have to pay a higher total price for specific items than I previously did. The sole reason is the invention of "Amazon Pantry," which is a service that requires a flat rate shipping cost on-top-of the cost of Prime. I won't go into great detail, but certain items can no longer be purchased unless you do so through "Amazon Pantry." This mechanism undermines the value of existing year-long Prime memberships, which is why (as a current year-long subscriber) I will not renew my year-long membership. On a positive note, Amazon now offers monthly Prime subscriptions. However, these monthly subscriptions are a terrible deal compared to the original year-long Prime subscription.
2) When going to Amazon websites I always get a pop-up for Amazon Assistant. The only options are "Install Extension" or "Not Now." Where is the button for "Never" or the option within my account settings to never bother me with these kinds of blatantly obvious attempts to advertise to me? As a paying subscriber, Amazon does not even afford me the right leave me alone.
3) I called Amazon about the previous matter. From the background noise and the Amazon representative that I was talking to, it was obviously a call center of Asian ethnicity. Furthermore, there was never any indication that the representative knew what I was saying. She just used memorized phrases and responses to end the conversation. Also, she promised to send me an email that would resolve that one very quickly, but I never received any email.
4) When you regretfully need to contact Amazon over the phone and you do so through their website, there is a button labeled Call me now. They call you immediately but put you into a queue. They know how to have a website-based call request button, so what exactly is preventing Amazon from calling me when they actually have an available representative? 4a) They do not know how to properly use the technology available in this modern world. 4b) They really want me to get pissed off and waste my time listening to their terrible elevator music. 4c) They would really rather that I hang up and give up than to solve my problem.
In any case, am I supposed to be impressed by my experiences with Amazon?

I have bought initially a stationary bike from Amazon which had bent right foot. Returned it after complaining then bought another expensive 575 dollar bike and it's giving me problems since the day it arrived and as a customer I should not have to go through this especially if I have bought this bike three weeks ago. Now I'm on the phone to speak to the manager and they keep hanging up on me. I don't know what to do.
Amazon.com Company Profile
Company Name:

Amazon.com

Website:

https://www.amazon.com/