Consumer Reviews and Complaints

It's very simple. I bought an air mattress that will not stay inflated! I just want one that does what it's supposed to do! I was told it's seasonal... People buy these all year round, for guests in their home. This is what I bought mine for. I'm not shopping at Walmart any longer.

I was approved for a Walmart credit card a few years ago for $400. I always pay on time and pay extra. My credit limit even went up to 500. Well, my Credit Karma showed an alert that they had lowered my limit to 380. This greatly upsets me because for one, they did not give me any notice and two, I have always paid more than minimum balance and I even have paid extra payments. If this is how Walmart rewards their loyal card holders that make on time payments, then I will not be using the card nor shop there any longer. When I called and inquired about this the girl could care less and told me based on my credit history they lowered my limit. I said what credit history? I have always paid on time and paid extra. I was outraged. My credit cards have always given increases not decreases and because of this it lowered my credit score. I worked hard to get this balance down and now it is showing an available balance of 12.00.
I am outraged. They are running a scam and if my credit balance had been $400 and they reduced it to 380.00, they would have charged me an over the limit fee. This should be illegal for them to lower my limit after they approved me for 500. Especially if I pay on time and they did not give me any notice of this change. I will be paying it off and I will not be shopping at ** Walmart any longer. Target will be getting all of my business for now on because they doubled my increase on their credit card. Good riddance trashy Walmart, you should be ashamed how you treat your loyal card holders.

I have herniated disc in my back and it's very painful for me to walk. I have to use the riding chairs. Every time I go to Walmart there are not enough chairs. I don't understand this. As much money as Wal-Mart is making why they can't keep more chairs for the disabled.

I ordered a shovel online for store pickup and never got an email that the shipment was ready for pickup. Tracking says it was delivered to store. Called the store, they couldn't find it. I waited for a few more days and called them up again, and still no word. Finally decided to call their customer service, who said that the product must have gotten lost. So a replacement was ordered. Not surprised that they lost the replacement as well. They are issuing a refund, but what a waste of time.

Customer service is terrible, and Walmart still has not resolved my issue I filed before about being treated unfairly, and rude customer service. I lost $450 cause of Walmart and they have done nothing for me yet! It's been almost 2 months now and nothing. Walmart has no concern about their loyal customers and the way they are treated at stores by employees. This is sad and unprofessional Walmart!! That's why Amazon's customer service is rated one of the best, cause they resolve your issue right away, and go above and beyond to make sure that doesn't happen again, and really treat you like a valued customer!! Walmart lacks all of this and more!! You just lost a loyal customer Walmart!!
How do I know I can trust these reviews about Walmart?
880,156 reviews on ConsumerAffairs are verified.
We require contact information to ensure our reviewers are real.
We use intelligent software that helps us maintain the integrity of reviews.
Our moderators read all reviews to verify quality and helpfulness.
For more information about reviews on ConsumerAffairs.com please visit our FAQ.

I was checking out at self checkout. I was purchasing an ice bucket, and had been painfully accurate in checking the CPM (cost per measure) of the item, and the code. All info said the item was 7.97. At the checkout it rang up at 14.75. I called the cashier over, and explained the error. She credited the item back, and walked away. I am sure all customers are mischarged every day, that is why the items no longer have pricing on most of them. Beware of Walmart mischarging, especially at the one in Milford Connecticut.

When purchasing an electronic device from Walmart.com wouldn't you assume it was coming from Walmart and if there were problems with it you could return it to Walmart. Be aware that that is not always the case. I purchased a Leapfrog Lead Pad and did not realize it was coming from a third party (AV Electronic Solutions). The package arrived without a packing slip and it was used; there was no instructions in the box and the accessories were not properly packed. So I began my efforts to get a new and unused one. I went back and read the small print on the order. For all problems, exchanges and returns I was directed to the third party. The third party's, AV Electronic Solutions, phone number lead me to a voice mailbox that was full. I contacted Walmart.com and was told I would get a call back within 2 days from the vendor.
A week later I called Walmart.com again. Please note that the service from Walmart.com was excellent and I received a full credit for the item. However, It took a lot of my time to get a resolution and they could not confirm that they would no longer be using the vendor. The purpose of my story is to let you know to be careful when ordering electronics from Walmart.com.

A couple days ago I ordered a short sleeve and a long sleeve shirt from Walmart online. The sizes were XL on both items. Not many days later I received the items with no labels, no price tag and 3 sizes smaller than needed. I tried to return them at the store and I was told that these items are not returnable to Walmart at the store, only to the third party merchant because Walmart doesn't have these items in stock, they are coming from a third party from Indonesia. Walmart does not have a note about this on the website, so there is no way that I could know this. One item was $11.95 and the other one cost me $12.95. What will I do with these items? No idea. Never buy anything online from Walmart anymore. I kept the toilet paper and duffle bag ordered in the same time, but the 2 shirts are useless. There was no receipt in the package.

I bought a computer keyboard ($20) and while exiting, the sensor buzzed due to my cell phone. He told me to open up the box and I told him he could do it. It's sensitive, and I can't and I told him to do it. He did and saw the receipt. I told him not to remove the receipt and just look at it. I told him he made me feel like a criminal and he said you shouldn't, as there are many petty thefts. I told him I'd never go to another Walmart again. Walmart treats customers like criminals and this needs to stop now.

I ordered online for pickup in the store a set of square, everyday dishes, 12 each of the salad and dinner plates. Half of my order was delivered last week, but was only going to be held for 7 days, so I had to drive down to the store to pick them up before Walmart returned them. Then I got a call yesterday saying that the remainder of my order was cancelled, but another piece of the set had arrived if I still wanted it. Then they said the 3rd part of the set was still on backorder. That means THREE trips to pick up a set of dishes? I will never use Walmart's in-store pick up "service" again. What a waste of time!!

When I need items like batteries, a can of vegetables, light bulbs, a pillow, a printer cable, a fan, a bottle of vitamins, or just about anything else that I might need, Walmart usually has it in stock at a local physical store. Even more substantial items like furniture, electronics, and appliances are available there as well. In my opinion, having a huge selection available for immediate pickup after a short drive is very convenient. If I buy from an online-only store, I always have to wait several days for delivery, I can't really see what I'm getting before buying it, I run the risk of getting counterfeit items, and items may be defective and/or even dangerous (e.g., I had a generic cable melt in my computer).
Should I have to return something for some reason, if I buy at a physical Walmart store, I simply return it there for a refund. Returning something to an online-only store is not easy at all, and frequently it's not even worth the expense or hassle. If convenience and selection are not enough, Walmart's physical stores have a price match policy. Walmart aspires to be a major player in the online world as well, and online stores aspire to become dominant in the physical world. In the future, the distinction between online stores and physical stores will blur; however, for now, Walmart is the top dog.

I first placed my order on August 1, 2017. Waited the estimated delivery time and then started making calls to find out where my order was. I was told there was an error in the system and they were working on it. So I waited another week then I get an email that my order was canceled. I call again to find out what was going on and was told the item was out of stock. I ask to speak to a supervisor and was told by her that the item WAS in stock. She told me I was able to put in another order and she assured me my order would be processed and shipped. So I placed my second order on August 21, 2017 that was to be available for pickup on August 25, 2017.
That night I receive an email saying "We're sorry your order is delayed." I call again today (Aug 26, 2017) to speak to a CSR Karen, Supervisor Chan, then transferred to a corporate manager Ursula. Again I'm given one of the stories from last time that there was an error in the system but the item IS in stock. I was told the fulfillment team is working diligently to resolve my issue and get my item shipped out! So now it's been near a month that a little girl has been waiting on a bed, and all I've gotten is a bunch of excuses. And Walmart wants to partner up and take over Amazon!! Let's try to process and ship out orders without excuses.

I am always glad when I am at Walmart. I get the customer service, product variety, & prices that are very good. I always find the best values at the Walmart Superstore near me.

Received my ordered today from Walmart with delivery from FedEx. The item was a comforter and instead of being shipped in a secure box, a bag was used. The bag had been damaged, the comforter was ripped and the stuffing from inside the comforter was hanging out the bag. I called Walmart (the first time) and a replacement comforter was professed and a return label was sent to me via email. I was told that I would have to schedule a pick up time from fed ex. When I called FedEx, I was told that I did not have the correct label and I would have to contact Walmart again. This was only after I had been on the phone with them for 25 minutes trying to resolve the issue.
So I call Walmart for the 2nd time, an agent named Shi tried to answer the call while giggling about something else. I was not amused at this point. She didn't comprehend my issue and began telling me that my label had not expired. I not FedEx ever said it did! I clarified again and even said, "if you'll listen" and explained that FedEx said I needed a "pick up" label. She tried to tell me there was no such thing and I needed to contact them back to tell them I had the right one. After 25 minutes on the phone with her and VERY frustrated, I asked to speak with a supervisor. Guess what? More holding... all because of two incompetent businesses.
I spoke with the supervisor and after 40 minutes on the phone with Walmart on the 2nd call, I was given the correct label. Lesson I learned... If you've ever had an issue like this with Amazon, then you know how EASY and amazing their return process is. Walmart you need to take heed and learn from them while you can. Packaging your items to be shipped is highly recommended too! Oh and you might want to ditch FedEx because their service is poor too as I've reviewed them today too! UPS... WAY BETTER! Had to give a 1 star but wanted to give a negative. I will try to never order from Walmart.com again. HORRIBLE!!!

I've been shopping at Walmart Supercenters for groceries for years. It used to be a real good bargain and had a good overall selection. Now the Bananas are usually too ripe and if you want fresh produce that needs to stay cold such as vegetables, you only have a few things in small amounts to choose from. I use to also find the prices here much cheaper than at the other grocers but not anymore. Walmart quality has really gone down over the last approximately 5 yrs while the prices have risen. It is not unusual for me to go into the store and the shelves will be bare. I'm not against Walmart, it happens to be my source of grocery shopping for about 20 yrs now so I have seen the change first hand. I do not shop at other grocery stores to survey. I really wished Walmart would take PRIDE in its grocery department again.

I ordered 2 Michelin 145/45-17 tires and received Firestone 2 265/55-16 tires. I contacted the seller as Walmart said and I was told Walmart screwed up the coding on the net. I have sent 4 emails to Walmart and Custom Wheel Outlet ME. After 3 weeks still no help with getting the tires I ordered.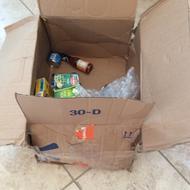 Never again will I order canned products from Walmart, online. They are not adequately protected, and 98% of them arrived dented. I have had to pack them up, haul them back to the store, stand in line at customer service, and go through the hassle of returning them--all, because Walmart could not take the time to protect the canned items during shipping. The packages arrive with the canned products literally thrown in and falling against each other during shipping. On my last shipment, there was shipping tape wrapped around the box, presumably by the shipper, because the box was falling apart, due to the loose items, inside, wrecking havoc on the box.
After experiencing this three times, the point has been drummed into me: their online grocery shopping is not important enough to warrant good customer service. NEVER order canned food online from Walmart. As if receiving damaged products were not enough, the customer service rep was rude and had the audacity to ask me what I expected, ordering them online, as if it were MY fault! Seriously?

Ok so I place an order for just over $250. What does Walmart.com do? They place a hold on my card for the total amount of the transaction, then they charge EACH INDIVIDUAL ITEM AS THEY SHIP, WHICH WERE ALL SHIPPED SEPARATELY!!! This put my account into a negative balance, which caused me overdraft fees from another unrelated transaction. When I called, they explained that that's how they do it, and that once the last item from my order ships, the original charge/hold of the total amount will reverse and my money will be restored. HUH???!!!
Meanwhile, I'm in the RED!!! They are keeping my $250+ on hold until the last item ships At the same time they are re-charging me for each item and I have to stay in the red until whenever they decide to ship my last thing!!! Whyyyyyy did I ever shop here???!!! Back to Amazon for me!!! (Btw, after some research I can see that I am not the only one they have done this to, and I'm not the only one who's angry about it!!!)

Walmart Thacker Ave Covington - Purchased two tins sardines. Opened tin sardines in water, no water sardines. Appeared burnt, desiccated, dry, black looking. Brought tin back next day, told them of bad sardines. They did not even look at them and asked next day but these tins were still on shelves.

Ordered a battery and somehow city and zip code was wrong when shipped. I saw it on the email confirming shipment, but first the email is a DoNotReply address and when you send it to the vendor email, they do not respond. Sent several emails to Walmart and the vendor without response. Ignoring the customer is the worse thing they can do. A week and no reply! Be very careful when dealing with the Walmart online purchases. They are trying to be like Amazon, but Amazon has no worries with this type of service. Time to call my credit card company.

I have a 20 gallon tank. I only had 3 danios and 2 mystery snails so I decided to get 5 Glowlight Tetras and 3 Corydoras. Well, the person who got the fish out was unprofessional. Let the fish be out of the water for longer than needed, and was rough. Needless to say, 22 dollars down the drain. I'm never using them again. And they wouldn't even eat food! They probably have never seen food in their lives. Oh, and there were tons of dead fish that weren't cleaned out. Funny how my Danios are still thriving and alive and EIGHT fish from Walmart died in 1 day while my 5 from Petsmart are doing business as usual. Sad day for me and those fish!

I went to Walmart on Broad Street in Fuquay Varina NC last week to have tires I bought from them online - mounted and balanced. I had called them and they gave me a price for mounting and balancing. I got there and the service bay was relatively empty. They put my car in immediately. I waited two long hours for them to get done and then they gave me the service charge and it was 25% more than I was quoted on the phone... I pointed this out to the service manager and he said it was the new guy's fault because he was in training... Whatever happened to managers being responsible for training employees properly? There was no apology for the stupidly long wait or the misrepresented price for mounting just: "Too bad for you" - "I'm not responsible" - "It's somebody else's fault..." That was just the beginning.
The following day I was doing some accounting and realized two days before while I was in Raleigh I left some cash ($550) in the center console because I didn't want to carry it around in my pocket while I was downtown getting lunch. I didn't get home til late that night and forgot about it being there... The next day I went to Walmart. Now it's the day after the Walmart visit... I immediately went out to my car to get my money out of the center console (which is an enclosed box with a lid) and discovered the console had been gone through.
I keep things neatly arranged in it so I can find them if I am driving and need something but everything was messed up and my business cards were spilled out of the box I keep them in. I realized then someone at Walmart had gone through the console and taken my money. It was too late to have the police search the tech that worked on my car. No wonder he had such a weird look on his face when I got my keys from him... Bottom line: the worst service in the world... Without a smile... CAVEAT EMPTOR!!!

Walmart online and phone customer service is one of the worst. I place an order that was should of been deliver in 2 days that never got ship. So I contact them in order to find out what is going on. They tell me that their systems has an error that my order did not go through and the only way to fix it is for me to cancel my order and reordering it all over again. What I don't understand is that the error was from their side and they can't fix it. If I cancel my order and reordering it, it would make it seems like it's my fault and I fix my own problem. I even ask them to tell their IT to fix this but they keep just tell me to cancel my order and reordering it.

My credit card statements reflect numerous incidents of double charges at the West Palm Beach, FL Walmart over several months. I'd go and spend $x and the same day, another charge for $y would appear; different amounts right after each other. First I tried calling the store manager, was told he wasn't in and that I needed to speak with customer service. Transferred to customer service, the gal answered. I could hear the clerks talking, then I was hung up on. Called back dozens of times over 2 days and never got to speak with another person!
So I called Walmart corporate customer service. "Troy" set up trouble ticket and messaged the store manager to contact me immediately; said he could look up my name/charges/signature to see what's happening. 10 days have passed and I've not received a return call. Contacted my credit card company who identified 7 total dates of 2 different amounts charged on the same day; credited my account and overnighted a new credit card to me. I'm still to call Walmart's corporate 'electronic payment hotline', which Troy had told me deals with credit card transaction issues (they have so many, they need a hotline for them?). I don't expect excellent customer service from a Walmart level store. But I do expect a manager to care when credit card fraud is occurring repeatedly in his store! Over $400 in improper charges identified.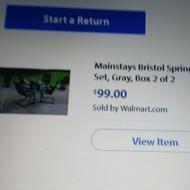 I ordered an end of season smaller size 5 piece patio set (table and 4 chairs) listed on their website for $99. I received my confirmation, a few days later received update that items were shipped, and later received my order. Order was to have two boxes of course, one with table and other with chairs. I paid to have the table put together thinking the shipment had been divided and called to check on my chairs. Through chat and online both I had very rude people helping me. Chat wanted to pick up my table and have it returned to them as apparently there had been a mistake on their website made by them. I then called customer service, gave my order number and ask him what it was I was to have received based on my order. I was told a 5 piece patio set, table and 4 chairs. He was correct at that. Then after checking into it he admitted the ad was wrong on their website, and they had discontinued the ad till it was fixed.
I told him I ordered and paid for the 5 piece set they had on their website at that time a few days back. He said he understood however they could not send me my chairs. I would need to return the table through the mail and they would then credit me for the table, then I could reorder once they had the problem corrected on their end. I told him we could not tear the table apart, box had been destroyed as well and we paid 30 dollars to have it put together, just simply send the chairs as promised in their ad and all of their confirmations. At this time, I had no more patience. My husband got on phone and ask him how could they justify sending a truck to pay postage to pick up a assembled table instead of just sending the four chairs as their ad stated at time I ordered. This is simply amazing that people can be so stupid.
I have documents that show it was a five piece set and the price. If this ad was wrong they should have caught it prior to table ever being shipped out. If this is the way WALMART conducts their business I have no interest to patronize them ever again. I guess I will place the assembled table in the driveway with hopes they send a trucking company to pick it up. In the meantime I have contacted my credit card company to dispute the charge as god only knows where this table might end up at. Such terrible customer service. Honor your prices on your website.

Placed an order online for 4 basic items (coffee, baby **, garlic powder, dish soap). I chose items that were "in store". I ordered the items on Tues., Aug 15.
1 item was ready then and the other 3 would be ready for pick up after 6 p.m. on Thursday, Aug 17. My husband went to the store (26 mi round trip) on Friday, Aug 18, 2 p.m. Guess what? The items were not there! Can you imagine a Walmart SUPER STORE not having Equate-brand baby **?? or Folger's coffee? I have an email from Walmart stating the items would be there after 6 p.m. on the 17th. BIG FAT LIE. So DONE shopping with this LOSER company. Back to Amazon. They are worth the few extra pennies on each product.

Ordered groceries on July 3rd 2017. I received two emails. First email was to confirmation that my order was received, by Walmart but not yet processed and that if I needed to make changes or cancel anything that I had to do so by a specific time. The second email that almost immediately followed was to inform me that I should be expecting separate deliveries. All this would have been alright with me if I knew that I would be getting EVERYTHING I ORDERED even if I received them separately. I have my reasons for getting assurance that everything I ordered will be delivered. I will mention those reasons later.
On July 3rd, according to my debit card statement, a debit on my account for $100.65 appeared for this order. I called Walmart MINUTES after receiving those emails and seeing the debit on my account. I spoke with four different people concerning the separate orders, informing all four of them that I wanted EVERYTHING ON THAT ORDER and WHY, or I would have to cancel the entire order.
I was still holding on the phone waiting to speak to someone who could respond to my concern, when I received a third email informing me that an order had already been shipped. Never mind that I was given a specific window of time to cancel. My time frame was spent holding on the phone for one of the four employees already involved to give me the response I needed to my ONE simple concern: Will I be getting the ENTIRE ORDER?
Finally, someone comes on the phone and tells me that a partial shipment had already gone out which I already knew when I received the 3rd email. While I was still on the phone, I informed that employee to cancel the entire order. She said "Ok, but since the order had already shipped, when I receive the package from FedEx, just send it back." Again I informed her to cancel the entire order and hung up.
I received a fourth email confirming cancellation of the order but that some items had shipped. I responded to them again informing them to cancel the entire order. That's twice. I received the email confirming that my order was cancelled. On that very same day (July 3rd,) my debit card statement showed a credit for $39.77. Walmart processed my payment of $100.65. I called them up again. They informed me, (after being routed to four different people again) that $39.77 was the amount of the purchase that was already shipped and that my account will be credited when I returned what was already shipped. I said that was fine.
If that was true, why was my account "credited" the amount of the shipped items? Why was the dollar amount of the items that were cancelled not credited, which would amount to $60.88.
A third grader would have figured this out. $60.88 plus $39.77 equals (=) $100.65. (The amount debited from my account INSTANTLY.) So Walmart's second mistake was crediting the incorrect amount. I should have received $60.88 right away because the order was cancelled. I would have waited until they received the package (that I have neither seen nor touched to this day) to see the entire $100.65 back on my account.
On July 5th, the delivery guy from FedEx appeared at my doorstep. I was expecting them. They never even knocked because I was outside waiting for them. I told them that I was neither going to accept the package nor sign for it. I didn't. The guy said "Ok, no problem, I'll take it right back." On that very same day my account showed two "credits". One for $96.34 and a second "credit" for $4.31. This $4.31 was tax according to the email I received listing the items ordered and the total.
Is this even legal? First, an incorrect credit was made by Walmart, then two more credits were made separately. These two credits added up to the original debit of $100.65. So I ignored it. I got my money back so I did not care. I had to make another online purchase with another store and move on with my life. Or so I thought. This nightmare had only just begun!
On August 9th, HORRORS, a debit for $60.88 from Walmart appeared on my bank statement. Sound familiar? Almost two months to the day I made a simple online purchase, I am being charged for an order that was cancelled, refunded after my time was wasted talking to by now, eight different people, and my account was criminally accessed by Walmart. I did not make any purchases anywhere (online or otherwise) nor did I leave my home on August 9th.
Back to the dreaded "Walmart customer service" phone calls and fury I was already going through, not to mention the stupidity of having to waste my time UNNECESSARILY waiting for eight more people to do something about this 3rd grade issue. There is no excuse for this incompetence that even a child can resolve. Are these employees seriously getting paid to work?
I made the call to Walmart on the 9th, spoke to a Marla, a Darlene, a Joe, and finally to someone who calls himself Fredrick, "a supervisor". This one was a real hero. He sanctimoniously continued talking down at me while I was trying to explain that my money was entirely refunded and I had not made any other purchases from Walmart. I did not go through explaining about the three different credits erroneously posted to my account on July 5th. They charged my account $100.65 on the 3rd. By July 5th, I should have gotten a credit for exactly $100.65. Period. I did not have to spend any more time talking to Walmart incompetence, nor spending time writing this review. But as you can tell, my fury from this idiotic issue has not ceased.
On the conversation Fredrick had with me, (I was not allowed to speak and was unceremoniously TOLD) that the charge for $60.88 was because I never returned the items I ordered on the 3rd of July. I tried unsuccessfully and repeatedly to explain that Walmart shipped only a partial order that I never received nor signed for, and that the amount of $60.88 was refunded already on July 5th. Even If this was true, they should have charged me for the $39.77 for the items that were shipped as I was cancelling them on the phone) and not $60.88. But no, Fredrick stated that I would receive a credit in 5-7 days (from the 9th of August). It took talking to four people before I was informed that my money was going back into my account but that I had to wait another week to get it.
On August 16th, (7 days passed and my money was not returned,) at 6:07 pm I called the Walmart customer service and went through a Jenny, a Sheila, a supervisor named Ben and finally since the "supervisor" couldn't fix this, I was given over to a Brandon in "corporate" who advised me that he would refund my money in 3-5 days. I told him that was almost exactly what Fredrick said on August 9 and asked how I would know that this was going to be taken care of. He said he would send me an email confirming it.
In other words, what Walmart is telling me is that I stole those items upon delivery. If I did, why then would they refund the entire $100.65 on July 5th? And why wait until August 9th to criminally charge me for $60.88? I'm a now smarter consumer because I will NEVER EVER come close to a Walmart again. I would spend 3X the amount of whatever product I buy, before I ever go there again.
Now I want my $60.88 and not 3-5 days from now. I want every penny back plus I want Walmart to pay me $60.88 PER DAY from July 3, 2017 to August 21, 2017 (3-5 days from August 16) for this harassment, fury, time wasted, my account accessed without authorization, trying to speak to anyone who had a brain that works at Walmart. Please look into this horrible insufferable experience that will never happen again to me. You should have my name, address, and phone number regarding this review. I would appreciate it if someone gets back to me regarding this disservice.

This has been one disappointment after another. I ordered a ladder on Aug 1, 2017. I've been lied to over and over again. After calling numerous times I've received nothing. I guess Wal-Mart does not care about their customers. I guess it's time to find another store that will treat their customers the way they should be treated with respect. Shame on you Wal-Mart. I hope you go out of business. Sign no respect for you.

I purchased a Walmart money card on August 1, 2017. Registering it was a nightmare. People in a foreign country who have difficulty in understanding what you are saying and you are having just as big a problem with their English. I DON'T receive mail at my physical address but these people refuse to allow me to give them my post office address. Finally, after a great deal of discussion with them I relented and gave them my physical address and later that day received an email stating that my card has been sent. This is now August 14, 2017 and it still has not been received at the office of the resort where I reside. I call the number on back of my temporary card and ask nicely three times to speak to someone in the United States. They refuse to transfer my call back to the United States and instead put me to talking to another of their countrymen. He tells me that the card was sent and received. If it had been I would not be calling.
I put my husband on the phone because I am ready to freak out since we have recently been battling identity theft. The man tells us he is cancelling the card and we will receive a new one in 7 to 10 business days. Again we are told it will not be sent to our post office box but rather sent out to our physical address. In the mean time, all my automatic accounts that were to draw off that card are now going to be cancelled because they can not get their funds. I also can not draw the cash off the card so I am just at the mercy of Walmart for over $100.00 in cash they received from me in the first place. I worked for Mr. ** and he would not have done his customers this way. I want to hear from a person at corporate in Bentonville about how they are going to take care of this matter if this new card also disappears.

This has happened twice (it will NOT happen again!). When making a purchase online, I realized the delivery date, shown at check-out, would not work. I immediately canceled the order, and followed up with Walmart "chat." It seems they cannot actually cancel an order, but say one should refuse delivery... I knew I wouldn't be around (that's why I had to change the date!); unfortunately another person signed for it. So now I have to take this very heavy, large package to a delivery center, after re-packaging into one box (I only got one label; shipment came in two boxes. However, here's the issue: payment was immediately taken from my account. Returns take as much as a month to process, which means Walmart has my money for that time. Multiply that by many, many customers, and they're making a pretty penny off the float! The system is designed to capture more $ from consumers. That is wrong.
Company Name:

Walmart

Website:

http://www.walmart.com/