Consumer Complaints and Reviews

When the Walmart store in this area first opened it was a real blessing. Eventually, other businesses in the area started to fail and finally, closed. Now that there is nowhere else to shop Walmart has gone downhill as well. The selection is terrible, and the quality of items has turned sour. Especially in the clothing departments.
Customer service has also gone downhill in a big way. I once waited over a half hour for someone to come and assist me in the bicycle department, finally leaving because no one could be bothered. One of the cashiers called and called for assistance to no avail. I had a woman in the infant department, I believe the department head, that wouldn't even begin to try to get me a price on an unmarked carseat. She told me that it must be the same price as another seat which was nearby that was clearly a better quality, more expensive seat. Needless to say, I left with no carseat that day.
I feel like the people of this area are being taken advantage of and being treated poorly because of the fact that places to shop are so limited here. Half of the time I can't find what I am looking for, simply because it isn't in stock anymore. You can forget about finding any decent shoes. What has happened to the quality at Walmart?
I used to be able to go to the ladies department and find something that I actually liked. Now selection is geared toward the really young and the old. I'm 33, and I'm no teenager but far from old. They call the Walmart here a Super Center, I fail to see anything super about it.
I'm not saying that there are no good workers at our Walmart, There are many cashiers that I find very courteous and friendly. It would be nice, although, if you didn't have to hunt someone down to get questions answered or to get something off of a shelf that is too high to reach. I know many people who share my feelings about the way Walmart has become, and many of us are considering paying a little more elsewhere to get the service and quality that we prefer.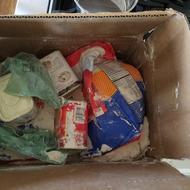 Packaging they use for products is terrible - they put hard and soft products together with very limited packaging to protect one from the other and not enough to prevent all the items from moving around in the box. The result is the soft products get destroyed (in my case a bag of flour). 2 day shipping never happens. Best I've had in the last few weeks is 4 days and has been as long as 6 days.

I have an online order come to my home often and usually I am very pleased. My last order was incomplete and I tried to call the 800 number. Totally useless. I sent an email but who knows how long that will take to be answered. There is no drop down menu for incomplete order. It's all great until something goes wrong. I have never had an incomplete order from them before and anything I ordered but didn't like I returned to my local store. I am really not happy with Walmart online. Also in my most recent order not only is an item missing there was a hole in one item and a pair of jeans that are two sizes too small than what the label says. Time to say bye bye to Walmart online!

Never buy from Walmart.com like me. I purchased a laptop from the website for my boyfriend. I figured that buying from Walmart was good because if there were any problems I could just take it back to the store and get him something else. So even though Amazon had it cheaper, I bought it from Walmart. It came quickly and shipping was free, however, this computer didn't look to be good for my boyfriend. I went to return the computer to the store and they told me they couldn't take it back because Walmart subcontracts to these third party vendors, and told me to call the Walmart 1800 number. So of course I did because this was a $240 purchase and I wanted my money back.
They gave me the name of the third party which was Deal Clock and gave me the email and phone number. The phone number was wrong and I emailed them because I wanted my money back. They told me that right off the bat, they keep $20 because I'm returning it. Then they tell me that I have to pay for the shipping. So now I'm really angry. First of all, Walmart doesn't really openly advertise that they subcontract. You buy from them for the convenience of returning. Next, if they are affiliated with this vendor, then shouldn't they have to take it back? This whole thing is a scam but I WILL get my money back because this is a huge scam.

Approximately 2 days ago- February 3, 2017. I went to the WalMart Store in Rancho Cordova, California. I was going to buy several items and figured I would get store credit for my Christmas gift (a green curtain with gold trim). I had already purchased the curtains that I wanted and did not want or need the green curtain. While standing in line- I decided to ask a manager about store credit or if I could trade item in for some other items (I needed 2 smoke detectors and K-cup coffee pods for my husband's business- I was going to spend 150.00). To which she replied as of last week there is no more store credit.
Also, unbeknownst to me, the new policy for the store is- You must have receipt or know the exact date and time of purchase- in order to get a refund. I was not going to get a refund. It was a gift to me and my sister did not want me to know how much she paid for the item so she did not give me a receipt. She is also going through personal issues and could not remember the exact date and time of purchase. Manager (I now believe her name to be Tasha) told me I could only get another curtain of a different color and nothing else. I told her I was unaware of new policy and they DO NOT have signs up stating new policy. She proceeded to keep my curtain and my money. I needless to say did cuss at her at that point and called the corporate office same day.
Several hours after the incident on the same day, I ran into an employee that just got off of work and the person stated that they were saying that I stole the curtain. I HAVE BEEN GOING THERE FOR 11 PLUS YEARS EVERYDAY SINCE THEY OPENED DOORS. HOW DARE THEY SAY I STOLE FROM THEM. I called back the corporate office to add an addendum to my original complaint.
Yesterday, February 4, 2017-- Tasha called me and told me she saw the video and that she did not see the curtain being left behind. She took it from me!!! She also told me that they were going to put up a sign for future. She also said since I already purchased red curtains on my own that the problem has been resolved. How is it resolved. They kept the curtain- I never left the store with it. They did not let me get anything I needed or the money back for said item. They stole from me!!! I called back corporate office again after my conversation with Tasha, only to be laughed at the end of call. I will be calling corporate today to address the issue of the representative laughing at the end of our conversation. It is not the cost of the item in question- it is the principle. They changed their policy and gave no warning to customers about policy changes.
Here is new policy with a general situation to illustrate the dilemma until customers are used to the new policy: You buy a gift for someone. It is the wrong size or something they don't want/need. Usually you take it back to the store and exchange it. Well, without a receipt (which is not new) you will not get a refund. However, say you didn't want the person to know what you paid for said item, so you do not give them a receipt. They are out of luck- no exchanges no refund. Or you have to know the exact date and time of purchase so they can look it up- well you can't remember that either- again out of luck.
They keep the money and you are stuck with something that does not fit or something you can't use. (Having to know the exact date and time of your purchase is new policy.) They also did away with store credit, doesn't exist anymore. So, last year if you still have a gift that you want to exchange- I hope that the person who bought it for you knows the exact date and time of purchase or gave you a receipt- otherwise you are stuck with the purchase.
How do I know I can trust these reviews about Walmart?
697,993 reviews on ConsumerAffairs are verified.
We require contact information to ensure our reviewers are real.
We use intelligent software that helps us maintain the integrity of reviews.
Our moderators read all reviews to verify quality and helpfulness.
For more information about reviews on ConsumerAffairs.com please visit our FAQ.

My partner and I went shopping on 12/13/16 at our local Walmart. Store# 3428. As we were checking out, my partner put items on the belt and the last item was a 30 pk beer, the cashier stated she cannot pick or lift the beer and asked my partner to pick it up, before she rang up the item. There was a large beam in the way, my partner and I asked why she can't lift or scan the item, and the cashier stated she has a bad back. I said "you should not be working if you're injured." My partner picked up the item and went around the beam, but was tripped up from the rubber mat that was laying too far out, she fell into the next isle of plastic bag bagging area. A few beer cans splattered open and my partner injured her arms and hand by the bag stakes, customer standing behind us went over and heard the fall and was upset with the cashier who did nothing. I also went over and assisted my partner.
She immediately said her arm was hurting... still again the cashier did nothing, only said "let me get someone to mop up the floor!" I got the manager, she too did nothing except say "go to Customer Service and file a injury form!!" I was upset and so was my partner. After going to CS we filled out complaint and injury form. Cashier came over and stated, she shouldn't have been working! I complained to the manager "your employee should never be at work with a back injury!" Ambulance was notified, my partner was taken to ER and had a sprained arm. Claims management for Walmart Stores, Inc. denied our claim and indicated NO negligence on their part! The case manager was very rude and non caring. No empathy for my partner's injury. The cashier didn't take responsibility nor did she admit she had a back injury. Walmart is a joke but yet their goal is to provide a reasonably safe place for their customers to shop. We will never shop there again!

On January 7, 2017 I went to Walmart in Sulphur Lousiana. Bought groceries and some beer, put all the sacked up groceries and the beer in the front of the cart, everything was paid for. As I was going past a isle that said as seen on tv I saw a file that I had seen on tv. So I just went to a 15 register she was being cashed out so I said I would just go to the self checkout. The lady said to me that I could not check out here because of the beer. I said that all of my stuff was paid for. Then I said all I want to pay for this file I picked up. She looked at then she said yes you can... So I scanned the item and I proceeded to put the money in to pay for it. Paid for it and as I was putting the receipt in my purse I saw these three women in yellow vest watching me. Just as I started to move one of the women came over and stood in front of my buggy so I could not move. She said, "I need to see your receipt."
I said, "What?" "I need to see your receipt for that beer." I should get the receipt, and the beer was paid for. I was inside the store nowhere near the doors going out. They thought I was trying to steal the beer. I have never been so embarrassed. She said it out loud where all the customer in self checkout could hear. She ask no one else to look at their receipt. I called and told the manager and I also called the 800 number and turned this experience in. I was told someone would call me but no one has. I emailed today to customer complaint. I will see if anyone cares. No one is going to excuse me and get away with it.

They delivered the dresser this am and just leaned the box. It came in against my garage which is forty feet from my front door. I was up at 630 and was waiting for it. Had no idea it was delivered to my garage. I am senior citizen. It was most difficult to bring into my house. Why did they not deliver to my house?

On December I had family members flying over. I've been a steady consumer at Walmart until I made a furniture purchase online and it came in incomplete.
THE WORSE was when I called and they did not offer me any solution besides to take the over-sized merchandise back to the nearest store. The customer service "Manager" also, send me an email stating that I was going to receive a new item within 5 business days. It's been 2 weeks and I haven't receive anything yet. At this point I wasn't spearing any less. When I call to see the status, the rep this time told me that they didn't yet send me the item and then unfortunately they couldn't offer me any additional solution. I have a Walmart CC which of course will be closed and this case will be brought in to my State Senator (consumer agency).

Glen Burnie, MD Wal-Mart electronics associates were more interested in standing around talking to each other than helping customers. My husband was trying to get help with purchasing a game which was locked in a game case. We had to approach the counter where there were 3 associates. 1 young man was ringing up a customer and 2 females were standing by a cart looking at the side counters. My husband approached and asked if 1 of the females could help him. She shot him the nastiness look of appearing to have interrupted her conversation. She got the game out of the case and when my daughter and husband asked her questions regarding another game and a DS, she was rude and seemed to be trying to rush through helping to get back to her conversation. Without asking if we needed anything else, she walked away and went right back to the counter and her conversation.
When we make our way to the counter, the young man ringing us up never once even made eye contact or ask how our experience was. And of course, the same 2 ladies were busy trying to look busy. The store is hardly ever clean, but the associates should at least try to appear that they changed out of their bed clothes or gym clothes before coming to work. 3 of the 4 associates in electronics were wearing khaki pants. Dress code I would assume. But one of the females was wearing black yoga pants. I know there are sites out there about the people of Wal-Mart and how they dress. But I would think Sam Walton himself would say yoga pants are a no go.
After checking out, I go to the service desk and ask to speak to a manager, the young man behind the counter stopped holding it up by leaning on it to call for an ASM. He called over the radio and got no response. He then goes to call them and tells me I may have to wait a while. He stated the managers were in a meeting and they have 1 everyday at 1 pm. I asked "is that customer service telling a customer that the managers won't come to speak to a customer when requested." He said "Yeah they won't answer the phones or come up when there is a meeting." Someone called and spoke to the guy behind the counter but still no assistant/store or co-store manager could be bothered.
I don't know when things went so horribly wrong with Wal-Mart or their culture. But speaking to customers when they enter the departments, or ask to speak to a manager about an experience good or bad should be a priority. Not a case of making your customer feel less than welcome. When is it a good appearance for associates to stand out on the front walkway to take smoke breaks. You have an open lot on the backside where they could go to smoke. Do they think customers should have to walk into the store through a cloud of cigarette smoke?
This store is in need of serious customer service. The customers are the reason that store can be profitable and keep them employed. Without the customers they could be in the unemployment line. Does Wal-Mart need any more bad press or negativity put out in the public eye. Yes you may work for 1 of the biggest retailers out there, but any company knows bad word of mouth or bad experiences anywhere will far outweigh any positive.

My store had very poor management. They don't stock items that clearly people use or they wouldn't be out of it every time you go shopping. It just seems that the things that sell the most, they never have any of it.

I made a huge mistake by buying a Macbook charger from walmart.com. First, the charger was broken and never worked! They had 30-day refund program, and it has been 2 months since the item was delivered back to them, and still no refund! Third-party seller is under the protection of Walmart. Not something like amazon.com do. Walmart doesn't protect your money. The seller delayed my payment each time after contacting 6-7 times via email and phone.
As a backup option, I contacted Walmart customer service, and they promised 3 times to "escalate the issue"!!! I wrote a review about fraud company on walmart.com and they do not publish it! I tried two times. They intentionally protect the fraud company: "chargerdirect"! Result? Walmart and third-party seller protect each other. They only want your money, your satisfaction and rights do not concern them. If you buy your item from Walmart, you may return it in store. If you buy from third-party seller, forget the money! You can easily be cheated!

All in all my experience with my local Walmart Supercenter has been positive. The produce is fresh and lower priced than other grocery stores I've shopped. I have found the meat department to have a good variety of quality meat at lower prices. The problem with customer service is being able to find an employee to help you. Once you find one they are very knowledgeable of product locations and walk you directly to it. The number of available checkout lanes to check out are usually 50% less than what is needed. It's not uncommon to be waiting fifteen minutes or more to get checked out. This tends to make the grocery shopping trip an unwelcome chore.

The lines are too long and don't seem to be enough workers. Seems every time I go to Wal-Mart I'm either waiting for help or waiting in very long lines and I don't want to even get started on their money center. Every time I have to go to there, there is never a worker. I end up waiting just for them to get someone in there to help me. One time I waited 35 min for a worker but no one came so I left. I wish there was more stores to choose from!

I like going there because it has everything I need. The meats and vegetables are pretty fresh. The deli department is also very good. It is a place not just for food but also for your home. I like the fact that it has a pet section because I have a dog, so for me it is great to be able to get everything in one place and in my case it is close to my house.

Everything is pretty normal with the exception there aren't many people to ask questions about finding something you are looking for. The store is quite large thus an elder like me (79) has to walk a lot for help.

I really like the grocery prices, much of the stock and the convenient location of my Walmart Superstore. However Walmart constantly drops items from its inventory. An employee said that they drop items that are not popular or ITEMS THAT ARE TOO POPULAR. From what I have experienced there I really believe both of those. There has been about one item a month that I love dropped for the last 14 years and that is extremely frustrating. The other thing many of us, including employees, hate besides what items are offered is the constant moving around of items. I genuinely believe that Walmart Corp has put the least-experienced people in charge of product placement. I call it "new graduate welfare" as it very rarely reflects the logistics of customers' shopping needs.

I always find what I want, if not I can get it ordered from the manager, or at the pharmacy. If I have a request or complaint, I get it addressed immediately. The clerks are courteous and helpful as are the checkers and everyone else. I really look forward to going there.

Hit or miss store with occasional good values on items. My main purpose for visiting WalMart is for Deli meats, dairy products, cat food and cold and flu items. The Deli is good with quality food items, but the meat department has lower grade meats for sale. Many of the shelf stock can be purchased for less money at Stop & Shop. Paper goods and cleaning supplies are more expensive than Target.

The store is average in cleanliness and in stock. The pricing is not that great as you would expect a Walmart to be. Customer service is a hit-or-miss. You either get a really good one or a really bad one. Some of the people that work there are kind of dressed inappropriately or look dirty but not everybody. Also checkout is usually miserably understaffed. I try to avoid going to Walmart and shop in other places.

I like to save money but what I don't like is that sometimes they have the product I rely on and sometimes they don't. Lately it seems mostly they don't and that is very irritating to have to go to another store to finish shopping... or not... if you have ice cream in your cart.

Every time I go to Walmart there's never enough workers to assist customer. Lines packed stores with only two or three cashiers between peak times and just overall courtesy. It's not the workers but it seem it come from bad management.

The customer service is lacking. Whenever you are headed out the door they act as though you are a thief and stop you, go through your cart and compare it to your receipt. When you need help looking for an item you cannot find anyone or they do not have knowledge of item or act as though you are putting them out.

I like how Walmart will match the price of any advertised items from any store. The only thing you have to do is tell the cashier that another store has the item cheaper and they will sell it for that price.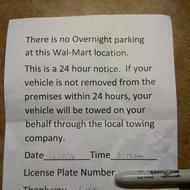 Let me begin by saying I do have a home in Loveland. I have never spent the night in any Walmart parking lot and never would but they have let me know they do not want my car in their parking lots. And I will happily abide. So recently I've been going to Target, Kmart, Home Depot, Safeway and Albertsons and the customer service I have been getting at these other places especially Kmart is very impressing I will continue to use them. When I get treated well I'm a happy customer. I will go back. When I got this parking notification I spoke to Lisa one of the managers in the Longmont store who said there was nothing that she could do to help and yes I would get towed if I park in their parking lot. Thank you Walmart for having me go to other stores and see how customer service really should go. P.S. And thank you to Consumer Affairs for allowing all of us to share our experiences with others.

It's nice to have a place to shop where you feel you're getting the most for your money and a variety of products in one location. The customer service leaves a bit to be desired but once in a while I have the good fortune of being serviced by a conscientious team member with great customer service.

The products are comparable with some grocery stores. It's nice they do match prices so you don't have to go to different places to shop. You do have to watch the dairy yogurt for outdated items.

I don't like the long lines you have to wait in. I do like that it offers everything in one stop. I love the saving catcher app and the price matching that they offer. I believe its one of their best features.

I live in a small, rural community. Unfortunately Walmart has the monopoly on grocery stores here so I am limited on where I shop. Wish I had more options, but I don't unless we want to drive 20+ miles. Prices are decent, but options aren't always the greatest. Would like more fresh foods, meats, etc.

Sometimes their store appears messy/dirty and the quality of some of the produce is questionable; wilted or spoiled. On a couple of occasions, I had to return an item and the staff were not attentive to the people in the return line and busy talking about their day; things that should be kept until their break or after work.
Company Name:

Walmart

Website:

http://www.walmart.com/