Consumer Complaints and Reviews

I was shopping for a high end yard sprayer (Walmart #: 555138113 $138.16) and found that Walmart had them for the same price as online, plus tax. To help my local retail business I decided to pay the extra money and buy at the local Walmart on 146 near Baytown, TX. I looked on the Walmart site and found that they were available at both stores close to Baytown. I drove to the store on 146 and after talking to two different employees in the garden department, found that they did have them but they were sold out. I asked one of the men if he could call the other store and find if they had them in stock. He told me he had no way of calling. I asked if he had the number, he said no. While he was still by me I pulled out my cell phone and looked up the number I asked if he could ask the proper person on my phone, he said it would be the same as if I asked.
I called and was finally transferred to the garden department. An employee answered the phone and immediately put me on hold. When she returned she acted like she had no idea what I was talking about and told me they didn't have anything like that. When I told her that the Walmart website said they did and that they showed them in stock at her store, I was told she was busy at the register. I drove to the Walmart on Garth Rd in Baytown and found 3 garden department employees, one talking to a friend and the other two walking around the department. Nobody at the register, none helping customers and was never asked if I needed help finding anything. They didn't even look at me as I was wondering around the department looking for my item. This store also didn't have the item advertised on your website that also stated they were available for pickup.
This is not the first time I have gone to a Walmart in Baytown to find that an advertised item is not in stock or with fewer quantities than I need. This is yet another reason that the retail companies are dying. Why would I waste almost two hours talking to people who have "better things to do" than help a customer and pay more for an item than buy from an online company? I assure you I will be spending more money online than in your Walmart stores. This waste of time only served to reinforce my point once again.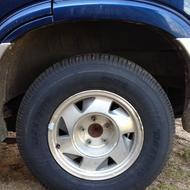 A friend and I went in the tire center at Walmart to buy 2 tires just like the ones that were on my vehicle. We were told by the sale rep that they had them in stock. We wanted white letters on the outside of the tire as the original ones were and we were told no problem. That they had them in stock!! She, a lady, ask us again did we want the letters on the outside of the tire and we said YES! When they finished my vehicle there was no writing on the tires! Also I had to ask what kind of warranty came with the tires and was told there was a 50,000 mile warranty. I paid $10.00 extra for 2 tires on the road hazard repl. When we got outside we saw they were the wrong tires!!! Still thinking I paid for the white writing. We were also told they could put our old tires back on but by then we had no choice. The old tires were worn out and dangerous and no time to get any from anywhere else.
We had no choice but to take the wrong tire. I just wish they would have let me know ahead of time and I could have told them I didn't want the tires that they put on my vehicle. While discussing our tires we were put on hold two times so she could help someone else. I had to ask her what about us? Then a man came out and took over for her. Still I have my receipt buying white letter tires put on to the outside but that's not what we received!!! We were pushed to the side on several times and the time in the receipt that tells how long it took them to fix my tires is wrong!! I didn't sign the receipt because I wasn't asked to. I wish they would have just talked to me and let me know. I didn't buy cheap tires!!! Consumer Affairs is this ok? Can they do this??? Thank you for a reply!! And thank you for your time!!! Bottom line the sales rep misrepresented me for what they were selling!

I have been a walmart.com shopper for several years now. Their shipping and delivery time have always been very slow, but I thought the "new" Walmart was going to delete this problem. I just placed an order with Walmart.com with my PayPal account. PayPal states they will not charge my account until my order ships. Walmart tells PayPal the order has shipped now the same day they receive the order so I am charged immediately. Their usual method has been three days processing and then it ships. This last order was allegedly shipped the same day I ordered, but it will take ten days for me to receive it.
Walmart has also started using outside companies to place their orders with. When you place an order this way, you cannot return it to Walmart if there is a problem. You have to return it to the marketplace Walmart ordered it from. When I received an earlier order this month, the paperwork stated for me to keep all shipping boxes and information because if there is a problem I will have to ship it back to the marketplace instead of returning it to my Walmart store. Coffee and Toys in CA is where my current order is being shipped from, and not from a Walmart distribution center. Walmart will not be able to compete with Amazon.com if this is the best they can do with the "new and improved" Walmart.

Smart Talk is cheaper to use for two subscribers than any other game in town when using the Verizon Network but be careful. Often you get what you pay for. I bought a brand new Stylo2 phone that operates on Android 6.0 on every network but Straight Talk. This means you can't use the SD card to store Apps on. What a pain it is to deal with overseas customer service, who care less about crazy American's complaints. Walmart can't help and you are stuck with a dumber than average smartphone!

I sent money to a friend via Walmart MoneyGram, online. Despite it being approved on my end, the friend was told the money was not available at that location. After calling and going through three different people on the phone, including one that I am sure was at a call center in India, I was told that Walmart did not feel comfortable giving out my money to my designated person. This was a friend that I have known for 13 years. We have loaned money back and forth over the years. He has always paid me back. He had the required photo ID. He was really strapped for money until the 1st and needed money right now. How does Walmart make that determination? Shouldn't that be my call? Would not recommend Walmart MoneyGram!
How do I know I can trust these reviews about Walmart?
721,363 reviews on ConsumerAffairs are verified.
We require contact information to ensure our reviewers are real.
We use intelligent software that helps us maintain the integrity of reviews.
Our moderators read all reviews to verify quality and helpfulness.
For more information about reviews on ConsumerAffairs.com please visit our FAQ.

I placed my order online for car seat [Safety 1st Alpha Omega 3-in-1 Car Seat - Marshall] 22nd December, 2016, but I never received my order. Every time, I send email or call I get response like: "We received your email and to ensure we provide you with accurate information, we are researching the matter. We will contact you within 3 to 5 business days with the requested information." But never get any response back. I don't know what is next step for me. How can I receive my order.

I tried on over six bras in Big Spring Texas Walmart 3/10/17, purchased one without trying on. I went back next day with receipt and was told I cannot return a bra after trying on even though their own employee allowed me to try on several. After the manager said it was Walmart policy. I said "God bless Donald Trump"; manager told me he could stop me from coming into Walmart. I ask him on what grounds, he told me because I made a racist statement! I called Walmart corporate and was told that a customer can try on bras and then I filed two complaints, one in cs and one with ethics. The ignorant employees at Walmart make lies up just to refuse returns. I've seen countless customers turned away from returning items, with receipts at this store. Most people I know go to a neighboring town to shop other stores to avoid and boycott Walmart.

I ordered a Phablet off the Walmart website and received it broken. The Phablet (phone and tablet together as one unit), Tagital Phablet android Kitkat 4.4 with dual sims slots and with a cracked screen. Did not turn it on because of the damage. Already unlocked. Went to the Walmart here in Powdersville, S.C. to get it replaced and was told I had to contact the corporate office that the order number on the receipt that did show it was sold by Walmart off their website even though it had Walmart listed, I was given a number to call by Walmart in Powdersville, S.C. to call Corporate. It took several times to be connected and was told the order number was not theirs and they gave me the Walmart order number for the Phablet.
Was given the number for Mtm Trading in Milpitas, CA (I had to look up this information). I looked up all the info from when they started to the present even the 2 owners' names that are listed on the company records. After I tried to call them several times and received they were not available recordings. I will try some more till Monday. If no recourse I will photocopy my receipt with all the information I wrote on the receipt and send a copy to Mtm Trading and to Walmart corporate office and ask for this to be resolved.
Seems Walmart is not doing a good job standing behind the products they are selling online. I also bought a AT&T GoPhone. Had it turned on only to have it turned off by AT&T and was told it was not properly sold and transferred. I did get that corrected but another reason to stay away from internet buying from Walmart. One more thing. I ordered a little over $170.00 and was told all my order was not there then found out they had cancelled some items. About $122.00 arrived and the others did not arrive with the rest to be picked up on May 5th, 2017 so I cancelled those also. Not happy with the online ordering and would strongly advise to be careful using the online purchases. You're not dealing with Walmart all the time. It is left to some unknown company and quality cannot be assured along with a fast resolution to any problems that may occur.
I am 62 and was looking for a way to pre-order and then pick up the order. I will look for a company that will stand by what they sell online and in person inside the store. Yes I have lost confidence in Walmart. Walmart order# is **, Mtm order number is ** of which Walmart did not and would not accept for the sale that was done online on the Walmart website. So now I have to wonder how this is going to turn out. Because of the 3 hr. time difference it would still have been around 4:30 pm in California when I tried calling multiple times.

I order an item on 2/21/17 and didn't receive it until 10 days later. Then when I received it, it was damaged. Called the company and they said they would send out another one. Never received it and that's been over a week. Call Wal-Mart whom I ordered through and they said they would contact company and check on it. That was 6 working days ago. I have heard nothing, I have not received the item. Wal-Mart customer service did nothing. Now, I want a refund!! I can't get anyone to answer their phones in customer service. It gives me a hold time in minutes and it keeps increasing as I wait!!! I thought I would give Wal-Mart a try online but what a disaster!!! Their customer service is horrible and the company's they sell for are just as bad!!! I will not order from them again ever!!!

Purchased a cologne Eternity For Men for much less than other stores have the same name brand and package as Macy's. Macy's was $95.00 and Walmart $37.00. I should know better when the price was so much different but it was sold at walmart.com so is a well-known business. Cologne is not legit product and Walmart use third party vendors which sell counterfeit instead. Contacted Walmart a number of times not only because of the money spend but the principle behind and they told me to contact Fragrance company that sells their product.
When contacted Fragrance they couldn't find the order? So I still don't know who stole my money and where the water and alcohol came from instead of cologne. This happened 3/17/2017 and nothing have been done. Need to find legal representation to put a stop to this issue to Walmart. It's wrong and it's unethical taking advantage of people that way. If anyone had this problem and found a solution please contact me.

I've been purchasing all my dry goods and health and beauty products from Walmart online for a couple of years. I also purchase things like juice, clothes, cat litter and k-cups for my Keurig. I even had a leather recliner delivered to my door! I have always had a great experience. The one and only time a product came open in shipping, my money was immediately refunded without any hassle whatsoever. I would have liked for them to have reshipped the item, but instead I had to reorder. But I order often, so there wasn't a huge delay. I recommend Walmart online ordering quite frequently.

I preordered the Nintendo Switch Legend of Zelda: Breath of the Wild Special Collector Edition on March 2, 2017. Item was due to arrive at store for pick up on Mar 9, 2017. Lo and behold on Mar 7, 2017 I get an email saying "Sorry, but the items shown below were canceled due to a system error that kept us from processing orders. We're working to fix the error and hope to have a solution soon". Just like that my order cancelled. For those who don't know the Nintendo Switch Legends of Zelda game was sold out everywhere and still is. This is why I firmly believe Walmart cancelled my order so they could pretend to be a marketplace seller and sell it at a higher price.
So now I am left in the dry with no game and the only way to get one now is to pay scalpers fees for it. I contacted them and was told item was cancelled because they ran out of the inventory. So I suppose to be punish because they ran out of inventory. They refuse to honor their sale. I will never shop there again because this is a hit that is way below the belt. Read and take heed. Walmart is not to be trusted!

I have never been a Walmart shopper, but due to a progression in an illness, and a disability that makes it very difficult for me to go out shopping I decided to try Walmart's new 2 day shipping. My first order was no problem at all, the items all came in a timely manner and packaged nicely. My second attempt at an order was a DISASTER, I used a different credit card than the one that I established my account with. As soon as I submitted my order I received an email that it had been cancelled. I used their chat feature to find out why, and that was absolutely no help at all, for your sake, avoid if at all possible (phone support isn't any better). I spent 4 hours and that is not an exaggeration, as much as I wish it was, trying to sort it out.
After speaking to supervisor after supervisor I eventually told them to ** off, sorry for the language, but their system just kept cancelling my credit card. I could understand if it had a different name, address, zip, no funds available or something, but it didn't. I understand and appreciate security checks and procedures, but this was absolutely ridiculous. Not only did it keep cancelling, but I had to repeatedly go back and pick out all like 15 items over and over each time it cancelled. I will no longer shop their website nor will I set foot in their stores ever again. I have always thought they were horrible, but now I will pay the extra and shop at Kroger, Publix, and Target where I know they at least appreciate and value my time. Good luck with your experience if you attempt to use their new "Amazing 2-day shipping".

I usually love Wal-Mart. I helped open one 30 years ago. I usually like to shop walmart.com but they are changing the format and vendors. Knowing I can return items at the Wal-Mart if they don't fit etc is one reason I like to shop there. I bought a wheelchair from a 3rd party. I didn't realize it until I placed the order. I thought ok I still can return it because it said I could within 30 days. It didn't disclose that I would have to pay for shipping. Had it said that I would have canceled the order. Sure enough I get it. The seat was indeed 19 inches but the way the bar was set it took up inches from the seat. My mother-in-law didn't fit and it was too bad because otherwise it would have been awesome. So within the 30 days I asked to return it. They took forever in days to answer. By the time they gave me a return number the 30 days was almost up. However they expected me to pay for shipping (again which wasn't disclosed in the terms).
I went to walmart.com help center and they were of no help whatsoever. I'd guess because they couldn't do anything about it since it was a 3rd party. It would have cost me 100 dollars to send back when the wheelchair was 120. I gave it to a good cause, but I shouldn't have had to. To improve walmart.com needs to disclose EVERYTHING! I don't want to shop from it again. I want to tell everyone I can to boycott as well. I know the reality is I'm just one person who is angry that I was screwed because I thought I could trust the Wal-Mart name and there was no help whatsoever to resolve the issue. The vendor wouldn't even respond and neither did Wal-Mart. I will take my business elsewhere! Very frustrated. Now it's not accepting my receipt that I got online. Maybe this will do. UGH!!!

I placed an order at Walmart.com on March 1st. I paid the extra delivery charge to get it on March 3rd. I contacted customer service to find out what's going on only for them to tell me that they see that it has been processed but there was no tracking number so he reimbursed my delivery charge and said I would get my item by March 4th. Now the day has come and still nothing so I called customer service back and the agent was hard to understand which I'm sure it's somebody offshore and not from the U.S. She told me that even though there's a tracking number she still can't give me any information on when I would get my item and due to the weekend I should see activity by the week of March 6th!
Super frustrated. If I wanted to wait this long I would have never paid the extra delivery charge. What's the point? I will honestly never order another item off Walmart.com. This process has been unnecessary and inconvenient! Why pay extra money to get an item in 2 days if I'm not going to get it till a week later?Walmart.com needs to get their Fulfillment Center in order and appreciate customers who are willing to order items online let alone pay extra money to receive the item! Never have I had an issue with Amazon but the first time I order something through Walmart I get this mess. Never again. Back to Amazon I go... I would rather pay the extra money with them and get my items on time with no issue than to deal with this headache!! Get it together Walmart!

The cashier who my products put my chocolate candies in the same bag that she put my hot chicken. When I got home my chocolate candies were melted. The cashier should have known better. I did not notice due to gathering up my money to pay for my products.

On January 29, 2017 I purchased 2 units of DEF (5 gallons). After purchasing the DEF from the Ozark, Al Walmart I subsequently added the DEF to my Ram 3500 DEF tank. A few hundred miles later I received an in vehicle warning about the DEF system. It specifically allowed me to travel no more than 200 miles before my speed would be limited to 5 mph. As we were pulling our RV on vacation we were forced to find the nearest Dodge dealer. After arriving at the dealer their computer stated I had bad DEF in my truck. We still had the empty containers and we noted the DEF sold to us expired in December of 2016. Further discussions with knowledgeable individuals stated DEF does break down over time and using expired DEF can lead to failure of the DEF system.
We are presently stuck in Florida awaiting repairs. The dealer stated it will be a minimum of $500 (could be a lot higher) and the repair time is unknown. Additionally the DEF container does not have a warning regarding the expiration date and potential consequences. I also was not informed of the same by the Dodge dealer nor does the owner manual contain information regarding potential degradation of DEF. It is irresponsible for Walmart to sell this expired product as well as Dodge failing to educate consumers either at purchase or at least include in owner's manual.

On January 24, 2017, I ordered 7' Brunswick air hockey table for our employees with a promised delivery date of 2/6/17 on both the website, and the email confirmation. On 2/13/17, I called Walmart to find out why my table had not progressed to the carrier, at which point Customer Service advised the order was "lost" and they cancel the original order, and would place a replacement order for me. I received a discount of 10% on the order, and a second confirmation via email with no delivery date specified.
Today, March 1 I again contacted Customer Service to find out why the current status of my order was still "processing". I received the same answer from both the initial CSR, and a supervisor that the replacement order has been incorrectly entered into their system and would not be shipping. The offered solution would be to cancel this order, and for me to again place another order which I declined to do since I can no longer trust Walmart's online, or internal ordering systems. I will order the product from another retailer.

On Feb. 9, 2017 I placed a fairly large grocery order with Walmart Online. I prefer to shop online and have been doing so for over 15 years via other companies. My reason for shopping online is I am fully disabled, live nearly 40 miles from the nearest town & rarely drive. I rely on this method of shopping for the majority of my supplies.
I was excited when I read about Walmart competing with Amazon by offering free two day shipping, so naturally I decided to give it a try since they have such a great selection with good prices. Unfortunately, it turns out that their "Guarantee" is all hype and glamour to draw in customers. This shopping experience online, or any other way for that matter, has been by far the worst I have EVER had to deal with in my entire life, Bar NONE! It is now March 1st and to date the store has had to reorder my entire order due to the original one being lost in transit. How does a courier company in this day and age, specifically FedEx, lose all three boxes of an order?
The next problem was the new order was going to take a week to deliver. So much for "Guaranteed Two Day Delivery." As of now I have only received two of the three boxes. My order has supposedly been out for delivery Since February 24th, but due to "bad weather" had to keep being delayed. The roads have been completely clear. My 90 year old, elderly, infirm neighbor has been able to drive to town, Thank God! I have even received the items I had to reorder through Amazon due to this incompetence via UPS. I will NEVER DEAL WITH WALMART ONLINE SERVICE again!!!

I order two products yesterday, February 25, 2017, and mistakenly used my checking, which had no money in it, instead of my AMEX. I realized my mistake in minutes and went to Walmart.com and tried to cancel my two orders. I looked all over the website and then called and spoke to many different representatives in customer service, the next to the last supervisor was Jaimie in the Philippines, a supervisor, who was a complete disappointment. I asked for escalations at Walmart and then spoke to Lola, a supervisor of Escalations in Ft. Worth, Texas. She told me to call the vendors myself. I would like to see people be able to cancel their orders immediately on Walmart's website and not have to go through 2.5 hours sheer hell for a mistake I made. Walmart is a very dishonest company, and WILL NEVER USE/BUY ANYTHING ON THEIR WEBSITE AGAIN.

I ordered a happy birthday present for my great granddaughter as per her request. Placed the order on 2/17 to be picked up at their Kendall, FL store on 2/22, so they said but it never reached the store since it was returned to shipper because they made a mistake and sent it to an old "billing address" which doesn't have anything to do with the actual address even though it was also updated. After a lot of aggravation going back and forth for hours I ended up paying again for it. Since as of today I haven't been reimbursed for the one they returned. But even worse, on the second placed on 2/22 I was promised it would've been faster if I would have it shipped directly to the child's address to make sure she'll receive it not later than the 27th that is her b-day. So I did and was told they were putting a rush for delivery on Saturday 25th.
When I checked and she didn't received it yesterday 25th, I tracked it and was astonished when I got an "estimated delivery date of 2/28". So a little girl awaiting her b-day present so anxiously, won't be receiving until afterwards. That's the way that garbage of store cares about its customers. I advise everyone not to buy anything from them because the aggravation they make you go through is not worth the pennies you are saving. Besides you can't find anyone there to help you including managers/supervisors.

Store on N Hwy 98 Lakeland, FL: Waited to get a haircut for at least 10 min despite being told just a min wait - with staff available. When the stylist dug in the drawer for a shaver I saw the drawer was filthy, shaver heads & bodies covered in hair from prior clients - Completely violating all health protocols. Needless to say I immediately left. Store inside & especially out is always filthy, trash left everywhere.
Highly understaffed & often those employees that are working are extremely incompetent E.g. Overflowing parking lot at Xmas & checkout lines backed up tremendously - yet others not staffed. It took over 20 min one day to get change from a cashier as she had run low on small bills & couldn't get management to come to her aid. She had to shut her register off & we had to walk to customer svc to get it. Idiotic practices of checking receipts for anyone purchasing water/anything on the bottom of cart. Even at Xmas/very crowded days. Training their cashiers properly apparently isn't possible? Needless to say I won't be back...

My shipment was to arrive on Friday the 24th, took off work to sign for it that I didn't want (signing FedEx you don't). Got email later stating would be delivered on Monday the 27th. Emailed Wal-Mart to ask why and have had no response from them. This is sad that a company will not respond to a consumer why a 2 day turns into a 5 day delivery.

They have recently rolled out a strategy to enter the online space to compete with the Amazon and Alibaba's of the world. They are in waaay over their heads and need to stop. They will lose money and even more credibility than they already have. They started ad targeting me online, probably because of my large amount of online shopping - I am a millennial. I ordered an exercise machine and it was an absolute disaster. They are crooks and have zero accountability. Walmart.com said there is no "corporate" for their business unit because it is considered a separate entity of Walmart retail and I had to eventually resolve it with American Express who thankfully has an excellent policy to protect their cardholders.
A company that thinks it is just okay to keep someone's money without giving something in exchange is disgusting. The list of things that happened is too long so I will give a few examples: Their website has some sort of faulty domain/DNS, etc. issue and will approve an order, then decline the order 11 mins later if you don't "edit" the address when using Paypal. Huge technical problem which means that they must have 3rd rate prog/devs. The entire business consists of 2 levels. 2nd level is considered escalation and there is no manager above this 2nd level.
No coordination or affiliation with walmart retail so you may have to pick up the product at the retail location and they offer no services that walmart retail does. Eg - Walmart retail can deliver a product that is their own but not a product that was sold by walmart.com - it is a bizarre and disconnected setup. The financial unit for walmart.com does not speak to customers, so if there is a financial problem you have to play telephone with the call center rep who doesn't possess the ability to understand basic arithmetic - and when they relay the wrong message you have to wait 3 days to get a response, all in all it can take a month of your life if you let them chase their tails like clowns. And much more, after 8 days I put an end to it. Never will I ever visit that website again, I reported them to my google account and asked that they are blocked from marketing to me online. It is harassment. ** you Walmart.

Shop Your Way is a website mostly by Sears and Kmart and sells merchandise and when you go to buy it, other companies sell it, second party or third. When you click to go seller website it takes you to Walmart and the price will change and when you contact Walmart they say "sorry nothing we can do." When I contacted the Shop Your Way and ask why they said price agreed by Walmart seller... Walmart said "sorry. Too bad we are selling for higher price." This is a scam. I have found this more than once in the past and I am tired of the lies.

In general I'm a Wal-Mart shopper. There is always an experience that leaves a bad taste. I tried to return a 2nd book I had already purchased a month before (even had both receipts) to the Nottingham, MD store and was very rudely informed by an assistant manager that they don't accept book returns. Even told me I'd probably read the book (did I mention I had two receipts for the same book). I just went to another Walmart and had no problem at all with the return. I don't think it should be really hard that if Walmart's policy is no return, that maybe it should be posted in the aisle. It could have saved me the embarrassment or maybe I wouldn't buy books from Walmart in which I never will again. It's just not worth saving the $5.00 which is the average I pay for the hardcover books.

I just ordered few items for my niece birthday under one order number and in 5 minutes I called and canceled them. She (Customer service) told me all items are cancelled and also she sent me the cancellation email too. But the next day I received the email that one item has been shipped, so I called again and spoke to another person and explained everything. He apologized few times and said, "let your niece not to accept the gift and return it" and I said "how you expect me to tell another person to not accept her gift, it doesn't make sense to me." At the end he said he will try to stop it ASAP.
After few hours I got another email that 2nd item has been shipped and I called again and same story again. I don't understand how come those items has been shipped if I got the cancellation email? It looks like somebody is not doing his or her job properly over there. Anyway that was a terrible experience and I never order anything online from Wal-Mart and I won't recommend to anybody online shopping from Wal-Mart too. You spend millions dollars for advertising and I think you should spend more time and money to train your customer service employee to know how to do their job. The funny thing is both persons asked me to give them good result for Wal-Mart survey, unbelievable.

I have to write this just to get the disappoint off of my chest. My son received a $50 Wal-Mart gift card. I have not been able to register it. He just decided now to use it. It is the end of February, and of course no one kept a receipt to show proof of purchase. Well, too bad too sad. My son doesn't get his gift card. I know my 80 year old mother in law is honest and didn't try passing it off as the real deal. I understand it has to be this way because, yes, there are cheats and people that steal and try to get away with doing stuff like that. If you are one of those, thank you very much for contributing in a round about way to stealing a child's Christmas gift. Also, thank you Wal-Mart for not giving a rat's ass. There... I feel only slightly better.

When shopping at Walmart in Polson, MT. Your employees need to take a etiquette class. Unfriendly, don't know anything, treat you like a common thief. Watch me like I'm going to steal. This is very hurtful to have people suddenly show up watching everything you do. But never asking "can I help you." Ask where something is, they say, "Well I don't know. Go over there and ask." Your employees are very unfriendly. Thinking about taking our business somewhere else.

I ordered an inflatable hot tub for Christmas from Walmart.com. I ordered from the site because I assumed it would be convenient. If I had a problem with the item I could go to the store. I did have a problem and went to the store but they said they cannot return anything purchased from Walmart.com because it is done through a third-party. This was never made clear when I ordered. In addition Walmart.com has a completely different return policy than the store and it is a much shorter period. This seems to be a complete scam. Do not order from the website.
Company Name:

Walmart

Website:

http://www.walmart.com/