How much to tip movers in 2022
Plan to tip $50 to $100 per crew member for larger, long-distance moves

If you're relocating and using services from a professional moving company — and you're happy with the job it does — tipping the moving crew is a nice gesture. The cost of hiring a moving company can be a few hundred dollars or less for a small, local move, or it could cost you thousands if you're moving a home with multiple bedrooms across state lines. For expensive moves, following the service-industry standard of tipping 15% to 20% of the total cost may not be in your moving budget.
We spoke with vice president of Colonial Van Lines, John Pellitteri, who said that rather than taking a percentage of your total moving cost to calculate a tip, it's better to consider how much you'd pay someone for a full day of work. He said tipping each crew member between $50 and $100 for a job well done on a large, full-day move is a common practice that's always appreciated, but not required.
Here are some guidelines on tipping etiquette and how much you should tip a professional mover.
How much do you tip movers?
One way to think about how much to tip your movers is to base it on an hourly rate. Here are some general guidelines you can follow when it comes to tipping your movers:
| Moving time | Tip guideline |
| --- | --- |
| 4 hours or less (half day) | $20 to $40 per person |
| 8 hours (full day) | $40 to $80 per person |
| 12 hours or more | $60 to $100 per person |
A good rule of thumb is to tip $4 to $5 per person for each hour of work.
Always consider factors like the difficulty of the move and the level of care the movers put into transporting your belongings. If your movers really go above and beyond, you should consider a tip toward the upper end of the rates above.
Proponents of the flat-rate tipping method say it's standard to tip $20 to $30 per crew member for local moves. You might tip cross-country movers closer to $50 per crew member.
How much to tip long-distance movers: $40 minimum per mover
How much to tip local movers: $20 minimum per mover
How much to tip packers: $10 to $20 per day
How much to tip piano movers: $20 to $40 per mover
Do you have to tip movers?
As a general rule, you are not required to tip your movers. Movers should be on time, treat your things like their own and be organized. They should be courteous, follow your requests and answer any questions that come up about the move.
Most importantly, nothing should show up to your new home damaged or missing. If an accident does happen, your movers should take ownership for anything they damage and help you file a claim with the company.
Holiday moves and extreme temperatures are good reasons to tip your mover a little extra.
Remember, movers are in the service industry. You tip for good service and based on job performance. If you have a poor experience with your movers, don't feel obligated to tip.
When deciding if you want to tip your movers, ask yourself the following questions:
Were there excessive stairs or multiple levels during your move?
Did the movers have to make more than one stop, like to your home and an off-site storage unit?
Was there a lot of heavy furniture?
Did they take extra special care of your antiques or belongings with sentimental value?
Did they take the time to add extra padding on fragile items or follow special instructions with care?
Were they pleasant to be around, courteous and efficient?
Another way to show appreciation for your movers is to write an online review that mentions their names. Providing feedback gives others an idea of what to expect on moving day while also highlighting movers that go above and beyond.
How to tip movers
Large national moving companies typically include a tip option as a line item on your bill, meaning you can pay for the tip with the rest of the move. A smaller company may not have this option. If there isn't a line item, you can tip cash or ask the moving crew foreman if you can add a tip to the total amount charged to your card (or other payment method).
Tip with a credit card: Using a credit card is the best way to document to the IRS that tips were part of your moving costs (if you are able to deduct moving costs from your taxes). Tipping with a credit card is also convenient and saves you a trip to the ATM.
Write a check: If you're trying to document moving expenses, you can also tip with a check (as long as a check is an acceptable form of payment with the moving company). If you do use a check, it is acceptable to write one check and let the crew foreman distribute the tip among the crew.
Use cash: A cash tip is usually a welcome method of tipping, but you may want to verify with the company or crew foreman in advance that this tipping method aligns with company policy.
Tipping movers with food
What about food and drinks? Providing refreshments for your movers, whether you're tipping or not, is a nice thing to do. Make sure the drinks are appropriate for the weather: coffee for cold-morning moves, water and lemonade for hot days.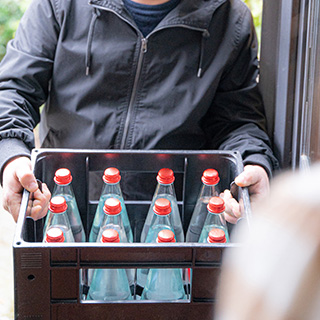 If your move crosses over the lunch hour or takes all day, offer your crew lunch. Ask your movers what they'd like to eat instead of just ordering pizza. Snacks like apples, oranges, chips or cookies are great for half-day moves of four hours.
Always have water available. Keep a jug of water and paper or plastic cups on hand. A lot of people ask about tipping with beer. Offering beer is a nice gesture, but a good, professional moving service won't allow employees to drink on the job. You could consider giving your moving team a six-pack to go, but it's probably best to stick with nonalcoholic beverages and treats.
For further information about costs, learn how to make a moving budget.
Should you tip movers when they load or unload?
It depends. Sometimes, especially with long-distance moves, you work with two different crews. In this case, you could tip movers at both ends or give the tip directly to the company with instructions on how you'd like it split up.
If the crew that loaded your possessions did a truly exceptional job, you could tip them before you depart. If you're tipping in cash, then you can give the total tip amount directly to the crew leader, who will then distribute it appropriately.
Label
Authorized Partner
Company name
Logo
Contact
Summary

AUTHORIZED PARTNER

Learn More
Bottom line
No matter the size of your move, it's a good idea to tip your movers. Tipping between $50 and $100 per crew member for a full-day, larger move is a good place to start. A $20 to $30 tip for each crew member is standard for smaller, local moves that take less time. If the movers are disrespectful, damage your things or try to scam you, it's fair to not leave a tip at all.
Often, it's easiest to tip in cash at the end of the day. Consider the complexity of the move, how far you're moving and how much stuff you have. How was the moving experience? Did the movers go above and beyond? How much heavy lifting was involved? Would you recommend the moving company? If your movers have done a great job for you, let them know with a little something extra once everything is off the moving truck and the job is complete.
Next, learn what to know about moving quotes and how to save money on your next move.
Did you find this article helpful?
|
You're signed up
We'll start sending you the news you need delivered straight to you. We value your privacy. Unsubscribe easily.