Consumer Complaints & Reviews

I recently purchased a game and express shipped it so it would arrive before a party where I intended to play it. But Target shipped me the wrong game. So like any normal person I called to explain and try to get it fixed. The first person I explained the situation to hung up on me. So I called back and the second person wanted me to ship the game I'd received back to them before they'd ship me the replacement. After a short argument, they said they would ship my game immediately and that I could return the other game as soon as possible. For my trouble they gave me a $5 eGift card, as if I would use target.com again. Moral of the story - don't shop target.com.

My sixteen year old daughter and I visited the Target on Harbison Blvd in Columbia SC to buy a TV for her birthday. Tim in the electronics department was very patient and helpful. When assembling the unit we discovered it had no remote which was one of the listed accessories. I was told to bring the TV back to the store. Customer service Charday was very apologetic and when I asked for a coupon or a gift card to compensate for the inconvenience (just pushing my luck) her supervisor authorized a five dollar cash gift to me!
Then, after getting the replacement TV home, I realized the TV did not have web streaming or other features my daughter and I thought it would have, being a smart TV. We found it was more practical to hook up her laptop via HDMI. So, I took the unit back to the Customer Service clerk. The clerk Regina was poised, professional, and very helpful. Great job, Target! Regina was poised, helpful, and I received a refund; no hassle.

I made 2 online orders to be delivered to my daughter in another state. The first order got delivered as expected, but one item from the second order arrived with the first order. This was fine, but the second order was never delivered and I was never notified. On the 14th of September, my daughter knew she was expecting the order and let me know it hadn't arrived as promised/expected on the 13th of September. I called Target.com's 1/800-591-3869 (the only number provided on the order for assistance) only to get a woman in Nicaragua who I could barely hear or understand trying to track the order for at least 35 minutes. Finally she stated "the UPS truck couldn't find the local UPS store so they sent it back".
It would have been nice to have been notified of this failure to deliver the goods either by email or phone call (both of which I provided). She said they were going to give me a $5 Target card for my trouble, and when she realized I needed to reconsider reordering the 3 items that never made it because of the estimated additional 7-10 days to deliver, she quickly said "I can send you a $10 gift card instead". Hmmm, maybe I would do that, but I wanted to be able to use it with the re-order. She agreed, and told me she would credit me for the items that got sent back, and she would reorder when I called her back the next day after receiving the $10 gift card which I could apply to this order. Sounded kosher to me at the time. She said she was able to process the refund and I would see it on my account. Lo and behold, 24 hours later, there is no refund on my account, and there is no gift card emailed to me as promised.
There was an email from Target that read verbatim, "Hello, We're sorry, but we won't be able to fulfill to sent the $10 Target Gift card that we promised to sent you. Since it is a system generated her in our end. Our system cancel the gift card that we sent you. It says her it is invalid email address. Please give us a call so that we can verify your email address or so that we can sent the gift card to another email address. You can contact us at this number 1 800 591-3869" Isn't it ironic, I received this email about my email address being invalid!!! How do you think I placed the online order to begin with!!! I was very disappointed to see Target outsources their customer service to Central America where no one was able to give me specifics about anything pertaining to the over charging on my account.
I called again today only to receive another rep in Nicaragua who kept telling me he couldn't tell me how much I would be refunded or why it didn't get processed as promised the night before. Yes, I wasted another 45 minutes of my life trying to explain I had been overcharged and never received the goods therefore I am owed a refund. He said I am best to wait another 7-10 days to wait to see if the refund would be showing up on my credit card.
He also suggested I call my credit card company and dispute the charges. REALLY??? and you call yourself "customer service for Target.com??? Shouldn't you be able to rectify this frustrating problem from your end? Guess not when your located thousands of miles away and you act like you don't give a flying leap about how frustrated your customer is at this time as you never notified them of the failure to deliver the goods. You tell me my email address is incorrect (not!. You can't tell me how much I am due back in a refund (but I can do the simple math and tell you!)
You tell me to dispute this with my credit card company and this would be the best way to handle it, you admit your company only delivered one of the orders but couldn't find the UPS store in town, you promise a gift card and send me a grammatically disastrous and unprofessional message telling me I won't get the gift card and my email isn't valid and ask me for another email WHICH I DON"T HAVE. I call the headquarters in the midwest only to find the calls go straight back to Nicaragua.
And you think I want to continue being a loyal patron to Target where I literally spend thousands of dollars per year on both personally and for my large business. Sorry Target, after this experience, it would be hard to win me back as the loyal customer I have been for so many years. You need to straighten up your act, bring the customer service back home where someone can answer my questions with confidence and not tell me they agree with me but it is easier to dispute this with my credit card company because they can't help me. I am more than frustrated and unhappy at this time!

It was stated that "Buy 2 Anchor Farms items get 1 free." I purchased 3 AF items but was charged for the price of 3 items instead of 2. They said one of those items was not included in the promotion. I ended up spending extra 30 mins back and forth talking with the customer service. Target, please do not put the sign on that shelf if the items are excluded from promotion and make it clear for the customers. Bad experience!

I ordered flex spray online, I was suppose to receive on a specific day through UPS... Did not show up so first contacted UPS, they said had to return order to Target due to "Biohazard" issue, whatever that meant. UPS referred me back to Target due to the return. Contacted Target and after over an hour on the phone and them telling me over and over that I would have to call UPS back to find out where it was returned. I convinced them that this made no sense as they should be the ones to tell me where it was returned to. Finally they verified it had been returned to one of their warehouses. Then they told me they would gladly process the return and send another one to me....
I agreed, they processed the order again or so I thought. The next day I checked online which showed both the return and the reorder. 2 days later I went back online and it only showed return. Contacted Target once again (on the phone for over an hour) and they had no record of a re order of the item. How does this happen. During this call and me complaining, while I was speaking they put me on hold (music playing) then hung up. Well I refuse to deal with them ever again and am awaiting my refund. Target.com is horrible from start to finish. I will never order from them again!!!
How do I know I can trust these reviews about Target?
595,131 reviews on ConsumerAffairs are verified.
We require contact information to ensure our reviewers are real.
We use intelligent software that helps us maintain the integrity of reviews.
Our moderators read all reviews to verify quality and helpfulness.
For more information about reviews on ConsumerAffairs.com please visit our FAQ.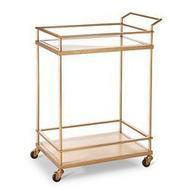 I had place a order for Threshold™ Metal/Wood/Leather Bar Cart - Gold Color: GOLD Qty: 1, $129.99. Very simple but not for Target. The order was placed at "ordered August 31, 2016" and should be "arriving in store 9/9/16 Pick up at: Target Forest Hills Forest Hills, NY 11375-1022 phone: 929-372-7360." Well guess what? After calling them 3 times at 13th (4 days after it should arrive) I got no help from them, but I got a email at 14th (5 days after approximate arrival) with subject: "Something from your order has been canceled." Can you believe that? "The item(s) listed below, part of your order (Order # **) placed on 08/31/2016, have been canceled. You have not been charged for the canceled item(s). See the FAQs below for possible reasons for the cancellation. We're sorry for the inconvenience."

Bought a pudding pie at Target and cut myself a slice. After taking a piece and putting it into my mouth, I felt something. I pulled out of my mouth a few strains of human hair, approx. 6 to 8 inches long. I also found hair in the pie itself. I packed up the pie and went back to Target. I presented the pie and showed them the hair. All they did was give me a refund and I said that is it. I stated that I had human hair in my mouth from the pie. Then I had to threaten them, with the Board of Health, so they gave me a $10 gift card, to shut me up.
The next day, I called Target Corp., told them the story above and they said that you didn't get sick or go to the hospital, so there fore there was nothing they could do for me, but they would look into the situation. As far as the $10 gift card I got, they said I was lucky to get that, because Corp. would of not done that. They said they may reach out to me after their investigation, but I believe that is very unlikely. Target said they were sorry about the issue. Sorry is not good enough. The only thing here is Target is worried about their own butts and no one else. Do not buy anything from their bakery, since they are not concern about health risk or their customers.

I will NEVER order anything from Target again. They can keep their free gift cards. As of late, the household supplies I usually order (paper towels, etc) would be shipped in separate boxes instead of the initial one box if I order just a couple things. And this last order, I DID NOT receive my entire order. Two days later, I get an email saying that the last remaining pack of paper towels I ordered was delayed. That was acceptable, but not how it was delivered. It was NOT delivered in a box instead it was delivered with no packaging of any kind except the original packaging that you find on the shelf. What's worse was that the plastic wrapping was VISIBLY CUT causing the rolls of paper towels to hang out when being handled. This is a DISGRACE! No amount of discounts or promotional gift cards is worth having a order delivered with damage or not even in a box.

My first time on ordering from Target online and I was very disappointed with the service I received. The discounts were nice but even with the discounts when the orders came to the store I decided to not purchase the items. I will not be ordering anything from Target online again.

I recently bought a turntable at target.com and picked it up in-store. I decided to go ahead and add the 2-year protection plan (through Asurion). The manufacturer offered one year of protection, but I figured it would be good to cover it for two years, and it only cost $18, so what the heck? Well, now I regret ever going down that path!! I got my turntable at Target no problem, and they said my protection plan would be in my email in a few minutes. Now, to the store's credit I absolutely LOVE the turntable, and I'm so glad I got it. However, the Protection Plan never came to my email (I checked my SPAM folder, not there either). That's when the frustration truly began. I called to look into it, and after about a couple weeks of back and forth calls, confusion, time wasted on the phone, and no real answers... I just decided to cancel the plan.
A few days later Target reached out to see why I was unsatisfied in a recent survey, and I told them about the plan. So they gave me ANOTHER number to call. Overall, it just seemed that no one knew how to help me, and this "phantom" plan is just way more trouble than it's worth. I never got charged for the plan, so that's good... but I still wasted good time trying to resolve this. The last straw on my most recent call to Target, again I talked to 3 different people... The final woman said to go online and re-apply for the plan and see if it worked this time. That was my limit!! I told her I had already spent enough time trying to set up this plan, I wasn't going through the whole process again, AND paying the $18... I figured they could at least pay the fee for me. Nope.
I admit I was frustrated and a little upset on the phone, but I did not swear at her or say anything offensive... but the customer service lady snottily said "Have a nice night" and HUNG UP ON ME!!! I will definitely never buy electronics from Target again, and I will think twice before I order from target.com or go to a store. I would rather patronize a business that takes care of its customers!

I ordered a bedroom dresser from target about 2-3 weeks back and did standard shipping and took the later date of the estimated delivery and sold my furniture the day before to make room for the new one coming in the next day. The bed I ordered from Walmart came in. Unfortunately no dresser from target came in. That same day I tracked my package since target was too inconsiderate to notify me of this issue, and UPS damaged my package during the delivery and sent it back to the warehouse. I assumed they would put out another order and bring me back a new dresser... I thought wrong. I had to contact target and ask them when my dresser was going to be delivered and I came to find out it was never going to come to me. A very nice lady by the name of I believe was Lilian did a replacement order with express shipping for this great inconvenience and I am very appreciative for what she did.
I was told my dresser would be here on August 24 but it's now August 24 and I still have nothing being delivered to my home. Nor a tracking number. I spoke to two managers from the customer service office. I called one of them which was very rude. The first lady by the name of Abby told me I would get my dresser within a week. I've already gone a week without my dresser. I'm assuming she got frustrated with me, which is unnecessary because I'm the one with the order gone wrong here, she transferred me to someone else by the name of Brianna. She proceeded to tell me that I should have been glad I was able to keep a dresser for free because they seem the think I have that dresser in my home which I do not hence why I am very upset with this whole situation.
Never did I receive and email or phone call from target informing me on my damaged package being returned to the facility, I had to call customer service for a replacement, and still I call again to find out the current information and get rude tones and aggravated representatives. I asked for some type of compensation since I have been very patient throughout this entire process and the second manager I spoke to told me my compensation was the express shipping on my already a week late package. I am very displeased with my entire experience and it is unacceptable. The managers I spoke to should be retrained and more understanding of my situation and frustration.

Tried to use a Target gift card for a return to pay the charge on my credit card bill. "No way" they say. Dumb. Dumb. Impossible to deal with on any level.

I ordered rugs from Target.com in mid-July. The rugs were delivered to my house in a timely manner but they were the incorrect rugs. I ordered orange and got the blue. I called and was told that they would send my labels to return them and fix the problem. While waiting for labels I received a 3rd rug which I never ordered but still the wrong color. After waiting a week for labels I called back and again explained my issue. After an hour of my time and explaining myself to 3 people labels were sent to me via email. However I could not print one of the labels because it would just error. I ended up shipping back 2 rugs and returning one to the store... explaining that I had a rug I did not pay for and just wanted to return. I was also told that I would be refunded and would have to place another order. I placed an order again for the orange rugs. Today I received on my doorstep another blue rug.
I called customer service and the first person I was in touch with said he was sorry but he shut off his computer by accident and would not be able to help me. On my second call today I was informed I ordered the blue rugs and I was wrong. I informed the customer service person that I was looking at my ordered and had ordered the orange. He said I could again return the wrong rug. In order to return the rug I need to print a receipt. This system is also not working on the website and just says "sorry there was an error." I attempted to chat with someone on-line and after being told there was a 2 minute wait time was informed that I would have to try back. I would love to send an email to complain about this runaround but when you click on that link it of course doesn't work. I would like to think I was being punked by Target with all of these blue rugs and poor customer service but sadly I think that is the best they have to offer.

I placed an order for two twin beds. The beds came on two separate days which was fine. However, there were 2 foot boards in each package rather than the footboard and headboard. 10 four I had to return the items. In the process of spending hours on the phone with target.com, I discovered that the non-English-speaking person had taken the email down incorrectly. I could not receive any correspondence about the order. When I called for a return label, it only sent for one pick up. I had two packages. I had to call again.
Now I am on the phone again today because target.com will not refund my money even though I have UPS tracking proof that the items were accepted on the dock. I have two credits pending at different amounts even though the beds cost the same. I am talking/holding to my third person after holding for 50 minutes. They hung up on me. No one speaks English. When I called for the return label the customer service person said that she was emailing me a coupon because of all the problems that I have had. I have yet to receive the coupon. Can someone help me get my money back on this problem resolved.

On August 17th 2016 @ 8:10 am I called 212-835-0860 to ask if the Holmes window fan for 39.99 was in stock only to be left on hold and disconnected, I called back several times and was left on hold and eventually disconnected and this went on for at leafy 20 minutes, which is a bad way to start my day...

Allow me to explain my issue (as a disclaimer, I hold no particular customer service rep accountable. This is Target.com issue). I ordered a pre-order item yesterday. I changed my shipping address on my account (to reflect my new address I've moved to) and all went well BEFORE I placed the order. Your system STILL used my old shipping address. I called Target.com and explained that it was trying to send it to my old address, which of course, is useless as nobody is there anymore.
They stated they could NOT change the address and nobody had the power to do so. Not only did this poor online ordering system screw it up, I had to cancel the order and miss it because there are no more of the item. They explained that was the ONLY way to reissue the shipping address. On an item that hasn't even shipped yet. This is ridiculous customer service and actually, a really poor ordering system. What kind of company can't actually change the shipping address RIGHT after an order is placed on a pre-order item that hasn't even shipped? Furthermore, why wasn't the shipping information correct after I'd changed it?
Honestly, I really just wanted the item. Can anyone help me with this? Are they going to get any more of this item? I have begun warning people of this issue on social media/reddit because it actually would deter people from further ordering on Target.com. If anyone could assist or help me get the original item I ordered, I'd greatly appreciate it.

When I place an order online using my RedCard, I routinely see a transaction on my RedCard for an extra $0.01. This is one cent more than my online order confirmation emails says the order cost. Shouldn't it be illegal to charge customers more for an online order than the order confirmation states? A penny here, a penny there, Target is overcharging. How can they be stopped? Can someone bring forth a class action lawsuit or something?

I called target to ask why I have not been receiving E-statements, I have been enrolled in paperless statements for about a year and in the beginning I was receiving my E-statements and alerts without an issue, but suddenly all of that stopped. I called and tried to figure out the issue, spoke to some guy named James who didn't even speak proper English just to have him repeat the same information over and over. James said you didn't receive an E-statement this month because you paid last month's twice. James is correct on that one because that means I have no bill due at the time, but what about the prior months? Where are those statements?
I am a mother, full time worker, busy woman to say the least, like so many other people in America are. I need my statements to remind me my bill is due. I actually paid the bill late a couple times because I was getting no word from target. To top it off this jerk James guy I was speaking to on the phone hung up on me after not knowing what else to say. I stopped going to Walmart because I felt target was Much better in general. After this fiasco I honestly feel they both fall under the same category and that is S**t. Doubt all be using my target Card anymore or shop there. ANYONE OUT THERE HAVING ISSUES, DON'T BOTHER CALLING CUSTOMER SERVICE, THEY'LL JUST HANG UP ON YOU.

I called Target customer service about my urBeats headphones. I got a 2-year protection plan on the headphones. And they mess up after about 2 years and a few months. So I called customer service and told them I wanted to mail the headphones for a pair that works and they say I can't do that. All I needed was an exchange, not my money back. And I tell them that these headphones are the Lamborghini of headphones comparing headphones to automobiles of course. You think I'm going to want to buy a Lamborghini that only lasts 2 years and that's it?? ABSOLUTELY NOT! Then they shouldn't be charging 10-30x the price of original headphones for something that only lasts 2 years. I told them to make a protection plan that lasts longer because that's **.
I believe Target purposefully makes the protection plan at 2 years ONLY (no longer than that) because they know after around 2 years they start to mess up. I asked the dull, lifeless woman on the phone if they could create a protection plan that lasts longer than 2 years nicely and I get a stiff and unapologetic "no". I have been a customer at Target for a long time and they give me the cold shoulder and could care less if I get a faulty product. I'm not spending $100 or $300 on Beats headphones every 2 years. That's pure stupidity. Guess this means I won't shop there anymore. A lesson that can be learned from all this...? Give a ** about your customers and maybe they will continue to give you their money. Duh!

DO NOT VISIT STORE! MELISSA, ROBERT, AND CRISTINE SHOULD ALL BE FIRED! I will be contacting the BBB. If there was a way to rate this company and store "no stars" I would do it. By far this is the worst store I've ever been to my entire life. The experience I had a couple weeks ago, today, and also on the phone to make a complaint was horrendous. I'm not to sure if it's a skill issue. They could be prejudiced, or maybe it's the fact that they are underpaid and unhappy.
No customer should ever be yelled at from 10 ft away for all Target customers to hear. I'm somewhat embarrassed by the behavior. I was told by an overweight female with tattoos I was not welcome to use the restroom as a mall employee. How unprofessional, right? Oh it gets better. Looking at her with confusion I realized she was the loss prevention advocate because she wasn't wearing red and tan like everyone else. She should be more concerned with theft and such but the fact that a mall employee uses the restroom upsets her. I asked for the number to HR and she said I could call Customer Service to make a complaint. She also gave me the incorrect store number on purpose.
Visiting the main issues both Melissa and Robert thought I should be banned over using a Target cart outside of Target which is something 75% of all mall customers do. Sounds laughable that managers worry about such minuscule things. So it dawned on me: Why would they single me out? Then I thought, "Wow, it's about race." And I hope it's not but these folks make me think only that. That was the only thing that differed me from looking like half of the customers they continuously allow to shop in the mall with a Target cart full of mall goodies. I was singled out for no reason I see. So feeling the way I did I called immediately to file a complaint and sure enough it didn't get better. I was hung up on 2 times and lied to by the HR supervisor after he got a little emotional over the facts I stated about the company he worked for.
So this is where I stand. You should not support Target by any means. Do not buy their products. Do no visit their location. They do not like customer service or even remotely being polite and civil. I will keep calling and reporting this until I feel like something will be done to all 3 leaders. I feel bad for anyone working at this location under these guys. Poor example of leadership. I asked myself, "Why do they even work at a grocery store if they can't talk to customers correctly with respect?" Such a simple job. How do you mess that up? Maybe this isn't the right job for the 3.
You would think after so many issues with Target as a company the chain would be shut down by now. But it's not. Scary thing is anyone of their customers could be treated the way I was. It hit a nerve that I will do whatever it takes to remove them from the working system of El Paso. Hey Target pay your employees better so they are happy and don't make a scene from stupid things that could be avoided! Stop allowing scum to walk your stores. It's not flattery. They really do suck as workers. Do yourself a justice and remove them immediately. Talking to them will not solve their bad attitudes and disrespectful gestures.

Please be aware when ordering online. It is their practice to charge TWICE. One charge is considered a "hold". If you're ordering online and things are tight, keep in mind twice the amount spent comes out of your account. Why? I have no idea. I ordered a total of $121.73 for a baby shower I'm unable to make, leaving me with enough money to make the week. To my surprise this morning, I get overdrawn alerts from my bank. Target charged me 3 separate charges. 121.73, 12.97, 108.76. I called to find out what the mix up is, and they explain it isn't a charge. It's only a temporary hold until all the items are received. Furthermore, the Target representative says all I can do is, dispute the double charge with my bank (who also charge for this service) offering no reasonable explanation for the double charge. So, I give Target a big giant ZERO in consumer courtesy.

I reviewed my credit card statement online and notice there is a $70 charge twice from Target dated July 11. I remember the transaction, I bought 2 gift cards $20 for a birthday and $ 70 for a baby shower. When I went out the door of the store I went back and let the same cashier check if the right amount was correctly placed on the respective gift cards. She told me then I need to swipe my credit card again and I said why. She said she voided the first transaction so that is why she wanted me to swipe the card again. She gave me the receipt of the void transaction and the new receipt.
I took picture of my online statement and showed it to customer service at watertown, NY Target where I originally made the purchase. The guy in the counter called a lady to deal with the problem. I explain to her the situation. She told me she cannot do anything without the receipt. When I came back with the receipt the same guy in the counter was there. He proceeded to look for the female associate. After 2 minutes the guy came back without the female associate (or she might be the manager who does not want to deal with my issue). He now wants me to pull my statement online. I said this is a picture of my statement online what is the difference. I thought to myself - you don't trust me that this picture of this statement is correct and why would I waste my time disputing this charge if this is legitimate.
He then told me they cannot help me and that I have to call their customer service. They should have told me that first thing rather than let me go home and get the receipt. I call customer service. She ask me what is my email address and phone #. She ask me the receipt and after holding for 3 mins she told me she cannot help me and that I should take it up with my credit card. She told me it would be between Target and my credit card.
This issue is preventable if employees are conscious of their job. Mistakes happens and should have been resolve at the store level. Either the employees are lazy or they don't know how to deal with this issue. Tell me which one. One thing for sure I won't be going back there. Maybe if I am Hillary Clinton or Donald Trump or a SOMEBODY there will be a quick resolution. I am just am a little consumer but have a lot of friends that probably won't shop there either. I am sure the loss of revenue from me will not make a dent or Target's bottom line-for sure.

My family consist of me, my husband, and our three children. They are over driving age and frequently need to have my debit card for an outing. Today I worked later than usual and decided to call in to go supper at Cracker Barrel. While I waited, ran to Target to pick up a few things... but decided to go ahead and get my grocery needs while I was there to save going later on. So, in a hurry to get over to Cracker Barrel, I go to the front check out and write my check. The clerk says "it declined your check..." I said "well what is wrong with your system because I know nothing is wrong on my end."
They pulled to the side like I had been detained in the store... called the verification line and the lady asked to speak to me... she said "you did nothing wrong but because you do not write checks in our store often we can only approve 200.00." (MY bill was 263.00). I said "well can I write two separate checks," "No!" so never-mind that they were losing my sale, never mind that their employee was going to have to put it all away, never-mind that I had invested 1 hour of my life getting the right things... that they would not allow me to buy! Target is the most non concerned about how the customer feels... so why can't your verification look in my account and see the check is good? Why can't you look and see I have never written you bad check. Bad choice Target, prob gonna cost you more than it did me.

7/29/2016 -- Called to inform that I had not received my new card or the bill for the new TV I bought. The lady was Hispanic or something and I could not understand her at all. I complained to her and ask for another person who spoke real ENGLISH to take over for her. She refused but did slow down her speech a lot and I was finally able to pick out the gist of what she was trying to say. I was very put out as I am the customer trying to pay a bill and trying to find out why my new card had not come in the mail. Customer service in this instance was plain suckie!!! New Customer!!! Bad experience!!! Come on Target!!! Get your act together!!! NEED ENGLISH SPEAKING HELPERS AS THIS IS SUPPOSE TO BE ENGLISH SPEAKING COUNTRY!!! THIS IS AMERICA!!! SPEAK ENGLISH!!!

I have shopped at Target for as long as Target exists. I have shopped happily for housewares, clothes for myself and for my children, electronics, school supplies, groceries and anything else Target may sell. Today I ended my relationship with Target and this is why: A couple days ago I purchased a video game Play Station 4 platform for $349 plus tax at Cheektowaga NY Target store. The item was sold as new in the box and removed from a locked cabinet in the electronics department. Once at home and upon opening the box I discovered that although the box appeared new and sealed the Play Station 4 platform inside the box was visibly damaged and well used. I was shocked and called the Target store immediately.
I explained the situation and the manager told me to bring to any Target to be exchanged. Fast forwarded 4 days later I went to the store to do just that and I am told that although the serial number outside the box matches the serial number on my receipt it doesn't match the serial number on the Play Station 4 platform inside the box and because of that that wasn't anything they could do for me.
The manager immediately called security and this unfriendly security guard proceeded to attempt to intimidate me and recommended I contact Sony for a refund. Furthermore he and the rest of Target customer Service personnel at the Cheektowaga and Niagara Falls Target store told me that this happens all the time and it's never handled by the store. Lesson learned and please be aware: upon buying electronics or anything of value at Target Stores open the box in the store in front of management and confirm that the item indeed is new and that serial numbers matched. Yes the manager also confirmed that I unknowingly purchased a previously returned item.

I purchased a couple of items for my daughter's birthday (for my mom who is scared of online shopping) on Target.com. We procrastinated, so it cost $15 for shipping for 1 of the 2 items to arrive on time. It did. It was decent. A little smaller than expected, but no complaints. The day after her birthday, I checked my bank account & Target had charged me twice for the one item plus shipping. It occurred on my daughter's birthday which was 2 days after we made the initial purchase. (I had not visited their site after that either, so a bit strange.)
I never got an email confirming the order like I had for the other one. I called them & they told me that I had to dispute it with my bank. I told them that it was the same amount to the penny as the one item with tax & shipping. Also told her that I didn't want to dispute it, cause it was likely a duplicate order. She was real condescending & I wasn't as level headed as I normally am as I got off the phone with that little pleasant lady representing Target.com. I then spend 30 minutes on the phone with my bank to resolve this issue. I am sharing this with you while still quite irritated, not sure if they will be sending a duplicate or not, but it still shows their professionalism & how they handle glitches & issues.

I just decided to cancel my registry with Target. The registry my husband I spent two hours setting up, the registry that all my shower guests know about, it's gone. I'm in tears after all of this, but after my experience with their customer service, I couldn't continue to give them my business. The original issue was annoying, but not the end of the world. Only a few people know the gender of my baby and the rest will find out at the shower (before gifts are opened). My MIL knows the gender of the baby, and she went to the store to buy a shower gift (even though the baby has already been showered in gifts by her!), and of course she went off the grid and bought a bunch of little boy clothes.
So today, MIL's best friend logged on to my registry and saw all the clothes she bought me listed on my registry. They were under "purchased" but anyone looking at the registry could see them. I was able to delete them, but I would have to manually manage my registry often to keep my surprise a surprise in case anyone else bought little boy items. This would also remove any surprises for myself at the shower because I would know what I was getting every time a purchase was made.
I contacted customer support via the online chat function to explain my issue and to see if there was any resolve to it other than the close monitoring. I expected something like them explaining to me that they do this to avoid item duplication and whatnot. Instead, this rep, Brady, just refused to acknowledge what I was saying. Again and again he just said nobody was able to add items to my registry without the email and password. I was trying to explain to him what I meant, but he had no interest in helping me whatsoever. So I told him to delete it, and with that he was extremely helpful, deleted it in seconds no questions asked. And now I have to redo my registry with another company with two weeks notice.

Bought a Kitchen single serve drip coffee maker online. I had to take the coffee maker back to the store in North Hollywood, CA because it started smoking right when I plugged the cord in and had not even started it yet. Had the receipt and pick up slip, but the clerk & manager could not find my payment online and would not credit my account and would only give me a gift card for the amount. I had new items I wanted to purchase at the store that day and the manager would not give me my 5% discount because of the gift card for these items so I actually lost a savings that day at Target. I'm on a fixed income and rely on every savings I can get. Needless to say I was very disappointed with Target that day.

Why? Because here is what happened. Obviously, the deal was made by mistake. Once people started buying, they panicked and removed item from the site altogether. Within 4-5 hours, they took down the page. They send a mail which is very passable for spam (which went to Junk), giving a 2 day deadline to call them up and confirm the order or cancel automatically. What on earth is that? Understandable that you want to cancel as many purchases as possible - but the automatic cancellation? This. is. so. wrong. I log in to website to check if I can accept the updated conditions. Nope. The confirm change won't work anymore. Well, I want to present my wife with this new toy for her Birthday. And I used a gift card as well. I can't go back and cancel anymore. The guys who do this, will make me send 500 mails before they refund.
I call up the Customer care. The lady is nice and pleasant - she tried her best. But guess what, the item arrives on August 26th. Oh wait, the mail said - the shipping is now a "free 3-5 day shipping". Yeah, shipping is only 3 days. It will take a MONTH to restock a kitchenaid mixer. A month later than when I want it. I ask her if this is available anywhere in Chicagoland (50 mile radius) or even Illinois so that I can pick it up. There are 91 targets in Illinois. Nope, there is not even a single KitchenAid Professional 5-Qt. mixer in any target in Illinois that I can pick up. Yeah Right. Tl;dr: I used to be a guy who loved Target. Not anymore.

I placed an on-line order through the wedding registry for my niece just last night. The gifts were for her bridal shower next week. I received an email approximately an hour later, confirming my order, and to my surprise - the order was not being shipped to me, at my home address, but to my niece, at her home! Obviously, as this was for a bridal shower, I DID NOT want the gift to go to her residence. I called them immediately to have the shipment re-directed. I was given a Case # and told to call this morning at 7:00 a.m., and a supervisor would take care of it for me. I called at 7:00 a.m. and went through the whole issue once again, only to be told to call back at 9:00 a.m., as no one could help me until that time.
Of course I called back at 9:00 a.m., and went through the entire issue yet again, only to be told that there was nothing that could be done! I was told that when a bride creates her registry, her address is the default shipping address for items purchased from that registry. I asked to speak to a manager, and was told there was no manager available. I then told them to cancel my order completely and I would just go to a local store and purchase the items, and they told me they could not, and would not do that!
My only option is to have my niece return the items herself! I have shopped from MANY online gift registries, and have NEVER encountered this issue before! The items have always been delivered exactly where I intended them to be sent. This issue has been so frustrating and disappointing, and the customer service so lacking, that I will never shop online at Target again, and most likely will not shop in their stores. There is nothing there that I cannot get elsewhere, and more often than not, at a better price. This is so disappointing on every level.