Consumer Complaints and Reviews

As I go to write my issue, I see LOTS of other customer having the SAME issue. If you use PayPal as form of payment for online order and want to return item, if you return in mail they will NOT credit your account, they will issue you an e-gift card, but they fail to tell you this! This is the ONLY retailer who does this. Customer Service and CS Supervisors say they can do nothing because "we can't tell how you paid" but my order CLEARLY lists my credit card number. THIS UNETHICAL AND RIDICULOUS PRACTICE MUST STOP!

Can we get anyone who speaks English? It's pretty obvious that Target chose an Indian call center as their new CS hub for the holidays, or maybe from now on. You can barely understand them, they get confused, and they can do nothing for you. These people don't have the same privileges as a CS rep in America, who could track down your package, see what's wrong, or reorder for you. They can only tell you endless excuses as to why your order from the 25th hasn't even shipped yet. And apparently no one has told them that Target now ships from stores instead of just warehouses. What a mess! Thank God for Paypal. If this package is not in my hands by the 6th, I am getting my money back. ** Target.

On October 14, 2016, I ordered an item from a wedding gift registry. I was charged for the item (and gift wrapping) but the item was never shipped. A review of the FedEx tracking information shows the shipment is 'pending'. I called today, November 30, 2016, to find out what happened to the order. The customer service representative saw right away that the item had not shipped and offered to send a replacement. Since the customer service representative could find the information about the incomplete shipment so readily, why did I have to call? And, why wasn't I notified that the shipment was never completed? Target's order fulfillment system has serious defects.

Do not order online. So here is my honest experience. In November, I found out I was having major surgery on my kidneys. That surgery had to be done in December. Not knowing how long I would be out of commission and my anxiety kicking in, I decided to shop and get ready for Xmas a bit early. I have 3 boys, husband and a dog. (Also two large sides of the family to shop for.) I work full time. So needless to say I was hoping for a smooth shopping experience. I received nothing but the very opposite. I placed four orders. Total of 87 items and spent $849.03. Keep in mind this was gift wrap items, stocking stuffers and decorations. Many of the items that were shipped in separate boxes so keeping track of what I received was an absolute nightmare. Around 20 boxes came in at different times. This didn't seem practical and what a waste of cardboard and packing materials.
Also things were packed strangely. I received a large box with 1 bar of specialty soap. Then I received ten items in a box with a xmas wreath shoved in. This was along with heavy items. The wreath had red faux berries that were crushed. I received one box of 1-Coppertone sunscreen that looked used (which I never ordered - wrong Season). This box had the packing slip for Neutrogena body wash -3 pack which I had order but never received??? What??? I purchased small decorative xmas trees that were squashed by items and could not be fixed. I still haven't received several items.
Calling customer service is a nightmare and no one seems to speak English very well which makes it very difficult. I returned 2 items. The first person said they never received my return. I of course was then transferred when I began to question that. The next person told me my return was received but my return was never processed and I never had my credit. That was about a month ago. Very shady!!! I will never order from them again online.

BUYER BEWARE!!! If you use PayPal as form of payment for online order and want to return item... if you return in mail they will NOT credit your account, they will issue you an egiftcard, but they fail to tell you this! If however you decide to return the item in store you MAY have the option of cash or giftcard as refund. I say MAY because it would depend on certain factors such as whether the store "felt like it or not" and whether or not they had enough money to give back to you. Very shady business practice!!!
How do I know I can trust these reviews about Target?
638,664 reviews on ConsumerAffairs are verified.
We require contact information to ensure our reviewers are real.
We use intelligent software that helps us maintain the integrity of reviews.
Our moderators read all reviews to verify quality and helpfulness.
For more information about reviews on ConsumerAffairs.com please visit our FAQ.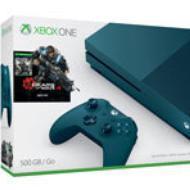 Black Friday ad ran 2 consoles. Same thing, 2 different prices, I don't know why?? Bought the wrong one, order completely messed up, email, and tracking number. I will warn you do not mess with anything with target.com. The staff from mgr, sup, rep, inexperienced... I am so upset this console is going back in the morning. I want my money back. My son will get a console but not from Target.
I never receive the 40 gift card, it was suppose to be proper adjustments made. Now target want to make adjustments. I just want my money back. The hell with Target!!! Never will I buy another item from Target... I am going back to Walmart where the prices are great, food selection is great. Staff is more experience and larger selection to choose from. Target go to hell, retrain your staff before doing online orders.

Very unsatisfactory customer service. Apparently an order I placed on Nov 19 was damaged. No one ever informed me. I called to find out why there was nothing in the UPS tracking & the package never arrived. It was Christmas gifts purchased for my team. Now no longer available online I was informed. I purchased them when on sale at 20% off plus $10 off $50. Now 10 days later I have to travel from store to store to see if I can find the 5, have lost the discounts I originally purchased them under (a total of $23), have to spend my time and gas and was offered a whopping $5 gift card for my inconvenience. Great customer service Target.

Target advertised an Unlocked Samsung Galaxy S7 edge 4G LTE available "in stores and at Target.com." The Target store informed me that they "never carried" the item. The website gave an alternative phone than the one depicted in the ad. Upon contacting the website representative, the telephone that was pictured in the ad was for $187.85 more than the advertised price. I really do not believe that the Target ads are worth the print and certainly represent false advertising. Best Buy came through.

So disappointed in Target! After seeing that the Mesa West (Arizona) store had an iPod shuffle in stock (via target.com), I drove to the store to purchase it as a Christmas gift. The price in store was $49.99, but the target.com price was $39.99. One store employee said that I could take the iPod to Customer Service and they would charge me $39.99. A second store employee stated that they were not price matching, even with their own target.com price. Really??? I can understand not price matching another store, but when it is available for order online with in-store pick-up, why not price match? I asked the store employee if I needed to go home, click the order button, and then come all the way back to the store for pickup. He said yes. Really? This policy makes zero business sense. So I placed the order online and continued shopping.
After purchasing my other items, I went to Customer Service to get my online order. Since the order had not filled yet, the manager said that she could not override it and process the order. Unbelievable!!! I asked if I could walk back to electronics and pick it up for them since store employees were seemingly much too busy. She said that she could cancel the order and I could bring the iPod shuffle to Customer Service...but then I would have to pay $49.99. Are you kidding??? Unbelievable and extraordinarily poor business practices! Needless to say, I canceled my order completely. Target clearly does not want my business.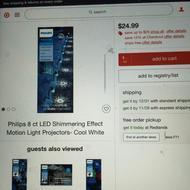 Please be careful with Target's delivery promises. I ordered Christmas lights from them yesterday for store pickup the same day and waited all day for the lights to come in. I called the online orders this morning who told me that it was the store's fault and the store said it was distribution's fault because they could not handle all the orders. They said they will try to fill the order in the next 24 hours even though their website still says I can pick up the items today and even gives me an aisle number in the store. I asked to speak to a Supervisor who also is not available for 24 hours. Do not order something for same day pickup if you are in a hurry.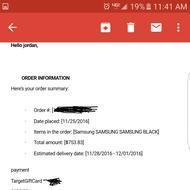 I ordered the Samsung 55" curved 4K UHD Smart TV that everyone had on sale this Black Friday, but since I have so many of these new Target gift cards that they've been handing out like candy, I figured I'd use them for once to save some money on top of the deal. Well after trying to order the TV several times on the website at 2am on Black Friday (I was too tired to drive 30 mi. to the store, big mistake), I had observed that it randomly appeared available for online purchase and unavailable, as well as in-store only. That was the first warning sign I ignored.
Next, when I caught it in between checkout attempts when it appeared as available for online purchase, it started disregarding the gift cards that I was entering. It showed that the gift card had been entered, but the amount of the purchase was unaffected by them. Warning sign number 2. Finally, I started all over again and it was 3am by this point. The TV appeared available for purchase online, and the gift cards showed their dollar amounts and the transaction looked like it went through. Ha! As soon as I get to the next confirmation page it shows the total without any gift cards applied to the price, but lists them all as being used in the transaction. So I've got a 697$ sale price with 55$ of taxes, and 115$ of gift cards that are now unusable because they've been registered to the transaction.
I spent over an hour on the phone with Target customer service at 5pm on Black Friday and they came back with every effing ridiculous excuse. Rep: "Your sale price is correct; 697$." Me: "I used 115$ of gift cards that weren't applied to the total." Rep: "Ah, my level 2 support has determined the issue. Your sale price is not the final price. With taxes it will be another 55$ which is why you paid 754$." Me: "No. I paid 697$ plus 55$ taxes, which is about $754. But I used 115$ of gift cards. The price should be 638$ charged to my card because of the gift cards." Rep: "Ok sir, my boss says that based on your method of payment, your card will only be charged for the 754$. You will eventually receive the 70$ promotional gift card in the mail." Me: "I'm not questioning the new gift card. I am asking why the current gift cards I already possess and applied to this purchase weren't actually applied to my final price after completing the order."
This went on forever. I finally helped him understand and got him to send an email to me immediately after our call confirming the total and the amount of gift cards and what would be charged to my card. I was annoyed but pleased with the result. Woke up today (2 days later) and received an email that my TV item on my order has been cancelled and they're only sending me the 70$ promotional gift card that came with it; just not the TV itself. So at this point, I'm down 1 Black Friday purchase (that I could've gone anywhere else and purchased in store or online on Black Friday) and I've currently lost those 115$ worth of gift cards that were associated with this transaction that will undoubtedly be impossible to get back from Target.
Overall, I lost about 3 hours of frustration and wasted time and 115$ of gift cards (unless that 70$ promotional gift card actually arrives; then I guess it'll just be 45$ loss). Any loss, whatsoever, is considered theft unless the responsible party returns the payment in full. I am a professional software systems architect and build large e-commerce systems like this for a ton of major companies like Target. This is not a coincidence. I would advise an investigation into their actual order invoice processing platform and the review the code base. It seems pretty consistent that orders purchased with gift cards are automatically rejected and thrown into a separate queue for further handling/processing.
Target has gone quite mad with their "gift cards for everything!" sales incentives in the past year or so. There cannot be any way to legitimately discount all products so dramatically with those bonus gift cards on most high price purchases (over 50$ average). The observed behavior of the website and the various reviews I've been reading lately from people related to the gift card issues and store credit gift cards seems quite suspicious and could very easily be classified as a preventative measure to block the actual usage of these gift cards.
If you look at this from a different angle you can easily see that they are giving out unnecessary gift cards in order to lock you into purchasing from their store, rather than going to Best Buy or Walmart. That's the "bait" if you would like to deem it as such. Once you've made the purchase, however; you later realize the gift card is either unusable or your online purchase is either rejected or cancelled after the fact, and the gift card you used in your purchase either becomes lost in the target.com "customer service ether" or an endless game of calls and deferrals ensues. Seems like a pretty good way for a retailer to not only make a sale, but also not lose the additional money in gift cards that they attached to the deal in order to make the sale in the first place. I hope someone found this technical observation useful. Moral of the story: Do your Black Friday shopping in store and never use your Target gift cards online.

So basically I go to Target electronics and ask for a shower speaker. That way I can listen to music on the shower. The Target employee say named Bob ** recommends a speaker saying it's waterproof. He does not mention it only takes Wi-fi not Bluetooth. So I spend 200 dollars only to find it won't even work in my home. You can forget about the shower already as it's not waterproof. I go back to return it stupidly without a receipt about a month later having gone out of town. 38 days later without a receipt does not match Target's return policy. In my opinion strict return policies make a company look bad. It indicates that it happens a lot that people come back wanting to return items. So I tell the lady I was misinformed about the item and she calls her manager. The manager doesn't even pretend to care. She just whisks me away saying I don't meet return policies. Yeesh Target. This is awful service.

After being an EVERY day customer of Target in Watertown, NY, I will never step foot in Target again. After standing in line for 2 hours in the cold waiting for the store to open on Black Friday, I was told that the item that I was waiting for (Beats by Dre solo 2 wireless headphones) that were in the Black Friday ad for $119 was not available in the store or online. This item was pretty much the only thing my 10-year-old daughter asked for Christmas. I cannot explain how upset I am at Target for advertising something, and then not having it. I don't want to shop at Walmart but if they can have better customer service than Target I will have no choice.

Product was never in stock, although it's advertised online and in paper for Black Friday sale. Not one store ever had product! Neither store or Corporate office was willing to do any substitutions or offer any adjustments to satisfy customers.

For the first time I placed an order online with Target on November 16th. I received my email confirmation and bank statement showing the order was placed and the payment was received. Then today (November 23rd) I received an email that Target charged my account again for this order. After making sure my email was right and the bank account was right I called the Customer service number given to me in the confirmation email and stated my reason for calling. The guy couldn't help me with my questions so he handed the call to a supervisor, who couldn't help either as I was being told No I wasn't charged twice from them and to call my bank.
I confirm with the bank I was indeed charged twice for this order. So I call Target again. After being hung up on and then placed on hold for 5 minutes the guy comes back to the phone to state that I'm wrong and wasn't charged twice. As I start to ask questions again I'm hung up on. Such poor service, Now I have to wait for the bank to process the claim, which could take a month. I still have another order on the way with Target so now I'm worried this will happen to me again. Very upsetting, I'll never again order from Target.

Tried getting information about something I had ordered online and it was as if none of the representatives could even understand my problem! They ended up giving me a small credit, which was nice, but after three or four times having to call back, it hardly seems worth it. I love Target as a store but their customer service leaves much to be desired.

I purchased 3 toys on 11/17/16 from Target in Massillon, OH. I then discovered all toys were 40% off 11/19/16. On 11/19/16 I went into Target and asked if they could apply the discount. They said I had to return the toys then purchase them from the shelf (I couldn't buy the ones I returned). I returned the toys and went to purchase the same thing from the shelf. They were gone! I wasn't allowed to get the ones I had just returned from behind the Service Desk so I ended up purchasing something very similar from Amazon for less money than the toys at Target. This policy cost Target a sale!! They need to relook at this policy. Ive never heard of a store with this type of rule.

I ordered a swim suits (bottom and top) and received a toy and bottom instead... yes... you are reading this right, a TOY. I called, fuming. They kept saying that they were processing a replacement then asked me to go ahead and drop the toy to the store. I did then I get an email saying my replacement order has been canceled. I am like wow, what??? I called, fuming again. They kept giving me the wrong info from: "oh now it is on its way" to "oh no it is actually canceled" etc etc. I got so tired of this I said "just cancel the whole entire thing" and that I wanted my whole money back. They said "ok, you will." Then I get an email with just HALF of the refund I was told I was betting back.
I call AGAIN and I ended up spending all day on phone with them, from a hold to another hold (25 mins each time) and then once I got managers, nothing was resolved. At the end of the day, after my 7th time calling, asking to see an entire refund email and not just half of what I paid, they said it will take a whole week for me to get that type of email but that it is indeed being processed at an entire full refund, headache all day because of a stupid swimming suit and how can you even put a swimming bottom with a stupid TOY??? It had to be done on purpose from a vicious employee reason why I do not trust this company anymore and will never use them ever again. AVOID THEM at any cost.

Bought the Element tv from Target in rock hill SC. Kept in the box for almost 5 months (little did I know warranty was only a year). Well after hooking everything up about 8 month later the screen goes black... Target NO HELP at all pretty much says....you're screwed. So I called Element customer's services and got the same response. I wouldn't have another Element tv if it was free. Yes it was good price on black Friday 250.00 for 50" who wouldn't... My advice is spend the extras 75/100 to get a good name brand and don't be bothered with the calls and let downs from customers service and the company that MAKES the tv's. This is why USA is going down hill... Got a Samsung been on non stop for about 2 years... with no problems at all. Element tv's and their customer service sucks!

I purchased a 40in TV 11/16/2015 the person at the checkout suggested getting the extended coverage. Less than a year later I went to turn on the tv and it doesn't work. It has lines going in all directions. After following the process of going through Magnavox and then going through the people at the TARGET protection plan they feel that something hit the screen and therefore they won't cover it. There is not on mark on the front of this TV, so just by some picture I sent them with the TV on they determined that something was damaged behind the screen. I feel like the cashiers need to tell people more of what is covered and not covered. It seems they are all directed to upsell this product and hope no one needs to file a claim. It seems like such a good idea at the time until you really need it. I will not ever purchase another thing from TARGET unless this get resolved.

While shopping at Target I asked an employee to point me in the direction of seasonal. I was very rudely told by a front end supervisor that it's not her job to do that. Her name was Jessica and she is the reason I'll never shop at Target again. This is not the first time she's been extremely rude while I've been shopping at this store. I left without purchasing anything.

I walked into the Target in my area to buy an auxiliary cord 11/11/2016. I notice a nice pair of shoes on my way to Electronics, try them on and bring them with me to buy the Aux. cord. I walk around trying to find a cord and after a couple of minutes of confusion find an associate to help me locate one. The nice associate helps me find a cord and I proceed to pay and leave. As I'm leaving two men walk up to me and ask to see my receipt. I show it to them then ask why I was stopped. They don't answer and have their lead come to speak to me. The lead also doesn't have an answer for me but also asks me to see my receipt which clearly states I bought some shoes and an Aux. cord.
The lead then points to my shoes that I came in with and asks to see them. So now I'm standing at the exit removing my shoes to prove I did not steal them. So here are my issues. I am a 5'7 not very big woman surrounded by tall intimidating men who are not being particularly courteous and are somewhat intimidating. I've come to this store for 10 years and done the same thing I did in this date and am confused about what I did to warrant being stopped and asked to take off my shoes.
I genuinely feel as though I was profiled be it gender (I am a woman), socioeconomic (no effort was put into my appearance today), race (I am ** and so visibly **). Less so about the initial stop and more about the disrespectful and unapologetic way this situation was handled. Staff need to be better trained in courteously dealing with customers while in sensitive situations. My experience was not only upsetting and intimidating but also disheartening. I'll be taking a break from shopping at Target and won't be shy about sharing my experience with friends and family and clearly strangers. Disgusted.

I checked online for stock and it said it was there. I also called to confirm however the phone lines were apparently down although when I called the optic extension they picked up. They denied to transfer the call. I drove all the way out to the Target where it said they had the item and when I arrived there it was not there. I think that is unacceptable. If you cannot manage correct inventory info online do not offer that function. If that is incorrect always have a form of communication between you and the store. A complete waste of time.

I purchased a bike at Target and paid it off. I was happy because Target raised my credit limit to $500. I personally went to the Culver City Target and paid my entire balance of $75.00 only to receive a few days later a letter that stated that I was late on my payments and owed $75.00 and a $25.00 late fee. I called and reached someone in some foreign country that I could not understand, therefore I cut up my card and threw it in the trash. They can wait a long time for money that I already paid. Scammers, crooks, liars and thieves, that is what they are. There is nothing I can do about it except to never shop Target again.

On Oct. 14th 2016 I went into the Target store that I always shop in and made a payment on my redcard with a check. After I had handed the associate the check, inserted my card into the VeriFone and she had checked my ID she attempted to put the payment through on the register. She could not, apparently the register froze. She had absolutely no idea what to do. She had a side conversation about this with her coworker and completely ignored me. I was waiting for my payment receipt so I finally asked if I should wait, or had the payment gone through and would it be posted to my account. She assured me it had and that it would not be a problem. The first lie.
On the 18th of October I received an email from Target that my account was overdue. I first called my bank to check if the check had been cashed (it had not yet) and then called Red Card services. The attitude of the person I spoke with was basically, "We have no proof you were in the store and made a payment. Cancel payment on the check and write a new one. We would have to set up an investigation and check ON CAMERA TO SEE IF YOU WERE ACTUALLY IN THE STORE." Wow. I have never been late, I pay every month, you have lost my check and I am spoken to like I am lying. Where is the accountability?
OK I called client services to file a complaint. You basically tell your story over and over to different people who use scripted comments to appease you and tell you they will set up an investigation. They actually do nothing and you can call as many times as you like but they will do nothing but give you scripted answers and note the information if they are responsible for that area of the complaint. I did not stop payment and I made another payment to keep my account current. I knew the check would eventually show up and that I would not be held accountable if the check was fraudulently cashed.
The original check was cashed by Target today, 3 weeks later. The credit has not yet been put on my account because they DO NOT KNOW WHERE IT IS. I had to conference call them with my bank to prove the check was in fact deposited by Target on the 14th of October as I had originally told them. They do not know where the money is and it was NOT posted to my account. The two things that I was told that were unbelievable were, "This happens a lot, could have been punched incorrectly. We have to account for human error" and "It was probably CREDITED TO SOMEONE ELSE'S ACCOUNT, but we don't know." They are now doing another investigation to find out where it is.
There is not a single person in that entire company who did anything other than give me scripted replies and generally BS me until I got tired of talking. I even attempted to try to speak to the store manager. Forget it. On the phone or in the store I was rudely told he was not available ("why do you want to speak to a store manager", "are you a vendor or something?") or given the wrong information as to when he would be. When I left info for a call back (he was in a meeting) I never got one. After several attempts I just stopped. Corporate is the same sort of joke.
The only thing that was offered to me and this is because I asked, ("What do you do for customers that you have put through this because of your incompetence?") was a $20 gift card. I started to laugh. The man who assisted me asked, " Is something funny?" I do not even have the words for the real lack of anything remotely seeming like customer service in that unfortunate company. Once the mystery of where my money has gone has been solved I will close my account and never shop in Target again. Meanwhile I would like to know if I have any recourse through any consumer agency regarding how my check (my money) was mishandled and has yet to be accounted for. Any information would be greatly appreciated.

We paid our Red Card online last month and have a receipt of payment received. This month we were charged a late fee of $25 saying they did not receive our payment. We called and asked to speak to a customer representative. I got one who I could not understand as their English was horrible. I asked where the customer rep. center was, and I was told it was in Central America someplace, where I guess you don't have to speak English very well. We told them about our problem, and was to call back next week as today they were not taking accounting complaints. I have never heard of something so "Out of Place" when a customer calls for assistance. Guess they have now lost another very good customer.

Cheaply made clothes - Bought two pullover sweaters ($17 each). I hadn't worn them each for a full day before they both started getting fuzz balls and looking old and used. Target won't take back any clothes that are worn. I'd at least think that they'd take numerous times of wearing and washing them before they look old crappy. I'd rather pay more and get a quality product. I will not buy from them again.

I have pretty much stopped buying at Target due to all of the issues I have with purchases, exchanges, or returns, but my adult son found a costume he needed for a Halloween party at Target Online so I ordered it for him. I ordered it on Monday, Oct. 24 and paid for express shipping so it would be here by Wednesday, Oct. 26th because he needs it for Saturday, Oct. 29th. On Wednesday, the day I was suppose to receive it, I got an email informing me that my shipment has been delayed and the new estimated delivery date is Monday, Oct. 31st. Obviously, that is past the time needed and defeats the purpose of paying for express shipping.
When we called to cancel the order, we were told that we could not cancel AND would have to return the item to the store and then call customer service to get the shipping refunded. This completely defeats the purpose of ordering online and is causing me more time. The customer service rep did not even know that I had received an email regarding the new shipment date, and was not helpful. I am absolutely furious and plan to share how ridiculous this is with everyone I can.

This is worst place to buy stuff online. My orders got canceled without any reasons. They keep holding your money and then I lost my money. If you go to store it is even worse... Have to wait up to 10 mins to see cashiers... Not recommended.

I ordered 4 kitchen chairs, was charged for 4 and only 2 came. Days later I contacted them and they didn't have any in stock, and didn't know if they would ever get them in stock. They offered a gift card instead of refunding my money back. Unbelievable that I am the one that had to inquire, they never contacted me to let me know they didn't have them. And they charged me for them, leading me to believe they were on the way, never indicating they were low on stock. With Target you may or may not receive your order and what's worse is sometimes it's a partial order AND you will not be refunded the way you paid, so you are forced to spend your money there. Horrible customer relations. They simply DO NOT care.
Target Stores Company Profile
Company Name:

Target

Website:

http://www.target.com/