Consumer Complaints and Reviews

This is worst place to buy stuff online. My orders got canceled without any reasons. They keep holding your money and then I lost my money. If you go to store it is even worse... Have to wait up to 10 mins to see cashiers... Not recommended.

I ordered 4 kitchen chairs, was charged for 4 and only 2 came. Days later I contacted them and they didn't have any in stock, and didn't know if they would ever get them in stock. They offered a gift card instead of refunding my money back. Unbelievable that I am the one that had to inquire, they never contacted me to let me know they didn't have them. And they charged me for them, leading me to believe they were on the way, never indicating they were low on stock. With Target you may or may not receive your order and what's worse is sometimes it's a partial order AND you will not be refunded the way you paid, so you are forced to spend your money there. Horrible customer relations. They simply DO NOT care.

Target customer service - I called a few times today to figure out the best course of action to a missing package. Both instances the call was answered by people who had a very heavy accent and I couldn't understand a word they said. Kept repeating scripts rather than listening and helping me out.

Target lost my first order. Spoke with a dozen customer service agents, each more incompetent than the next. My needs were never met. I got a manager once and she was very nice but it was impossible to speak to her again. The foreign call center bad enough but each and every agent couldn't help me. A single order took days to complete. Never do business with Target.com.

I purchase a lot of things from Target, in store and online. It was not until I started taking advantage of deals online with them that I noticed a problem happening far too often. They would cancel an order for no reason but only on items that were a good deal when you bought it and have changed back to full price. Then they will not give you the discount you had previously purchased them with. It is rare for any items you paid full price for to be cancelled. Not cool Target, not cool.
How do I know I can trust these reviews about Target?
611,656 reviews on ConsumerAffairs are verified.
We require contact information to ensure our reviewers are real.
We use intelligent software that helps us maintain the integrity of reviews.
Our moderators read all reviews to verify quality and helpfulness.
For more information about reviews on ConsumerAffairs.com please visit our FAQ.

I am extremely disappointed in Target. I have shopped in store a number of times and had no problems. This time, however, I selected items for a gift that were not in store. Target.com helpfully offered the option of shipping to my address or shipping to store for free. I selected ship to store, which was my first mistake. By the time I completed my order, the only item that was in store was no longer in stock. I was not offered the option to ship this item just like the others, it was simply cancelled. Then, the ~5 items I had ordered started arriving at Target one at a time. I could not access my order online for some reason, so I called customer service. They said I had three days to pick up from the time the order arrived. "When the whole order arrives, right?" I asked. NO. EVERY ITEM HAS THREE DAYS HOLD, REGARDLESS OF WHETHER YOUR WHOLE ORDER IS THERE.
This would mean that in order to avoid cancellations on my order, I would have to ask my mother (I ordered the items for the Target closest to my mom, in hopes of them arriving in time for her to carry my gift to a baby shower for my sister in law) to drive 30 minutes one way to Target multiple times. The customer service representative said "so sorry, I can't" to almost everything I asked, from looking up estimated arrival dates, to extending the pick up time, to bundling the order together so I could pick it all up at once.
He seemed quite unempowered to do anything to change or modify a customer's order - and I don't blame this on the individual representative at all. I consider the fault to be Target's structure if your customer service can't help people. Needless to say, I will not be using this so called service again. It has made purchasing this gift very difficult and stressful, and it is now a week past the baby shower the items were meant for, and still no gift.

I ordered men's briefs from Target.com. They took order and game me delivery date for pick up. Then I got a second email telling me delivery is delayed. After that no correspondence. They charged my credit card. When I called for update, they said they cancelled the order. No notification or reason provided, as of yet they have not refunded money. I will take up with bank to get my money back. 800 number customer service did not care and offered no help. Amazing for a company trying to develop internet business. Back to Amazon for future orders.

I purchased several hair products on a special buy 2 of the same and get a 5.00 gift card. I earned 6 and I received the cards via email a few days later. As I was reviewing my bank account, I noticed that my account had many transactions from Target as a debit purchase but I knew I had only made one order. I called the customer service number and questioned why my account was debited for each of the gift cards, I thought they were a part of the special promotion gift to me. The REP HUNG UP on me when I questioned this. I called back and spoke to a supervisor who said "when you order via Target.com they discount the merchandise the gift card amount and then charge it back to you."
Well I'm not happy they don't tell you that, it is very confusing to see if you are charged correctly and if you somehow only have enough money in your account to cover what YOU KNOW YOU SPENT, this could have EASILY TURNED into an OVERDRAFT NIGHTMARE. So I will not be utilizing the website to order anything with that promotion. It sounds sketchy. Customers should be told how this transaction really works. I'm confused did I save or not? Did I earn a gift card really or did I pay for it? The supervisor who took my call when I called back was polite and patient and when I said I wasn't going to go.com anymore, he did ask to give them another chance. Target you need to tell your customers how that gift card stuff works because that is NOT how it works when you purchase in the store. My bank statement has all these transactions from one order and it is very confusing.

I was going to my local Target store to purchase an item advertised on sale, "save $2.50". The shelf was empty, so I asked an employee to find it. After 15 minutes, no one returned, so I went to check-out to find that the register would not accept the "advertised price". I went to customer service for a rain check. "We don't give rain checks for sale items". The agent removed that one sale sign but left all others up, even though she told me the sale had ended.

Target cannot be relied upon. What I wanted was not at my local store. I went online. Found what I wanted at another store. Drove about 25 miles to get there. The store didn't have my order, could not even find the order, couldn't even find my name. Did NOT have the item in the store. Manager said they did not carry such an item. Called customer service. The item wasn't even in stock online. Found item in another store (?). Was told no effort could be made to find and get the item to me in spite of THEIR mistake. Phooey.

It has been nothing but a headache from Target. They canceled my online order without any notice. When the package didn't show when it said it would in my confirmation email I DID receive I had to spend 1/2 the day on the phone figuring out what happened. Then rebuy it (at a higher price) only to be on the phone for rest of the day convincing them to give me my original discount like they promised that morning on the phone. Even though I had the case # they couldn't confirm that is actually what they said and refused. They automatically assume customers are the bad guys and NEVER apologize. Finally got it sorted out and shipped at my original price only to have it wrong again. This time I called and they were even worse than before. How hard is it to be nice? How hard is it to get something right the first time? How hard is it to honor your word? What a horrible company.

I had order four chairs from the Target Online on June 11, 2016. I received my confirmation of the order and then the next day, for some reason they had cancelled three of the four chairs that I had ordered. When contacted, the representative had told me that the purchaser had cancelled them. I know for a fact that I did not, but instead of making a big deal about it, I just re-ordered the three. Well, my one chair did come in, however, the other three ended up being back ordered. I received another email later notifying me that they were still back ordered a month later. So, getting frustrated, I contacted them again and asked, "Where are the chairs?" They responded with, "the order got missed and were never shipped". They are available, etc. However, they could not ship them because their system would not let them. But they would "look into it" and set up a work order to address this, and have it "expedited".
Well, a few weeks later, still nothing and I finally called again, this time I just wanted to cancel the order and get my refund. They responded that they can't do that because a work order is already in place, which they can't do anything until it is fully processed. But they would submit another work order to have my order refunded and they would have it "expedited". So here I am October 8, 2016, almost four months later and three chairs short. I have heard many excused to "computers are down", "my supervisor is not here", "I am the only supervisor here and I cannot refund your money", "a work order is already submitted". Very dissatisfied with the experience and it is one giant goat rope. I have talked to quite a few Target representatives and I am just beyond frustrated.

I bought a Snuza Hero from Target online back in March. I used this exactly as it says in the instruction manual. It caused an injury to my 5 month old baby. An injury so severe that it looks like she will have a permanent scar. I took her to the Dr. and he said it is from friction. I have contacted the company that made it and all they say is to put another layer between it and my baby's' skin. I would never consider ever using this product again and allowing it to cause another injury to my baby.
When I contacted Target they were so very rude and unhelpful. Initially I was told that since I still have all my emails and receipts from my purchase I could take it into the store to return it. I called the online support # and they called my local store in Lakewood, WA. But when I took it to the store, they refused. The manager refused to even come and talk to me. They were so rude to me that I was shaking when I exited the store. After many more phone calls I was told that they would do nothing. So Target sells an unsafe product that causes an injury to a baby and refuses to return it. They say that because it is over 90 days my purchase no longer shows up in their computer system.

Only store that carries my dog's food. I find Target has quality products. Target shopping is nice good quality merchandise. A little higher than other stores on price, but always clean.

Purchased dog treats. Found shelves were stocked with the dog treats I wanted to purchase. The Target Store I shop at keeps its shelves stocked. Store is always clean and well lighted. I generally have an easy time finding the items I'm looking for.

I order a set of curtains online and received them the next day. When returning an item bought online the transaction is quick. The ordering of items is fast and simple. I find shopping online at Target to be a very smooth and easy way to shop. They give you options on delivery, either ship to home or pick up at the store. Returning an item is quick and easy.

Customer service, the worst in my entire life. Disrespectful to seniors and disabled person as myself, taking wrong email down and sending invoice to wrong person. Rude, nasty. They try and make up with discount gift cards, but the attitude and training in their Tempe, Arizona location is abusive. I ordered a Cuisinart Convection toaster oven on Aug 12, 2016 from our baby registry, was given discount cards for the registry. I could not do online order so called to order it, the model had steam for $299. They took the wrong email address, and sent invoice and coupon to wrong person. When it finally arrived after many arguments with supervisors and asking for a manager, they say wait 24 hours, and the rudest people I ever experienced, did not care about my business, feeling they gave me a discount was enough and they did not have to correct the problems of the email and wrong shipping method.
Finally UPS delivers and the box invoice says it was my model oven, but inside the box was a rotisserie model, worth $100 less than I paid. Calling over and over, get no help and nasty supervisors. I say I want to maybe let my wife try this model, Supervisor says no, have to either send it back or bring to store. I say ok, send call tag and have it picked up. Ask for his name and ID, then ask to have an email confirming the UPS pickup. I get no email so I call back and the supervisor I get says the last supervisor wrote I did not cooperate and did not want to do anything so she had to request a pickup for me. Horrible people working there not trained to respect customers.
However after package was picked up I asked again where is my refund. The supervisor said I have to wait for it to arrive, Wanted pictures of the wrong item from box and the receipt from UPS with tracking number. I sent that in and again said why can't I get my refund. She says 7-9 business days. I protest that, ask for another manager. On hold again and she says "ok I will submit refund, 3-5 business days." What kind of company is this? Who trains these supervisors and managers and why can't they get the order with my email correct. They keep sending my invoice to the wrong email. Finally a few days later someone calls and offers me a e-card gift and corrects the wrong email and apologizes for the abusive treatment I received.
Shipping was UPS but passed on to USPS SurePost, but they came UPS for the first part of order and the small item was in my mailbox. I suffered with this company, most of the supervisors were not helpful and outright rude and lying about my complaints. Would not take responsibility for the mistaken email the order taker took or the wrong item sent or fixing the problem took way too long. Getting a manager that was defensive and only offered discounts was not really helpful.
Overall I do not feel safe shopping at Target because of their policies and how management staff treats problems that their staff make. How can I trust buying from them when all they do is lie about the process and I see that the convection oven on the registry was marked out of stock and no date for getting it back in stock? Sad how this company operates. They did finally get someone that listened to call me and apologize and fix the wrong emails and send me the invoice and correct the e-cards. We now have these e-cards and do need to buy some items, and could use these for the purchases and will have to give them another try since we will have these e-cards to use.

I do not write reviews & I do shop at our local Target. HOWEVER, I ordered two kings robes for Halloween. Both came in with side seams not sewn & gathered. After carefully ungathering them, I discovered these gaping holes. Now I'm forced to sew them myself. In addition -- what really set me off -- Target sent in a review email today. Under the circumstances, I went thru with their process. And an error message repeated itself: "We cannot post your review at this time. Please try later." Not happy with the one star?

I ordered some shoes and hair straightener that I could not find in store. The setup of my account was easy and I thought everything would be okay. The order went through and they said they would not charge my card until the item was shipped. They estimated my ship to store time would be about a week and it was fee. I thought to myself this is great. Then about 30 minutes later I get an email stating that due to unforeseen circumstances one of my items would be delayed until mid-October? Why so long - no real explanation and then I get another email stating my other item would not reach me until about the end of October. They have the worst shipping times on earth. Where is the warehouse located? On Mars? Ridiculous. Not ordering from them anymore! Way too long to wait for shoes and hair straightener...

My wife takes medication that makes her very forgetful. Today she was shopping at Target and spent $550 for two baskets full of items but forgot to have the sweatshirt rung out that she put on when she was cold. She had every intention of buying it but simply forgot that she had it on. She was arrested by the police and given a notice that if she returned to the store within a year that she would be arrested for trespassing. The police were very understanding of the situation and basically said that she would be found not guilty in court, but that they had to arrest her because that's what the girl at the Target store said to do. So a grandmother with dementia was arrested for no good reason.

I recently purchased a game and express shipped it so it would arrive before a party where I intended to play it. But Target shipped me the wrong game. So like any normal person I called to explain and try to get it fixed. The first person I explained the situation to hung up on me. So I called back and the second person wanted me to ship the game I'd received back to them before they'd ship me the replacement. After a short argument, they said they would ship my game immediately and that I could return the other game as soon as possible. For my trouble they gave me a $5 eGift card, as if I would use target.com again. Moral of the story - don't shop target.com.

My sixteen year old daughter and I visited the Target on Harbison Blvd in Columbia SC to buy a TV for her birthday. Tim in the electronics department was very patient and helpful. When assembling the unit we discovered it had no remote which was one of the listed accessories. I was told to bring the TV back to the store. Customer service Charday was very apologetic and when I asked for a coupon or a gift card to compensate for the inconvenience (just pushing my luck) her supervisor authorized a five dollar cash gift to me!
Then, after getting the replacement TV home, I realized the TV did not have web streaming or other features my daughter and I thought it would have, being a smart TV. We found it was more practical to hook up her laptop via HDMI. So, I took the unit back to the Customer Service clerk. The clerk Regina was poised, professional, and very helpful. Great job, Target! Regina was poised, helpful, and I received a refund; no hassle.

I made 2 online orders to be delivered to my daughter in another state. The first order got delivered as expected, but one item from the second order arrived with the first order. This was fine, but the second order was never delivered and I was never notified. On the 14th of September, my daughter knew she was expecting the order and let me know it hadn't arrived as promised/expected on the 13th of September. I called Target.com's 1/800-591-3869 (the only number provided on the order for assistance) only to get a woman in Nicaragua who I could barely hear or understand trying to track the order for at least 35 minutes. Finally she stated "the UPS truck couldn't find the local UPS store so they sent it back".
It would have been nice to have been notified of this failure to deliver the goods either by email or phone call (both of which I provided). She said they were going to give me a $5 Target card for my trouble, and when she realized I needed to reconsider reordering the 3 items that never made it because of the estimated additional 7-10 days to deliver, she quickly said "I can send you a $10 gift card instead". Hmmm, maybe I would do that, but I wanted to be able to use it with the re-order. She agreed, and told me she would credit me for the items that got sent back, and she would reorder when I called her back the next day after receiving the $10 gift card which I could apply to this order. Sounded kosher to me at the time. She said she was able to process the refund and I would see it on my account. Lo and behold, 24 hours later, there is no refund on my account, and there is no gift card emailed to me as promised.
There was an email from Target that read verbatim, "Hello, We're sorry, but we won't be able to fulfill to sent the $10 Target Gift card that we promised to sent you. Since it is a system generated her in our end. Our system cancel the gift card that we sent you. It says her it is invalid email address. Please give us a call so that we can verify your email address or so that we can sent the gift card to another email address. You can contact us at this number 1 800 591-3869" Isn't it ironic, I received this email about my email address being invalid!!! How do you think I placed the online order to begin with!!! I was very disappointed to see Target outsources their customer service to Central America where no one was able to give me specifics about anything pertaining to the over charging on my account.
I called again today only to receive another rep in Nicaragua who kept telling me he couldn't tell me how much I would be refunded or why it didn't get processed as promised the night before. Yes, I wasted another 45 minutes of my life trying to explain I had been overcharged and never received the goods therefore I am owed a refund. He said I am best to wait another 7-10 days to wait to see if the refund would be showing up on my credit card.
He also suggested I call my credit card company and dispute the charges. REALLY??? and you call yourself "customer service for Target.com??? Shouldn't you be able to rectify this frustrating problem from your end? Guess not when your located thousands of miles away and you act like you don't give a flying leap about how frustrated your customer is at this time as you never notified them of the failure to deliver the goods. You tell me my email address is incorrect (not!. You can't tell me how much I am due back in a refund (but I can do the simple math and tell you!)
You tell me to dispute this with my credit card company and this would be the best way to handle it, you admit your company only delivered one of the orders but couldn't find the UPS store in town, you promise a gift card and send me a grammatically disastrous and unprofessional message telling me I won't get the gift card and my email isn't valid and ask me for another email WHICH I DON"T HAVE. I call the headquarters in the midwest only to find the calls go straight back to Nicaragua.
And you think I want to continue being a loyal patron to Target where I literally spend thousands of dollars per year on both personally and for my large business. Sorry Target, after this experience, it would be hard to win me back as the loyal customer I have been for so many years. You need to straighten up your act, bring the customer service back home where someone can answer my questions with confidence and not tell me they agree with me but it is easier to dispute this with my credit card company because they can't help me. I am more than frustrated and unhappy at this time!

It was stated that "Buy 2 Anchor Farms items get 1 free." I purchased 3 AF items but was charged for the price of 3 items instead of 2. They said one of those items was not included in the promotion. I ended up spending extra 30 mins back and forth talking with the customer service. Target, please do not put the sign on that shelf if the items are excluded from promotion and make it clear for the customers. Bad experience!

I ordered flex spray online, I was suppose to receive on a specific day through UPS... Did not show up so first contacted UPS, they said had to return order to Target due to "Biohazard" issue, whatever that meant. UPS referred me back to Target due to the return. Contacted Target and after over an hour on the phone and them telling me over and over that I would have to call UPS back to find out where it was returned. I convinced them that this made no sense as they should be the ones to tell me where it was returned to. Finally they verified it had been returned to one of their warehouses. Then they told me they would gladly process the return and send another one to me....
I agreed, they processed the order again or so I thought. The next day I checked online which showed both the return and the reorder. 2 days later I went back online and it only showed return. Contacted Target once again (on the phone for over an hour) and they had no record of a re order of the item. How does this happen. During this call and me complaining, while I was speaking they put me on hold (music playing) then hung up. Well I refuse to deal with them ever again and am awaiting my refund. Target.com is horrible from start to finish. I will never order from them again!!!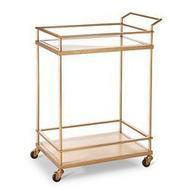 I had place a order for Threshold™ Metal/Wood/Leather Bar Cart - Gold Color: GOLD Qty: 1, $129.99. Very simple but not for Target. The order was placed at "ordered August 31, 2016" and should be "arriving in store 9/9/16 Pick up at: Target Forest Hills Forest Hills, NY 11375-1022 phone: 929-372-7360." Well guess what? After calling them 3 times at 13th (4 days after it should arrive) I got no help from them, but I got a email at 14th (5 days after approximate arrival) with subject: "Something from your order has been canceled." Can you believe that? "The item(s) listed below, part of your order (Order # **) placed on 08/31/2016, have been canceled. You have not been charged for the canceled item(s). See the FAQs below for possible reasons for the cancellation. We're sorry for the inconvenience."

Bought a pudding pie at Target and cut myself a slice. After taking a piece and putting it into my mouth, I felt something. I pulled out of my mouth a few strains of human hair, approx. 6 to 8 inches long. I also found hair in the pie itself. I packed up the pie and went back to Target. I presented the pie and showed them the hair. All they did was give me a refund and I said that is it. I stated that I had human hair in my mouth from the pie. Then I had to threaten them, with the Board of Health, so they gave me a $10 gift card, to shut me up.
The next day, I called Target Corp., told them the story above and they said that you didn't get sick or go to the hospital, so there fore there was nothing they could do for me, but they would look into the situation. As far as the $10 gift card I got, they said I was lucky to get that, because Corp. would of not done that. They said they may reach out to me after their investigation, but I believe that is very unlikely. Target said they were sorry about the issue. Sorry is not good enough. The only thing here is Target is worried about their own butts and no one else. Do not buy anything from their bakery, since they are not concern about health risk or their customers.

I will NEVER order anything from Target again. They can keep their free gift cards. As of late, the household supplies I usually order (paper towels, etc) would be shipped in separate boxes instead of the initial one box if I order just a couple things. And this last order, I DID NOT receive my entire order. Two days later, I get an email saying that the last remaining pack of paper towels I ordered was delayed. That was acceptable, but not how it was delivered. It was NOT delivered in a box instead it was delivered with no packaging of any kind except the original packaging that you find on the shelf. What's worse was that the plastic wrapping was VISIBLY CUT causing the rolls of paper towels to hang out when being handled. This is a DISGRACE! No amount of discounts or promotional gift cards is worth having a order delivered with damage or not even in a box.

My first time on ordering from Target online and I was very disappointed with the service I received. The discounts were nice but even with the discounts when the orders came to the store I decided to not purchase the items. I will not be ordering anything from Target online again.

I recently bought a turntable at target.com and picked it up in-store. I decided to go ahead and add the 2-year protection plan (through Asurion). The manufacturer offered one year of protection, but I figured it would be good to cover it for two years, and it only cost $18, so what the heck? Well, now I regret ever going down that path!! I got my turntable at Target no problem, and they said my protection plan would be in my email in a few minutes. Now, to the store's credit I absolutely LOVE the turntable, and I'm so glad I got it. However, the Protection Plan never came to my email (I checked my SPAM folder, not there either). That's when the frustration truly began. I called to look into it, and after about a couple weeks of back and forth calls, confusion, time wasted on the phone, and no real answers... I just decided to cancel the plan.
A few days later Target reached out to see why I was unsatisfied in a recent survey, and I told them about the plan. So they gave me ANOTHER number to call. Overall, it just seemed that no one knew how to help me, and this "phantom" plan is just way more trouble than it's worth. I never got charged for the plan, so that's good... but I still wasted good time trying to resolve this. The last straw on my most recent call to Target, again I talked to 3 different people... The final woman said to go online and re-apply for the plan and see if it worked this time. That was my limit!! I told her I had already spent enough time trying to set up this plan, I wasn't going through the whole process again, AND paying the $18... I figured they could at least pay the fee for me. Nope.
I admit I was frustrated and a little upset on the phone, but I did not swear at her or say anything offensive... but the customer service lady snottily said "Have a nice night" and HUNG UP ON ME!!! I will definitely never buy electronics from Target again, and I will think twice before I order from target.com or go to a store. I would rather patronize a business that takes care of its customers!
Target Stores Company Profile
Company Name:

Target

Website:

http://www.target.com/