Consumer Complaints and Reviews

I purchased a gift card from someone's registry and they never got the email with the gift card. Called Target and they said they resent. Still the person did not receive it. Called back to get my money back and now they said they can't refund money.

Purchased from Target a Miramar 5 piece fire pit table & chairs. When wanting to use for first time this past spring, there was no hose to go from propane tank to table connection. Target told me they could not help!!! I have spent all summer calling & talking to people who just can't find the right hose!!! How can this be!!! So now I have a fire pit table that is not one???

The Target at Skyview, Flushing has the worse customer services ever!!! Once, I visited the toy section with my one year old boy, we were just looking around to see which toy to buy. One male target sale just passed by very fast and said "don't play if not buying" and left. I was like excuse you??? Not to say that we didn't even play, how the hell you know I'm not buying!!! I wasn't able to complain since the guy just said it and passed by very fast. I went there again to buy diapers again. The cashier didn't give me the gift card. When I tried to show her the picture of the deal, she didn't even look and just tell me the computer didn't pop up the gift card and I need to go to another side to ask. Don't you need to check on that? I didn't want to waste my time so I said I would like to return. She told me I have to go to the other side too!!! What a waste of my time!!! I'll never go there ever again!!!

I went to Target to get uniforms for my girls because I saw that they were having a sale. So I found some polos that my girls seemed to like and I was going to buy them, I didn't know if they were the ones on sale for $5.00 instead of $7.00. I went to the scanner to make sure it was the price the sale said and it was the sale price for $5.00. I looked online as they didn't have all of the colors needed for school and the price was different. So I asked an associate and she said maybe because it had a pocket but I didn't understand that so I went to customer service and she said that it should be the same price no matter what color, even if I ordered them online, she actually looked up the numbers online so it would be easier for me to order the ones that I needed. As I tried to order online they still were the wrong price.
So I went to another Target and asked customer service about the shirts, she scanned it stating that they were the price I thought and she told me to call the number online, so I did while still in the store. After going through 3 people, the last person finally helped me and I explained the prices were not the same, what I have been through, etc. After being told that all Targets and online don't have the same prices and they don't have to honor the price differences.
After I explained that it doesn't all make sense. He finally said that he would give me the colors that I needed for the shirts for the sale price. He wanted me to pay for them online right then but I said I couldn't as my mother was going to buy them for me, I could call back tomorrow and pay for them.. He said, "Okay I will give you a confirmation number." I said, "Do I need to call back and ask for him or could I talk to anyone", he said, "No just give them the number and they could help."
I decided to call back about 3 hours later and not only get the 4 shirts plus 2 extra shirts. I had to explain my whole story over AGAIN because the man that helped me before didn't write any information or comments. After explaining to the lady, she tells me that they can't honor the sale price and what the man told me wasn't valid, no Target has those shirts for the prices that I said that they were and they can't even give them to me for that price. I asked to talk to the Manager and after all he said the same thing all over again. I asked them to call the 2 stores to check the prices for the shirts but he said the prices for the shirts for the stores were online and it didn't say anything for $5.00 per shirt and that the $7.00 they were marked were the right prices. I told him that the man that helped me should get reprimanded for the wrong information that was given by him and I said their customer service sucks.
I have been a manager myself and I have been in the customer service and I have always been taught the customer is always right and you should solve the issues with them right away. It is mind blowing how they treated me and the situation and how it was not much of a big difference in price at all to change. They should have tried to work with me and try to solve it. This is the worst customer service that I have ever had in my whole life and I will never, ever go to Target again. I can't believe they treat people like this and get away with it, I wouldn't want anyone to even work for Target.

I was in the Prattville store on 7/20/17 for school supplies. I had the best time ever. One of your employees and I hope I get the name right (ZINNA) was so helpful. Although she was putting up product she let me know if I needed anything let her know, and she did just that. I will be shopping at Target more often. Just want to say: ATA BOY. Thanks Again for a Great Experience.
How do I know I can trust these reviews about Target?
851,205 reviews on ConsumerAffairs are verified.
We require contact information to ensure our reviewers are real.
We use intelligent software that helps us maintain the integrity of reviews.
Our moderators read all reviews to verify quality and helpfulness.
For more information about reviews on ConsumerAffairs.com please visit our FAQ.

In December I ordered a game from Target Online. Someone in the warehouse typed my information wrong and sent my package to the wrong address. My house number was 305 but someone the warehouse typed it as 304. I called and called and tried to talk to the persons in India who they have outsourced their calls for. So much for Target supporting American jobs. Anyway, I ended up having to go to the local post office to get my package a week late. Seven months later I ordered some school clothes and YEP YOU GUESSED IT... they sent it to 304 again. I was on the phone for over an hour. They hung up on me twice. And again I am going to have to go to the local Post Office and get my package. Well maybe. I WILL NEVER ORDER ANYTHING FROM TARGET ONLINE AGAIN.

I placed my first online order with Target.com, buying about $600 worth of curtains that were on a 24 hour sale. I received a confirmation order with arrival dates. I did not receive the items, so logged in to my account to check on the status. The order was cancelled. They did not notify me of this (by phone or email). I called to ask why, she asked for all of my billing details, and then asked for a different email address. I said, "no, you have my email address, why do you need another email address?" (they have had absolutely no problem sending me spam all day to this email address). She said the order was cancelled (um, yeah, I know). She said that she could not provide me any information about why my order was cancelled. I asked to speak to a manager. She said she was the highest up person and could give me no details.
So I chatted online with support, with another person (Phil), and asked him to honor the discount (approximately $250 for the items), he said he would, and then abruptly hung up the chat. So I chatted with yet another person (Lily), she told me to call and ask for the Order Verification Dept. So I called Order Verification, and spoke to (Carmelo). He said he could not help me and that they would cancel all future online orders that I place. Um. WHAT? I cannot place ANY online orders from Target, or they will cancel them. For reasons that they will not tell me. My credit card is not declining the orders. They are refusing to offer me service. Are they discriminating against me? For Shame.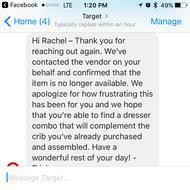 For the first time I am really disappointed with the Target and the inconsistency with information regarding available products for sale. I have bought a crib and painted and decorated my nursery according to this set and went back to get the dresser that matched the crib that I had bought just weeks earlier. I contacted Target and the manufacturer and they both told me It was not available and they told me they confirmed by the vendor that it was discontinued in the color I needed. It caused me to be very distressed during my pregnancy I was really looking forward to having this matching set. The store has it displayed with the other color as a option to get, saying it is available. so I preplanned by nursery around this when it's really not available. I have contacted different Targets, the online Target help center, the Facebook help center, and actually Delta children's manufacture and everyone is told me the same thing.
I really feel that is false advertisement when it says that it's in the store available then come to find out it wasn't. Despite the information I was given I continued to search for the project and try every day a few times a day and then and then it just so happened one time I did try it and it allowed me to put it in my cart and purchase it. I was so fearful I would get a email saying the same thing every one else told me. Then my husband contacted another Target email that we had found and they told him it actually was available just by online ordering. So we ordered it don't have it yet but hopefully we get it and not given the wrong information AGAIN. Which I'm so confused being told by like 7 different people it wasn't available? Bottom of the line I am so relieved that I am able to get it in the end, but that was so much stress that shouldn't of Happened... I am spending a lot of money at Target and it's just very disappointing...

I never shop online but this time I decided to give Target online shopping a try because of the big discount vs buying in store. My estimated arrival time was to be on the 12th of June. I checked my email to see that my order was canceled on the 9th of June for not picking up my item in time. I will never be ordering online from target again. At least they should hold people's items until the expected arrival time. I'd rather use Walmart pickup.

I used to work at the Target store at Bayshore Gardens Parkway in Bradenton, Florida. There is a lady named Bonnie ** who works in "Asset Protection." This is about as funny as when they refer to their counterparts at other stores as "business partners." But I suppose for an individual with no formal education or any kind of training, this job at Target is the best thing that ever happened to her. She wants to be a cop so bad she cannot stand it, so she did the next best thing, she married one named Carl ** of the Bradenton Police Department.
I worked at this store and I have see this woman being overly aggressive when apprehending individuals. Although some might see this as an asset, I am amazed that Target has never been sued over the actions of Bonnie **. As you can see from the attached photos she takes her role in "Asset Protection" way too seriously. And it seems odd that she calls for police to apprehend individuals. She either calls her husband or one of his friends. So when police are tasked with whether to arrest someone or not this gives Ms. Jones an unfair advantage and undue influence over the decisions the police make. And although I have seen Bonnie ** lie on her statements, who is going to question her, her husband one of his friends? In addition to Ms. **, the customer service at this store is poor and the people are unprofessional.

Gift card fail. After this point I've been very happy with shopping in the store. However I tried buying $100 gift card online and Target canceled my order and is currently still holding my money. I waited almost an hour with their customer service, only to find out that there was a computer error that canceled my order.

First, I've shipped with Target for YEARS! Went in for outdoor led lights, found my way in the shoe dept. as I always do. I couldn't find my size and the sales associate told me to go online and that they price match! Woohoo... So I get to the register to inquire about it only for them to tell me they don't price match online... Manager tells me to call a store that has the shoe and get them to send it to me. I call, only for them to tell me they can't hold it, not can I pay over the phone... I just have to take the ride and chance them not having it. Called Corporate, they're just as ignorant! No one helped me... Don't Care about the customers at all. Today I called Customer service about the same shoes to order them online (different color).
I tell the guy about the in store price being different from online, he says "No worries, we price match. Hold, I'm transferring you to the dept..." Got hung up on. Called back. Lady told me they did price match. "Let me transfer you," says "Don't worry, you won't get hung up on and you won't have to explain again, because I've already explained it, I just need to transfer you so she can adjust your price". I hold, only for the lady to be on the phone and tell me they don't price match clearance items! Meanwhile, no one ever specified clearance, regular, sale... They just said we price match! Tired of being lied to by Target! Over target. Will never Shop there again after this!

When shopping at Target south in Rochester, MN on Maine St. You must have an app called Cartwheel in order to receive a discount on item that was 20% off. The Target employee told me she would use her phone this time but I had to have the app next time. So what happens if you do not have that kind of phone which can hold a lot of different apps or none at all. So next time this happens I will take my business elsewhere. Where I can get a discount as the store advertised.

I ordered a bag of coffee and realized that it would take until Friday to receive it. An hour later I called to cancel. I was transferred to a supervisor who put me on the line for 15 minutes just to pick up the phone and hang up. I called again the same thing happened. The third time after much complaining I was finally transferred to a supervisor who picked up the phone. Apparently they cannot cancel orders even if they will not be shipped until two days after you've placed your order. If Target is going to have this policy in place they need to warn consumers before purchase. The long call wait times and supervisors hanging up the phone only proves that they have no interest in helping consumers and the fact that they do not allow their employees to cancel orders when it is in fact very simple to do is just another way Target takes money from consumers.
I placed the order on a Saturday and called exactly one hour later to cancel. It would be one thing if I placed this order on a Tuesday morning during business hours but I placed it on a Saturday evening meaning they cannot do anything with my order until Monday. So yes my order can be cancelled, Target just simply put this in place to make it nearly impossible for consumers to get their money back. I do not advise anyone to order from Target online. Target is a 40 billion dollar company and the fact that they cannot cancel an order that was placed on a Saturday evening and hour after it was placed is utterly ridiculous. Now I guess it makes sense why this company has so much money. They are simply scam artists. Not only that their customer service hides from calls they do not feel like dealing with. I'm absolutely disgusted with the way this company treats their customers.

I would actually rate this place a 0 star. I bought a Braun Shaver from Target San Francisco on 2nd June. I was a tourist so opened the box on arriving back in India. When I opened the box I found that the shaver's body was scratched, the shaver was used, Blade broken, Charger missing and the wrong model put inside. The shaver I bought was 3040 but the piece was of 3010. Was extremely disappointed with the product but could not do anything as I was a tourist. Please check the box before buying things from this place.

I ordered online June 15 and says it will be available on Jun 23rd - Jun 25th. But my order was cancelled on June 22nd. This is really stupid and it never said on my order that will cancel if I didn't pick on what date???

BAD CUSTOMER SERVICE. I am a devoted Amazon user but decided to give Target a try- never again. I ordered several items in one order, and they were all shipped together in the same box (I thought this was great as less packaging means less waste and better for environment). Unfortunately, in this box they added a laundry detergent that was not properly sealed or bagged, so it leaked and everything in the box got ruined.
I called Target and after going through a lengthy process of emailing pictures and answering a lot of questions, they said that before I was able to receive any refund or replacement, I had to send back the items to them, and after they receive them then they would be able to send new things back. As the box was completely destroyed by the liquid, I had no box to ship all this back to them, and they were unable to send me one to return all these items... Long story short - they were NOT helpful, and tried to tell me some of the things that were ruined were actually not ruined and they would not refund me for. I am never shopping on their website again.

I've been a loyal customer to Target for many years now and always read about the complaints but never quite experienced anything. Until I started online shopping. I ordered an electronic download game as a gift. I have done about three purchases like this and never had a problem. I would receive them about 3 hours later. This time was different. It's been about 5 days and they are not about to locate my "package". I was on the phone with many representatives and I continue to receive different answers. One employee mentioned that I am able to "return" the email. Working in various retail stores I was hesitant to believe her as I've seen these scenarios all the time where the customer is unable to receive a refund. I called moments later and had another associate tell me that no I will not be able to return it.
I requested my shipment to be canceled and was told I'm not able to cancel it unless it was no later than 5 mins after purchasing... 5 minutes??? So we continued a cancellation request. They told me to call back in 24/hrs to see if it has been canceled. I called back only to be told it can take a couple of days. By this time I had no birthday present... I call back two days later... Still no answer if the EMAIL delivery will be canceled or not. The representative said to call back again 24 hrs. I completely lost trust in Target's customer service and ended up checking all my other orders to make sure everything was sent correctly. Come to find out one of the games I had sent to a friend never made it there on MAY 1st. I checked the tracking and it says it's still being processed. It's June 20th...
I've never experienced such terrible service. And customer service didn't help at all. Each person was giving me different answers and false information. What if I listened to the first representative and didn't do a cancellation request and just waited for the package to return it? Now I'm still waiting on the package to be sent to me. Their excuse? "The warehouse has to send it out to you". It's not a physical package it's an email. Why is it taking so long to even find out if it's going to be canceled or not? I bought another game on the actual EA games website and received a code immediately!

Target has gone down in store appearance. The tables have not been folded in weeks, shelves have empty spots, hardly any employees on sales floor. To me, it looks like Target is going out of business but they keep remolding stores. Walmart looks so much better. Their tables are full, hardly any empty spaces and more employees on sales floor. Bottom line, Target needs fresh ideas to bring people into the stores and it needs new Corporate levels of management. People that care about the stores (keeping them full), care about employees (give them more hours to keep store maintained), care about the guest (carry products that people need). Thank you.

I went into Target today to purchase Beauty and the Beast with the Target exclusive 32 page book. However the store I went to was already sold out and so was the other one in town. The clerk was very helpful and said it was available online so I decided to just order it from there. What they fail to mention is the extra $5.99 to have it shipped to you. I feel that if they advertise this as being a Target exclusive then there should be more available in stores then just a few especially considering it just came out yesterday. Called customer service and they were useless. Kept saying that it was the manufacturers who decided how many each store got. Really because it seems to me just a way for them to make more money.

I've shopped for years from Walmart & Amazon online until they decided to use OnTrac as their delivery company. OnTrac is a joke & the complaints all over the U.S. are in the thousands. I spoke to someone in top management at Walmart, I told her that I'm willing to pay a little more for UPS, FedEx or USPS but I couldn't get through her because she (or Walmart) are on OnTrac's side, so I told her, "Let's do this, I will close my account right now and when the CEO decides to listen to his customers maybe I will be back". I spent around $200-$300/month for years and closed my account immediately. I did the same with Amazon. I just ordered online from Target and am very happy, everything arrived sooner than expected, all items were perfectly wrapped and they used UPS. The day they use OnTrac I shall close my account with them as well.

Beware of buying gift cards from Target! If their employees messes up, they're not willing to fix their mess nor support you. I purchased 15 gift cards to award our employees and 2 of them were not activated by the store associate. So, when 2 of the awarded employees used it to pay their purchases in different stores, cards were declined. They called the numbers at the back of the card, they were told cards were not activated. I went to Target where I purchased them and showed them that the receipt didn't show that those 2 cards were not activated among others. 13 cards were fine. I was so frustrated!!! I went there 2 twice and waited for 50 mins each visit with no help done. NOW, I have to deal with each card company for a refund or replacement. TARGET Store sucks!!! NOW, I will also file a complaint with BBB.

My only complaint is store design. Way too much red! Tone down the red! It doesn't help sell anything. Really too much red. Too bright! Why not use say a dark gray on the front interior wall? Walmart uses a lot of blue but at least it's easy on the eyes...

What a zoo for customer service. I had many issues with ordering electronics for a great price on Black Friday. Only received part of the order and even though they still sold the item, they could not send me the item. They would refund my money but not discount the item to equal the Black Friday item.

My son bought his girlfriend a Apple Watch. He paid $400 cash. The girlfriend decided she did not want the watch. My son took it back to Target in about a week and a half after the purchase. Per their policy you have 30 days to return and if they can look up the receipt you get what you paid. They were able to look up his receipt but will not accept the look up because it's cash. They will not give a store credit because of the high dollar amount. He is out of $400. Worst retail experience ever!

Target has the worst service and I feel disgusted by the way I was treated. I have always shopped online and ESP during the holidays. This past holiday, my orders were all screwed up. Some never got to me and some were just the wrong ticket number so I couldn't return it or was sent the wrong item over and over. They informed me to buy stuff at the store and it literally put us in a bad spot right before the holidays and almost messed up the Santa gifts. Regardless, I just tried to purchase stuff from them and they have placed a block on my online account. I am forever blocked from buying stuff online because they screwed up! So because they messed up my Christmas order and they can't get their affairs correct, I get punished for it?
This company is acting like I did something wrong. I'm allowed to shop at stores but not online? I tried to talk with them and explain that this was all on them but they simply don't care and will continue to cancel any orders I make online. How dare Target for treating me like I'm some criminal and banning me for your screw ups! No wonder they have low customer service score and one day I hope everyone will just stop using Target since everyone is treated like garbage. They will continue to lose customers all over due to their actions and mess up. I hope everyone thinks twice before buying from them again! I have spent over 80 hours in total trying resolve all the issues I had with them back in December.

First I would like to say that I am all about Target. I usually love Target and have never had a bad experience prior to today. I shop there at least once a week but today was just awful. I go up to the check out to start putting my clothes and baby food on the conveyor. And first the checker Alex asks me to start taking all of the hangers off of the clothes I just put up there. (Mind you I have about 30+ items of clothing). And "ok fine but where am I suppose to put the hangers" I ask her. She says "just throw them in the cart." Ok. So I do I start taking all of the hangers out and throwing them in the cart I have with me. Then I get to up there to pay and she makes the comment "these are some big clothes". And at that I don't even know what to say. I just don't say anything and keep to myself on that one. And yes I wear Size Large/XL clothing but why the hell is she commenting on it I have no clue.
So then she proceeds to bag everything and looks at me and asks if 3 bags is ok because she can't fit "these big clothes in just 2 bags"??? OK. I NEVER asked her to fit said clothes in the minimum amount of bags possible. If she needed to use more than 2 bags by all means please do so I can at least carry them out to the car without the bags bursting. So now I am taking all of the 4 bags she gave me plump full of clothes and putting them in the cart. Then she asks me if I plan on keeping the hangers that I still have in the bottom of the cart, under the bags now. And I said no I do not. She then proceeds to tell me to take all of the hangers out and put them on the counter next to her. SERIOUSLY.
So now I take out all of the bags again set them on the ground, take out all the damn hangers that she just told me previously to put in the damn cart and move the hangers to the counter. Now put my bags back in my cart and walk away to the customer service desk, I ask to speak to a manager and the guy there gets his manager. Now the manager looked younger than me and I'm all of 24 yrs old. So I tell him that this checker was very rude and that she shouldn't be talking to customers the way she did to me. The manager then says ok, runs to his computer, rings up a 10 dollar gift card, hands it to me, apologizes. I look at him and say I don't want a gift card. I want you to know how your checker is treating her customers so she can possibly receive some more training and not continue to do that. So all he says to me is "ok I will talk to her" and walks away from me. End of discussion. What the actual hell. Worst customer service experience ever.

Anytime I go to a Target I buy numerous items but Evercare refill pet hair large roller are out. Customer service looks them up. They have them in stock but can't find them. Send me to other Target who has them. I get to another Target who are out. Looks them up. Sends me to another Target who has them and doesn't. Not only have I wasted my time but has been lied to. Sure I can buy a new one for 4.00 more and half the sticky paper. I hope this improves. I should not have to go through this headache. Ordering through the internet waiting 2 days and paying 7.00 for delivery when I can go 2 miles from my home and get one or more at that time! Very disappointed.

I have bought two electronics products online from Target.com in the past 8 months. Neither of them were delivered, with a variety of excuses from Target and from their chosen delivery service (A DVR and a watch). They did give a prompt refund on my Target card, but the disappointment of not receiving what I had wanted and ordered will cause me to look elsewhere (other stores and online sales organizations) when I wish to spend my hard earned money.

While trying to place an order via the customer service number I was scammed. They said I had won a hundred dollar rebate, if I would give them my address and full credit card info. They said they needed my credit card info because it costs 4.95 to mail the rebate to me. I said no. The lady continued to ask for my information while talking above me and not listening to me. I said absolutely not. She hung up. I called back, different lady same story. I was told that this is not Target's phone number anymore and still more of them trying to scam me. I got mad and this lady hung up too. I called the store. I was told that Target.com is not run by Target but by a third party. Ugg.
Target Stores Company Profile
Company Name:

Target

Website:

http://www.target.com/