Best shower grab bars
Compare cost, design and ease of installation



Written by

Edited by
Find Walk-In Bathtubs near you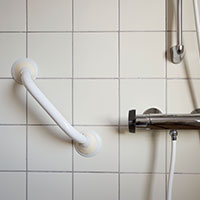 Whether you're getting older or experiencing a temporary injury, one second of imbalance can lead to an accident that requires hospital care. Shower grab bars allow you to regain your balance quickly, even on the slippery surface of a bathtub. We picked the six best shower grab bars to help you find one that works for your needs, budget and bathroom.
What are the best bathroom grab bars?
There are hundreds of grab bar products in a variety of designs and price ranges on the market, which makes it difficult to determine which is best for you. We considered price, design, durability and ease of installation to choose the six best bathroom grab bars.
What's the best location for grab bars in showers?
The best shower grab bar placement varies depending on the design, but the typical grab bar height for standard, horizontal handles in a shower is between 33 and 36 inches from the floor. Many grab bar designs fit specific locations, including the edge of a tub or the corner of the shower. Each grab bar has different characteristics, so read all installation instructions before drilling a hole in your wall.
If you choose an easily removable design, test out a few locations to find the placement that's most comfortable for your height.
What to consider when purchasing a shower grab bar
When shopping for a bathroom grab bar, consider:
Bath or shower size: A grab bar should be small enough to fit your space but large enough that you can reach it from anywhere in your bath. Different designs have different size and location options.
Weight: If you need to lean on a grab bar, choose one that can hold your weight. Permanently installed grab bars, for example, can withstand hundreds of pounds, but suction cup grab bars can't support as much direct weight.
Permanence: Many people opt for no-drill grab bar designs because they either have temporary needs or don't want to cause permanent damage to their bathrooms. Many grab bars use suction cups or tension mechanisms to stay in place, which means the installation doesn't leave marks in your bathroom. These designs have limitations, however, including limited weight ratings and higher maintenance requirements.
Your needs: How you plan to use the bar affects the type you need. Someone who wants a handle to support them while getting in and out of the tub needs a different design than someone who wants a grab bar in the shower.
Style and material: Some grab bars are small and discreet, while others are large and noticeable. Ideally, your grab bar should also match the aesthetic of your bathroom.
Our favorite straight grab bar
Vive Metal Grab Bar
If you're looking for a basic grab bar for your bathroom wall, this model by Vive is a great option. Vive makes its metal grab bar out of sturdy steel that can support up to 440 pounds. The grab bar installs into acrylic, fiberglass and drywall surfaces, and Vive includes all the necessary screws and anchors. Customers can choose between three length options and three colors, including black satin, brushed nickel and white. Self-installation is simple using the included screws and anchors, and professional installation is available for $116.90.
Features

Cost: $28.99*
Size: 12," 16" or 24"
Material: Stainless steel


BUY ON AMAZON
*As of publishing
Our favorite suction grab bars for showers
Safe-er-Grip Shower Handle
If you're looking for a temporary grab bar, consider the Safe-er-Grip Shower Handle. You can install, remove and reinstall this suction cup grab bar without any tools and without causing damage to your bathroom walls. Safe-er-Grip does not guarantee a weight limit because the bar is intended to provide balance, not a full-body hold. Customers can install this shower handle in seconds with two tab levers — no screws or tools are necessary.
*As of publishing
Our favorite bathtub safety rail
Vaunn Bathtub Rail
Vaunn's Bathtub Rail gives bathers extra stability when getting in and out of the tub. This bathtub safety bar attaches to the side of almost any tub, and it's designed to securely fit on the wall without damaging the tub or itself. No screws or tools are needed for installation. This bar's nonslip grip supports up to 300 pounds, and you can use the knob to lock the bathtub rail in place.
Features

Cost: $39.50*
Size: 14"
Material: Stainless steel


BUY ON AMAZON
*As of publishing
Our favorite curved grab bar
Stander Security Pole
If you're looking for a high-end way to get in and out of your tub or shower safely, we recommend the Stander Security Pole. The pole stretches from the ceiling to the floor and has a curved bar in the middle that can support up to 300 pounds. Many customers choose to put one near their beds as well. The pole is available in iceberg white or metallic black, and all tools and components are included for a simple at-home installation.
Features

Cost: $169.00*
Size: 7' to 10'
Material: Zinc-plated steel


BUY ON AMAZON
*As of publishing
Our favorite grab bar with shelf
Moen LR2354DBN
For a strong grab bar that can hold you and your shampoo at the same time, choose Moen's LR2354DBN corner shelf. This discreet grab bar comes with a brushed nickel metal bar and plastic shelf. Moen's corner shelf can support up to 500 pounds if installed into a stud and up to 250 pounds if installed without a stud. Installation is simple with SecureMount hardware.
Features

Cost: $46.26*
Size: 9" long
Material: Metal bar, plastic shelf


BUY ON AMAZON
*As of publishing
Our favorite adjustable grab bar
Drive Medical Adjustable Safety Rail
If you're not sure what height, width or location is best for your bathtub grab bar, try out Drive Medical's Adjustable Safety Rail. This bathtub safety bar is adjustable between 14 inches and 17 inches high and between 3 inches and 7 inches wide. Its steel frame holds up to 300 pounds. Installation is easy and completely tool-free, but this product should not be used in fiberglass tubs.
Features

Cost: $29.19*
Size: 14" to 17" high and 3" to 7" wide
Material: Steel frame


BUY ON AMAZON
*As of publishing
Bathroom grab bar FAQ
What is a grab bar?

A grab bar is a device that a person holds on to for stability. Grab bars attach to walls, ceilings and bathtubs to help people stabilize themselves in areas with a high fall risk, like bathrooms or staircases.
How much does a grab bar cost?

Grab bars usually cost anywhere from $20 to $200, but a typical grab bar price is $40 to $100. Unless you choose to install the device yourself, grab bar installation costs can add $100 to $200 to your bill.
Are suction grab bars safe?

Suction cup grab bars are safe if they are installed on a clean surface and the bar is only used as a stabilizing device. Suction grab bars are not designed to hold hundreds of pounds of weight, so a user should not expect one to support their entire mass.
Can I install grab bars in other parts of my house?

Yes, you can install grab bars in any room of your home — many people install grab bars in their bedroom and hallways. Keep in mind that some designs may not work on drywall.
Do plumbers install grab bars?

They can, but it depends on the grab bar. It might be wise to have a plumber install permanent bars that require drilling or extensive modifications. However, many shower bars mount via suction cups, so installation doesn't require a plumber.
Does Medicare cover grab bars?

Original Medicare plans do not cover grab bars, but some Medicare Advantage Plans may cover shower grab bars, depending on your policy.
Bottom line
With 1 in 4 older people experiencing a fall every year, and the majority of those accidents occurring in the bathroom, there is an urgent need for shower grab bars. Though there are hundreds of designs to choose from, we picked our six favorite shower grab bars based on their low cost, innovative design and easy installation. When shopping for a grab bar, measure your bath space, consider your intended use and choose a design that matches your needs.
Next, read about how to find the best shower chairs.
Did you find this article helpful?
|
You're signed up
We'll start sending you the news you need delivered straight to you. We value your privacy. Unsubscribe easily.