Shower replacement cost
Expect to spend a few thousand



Written by

Edited by
Find Home Warranties, Service Plans near you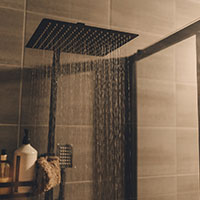 An outdated shower isn't just an eyesore — it could also cause serious issues in your home. Small cracks in the structure let water seep into your floors, which can lead to expensive mold issues. Older showers have a life span of about ten years before they need to be replaced or reglazed.
But how do you know when to repair an old shower or make the investment to replace it? First, look at the costs and potential benefits of repairs and replacements as well as the costs: Replacing a shower ranges from around $1,000 to $8,000 or more.
---
Key insights
Prefabricated shower/tub combos are usually less expensive to replace than walk-in showers.
Labor and installation costs typically account for at least half of the expenses associated with replacing your shower.
Bathroom updates, like shower replacements, can offer homeowners a return on their investment when they go to sell.
As a general rule, newer shower models are lower maintenance than older showers.
FAQ
How long does a shower replacement typically take?

A prefabricated shower insert could be installed in as little as one day as long as the project has no complications. A tile shower is likely to take longer — about three days, on average.
Can I save money by doing a shower replacement myself?

You could save money in labor costs by opting to replace your shower yourself. However, remember that you'll need to purchase or borrow the proper tools to do the job.

Depending on the type of shower you install, you'll need a reciprocating saw, tape measure, drill and level. You'll also need materials to patch up drywall, and you'll still need to hire a plumber and possibly an electrician to help with certain parts of the job.
Are there any financing options available for shower replacements?

There are a few ways you could finance your shower replacement. Many home remodeling companies offer customers financing options, which may include perks like 0% interest for a year or more. You could also apply for a personal loan, a home equity loan or a HELOC from your bank to pay for the project.
Can I change the layout or size of my shower during a replacement?

You may be able to change the layout of your shower, but this depends on how much you're willing to spend. For instance, if you want to move the existing shower head to the opposite side, a plumber will need to reroute a waterline, which can cost $600 or more.

Other changes may not be feasible without a full bathroom remodeling project. Make sure to consult with your plumber before you purchase materials to ensure your plans are within budget.
What should I look for when hiring a professional for a shower replacement?

You may want to start by asking friends and family for their recommendations on companies or individuals they've worked with in the past. Real estate professionals and insurance agents can also offer suggestions.

Keep in mind that whether you decide to work with a plumber, an electrician or a general contractor for the project, you still need to verify they're licensed, insured and bonded in your state. You can check those credentials online through your state government's website.
Did you find this article helpful?
|
You're signed up
We'll start sending you the news you need delivered straight to you. We value your privacy. Unsubscribe easily.