Consumer Complaints and Reviews

Bought microwave oven in July 2016. Stop working. Called the company. "Yes send it to us and we'll replace it." Now the oven cost 86. And 5 dollars for additional warranty. Now to send it to them to replace it 30.30 to send it to them so a 86. Microwave now costs 121.10 but I guess you get what you pay for.

After our old microwave stopped working, we went out looking for a replacement. After checking online reviews and consumers thoughts, we bought this one. The previous one was a Panasonic and that worked extremely well also, but with three teenagers at home at the time, it was sure to fail due to teens unknowingly slamming the door shut and starting and stopping it. Though my wife has passed I use this Emerson every day and am always confident it will work when I push the buttons. I've had this microwave for nine years. I haven't had a single problem with it and it continues to function flawlessly.

Emerson Microwave is a good brand - never needs repairs, gets my food hot. Also, the timer is easy to use. I've had it for 4 yrs. I purchased the microwave at Walmart for a good price. It's not too small or too large - fits my counter perfectly.

My Emerson microwave is truly a blessing. It does everything it says it can do each and every time. I will keep buying this brand microwave. I use it at least 6 times daily. Best one if you want my opinion.

Well it has some great features, but it's the first one we've owned that overheats and shuts off! This microwave has a grilling feature which is nice and works fairly well. The size is perfect for our dinnerware, but if we need to heat something or cook something that takes 10+ minutes it's just luck of the draw as to whether or not it will make through or overheat. We have to move it out from the wall and cupboards so nothing stops the air around it from being impeded which will cause the overheating problem.
How do I know I can trust these reviews about Emerson?
693,146 reviews on ConsumerAffairs are verified.
We require contact information to ensure our reviewers are real.
We use intelligent software that helps us maintain the integrity of reviews.
Our moderators read all reviews to verify quality and helpfulness.
For more information about reviews on ConsumerAffairs.com please visit our FAQ.

It gets the job done. Most microwaves have usually been slow or really awkward to operate. The center plate that rotates the dish you are preparing always gave me trouble, but this one has always worked so smoothly. We have owned it almost 4 years now and it has never given us any trouble.

I was getting ready to head out when I noticed my Emerson MWG9115SB microwave started spinning on its own. I opened the door and that stopped the spinning. I closed it and it started spinning again. I immediately unplugged it. Being a dog mom of three I am not taking any chances in keeping this unit in my home. If it happened once it will happen again.

I purchased this microwave (Model MW9338SB) and within a few months it started making a weird noise. We kept an eye on it and one day it just burst into flames. I called Emerson to see if they could do anything for me. They said that it was my fault because there was food particles inside of the microwave. They offer to replace it with the same model but I had to send $15 for shipping. And they wouldn't do anything else. I declined the new microwave because it was the exact same model and I think it would be a hazard in my home. Do not purchase this hazardous piece of equipment!

My daughter bought a microwave back in 2011 and all the top from the inside was like a bubbles so I call and they send one to us. Now this microwave is messed up. I called them and they said that since they sent this one in 2012 it had no more warranty. I was just letting them know that they have a problem with their microwave because my 9 year old grandson came to me and told me that the microwave was making fire so I checked and it was true. You can see in the pictures that there is a hole and that the metal is gone from there.

The Emerson Microwave turned on by itself when I was not home. It caused a smoking condition throughout my brand new apartment and hall. The police and fire department were called and had to gain entry to stop the oven from continuing burning. Huge fans were brought in to clear the smoke and awful smell in my apartment and hallway. I had to stay somewhere else from Sept. 29, 2016 - Oct. 3, 2016 until the smoke was cleared. I have heard that the Emerson Microwave has a history of turning on by itself. I want to know if there is a class action suit or more complaints similar to mine re: Emerson Microwaves.
It is a very serious problem. People must be warned before someone is seriously injured or dies from a fire. I appreciate any input you have on this Emerson Microwave defect. I am grateful no one was seriously hurt or worse from this defect. The fire department took the microwave with them. I am left with scorched marble kitchen counter and severe stress reaction from this near tragedy.

Do not remember when this microwave was bought, I think it was bought in 2014. But let me just say, unlike the Panasonic Microwave which is the current microwave that cuts off Wi-Fi, this microwave barely even cut off our internet! Whenever this was used, little to no chances of the internet cutting off. However, only 1 problem, which is why this is 3 stars instead of 5: After 1 1/2 years this microwave broke down in April 2016. I have a family member that I go to all the time that has a Hamilton Beach Microwave and no problems with it either so far. I would recommend this microwave UNLIKE PANASONIC MICROWAVE! Be aware, it might break after at least 2 years from purchase date.

I have an Emerson MW1337SB microwave that would start the turntable turning whenever I opened the door - the microwave producing part wouldn't start because of all the interlocks, but just the turntable. It was out of warranty, so I took it apart. Found that one of the three microswitches operated by the door handle was obviously broken. Got a new switch for about $6 and replaced it. Worked fine for another year until the turntable motor stopped working. That part is another $26-60 if you can find it at all. Might be time to just get another whole machine. WARNING: Do not open up a microwave unless you are comfortable working with high voltage and have discharged the large capacitor before starting repairs! IT CAN KILL YOU IF DONE INCORRECTLY! I should disclose that this microwave is in the kitchen of my office and is used probably 30-40 times per day.

Defective Microwave model #MW1337SB - I have an Emerson microwave that was purchased in 2012 and it became a health hazard when the microwave started as soon as you would open the door. I still have the microwave but I won't use it. I'm writing to you guys to let me know what I should do with it and what is Emerson going to do to make up for my loss. Thank you in advance.

Purchased this Emerson brand microwave a couple of years ago at Target and it started rusting and flaking and sparking so we kept a close eye on it. Well today the metal actually melted and caught itself on fire just a few minutes after we used it. Thankfully I was in the kitchen and was able to smell it burning and hear the pop. My child had just made a microwave mac & cheese bowl not 5 minutes before this happened. So grateful he was not hurt or that our house didn't burn down. Do not buy this death product.

It is with great sorrow that I announce the death of my 36 year old Emerson microwave. It was given to me as a house warming gift in may! 1980? I want to inform you of the great service this product has rendered to my family. Not one time was it repaired or needed to be. Early this morning my faithful microwave stopped working! It will be sorely missed. I want to thank you for such a great product. I don't know if I will be able to find another appliance. Oh wait! It was only out of the plug!

Emerson Microwave, Model MWG9115SL started flaming one minute into baking potatoes. I was in kitchen and noticed the flames pretty quickly. Faulty and dangerous product. I am thankful my granddaughter left it with us while she goes to school. I don't know year of purchase until she brings me her receipt.

In 2012 I purchased a Emerson microwave and within a few months it started sparking and shooting out flames. They sent me a new one but informed me that my microwave was not clean and that was the cause, which was not true. Last night same exact thing happened with the one they sent me while I was cooking popcorn. Please, please, please do not purchase an Emerson microwave. They are not safe and if I hadn't been standing right there it could have caught my kitchen on fire!

I purchased an Emerson Microwave this past summer and it started sparking last night. I thought maybe there was something in it so we wiped it all out to be sure and it was flashing and sparking and little flames were popping out from behind the metal plate in the side. Won't go with Emerson again! If you buy their microwaves, don't leave the unit unattended!!!

I purchased the microwave from target about 2 years ago. It had worked great. Roughly 4-5 months ago when we would use it, a smell came out from the side vent or fish. It was awful. Our whole house would smell. I contacted Emerson in December explaining what was going on. They came back with an email to heat water with some type of solvent or deodorizer (vanilla, lemon juice, baking soda), and heat for 1 minute. They said to leave it as long as possible. I did so and left it for a full day. It didn't help.
Today, I heated water in a microwave safe cup. I was heating it for 2 minutes to make tea. Smoke started coming from the microwave, and the cup was steaming. The water wasn't even hot. The house smelled like fish ((I have to add we don't eat fish, not have heated any type of it in the microwave.)) We decided to take the microwave out. My husband tested it outside, and within 45 seconds, it was totally smoking and started to catch fire.
Imagine if that was one of my 4 children cooking a microwave meal? They could've been seriously hurt, and caused a house fire in our kitchen. There was no reason for this to start, to happen, or end this way. Yes, it lasted for roughly two years, but it is NOT worth the risk of how it ended. I would NEVER purchase another Emerson microwave again!! I don't recommend it to anyone. Especially younger or elder. If I had left the room, or heated something longer, it would have caught my kitchen on fire. I have warned you.

Received The Emerson Microwave model # MW8999SB as a gift. Had it about 6 months and in the middle of the night I was asleep, my dog woke me up whining. I awoke to a burning smell, went into the kitchen to find the microwave had set itself to 23 hours. I had left a clean dish inside of it, that is what was burning. The plate was burned beyond--it had gotten so hot that is had broken into pieces so I unplugged it. 3 days later I had plugged it back in to use it (dumb). Forgot to unplug and as I stood in the kitchen and watched, it reset itself again. Unplugged it and removed from my home.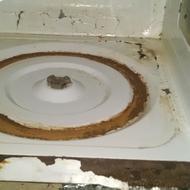 VERY dissatisfied. Within 6 months of having product light went out. Within 16 months rust started along inside along front as well as where wheels roll under plate. Paint started bubbling & peeling towards back & along edges as well. Just got off the phone (800-898-9020) speaking with Terry. Informed product is only covered for 1 year AND to ensure paint doesn't peel & product doesn't rust to be sure to wipe it out often. I tried explaining that we DO wipe it out often & always use a cover over plates/bowls/etc. She refused to listen only saying, "Research has been done & it's been proven that not cleaning it causes the problems." We will NOT purchase another Emerson product since they seem to make "disposable products"... I assume in hopes that we'll go back & buy another... WRONG! Although we will buy another microwave it will NOT be from them.

Unreliable. Cooks differently each time even though settings are the same. We are looking for a replacement of a different brand. Will pay more for improved functioning.

My model is the MW8115SS and although it's about 8 years old, it works great. My dad was an updated version (less than 1 year old) of this model, and it has the same great features as my older one. It's very easy to use and the booklet that comes with the microwave is user-friendly. If and when my microwave dies, I plan on getting another Emerson.

We had to get a Emerson because my mom passed and dad couldn't cook. My mom was a wonderful cook, everything she cooked was great and the love she put in it. I must say this microwave has saved my dad.

I love the microwave, but do not care for the small plate. It is not stable and it's often hard to get centered in the middle of the microwave. I think that I would like it better if it had a door with a button instead of a handle. I love the color. I love the water, but it could use a couple of improvements.

I use my microwave to heat up but I never cook a full meal. I heat my coffee, soup, bread, leftovers. I demand that it stays spotless because my flesh crawls and I will not use a nasty one. My microwave is an Emerson bought in 2011 and still working like new. I have never had a problem with it.

Purchased this a few years ago. Mine is a compact size as it fits well where it is installed. Cooks items good. Has popcorn, defrost , etc, features.

No more than I use my microwave, I'm completely satisfied with it. I probably need a larger size than I have but I'm restricted due to space. I love to use it for baked potatoes or steamed vegetables. It's quicker for me since I work a full time job.

This microwave began to have paint peel off the bottom of the inside of the microwave. After that, the microwave began to spark when turned on. Now, not only am I required to buy a new microwave but I also have to pay a $25 fee to dispose of this piece of junk. I called customer service at 800-828-9020 & they would do nothing to assist me with this problem other than to say that I should dispose of their product. Think twice about buying this product.

I purchased this microwave because I had success with other Emerson products and was pleased with its features. After the first use I noticed moisture on door and water puddles inside. It wasn't until it started rusting and chipping inside within a year of having, that I goggled this microwave's reviews and discovered that I had purchased a defective product. I continued using for 2 years but now I will need to toss because the inside has become an eye sore and a possible health hazard.
Emerson Microwave Company Profile
Company Name:

Emerson

Website:

http://www.emerson.com/en-us