Kenmore Microwave
Recognized as a top appliance brand for 100 years, Kenmore brings a new level of performance with appliances that deliver time savings, convenience and great results. From quickly cooling drinks to laundry loads completed in less time, Kenmore is the most awarded brand in the industry.
The Kenmore brand understands its customers' wants and needs. Being in the lives of over 100 million Americans, performance innovations are a top priority of Kenmore product development. Ongoing engagement with our customers before, during and after purchases will help us maintain the honor of industry leader.
Consumer Complaints and Reviews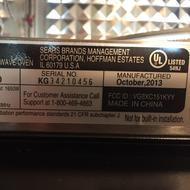 This product would be a good case for having negative numbers in the rating system. We are in the position of having to replace a perfectly functional and expensive microwave / convection oven because the company chose to make a poor quality vent and light button that cannot be replaced for less than $300. These buttons "fall through the panel" and have no way of being fixed unless you pay an exorbitant repair.

It works excellent. This microwave has been put through hell and is still working great! The door is slammed shut all the time and slammed shut again. It has been knocked off the stand and still always works.

Overall an excellent microwave for its size and cost. Did not rate as five star because there is room for improvement with all items. My microwave is dependable, functional, user-friendly and overall user-efficient. It's an energy star products which means a lot to me and our environment and the world we live in.

I looked for quality and function for the money. I can't just walk out the door and pick up another when I want another microwave. I also considered being able to getting the job done without heating the house up. But more than anything, I don't like to cook and this gets the job done for me.

It is big enough to hold quite a few things at the same time. It's a Kenmore, very reliable products. I grew up with Sears Kenmore appliances in our home. They lasted a long time, were dependable and reliable. I prefer Kenmore for all of my appliances, whether major or minor. It is a name that can be trusted.
How do I know I can trust these reviews about Kenmore Appliances?
670,460 reviews on ConsumerAffairs are verified.
We require contact information to ensure our reviewers are real.
We use intelligent software that helps us maintain the integrity of reviews.
Our moderators read all reviews to verify quality and helpfulness.
For more information about reviews on ConsumerAffairs.com please visit our FAQ.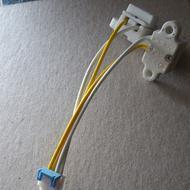 I have been trying for over a month to get a replacement part for my Kenmore Elite Over the Range Microwave oven. Sears, Searsparts, or even Sears Customer Service is either UNWILLING or UNABLE to fulfill my request. I will NEVER purchase another Kenmore Elite product. The part I needed is just the light socket that shines down on the range. It seems like such a simple request, however my experience has been most frustrating dealing with Sears or their part department. The part I need is shown below.

My microwave is 3 years old and it caught on fire today. I called Sears and they said I had no warranty on it and that I could buy one today and pay 39.99 a month for it!! Beware of this product model number 721.85033111. Kenmore nor sears has gave me the best service. It has not been recalled but it should.

I purchased a Kenmore Elite 790.48883.110 built-in microwave to match my Elite built-in oven. The Elite microwave electronics fried within a few months while still under warranty. The electronics were replaced but fried again a year later while out of warranty. This microwave is a LEMON. There is a design or manufacturing defect in this unit. Sears is retailing the microwave for $2,000 (I paid $1,300). I have a Hamilton Beach microwave that I purchase at Walmart for $65 at it works like a charm. Why can't Sears make a $2,000 microwave that lasts for a year?
The fun begins when you contact Sears "Customer Care." The first thing that the non-English speaking person told me was that I needed to contact Electrolux because they were the ones who actually made the microwave. Duh? I bought the microwave at Sears and it has "Kenmore" labeled on the front door! I really don't care which company in China made the unit, Sears is the responsible party! But this is what Sears Customer Care operators are trained to do. After much complaining, I was finally turned over to an English-speaking operator. His job was to sell me a $500 per year insurance policy. I told him, "Thanks but no thanks!" If I have to spend $500 it will go toward yanking out the Kenmore unit and replacing it with another brand!
By the way, the microwave (when actually working) gives off an ear-piercing beep every 15 seconds that is extremely obnoxious. This beep cannot be turned off or adjusted. DON'T BUY THIS LEMON OR ANY OTHER APPLIANCES FROM SEARS...!!! Sears used to be a good company but has turned into a pile of horse manure!

Kenmore microwave oven purchased June 16, 2013. Also purchased 2 year extended service agreement. Yesterday, just about 1 year AFTER the extended service agreement expired the oven malfunctioned. When the door is opened to place food inside, the glass tray begins to rotate all by itself, even before any cooking selection is made on the touch pad. There is also the sound of the fan running but the oven itself is off. Once the door is closed, it stops. After food cooks, I open the door to take out food and the glass tray and fan do the same thing. Tried unplugging the unit to see if that would reset it, didn't work. Still malfunctions.
This is more Chinese junk with the Kenmore name! Sears makes huge profits by cheating its loyal customers and almost forcing us to purchase expensive service contracts. I've been a Sears customer since 1992; now that will end. By the time I pay for repair of the 3 year old microwave, it would cost much more than the $160, that included the 2 year service agreement. You can't simply throw it away or place it in the recycle bin. It's only 3 years old! The Panasonic oven it replaced was 23 years old! What does that tell you about the quality of Kenmore products? We are making the Chinese rich while WE are forced to keep buying inferior products made by them.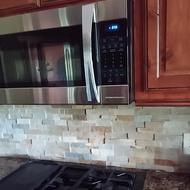 Less than one year after installing the Kenmore Elite Convection Microwave (and the gas range), the plastic coating on the "stainless steel" handle began to disintegrate. We ordered a new PLASTIC "stainless steel" handle for about $80 but then Sears said a repairman would have to install the HANDLE because the entire door has to be disassembled and it needs to be tested afterwards to verify there is no leaking radiation. I am so incredibly disappointed in all of my kitchen appliances. Every one is only three years old now and all are breaking down due to cheap materials.

Sears Kenmore Elite Convection Microwave Hood - Paid over $600 on sale for this item in July, 2012. Was installed about three months later. Now, as of April 2016, the microwave no longer works. For about the last three months, the microwave would work if I jiggled the door a couple of times after setting the time - however, randomly, it would turn itself off in the middle of the cooking cycle. Now, no matter what I try to do to get the oven to work, nothing! This is the last Kenmore appliance I ever buy. Remodeled the kitchen in 2012 and purchased all new Kenmore Elite appliances. After the experience with this microwave, I am done with Kenmore. I would hope that a microwave which retails for over $900 would last a little more than a few years!

The microwave was purchased after checking 5 different types . It is big enough to cook large pizza and also fast enough to heat a small dinner for three people. There are five buttons for selecting popcorn, defrost, one pound or larger, coffee, and a thirty second timer. I still haven't used all of its settings but the ones I have used are very good and make it a quick experience for heating and cooking.

I don't want to jinx anything but I think Kenmore appliances are well made. I would definitely recommend this brand to anybody. I do not know the model of the unit I have.

I try to use my microwave as much as possible, and love it. I have done almost everything in it. I've cook bacon and use it for blanching vegetable for freezing. It's just plain and simple microwave.

Kenmore Elite model: 721.79209010 excellent features, never a problem. Would buy again...

Bought my first Kenmore 1985, the birth of my daughter. bought the 2nd. Kenmore at the birth of my grand daughter, 2007. Microwave 1 worked like a dream come true. A good hand me down. New kitchen, new baby in the house, new microwave, Kenmore Elite. Its a bit bigger, (but I can cook more at a time). For the size, more insulation would be great. Its louder, in general, but the timer "sound" is way too quiet. Can't really hear it unless your standing right there watching it. I would/will buy a Kenmore again. Love it!

This microwave was installed in 1997, and it still works great -- no loss of power, turntable still works. I've only seen one microwave that has more power, and it was new. The only problem I've had with it is that, twice, it has locked itself, and I had to look online to find how to unlock it, but that's my fault for not having the manual.

When we remodeled our kitchen, we wanted a built-in microwave that was reliable and had excellent features as well as a good price tag.We also wanted it to be stainless to match the other appliances in our kitchen. We looked at several models of microwaves and found the one we purchased to be the best value. The model is 721 85033010. It has features, such as the 30-second timer, which one can add additional 30 seconds by pushing the button as many times as needed. It also has a defrost, which works well. It aesthetically looks great in our kitchen and we are happy with our purchase.

My Kenmore microwave with exhaust hood attached was installed when Sears refurbished my kitchen. As a result I got a huge discount. It works well and has never broken down. I am very happy with it.

This is a replacement microwave from our original Kenmore which was repaired twice and then Sears offered us another one in place of the broken one. This microwave does not heat as well, does not have the features that I would like and does not offer anything special. I could certainly use a $25.00 one from Walmart in place of this one, it does the same job. Very disappointed in all of our recently purchased Kenmore products, they unfortunately have been a let down and Kenmore does not stand by their products.

After MORE Consumer Report Research (and you have to pay for this), for 2016 Microwave / Convection models, CR rated the Kenmore Elite 79080373310 an 'excellent' unit out of the ones tested. I ordered it Thanksgiving morning, it was installed today 11/28. The convection oven does not reach temperature. Thinking the thermometers were bad, I went out and purchased a new one tonight. The Convection oven does not reach temperature. I called Sears (the Worst company to try and reach a department), after being transferred to the Philippines over and again, I was told a technician was schedule to come out on 12/12. Guess what, I am not waiting 2 weeks for a tech to come out to tell me the part is on back order. I want the unit exchanged immediately! What kind of junk is coming to consumers that we have to deal with this? They want me to 'wait 48 hrs" to hear from the 'installation team.
Updated on 12/19/2015: Continuation... Sears came out on 12/12 to "replace" the non working Kenmore Elite convection over the range unit. The installers did not re tape the exhaust vent and the vent air is being circulated through my cabinets. The "new" Kenmore Elite convection does NOT WORK! Once again hit 350/450 degrees (to check temp). You're lucky if the temp gets to 300 degrees (yet the unit said it reached temp). I asked for a service tech to come out to "verify" that the oven was not getting to temp. Bob came out, tried to give me a line of bull that the electricity was not good but I immediately called an electrician who said "The tech is trying to snow you. Don't believe him!" Bob went on to say that the "heating" elements are located in the left "rear" causing uneven heating where the left will get done first and the right side would take more time.
Bob went on to say that ALL the GE's and Kenmore's he has worked on and as a matter of fact, all the new microwaves are NOT GETTING TO TEMP. He said most people use it to "reheat, make popcorn, make a pizza". They don't "bake/roast" in it. Well my thinking this is FRAUD AND FALSE ADVERTISING as well as UNSAFE. Poultry, meats, etc. need to be cooked at a certain temp. If some "inexperienced" person follows a recipe... put in at 350, bake 25 minutes and takes it out to eat it, the poultry, meat will not be cooked because at 350 you'd be lucky if the temp gets to 250. This is now my second Kenmore Elite and they are suppose to come out today between 1-5pm to install yet another 3 new Kenmore Elite. I am beside myself that Bob said all the GE's he installed in Monsey, NY are having the same problems.
To me and my opinion, that means that the vendor who they purchased the heating elements is selling bad stuff. Where is "quality control" in the companies who are selling these products? In addition I feel that each time they remove/install, they are weakening the cabinets that the units are being installed in. Where does it stop? Who needs to take responsibility? There should be a recall on these and/or the companies need to send out a tech at their own expense to have the microwave/convection tested. To see that they reach temperature. This is UNSAFE for people wanting to 'bake or roast" in the units.

Before discarding it I tried it again shortly after with no luck. In frustration, I closed the door rather aggressively and it started. I have been using this microwave now for a year, almost every day, a couple of times a day and it has worked perfectly. There is a safety switch on the door lock that apparently stuck. In all fairness to Sears, I now would highly recommend the Sears Kenmore microwave as an excellent appliance.
Original Review
We bought a new 1.4 cf Kenmore microwave oven and 7 days after one year warranty ended it started heating or stop running intermittently. Had a Panasonic before this one that died one month after warranty ended. Junk!!! Is there a decent microwave out there at all?

ConsumerAffairs Research Team
The ConsumerAffairs Research Team believes everyone deserves to make smart decisions. We aim to provide readers with the most up-to-date information available about today's consumer products and services.
Kenmore is a household name in many parts of the world. The company has more than a century of experience in the appliance industry and provides a wide range of high-quality products that include ovens, microwaves, vacuum cleaners, cooking pots and other home essentials.
Wide selection: Kenmore has dozens of microwaves available, each with its own set of special features. They are manufactured in different colors, sizes and price points.
Diamondback: The Diamondback technology of certain Kenmore microwaves eradicates the need for the rotating plate. The microwaves bounce off the diamond indentations and are redirected to provide even heating.
Freezer to plate: The continual heating selection allows you to defrost and then cook various items without having to stop and reset the microwave.
Convection: The convection setting allows you to change from conventional microwave heating to fan-powered convection through a heated element. This is better for roasting and baking.
High wattage: Kenmore microwaves are manufactured in a variety of sizes and wattages. The energy capacity of these ovens reaches up to 1100 watts.
Best for Singles and couples, small families, large families and commercial kitchens.
Kenmore Microwave Company Profile
Company Name:

Kenmore Appliances

Year Founded:

1913

Country:

United States

Website:

http://www.kenmore.com/