Consumer Reviews and Complaints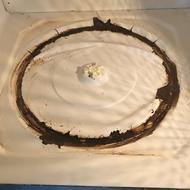 Less than a year after we bought this microwave the paint on the bottom of the oven, under the rollers began to crack and peel off. Told them it was a Christmas gift and I had no receipt. Wrote the company, back and forth we went, sent them all the info they needed and then they tell me they need the info, which I had taken photos of, serial no#, model no#, etc. and sent them. The cycle started all over again, was getting an obvious runaround. Now the bottom is a disaster area. Will never ever by their product again. Chinese-made trash is what we are buying, cheap materials, cheap planned break downs. Manufacturers no longer have pride in their products or do they care about the customers whom make them their money, like they did years ago. They are after the fast buck by taking consumers for a money ride.

We brought Sharp microwave oven 11/16. Sometimes shortly the microwave started on fire. It was still under warranty so Sharp sent me replacement on 7/05/17 model number R-459YK manufacturer august 2016. Started making noises. Sparkling. Luckily I was in the kitchen watching or otherwise it could've been a fire. I contacted Sharp again. Sent pictures. Didn't need receipt because this is the replacement they sent me back in February. I also ask customer support if they had recalled on this model and was told no. Well from looking at all these reviews I am going to ask for refund. My husband told me they just don't make things like they use to because I had a Sharp microwave for over 20 years and I gave it away because I wanted new one. And that one still worked. Just the inside had peeled away. So I called my cousin and they are still using it now.
I don't know what brand to purchase because I had also purchased another brand microwave from LG and it quit working in about 3 months. That's how I ended with the new Sharp brand. Please help. My husband and I uses microwave everyday for warming or popcorn. Also I thought it might be the plastic container cover that you put on top of your food so it cooks without spattering all over the microwave.

SHARP CAROUSEL MICROWAVE MODEL R-551ZM. 20 yrs ago I bought a Sharp microwave and it lasted 20 years. The new one I bought in 2016 lasted less than a year. It just stopped working. Then I had to deal with the unhelpful, obnoxious Filipino calling center. Their job is to keep you on the line as long as possible without answering your inquiry and while asking you a million questions and making you respell everything 10 times and saying as many bizarre things to that make no sense as possible. Needless to say the time I will waste is worth more than the time they will keep me on the phone while doing nothing. I will never buy another Sharp product of any kind not even a thermometer. The products produced by them are trash and Filipino calling centers are designed as a form of torture. They are abusive.

Purchased Sharp KB6524PS Microwave 9/12 at Best Buy, it stopped working Fall/15. Just stopped working. It worked for 3 years. 9/16 replaced Magnatron. My cost $130, 4/17 It stopped working. Replaced Magnatron. My cost $130 (all under warranty, repairman has yet to be reimbursed from Sharp). 6/17 Stopped working again. I expect a $993 purchase to last more than 3 years and be easily repaired. I will look for a replacement with another brand.

I have a Sharp microwave model r820j, an older model I purchased the first one in 2015, exchanged it in Jan. 2016. Can't recall the problem with it, but recently I was using the convection part to bake a meat loaf, shortly I smelled something, it was smoke from the microwave which was on fire. Had I not been in my kitchen at the time it would not have turned out good. I am in contact with Sharp. They are wanting pictures, hoping to resolve this in a timely manner. Hope this does not happen to anyone else that has this model. I am aware this is an older model, but should not have caught fire under any conditions.
How do I know I can trust these reviews about Sharp TVs?
881,173 reviews on ConsumerAffairs are verified.
We require contact information to ensure our reviewers are real.
We use intelligent software that helps us maintain the integrity of reviews.
Our moderators read all reviews to verify quality and helpfulness.
For more information about reviews on ConsumerAffairs.com please visit our FAQ.

I bought the Sharp drawer microwave for a home I was building. The home is for retirement and used primarily for vacation. The unit was bought three years ago from Metro Appliances in Lowell Ar. (very nice people by the way). The unit was installed two years ago. Used infrequently for vacations and holidays. Last night I put a bag of popcorn in the unit and it made a grinding sound, flashing lights, smoke. I called Sharp and their attitude was it is out of warranty you are on your own. I contacted the authorized repairman and he came and said the unit is unfixable. I went online and literally see scores of people this has happened to. I'm glad I was standing by the unit and it only went for 20 seconds because my house could have been in flames.

The Only place that the Sharp Microwave Draw serial # is, is inside the microwave on a Sticker. Yes a sticker. So when the microwave heats or gets steamed the serial number and all other numbers on the sticker dissolve. If you need to get it serviced under a contract, forget it. The contract will NOT be honored because you don't have a serial number. So Due to Sharp's negligence New Leaf Service Pro will it honor my additional 4-year contract. I am sure Sharp has received many complaints regarding this but all they can say is there is "Nothing we can do without a serial number."
Forget that you have a bill of sale. Doesn't matter. They know how to take your money for products. They put serial numbers inside a microwave on a sticker. I want to know what idiot thought of that. Common sense tells you heat and steam will remove ink. I WOULD RECOMMEND NEVER BUYING THEIR PRODUCT!! I received ZERO satisfaction from customer service. I'm still waiting for them to return my call. What a Joke!

Sharp Microwave Model R-309Y. I have owned this microwave for a month now. If I set the microwave for over eight minutes it shuts off completely after about six minutes. After sitting off for three minutes it resets itself. Then I can use it for a 2 minute period again before it shuts itself off again.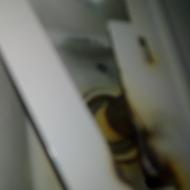 Sharp R-451ZS microwave - When I first got it the carousel made a squeaking sound that would come and go and still does but about 11 months later, 3 weeks before the warranty was set to expire I discovered it sparking when it was cooking and there was smoke. I unplugged it and opened the window. The magnetron is blackened and is a spot on the metal place that covers it. I don't trust Sharp at all even if I can get it fixed. Now I have the inconvenience of lugging it with a taxi to a repair center.

Was heating some cream for coffee in cup. I smelled fire. Looked around smoke coming out of micro drawer! Opened drawer. There was a fire on the paper towel under the cup! Got a wet sponge to throw on top of fire. The bottom of my Fiesta cup is scorched and will not come off, the paper towel has a fire ring, and the drawer floor has a scorch that will not scrub off. I tested again with a clean paper towel turned on the micro and it started a fire on another spot on the paper towel! Better unplug. Do not want my brand newly constructed dream house go up in smoke!! Do not know what to do. Not reviews are not so good re. consumer affairs with Sharp.

The inside of microwave model 330Y(S) is completely rusted out, the reviews from everyone else suggests to me there is a defect with this model, on contacting Sharp they said there is nothing they will do about it, telling me if it's not cleaned it will rust, I stated I look after my white goods with care!!! He also stated if you live near the beach the microwave is more likely to rust!? What the? I won't be buying Sharp products again and I will never buy LG either! I spent over $2000 on a fridge, had to be repaired in the warranty time, the metal has a defect, LG won't do anything! Can someone please tell me what is a good brand of microwave to buy which will last! Not happy.

Purchased a brand new home with Sharp in drawer microwave KB-6524ps installed from builder in Dec 2016. By January the microwave would sporadically make a humming sound when turned on and started tripping the circuit. We also noticed it isn't heating food properly anymore. Food heats unevenly, microwave safe containers get extremely hot, yet the food in them is lukewarm. Builder sending out appliance repair co next week but after reading similar and horrible reviews, I'm not hopeful. Not acceptable for so many people to have the same issues and Sharp has not issued a recall for such a high end microwave.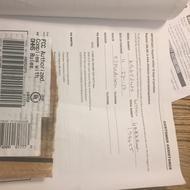 We purchased the first Sharp microwave in 2011 as part of kitchen remodel and within years starting see sparks within the microwave and we're told that the magnetron had malfunctioned but were out of warranty. We purchased a replacement Sharp microwave drawer in 11/13 and it started again to have occasional sparking and finally stopped working altogether in 1/17. We had sharp approved services come to see the unit for repair and he declared the magnetron again defective and the unit unserviceable due to the electrical damage. Sharp has not disputed these claims but refuse to reimburse for the microwave only offering a replacement for $195 for the pleasure of purchasing our third possibly defective Sharp microwave drawer and potential fire hazard. We opted to try another brand for safety.

When we built our house 3 years ago the contractor installed a Sharp Insight Drawer microwave. Unfortunately within 2 years the microwave stopped functioning. We could not get Sharp to fix it. We really had another repairman who works for Sharp take the microwave to his shop and repair it. Tonight a large fireball shot out of the side of the microwave directly at my wife and the whole microwave shorted out. This is a very dangerous product and we will be immediately removing it from our home.

This oven was purchased by my son as he was tired of looking at my old one. It too was a Sharp and had it for many years... still worked well but inside was peeling... time to retire it. I've always had Sharp products and never experienced any problems with them, so I'm glad he chose a Sharp and I'm confident this one will serve me as long and as well as the old one. It's a very nice microwave. Didn't need a large one and this really fits the bill. Easy to use and heats food evenly.

The microwave has a defrost cycle and reset button. It is 1000 watts and it was given to me. I use the defrost button often and it works well. It is easy to clean inside and the carousel is easy to take out and clean. The size is appropriate for a dinner plate yet tall enough for a large coffee cup.

My Grandmother bought me a Convection Oven/Microwave combo as a house warming gift. I had it for about a year. I came home to find the inside of the Microwave Door shattered like it was hit with a baseball bat. It also flipped my surge protector. If it was not on the surge protector it would have burnt my house down. When I explained it to them and explained that it could have burnt my house down, they did not care. I sent them pictures and they said that they are not going to cover it. Since I don't have a receipt as my grandmother has passed away and all of her estate has been settled, they will not do anything for me.
I would have at least liked a replacement door sent so I can fix or at least a voucher to have it fixed at no cost. But since they didn't offer anything and said I am on my own, I will be forever posting about the horrible customer service. I am also a property owner with many sharp appliances in them and I will be taking them out of the apartments as well as I am not going to do any more business with them.

Me & my wife got our microwave from a friend/Neighbor. I never buy appliances from Sharp cause they don't last. Our microwave gets hot on the sides and back which is one of the many reasons I rated this microwave this way.

My Sharp Carousel is easy to use! It has two amazing features. One it is easy to read. The other feature is that there's no programming the food, you either hit a button and it automatically turns on or you don't have to put in the time. All you have to do is pick your program and it will start up when you hit the start button.

My microwave is over 20 years old, has never broken or stopped working. I love the money that I've saved over the years not having to shop for or purchase another one! We love our product. Thank you Sharp for such a wonderfully built microwave!!

Purchased this Carousel microwave February or March of 2016. Still searching for receipt to prove this to Sharp customer service who states I purchased it in August of 2015. I understand the need for proof however at this point if I do not find receipt I will need to pay them a prorated fee to ship me a new one. Product was manufactured May 2015. Regardless of me owning it 9 mos or their claim of 16 mos this microwave is a hazard and I am thankful that no serious injury to myself, house or family members occurred.
I came to this site to see if other complaints of this microwave coincided with mine. I have attached a picture as what happened is exactly what happened to Lee from Alabama had to review. Thankfully mine not as severe. So as for me locating a receipt to replace my microwave for free or their prorated fee, no thank you. Sharp should recall these and hope that consumers who purchased these don't get hurt or lose their lives over such an awful product. I have also attached product information serial number, model etc in hopes to warn other consumers.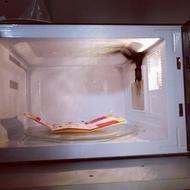 Nearly a year to the day our house burned down, our replacement microwave (Sharp Carousel) nearly caught our rental house on fire. After a few seconds with popcorn, a big hum started, followed by sparks & flames inside the oven. Not even a year old & Christmas time. Still resolving house fire issue, there's precious little time to take it apart and fix it, or deal with the company denying responsibility. I have kids and watched one house burn. Sadly, my 20 year old Kenmore went down with it. No more Sharp products for me.

Powerful, big enough to cook large dishes in (I rarely use the oven), simple to operate. This old friend was purchased in 1993 and has never had a problem. I have had it checked for leakage, but just in case I don't stay close to it when running. It has been moved 6 times. Not like my friends' expensive built in microwaves that don't last more than a few years!

Microwave simply stopped operating one day. It took nearly two weeks to get a warranty repairman out to the property. They literally looked at the microwave and in less than 10 seconds he stated, "I have seen this problem before - I will order the part and will be back 'in a few weeks'." So, we did not have the microwave for Thanksgiving Dinner. The warranty repairman returned this week, took the microwave out of the cabinet and then said "there is something else wrong with the unit. I need to order another part. I will be back in a few weeks." When we called Sharp they said "the unit cannot be fixed. We need to send you a new one." "Great." we said. "When?" - and then Sharp responded "well, we do not know when. We do not have any in inventory."
After attempting to get any ETA from the rep on the telephone (thru a laborious, inane, scripted response), we simply agreed they would call us weekly. We called the store (Setzer's) that sold us the microwave and they told us to call the warranty number and tell them they had several in stock that could be used. So... we called Sharp back and they said "we have a policy that we cannot work thru the store - it has to come from our stock." I again asked if the policy could be reviewed. They noted they would take a look at it and see what they could do. I am fairly confident that we will not have the microwave in time for XMAS Dinner. As I re-read my comments above, I can only wonder how many other folks have suffered through the Sharp warranty process. This is definitely a company that DOES NOT stand behind their product.

I purchased a Sharp microwave last year, on 11/12/2016. This morning when I tried to use it to cook some potato pieces suddenly the sound of the microwave changed and a burnt smell came. So at once I switched it off. Then I tried to warm already cooked sweet potato pudding just for 30 seconds. Again burnt smell and the sweet potato did not warm at all. When I looked at the warranty, it says "Parts and labor for I year." So exactly one week after purchasing it went out of service, as if the company knew that it will last only one year. This is the last time I purchase one. We -- both in our late 70's mainly use the microwave just to warm the cooked food and occasionally to defrost some vegetables. Purchased from BJ's wholesale store.

My Sharp Microwave Drawer was provided by our builder in our brand new home. I had used the microwave and after three months the microwave made a popping sound, smelled like burnt rubber and emitted smoke. I called the company and was told that even though it was a new microwave, I had to provide proof by faxing my home settlement papers. After retrieving one of the papers from the lock box at the bank, I copied and sent it to Sharp. I received an e-mail back saying they will contact me in 7 to 10 days. After two weeks and my follow up, I received a call from a delivery service, not a repair person, who came and put my microwave in. I have no idea how safe this all is but know this is absolutely unacceptable.
Sharp knows there is a serious problem with these microwaves and that the company did not correctly cover and paint the heating element properly during manufacturing. This is why the microwaves blow up. Sharp is hiding from product recall and liability by refusing to accept adequate responsibility for the company's manufacturing defect. Until Sharp is pressured by a government agency or other institutional board they will keep stuffing the problem and preventing any public notices for as long as they can. Or Sharp will be forced to accept liability because someone was seriously hurt or injured by their faulty product.

I previously had a microwave oven that lasted more than 30 years. My Sharp Carousel Microwave lasted less than 2 years. This product is a POS! That means Performance Occasionally Substandard. They can do better.

Built a brand new house and installed a Sharp Drawer Microwave. The microwave started "burning", no flames, just smoke and really bad smell. Discovered that under the drawer, there was metal that was burning! We were in the house approximately 5 months when this occurred! It took them 2+ months to finally replace the microwave! Now, approximately 2 months later the "replaced" microwave started smoking and smelling. Definitely, a serious problem with these things! They want to do nothing to help you. Now they are sending "someone" out to look at it and it will be another 2+ months before they get back to me! Certainly, a disgrace of a company! They keep telling me that I'm the only one that has ever had this problem??? With two of their microwaves? I should play the lottery!!!

I bought an R-551ZS on Nov. 30, 2016, after ice storm power surge killed old reliable Sharp purchased ca. 1990. That unit would stop, with no display, with the back upper right corner very hot to the touch, and not resume until cooled for 5 mins or so. Sharp sent an identical replacement. It did the very same thing on first use on July 4, 2016. Sharp then sent an R-651ZS, which had worked fine since received about 10 days later, until this evening. I microwaved a cup of coffee for 40 seconds and on opening the door at end of cycle, the display went to "0" instead of the time of day and the internal light was brightening and dimming, while a sizzling sound emanated from inside the back of the unit where there are vent openings near the power cord, where I would assume can be found the electronics and power supply. The sizzling sound stopped the second I unplugged the unit.
As an experiment, I plugged it back in and there was no sizzling sound, the internal light was steady, and I was able to reset the clock. However, I will NOT risk a fire in my home with a disabled sister who might not make it out in time, so I will not be using the unit. I e-mailed the last customer service contact from the last episode within 5 minutes of the event, today, Saturday. I don't expect a reply until the next business day. The reps were very responsive on the earlier two incidents, but at this point I will never buy another product with the Sharp brand name on it. Three defective units in such a short time suggests to me that their quality control is ineffective and perhaps their engineering design department or they're getting defective electronic components from their suppliers.
This is really a shame as the product I bought ca. 1990 was a trooper without a single issue. It was that reliability that induced me to buy that first replacement Sharp unit on Nov. 30, 2015. I haven't looked, but I'm guessing that the 1990 unit was likely U.S.-made and these later units Chinese. There have been many documented cases of Chinese electronics suppliers delivering counterfeit capacitors and such. I'm thinking Sharp may be a victim, in a sense, of similar supply issues, but when it comes right down to it, Sharp is responsible for their own quality control not just in their own manufacturing process but for the parts they buy from vendors that go into their products.
And you can bet that if their product results in a fire, I will hire the world-class attorney (used to be Richard Nixon's guy), who lives just up the road from me, to recover costs of any home repairs. Not that I would let it get to that. The thing won't be used again and I'll be researching other makes for its replacement (not to include Whirlpool, with their record of recent fires in THEIR units!).
It seems ridiculous to think you cannot go into a store and buy a piece of mature technology and have it actually work, SAFELY, in this day and age. These companies building to a low price point have got to realize there is a threshold below which they should not go and which the consumer will not either when pennies saved here or there result in products that are unsafe and potentially deadly. No matter the future response to today's issue, I will have no faith in Sharp to deliver a reliable or safe product. And I don't even much care about a refund. The safety of my home is worth more than what I'll spend to replace this unit tomorrow.

Purchased microwave December 2014 - after year and a half the following occurred. Family sitting in kitchen - microwave not in use - heard crackling noise like when someone puts metal in - then door of microwave shatters like crackled glass - immediately unplugged. Contacted Sharp to find out if this had ever happened before - stated "no" - was told they would contact their technical experts and get back to me? Experts? Said it was not a manufacturing issue??? They asked me if I thought it was a safety concern? Of course - Yes! duh. They opened up a case # on the incident and then offered to prorate a new one, same model for $100.
After jumping through hoops to provide paperwork - finally received the new model. Guess what? They shipped the wrong one - lower wattage and smaller. I was not home to unpack - relative did. When plugged in to use, sounded like a Mack truck - smelled like something was burning up inside and did not heat food. Now back in communication with Sharp to take back incorrect model R-559Y and send another - hopefully the correct model. Very dissatisfied with customer service - should have replaced POC at no charge. Good luck with your safety if you purchase this model or any other Sharp microwaves.

ConsumerAffairs Research Team
The ConsumerAffairs Research Team believes everyone deserves to make smart decisions. We aim to provide readers with the most up-to-date information available about today's consumer products and services.
Sharp is a top electronics and appliance brand that strives to be involved in every aspect of your technological lifestyle. From televisions to washing machines, they do it all. Sharp products are designed to be aesthetically pleasing as well as effective.
Sharp microwave drawer: The built-in microwave drawer lets you tuck the appliance away when it is not in use.
Commercial microwaves: Sharp provides medium-duty and heavy-duty commercial microwaves with high wattage, up to 1200 watts.
Low cost countertop models: Sometimes you just need a microwave without all the frills and special features. Sharp has a full line of affordable and dependable microwaves.
Quick-cook buttons: Sharp microwaves feature "Popcorn," "Defrost," "Potato" and many more pre-sets.
Built-in kits: The kit allows you to install the microwave yourself without having to hire someone else to put it in the kitchen.
Best for Singles, couples and commercial kitchens. These microwaves come in three basic ranges: smaller ovens, classic ovens and commercial ovens.
Sharp Microwave Company Profile
Company Name:

Sharp TVs

Year Founded:

1912

Address:

Sharp Plaza

City:

Mahwah

State/Province:

NJ

Postal Code:

07495

Country:

United States

Website:

http://www.sharpusa.com/