Puffy
This profile has not been claimed by the company. See reviews below to learn more or submit your own review.
Puffy Mattresses is a bed-in-the-box mattress company that sells exclusively online and delivers directly to your door. There are two different types of Puffy mattresses: the Puffy Mattress and the Puffy Lux Mattress. They also supply several accessories, such as bed frames, pillows and mattress protectors. Puffy provides a 101-night risk-free trial, free shipping and returns, and a lifetime warranty.
Overall Satisfaction Rating
5 stars

4 stars

3 stars

2 stars

1 stars
Pros
101-night in-home trial
Lifetime warranty
Good temperature regulation
Cons
Bottom Line
Puffy offers quality memory foam mattresses designed for complete support and temperature regulation. While the Lux model is a bit pricey compared to other memory foam options, financing is available.
About Puffy mattresses
Puffy mattresses focus on easing back and joint pain using their Cooling Cloud foam to eliminate pressure points and improve circulation. Puffy offers foam mattresses to suit all sleep positions, including back, side and stomach. Puffy mattresses are sold exclusively online and offer a 101-night sleep trial. If you don't think the Puffy mattress is right for you in that time frame, you can return it for a full refund.
| | | |
| --- | --- | --- |
| 101-night trial | Free shipping | Lifetime warranty |
Puffy mattresses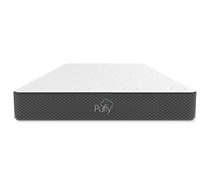 Our top pick for Puffy
Puffy
Puffy Mattress
$1,150 (queen) as of publishing date
Puffy's classic mattress is designed to provide support for all sleep positions. It's firm enough to keep your spine aligned but reduces pressure points. A cooling gel cloud layer helps regulate temperature. Includes stain-resistant cover.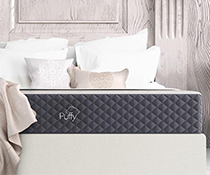 Puffy
Puffy Lux Mattress
$1,795 (queen) as of publishing date
Puffy Lux is similar to the classic but features body-adapting foam to enhance support and minimize strain on your body's pressure points. This model includes an extra climate-adapting layer that helps regulate body temperature during the night.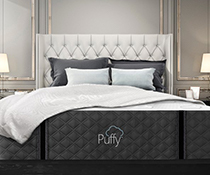 Puffy
Puffy Royal Mattress
$2,695 (queen) as of publishing date
Features an exclusive top layer infused with cooling beads to minimize heat absorption. This model is also designed with dynamic SMT technology that provides support to the back while keeping a softer feel around the head, neck, shoulders and feet.
Puffy mattress construction and materials
Puffy mattresses are made out of several layers of foam.
Cooling Cloud™ Comfort Layer: The top layer of the mattress is designed to conform to your body to relieve pressure on hips, shoulders, knees and joints. This is a breathable material designed to be temperature neutral and aid cool sleep, which is often a top concern for memory foam mattresses.
Body Adapting Dual Cloud Layer: Available on the Puffy Lux model only, this layer provides additional support and contouring.
ClimateComort™ Layer: This layer is included specifically to address temperature concerns and is engineered to counter seasonable contraction and expansion to ensure you keep a cool, comfortable sleep year round.
Foam Core Support Layer: The base layer of Puffy mattresses is designed to add firmness and support for your body. This layer still provides some level of give, allowing every layer in the mattress to conform to your body.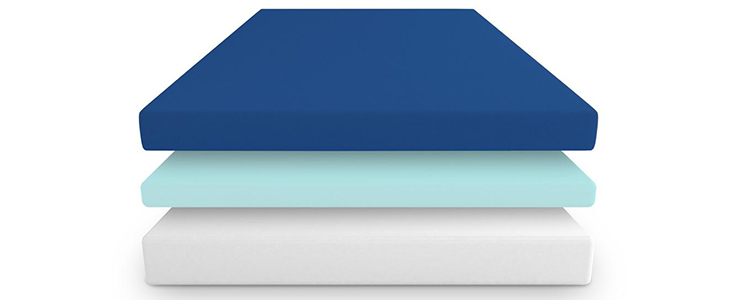 Puffy mattress comfort
Puffy mattresses are designed to support most individuals, regardless of sleeping style.
Firmness: Medium. Puffy mattresses only come in one firmness-level, but this is typical of many bed-in-a-box brands, and mid-level firmness suits many.
Sleeping position: Puffy mattresses are designed to support all sleep positions and provide enhanced spinal support and pressure relief.
Motion transfer: Puffy mattresses are noted for limited motion transfer, making them a great choice for co-sleepers.
Sleeping hot: the ClimateControl™ layer is in place to ensure proper temperature regulation on Puffy mattresses. In addition, the top layer closest to your body is designed with a breathable fabric, which will also help pull heat away from your body while you sleep.
Puffy mattress prices
There are two Puffy mattress models, the Puffy mattress and the Puffy Lux mattress. The Puffy Lux includes one additional layer made of "body adapting dual cloud foam," designed to contour to your body and provide pressure point relief. 
The Puffy mattress is the more affordable option, a queen Puffy mattress costs $995. A Puffy Lux mattress costs $1,595 for a queen model. Financing is available.
| Mattress size | Puffy Mattress | Puffy Lux Mattress |
| --- | --- | --- |
| Twin | $595 | $1,245 |
| Twin XL | $625 | $1,295 |
| Full | $795 | $1,395 |
| Queen | $995 | $1,595 |
| King | $1,150 | $1,795 |
| California King | $1,150 | $1,795 |
Are Puffy mattresses good?
If you're looking for a memory foam mattress designed to support all sleeping positions and provide mid-level firmness, Puffy mattresses may be a good option. As an added benefit, the advanced cooling technology built into Puffy mattresses make them an ideal choice for hot sleepers.
A link has directed you to this review. Its location on this page may change next time you visit.
How do I know I can trust these reviews about Puffy?
How do I know I can trust these reviews about Puffy?
3,427,514 reviews on ConsumerAffairs are verified.
We require contact information to ensure our reviewers are real.
We use intelligent software that helps us maintain the integrity of reviews.
Our moderators read all reviews to verify quality and helpfulness.
For more information about reviews on ConsumerAffairs.com please visit our FAQ.
Page 1 Reviews 0 - 10
L. of Burbank, CA Verified Reviewer Verified Buyer
Original review: Aug. 5, 2021
I purchased the Puffy Lux Mattress Hybrid a couple of months ago. The feel of it is okay but I do think they are pricey. There are two things that I mainly dislike about the product and company:

1. The shape of the mattress is horrible. The ends don't expand properly and it looks like a giant pillow (the ends of the mattress looking flatter).
2. Puffy sends a link where one can post a review after purchase. However, and if it's negative or like mine (2 stars), they don't post it. This latter point is misleading to consumers because all they see are the positive reviews when on the company's website.
I believe one can get better mattresses for the same price and look much better. I do realize that Puffy makes all their mattresses in the USA so I guess that's the only positive.
Read full review
5 people found this review helpful
Shelley of Frost, TX Verified Reviewer
Original review: July 22, 2021
We purchased the Puffy mattress in June of 2018, I think. We loved it for the first year or so. We would flip end to end when we changed the sheets, hoping to not permanently imprint the memory foam. Now (for the last year or more) both ends and both sides are imprinted, and it is miserable. At first it relieved my back pain, now it only makes it worse. The warranty states that you must be able to see a specific indentation of a certain depth for a warranty claim. The cover remains tight, so no matter how deep the indentations get, the warranty will never cover a replacement because they aren't visible. When you press on the cover, you can feel the indentations, but they are not visible otherwise. We are stuck with it until we can afford a replacement, which will NOT be a Puffy. Bottom line: It feels like you're sleeping on a cloud at first, but it doesn't last. I do not recommend this mattress, unless you're willing to replace it at full price every year or so.
16 people found this review helpful
Thank you, you have successfully subscribed to our newsletter! Enjoy reading our tips and recommendations.
RW of Reston, VA Verified Reviewer
Original review: July 21, 2021
We ordered $6500 worth of beds/mattresses on June 7, 2021. Three of the four items ordered were delivered but not within the 3-5 business days as advertised. This late delivery cost us over $1000 in hotel bills since we had just moved and had no beds to sleep in. (We received a few complimentary pillows, etc. for our troubles and to compensate us for the hotel stay.)
But wait. It gets worse. As of today, July 21, our order is incomplete because one of the three mattresses ordered has still not arrived....and no one can tell us where it is or when, if ever, the remaining mattress will arrive. (Obviously we have now cancelled the order and requested our money back.) For the last six weeks we have repeatedly called and/or emailed various people in customer service (all very polite and courteous but totally unable to help us get the product ordered) and even top management including a Mr. Andreasyan, the CEO. Radio silence.
This company obviously has to management problems which it refuses to recognize. How long can Puffy can remain in business with such complete disregard for a delivery problem and customer problem is anyone's guess. The product we did receive seems like a quality product but anyone who orders any Puffy product is taking a risk that it will come late...or possibly never. Bottom line. Go to Casper (or any other competitor) for as good as product if not better and reliable delivery. Stay clear of Puffy.
Read full review
14 people found this review helpful
Dennis of St Augustine, Florida Verified Reviewer
Original review: June 26, 2021
Really didn't think our mattress was all that bad until we slept on Puffy cloud. Small hiccup but all handled in very professional and timely manner. Must try and see yourself, lifetime warranty. How could you go wrong!!
2 people found this review helpful
N. N. of Raymond, MS Verified Reviewer
Original review: March 30, 2021
I saw really bad reviews for Puffy on returns and I was so nervous when I had to do one. It went so great, that I wrote this review and I usually don't, but I wanted them to get the credit they deserve. My purchase & return experience with Puffy mattress was excellent. It wasn't super firm for my preference, so I submitted a return. They had it picked up the next business day. I got an email confirmation from the pickup guys, screenshot the proof, and emailed to Puffy. The refund was processed that day. The money went back to my bank account the day after pickup. They had great communication through email with me the entire time! Great experience and I would do again!

8 people found this review helpful
Jacque of Redondo Beach, CA Verified Reviewer Verified Buyer
Original review: Nov. 21, 2020
I ordered the top end Puffy Lux Mattress. As soon as I pushed the buy button, I had regrets and immediately tried to cancel the order. All of this was on the internet. I received a confirmation email and of course my credit card was immediately charged the full amount. I responded to the email with my request to cancel the purchase. I should have immediately challenged the credit card charge, but it was my fault and I assumed that the company would do the right thing.
I received an email back that they were so busy that it would take up to 72 hours to respond. (First Red Flag) I continued to try to correspond with them and a couple of days later received an email that they would process my cancellation. Then I was shocked a couple of days later to receive a notice that the mattress had been shipped!
I responded that it shouldn't be shipped as I had cancelled the order and received confirmation from them that they would cancel it. They said sorry, the mattress was shipped before the cancellation. This was flatly not true. They asked that I refuse shipment when it arrives. I immediately contacted the shipper and told them I was refusing shipment on the mattress and it should be sent back. They said that they heard from the company that it had been cancelled and would be returned. They gave me a "case number". A couple more days went by and I received another notice of when the mattress would be delivered! I called the shipping company again and was assured that it was shown as refused and they would send it back when it arrived at the destination city.
A couple more days and the mattress appears at my door! Just by luck, I heard the truck and ran out in time to stop them from driving off. They had simply dropped the box on my porch and were ready to leave. No signature was required on a nearly $3,000 purchase!! I contacted the shipping company and they said they were required by the company to make at least one attempt to deliver the mattress. Amazing. All my cancelling the order, refusing delivery through the shipper and assurances all along the way that they would honor my wishes and it was all lies. I contacted Puffy again and demanded my credit card be refunded since they had had my money for (at that time) 12 days and I had cancelled the purchase in the same hour that I hit the buy button. They said they could not refund until they received the mattress back at their location.
After telling them that was unacceptable and a few other reminders that that was close to if not outright fraud, they agreed to a refund, but it would take 3 to 5 days for it to show up in my account. Isn't it odd that it takes mere moments to appear as a charge on your credit card, but 3 to 5 days to put it back on the same card? That was two days ago and I am still waiting for my money to be returned to me. In my opinion this company had done nothing but lie to me since the beginning of the transaction. It is not a company that I would consider doing business with ever!
Read full review
47 people found this review helpful

mathew of Brooklyn, NY Verified Reviewer
Original review: Nov. 20, 2020
Puffy mattress they did they give you 101 days. They are saying I return them the mattress. It pick by non profits organization and they are the one who give them all the reviews in the web. Otherwise their service is the worst and their product is made in China with low quality. I do not recommend them. Buy your mattress from store. All this online service is bad and nasty. It is shame. They build their reviews on lying to people.
28 people found this review helpful
Sharon of Plymouth Meeting, PA Verified Reviewer
Original review: Oct. 8, 2020
Our first mattress-in-a-box experience. While the mattress was not firm enough for our needs, the return process went very smoothly. We followed the directions carefully. Within a few days of initiating the return, the charity had picked up the mattress (they wrapped it so we didn't have to) and the refund was processed the next day.
9 people found this review helpful
Penny of Middlesex Centre, ON Verified Reviewer
Original review: Sept. 16, 2020
Bought a mattress that I never received and they don't answer email, phone, online form, or reviews. I have not had a single communication since I paid them. I have tried over a period of time to contact them in various ways but they do not respond. They don't even allow you to call them to inquire.
37 people found this review helpful
D of Canada, Other Verified Reviewer
Original review: Aug. 28, 2020
Purchased adjustable bed & mattress, wasn't comfortable. The mattress isn't made for adjustable beds. Anyway waited 2 weeks and 1 day for 1800gotjunk to pick it up. It's been a week and they don't answer their phone or emails! Disputing with credit card, this is ridiculous! 101 days trial is a joke. HEADACHE. They will never post a review 1 star, it gets deleted.


39 people found this review helpful
Puffy Company Information
Company Name:

Puffy

Website:

puffy.com
You're signed up
We'll start sending you the news you need delivered straight to you. We value your privacy. Unsubscribe easily.