$399 of Free Accessories*
*Partner terms and conditions apply.
This company is not yet accredited. See reviews below to learn more or submit your own review.
Nectar sells one medium-firm mattress model that has excellent support, making it a great choice for back sleepers. It is manufactured with a cooling cover, gel memory foam, adaptive memory foam and a base layer. The mattress also comes with a 365-night sleep trial, and shipping and returns are free.
BOTTOM LINE
Nectar's one memory foam mattress is medium-firm, made of high-quality materials and comes at an affordable price. The mattress' excellent support makes it especially good for back sleepers.
PROS
Virtually silent
Great value
365-night sleep trial
CONS
Not ideal for stomach sleepers
​
Thank you, you have successfully subscribed to our newsletter! Enjoy reading our tips and recommendations.
Are you this business?
About Nectar mattresses
The Nectar Memory Foam Mattress is classified as Medium Firm and is constructed with several layers of memory foam to help relieve pressure. However, the mattress' biggest claim to fame is its affordable price paired with high-quality materials. The mattress is excellent for back sleepers and very good for side sleepers as it offers a nice contour but doesn't sink in quite as much as similar models. Shipping and returns are free, the warranty lasts forever and financing options are available.
| | | |
| --- | --- | --- |
| 365-night trial | Free shipping & returns | Forever warranty |
Nectar mattress construction and materials
Nectar uses better materials than most competitor mattresses in the same price range. The Nectar mattress has five layers of materials: a cooling cover to wick away heat, quilted gel memory foam for comfort, gel memory foam, adaptive memory foam and a dense but breathable base layer. Nectar mattress reviews mention that the mattress is virtually noiseless.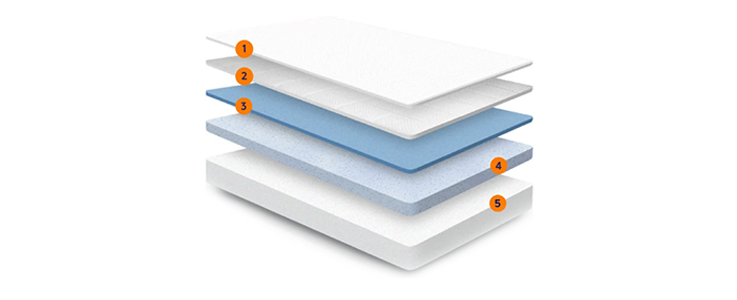 Nectar mattress comfort
Nectar mattresses are highly rated when it comes to comfort, especially when taking price into consideration. Some mattresses with similar levels of comfort cost a few hundred dollars more. Quality foam materials, gel and a breathable cover all help make the Nectar mattress one of the best mattresses around. The support core is made of high-density polyfoam.
Firmness: Nectar has one mattress firmness level: Medium Firm. This is about a 6.5 on the traditional 1-10 firmness scale.
Sleeping position: The Nectar mattress is very good for back sleepers and overall good for side sleepers. However, keep in mind Nectar Sleep mattress reviews do mention that stomach sleeping is difficult for lighter weights.
Motion transfer: Thick layers of memory foam absorb almost all movement and result in minimal bounce, making the Nectar mattress an excellent choice for couples.
Edge support: Nectar mattresses have good edge support, though some people do report slight sinkage within a year. There is a small amount of compression when lying on the side of the bed, but the results are good overall.
Sleeping hot: Gel layers, a breathable cover and a lack of sink-in help users keep cool when sleeping on a Nectar mattress. But some users mention experiences of sleeping hot, so it isn't perfect.
Nectar mattress cost
Nectar mattress prices are low compared to competitors, without sacrificing comfort or quality. It's almost impossible to find a cheaper mattress with the same level of quality.
| Mattress size | Nectar cost |
| --- | --- |
| Twin | $399 |
| Twin XL | $469 |
| Full | $599 |
| Queen | $699 |
| King | $899 |
| California King | $899 |
Are Nectar mattresses good?
Nectar Sleep mattresses are good. They are made of quality materials and come at an affordable price, making them some of the best mattresses around. It's an especially good choice for back sleepers because it provides such good support.
A link has directed you to this review. Its location on this page may change next time you visit.
How do I know I can trust these reviews about Nectar Sleep?
How do I know I can trust these reviews about Nectar Sleep?
2,386,879 reviews on ConsumerAffairs are verified.
We require contact information to ensure our reviewers are real.
We use intelligent software that helps us maintain the integrity of reviews.
Our moderators read all reviews to verify quality and helpfulness.
For more information about reviews on ConsumerAffairs.com please visit our FAQ.
Page 1 Reviews 0 - 10

Pooja of Nashik, Other Verified Reviewer
Original review: Aug. 2, 2020
I feel very luxurious when I Sleep on my mat. It is a type of comfort zone for me. To get relaxed, there is no better option than this. What matters is the material they are using for the mat. In any season, you will not get a chance to complain about it. It's quality never degrades as time passes away. Due to smooth texture, you can experience the feeling of sleeping on a lawn. This product is very high quality product and I recommend to you.
Be the first one to find this review helpful

Suzanne of Henderson, NV Verified Reviewer
Original review: July 26, 2020
I was a little skeptical of ordering a mattress rolled up in a box. The reviews, free shipping, extra foam pillows And interest free financing for 6 months was hard to beat. This mattress is wonderful, maybe the best I have ever had! It opened up great. No out gas odor and is heaven to sleep on. Foam mattresses can be hot in summer and cold in winter and in NV, that is a problem. The Nectar is neither of those, it is always the right temperature. It's hard to describe how awesome this mattress is, but if you have any back problems you have got to try it for yourself!! I couldn't be happier with my purchase.
Be the first one to find this review helpful
Thank you, you have successfully subscribed to our newsletter! Enjoy reading our tips and recommendations.
We value your privacy. Unsubscribe easily.
Joseph of Miami, FL Verified Reviewer
Original review: May 5, 2020
We ordered a Nectar mattress after I sustained a debilitating lower back injury in 2017. I was not able to sleep comfortably (if at all) on regular coil spring mattress/box spring. The Nectar offered memory foam mattress with 1yr full money back guarantee. If you buy a Nectar, the company will refund your total cost for any reason. Nectar will pick up mattress and then donate to local charity. No other bedding company provides this offer. The Nectar is the best sleep I have had since my injury. I sleep comfortably every night. I suffered in pain until I purchased the Nectar. For $700 it is absolutely the best you can buy regardless of price. I tried everything. Nectar is high quality bedding and I have recommended to many people. We now have 2 Nectars.
8 people found this review helpful

Edward of Schenectady, NY Verified Reviewer
Original review: May 4, 2020
This is a very stable and comfortable mattress and I would recommend it to all who want a good night's sleep. It only took two days to fully expand and be able to be used. The comfort comes from the many layers of support build into the mattress. The company also sent a package of two pillows, and a mattress cover. The only bad thing is that they promised me a sheet set which has yet to be delivered.
4 people found this review helpful

KRISTINA of Sherwood, AR Verified Reviewer
Original review: April 23, 2020
We bought the mattress and base. The base broke shortly after purchase but customer service to get it refunded off the account went above and beyond. I also have chronic back pain and this mattress has actually helped to relieve some of that so I get better sleep.
7 people found this review helpful

Sophie of Los Angeles, CA Verified Reviewer Verified Buyer
Original review: Aug. 14, 2020
My boyfriend and I purchased a (2) nightstands and bed frame. It was a little delayed with shipping because of Covid, no problems. When one of the nightstands arrived it had a chip out of it and the drawer sits on an angle and therefore has problems closing. Additionally, the bed frame was chipped and scratched all over - not something we were willing to pay close to $400 for. Nectar customer service assisted us in shipping out replacements (their email customer service system is SLOW so be warned). The replacements arrived really quickly which was nice, but this nightstand was in even worse condition. The nightstand was completely smashed on top, the top piece had become disconnected and it was not in any state to be used. Feeling frustrated we requested a refund.
Nectar are happy to oblige, however, their refund policy/system is disgusting and embarrassing. Obviously they have so many returns and want a tax write off so we were told we had to donate the unusable broken item to a charity or church. It was an embarrassing experience asking the charity to then write a donation receipt to prove we'd donate it. I am shocked Nectar are allowed to get away with this and it truly is a poor. You shipped us (3) broken items and now we're expected to go out of our way to get this corrected. I wish there was somewhere I could report this poor business practice, I definitely do not recommend Nectar - the items are cheap and in bad condition on arrival.

Read full review
Be the first one to find this review helpful
Traci of Racine, WV Verified Reviewer
Original review: Aug. 12, 2020
Be forewarned! Do not purchase from Nectar the mattress company. I ordered a mattress that has yet to be shipped and they are blaming it on delays from FED EX. Initially I received an email telling me it would be 7-14 day delay. When I received my actual email the ship date said July 25 - Aug 1st. Even after August 1st I've had no email updates from Nectar. Last week I chatted with the company while they gave me the excuses about FED EX delays. They told me I'd get an email update on Monday which I did that said exactly the same thing. So today I go to cancel my order altogether and all I get are excuses. Now they claim they can't cancel the shipping label until it is returned to their warehouse. Funny, on my chat session they told me it was still at the warehouse!
In the meanwhile I'm on the hook for approximately 900. to Affirm which is how I chose to pay for it so I could make payments on it. According to Affirm's website you can't get a refund from Affirm until they've received one from the company (NECTAR). During my conversation I asked to speak to a supervisor. I still kept getting delayed. I was on the call for 26 minutes with no resolution.
Don't buy NECTAR in stores either because my daughter was going to buy one and the mattress store told her possibly two weeks or more. Be forewarned. While I can attest that Co-Vid is real, I can't understand what the shortage is for so many things including mattresses! Nothing like placing blame either on the shipping company who probably hasn't even picked it up yet. DELAY tactics I'm sure. I can't review the actual product because I never received it. Only thing I did receive was the mattress cover I bought but can't even use till I get the mattress. I will NEVER do this again.
Read full review
Be the first one to find this review helpful

Anibal of Austin, TX Verified Reviewer
Original review: Aug. 10, 2020
As many others have mentioned, I purchased a Queen mattress during the 4th of July sale. Advertised with the Mattress was a Nectar bed sheet set valued at $150, and a Mattress Cover valued at $99. I ended up receiving a ComfortLab bed sheet set which goes in retail for $32. Absolutely ridiculous that they'd make this substitution without informing anyone, and just expect people to be okay with it. Although the Mattress is fine, I would recommend steering clear from Nectar, as their deals are incredibly deceptive, and will likely have you pay more than what Mattress costs with false promises of expensive add ons.
Be the first one to find this review helpful
Dean of Brookline, MA Verified Reviewer Verified Buyer
Original review: Aug. 10, 2020
I purchased the Nectar Mattress during their 4th of July promotion in 2020. The promotion was for free Nectar pillows, a Nectar mattress protector, and the Nectar bed sheets. Their promotion explicitly has a picture of the Nectar items on their site and explicitly state the value of the items (the sheets are worth 150 since the Nectar bedding retails for 150 on their site). A month and a half later, I receive the sheets in the mail but they are a 40 dollar sheet set (it is this one: **) I contact Nectar and they acknowledge that the sheets they sent me are $40 and offer to refund me $40. The reps state that this refund is not equal to the value promised. "Dean. If I can only provide the equal value of the sheets that was promised, I would've done so. However, there's a scope I can only reach."
IMPORTANT: They also told me that any items in their promotion are not promised to be the actual items (they can be from third-party partners) nor are they promised to actually be the value listed. This was never stated on the promotion during purchase anywhere but I was told when asking for assistance on this the following, "Upon checking back and forth with our team, it seems that we are moving on to sending non-Nectar branded promotional items but of course still luxury and great quality items."
Their promotions in the past (I cannot say regarding the future) are very much false advertising, at least in this instance. They use pictures and links of their products and cite those dollar values but will send you other third-party items for the free promotional items which are unexpected and not of equal value. This is very troubling and I would advise not to purchase from this business. I have a saved transcript of our chat regarding this false advertising in their promotions and included it with this review because I think transparency on this matter is of utmost importance: ** Also, you can see other reviews posted on this site regarding the same promotion and the same problem happening.

Read full review
Be the first one to find this review helpful
Joanne of Stamford, CT Verified Reviewer
Original review: Aug. 8, 2020
I purchased the Nectar Queen mattress during a promotion offered over July 4th weekend. The Queen mattress, 2 Nectar pillows, mattress protector and luxury sheet set for $799. The pillows, protector and sheets were advertised as a $399 value, and if you look at those items on their website, it adds up. Pillows are $75 each (x2), sheets are $150 and protector is $99. I received the mattress with only a slight delay. The pillows were included. However, the mattress protector and sheets that were sent were garbage and not from Nectar, even though my order clearly reflected the mattress protector as a Nectar mattress protector valued at $99. And "luxury" sheets valued at $150.
After numerous Chat sessions and emails I received a refund for the mattress protector since they could not deny that a Nectar Mattress Protector was shown in my order, not the synthetic cheap garbage that was shipped. Since the Nectar protector is designed for this particular mattress, I then bought the "real" Nectar mattress protector on their website since I had already received the $99 credit. I am still waiting even though when I ordered it, Nectar stated that it would ship in 2-3 business days. I am still waiting on the refund for the garbage sheets they sent me. Nectar has no customer service at all, Chat is a joke and their telephone number has the same message no matter when you call. No matter what I think of this mattress, I will never, ever purchase another item from this scam company. And the mattress is made in China!
Read full review
Be the first one to find this review helpful
Nectar Sleep Company Information
Company Name:

Nectar Sleep

Website:

www.nectarsleep.com