Shop

Now
This company is not yet authorized. See reviews below to learn more or submit your own review.
Nectar sells one medium-firm mattress model that has excellent support, making it a great choice for back sleepers. It is manufactured with a cooling cover, gel memory foam, adaptive memory foam and a base layer. The mattress also comes with a 365-night sleep trial, and shipping and returns are free.
BOTTOM LINE
Nectar's one memory foam mattress is medium-firm, made of high-quality materials and comes at an affordable price. The mattress' excellent support makes it especially good for back sleepers.
PROS
Virtually silent
Great value
365-night sleep trial
CONS
Not ideal for stomach sleepers
​
About Nectar mattresses
The Nectar Memory Foam Mattress is classified as Medium Firm and is constructed with several layers of memory foam to help relieve pressure. However, the mattress' biggest claim to fame is its affordable price paired with high-quality materials. The mattress is excellent for back sleepers and very good for side sleepers as it offers a nice contour but doesn't sink in quite as much as similar models. Shipping and returns are free, the warranty lasts forever and financing options are available.
| | | |
| --- | --- | --- |
| 365-night trial | Free shipping & returns | Forever warranty |
Nectar Sleep mattresses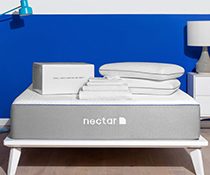 Nectar Sleep
Nectar Memory Foam Mattress
$1,198 (queen) as of publishing date
Designed to align the spine and relieve pressure around shoulders, hips and legs. Includes two pillows, a mattress protector and sheets. Memory foam is medium-firm comfort level. Nectar offers free shipping and no-contact delivery.
Shop on Nectar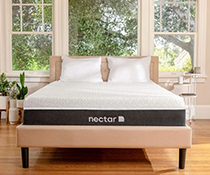 Nectar Sleep
The Nectar Lush Mattress
$1,499 (queen) as of publishing date
Five-layer construction combines high-density memory foam, gel-coated memory foam, adaptive response transition foam with a supportive base and polyblend mattress cover. Compatible with any bed frame.
Shop on Nectar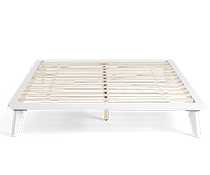 Nectar Sleep
The Nectar Platform Bed
$379 (queen) as of publishing date
Features 10-inch beveled legs and classic wood slats. Select from white, black and golden oak. Use it with or without a box spring. Free returns within 30 days. Nectar provides a one-year warranty. Dressers, nightstands and bedroom sets are also available.
Shop on Nectar
Nectar mattress construction and materials
Nectar uses better materials than most competitor mattresses in the same price range. The Nectar mattress has five layers of materials: a cooling cover to wick away heat, quilted gel memory foam for comfort, gel memory foam, adaptive memory foam and a dense but breathable base layer. Nectar mattress reviews mention that the mattress is virtually noiseless.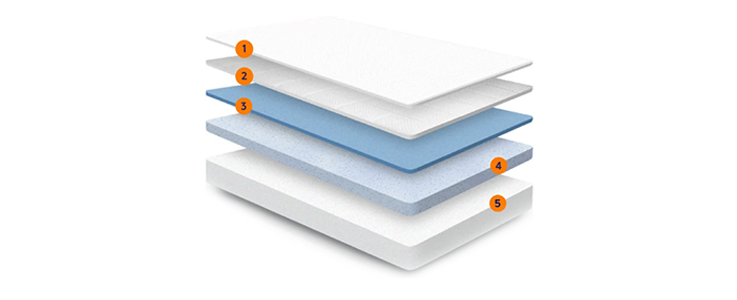 Nectar mattress comfort
Nectar mattresses are highly rated when it comes to comfort, especially when taking price into consideration. Some mattresses with similar levels of comfort cost a few hundred dollars more. Quality foam materials, gel and a breathable cover all help make the Nectar mattress one of the best mattresses around. The support core is made of high-density polyfoam.
Firmness: Nectar has one mattress firmness level: Medium Firm. This is about a 6.5 on the traditional 1-10 firmness scale.
Sleeping position: The Nectar mattress is very good for back sleepers and overall good for side sleepers. However, keep in mind Nectar Sleep mattress reviews do mention that stomach sleeping is difficult for lighter weights.
Motion transfer: Thick layers of memory foam absorb almost all movement and result in minimal bounce, making the Nectar mattress an excellent choice for couples.
Edge support: Nectar mattresses have good edge support, though some people do report slight sinkage within a year. There is a small amount of compression when lying on the side of the bed, but the results are good overall.
Sleeping hot: Gel layers, a breathable cover and a lack of sink-in help users keep cool when sleeping on a Nectar mattress. But some users mention experiences of sleeping hot, so it isn't perfect.
Nectar mattress cost
Nectar mattress prices are low compared to competitors, without sacrificing comfort or quality. It's almost impossible to find a cheaper mattress with the same level of quality.
| Mattress size | Nectar cost |
| --- | --- |
| Twin | $399 |
| Twin XL | $469 |
| Full | $599 |
| Queen | $699 |
| King | $899 |
| California King | $899 |
Are Nectar mattresses good?
Nectar Sleep mattresses are good. They are made of quality materials and come at an affordable price, making them some of the best mattresses around. It's an especially good choice for back sleepers because it provides such good support.
A link has directed you to this review. Its location on this page may change next time you visit.
How do I know I can trust these reviews about Nectar Sleep?
How do I know I can trust these reviews about Nectar Sleep?
3,056,638 reviews on ConsumerAffairs are verified.
We require contact information to ensure our reviewers are real.
We use intelligent software that helps us maintain the integrity of reviews.
Our moderators read all reviews to verify quality and helpfulness.
For more information about reviews on ConsumerAffairs.com please visit our FAQ.
Page 1 Reviews 0 - 10

Pooja of Nashik, Other Verified Reviewer
Original review: Aug. 2, 2020
I feel very luxurious when I Sleep on my mat. It is a type of comfort zone for me. To get relaxed, there is no better option than this. What matters is the material they are using for the mat. In any season, you will not get a chance to complain about it. It's quality never degrades as time passes away. Due to smooth texture, you can experience the feeling of sleeping on a lawn. This product is very high quality product and I recommend to you.
2 people found this review helpful

Suzanne of Henderson, NV Verified Reviewer
Original review: July 26, 2020
I was a little skeptical of ordering a mattress rolled up in a box. The reviews, free shipping, extra foam pillows And interest free financing for 6 months was hard to beat. This mattress is wonderful, maybe the best I have ever had! It opened up great. No out gas odor and is heaven to sleep on. Foam mattresses can be hot in summer and cold in winter and in NV, that is a problem. The Nectar is neither of those, it is always the right temperature. It's hard to describe how awesome this mattress is, but if you have any back problems you have got to try it for yourself!! I couldn't be happier with my purchase.
Be the first one to find this review helpful
Thank you, you have successfully subscribed to our newsletter! Enjoy reading our tips and recommendations.
Joseph of Miami, FL Verified Reviewer
Original review: May 5, 2020
We ordered a Nectar mattress after I sustained a debilitating lower back injury in 2017. I was not able to sleep comfortably (if at all) on regular coil spring mattress/box spring. The Nectar offered memory foam mattress with 1yr full money back guarantee. If you buy a Nectar, the company will refund your total cost for any reason. Nectar will pick up mattress and then donate to local charity. No other bedding company provides this offer. The Nectar is the best sleep I have had since my injury. I sleep comfortably every night. I suffered in pain until I purchased the Nectar. For $700 it is absolutely the best you can buy regardless of price. I tried everything. Nectar is high quality bedding and I have recommended to many people. We now have 2 Nectars.
13 people found this review helpful

Edward of Schenectady, NY Verified Reviewer
Original review: May 4, 2020
This is a very stable and comfortable mattress and I would recommend it to all who want a good night's sleep. It only took two days to fully expand and be able to be used. The comfort comes from the many layers of support build into the mattress. The company also sent a package of two pillows, and a mattress cover. The only bad thing is that they promised me a sheet set which has yet to be delivered.
7 people found this review helpful

KRISTINA of Sherwood, AR Verified Reviewer
Original review: April 23, 2020
We bought the mattress and base. The base broke shortly after purchase but customer service to get it refunded off the account went above and beyond. I also have chronic back pain and this mattress has actually helped to relieve some of that so I get better sleep.
12 people found this review helpful

Scott of Durham, CA Verified Reviewer
Original review: April 14, 2021
While Nectar has a website full of 5 star reviews (they bury the 1 and 2 star ones and you have to search for them) this company proudly touts shipping of 3-5 business days. The reality is they take your money and then you never get your items. I'm coming up on 3 weeks and still no mattress. I have called, online chatted, and emailed to no avail. They keep pushing out the delivery date and I am now being told maybe I'll get the order in the next 3 weeks. Dig into the internet for reviews beyond their website and you will hear that their lower prices come with a hitch.....You have to wait a long time to ever see your order. I asked for a refund.
2 people found this review helpful
Rickey of Delaplaine, AR Verified Reviewer
Original review: April 13, 2021
Ordered my mattress on the 23 of March and have not received it yet!! I have been in contact with the company and they have given me nothing but excuses. They basically don't know when my mattress is going to be here. I was guaranteed that it would be here on the 12. I contacted them to see what's up and its still sitting in the warehouse and FedEx hasn't showed up because they are having major delays across the USA.. It's funny. I use FedEx regularly and haven't had any issues. I just want what I ordered. If they are having such issues then why are they selling these mattresses.
Be the first one to find this review helpful
N of Cashiers, NC Verified Reviewer
Original review: April 5, 2021
Recently I purchased a Nectar mattress. One of the influences on buying a bed in a box was their 365 day warranty. My happiness is important to them. Ha! I decided against keeping the mattress and purchased a conventional mattress and box spring set instead. When I contacted the company to return the Nectar mattress they told me because the box has not been open within 90 days of getting the mattress it voided out the warranty (My home was under renovation during this time).
How does this makes sense if I opened it or didn't open it? You cannot resell a used mattress regardless. I also ordered a metal bed frame and that too is unopened but they won't accept that either- voided out the warranty- really? a metal bed frame? This information is quietly mentioned on their website but nothing on the box of the mattress that it must be opened within 90 days- NOTHING. Buyer beware. Shady company to say the least. Plus, they didn't post my review on their website because it was negative!
Read full review
2 people found this review helpful
Gale of Queens Village, NY Verified Reviewer
Original review: Feb. 26, 2021
I really did not want to give ANY STARS - This is the absolute WORSE MATTRESS in the world! It is EXTREMELY HARD, NOT COOLING and impossible to turn over or even move without fully waking! Do not be fooled by the gifts they offer or the ads - Honestly you will be more comfortable sleeping on a concrete floor! And, that "Bundle" gift they offer is of the cheapest quality - don't expect the items to last after a couple of washings. After trying to sleep on this mattress for only one week I am still in bodily pain all over and since I am a side sleeper my shoulders feel like I require a visit to an orthopedist.
The icing on the cake is the absolute lie about "easy returns." While they finally agreed to the return of the mattress after only having it for one month (but sleeping on it not even one week), I had to follow up to find out when they would be picking up the mattress I want to return. Only then I was told they don't have anyone in my area to pick up the mattress so I would have to find a charity to donate it to and complete paperwork with specific instructions OR donate it to a community member again, with very specific paperwork instructions OR dispose the mattress in a specific way and again with specific accompanying paperwork.
My refund is contingent on ME DOING what they said they would do: "Nectar will help you find a local donation centre for your mattress." I called NECTAR to purchase the mattress because I wanted to ask very specific questions about their return procedures. I was told they would take care of the return process completely in the event I wanted to return the mattress and that I would not have to try to get it back in the box or find donation sites or disposal etc., but I'm sure the sale was the important thing at the time knowing they could change the return procedure at whim. Shame on you NECTAR for false advertising and false claims to your customers! I DO NOT RECOMMEND this mattress to anyone.



Read full review
7 people found this review helpful
Kevin of Washington, DC Verified Reviewer
Original review: Feb. 6, 2021
I thought I would try out Nectar and felt safe ordering based on the 12 month return policy. First, they sent me two mattress and charged me for both (I ordered one). I had to call and get them to schedule a pick up of the second mattress that they accidentally delivered before they would remove the massive charge on my credit card. Well, fine, mistake happen. I did not like the mattress, it was far too soft/squishy and I really sank into it more than I needed, which lead to back issues. No problem, I thought, they have a stated 365 day return policy! I re-read the policy and made sure I was in full compliance. No damage, barely used, etc. So I applied for the return. This is where the problems began.
First they spent the better part of two weeks asking me about my sleeping positions and offering me different extra padding (I declined) before they finally just offered me $150 to go on my way (I declined, I wanted to return the mattress and get a full refund.) Well, the fun was just beginning. They asked me to take multiple pictures in all different angles, which I happily obliged, sending multiple times. Radio silence for a while, when I followed up they told me the company they partner with does not service my area so they cant come pick up the mattress. You would think I live in the middle of no where. I live in the middle of Washington DC, the capital of the nation, on the eastern seaboard which is the most densely populated region of the country. AND Nectar had already come to my house weeks before to pick up the second mattress they erroneously delivered (and charged me for.) But suddenly no trucks on the east coast!
So they told me I must find my own way to get someone to come take my mattress, and document everything. I couldnt find anyone who wanted my mattress and told them that. The Nectar people said, "Well you can pay someone to take it away but we won't cover costs. Or you can drag it out to have your garbage man pick it up" (which they dont do in DC) and even if they did they wanted me to ask the garbage man to *take a picture of the mattress at the dump*, then send it to me, so I could send it to Nectar to prove I dont still have the mattress.
I finally reached a breaking point and said Im not paying to get the mattress out of my house and Im not bribing my local garbage man to take it away then text me pictures of it. That is not in the refund policy (which I read over and over again). I have complied with everything they asked, the mattress is brand new and waiting for Nectar to come get it. But they have now gone radio silent and stopped responding to me.
Sadly I am now consulting with an attorney and looking to file a complaint with the DC Attorney General's office, which is pretty good at these kind of consumer fraud causes. I will also spread the word on my experience with this company as wide and far as possible until they give me the refund their policy guarantees. Tl;dr DO NOT BUY. This is a scam. They send you a subpar mattress and if you dont like it they *refuse* to refund you despite their pretend policy.
Read full review
26 people found this review helpful
Nectar Sleep Company Information
Company Name:

Nectar Sleep

Website:

www.nectarsleep.com
You're signed up
We'll start sending you the news you need delivered straight to you. We value your privacy. Unsubscribe easily.