ConsumerAffairs Unaccredited Brand
Nectar Sleep
This company is not yet accredited. To learn more, see reviews below or
submit your own
.
BOTTOM LINE
Nectar's one memory foam mattress is medium-firm, made of high-quality materials and comes at an affordable price. The mattress' excellent support makes it especially good for back sleepers.
PROS
Virtually silent
Great value
365-night sleep trial
CONS
Not ideal for stomach sleepers
​
Thank you, you have successfully subscribed to our newsletter! Enjoy reading our tips and recommendations.
Are you this business?
About Nectar mattresses
The Nectar Memory Foam Mattress is classified as Medium Firm and is constructed with several layers of memory foam to help relieve pressure. However, the mattress' biggest claim to fame is its affordable price paired with high-quality materials. The mattress is excellent for back sleepers and very good for side sleepers as it offers a nice contour but doesn't sink in quite as much as similar models. Shipping and returns are free, the warranty lasts forever and financing options are available.
| | | |
| --- | --- | --- |
| 365-night trial | Free shipping & returns | Forever warranty |
Nectar mattress construction and materials
Nectar uses better materials than most competitor mattresses in the same price range. The Nectar mattress has five layers of materials: a cooling cover to wick away heat, quilted gel memory foam for comfort, gel memory foam, adaptive memory foam and a dense but breathable base layer. Nectar mattress reviews mention that the mattress is virtually noiseless.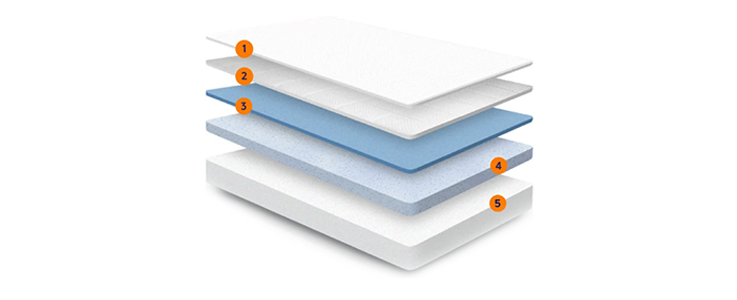 Nectar mattress comfort
Nectar mattresses are highly rated when it comes to comfort, especially when taking price into consideration. Some mattresses with similar levels of comfort cost a few hundred dollars more. Quality foam materials, gel and a breathable cover all help make the Nectar mattress one of the best mattresses around. The support core is made of high-density polyfoam.
Firmness: Nectar has one mattress firmness level: Medium Firm. This is about a 6.5 on the traditional 1-10 firmness scale.
Sleeping position: The Nectar mattress is very good for back sleepers and overall good for side sleepers. However, keep in mind Nectar Sleep mattress reviews do mention that stomach sleeping is difficult for lighter weights.
Motion transfer: Thick layers of memory foam absorb almost all movement and result in minimal bounce, making the Nectar mattress an excellent choice for couples.
Edge support: Nectar mattresses have good edge support, though some people do report slight sinkage within a year. There is a small amount of compression when lying on the side of the bed, but the results are good overall.
Sleeping hot: Gel layers, a breathable cover and a lack of sink-in help users keep cool when sleeping on a Nectar mattress. But some users mention experiences of sleeping hot, so it isn't perfect.
Nectar mattress cost
Nectar mattress prices are low compared to competitors, without sacrificing comfort or quality. It's almost impossible to find a cheaper mattress with the same level of quality.
| Mattress size | Nectar cost |
| --- | --- |
| Twin | $399 |
| Twin XL | $469 |
| Full | $599 |
| Queen | $699 |
| King | $899 |
| California King | $899 |
Are Nectar mattresses good?
Nectar Sleep mattresses are good. They are made of quality materials and come at an affordable price, making them some of the best mattresses around. It's an especially good choice for back sleepers because it provides such good support.
A link has directed you to this review. Its location on this page may change next time you visit.
Page 1 Reviews 1 - 10
Barbara of Welcome, MD Verified Reviewer
Original review: April 16, 2019
Wonderful feeling of comfort and support. Every stretch while resting is a joy. No aches and pains in the morning like with my old innerspring mattress. I am pretty old so I don't spring out of bed in the morning, but that is not a fault of the mattress. I wish I had had this mattress when I was younger. I would most likely be in better shape now lol.
Be the first one to find this review helpful
William of Murrysville, PA Verified Reviewer
Original review: April 12, 2019
Comfy but firm. Does not bounce like a spring mattress which is good. I would recommend this mattress but was hesitant to give top marks on survey, because nothing or no one is perfect! Send me free samples of pillows, toppers, sheets and blankets I will write more reviews!!!
Be the first one to find this review helpful
Thank you, you have successfully subscribed to our newsletter! Enjoy reading our tips and recommendations.
We value your privacy. Unsubscribe easily.
Are you this business?
Kevin of Butler, PA Verified Reviewer
Original review: April 3, 2019
I purchased a Nectar mattress because it came with a trial period of 365 nights and a forever warranty. I purchased the king mattress probably about 1 year and my wife nor I have had one complaint or problem with it. I figured if they gave me 365 nights to try it out, that it must be pretty good. We love the mattress and it is just the same as the first night we slept in it. It took my wife a couple nights to get used to it, but our old mattress was shot and the Nectar is a firmer mattress. I got used to it right away. Would recommend to anyone.
Be the first one to find this review helpful
Ben of Kennesaw, GA Verified Reviewer
Original review: March 2, 2019
It is a very soft mattress with no springs in the mattress. No springs makes the bed more comfortable and more durable as well. It is easy to cover the mattress with a sheet and to fall asleep on the bed as well. The price of the mattress was the best for the quality of the mattress and the mattress had certain features that other mattresses in the store at the time did not have. But sometimes the mattress I have makes noises when I move in it even though it is not that old of a mattress. I am a big guy so a squeaky mattress is nothing new but for it to happen so quickly is utterly disappointing.
3 people found this review helpful
Michelle of Chicago, IL Verified Reviewer
Original review: Feb. 19, 2020
I went to the Better Business Bureau (BBB) site and there are a couple of hundred complaints against this company. What these complaints describe is exactly what has been happening to me. You send them what they ask for and then they need more. I've given them my order date, my order number and the FEDEX tracking number and sent photos but that's not enough, they always need something else. I ordered my Nectar mattress/bed on March 14, 2019. I loved it in the beginning but then it started to sag on the side I get in and out of.
I wrote to Nectar and they asked me to take pictures and send them which I did. They asked for pictures of the 2 white tags on the mattress which I could not find because they are on the bottom of the mattress. I am in my 60's and my bedroom is tiny. I now have to pay my handyman to come over to lift the mattress so that I can get a picture of the tags. They might have told me upon purchase to take a picture of these tags before putting the bed down.
On top of that, I have now been told to put something heavy like a gallon of milk on each side of the mattress and take pictures of that. The hoops I am having to jump through to get this mattress replaced are ridiculous but they refuse to do anything until I provide them with everything they are asking for. I even bought the extra insurance which obviously was a waste of money. After all of this, if I had it to do over I never would have bought this mattress. Guaranteed for life is a joke. It is guaranteed until this company goes out of business which I fear will be soon given their refusal to honor their promises or until they put up so many hoops to jump through you give up and purchase another mattress. MY ADVICE: DO NOT BUY A NECTAR MATTRESS!

Read full review
Be the first one to find this review helpful
How do I know I can trust these reviews about Nectar Sleep?
2,215,347 reviews on ConsumerAffairs are verified.
We require contact information to ensure our reviewers are real.
We use intelligent software that helps us maintain the integrity of reviews.
Our moderators read all reviews to verify quality and helpfulness.
For more information about reviews on ConsumerAffairs.com please visit our FAQ.

Jeffery of Bensenville, IL Verified Reviewer
Original review: Feb. 15, 2020
I ordered 2 Nectar mattresses to replace older ones that were getting bad. Approximately 20 minutes after I placed the order, my wife found better mattresses at a discounted price. As it was after business hours I sent an E-mail to cancel the order, including all the pertinent information. I received an automated E-mail stating that someone would get back to me within 24 hours. 2 days passed by, so I called customer service 5 times that day. No one EVER answered. 8 emails and 3 more calls, and no return correspondence. The next day I get a shipment notification and tracking number.
I contacted FedEx to return the order, which they did. However, Nectar had only given me One of the tracking numbers, and 3 days later Mattress #2 showed up at my door. 1 day later I finally got someone on Chat (Kimberly J, who as far as I know is the only customer service rep that works there) and I was issued a return label. 8 days after delivery of the 2nd Mattress, I still have no refund issued. The Credit card company is currently looking into reclaiming my $$. Just a Horrible experience. Don't buy expecting an easy return. How they remain in business is a puzzle to me.
Read full review
Be the first one to find this review helpful

Michael of Mableton, GA Verified Reviewer
Original review: Jan. 15, 2020
My wife and I slept on our new Nectar for about 30 days and it gave us terrible back stiffness. The return process is a nightmare, you can't ever get anyone on the phone or to return your emails. It's been 3 months and we have still not received our refund. I've been leaving them messages on Facebook and now I am forced to call our credit card to try and get our money back that way. FYI - I am typing this review as I wait on hold for their customer support one last time. It's been 30 minutes and counting. Mike
10 people found this review helpful

Teresa of New Baltimore, MI Verified Reviewer
Original review: Jan. 15, 2020
Bought Nectar mattress in November 2019. Came 2 weeks later and set it up, slept on it first night and my hips were numb in the morning and we both had back pain. It's way too hard. We tried to get used to it but decided at 30 days it was not a good bed for us. They have a 365-day guarantee. I tried to call Nectar and at the same time tried to start chat online. I held on to phone on hold for next service person for 1 hour and hung up. The chat had me 25 in line and finally got a service rep an hour and a half later.
I was told to take pics of bed with pics of the 3 tags on bed. I made her hold while I did it and sent them. She said I had to wait while review person looked at pics. The next day they offered me a foam topper, I said no, then they offered me $150 to forget the whole thing, I said no, I want a full refund. A few days later I was approved for refund as soon as I donated the mattress and sent them a pic of a valid receipt with their full name, address, my name and address and 1 queen Nectar mattress on it.
I called all charities and they cannot accept used mattresses because of bed bug issues. I did find a charity that has a sanitation station and would accept it. The charity says they receive dozens of Nectar mattresses and already knew about receipt requirements. I had to donate $75 to them to pick it up because of distance. I sent the donation receipt to Nectar and a few days later they said my returned money would appear as a credit on my credit card in 7 to 10 business days. Tomorrow is the 10th day. I am doubtful about getting my money back. Better Business Bureau has 100 complaints. I had to work very hard to get my money back and pay $75 to BOOT! If I don't get my money in 2 days it's lawyer time. DO NOT BUY ANYTHING FROM NECTAR.
Read full review
10 people found this review helpful
Jerry of Wilmington, DE Verified Reviewer
Original review: Jan. 10, 2020
Received the Nectar mattress in November 2019, tried it – bad smell and woke up with headache and breathing problems. Sleep in other room to let it air out. Tried again and same thing. Contacted nectar, told I had to try it for 30 days. It is now in my basement wrapped up. Finally got contact with the company, told to send pictures which I did, told no order number on pictures. Called again and they told me they had the pictures. My e-mail address was on the pictures and sent with their request for pictures. Received a e-mail to donate to charity and send copy of donation for refund. Who accepts a used mattress. No one I contacted would accept it. Live and learn if it's too good to believe. I am now stuck with a useless piece of memory foam.
3 people found this review helpful
Donna of Wyandanch, NY Verified Reviewer
Original review: Jan. 6, 2020
Purchase & delivery was fine. However, the first test of the bed was way too soft for us! I purchased based on the majority rule of "perfect" support. I will NEVER buy another bed without testing at store first. Called customer service to be placed on hold for over an hour. Then opted for the call back...still waiting. Called another day, a week after delivery.
58 mins later was given a 15 minute lecture on how the foam needs 24 hours after unpacking to raise. Was told I'd be sent an email to respond with numerous pictures, including the virtually impossible full 4 corner view, virtually impossible to take without getting up on chair/ladder. But my complaint has nothing to do with damages, I simply do not like the support which is key to a mattress! After sending email, I received their auto reply that they'd be in touch with me within 24 hours. A week later I'm still waiting. I've resent my email 2 times now n no response. Guess I'll find an hour to waste n try my luck on another call. Certainly not owning up to their guarantee/return policy.
Read full review
6 people found this review helpful
Nectar Sleep Company Information
Company Name:

Nectar Sleep

Website:

www.nectarsleep.com
Thank you
Keep an eye on your inbox, the latest consumer news is on its way!