Nectar Sleep
Nectar sells one medium-firm mattress model that has excellent support, making it a great choice for back sleepers. It is manufactured with a cooling cover, gel memory foam, adaptive memory foam and a base layer. The mattress also comes with a 365-night sleep trial, and shipping and returns are free.
Overall Satisfaction Rating
5 stars

4 stars

3 stars

2 stars

1 stars
Pros
Virtually silent
Great value
365-night sleep trial
Cons
Not ideal for stomach sleepers
Bottom Line
Nectar's one memory foam mattress is medium-firm, made of high-quality materials and comes at an affordable price. The mattress' excellent support makes it especially good for back sleepers.
About Nectar mattresses
The Nectar Memory Foam Mattress is classified as Medium Firm and is constructed with several layers of memory foam to help relieve pressure. However, the mattress' biggest claim to fame is its affordable price paired with high-quality materials. The mattress is excellent for back sleepers and very good for side sleepers as it offers a nice contour but doesn't sink in quite as much as similar models. Shipping and returns are free, the warranty lasts forever and financing options are available.
| | | |
| --- | --- | --- |
| 365-night trial | Free shipping & returns | Forever warranty |
Nectar Sleep mattresses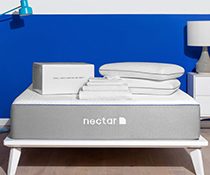 Our top pick for Nectar
Nectar Sleep
Nectar Memory Foam Mattress
$1,198 (queen) as of publishing date
Designed to align the spine and relieve pressure around shoulders, hips and legs. Includes two pillows, a mattress protector and sheets. Memory foam is medium-firm comfort level. Nectar offers free shipping and no-contact delivery.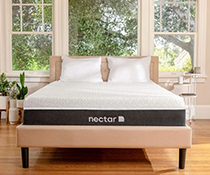 Nectar Sleep
The Nectar Lush Mattress
$1,499 (queen) as of publishing date
Five-layer construction combines high-density memory foam, gel-coated memory foam, adaptive response transition foam with a supportive base and polyblend mattress cover. Compatible with any bed frame.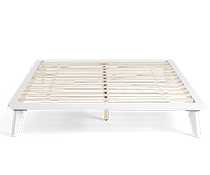 Nectar Sleep
The Nectar Platform Bed
$379 (queen) as of publishing date
Features 10-inch beveled legs and classic wood slats. Select from white, black and golden oak. Use it with or without a box spring. Free returns within 30 days. Nectar provides a one-year warranty. Dressers, nightstands and bedroom sets are also available.
Nectar mattress construction and materials
Nectar uses better materials than most competitor mattresses in the same price range. The Nectar mattress has five layers of materials: a cooling cover to wick away heat, quilted gel memory foam for comfort, gel memory foam, adaptive memory foam and a dense but breathable base layer. Nectar mattress reviews mention that the mattress is virtually noiseless.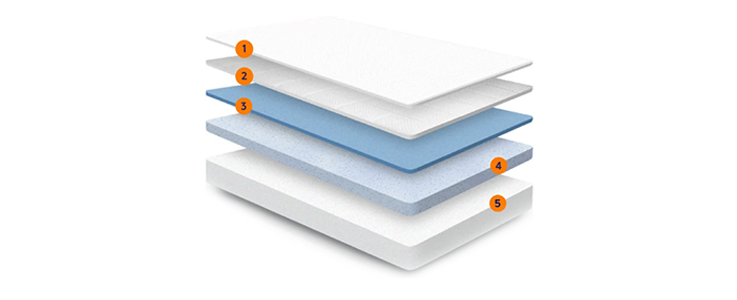 Nectar mattress comfort
Nectar mattresses are highly rated when it comes to comfort, especially when taking price into consideration. Some mattresses with similar levels of comfort cost a few hundred dollars more. Quality foam materials, gel and a breathable cover all help make the Nectar mattress one of the best mattresses around. The support core is made of high-density polyfoam.
Firmness: Nectar has one mattress firmness level: Medium Firm. This is about a 6.5 on the traditional 1-10 firmness scale.
Sleeping position: The Nectar mattress is very good for back sleepers and overall good for side sleepers. However, keep in mind Nectar Sleep mattress reviews do mention that stomach sleeping is difficult for lighter weights.
Motion transfer: Thick layers of memory foam absorb almost all movement and result in minimal bounce, making the Nectar mattress an excellent choice for couples.
Edge support: Nectar mattresses have good edge support, though some people do report slight sinkage within a year. There is a small amount of compression when lying on the side of the bed, but the results are good overall.
Sleeping hot: Gel layers, a breathable cover and a lack of sink-in help users keep cool when sleeping on a Nectar mattress. But some users mention experiences of sleeping hot, so it isn't perfect.
Nectar mattress cost
Nectar mattress prices are low compared to competitors, without sacrificing comfort or quality. It's almost impossible to find a cheaper mattress with the same level of quality.
| Mattress size | Nectar cost |
| --- | --- |
| Twin | $399 |
| Twin XL | $469 |
| Full | $599 |
| Queen | $699 |
| King | $899 |
| California King | $899 |
Are Nectar mattresses good?
Nectar Sleep mattresses are good. They are made of quality materials and come at an affordable price, making them some of the best mattresses around. It's an especially good choice for back sleepers because it provides such good support.
A link has directed you to this review. Its location on this page may change next time you visit.
How do I know I can trust these reviews about Nectar Sleep?
How do I know I can trust these reviews about Nectar Sleep?
4,007,608 reviews on ConsumerAffairs are verified.
We require contact information to ensure our reviewers are real.
We use intelligent software that helps us maintain the integrity of reviews.
Our moderators read all reviews to verify quality and helpfulness.
For more information about reviews on ConsumerAffairs.com please visit our FAQ.
Page 1 Reviews 0 - 10
Nicole of Denver, CO

Verified Reviewer
Original review: July 14, 2022
$150 down the drain for a sheet set. Ordered the sateen queen/full and hate these sheets for several reasons - the feel is not soft and is harsh against the skin. The fit of the sheets is off - they are huge on my full bed and offer no way to tailor. They slide around as I move in bed. Same with the pillow cases - they do not stay put! Therefore craftsmanship, attention to detail are not there. They do not keep me cool as advertised. I have not even had them 90 days and have made every effort to make these sheets work. I finally reached out to Nectar and they offered me a $30 credit. Thanks guys! Just goes to show what a scam company this is with all their fake reviews on their site - I just wrote an honest one and I bet they don't post. For this money, the above issues are not acceptable.
Be the first one to find this review helpful
Thank you, you have successfully subscribed to our newsletter! Enjoy reading our tips and recommendations.
daniel of Lake Mary, FL

Verified Reviewer
Original review: May 8, 2022
I purchased a queen size adjustable bed frame. It is too complicated for me to put together. I reached out to Nectar who said that due to the pandemic they won't be able to send someone out to put it together. They referred me to a third party. So they do not service what they sell. I will not be doing business with them in the future.
4 people found this review helpful
James of New Kensington, PA

Verified Reviewer
Original review: April 6, 2022
I have never been more disgusted with a company. My 3 month old bed developed mold on the UNDERSIDE of the mattress. It is on a platform frame that consists of metal bars covered in thick canvas. There is a massive spot of mold that is approximately two feet long and a foot wide. The company refuses to offer me any sort of compensation whether it is a refund or a replacement. I was told this is an environmental change and not under warranty. The only help I was offered was being told to try placing the bed in the sun to try to kill the mold. Again, this is a brand new bed and the mold is located on the underside so I am having difficulty understanding how this could be due to something I did, along with the fact that there is no other furniture in my home that has any mold. Absolutely avoid these beds at all costs, unless you want to waste $850 dollars like I did, and put your health in jeopardy.
7 people found this review helpful
Jim of Dallas, TX

Verified Reviewer
Original review: Feb. 15, 2022
This mattress is totally out of balance from day one. I thought it would work out the different levels after time. I was wrong. I can barely roll over on this mattress because the left side is so much firmer than the left. It has zero support on the edges of the bed. It will not stay put on the box Springs for even one night. I have contacted the company for some resolution but have no success. They say they have a 365 warranty but they have blocked me every time. They wanted me to send pictures of the mattress with weights on different sides which I did and never got a response. I want my money back now!
10 people found this review helpful
Rick of Denver, CO

Verified Reviewer
Original review: Jan. 30, 2022
Don't believe the 365 night trial. I tried to return this piece of crap (after 6 months) and I was given the runaround. I wake with back pain EVERYDAY. I haven't had a good night's sleep in over a year. So today I get to go shopping for a new mattress.
14 people found this review helpful
Hamid of Lewis Center, OH

Verified Reviewer
Original review: Dec. 30, 2021
UPDATED 1/27/2022: I recently purchased a Nectar mattress in a box and my decision was based on many positive reviews online. It was the worse decision ever, ended up with back pain, sleepless nights and above all, a company who gives you run-around instead of looking into a poor quality product and fix the issue. My word of advice is, don't even consider purchasing one. BTW, not sure if you read recently online that a company was forcing their employees to leave positive feedback online or else. Educate yourself and be aware.
ORIGINAL REVIEW: Went online few weeks ago in search of a mattress for our new bed. Came across Nectar with somewhat high rating and fell for those phony reviews and purchased one. The first night I slept on it was the worse night. Mattress sunk on one side, then in the middle. I could not believe how cheap it's made. I gave it another try the following night; I almost fell off of the bed due to poor quality. I called the customer lack of service and the nightmare started. The representative asked me to put some heavy object on the mattress and take some pictures??? I replied that I just want to return this trash and they replied that this is how they operate. I took some pictures and sent them to the warranty dept.
Keep in mind, the mattress is not even 5 days old, and I am getting run around. I got a new email that I need to take new photos of the bottom, top, sides, tags, ETC??? I lost it!! I replied that I just don't want this mattress which cost me almost $1400.00 which is not even worth anything. Why am I getting run around when you can simply issue a tag and drop it off by UPS. Nope, that was not an option. I called my credit card company and disputed the charge. Now, I finally know they want to get their trash back since I disputed the charge. STAY AWAY from this company. DON'T believe in those phony reviews. I have been informed by BBB that many companies ask their employees to leave positive reviews online as a "job security."
Read full review
10 people found this review helpful
Mark of Scottsdale, AZ

Verified Reviewer Verified Buyer
Original review: Dec. 21, 2021
Ordered king mattress and bed frame same day. Mattress came 2 days before frame. Nectar recommends that mattress not expand on a floor so waited until bed frame arrived. Opened plastic wrapper around mattress, opened in a curled position, not flat. After 72 hours expanded into a curled mattress with curled end not fully expanded and misshapen, and mattress itself is misshapen with foam top not fully in line with rest of mattress.
Called customer service for replacement. Not happy with their response; lots of questions, needing photos, have to submit and they will get back to me. I asked for a supervisor and they said supervisor will say what she is saying. I asked several times; it was obvious she was reading from a script. Finally she said she would request a supervisor and one would call me. The customer service person also said she would send me email regarding the photos she needed, of the mattress and the mattress tags along with measurements. Whew!
Fifteen or so minutes later a supervisor called me. She had to first verify the order number, name and email (again) in order to help. She said she could approve a replacement if I sent them the pictures now. And, shipment will take several business days, first to put the order together, get it to the shipper and then the actual shipment (was Fed Ex and the original shipment came in an open box) which will take several days more.
Apparently for replacement they used to offer expedited shipment but that is no longer available. She said no one would expedite it. They also gave instructions on disposing the original shipment with options if we could not do it ourselves. I am waiting to see what those are. We are in the holiday season and this is not a good time to rely on shipments through routine processes, especially when sent a defective mattress. When I checked the mattress tags, found that the mattress was actually made in Mexico. That was a surprise for sure…I thought the mattress was made in the USA.




Read full review
15 people found this review helpful
Emitis of Aliso Viejo, CA

Verified Reviewer
Original review: Sept. 6, 2021
They won't do the return process till 30 days passes after receiving it! They don't connect you to any supervisor or give any names! It's a scam company! We have no mattress to sleep on and have sent 17 emails to them with no resolution and no refund.

16 people found this review helpful
Denise- of Nashua, NH

Verified Reviewer
Original review: Sept. 6, 2021
Difficult to get a refund if you're not happy with the product. TWO months of emails. Mold surfaced in the product they sent after a week. Bed is not comfortable - not stable all around and you will feel off balanced. Definitely would NOT recommend this business.
18 people found this review helpful
Robert of Orlando, FL

Verified Reviewer
Original review: Aug. 27, 2021
I can't believe all the 1 stars on this site. I tried many different mattresses at furniture stores before purchasing online. I chose it, because it was more comfortable than most of the 2 and 3 thousand dollar mattresses I tried. Anyone who buys something without trying first is foolish. My buying experience was amazing. I ordered it on Saturday, and it arrived on Thursday. They were in contact with me the entire time. This is the most comfortable mattress I have ever slept on. I sleep through the night and wake up pain free for the first time in years. The Serenity sleep bundle is also amazing. I would gladly pay $399, if it did not come free with my purchase. Some people are never satisfied, but I love my Nectar.
16 people found this review helpful
Nectar Sleep Company Information
Company Name:

Nectar Sleep

Website:

www.nectarsleep.com