Nectar Sleep
ConsumerAffairs Unaccredited Brand
This company is not yet accredited. To learn more, see reviews below or submit your own.
BOTTOM LINE
Nectar's one memory foam mattress is medium-firm, made of high-quality materials and comes at an affordable price. The mattress' excellent support makes it especially good for back sleepers.
PROS
Virtually silent
Great value
365-night sleep trial
CONS
Not ideal for stomach sleepers
About Nectar mattresses
The Nectar Memory Foam Mattress is classified as Medium Firm and is constructed with several layers of memory foam to help relieve pressure. However, the mattress' biggest claim to fame is its affordable price paired with high-quality materials. The mattress is excellent for back sleepers and very good for side sleepers as it offers a nice contour but doesn't sink in quite as much as similar models. Shipping and returns are free, the warranty lasts forever and financing options are available.
| | | |
| --- | --- | --- |
| 365-night trial | Free shipping & returns | Forever warranty |
Nectar mattress construction and materials
Nectar uses better materials than most competitor mattresses in the same price range. The Nectar mattress has five layers of materials: a cooling cover to wick away heat, quilted gel memory foam for comfort, gel memory foam, adaptive memory foam and a dense but breathable base layer. Nectar mattress reviews mention that the mattress is virtually noiseless.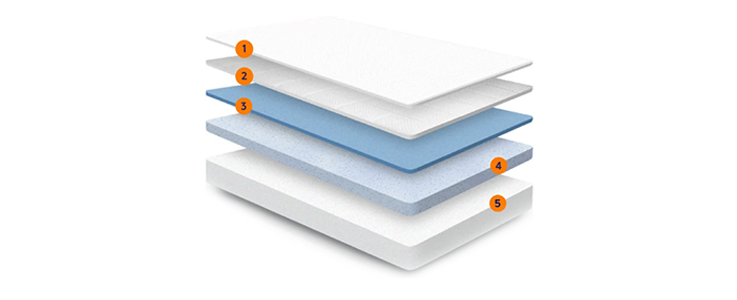 Nectar mattress comfort
Nectar mattresses are highly rated when it comes to comfort, especially when taking price into consideration. Some mattresses with similar levels of comfort cost a few hundred dollars more. Quality foam materials, gel and a breathable cover all help make the Nectar mattress one of the best mattresses around. The support core is made of high-density polyfoam.
Firmness: Nectar has one mattress firmness level: Medium Firm. This is about a 6.5 on the traditional 1-10 firmness scale.
Sleeping position: The Nectar mattress is very good for back sleepers and overall good for side sleepers. However, keep in mind Nectar Sleep mattress reviews do mention that stomach sleeping is difficult for lighter weights.
Motion transfer: Thick layers of memory foam absorb almost all movement and result in minimal bounce, making the Nectar mattress an excellent choice for couples.
Edge support: Nectar mattresses have good edge support, though some people do report slight sinkage within a year. There is a small amount of compression when lying on the side of the bed, but the results are good overall.
Sleeping hot: Gel layers, a breathable cover and a lack of sink-in help users keep cool when sleeping on a Nectar mattress. But some users mention experiences of sleeping hot, so it isn't perfect.
Nectar mattress cost
Nectar mattress prices are low compared to competitors, without sacrificing comfort or quality. It's almost impossible to find a cheaper mattress with the same level of quality.
| Mattress size | Nectar cost |
| --- | --- |
| Twin | $399 |
| Twin XL | $469 |
| Full | $599 |
| Queen | $699 |
| King | $899 |
| California King | $899 |
Are Nectar mattresses good?
Nectar Sleep mattresses are good. They are made of quality materials and come at an affordable price, making them some of the best mattresses around. It's an especially good choice for back sleepers because it provides such good support.
A link has directed you to this review. Its location on this page may change next time you visit.
Page 1 Reviews 1 - 10
Kevin of Butler, PA Verified Reviewer
Original review: April 3, 2019
I purchased a Nectar mattress because it came with a trial period of 365 nights and a forever warranty. I purchased the king mattress probably about 1 year and my wife nor I have had one complaint or problem with it. I figured if they gave me 365 nights to try it out, that it must be pretty good. We love the mattress and it is just the same as the first night we slept in it. It took my wife a couple nights to get used to it, but our old mattress was shot and the Nectar is a firmer mattress. I got used to it right away. Would recommend to anyone.
Be the first one to find this review helpful
Ben of Kennesaw, GA Verified Reviewer
Original review: March 2, 2019
It is a very soft mattress with no springs in the mattress. No springs makes the bed more comfortable and more durable as well. It is easy to cover the mattress with a sheet and to fall asleep on the bed as well. The price of the mattress was the best for the quality of the mattress and the mattress had certain features that other mattresses in the store at the time did not have. But sometimes the mattress I have makes noises when I move in it even though it is not that old of a mattress. I am a big guy so a squeaky mattress is nothing new but for it to happen so quickly is utterly disappointing.
2 people found this review helpful
Thank you, you have successfully subscribed to our newsletter!
Enjoy reading our tips and recommendations.
We value your privacy. Unsubscribe easily.
Are you this business?

Learn more about ConsumerAffairs for Brands
Casmira of Lynn, MA Verified Reviewer
Original review: Feb. 25, 2019
Nectar Sleep has a lengthy trial period -- which is great, because my significant other and I are both picky! -- and it has a forever warranty. Who wouldn't take advantage of that? I was able to order it online with ease, as I think a lot of us get nervous that the product won't be the same in person. I just wish the mattress was a little softer. While I do appreciate the firmness and I know it helps my significant other to sleep like a baby, it sometimes feels as though I am confined and if I'm not careful, I can strain my back.
But I like the way the mattress feels. It is cool to sleep on, which is great for my significant other and I, as we tend to get hot throughout the night. I also love how sturdy it is. My significant other is a very light sleeper, so it's helpful for when one of us has to get out of bed, or when one of us (me, in particular) moves around a lot in their sleep. Overall, it is of great quality and texture, which is important as we tend to be very sensitive.
View more
Be the first one to find this review helpful
Lekiela of Duluth, GA Verified Reviewer
Original review: Feb. 18, 2019
I saw Nectar Sleep a lot online. As well, I saw many reviews and decided to give it a try and to test it out for myself to see if I really liked it and I did. I like the firm yet softness of the mattress and how easy it is on my back and how it allows me to have a good nights rest without having to toss and turn just to get into the right position. The only thing that I can say is I wish it could retain moisture a bit better. I sweat a bit in the hotter months and sometimes wake up still feeling a bit damp and I rather be dry than wet when I wake up in the morning.
Be the first one to find this review helpful
Wendy of Lexington, MI Verified Reviewer
Original review: Feb. 15, 2019
The multiple layers of foam and gel make this mattress the best ever. There is even a layer that keeps you cool. That is very important for me because I sweat a lot during the night. I like that it does not have springs and I feel springs are the old way to make a mattress. I love the different layers they cradle my body. I had looked all over and compared so many mattresses. I liked that this one gave you a chance to try it for 90 days and if you don't like it they will take it back and refund your money.
Be the first one to find this review helpful
How do I know I can trust these reviews about Nectar Sleep?
2,131,930 reviews on ConsumerAffairs are verified.
We require contact information to ensure our reviewers are real.
We use intelligent software that helps us maintain the integrity of reviews.
Our moderators read all reviews to verify quality and helpfulness.
For more information about reviews on ConsumerAffairs.com please visit our FAQ.
Sandra of Ten Mile, TN Verified Reviewer Verified Buyer
Original review: Dec. 7, 2019
I ordered a king size mattress. Tried it for about 6 months and sleep got worse and worse. I contacted customer service by email after not being able to reach anyone by phone, even after leaving my number for callback. First emails wanted to replace mattress with another one, I said no as I had already purchased a replacement mattress. Then they wanted me to keep and give to someone else and refund 25 percent of cost. Then they wanted photos, so I sent 10 photos as requested. They 3-5 days to review. Then nothing. Now I have started over, sent photos again, then nothing. I would not recommend this mattress and they do not do what they say.
View more
Be the first one to find this review helpful
kyung gin of Los Angeles, CA Verified Reviewer Verified Buyer
Original review: Dec. 3, 2019
** My order number is **. I usually don't make complain but I have to make this bad review on the Nectar mattress and their SERVICE. I got my mattress and I opened it but it had a really strong smell. At first, I thought it was a new mattress smell and would go away soon. I opened all my windows during the day time to have fresh air and let this smell go. I and my fiance have suffered from the smell. After 3 months of using the mattress, my fiance told me she cannot use this mattress. She could not have quality sleep because of the smell from the mattress and she felt like she can taste the smell from her mouth.
So I have reached out to the Nectar support team and explain this smell and they agree to replace my mattress. I was like 'okay' that's fine cause I just want to give it a try again cause the Nectar has good reviews and worth $1,000 for King size mattress. But in order to get the replacement, you have to take a photo of each corner of the mattress by using a ruler to check the height of the mattress. GUESS WHAT! The mattress was DEFECTED. The mattress height supposes to be 11 inches but it was 9 inches.
I thought about and I got pretty upset because I have used the defected mattress for three months and ask for them to compensate those months. Nectar got back to me saying that they will give me $25 credit.... hahahahahahahaha. Really amazing credit is it? I felt really disrespectful, so you know what I want to return this and get my money back. At first, Nectar gave me two donation partners for me to donate the defected mattress to their partners, partner with Habitat for Humanity and Salvation Army. Moving Families Forward: Phone: 818-749-2525, email: **. I reached out to the Habitat for Humanity but they do not accept the mattress. So I called moving families forward and email them but never got the callback nor reply email.
So I have to go back Nectar support team again and explain all that and had to choose the disposal option to get the full refund of my payment but I want to change to local community donation.I have to pay for the mattress disposal. It seems like I have to deliver the mattress to the disposal which is far from my home and the mattress is KING size. Otherwise, I have to pay for the pickup.
The KING size mattress won't fit into my car (Sedan). It is really frustrating that I have to go through all these stressful processes to get my money back. Nectar is the one who sent me the defected mattress and I am the one who has to suffer because of the mistake that I did NOT make? I am dealing with this mattress for a month now and I am sick and tried chatting with the support team over and over again. This is the worst purchase experience I ever had for my entire life. Very disappointed with the way Nectar handles. Hopefully, if you are purchasing the Nectar mattress pray not to get the defected ones.






View more
Be the first one to find this review helpful
Stefani of Larchmont, NY Verified Reviewer
Original review: Oct. 22, 2019
It's hard to believe all these 5-star reviews haven't been posted by the company, as my experience was completely different. First off, when the mattress arrived on my doorstep the box itself looked as though it had been kicked down the street, dropped from a roof, and run over by a truck for good measure. This was the WORST packing job I've ever seen in my life, as the mattress appeared to be STUFFED into a too-small box with no exterior box, then sloppily taped all around. One side was even gaping open, as the tape had come open due to the excessive pressure contained within. There were even a few boot prints and holes on the outside, and parts of the mattress protruding from within to complete the picture.
I know Nectar is trying to save a few bucks on the shipping cost as they're cheaper than Casper, but, trying to toss a delicate item like a mattress in a flimsy box and hoping it gets to its destination in one piece is NOT the way to retain customers. Anyway, I contact the company to rectify the issue and they offer me a measly $25 credit on a nearly $1,000 mattress. Blamed the entire thing on FedEx, even though it was their poor packing that caused 50% of the problem. Terrible!




View more
Be the first one to find this review helpful

cicada of Naples, FL Verified Reviewer
Original review: Oct. 2, 2019
We liked this mattress at first, but within a few months found it unbearable. I bought a pillow topper to try to break the hardness of the mattress, with only a little success. Memory foam is much too firm for us and we never sleep through the night anymore. Constantly tossing, waking up 4 times every night, always tired. Never feel rested...
The frame is also very cheap. Looks alright but is supported underneath by two small, hollow metal rods that don't actually connect to the bed frame in any way?? You sort of just have to lift up the bed and shove them up vertically onto some wing nuts. Awful. Constantly shifting around, and if you take them out (or WHEN they fall off on their own from any movement on the bed), the mattress sinks down towards the floor. DO NOT BUY. Unless you like hard beds that give you sleep apnea. Also expect runaround emails on returns, and to wait an hour on hold.
View more
Be the first one to find this review helpful

MICHAEL T OR GINA of Joplin, MO Verified Reviewer
Original review: Sept. 2, 2019
Did lots of research before buying. Mattress started to dip in middle after a few weeks. Back started to hurt, decided to return. Not responsive, and so far have not received a good answer to our issue.

2 people found this review helpful
Nectar Sleep Company Information
Company Name:

Nectar Sleep

Website:

www.nectarsleep.com