DreamCloud
DreamCloud specializes in luxury hybrid mattresses. Its mattresses have eight layers of memory foam and dense coils for comfort and support. The gel in the memory foam layer helps sleepers stay cool. Mattresses start at $899 for a twin XL and $1,399 for a California king. DreamCloud's mattresses work with all sleeping positions.
Overall Satisfaction Rating
5 stars

4 stars

3 stars

2 stars

1 stars
Pros
Long in-home trial period
Lifetime warranty
Hybrid construction suits many sleepers
CertiPUR-US Certified
Cons
Can't select firmness level
Bottom Line
DreamCloud offers high-quality hybrid mattresses that support all sleep positions. Mattresses are designed for support, cool sleep and are environmentally friendly.
DreamCloud mattresses and products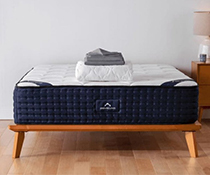 Our top pick for DreamCloud
DreamCloud
The DreamCloud Luxury Hybrid
$1,099 (queen) as of publishing date
Five-layer hybrid combines individually wrapped coils that adapt to your shape and gel memory foam to cradle shoulders and hips. Features layers of quilted foam and cashmere. Available in medium-firm comfort level. DreamCloud offers a 365-night trial.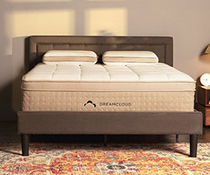 DreamCloud
DreamCloud Premier
$1,399 (queen) as of publishing date
Designed with memory foam and innerspring coils to provide pressure relief and support. An extra supportive foam layer limits motion transfer, and a double row of coils improves edge support. Features Mongolian cashmere and Euro-style pillow top.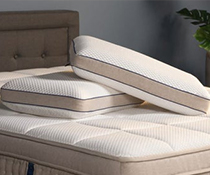 DreamCloud
DreamCloud Best Rest Pillow
$99 (per pillow) as of publishing date
Memory foam pillow provides support for neck, head and shoulders. Foam is infused with copper gel to help keep it cool. Comes with a removable cover for easy washing. Available in standard and king. Free shipping and returns.
DreamCloud mattress construction and materials
The DreamCloud mattress is 15" tall and constructed with eight individual layers including four layers of memory foam, including gel-infused memory foam, pocketed mico coils, natural latex and a cashmere polyester blend cover and euro top design. DreamCloud mattresses are CertPUR-US certified, so they are environmentally friendly.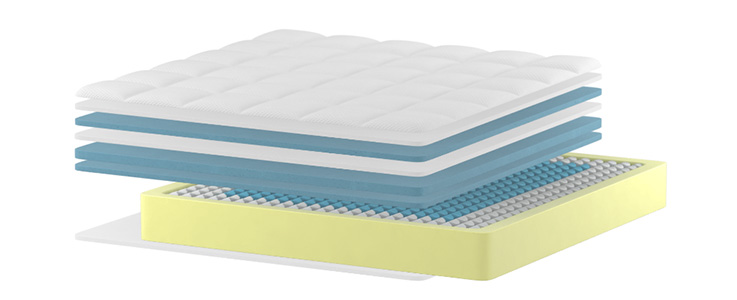 DreamCloud mattress comfort
Each layer in the DreamCloud mattress is designed to increase support, breathability and comfort. The super dense memory foam and encased coils used by DreamCloud increases the support of the mattress. DreamCloud mattresses provide more bounce than typical memory foam-only mattresses and are designed to contour to your body for support throughout the night, regardless of your preferred sleep position.
Firmness: DreamCloud classifies their mattress as "luxury firm," ranking a 6.5 on the 10 point firmness scale.
Sleeping position: DreamCloud mattresses should be a good fit for back, stomach and combo sleepers. Because it's on the firmer side, side sleepers may need to spend some time breaking the mattress in.
Motion transfer: DreamCloud does not specifically address motion transfer in its promotion of the mattress, but because the mattress is made with high-density foam, motion transfer should be limited.
Edge support: We saw mixed reviews when it came to edge support. DreamCloud may suffer slightly from weaker edge support, so there may be some roll-off as a result of its softer perimeter. However, hybrid mattresses typically provide enhanced edge support compared to foam-only mattresses.
Sleeping hot: DreamCloud addresses sleep temperature through the gel-infused memory foam layer. The gel will help most sleepers sleep cool.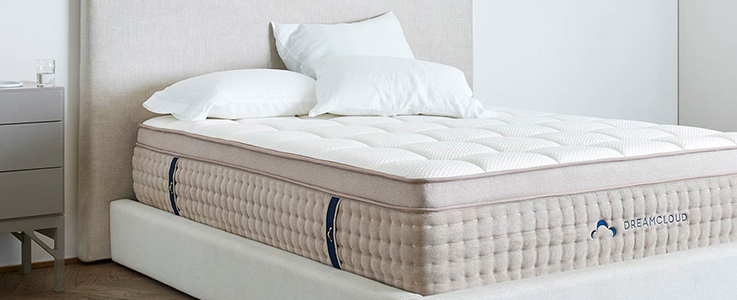 DreamCloud mattress prices
The average DreamCloud mattress cost is $1299 for a queen. Use the chart below to compare prices of all mattress sizes. Financing is available, as well as add-ons like sheets and weighted blankets.
| Mattress size | Cost |
| --- | --- |
| Twin XL | $899 |
| Full | $1099 |
| Queen | $1299 |
| King | $1399 |
| California King | $1399 |
DreamCloud FAQ
Where can I buy a DreamCloud mattress?

DreamCloud mattresses are available exclusively online via the brand's website.
Is DreamCloud good for side sleepers?

DreamCloud mattresses are marketed as "luxury firm" mattresses, meaning while they should still feel plush, the base provides a firmer level of support. Often, side sleepers prefer softer mattresses. Because of this, DreamCloud might not be ideal for all side sleepers. However, some may find that after giving the mattress some time to "break in," it provides enough give to satisfy side sleepers.
Do you need a box spring with a DreamCloud mattress?

No. You do not need a box spring with a DreamCloud mattress. A DreamCloud mattress can rest on any flat service, and the company sells platform bed frames on their website.
Is DreamCloud a good mattress?

If you're looking for a high-quality hybrid mattress, DreamCloud is a brand worth considering. With a mix of so many layer types, foam, gel, latex and coils, a DreamCloud mattress should support most sleepers. DreamCloud's in-home trial period of 365 days is one of the longest in the industry and lowers any risk associated with buying a mattress online. If you aren't satisfied, you can return the mattress for free. We like the CertiPUR-US certification given to DreamCloud's foam layers, which is a certification given to less than 1% of the mattresses on the market.
A link has directed you to this review. Its location on this page may change next time you visit.
How do I know I can trust these reviews about DreamCloud?
4,186,385 reviews on ConsumerAffairs are verified.
We require contact information to ensure our reviewers are real.
We use intelligent software that helps us maintain the integrity of reviews.
Our moderators read all reviews to verify quality and helpfulness.
For more information about reviews on ConsumerAffairs.com please visit our FAQ.
Page 1 Reviews 0 - 10
Matt of Palatine, IL

Verified Reviewer
Original review: Jan. 26, 2023
It was a lot more comfortable than my soon to be returned Dreamcloud mattress. Pass on this. It just a gimmick. Not a comfortable mattress. It arrived quick and set up was easy. The mattress itself is like a brick. My back was killing me until I moved to the floor. If you insist on trying this mattress hang on to your old one. You just might need it.
Be the first one to find this review helpful
Thank you, you have successfully subscribed to our newsletter! Enjoy reading our tips and recommendations.
William of Pompano Beach, FL

Verified Reviewer
Original review: Nov. 18, 2022
We have spent two years trying to resolve the problem of our Dream (!) Cluster mattress. Within a year, the peaks and valleys became apparent. I use wedges to keep from rolling out of bed. My wife no longer sleeps in this bed. I sleep on a futon in a guest bedroom. Horrible purchase, despite tons of research. SAVE your money... this is garbage.
6 people found this review helpful
Bruce of Los Angeles, CA

Verified Reviewer
Original review: Nov. 4, 2022
Within 5 weeks mattress sunk in where I slept. I weigh 114 lbs. and petit. I called over a dozen times and they assured me that a supervisor would contact me by end of days or the "End of Time". No call back even when they promise. They change their return policy day to day. I even have Email proof and they say that doesn't matter. They asked for over 20 pictures of the mattress then ask for more of the same just to stall. I just want my money back. I hope they go Bankrupt.
6 people found this review helpful
Kirsten of Jackson, NJ

Verified Reviewer
Original review: Oct. 1, 2022
I checked many reviews but apparently missed some very important ones. As with many other reviewers, I had a horrible experience with customer service and shipping times. I ordered the mechanical bed frame and the Dreamcloud Premier mattress along with the "bundle" and warranty. It was, per their website, supposed to ship in 2 weeks and then allow for 3 days more for it to come to my elderly parent's home where they live alone. I was given a delivery date but without an approximate time. I assumed that I would receive a timeline for delivery the day of. That was on me because I don't believe they mentioned an actual time of delivery. Now I know why. Not only can they not give an approximate time but a day or even MONTH seems to be a problem. I ordered "knowing" I'd get the bed before my mom came out of rehab from a bad hip injury. After the allotted total shipping time I began to email and got the standard responses.
Needless to say, I didn't get the base until 3 weeks late and the mattress 3 weeks after that. My mom had been home, sleeping on and old mattress after surgery for quite some time. She's only had it about a week so I don't have much more to report. I certainly will keep everyone updated. I'm not sure how much of this part has to do with Dreamcloud the company or the shipping company they used but they apparently rang the doorbell. When no one showed up only almost a minute in, the mechanical frame was left out in the rain! I had to rush over, a 40 minute drive, to help my 78 year old dad bring it in. Fortunately it wasn't destroyed. The same happened with the mattress but at least no rain this time. After the experience so far, I'm hoping the mattress and frame hold up because I don't even want to deal with having to fight for the warranty. Hope others have had better luck.
4 people found this review helpful
Alphonse of Clearfield, PA

Verified Reviewer Verified Buyer
Original review: Sept. 16, 2022
My wife order a new mattress and foundation. Almost a month later the foundation kept being pushed out so we cancelled the order and wanted to return the mattress which was too plush and we went shopping to find what we needed. This is where the hassle free comes in. They partner with Sharetown. Great. They are going to come pick it up and distribute it to someone in need and we get a credit. Awesome. It will get used. It's all good. Nope. We are then notified there are no Sharetown associates in my area to do this so now I have three options to get rid of this thing myself. All requiring physical work and forms and pictures. This is not what I needed to try to get my refund which I would've probably never pursued had they shipped the entire order within in a reasonable amount of time. Buyers beware!
5 people found this review helpful
Kristine of Woodway, TX

Verified Reviewer
Original review: June 2, 2022
They are difficult to work with and have sent me TWO defective beds not that I have had to find a way to get rid of. The 365 trial is a joke because you won't want to try it for more than 2 weeks, but will be forced to try it for 30 days before you can return it for a full credit. They are a nightmare and are a very NEW company that probably has no intention on staying in business long enough to honor their "Lifetime" warranty. It's sad that these companies keep turning up online to just take people's money and not give them anything worthy of what they paid for the mattress.
16 people found this review helpful
Victoria of Santa Ana, CA

Verified Reviewer Verified Buyer
Original review: June 1, 2022
Bought the mattress in October of 2021. Within the first 2 mos we noticed the edges broke down and the platform was having issues. By 6 mos platform broken and bed sagging. We still can't get a refund on the bed and we've been fighting with them for over a month. Pictures of the bed. Pictures of the bed with rulers. Pictures of trouble spots. Pictures of the bed with weight on the trouble spots and rulers. Communication is spotty... don't call, use their live chat from the website. This quote is directly from their return policy page "Our industry-leading 365 night trial begins the day you receive your new mattress. If you haven't had the best year of sleep in your life, you can send it back for a full refund, guaranteed." Nope, not even close. We've already purchased a different bed and a new frame since Dreamcloud's literally fell apart. We're just keeping the mattress stored through the fight to get our money back.
15 people found this review helpful
geoff of Goshen, IN

Verified Reviewer
Original review: April 23, 2022
Their offer is NOT risk free. The 30 day "encouraged" trial is actually MANDATORY. If you don't like the mattress, you'll need to wait after 30 days, then send in pictures of the mattress to show it's still in new condition with tags intact, wait for a third party to contact you for pick up, then wait for them to approve it. It's a long unpleasant process that will probably make you wish you never heard of Dream Cloud. The mattress was at best just barely ok, the customer service at best was horrible. Buyer beware and don't believe all the paid for good reviews.
16 people found this review helpful
Desiree of Leesburg, AL

Verified Reviewer
Original review: April 15, 2022
I ordered a Dream Cloud mattress less than a month ago. I realized after a couple weeks, when my husband move towards the center of the bed, I end up fighting to keep from rolling into the middle of the bed. Also, when we sleep in the middle together, we sink into it making it very uncomfortable for my back. I tried returning the mattress and the customer service people are very combative. They asked me to send pictures of the bed which I sent EVERYTHING they asked. They are now telling me I need to send more pictures with something heavy to show the sagging in the middle. I have tried explaining that nothing I put on the bed is heavy enough to mimic the same scenario. I tried telling them over and over and over again that 2 human bodies weigh more than anything else I can put on the bed. They will not let me speak to a manager. They just keep telling me to send more pictures.
Their website says "DreamCloud provides you with a full year - 365 nights - to decide if DreamCloud is right for you. We encourage you to take the first 30 days to get to know your new mattress, as it can take this long for your body to adjust to the support and comfort of the DreamCloud. If you decide for any reason during your 365-night trial period that DreamCloud is not your ideal mattress, a DreamCloud Sleep Concierge will work with you to get the item donated or otherwise disposed-of through local organizations within your community. Our risk free trial is about 3 times longer than the industry standard." The website states a full 100% refund. I did not realize that I would be harassed and have to jump through a ton of hoops to get my refund. DO NOT buy from this company!!
20 people found this review helpful
Marley of Greenwood, IN

Verified Reviewer
Original review: March 31, 2022
Don't waste your time with such a horrible company. The customer service is the worse I have ever experienced. They are overseas and have no clue what they are doing. They are very rude and confrontational like a bill collection agency. I tried to return my mattress because it is way too firm and they won't let me until they ship me a cheap mattress topper and sleep on it for 30 days. There is nothing in the fine print about this but they do whatever they want. The problem is they refuse to ship the topper to me and refuse to find out why it hasn't shipped. I have had four agents promise to follow up and call me back but they never do.
I think they want to drag this on as long as possible for they can get past the one-year point and then you can't return it. They refuse to let you talk to any supervisors and every agent has told me that they have no corporate contact information to contact to find out about my topper. They have to have the contact information for this company because how else would they be customer service for them? They refuse to help me and we'll just end the conversation by hanging up.
I would never recommend buying anything from this company because either you won't get it or you won't like it and you'll have to deal with this horrifying customer service. My mattress was over $1,500 so you would think that they would want to make their customers happy, but they truly don't. Please don't fall for this trap, this company needs to be shut down. From what I've been able to find out the parent company is Casper. Good luck and I hope you have a lot of patience if you buy anything from them.
25 people found this review helpful
DreamCloud Company Information
Company Name:

DreamCloud

Website:

www.dreamcloudsleep.com