Written by

Edited by
Our promise. We provide a buying advantage with verified reviews and unbiased editorial research.
About DreamCloud
DreamCloud specializes in luxury hybrid mattresses. Its mattresses have up to eight layers of memory foam and dense coils for comfort and support. The gel in the memory foam layer helps sleepers stay cool. Mattresses start at $749 for a twin XL and $1,124 for a California king. DreamCloud's mattresses work with all sleeping positions.
Pros & Cons
Pros
365-night trial
Lifetime warranty
Suits many sleepers
CertiPUR-US foam certification
Cons
Can't choose firmness level
Only offers three models
Bottom Line
DreamCloud offers high-quality hybrid mattresses that support all sleep positions. There are three models available, going up to 16 inches tall. Mattresses are designed for support and cool sleep and are environmentally friendly. Bed frames, bedding and furniture are also available.
Featured Reviews
Verified
Myrtle Beach, SC
... This mattress is everything I had hoped for, quality material and workmanship, very good value for the money as compared to other mattresses, and - it arrived exactly two week...
Read full review
Verified
Sacramento, CA
... Quite frankly, the mattress is extremely comfortable (hence the 2 star review)! Customer service is amazing, as well. If it weren't for the off-gassing, based on the comfort o...
Read full review
DreamCloud mattresses and products
DreamCloud offers three mattress models. Prices listed below are accurate as of the publishing date.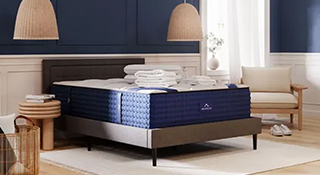 DreamCloud
The DreamCloud Mattress
$899 (queen) as of publishing date
The five-layer hybrid mattress combines individually wrapped coils that adapt to your shape and gel memory foam to cradle your shoulders and hips. It features layers of quilted foam and cashmere. The mattress is available in a medium-firm comfort level.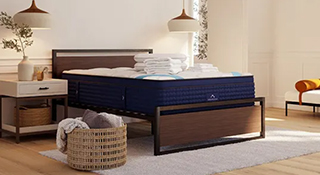 DreamCloud
The DreamCloud Premier
$1,274 (queen) as of publishing date
The DreamCloud Premier is designed with memory foam and innerspring coils to provide pressure relief and support. An extra supportive foam layer limits motion transfer, and a double row of coils improves edge support. It features quilted cashmere and a Euro-style pillow-top.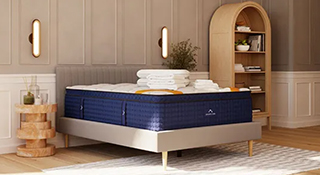 DreamCloud
The DreamCloud Premier Rest
$1,649 (queen) as of publishing date
Constructed as the thickest DreamCloud mattress with eight layers, The DreamCloud Premier Rest deluxe pillow-top gives extra comfort with CertiPUR-US foam. It includes a cashmere blend cover and additional soft foam layers to provide extra comfort and support.
DreamCloud mattress construction and materials
DreamCloud mattresses range from 14 inches to 16 inches tall. They have between five to seven layers and include cashmere blend covers, soft foam, memory foam and individually wrapped coils with a Euro-top cover. DreamCloud mattresses are CertiPUR-US-certified, so they are environmentally friendly.
DreamCloud mattress comfort
Each layer in the DreamCloud mattress is designed to increase support, breathability and comfort. The superdense memory foam and encased coils used by DreamCloud increase the support of the mattress. DreamCloud mattresses provide more bounce than typical memory foam-only mattresses and are designed to contour to your body for support throughout the night, regardless of your preferred sleep position.
Firmness: DreamCloud classifies its mattresses as "luxury firm," ranking a 6.5 on the 10-point firmness scale.
Sleeping position: DreamCloud mattresses should be a good fit for back, stomach and combo sleepers. Because the mattress is on the firmer side, side sleepers may need to spend some time breaking the mattress in.
Motion transfer: DreamCloud does not specifically address motion transfer in the promotion of its mattresses. Because the mattresses are made with high-density foam, motion transfer should be limited.
Edge support: We saw mixed reviews when it comes to edge support. DreamCloud mattresses may suffer slightly from weaker edge support, so there may be some roll-off as a result of their softer perimeter. However, hybrid mattresses typically provide enhanced edge support compared with foam-only mattresses.
Sleeping hot: DreamCloud addresses sleep temperature through the gel-infused memory foam layer. The gel will help most sleepers sleep cool.
DreamCloud mattress prices
Use the chart below to compare prices of all DreamCloud mattress types and sizes. Financing is available, as are add-ons like sheets and pillows. Prices are accurate as of the time of publishing.
| Mattress size | The DreamCloud Mattress | The DreamCloud Premier | The DreamCloud Premier Rest |
| --- | --- | --- | --- |
| Twin | $599 | $749 | $1,124 |
| Twin XL | $749 | $1,049 | $1,349 |
| Full | $824 | $1,124 | $1,424 |
| Queen | $899 | $1,274 | $1,649 |
| King | $1,124 | $1,499 | $1,874 |
| California King | $1,124 | $1,499 | $1,874 |
| Split king | $1,498 | $2,098 | $2,698 |
DreamCloud FAQ
Where can I buy a DreamCloud mattress?

DreamCloud mattresses are available online via the brand's website. Some mattress retailers also sell DreamCloud mattresses.
Is DreamCloud good for side sleepers?

DreamCloud mattresses are marketed as "luxury firm" mattresses, meaning while they should still feel plush, the base provides a firmer level of support. Often, side sleepers prefer softer mattresses. Because of this, DreamCloud might not be ideal for all side sleepers. However, some may find that after giving the mattress some time to break in, it provides enough give to satisfy side sleepers.
Is DreamCloud a good mattress?

If you're looking for a high-quality hybrid mattress, DreamCloud is a brand worth considering. With a mix of so many layer types, foam, gel, latex and coils, a DreamCloud mattress should support most sleepers. DreamCloud's in-home trial period of 365 days is one of the longest in the industry and lowers any risk associated with buying a mattress online. If you aren't satisfied, you can return the mattress for free. We also like the CertiPUR-US certification given to DreamCloud's foam layers.
ConsumerAffairs has collected 92 reviews and 383 ratings.
A link has directed you to this review. Its location on this page may change next time you visit.
How do I know I can trust these reviews about DreamCloud?
4,354,536 reviews on ConsumerAffairs are verified.
We require contact information to ensure our reviewers are real.
We use intelligent software that helps us maintain the integrity of reviews.
Our moderators read all reviews to verify quality and helpfulness.
Page 1 Reviews 0 - 10
Reviewed Nov. 13, 2023
I was very very disappointed! BEWARE!!! You cannot talk to any supervisor or anyone in the U.S. I was told that they will try to get someone to call me back? My bed was too hard. Can't exchange! and can't get refund until 30 days unless you purchase another mattress, and then you have to wait till the old one is picked up and they must be sent pic of receipt pick-up before they refund. So I have to put another bed on my credit card first?? I'm going to try the memory foam bed and I really hope it's softer. If I didn't purchase this bed I wouldn't have a bed for weeks because they would have made me wait 30 days to return the HARD one. JUST BEWARE!!!

Response from DreamCloud
We sincerely apologize for your disappointing experience with DreamCloud. Our goal is to provide the best products and experience possible, and for customers like you to be completely happy. I know that you want to return your mattress immediately due to the mattress being too firm, but it normally takes 30 days for your body to adjust to your mattress. That is why the policy is in place. Thank you so much for your valuable feedback. We look forward to resolving this issue for you promptly!
Thanks for subscribing.
You have successfully subscribed to our newsletter! Enjoy reading our tips and recommendations.
Reviewed Oct. 9, 2023
I ordered a mattress, frame, and headboard on 9/2/23. On 9/18/23 I chatted and called customer service because I had not been provided with any updates. Each time I chatted/called I was told it would take 24-48 hours for someone to provide me with an update. No one ever did. Not an email, a text, or a phone call. So I kept calling. One of the customer service representatives on 10/3/23 denied my request to speak to a supervisor stating they would not have any information to provide. I was also denied a request to cancel my order stating the issue was escalated and they needed another 24 hours.
I called again on 10/4/23 and this representative initiated my cancellation - but guess what? They need another 24-48 hours to process the cancellation. And guess what else? No one contacted me. So I called again on 10/6/23 to get an update and FINALLY they processed the cancellation and provided a refund. This was an absolute horrible experience and still no one from the company has contacted me.

Response from DreamCloud
We are so sorry that you didn't receive your order. We know that this process can cause some frustration and please know this is not the experience we want for anyone. One of our senior customer advocates has reached out here privately to get your order information so we can ensure you are taken care of. Please let us know how else we can help!
Reviewed Sept. 30, 2023
The mattress is okay but not for the long wait. DreamCloud told me it would be 10 days to get my bed set up which was the foundation and a king size mattress. 5 weeks later I was still calling them to find out when my set up and delivery would take place. Finally we had a set up time for the morning on a Thursday. I scheduled with work to be in late as they promised I would be the first delivery that morning. Well, the day before they changed my time to the afternoon without checking with me. I called them back and explained I wouldn't be there. Then they told me they could deliver it in the morning a week later. That would be 6 weeks of me waiting for this mattress. Well they finally did show up with the mattress and set up the foundation but oh NO they brought a Queen size mattress instead of a King.
They did replaced the queen with a king mattress, a few days later but LEFT IT IN MY DRIVEWAY!!! I live on a busy street!!! So, now I am expected to haul this giant King size mattress upstairs and haul down the Queen Which is impossible for me by the way. This thing is massive and very heavy. They told me I only paid for set up the first time so I was responsible for this set up. DreamCloud SET UP WRONG THE FIRST TIME!!! I don't need to pay for you all to do your job. So more waiting for the utterly useless customer service!
I have a King mattress lying in my living room floor and a Queen size mattress out in the hall waiting to be picked up. They do not live up to their promises. I would have cancelled this order had I known it would take so long. I never would do business with them again as they are so unreliable. I am an interior designer and buy mattresses enough to say this has been my worst experience. Had this been for a job site I would have looked really bad.

Response from DreamCloud
We are so sorry to hear that this has happened with your Dreamcloud order. This isn't acceptable to us and we want to help. One of our senior customer advocates has reached out to help get this resolved for you. Please respond to them at your earliest convenience. We look forward to hearing back from you!
Customer Service
Sales & Marketing
Reviewed July 31, 2023
We ordered a Dreamcloud mattress. The ordering and delivery time went smoothly. We ordered based on all of the website information, including their statement that they provide free haul-away for the old mattress. However, that is a false statement. Their mattresses are delivered by FedEx -- no haul away care with FedEx.
If you want haul-away, you need to pay the $199 for the in-home set-up service. When I contacted Dreamcloud customer service about this, they tried to tell me all the ways I could get rid of the mattress myself. I had to push them significantly to acknowledge the false advertising. Our "mattress" was an old, defunct SleepNumber multi-part contraption that was not suitable for donation, etc. Ultimately, they gave me $50 credit my account. However, the real issue is that they need to change their website to convey correct information so other consumers don't expect free haul-away when the company has no intention of providing that.

Response from DreamCloud
We are truly sorry for any misunderstanding about our standard shipment process. We stand by our Free Shipping & Returns offered on our website. However, for new purchases, by law, we are not responsible for the removal of old mattresses except in the state of California. We understand your frustration due to your expectations, but please know that it's never our intention to misinform or mislead our customers. Thank you for sharing your experience with us.
Reese increased rating by 3 stars.
Customer Service
Coverage
Price
Staff
After a positive interaction with DreamCloud, Reese increased their star rating on July 15, 2023.
Updated review: July 15, 2023
Company contacted us again and a resolution was reached, very helpful customer service this final time around. Very stark difference to the treatment we were given before, but a welcome one for sure.
Original Review: July 14, 2023
Three years ago in early 2020, we ordered our first two mattresses and bed frames from DreamCloud. We ordered one flat frame and one adjustable frame that could go up and down with a remote control, both for queen size mattresses. We were both extremely happy with the beds and never had any issue with them. Flash forward to February of 2023. Due to a family situation, we end up attaining a second apartment near our first. We want to order another adjustable frame because we love the first one so much, but this time for a king size mattress.
When we call Dreamcloud, they tell us they no longer have a king size single adjustable frame available, so we're given two options. We can order a queen size adjustable frame, or a king size split frame. For the split frame, we would have to use two twin mattresses on it. We both expressed worry about the quality of the twin mattresses being the same as the two queens we already have, but we were assured over and over by their customer service team that the two twins would be the exact same and we wouldn't be able to tell the difference. It's also worth noting that the split king adjustable frame was more expensive than a standard adjustable frame—but again it was the only available option to us at the time and we really wanted a king sized mattress with an adjustable frame. So we ordered it.
Once we received the split frame and the twin mattresses, we immediately noticed a difference in the quality of the mattresses themselves. They were far more uncomfortable than either of our previous queen mattresses despite the many reassurances we received that they would be the same. We called the company a few weeks later expressing a desire to return the mattresses and the frame, but we were told that we had to wait at least a month before we would be allowed to return anything.
Due to having to travel for a living, and being assured by Dreamcloud's heavily advertised 365 day return policy, we were not able to contact the company about returning the bed again until June. When we called and expressed our dissatisfaction with the mattresses, we were informed that our previous queen mattresses that we were so happy with were made by a different manufacturer in early 2020. Along with that, the type of mattress we received was different, despite us having asked multiple times to ensure that the twin mattresses we received would be the same. Dreamcloud apologizes and says they will take the bed back.
Nearly a month passes before Dreamcloud's return team finally shows up to take the beds back. It's a third party company outsourced by Dreamcloud, so there's nothing the return team can do when they inform us they were only told to pick up the twin mattresses, not the split bed frame. We are both very confused at this because we were told by Dreamcloud that we would be able to return the bed without issue. No one informed us they only meant we could return the mattresses.
Despite us trying to return the beds in March of 2023 and being told we were not allowed to, now we were being told that while Dreamcloud's 365 day return policy was applicable to their mattresses, it turns out it did not apply to their bed frames. While you aren't allowed to return a Dreamcloud bed within the first 30 days, you only have 50 days after purchase to return the bed frame. So in actuality, you only have a 20 day window in which you can return a bed frame from this company. No one informed us of this when we tried to return the bed within the first few weeks of us having it. We didn't find this out until the 50 days were well and gone. (Keep in mind again, we had to wait nearly a month to get them to even come pick up the mattresses as well).
It's a shame because at this point we had already placed an order for a replacement king mattress and bed frame from Dreamcloud, so even though we had proved we were returning customers (after buying two whole mattress + frame sets in 2020 as well), Dreamcloud refused to work with us on this and insisted we had to keep the split king bed frame we didn't even want in the first place. We ended up canceling that order as a result of this. It's ridiculous that this is how they treat returning customers who have spent thousands of dollars on their bed frames and mattresses. Terrible experience overall.

Response from DreamCloud
It is disheartening to hear about the series of miscommunications & errors that occurred during your experience, & we take your feedback seriously. Our intention is to provide a smooth return process. Your experience has not aligned with the level of service we strive to deliver. We are glad that we have managed to turn this experience around & take care of your request. Thank you for bringing your concerns to our attention & giving us the opportunity to make things right.
Reviewed Jan. 26, 2023
It was a lot more comfortable than my soon to be returned Dreamcloud mattress. Pass on this. It just a gimmick. Not a comfortable mattress. It arrived quick and set up was easy. The mattress itself is like a brick. My back was killing me until I moved to the floor. If you insist on trying this mattress hang on to your old one. You just might need it.

Response from DreamCloud
We are sad to learn that your DreamCloud mattress did not work out for you. We assure you that our team is here to help you find the best solution to your comfort concerns. Please contact us by email, by phone, or via chat support on our website 7 days a week. Our goal is to always provide complete customer satisfaction, and we'd love to learn more about how we can improve your experience.
Reviewed Nov. 18, 2022
We have spent two years trying to resolve the problem of our Dream (!) Cluster mattress. Within a year, the peaks and valleys became apparent. I use wedges to keep from rolling out of bed. My wife no longer sleeps in this bed. I sleep on a futon in a guest bedroom. Horrible purchase, despite tons of research. SAVE your money... this is garbage.

Response from DreamCloud
We hate that this has been your experience with your Dreamcloud mattress. We strive to provide you with a mattress that will give you the best night's sleep ever. In the case that it doesn't do that we have a great team of sleep specialists to help with your lifetime warranty! Please contact us by email, by phone, or via chat support on our website 7 days a week. We are working to ensure that all of our customers get the best experience possible. We appreciate all feedback you provide.
Reviewed Nov. 4, 2022
Within 5 weeks mattress sunk in where I slept. I weigh 114 lbs. and petit. I called over a dozen times and they assured me that a supervisor would contact me by end of days or the "End of Time". No call back even when they promise. They change their return policy day to day. I even have Email proof and they say that doesn't matter. They asked for over 20 pictures of the mattress then ask for more of the same just to stall. I just want my money back. I hope they go Bankrupt.

Response from DreamCloud
We apologize for the trouble you had with your DreamCloud Mattress and appreciate the feedback you have provided about your experience. We assure you that our team is here to help you resolve your concerns. Please contact us by email, by phone, or via chat support on our website 7 days a week. Our goal is to always provide complete customer satisfaction, and we'd love to learn more about how we can improve your experience.
Reviewed Oct. 1, 2022
I checked many reviews but apparently missed some very important ones. As with many other reviewers, I had a horrible experience with customer service and shipping times. I ordered the mechanical bed frame and the Dreamcloud Premier mattress along with the "bundle" and warranty. It was, per their website, supposed to ship in 2 weeks and then allow for 3 days more for it to come to my elderly parent's home where they live alone. I was given a delivery date but without an approximate time. I assumed that I would receive a timeline for delivery the day of. That was on me because I don't believe they mentioned an actual time of delivery. Now I know why. Not only can they not give an approximate time but a day or even MONTH seems to be a problem. I ordered "knowing" I'd get the bed before my mom came out of rehab from a bad hip injury. After the allotted total shipping time I began to email and got the standard responses.
Needless to say, I didn't get the base until 3 weeks late and the mattress 3 weeks after that. My mom had been home, sleeping on and old mattress after surgery for quite some time. She's only had it about a week so I don't have much more to report. I certainly will keep everyone updated. I'm not sure how much of this part has to do with Dreamcloud the company or the shipping company they used but they apparently rang the doorbell. When no one showed up only almost a minute in, the mechanical frame was left out in the rain! I had to rush over, a 40 minute drive, to help my 78 year old dad bring it in. Fortunately it wasn't destroyed. The same happened with the mattress but at least no rain this time. After the experience so far, I'm hoping the mattress and frame hold up because I don't even want to deal with having to fight for the warranty. Hope others have had better luck.

Response from DreamCloud
We are so sorry this has been your experience with us here at Dreamcloud. We strive to provide the most accurate and transparent shipping and delivery expectations to all of our customers. We do understand the importance of having your order in the expected timeframe. We assure you that our team is here to help you resolve your concerns. Please contact us by email, by phone, or via chat support on our website 7 days a week. We want to help and ensure that all of our customers are taken care of.
Reviewed Sept. 16, 2022
My wife order a new mattress and foundation. Almost a month later the foundation kept being pushed out so we cancelled the order and wanted to return the mattress which was too plush and we went shopping to find what we needed. This is where the hassle free comes in. They partner with Sharetown. Great. They are going to come pick it up and distribute it to someone in need and we get a credit. Awesome. It will get used. It's all good. Nope. We are then notified there are no Sharetown associates in my area to do this so now I have three options to get rid of this thing myself. All requiring physical work and forms and pictures. This is not what I needed to try to get my refund which I would've probably never pursued had they shipped the entire order within in a reasonable amount of time. Buyers beware!

Response from DreamCloud
We sincerely apologize for your disappointing experience with DreamCloud. We certainly understand your frustration and appreciate the feedback you have provided about your return experience. Please contact us by email, by phone, or via chat support on our website 7 days a week if you need any further assistance. We are working tirelessly to provide the best customer experience possible and we value every bit of feedback we receive.
DreamCloud Company Information
Company Name:

DreamCloud

Website:

www.dreamcloudsleep.com