This company is not yet accredited. See reviews below to learn more or submit your own review.
DreamCloud specializes in luxury hybrid mattresses combining memory foam with spring coils that are designed for comfort to provide a fully supported night's sleep. Mattresses start at $899.
DreamCloud sells luxury hybrid mattresses with eight individual layers designed for your comfort and delivered to your front door. Mattresses combine memory foam with spring coils to provide a fully supported night's sleep. In addition to their signature mattress, DreamCloud sells a selection of bed frames including simple metal platform frames, adjustable frames and metal slat frames that come with an attached headboard.
View More
View More
BOTTOM LINE
DreamCloud offers high-quality hybrid mattresses that support all sleep positions. Mattresses are designed for support, cool sleep and are environmentally friendly.
PROS
Long in-home trial period
Lifetime warranty
Hybrid construction suits many sleepers
CertiPUR-US Certified
CONS
Can't select firmness level
​
Thank you, you have successfully subscribed to our newsletter! Enjoy reading our tips and recommendations.
Are you this business?
DreamCloud mattress construction and materials
The DreamCloud mattress is 15" tall and constructed with eight individual layers including four layers of memory foam, including gel-infused memory foam, pocketed mico coils, natural latex and a cashmere polyester blend cover and euro top design. DreamCloud mattresses are CertPUR-US certified, so they are environmentally friendly.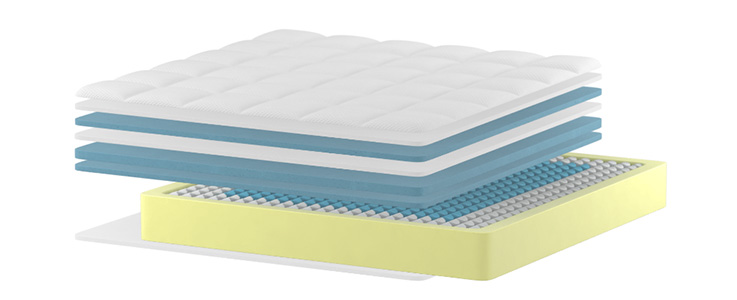 DreamCloud mattress comfort
Each layer in the DreamCloud mattress is designed to increase support, breathability and comfort. The super dense memory foam and encased coils used by DreamCloud increases the support of the mattress. DreamCloud mattresses provide more bounce than typical memory foam-only mattresses and are designed to contour to your body for support throughout the night, regardless of your preferred sleep position.
Firmness: DreamCloud classifies their mattress as "luxury firm," ranking a 6.5 on the 10 point firmness scale.
Sleeping position: DreamCloud mattresses should be a good fit for back, stomach and combo sleepers. Because it's on the firmer side, side sleepers may need to spend some time breaking the mattress in.
Motion transfer: DreamCloud does not specifically address motion transfer in its promotion of the mattress, but because the mattress is made with high-density foam, motion transfer should be limited.
Edge support: We saw mixed reviews when it came to edge support. DreamCloud may suffer slightly from weaker edge support, so there may be some roll-off as a result of its softer perimeter. However, hybrid mattresses typically provide enhanced edge support compared to foam-only mattresses.
Sleeping hot: DreamCloud addresses sleep temperature through the gel-infused memory foam layer. The gel will help most sleepers sleep cool.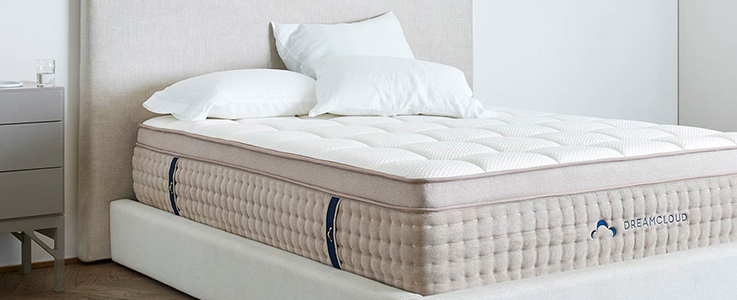 DreamCloud mattress prices
The average DreamCloud mattress cost is $1299 for a queen. Use the chart below to compare prices of all mattress sizes. Financing is available, as well as add-ons like sheets and weighted blankets.
| Mattress size | Cost |
| --- | --- |
| Twin XL | $899 |
| Full | $1099 |
| Queen | $1299 |
| King | $1399 |
| California King | $1399 |
DreamCloud FAQ
Where can I buy a DreamCloud mattress?

DreamCloud mattresses are available exclusively online via the brand's website.

Is DreamCloud good for side sleepers?

DreamCloud mattresses are marketed as "luxury firm" mattresses, meaning while they should still feel plush, the base provides a firmer level of support. Often, side sleepers prefer softer mattresses. Because of this, DreamCloud might not be ideal for all side sleepers. However, some may find that after giving the mattress some time to "break in," it provides enough give to satisfy side sleepers.

Do you need a box spring with a DreamCloud mattress?

No. You do not need a box spring with a DreamCloud mattress. A DreamCloud mattress can rest on any flat service, and the company sells platform bed frames on their website.

Is DreamCloud a good mattress?

If you're looking for a high-quality hybrid mattress, DreamCloud is a brand worth considering. With a mix of so many layer types, foam, gel, latex and coils, a DreamCloud mattress should support most sleepers. DreamCloud's in-home trial period of 365 days is one of the longest in the industry and lowers any risk associated with buying a mattress online. If you aren't satisfied, you can return the mattress for free. We like the CertiPUR-US certification given to DreamCloud's foam layers, which is a certification given to less than 1% of the mattresses on the market.
A link has directed you to this review. Its location on this page may change next time you visit.
Page 1 Reviews 1 - 10
Aqua of Frisco, TX Verified Reviewer
Original review: Feb. 25, 2020
The Dream Cloud mattress was the eighth mattress we'd purchased in 5 years. It looked promising and we hoped this would be the answer to our problems with mattresses. Saggy sides, foam compression, dips in the middle, loss of support, no restful sleep, all seemed to be common issues with several of the mattresses we tested.
We purchased the Dream Cloud with high expectations. Unfortunately, after our 100 day trial, we realized that the Dream Cloud mattress was giving us the same problems every other mattress had. That's when the real problems started: The return process. We are not new to returning a mattress. Having bought other mattresses by mail and gone through the return process, so we expected a straightforward and easy process. Our customer experience with Dream Cloud could not have been more agonizingly far away from straightforward.
If you want to reach Dream Cloud for any reason, do not bother with their internal message system or email address. We waited a week after each message with no response. We then resorted to a phone call, where the wait time to speak to customer service was sometimes days. Every single time we called, we were instructed to leave a call-back number. The first two times we left our number, we received no call back. On the third attempt, they called us the next day.
This latent call-back occured after they sent us an email with instructions for return processing with a deadline attached. We supplied the requested information, and we were supposed to receive authorization for donation. Our deadline was slowly ticking down and still no reply. So...back to the days, long wait time to talk to customer service in order to get it resolved. Tick tock, tick tock, a week later, still no email, no authorization, no contact. Call number five, delay, repeat the same confirmation, and we were beginning to wonder if they were stalling so they could stick us with a sub-par mattress.
After more delays and excuses, we got the authorization email and arranged for the donation pick up. After the charity picked up the mattress, we emailed the required documents to Dream Cloud and waited for the reply authorizing our refund. One week, two weeks...no email. Back to the call center and more waiting for call-backs. We explained the situation to them, and they asked us to resend the email again. Sure, fine, no problem. Sent. Another week went by, and we were forced to make another payment on a mattress we had already returned.
This had become the most frustrating customer service experience of our lives. Another call, another cycle of waiting for a call-back. We finally had an acknowledgement that the mattress was returned, and we were notified that the refund would be processed in two weeks. Fast forward two weeks, and still, no refund! Another call and wait cycle, and we were told there was a "hold-up" on their end. We were then told that our refund was being applied in real-time, and to wait two more weeks for our refund. Finally, after three months of complete incompetence, we recieved our refund.
Read full review
5 people found this review helpful
Nancy of Woodland, WA Verified Reviewer
Original review: Feb. 25, 2020
This seems to be a well built mattress and we really wanted to like it, but after 5 months, both of our backs hurt every morning. My husband has several disc issues which is why we chose Dream Cloud. The quilted top has pretty deep grooves. So we went through the "return"/donation process, the mattress is gone, and it has been almost 30 days, still no refund. They have told me it's been processed twice now, it hasn't been. So now I'll have to try to dispute the charge with the credit card company and hope it's not too late. If there is any chance you might want to return this mattress, I don't recommend buying it in the first place.
5 people found this review helpful
Thank you, you have successfully subscribed to our newsletter! Enjoy reading our tips and recommendations.
We value your privacy. Unsubscribe easily.
Are you this business?
Alexandra of Culver City, CA Verified Reviewer
Original review: Feb. 17, 2020
The biggest reason to purchase from Dreamcloud or any of their affiliated brands would be their return promise. They promise to facilitate the return process from start to finish. Unfortunately, this is not how they really operate. We requested a return from them over a month ago. They responded by asking if we were sure we didn't want to keep the mattress, offering to replace the mattress, and offering us money off the mattress in return for losing the warranty. Each time we would say no, they would come back with another offer a few days later.
When they realized we weren't going to keep the mattress, they started giving us tasks to do - research local charities, research local disposal services, find a local community member to take it, etc. Each time, there were requirements we would need to hit in order to qualify for the return. When we finally got another company to take the mattress, they told us they were issuing the refund. Only, we still haven't received it almost 3 weeks later and they're telling us they're experiencing delays. We're now disputing the charge, as we have little trust in this company.
Read full review
6 people found this review helpful
Anthony of Dayton, OH Verified Reviewer
Original review: Feb. 1, 2020
Mattress developed sink holes in just 3 months. The two young men I had hired to set up my DreamCloud mattress tore off the tags, so the DreamCloud folks continue to give me the run around, saying they must have a picture of the tags showing attached to the mattress. I sent them pictures of many angles to show the "sink holes" and they will are not honoring the warranty. It also takes forever, often weeks for them to respond to email or phone calls. Horrible support after the purchase. Fast to sell, nearly impossible to get them to provide answers or support. Sincerely, AJ in Dayton, Ohio.
8 people found this review helpful
TODD of Naples, FL Verified Reviewer
Original review: Jan. 21, 2020
I received 2 twin xl mattresses and one was 3 inches thinner than it's supposed to be and very uncomfortable. I emailed their Customer Service multiple time with no reply, and called multiple times, and tried to do a live chat and was on hold forever. Finally I reached them by phone and was advised that they would send me a replacement right away, and email me once it's been shipped. It's been 4 days and no reply, so I emailed them again and still no reply.

4 people found this review helpful
How do I know I can trust these reviews about DreamCloud?
2,241,352 reviews on ConsumerAffairs are verified.
We require contact information to ensure our reviewers are real.
We use intelligent software that helps us maintain the integrity of reviews.
Our moderators read all reviews to verify quality and helpfulness.
For more information about reviews on ConsumerAffairs.com please visit our FAQ.

Denñy of Port Clinton, OH Verified Reviewer
Original review: Dec. 23, 2019
Adjustable frame delivered damaged, was almost impossible to contact anyone from DreamCloud, countless times on hold, they would not answer my emails. then 3 different reps told me 3 different procedures for returning the frame. I took pictures and did everything they told me to do. Was told I had to dispose of the frame and show proof it was disposed of. Finally got ahold of another rep who is arranging a pick up, hopefully this will happen and I get my credit. Very frustrating company to work with.
4 people found this review helpful

Carol of Clayton, NC Verified Reviewer
Original review: Dec. 10, 2019
Ordered 2 mattresses. One never came, got credit for that one. Then there one smelled like it had been saturated with pesticides - not your typical gas-off. As instructed donated it. (After 3 weeks in my garage it still stunk the whole place up). It's been 4 months and STILL NO CREDIT for the one I donated, despite an email stating I would get it. If you do business, you WILL regret it!
10 people found this review helpful
C. of Charleston, SC Verified Reviewer
Original review: Dec. 5, 2019
The DreamCloud hybrid mattress is advertised as perfect for back and side sleepers. I am a back sleeper. After sleeping on this mattress for more than a month, I wake up every morning with a painful lower backache. The firmness is woefully inadequate. The DreamCloud by Resident company has not lived up to their claim of "If you're not 100% satisfied, get a full refund." Since no one answers the phone, I initiated a return request seven days ago via the email address provided on the website.
I've made several follow-up attempts including multiple emails and at least a dozen telephone contact attempts. No one of DreamCloud has contacted me! You will NOT get a person if you try calling the returns number (833.237.3269). You will be on hold forever, and if you select the return call option, no one from DreamCloud will call you back. This company is not honest and be very wary of all the fake reviews on their website. Do not purchase a mattress from DreamCloud by Resident!
Read full review
15 people found this review helpful

Mary of Zimmerman, MN Verified Reviewer
Original review: Dec. 3, 2019
After not even two months of sleeping on the DreamCloud mattress, the middle of the mattress starting having a deep indent. I have slept there alone and am of average weight and height. Getting help has been a nightmare. It's been two weeks and I have to continually follow up with them. The only reason for all their great reviews is because they ask for those within a month of purchasing it. At first it was great and I gave it a 5 star. But their customer service stinks.
15 people found this review helpful
Adam of San Diego, CA Verified Reviewer
Original review: Dec. 3, 2019
DreamCloud's customer service is fantastic, and they do stand by their 365 night guarantee. I purchased a mattress from DreamCloud about 9 months ago, and sadly I discovered I needed a more firm mattress for my back. I purchased a new mattress and placed the DreamCloud one in my guestroom temporarily. I immediately came to this website to read the reviews about their refund policy, and to my dismay read customers bad experiences. I reached out to DreamCloud via phone, selected the callback feature and received a call in about 20 minutes from one of their management team members Kara. I was floored by the options she offered me to keep me as a customer.
First they offered a topper for the mattress at no cost. Then offered me an exchange for a different mattress from one of their sister companies which I would've gladly accepted had I not bought a new mattress already. At this point she walked me through the company's process and policy, and processed my refund which should take about 7 business days. It's not a difficult process to take advantage of their guarantee, and the care she took with me over the phone was top notch. I'm moving into a new home in a couple of months and will need to buy another mattress for a small guest room; you guessed it. I'm going to purchase one from one of their sister companies because of their customer service, how they stand by their products, and their follow through with their guarantees. I do take reviews with a grain of salt, but I can attest this company is more than ok to do business with.
Read full review
4 people found this review helpful
DreamCloud Company Information
Company Name:

DreamCloud

Website:

www.dreamcloudsleep.com
Thank you
Keep an eye on your inbox, the latest consumer news is on its way!