This company is not yet accredited. See reviews below to learn more or submit your own review.
DreamCloud specializes in luxury hybrid mattresses. Its mattresses have eight layers of memory foam and dense coils for comfort and support. The gel in the memory foam layer helps sleepers stay cool. Mattresses start at $899 for a twin XL and $1,399 for a California king. DreamCloud's mattresses work with all sleeping positions.
BOTTOM LINE
DreamCloud offers high-quality hybrid mattresses that support all sleep positions. Mattresses are designed for support, cool sleep and are environmentally friendly.
PROS
Long in-home trial period
Lifetime warranty
Hybrid construction suits many sleepers
CertiPUR-US Certified
CONS
Can't select firmness level
​
Thank you, you have successfully subscribed to our newsletter! Enjoy reading our tips and recommendations.
Are you this business?
DreamCloud mattress construction and materials
The DreamCloud mattress is 15" tall and constructed with eight individual layers including four layers of memory foam, including gel-infused memory foam, pocketed mico coils, natural latex and a cashmere polyester blend cover and euro top design. DreamCloud mattresses are CertPUR-US certified, so they are environmentally friendly.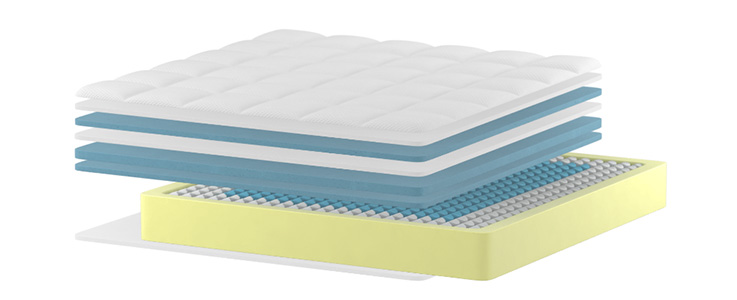 DreamCloud mattress comfort
Each layer in the DreamCloud mattress is designed to increase support, breathability and comfort. The super dense memory foam and encased coils used by DreamCloud increases the support of the mattress. DreamCloud mattresses provide more bounce than typical memory foam-only mattresses and are designed to contour to your body for support throughout the night, regardless of your preferred sleep position.
Firmness: DreamCloud classifies their mattress as "luxury firm," ranking a 6.5 on the 10 point firmness scale.
Sleeping position: DreamCloud mattresses should be a good fit for back, stomach and combo sleepers. Because it's on the firmer side, side sleepers may need to spend some time breaking the mattress in.
Motion transfer: DreamCloud does not specifically address motion transfer in its promotion of the mattress, but because the mattress is made with high-density foam, motion transfer should be limited.
Edge support: We saw mixed reviews when it came to edge support. DreamCloud may suffer slightly from weaker edge support, so there may be some roll-off as a result of its softer perimeter. However, hybrid mattresses typically provide enhanced edge support compared to foam-only mattresses.
Sleeping hot: DreamCloud addresses sleep temperature through the gel-infused memory foam layer. The gel will help most sleepers sleep cool.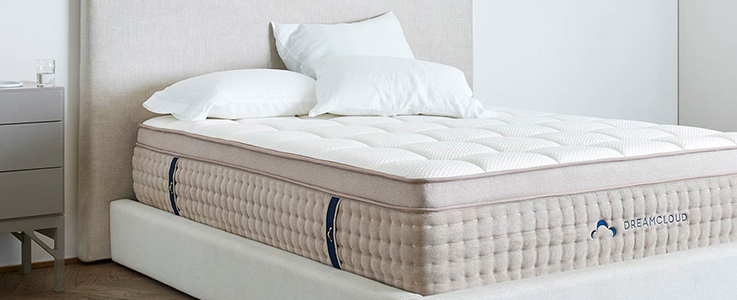 DreamCloud mattress prices
The average DreamCloud mattress cost is $1299 for a queen. Use the chart below to compare prices of all mattress sizes. Financing is available, as well as add-ons like sheets and weighted blankets.
| Mattress size | Cost |
| --- | --- |
| Twin XL | $899 |
| Full | $1099 |
| Queen | $1299 |
| King | $1399 |
| California King | $1399 |
DreamCloud FAQ
Where can I buy a DreamCloud mattress?

DreamCloud mattresses are available exclusively online via the brand's website.

Is DreamCloud good for side sleepers?

DreamCloud mattresses are marketed as "luxury firm" mattresses, meaning while they should still feel plush, the base provides a firmer level of support. Often, side sleepers prefer softer mattresses. Because of this, DreamCloud might not be ideal for all side sleepers. However, some may find that after giving the mattress some time to "break in," it provides enough give to satisfy side sleepers.

Do you need a box spring with a DreamCloud mattress?

No. You do not need a box spring with a DreamCloud mattress. A DreamCloud mattress can rest on any flat service, and the company sells platform bed frames on their website.

Is DreamCloud a good mattress?

If you're looking for a high-quality hybrid mattress, DreamCloud is a brand worth considering. With a mix of so many layer types, foam, gel, latex and coils, a DreamCloud mattress should support most sleepers. DreamCloud's in-home trial period of 365 days is one of the longest in the industry and lowers any risk associated with buying a mattress online. If you aren't satisfied, you can return the mattress for free. We like the CertiPUR-US certification given to DreamCloud's foam layers, which is a certification given to less than 1% of the mattresses on the market.
A link has directed you to this review. Its location on this page may change next time you visit.
How do I know I can trust these reviews about DreamCloud?
How do I know I can trust these reviews about DreamCloud?
2,354,742 reviews on ConsumerAffairs are verified.
We require contact information to ensure our reviewers are real.
We use intelligent software that helps us maintain the integrity of reviews.
Our moderators read all reviews to verify quality and helpfulness.
For more information about reviews on ConsumerAffairs.com please visit our FAQ.
Page 1 Reviews 0 - 10

Nicholas of San Diego, CA Verified Reviewer
Original review: July 11, 2020
The unit was too hot. We asked to process a return from Dream Cloud and they delayed the response to state that the 365 night risk trial expired and would not honor the agreement. Even when I had a written email asking for the return prior to my 365 end date. Their customer service is the worst and the worst experience I had. I asked for White Glove delivery. They sent me FedEx and I had to carry the unit in up three flights of stairs. They only offered a cool pad cover that I had to pay for. Do not buy this mattress. Dream cloud uses tactics to avoid any returns. I went and purchased the 2nd option bed for which was a Casper bed.
Be the first one to find this review helpful

V. F. of Kendall Park, NJ Verified Reviewer
Original review: July 10, 2020
Terrible customer service! I was charged for the product before it was even shipped only to then be delayed. Then it was hours that turned into days to get a hold of customer service. I called, emailed, and waited online. It was an absurd amount of time. The online wait, OMG! I was in line at (#1) forever, then constantly changed to (#3), how does that even happen?
Finally... days later I was able to chat with someone. I wanted a simple refund since I didn't receive the product that was delayed but I was charged for the same day. I was now told I have to wait for the warehouse to approve the refund. Wait a minute, what??? Obviously there is no in the warehouse or I wouldn't have this issue in the first place! A 250 million dollar company with this kind of customer service. Please save yourself. Order somewhere else for bedding products! The bedding market is super competitive. Sounds like they need to get it together!
Read full review
Be the first one to find this review helpful
Thank you, you have successfully subscribed to our newsletter! Enjoy reading our tips and recommendations.
We value your privacy. Unsubscribe easily.
Brandy of Pinellas Park, FL Verified Reviewer
Original review: July 9, 2020
Great ordering customer services. Horrible wait times!!!! Wait times over three hours and still on hold. I would like to know when my mattress is being shipped! Chat or phone is a long wait. Over 20 days and still no mattress.
2 people found this review helpful

Deanna of Richmond, VA Verified Reviewer
Original review: July 2, 2020
Purchased this mattress because of all their good reviews on their website (5 star rating.) I found their real reviews on Consumer Affairs (1 star rating!) and tried to cancel the order the day I made it. They have no customer service phone line, their online chat doesn't work, emailed them every day for a week with no response to cancel. They finally emailed me back a week later to say they already shipped the item. Which I still haven't received yet. They told me to take photos of the package and label when I received it and that they will create a rerun label and have someone pick it up. This order shouldn't have been shipped in the first place. Worst customer service ever!
6 people found this review helpful
Laura of Aiken, SC Verified Reviewer
Original review: June 25, 2020
Ordered my mattress on 4/25/20. They drafted my account the same day and I did not receive the mattress until 5/7. Definitely not the 3-5 days. After the first night I wanted to return it but my husband convinced me to give it a little more time. I thought it did not address the major pressure points (Shoulders and hips). Seemed quite firm and unforgiving.
After a week, he said, "Send it back". We hurt so bad in the mornings we were willing to sleep on the floor. Returns are not eligible in the first 30 days so we had to wait to return it. Day 31 we send the required pictures to support. They took 5 days to approve the return and donation of the mattress. Mattress was picked up 6/21. The refund they have calculated is NOT A FULL REFUND. They charge you for the so-called FREE gifts for trying the mattress if you return it. I have waited hours upon hours on the phone and with chat to talk to someone, no one will respond. They have not responded to emails since the pick up date either. I will be disputing with my credit card company now for the $120 they are keeping for the not so cool Duvet. I would only give them a half star for the fact they do donate the mattresses to a good organization.
Read full review
9 people found this review helpful
Chad of Lehi, UT Verified Reviewer
Original review: June 24, 2020
Working now to return a King DreamCloud. As a previous review states, been on hold for over three hours on three different attempts to get through. Emailed as well and very slow to respond to my first email. It's been three days since I responded to their vague follow up email with the information they requested and no response. Their return process is terrible and seemingly disorganized. The mattress isn't terrible, but definitely not firm enough for a side sleeper, especially a man over 200lbs. My wife is much lighter than me and it's too soft for her as well. I bought it with the assurance of their promises for return ease and access. Not happy at all.
4 people found this review helpful

Kelly of Covington, GA Verified Reviewer
Original review: June 24, 2020
My fiancé and I ordered a bed from them 2 weeks ago. Order number **. It arrived So tightly sealed in a box that the bed now has a permanent crease on ALL sides. It feels terrible. Like a water bed. When my 139lb fiancé lays down I feel every bit of my side go up in the air. I have been trying to contact these people for days, sending several emails and calling the 1-855-976-4860 That I keep finding written on everything. I am sitting on the phone right now..on hold having never spoken to anyone. There is an answering machine that picks up when you first call that says, "Welcome to the return line. Please hold." It plays terrible music then leaves you on hold forever never picking up. I sat on the phone for an hour the other day while at work and no one picked up. I took screenshots and everything for proof.
I received the bed last Friday and have been trying to get my money back and return this piece of crap ASAP but NO ONE IS EVER HOME. Pleased shut these people down. We paid over 1,500 that we Don't have for a good night's rest. I am an EMT and I lift human beings all day. This is unacceptable at best. I truly hope this place gets caught, fined a huge sum of money and then shut down. It is crazy.
Read full review
7 people found this review helpful
Jaime of Grandville, MI Verified Reviewer
Original review: June 22, 2020
I am giving 3 stars because their free items are only free if you like the mattress. I researched and read reviews on the dreamcloud. It says it is med/firm softness. Believe me it is NOT. I could tell upon opening the package that is was going to be very soft. If you like a soft mattress that you sink into, this is for you. If you sleep on your stomach it is not. They say it is for all sleepers but you will have the backache like never before if you sleep on your stomach. Also, they were giving free comforters with order. Well, I returned the mattress, which, went pretty smoothly, but, they are keeping $100 of my money for a comforter that was free and I never asked for.
2 people found this review helpful
Melissa of Budd Lake, NJ Verified Reviewer
Original review: June 20, 2020
In December 2019 on my way home from work I was hit head on by another driver, I was flown in critical condition, spent months in the hospital. I have a broken pelvis, hip, knees feet arm besides internal injuries. I did have a good memory foam mattress from Walmart but still woke up in pain. I ordered this mattress and couldn't wait for it to come, in the meantime I went on to the better business bureau and saw a lot of complaints, I became really stressed out and very worried!! Very concerned!! It came today and it is the most amazing thing. I am so happy that I ordered it and glad that I did not read those complaints first because if I had I probably would not have ordered it. It feels amazing!
4 people found this review helpful
Erin of Spring, TX Verified Reviewer
Original review: June 14, 2020
We have 3 Dream Clouds. We have only had them for a few months but so far very comfortable. The first one we ordered prior to start of Covid and received very quickly as advertised but I must agree with other reviewers the box arrived VERY smashed. We then tried to order two more for our kids rooms first from Mattress Firm and they did not arrive in advertised time.
After a week calling Mattress Firm they finally told me they don't know what is going on because they are now showing a ship date over a month after I placed my order. I told them to just cancel and I would order directly from Dreamcloud because their customer service claimed it would ship in a week. After 5 days no word of shipment so I went through same frustration as all other reviewers trying to reach customer service which is impossible. Then they switched to only communicate via email which I never received an answer or call back.
I finally researched their parent company Resident and found someone in their executive offices and emailed them directly and she responded quickly. If I had not been intent to reach someone I'm sure I would still be getting the same run around the other reviewers are getting. I would recommend other reviewers go to the Resident website and find someone in their corporate office and email them. You will get nowhere with dreamcloud customer service. We need to purchase another mattress but will try a different brand because it appears Dreamcloud is still having issues and I don't care for the abuse again. Too bad because we like the mattress so far but after reading other reviews that it is not same quality is used to be 2 years ago I hope the comfort holds up.
Read full review
8 people found this review helpful
DreamCloud Company Information
Company Name:

DreamCloud

Website:

www.dreamcloudsleep.com