DreamCloud
ConsumerAffairs Unaccredited Brand
DreamCloud specializes in luxury hybrid mattresses combining memory foam with spring coils that are designed for comfort to provide a fully supported night's sleep. Mattresses start at $899.
DreamCloud sells luxury hybrid mattresses with eight individual layers designed for your comfort and delivered to your front door. Mattresses combine memory foam with spring coils to provide a fully supported night's sleep. In addition to their signature mattress, DreamCloud sells a selection of bed frames including simple metal platform frames, adjustable frames and metal slat frames that come with an attached headboard.
View More
View More
BOTTOM LINE
DreamCloud offers high-quality hybrid mattresses that support all sleep positions. Mattresses are designed for support, cool sleep and are environmentally friendly.
PROS
Long in-home trial period
Lifetime warranty
Hybrid construction suits many sleepers
CertiPUR-US Certified
CONS
Can't select firmness level
Thanks
Keep an eye on your inbox, the lastest consumer news is on it's way!
Are you this business?
Learn more
DreamCloud mattress construction and materials
The DreamCloud mattress is 15" tall and constructed with eight individual layers including four layers of memory foam, including gel-infused memory foam, pocketed mico coils, natural latex and a cashmere polyester blend cover and euro top design. DreamCloud mattresses are CertPUR-US certified, so they are environmentally friendly.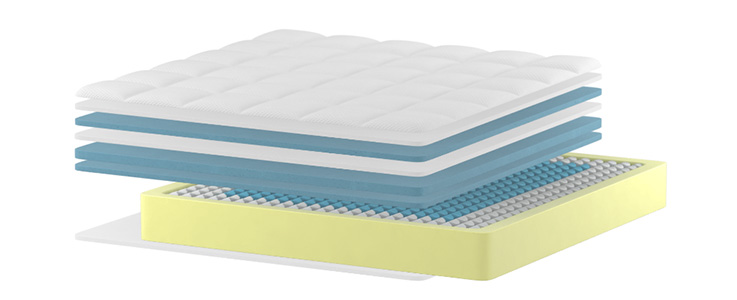 DreamCloud mattress comfort
Each layer in the DreamCloud mattress is designed to increase support, breathability and comfort. The super dense memory foam and encased coils used by DreamCloud increases the support of the mattress. DreamCloud mattresses provide more bounce than typical memory foam-only mattresses and are designed to contour to your body for support throughout the night, regardless of your preferred sleep position.
Firmness: DreamCloud classifies their mattress as "luxury firm," ranking a 6.5 on the 10 point firmness scale.
Sleeping position: DreamCloud mattresses should be a good fit for back, stomach and combo sleepers. Because it's on the firmer side, side sleepers may need to spend some time breaking the mattress in.
Motion transfer: DreamCloud does not specifically address motion transfer in its promotion of the mattress, but because the mattress is made with high-density foam, motion transfer should be limited.
Edge support: We saw mixed reviews when it came to edge support. DreamCloud may suffer slightly from weaker edge support, so there may be some roll-off as a result of its softer perimeter. However, hybrid mattresses typically provide enhanced edge support compared to foam-only mattresses.
Sleeping hot: DreamCloud addresses sleep temperature through the gel-infused memory foam layer. The gel will help most sleepers sleep cool.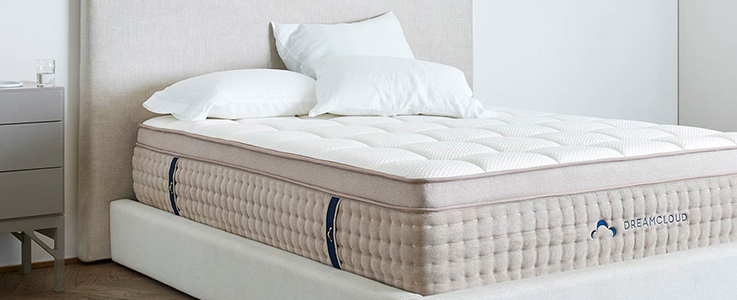 DreamCloud mattress prices
The average DreamCloud mattress cost is $1299 for a queen. Use the chart below to compare prices of all mattress sizes. Financing is available, as well as add-ons like sheets and weighted blankets.
| Mattress size | Cost |
| --- | --- |
| Twin XL | $899 |
| Full | $1099 |
| Queen | $1299 |
| King | $1399 |
| California King | $1399 |
DreamCloud FAQ
Where can I buy a DreamCloud mattress?

DreamCloud mattresses are available exclusively online via the brand's website.

Is DreamCloud good for side sleepers?

DreamCloud mattresses are marketed as "luxury firm" mattresses, meaning while they should still feel plush, the base provides a firmer level of support. Often, side sleepers prefer softer mattresses. Because of this, DreamCloud might not be ideal for all side sleepers. However, some may find that after giving the mattress some time to "break in," it provides enough give to satisfy side sleepers.

Do you need a box spring with a DreamCloud mattress?

No. You do not need a box spring with a DreamCloud mattress. A DreamCloud mattress can rest on any flat service, and the company sells platform bed frames on their website.

Is DreamCloud a good mattress?

If you're looking for a high-quality hybrid mattress, DreamCloud is a brand worth considering. With a mix of so many layer types, foam, gel, latex and coils, a DreamCloud mattress should support most sleepers. DreamCloud's in-home trial period of 365 days is one of the longest in the industry and lowers any risk associated with buying a mattress online. If you aren't satisfied, you can return the mattress for free. We like the CertiPUR-US certification given to DreamCloud's foam layers, which is a certification given to less than 1% of the mattresses on the market.
A link has directed you to this review. Its location on this page may change next time you visit.
Page 1 Reviews 1 - 7
Christine of Healdsburg, CA Verified Reviewer
Original review: Oct. 31, 2019
We ordered our bed and the confirmation email said it would arrive in 5 days - it actually took three weeks!! I emailed the company twice in those three weeks thinking there was an issue with my order, only to receive an email a full week after my mattress had arrived stating "We aren't sure what the issue is -it appears your mattress has been delivered". Seriously? Then we requested a return two months into the one year trial. First they needed pictures, then they needed a picture at a better angle, then they offered me discounts on their other mattresses if I didn't return this one - all of these were 2-3 day gaps in communication after I responded immediately.
I'm now 2 weeks into trying to get this mattress returned and the email I got today was "We'd be happy to take care of your return, please just sign the attached form and we'll issue a refund to your original payment method". The form was for a $250 credit and stated that I would void the trial and would own the mattress. If I hadn't read it carefully I would have been scammed out of the return!! I've never seen service like this. Buyer beware.
View more
Be the first one to find this review helpful
Leslie of Los Angeles, CA Verified Reviewer
Original review: Oct. 30, 2019
I tried to file my return in the 365+30 day window however they denied my return since I ordered before Feb of this year (before they added the 30-day window). This offer is front and center on their website with no clear caveats. I would have returned earlier if I did not think I had more time. This practice is dishonest and wanted to flag for other customers.
2 people found this review helpful
Thank you, you have successfully subscribed to our newsletter!
Enjoy reading our tips and recommendations.
We value your privacy. Unsubscribe easily.

Bill of Buffalo, NY Verified Reviewer
Original review: Oct. 24, 2019
I bought a king size mattress and platform bed frame. The frame only lasted a couple months. Every weld on the center support rail snapped at the weld. I contacted DreamCloud 2 times in the last 9 days and still have not received any response. Needless to say their customer service is garbage. The mattress is ok.

Be the first one to find this review helpful
Robert of Irvine, CA Verified Reviewer
Original review: Oct. 3, 2019
I purchased the original DreamCloud in June of 2018 and I absolutely loved it. In September, I contacted DreamCloud regarding a warranty issue (sagging) and was offered a replacement because the mattress was under warranty. The website still touts the true tufted cashmere top and this was one of my determining factors when making my final decision in 2018.
I received my replacement mattress and it is nowhere near the quality or comfort of my original mattress. The top is not cashmere and is not tufted. Also, they removed the base layer foam as well as the side bolster foam which makes the mattress flimsy and very cheap feeling. Most importantly, the comfort level has gone down significantly.
I have demanded my money back and have been told no because I am outside the 365 day trial. All I want is my replacement mattress to be of the same quality and comfort as the one I originally purchased. This company is a joke and their mattresses are terrible. I am seeking legal counsel and will be seeking compensation well above the original purchase price now due to deceptive advertising and the absurd amount of personal time spent trying to remedy this situation. Do NOT buy a mattress from this company. This is a clear cut scam.
View more
5 people found this review helpful

Leslie of Bristow, VA Verified Reviewer
Original review: Sept. 14, 2019
I ordered a king size DreamCloud mattress 2 weeks ago and it was recently delivered. We set it up in our platform frame and immediately noticed the different top. The top actually looked flat and the material on top was loose and not tightly fitted like it is in the photos on their website. Once it was fully inflated, it measured at only 14.5 inches and not 15 inches. I am extremely disappointed as it turns out that they have drastically changed their mattress without any notification of the changes (as the previous reviewer noted).
I called them today and was told that they changed the top to remove the tufting and buttons AND removed the natural latex layer that they advertise on their website. So the mattress is not at all what they advertise on their website, nor is the same mattress that all of these various reviewers are showing in their YouTube reviews. I am so very disappointed because a big part of the reason I ordered the mattress was due to the comfy Euro topper that they have completely removed. This is false advertising and a terrible way to do business. And like the previous reviewer said, this looks like a way to save money. Additionally, the mattress feels very soft and more like a memory foam mattress. It is not at all firm and that could be due to the removal of the latex layer and the puffy Euro topper. So disappointed in this mattress and this company.

View more
4 people found this review helpful
How do I know I can trust these reviews about DreamCloud?
2,103,336 reviews on ConsumerAffairs are verified.
We require contact information to ensure our reviewers are real.
We use intelligent software that helps us maintain the integrity of reviews.
Our moderators read all reviews to verify quality and helpfulness.
For more information about reviews on ConsumerAffairs.com please visit our FAQ.
Jimmy of Corvallis, OR Verified Reviewer
Original review: Aug. 26, 2019
Bought a mattress online. Took over a month to receive after being told 5 days. Paid for "white glove" service mattress frame - arrived broken. Still haven't heard from company about replacement after I was asked does it work for me or do I need a replacement. "No I'll keep the broken one lol". Beware of this company. Once they get your money it's all your problem. Very disappointing. Asked for a refund on white glove at least. Was told n possible.
3 people found this review helpful

David of Addison, IL Verified Reviewer
Original review: Aug. 14, 2019
Please let your subscribers know that Dreamcloud has changed their design and has not told anyone about it - nothing on their website nor photos, etc. This makes your review inaccurate. They have removed the tufting from the construction of their mattress. This came as a complete surprise to me (when I opened the mattress bag and laid it out on my support frame) and I was told that the design was changed due to "customer feedback", which I know is not the truth. I am 100% certain that this had to do with manufacturing costs and increased profits for DreamCloud and parent, Nectar.
I was told they have been shipping these new designs for a few months but "have not gotten around to updating our photos and website". My question is, what else do they have to do when they are an online retailer? They have no bricks and mortar, no parking lots to maintain, nor security personnel or cashiers to pay. You get the picture! The only thing any online retailer has to do is advertise the product as it will be shipped - nothing more, nothing less. This company could not even do that.
I feel as though I was completely taken as the tufting was an attractive design feature that I know added durability and a touch of quality to this design. The only saving grace is that I can still return it if I am not satisfied. However, the tufting made the mattress more durable and I am concerned about the years to come. Very disenchanted with this company. PLEASE tell your subscribers. Please update your review(s). Thank you for listening to my rant. I am beyond frustration! Dave
View more
12 people found this review helpful
DreamCloud Company Information
Company Name:

DreamCloud

Website:

www.dreamcloudsleep.com