Shop

Now
This profile has not been claimed by the company. See reviews below to learn more or submit your own review.
DreamCloud specializes in luxury hybrid mattresses. Its mattresses have eight layers of memory foam and dense coils for comfort and support. The gel in the memory foam layer helps sleepers stay cool. Mattresses start at $899 for a twin XL and $1,399 for a California king. DreamCloud's mattresses work with all sleeping positions.
BOTTOM LINE
DreamCloud offers high-quality hybrid mattresses that support all sleep positions. Mattresses are designed for support, cool sleep and are environmentally friendly.
PROS
Long in-home trial period
Lifetime warranty
Hybrid construction suits many sleepers
CertiPUR-US Certified
CONS
Can't select firmness level
​
DreamCloud mattresses and products
Our top pick for DreamCloud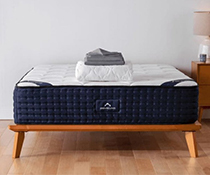 DreamCloud
The DreamCloud Luxury Hybrid
$1,099 (queen) as of publishing date
Five-layer hybrid combines individually wrapped coils that adapt to your shape and gel memory foam to cradle shoulders and hips. Features layers of quilted foam and cashmere. Available in medium-firm comfort level. DreamCloud offers a 365-night trial.
Shop on DreamCloud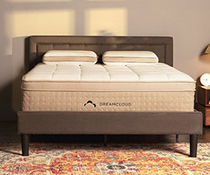 DreamCloud
DreamCloud Premier
$1,399 (queen) as of publishing date
Designed with memory foam and innerspring coils to provide pressure relief and support. An extra supportive foam layer limits motion transfer, and a double row of coils improves edge support. Features Mongolian cashmere and Euro-style pillow top.
Shop on DreamCloud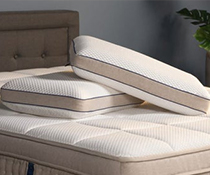 DreamCloud
DreamCloud Best Rest Pillow
$99 (per pillow) as of publishing date
Memory foam pillow provides support for neck, head and shoulders. Foam is infused with copper gel to help keep it cool. Comes with a removable cover for easy washing. Available in standard and king. Free shipping and returns.
Shop on DreamCloud
DreamCloud mattress construction and materials
The DreamCloud mattress is 15" tall and constructed with eight individual layers including four layers of memory foam, including gel-infused memory foam, pocketed mico coils, natural latex and a cashmere polyester blend cover and euro top design. DreamCloud mattresses are CertPUR-US certified, so they are environmentally friendly.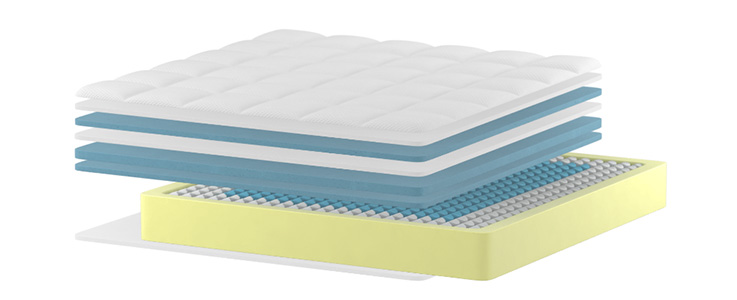 DreamCloud mattress comfort
Each layer in the DreamCloud mattress is designed to increase support, breathability and comfort. The super dense memory foam and encased coils used by DreamCloud increases the support of the mattress. DreamCloud mattresses provide more bounce than typical memory foam-only mattresses and are designed to contour to your body for support throughout the night, regardless of your preferred sleep position.
Firmness: DreamCloud classifies their mattress as "luxury firm," ranking a 6.5 on the 10 point firmness scale.
Sleeping position: DreamCloud mattresses should be a good fit for back, stomach and combo sleepers. Because it's on the firmer side, side sleepers may need to spend some time breaking the mattress in.
Motion transfer: DreamCloud does not specifically address motion transfer in its promotion of the mattress, but because the mattress is made with high-density foam, motion transfer should be limited.
Edge support: We saw mixed reviews when it came to edge support. DreamCloud may suffer slightly from weaker edge support, so there may be some roll-off as a result of its softer perimeter. However, hybrid mattresses typically provide enhanced edge support compared to foam-only mattresses.
Sleeping hot: DreamCloud addresses sleep temperature through the gel-infused memory foam layer. The gel will help most sleepers sleep cool.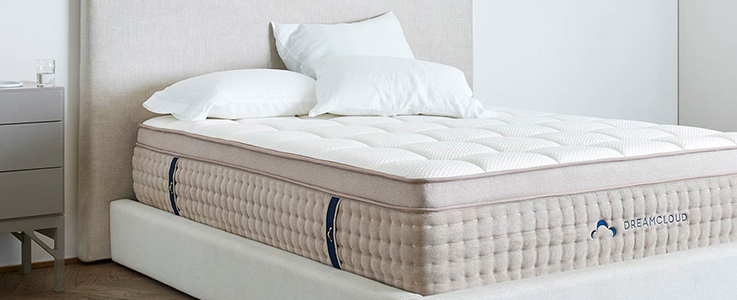 DreamCloud mattress prices
The average DreamCloud mattress cost is $1299 for a queen. Use the chart below to compare prices of all mattress sizes. Financing is available, as well as add-ons like sheets and weighted blankets.
| Mattress size | Cost |
| --- | --- |
| Twin XL | $899 |
| Full | $1099 |
| Queen | $1299 |
| King | $1399 |
| California King | $1399 |
DreamCloud FAQ
Where can I buy a DreamCloud mattress?

DreamCloud mattresses are available exclusively online via the brand's website.

Is DreamCloud good for side sleepers?

DreamCloud mattresses are marketed as "luxury firm" mattresses, meaning while they should still feel plush, the base provides a firmer level of support. Often, side sleepers prefer softer mattresses. Because of this, DreamCloud might not be ideal for all side sleepers. However, some may find that after giving the mattress some time to "break in," it provides enough give to satisfy side sleepers.

Do you need a box spring with a DreamCloud mattress?

No. You do not need a box spring with a DreamCloud mattress. A DreamCloud mattress can rest on any flat service, and the company sells platform bed frames on their website.

Is DreamCloud a good mattress?

If you're looking for a high-quality hybrid mattress, DreamCloud is a brand worth considering. With a mix of so many layer types, foam, gel, latex and coils, a DreamCloud mattress should support most sleepers. DreamCloud's in-home trial period of 365 days is one of the longest in the industry and lowers any risk associated with buying a mattress online. If you aren't satisfied, you can return the mattress for free. We like the CertiPUR-US certification given to DreamCloud's foam layers, which is a certification given to less than 1% of the mattresses on the market.
A link has directed you to this review. Its location on this page may change next time you visit.
How do I know I can trust these reviews about DreamCloud?
How do I know I can trust these reviews about DreamCloud?
3,142,193 reviews on ConsumerAffairs are verified.
We require contact information to ensure our reviewers are real.
We use intelligent software that helps us maintain the integrity of reviews.
Our moderators read all reviews to verify quality and helpfulness.
For more information about reviews on ConsumerAffairs.com please visit our FAQ.
Page 1 Reviews 0 - 10

Erin of Glens Falls, NY Verified Reviewer Verified Buyer
Original review: Dec. 7, 2020
When I first read reviews of this mattress I made sure to check multiple sources, as I know the manufacturer site can often include only positive reviews. I felt confident with the reviews regarding the mattresses comfort and was all set to make the big purchase. Since it is such an investment, I was still skeptical and checked for more reviews. I found many negative reviews on ConsumerAffairs and Better Business Bureau. The negative reviews seemed to all have the same theme—shipping nightmare, mattresses not delivered for months and poor customer service. After reading many of these, I considered not going through with the purchase, but I noticed that these reviews were all around the start of the pandemic and the months following. In the end I decided to make the purchase.
I bought the mattress on a Saturday (11/28) and received the mattress less than a week later on Friday 12/4. I had expected it would take at least 2 weeks to hear any updates on shipping. The delivery exceeded my expectations as well as the quality of the mattress. It is incredibly comfortable and I no longer wake up in pain.
Read full review
23 people found this review helpful
Ramona of Las Vegas, NV Verified Reviewer
Original review: Aug. 2, 2020
Very comfortable to sleep on. Firm yet still soft. Very good mattress for the price. I bought a Dream Cloud King size mattress about a year ago and been sleeping like a dream ever since. I would highly encourage this mattress to people who are in the market.
15 people found this review helpful
Thank you, you have successfully subscribed to our newsletter! Enjoy reading our tips and recommendations.
Lorrie of Honolulu, HI Verified Reviewer
Original review: July 27, 2020
We received the mattress in great condition. The bedframe with headboard however had some damage. We requested a warranty replacement for the parts that were damaged and they were out of stock. We did receive them about 1.5 months later. They sent us an entire new headboard and frame set that was brand new and an upgraded or newer version than the one we had originally received. Very impressed with their help. Emailing customer support is a little bit slow, but they made up for the timing.
16 people found this review helpful
Joseph of Ventura, CA Verified Reviewer
Original review: July 26, 2020
I have found the right mattress after years of too hard or too soft or not cool enough. Granted I have aged but now I have found a great mattress to sleep in. My woman also loves this mattress. Mailed to my home with a great price of 1100. Customer service is outstanding. Returned the other frame and received a beautiful frame on top of everything. Just outstanding product.
9 people found this review helpful
Melissa of Budd Lake, NJ Verified Reviewer
Original review: June 20, 2020
In December 2019 on my way home from work I was hit head on by another driver, I was flown in critical condition, spent months in the hospital. I have a broken pelvis, hip, knees feet arm besides internal injuries. I did have a good memory foam mattress from Walmart but still woke up in pain. I ordered this mattress and couldn't wait for it to come, in the meantime I went on to the better business bureau and saw a lot of complaints, I became really stressed out and very worried!! Very concerned!! It came today and it is the most amazing thing. I am so happy that I ordered it and glad that I did not read those complaints first because if I had I probably would not have ordered it. It feels amazing!
19 people found this review helpful
Lisa of North Ridgeville, OH Verified Reviewer
Original review: March 30, 2021
I placed an order for a mattress on Feb 19, 2021. At the time of my order their site said 7- 10 days to ship. When the 10th day was finally here and I was hoping for an "it shipped email" they changed the date for another week... And when that came and went, they change the date to another week and so on... Here it is, March 30th, 2021 and it still has not shipped. My last status said "Est. Ship Mar 23 - Apr 01", which is in 2 days. I am beyond livid. Their excuse keeps changing from pandemic related to weather related. I am SO frustrated and angry beyond words. This mattress was supposedly "IN STOCK" when I ordered it so they shouldn't have had to "make" it. I want to cancel my order but there are certain features I wanted in this mattress and I can't stomach the thought of having to reorder from another manufacturer. If this keeps up I will end up doing that anyway. Words cannot describe how bitter I am about dealing with this company.
15 people found this review helpful
Jessica of Hazlet, NJ Verified Reviewer Verified Buyer
Original review: March 16, 2021
I placed my order over a month ago and it still hasn't shipped. Customer service claims it was due to inclement weather across the US and Covid however how can those affect something that hasn't shipped yet?! I'm convinced any positive reviews posted here are paid individuals. I will be disputing the charges with my bank.


15 people found this review helpful
John of Denver, CO Verified Reviewer
Original review: Feb. 15, 2021
Placed an order on the 1st Feb and was told at that time it was 5-10 days to process orders. It has now been 15 days and DreamCloud have still given me no indication as to when they will complete and ship my order. This company sends you 5 marketing emails per week, yet from my experience they cannot fill their existing orders and cannot even give you any kind of indication on when you can expect your mattress. Go through a mattress company that can actually send you a mattress when you order it. It doesn't matter if the mattress is any good if you have no idea when or if you will get it.

20 people found this review helpful
Audrey of Simi Valley, CA Verified Reviewer Verified Buyer
Original review: Jan. 14, 2021
I purchased a mattress with 365 days to try/return. The mattress doesn't suit my needs, nearly fell off the soppy sides. Requested return. I was verbally told "you need to keep sleeping on it." I said it's not going to get magically firmer sides in 30 days. Below it says 'recommend' but in fact they will NOT return the $1000 mattress I will not sleep on. I have nowhere to store it. Shall I wear shoes arriving too small UNTIL MY FEET adapt? If you have not tried—DO NOT BUY: DreamCloud, AWARA, Bundle, Level Sleep.
Company representative's response: "I'm sorry to hear you're not loving your mattress! The 30 days of your trial is a critical time frame for your BODY TO GET USED TO YOUR NEW MATTRESS, and we recommend sleeping on your new for at least 30 consecutive nights to allow your body to properly adjust. You will be eligible to initiate a return for your mattress once you have had it for at least 30 days."
Read full review
15 people found this review helpful
Keirra of Hinesville, GA Verified Reviewer
Original review: Oct. 2, 2020
I am at a complete lost for words, truly. On August 29th I decided that I wanted to replace my old mattress. I then called around to a couple mattress companies and talked to an agent with Dream Cloud mattress. My husband serves his country proudly and was due to come home towards the end of September 2020 (he is now home and safe). So it was VERY important that I get a mattress to my home before his return date.
I called into dream cloud and spoke to a rep before I even thought to make a purchase, to ensure that my mattress would get here within the allotted time frame. He ensured me with the utmost enthusiasm that my mattress would be delivered to me BEFORE the 14 business days. I then called in on the 13th business day and this is when things started to go downhill. I spoke with another rep who informed me that "They still had one more business day to give me tracking" and told me that they were "MAKING THE LABEL" to ship out to me, weird that it takes a week to verify a label but hey whatever!
The next week rolls around and I can no longer get ahold of anyone so I go to the website and chat with an agent to check on my $1000+ mattress. I am then told that I should see movement within the next week and that tracking would be updated. (That was two weeks ago.) They then offered me a $50 dollar refund which is not NOTHING if you ask me. THAT WAS TWO WEEKS AGO. I have reached out to them almost every other day after that I keep getting LIED to. It's one thing if all the reps were saying the same thing however I am fed a different lie every time I reach out. Now that I think about it, I have been lied to since DAY 1. And they stand behind their lies proudly!
Fast forward to this week my Active duty service member has returned home and sadly after having to sleep on a very hard bunker for the past 9 1/2 months he now has to come home to sleep on a very uncomfortable blow mattress all because dream cloud kept lying to me. Had I known the shipping would take this long I would have paid the extra $200 to Saatva or went with a more honest company. I placed my order a MONTH AGO and get lies every week. I wish there was a way to upload pictures of my message thread just to prove to you all.
I reached out to the chat box at the beginning of the week I was told, I WOULD SEE MOVEMENT THIS WEEK!!! I thought to myself okay well at least my active duty service member won't have to go that long with sleeping uncomfortable. So, I chilled. Today I Thursday so I just reached out, and was told they could give me another $50 and that my mattress would be delivered in ANOTHER TWO WEEKS. Due to them having to find a way to "ship" my mattress. HUHHHH???
This Company does not have any respect for the Active Duty, They Will TAKE YOUR MONEY ASAP!!! and most importantly I promise you that they WILL LIE TO YOU CONSTANTLY. I feel so bad that my husband has to sleep uncomfortable at night. I tried to make his homecoming smooth and comfortable for him but due to dream cloud constantly lying to me I have to sleep next to my Husband who serves his country proudly every single night, and watch him toss and turn because he is so uncomfortable. This breaks my heart, and I have never in my life cried so hard because of a terrible company. PLEASE DO NOT BUY FROM THIS COMPANY. I am now on the hunt for another mattress but because I am desperate for my husband. I kept the order just in case.
You all I only ordered from this company because I thought that they would be an honest company and keep their word. I BEG YOU PLEASE DO NOT ORDER FROM THIS COMPANY. I am at an UTTER loss of words. I wish I would have known that they were liars I would have ordered from another company to ensure that MY husbands got the sleep the he deserves.
Read full review
52 people found this review helpful
DreamCloud Company Information
Company Name:

DreamCloud

Website:

www.dreamcloudsleep.com
You're signed up
We'll start sending you the news you need delivered straight to you. We value your privacy. Unsubscribe easily.