DreamCloud specializes in luxury hybrid mattresses. Its mattresses have eight layers of memory foam and dense coils for comfort and support. The gel in the memory foam layer helps sleepers stay cool. Mattresses start at $899 for a twin XL and $1,399 for a California king. DreamCloud's mattresses work with all sleeping positions.
BOTTOM LINE
DreamCloud offers high-quality hybrid mattresses that support all sleep positions. Mattresses are designed for support, cool sleep and are environmentally friendly.
PROS
Long in-home trial period
Lifetime warranty
Hybrid construction suits many sleepers
CertiPUR-US Certified
CONS
Can't select firmness level
​
DreamCloud mattresses and products
Our top pick for DreamCloud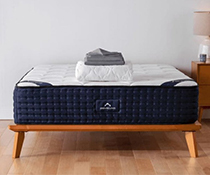 DreamCloud
The DreamCloud Luxury Hybrid
$1,099 (queen) *as of publishing date
Five-layer hybrid combines individually wrapped coils that adapt to your shape and gel memory foam to cradle shoulders and hips. Features layers of quilted foam and cashmere. Available in medium-firm comfort level. DreamCloud offers a 365-night trial.
Shop on DreamCloud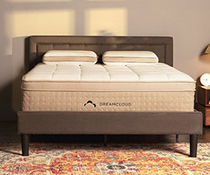 DreamCloud
DreamCloud Premier
$1,399 (queen) *as of publishing date
Designed with memory foam and innerspring coils to provide pressure relief and support. An extra supportive foam layer limits motion transfer, and a double row of coils improves edge support. Features Mongolian cashmere and Euro-style pillow top.
Shop on DreamCloud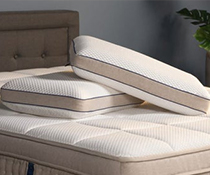 DreamCloud
DreamCloud Best Rest Pillow
$99 (per pillow) *as of publishing date
Memory foam pillow provides support for neck, head and shoulders. Foam is infused with copper gel to help keep it cool. Comes with a removable cover for easy washing. Available in standard and king. Free shipping and returns.
Shop on DreamCloud
DreamCloud mattress construction and materials
The DreamCloud mattress is 15" tall and constructed with eight individual layers including four layers of memory foam, including gel-infused memory foam, pocketed mico coils, natural latex and a cashmere polyester blend cover and euro top design. DreamCloud mattresses are CertPUR-US certified, so they are environmentally friendly.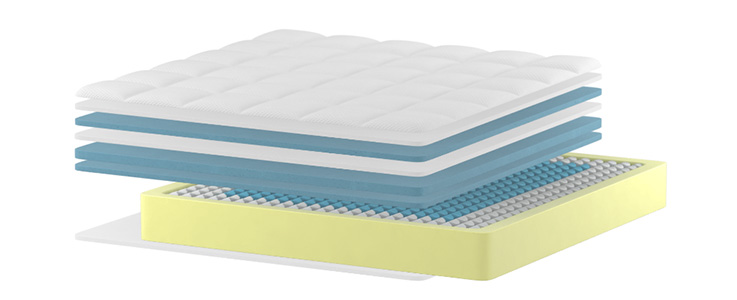 DreamCloud mattress comfort
Each layer in the DreamCloud mattress is designed to increase support, breathability and comfort. The super dense memory foam and encased coils used by DreamCloud increases the support of the mattress. DreamCloud mattresses provide more bounce than typical memory foam-only mattresses and are designed to contour to your body for support throughout the night, regardless of your preferred sleep position.
Firmness: DreamCloud classifies their mattress as "luxury firm," ranking a 6.5 on the 10 point firmness scale.
Sleeping position: DreamCloud mattresses should be a good fit for back, stomach and combo sleepers. Because it's on the firmer side, side sleepers may need to spend some time breaking the mattress in.
Motion transfer: DreamCloud does not specifically address motion transfer in its promotion of the mattress, but because the mattress is made with high-density foam, motion transfer should be limited.
Edge support: We saw mixed reviews when it came to edge support. DreamCloud may suffer slightly from weaker edge support, so there may be some roll-off as a result of its softer perimeter. However, hybrid mattresses typically provide enhanced edge support compared to foam-only mattresses.
Sleeping hot: DreamCloud addresses sleep temperature through the gel-infused memory foam layer. The gel will help most sleepers sleep cool.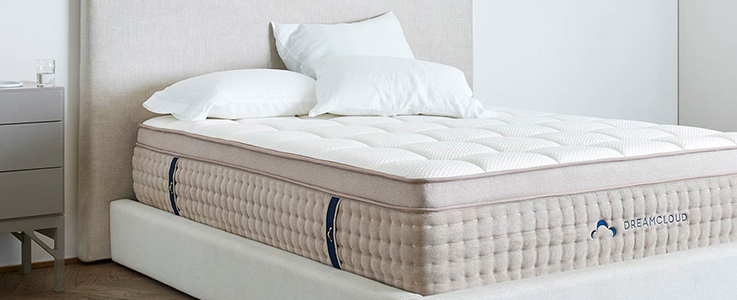 DreamCloud mattress prices
The average DreamCloud mattress cost is $1299 for a queen. Use the chart below to compare prices of all mattress sizes. Financing is available, as well as add-ons like sheets and weighted blankets.
| Mattress size | Cost |
| --- | --- |
| Twin XL | $899 |
| Full | $1099 |
| Queen | $1299 |
| King | $1399 |
| California King | $1399 |
DreamCloud FAQ
Where can I buy a DreamCloud mattress?

DreamCloud mattresses are available exclusively online via the brand's website.

Is DreamCloud good for side sleepers?

DreamCloud mattresses are marketed as "luxury firm" mattresses, meaning while they should still feel plush, the base provides a firmer level of support. Often, side sleepers prefer softer mattresses. Because of this, DreamCloud might not be ideal for all side sleepers. However, some may find that after giving the mattress some time to "break in," it provides enough give to satisfy side sleepers.

Do you need a box spring with a DreamCloud mattress?

No. You do not need a box spring with a DreamCloud mattress. A DreamCloud mattress can rest on any flat service, and the company sells platform bed frames on their website.

Is DreamCloud a good mattress?

If you're looking for a high-quality hybrid mattress, DreamCloud is a brand worth considering. With a mix of so many layer types, foam, gel, latex and coils, a DreamCloud mattress should support most sleepers. DreamCloud's in-home trial period of 365 days is one of the longest in the industry and lowers any risk associated with buying a mattress online. If you aren't satisfied, you can return the mattress for free. We like the CertiPUR-US certification given to DreamCloud's foam layers, which is a certification given to less than 1% of the mattresses on the market.
A link has directed you to this review. Its location on this page may change next time you visit.
How do I know I can trust these reviews about DreamCloud?
How do I know I can trust these reviews about DreamCloud?
2,439,424 reviews on ConsumerAffairs are verified.
We require contact information to ensure our reviewers are real.
We use intelligent software that helps us maintain the integrity of reviews.
Our moderators read all reviews to verify quality and helpfulness.
For more information about reviews on ConsumerAffairs.com please visit our FAQ.
Page 1 Reviews 0 - 10
Ramona of Las Vegas, NV Verified Reviewer
Original review: Aug. 2, 2020
Very comfortable to sleep on. Firm yet still soft. Very good mattress for the price. I bought a Dream Cloud King size mattress about a year ago and been sleeping like a dream ever since. I would highly encourage this mattress to people who are in the market.
3 people found this review helpful
Thank you, you have successfully subscribed to our newsletter! Enjoy reading our tips and recommendations.
Lorrie of Honolulu, HI Verified Reviewer
Original review: July 27, 2020
We received the mattress in great condition. The bedframe with headboard however had some damage. We requested a warranty replacement for the parts that were damaged and they were out of stock. We did receive them about 1.5 months later. They sent us an entire new headboard and frame set that was brand new and an upgraded or newer version than the one we had originally received. Very impressed with their help. Emailing customer support is a little bit slow, but they made up for the timing.
Be the first one to find this review helpful
Joseph of Ventura, CA Verified Reviewer
Original review: July 26, 2020
I have found the right mattress after years of too hard or too soft or not cool enough. Granted I have aged but now I have found a great mattress to sleep in. My woman also loves this mattress. Mailed to my home with a great price of 1100. Customer service is outstanding. Returned the other frame and received a beautiful frame on top of everything. Just outstanding product.
2 people found this review helpful
Melissa of Budd Lake, NJ Verified Reviewer
Original review: June 20, 2020
In December 2019 on my way home from work I was hit head on by another driver, I was flown in critical condition, spent months in the hospital. I have a broken pelvis, hip, knees feet arm besides internal injuries. I did have a good memory foam mattress from Walmart but still woke up in pain. I ordered this mattress and couldn't wait for it to come, in the meantime I went on to the better business bureau and saw a lot of complaints, I became really stressed out and very worried!! Very concerned!! It came today and it is the most amazing thing. I am so happy that I ordered it and glad that I did not read those complaints first because if I had I probably would not have ordered it. It feels amazing!
9 people found this review helpful
Adam of San Diego, CA Verified Reviewer
Original review: Dec. 3, 2019
DreamCloud's customer service is fantastic, and they do stand by their 365 night guarantee. I purchased a mattress from DreamCloud about 9 months ago, and sadly I discovered I needed a more firm mattress for my back. I purchased a new mattress and placed the DreamCloud one in my guestroom temporarily. I immediately came to this website to read the reviews about their refund policy, and to my dismay read customers bad experiences. I reached out to DreamCloud via phone, selected the callback feature and received a call in about 20 minutes from one of their management team members Kara. I was floored by the options she offered me to keep me as a customer.
First they offered a topper for the mattress at no cost. Then offered me an exchange for a different mattress from one of their sister companies which I would've gladly accepted had I not bought a new mattress already. At this point she walked me through the company's process and policy, and processed my refund which should take about 7 business days. It's not a difficult process to take advantage of their guarantee, and the care she took with me over the phone was top notch. I'm moving into a new home in a couple of months and will need to buy another mattress for a small guest room; you guessed it. I'm going to purchase one from one of their sister companies because of their customer service, how they stand by their products, and their follow through with their guarantees. I do take reviews with a grain of salt, but I can attest this company is more than ok to do business with.
Read full review
10 people found this review helpful
Samantha of Minneapolis, MN Verified Reviewer Verified Buyer
Original review: Sept. 25, 2020
I placed an order for a mattress on Sept. 7, 2020. The site and my order confirmation stated they were shipping within 7 to 14 days. Great, I was set to move into my apartment on Sept. 21. By Sept. 14, having received no update, I contacted Dreamcloud through the chat function. The rep assured me I would "see movement" on my order that week. Except I never saw movement--even past my delivery window. I had multiple contacts with Dreamcloud and was told they not only could not provide a ship date--but the time range kept changing.
Today I asked why they couldn't at least tell me when it would leave their warehouse, and why they seemed to have no information regarding "the warehouse." I was told: "We're no longer able to disclose company information of who and how it is being controlled." Whaaatt? I cancelled my order. I was told they could not even confirm that for 2 weeks. Not to mention I have to take photos of the "free sheets" they sent in advance of the mattress--then send those in--before I can get a return label or before they will process my return.
I've never had a company make every step of the process so difficult! I'm so thankful I didn't get their mattress as I'm sure returning that would have been a nightmare. They also appear to have removed my negative review from their website. When I questioned them about it, I was told they could provide no information regarding how reviews are ranked/placed on the page--and they did not deny that it had been removed.
Read full review
Be the first one to find this review helpful
jeremy of Irwin, PA Verified Reviewer Verified Buyer
Original review: Sept. 10, 2020
I contacted Dreamcloud in June 2020 to replace a vibrator on the adjustable bed frame. Now it is Sept 2020 and I am still waiting. I have spoke to Dreamcloud on 4 separate occasions with all conversations ending that my part will be shipped. I have been waiting going on 4 months for a warranty covered replacement part. There is no phone number to contact anyone that truly can help. I have all conversations with the Dreamcloud saved for documentation.
Be the first one to find this review helpful
Melissa of Colorado Springs, CO Verified Reviewer
Original review: Sept. 5, 2020
I ordered a mattress on June 3, 2020. I waited patiently due to Covid but after a month reached out to customer service. The rep couldn't tell me where my bed was and blamed it on the shipping department. Another month goes by and still no mattress. I email them and ask for my money back or I will report them to the BBB. They ask me to please wait a little longer because the warehouse my bed was being shipped from was shut down due to Covid. They refund me $35 and tell me my mattress will ship soon. I wait another 2 weeks. Still no bed. I email them again asking for a refund. They respond, "Please give us two more weeks. Please accept this $100 refund for the inconvenience."
I accept and wait another 2 weeks. No mattress ever came. I received a full refund on Sept 1, 2020 after being given the run around and being lied to for 3 months. I don't know how this company operates but if you don't have a product to send don't take people's money. I've never in my life put out almost 2 thousand dollars to not receive a product. I went to Mattress Firm today and my mattress is being delivered TOMORROW. I will never buy a mattress online again. Dreamcloud is the worst and they don't deserve the 1 Star I rated them.
Read full review
12 people found this review helpful
Jim of Boynton Beach, FL Verified Reviewer
Original review: Sept. 2, 2020
I purchased a mattress including "white glove delivery." 3 days after the order placement I called customer service to get an order update. They advised me that due to Covid, they would not do the "white glove" but, instead just leave the mattress outside. In addition, the old mattress would not be removed (which is part of the service). I attempted to cancel. The rep told me that because they are a "start up company" they were not able to cancel the order (even though it isn't shipping for 10 days yet). Luis, the rep went on the explain that they do everything "manually" and that's why they can't cancel. My head is still spinning. Stay clear of these counterfeits.
7 people found this review helpful
Jackie of Pawleys Island, SC Verified Reviewer
Original review: Sept. 1, 2020
This company is absolutely a farce. I ordered a mattress over a month ago and although they keep saying it's in the warehouse- there is no date to ship. They said at least 14 BUSINESS DAYS before they even think about shipping!!! So at least another month. And the customer service is useless.
5 people found this review helpful
DreamCloud Company Information
Company Name:

DreamCloud

Website:

www.dreamcloudsleep.com