Hampton Bay Patio Furniture
Consumer Complaints and Reviews

Both of the chairs to this set broke in the same place due to faulty welding. I had a five year warranty on the frame. Because Home Depot cannot go back further than 2 years and I am unable to find my receipt, the company indicates that I cannot get a replacement without the receipt even after sending pictures of the problem. This is total crap!! Why buy a life-time set and find the warranty is only applicable with original receipt!! Buyers beware. I am not through with this company yet.

I bought a patio set from them last summer that comes with a "2 YEAR" warranty. I purchased the set Memorial Day weekend and one of the chairs broke in June (not even a month later) while my 3-yr old niece was sitting it. She ended up banging her head part and getting scratches all over her. When I called cust service Home Depot told me I needed to call Hampton Bay directly as they couldn't help. When I called I THOUGHT the rep was very helpful and explained exactly what I had to do to get chair replaced. WELL first I had to send her a picture of the damaged chair with a copy of original receipt which I did.
A MONTH later I got an email saying I needed to send a picture, the barcode from the box and the part # that was included in the assembly instructions. Neither of which I had. When I email her back she said unfortunately she wasn't able to help me but I was welcome to go to Home Depot and try to exchange the broken chair. They would not replace it as I bought it a set and the chairs were not sold separately. So basically I had to spend the summer hoping that the chairs weren't going to collapse what we were sitting in them. Unacceptable and both Home Depot and Hampton Bay should be embarrassed at the products they sell. The fact that they know from the get go that they are going to try whatever BS they can to honor the warranties sickens me. Lesson of the day: Buy local from small businesses. They actually stand by their products and promises.

I purchased a Hampton Bay Patio set from Kohl's last summer (2015). One year later, 2 out of the 6 swivel chairs have broken. The other 4 chairs aren't swivel and seem to be fine. Both times someone was in the chair. Just hate that I paid good money for my chairs to break a year later.

3 out of my original 4 chairs have broken. When the first 2 chairs broke, I purchased new ones from Lowe's. This patio set still sells at Lowe's for $899, on sale. All the chairs have broken while either our family members or our guests have been sitting in them. We have patio pavers, this is dangerous! I have saved my 3 broken chairs in our shed, thinking the warranty would've covered them. It has not, as of yet.

I bought a Hampton Bay patio set fro Home Depot on May 22, 2016. On July 29 the chair collapsed with my husband in it. He had had three neck surgeries and busted his elbow. I took the chair back to Home Depot. They refunded my money. Later that Eve I saw where NBC had a recall on the chairs. They are very dangerous.
How do I know I can trust these reviews about Hampton Bay?
765,713 reviews on ConsumerAffairs are verified.
We require contact information to ensure our reviewers are real.
We use intelligent software that helps us maintain the integrity of reviews.
Our moderators read all reviews to verify quality and helpfulness.
For more information about reviews on ConsumerAffairs.com please visit our FAQ.

We purchased the Hampton Bay Patio table and chair set (not a cheap set either) since we purchased one swivel rocking chair broke about a year ago. Just last night the other swivel rocking chair broke which sent me to the hospital with multiple injuries. I will never ever purchase again an expensive set that should last from Hampton Bay.

Bought the 2 piece patio set. Use the swivel chairs at your own peril. We have 2 chairs suddenly collapse. I have some experience with welds and aluminum. Frankly, they were "crap". The 1st incident was caused by IMO a faulty weld. The 2nd was shearing of the aluminum struts. Both resulted in sore backs, some cuts and bruises. These should not be available for sale. The company should be embarrassed to produce such inferior product. Run, don't buy!

I purchased a Hampton Bay Patio Set (6 chairs with large glass table) from Home Depot 2 years ago. Yesterday out of the blue, the glass table top exploded, leaving glass shattered all over my patio and projected onto our grass and flower beds. I noticed on this site the "exact" table I HAD someone else also had it explode. These sets cost way too much money to have things like this happen to them!! Hampton Bay will not have my business anymore!!

Cushions are NOT FIRE RETARDANT. Very much a fire hazard.

I contacted Home Depot Customer service several times & to discuss the issues I was having with my patio set. Most recently contacted customer support noting my issues with my patio set. I was told because its outside of warranty they will do nothing. My table top is corroding from the inside out. I have six table chairs all but one is peeling & having issues with corrosion. The process began at the plant in China where the patio set is manufactured. The powder coat is going on the patio set most likely when it's not completely dry. This is to save time & money but ends up costing us as consumers in the end.
I will never buy this type or any type of large product purchase from HOME DEPOT AGAIN! Just look at all the complaints. I had a Samsonite set from Sears, never the issues like I am having with this Home Depot Hampton Bay garbage. I regret getting rid of the set to buy this one. Look at my pictures, the picture of only one chair is as it should be, no issues. Everything else as described has premature problems that should not be if there were at minimum some production run quality control in place. Remember Lumber Liquidators? Anything now from China you're rolling the dice. Home Depot should know better and stand behind their product.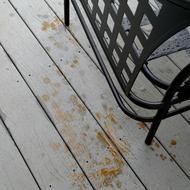 Hampton Bay Lynnfield 5-pc set - We purchased from Home Depot and have had this set for 3 weeks. It has rained twice. Today I went out to tip the chairs to let the water run off, and orange rust came out from the chairs and is all over the deck. 3 WEEKS!!! What is going to happen after the summer is over. I can't find a contact for Hampton Bay anyplace.

Fall River 7 Piece Patio Set - I purchased this set from HOME DEPOT a little over 2 years ago. They had to replace the table top and 1/2 the chairs due to rust and the powder cost coming off. Now the new table top and all the chairs are rusted out and need to be replaced. I have tons of other pictures... Called Hampton Bay and they don't cover rust. They don't guarantee their "outdoor" product for typical outdoor issues. If you're putting the set indoors it may last, but if it's outdoors it's absolute junk. $600 for the set and already replacing.

In January of 2015, I purchased a Hampton Bay Patio Furniture set. I liked the styling and price. One year and one month later, I noticed considerable rust. I used this set for one party. I will soon need to take it to the curb. I have another outdoor setting area (not Hampton Bay) also on my patio and have had it for 10 years with no rust. The quality of this product is CRAP! I will not purchase anymore Hampton Bay and will tell their horrible story as often as possible.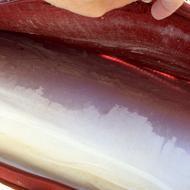 I purchased the 7 pc set at the beginning of summer (we are located in Ohio, purchased June) this set seemed to be the most bang for your buck. According to the manufacturer, the seat cushions are waterproof (makes sense, they will be used outdoors). After 3 months, we started to notice that when we would sit on the chairs that the cushions were actually soaking wet. The top would be dry, but the minute you would sit down, your entire rear end would be soaked. This is not good. I didn't expect this set to be top of the line, but it would have been nice if it would have lasted 3/4 yrs. I opened up the cushions to find white powder everywhere (that's where that was coming from, it was on the surface of all the furniture) the waterproof fabric lining totally broke down. I am going to have to find a creative way to reline these so I can get my money's worth out of this set :(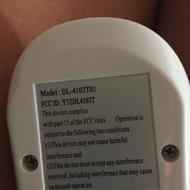 I purchased the fan 3 years ago and there has been an issue with the remote after 90 days. Then we changed batteries - got it to work until now, seems as though now it will not work at all. We got in contact with a Mrs Djuan ** who seemed eager to help at first. We provided her with the pictures she requested then she stated the fan could be a third party so she connected me with the third party name Mike who provided me with a false email address and a website where I can locate the remote. The remote and fan clearly say Hampton Bay on them. The experience we had with Hampton Bay was horrible! I checked their reviews and seems we are not the only customers who have encountered the same treatment. So after three days we're still in the same position - wasted time and fan still not working .

My wife was sitting in the swivel chair, and the welds broke and she fell on the floor. When the seat part came loose from the base, the welds are on a 1/8 of an inch rod, and that is not enough. They should have been bolted together instead of the welds. My is sore and bruised and had to get the fire department to help her up, because she was not strong enough to get up by herself. The furniture is very nice and looks good and we have enjoyed using it for the past 5 years.

In December 2014 we bought four Hampton Bay sun loungers for our home in Naples, Florida and we only just relocated there at the end of June 2015. Already one of the cushions is parting at the seams on both sides. When contacting HD was told that without the receipt they could not verify the warranty and they put the onus on me to find the receipt and if I was unable to do so I would have to pay to have it replaced or repaired when this is definitely a manufacturing fault. Very disappointed with this attitude and will certainly not buy anything from this store again.

I purchased a 7 piece Hampton Bay patio set from Home Depot late last summer in August 2014. I have kept the chairs and cushions inside from then until now, due to the season changing. I was entertaining outside on the last weekend in this July 2015, so I set up my table set. I noticed that a few cushions developed what appeared to be burn circles on them. I thought that was odd for this to happen. No one smokes in my house and I was beginning to think it could have been vandalism. Another day went by in 85 deg temp and I noticed more burn circles and the older circles burned down to the white stuffing. I found this site while I was researching the quality of the fabric on this furniture set. It has been a year since purchase and I am very disappointed to have a furniture set that cannot be exposed to the sun. There are a total of 4 cushions that have been damaged from sun exposure from only a week of being used!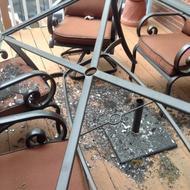 I bought a Hampton Bay table for about $400. You get what you paid for. It was cheap. A screw fell out and the glass top broke before our first BBQ. I have been going in circles trying every which way to get another type of top for the table frame because I really don't want to throw it out. We haven't used it. Home Depot said for $220 they can send me another glass top which is exactly what I don't want. I called manufacturer Zhejiang Aluminum 877-931-7378 but they said they couldn't help me at all. So now I have no patio table, an empty wobbly table frame and out $400. Thanks Home Depot/Hampton Bay.

I was sitting in the swivel chair and it broke at the base - with me in it!! Bruises and scratches! About 4 years old - stored inside in the winter.

I purchased the Hampton Bay Raynham 7-Piece Patio Dining Set a little over one year ago from Home Depot. Under no adverse weather conditions, with nothing sitting on top of it and no damage to it, the glass table top exploded. It shot glass off in all directions upwards to 12 feet away. The glass was all over the table, chairs, deck, patio, in our rocks, landscaping, and grass. It took hours to clean it all up and there's no way we got all of it that's in the grass and rocks.
I called Home Depot about it who stated that the glass isn't covered under the warranty plus they don't make that model anymore so they can't help me with anything. They then suggested I contact a local glass company who could probably help me fix it. Warranty and replacement aside, they didn't seem too concerned about having a glass product out there that EXPLODES and projectiles under no certain conditions. Their line of questioning included whether it was windy or something was sitting on top of it - curious why that should be of issue as it's a TABLE meant to go OUTSIDE. I have two toddlers in my house and am very thankful they (or anyone else) were not sitting at the table when this happened.

I cannot believe something as simple as lining up the bolt holes connecting 2 pieces of a patio chair can be so difficult for the manufacturer. They cross thread, the bolts are too short, they strip and pop out of the threads. You suck!

My husband and I bought this at Home Depot less than 2 years ago and it is unusable now. From reading the other reviews it sounds as if Home Depot will not do anything about it. We will never purchase any Hampton Bay things again! I wish we had seen the reviews before but it looks like we purchased at around the same time.


The pictures speak for themselves. We've owned this Hampton Bay Fall River 7 piece set for 2 years. When we complained to Home Depot they told us, "Sorry, there is a 1 year manufacturers warranty." Almost $600 thrown away on this junk. The metal pieces flaking off are dangerous and can cut. It is also happening to the chairs. I will have to throw it away. Avoid Hampton Bay furniture!

We also purchased a Hampton Bay Salem 7 piece patio set. After three years the table is not usable. It first started with chipping and cracking on the side. Now it is chipping and cracking on the top. I contacted Home Depot who informed me of the one year warranty. They put me in touch with Hampton Bay. They again stated that the warranty had expired. The rep from Hampton Bay pointed out the somewhere in the documentation stated that the PATIO furniture was not supposed to be outside in weather??? It's patio furniture!!! By definition PATIO means outside.
Whoever heard of taking patio furniture out of the rain and sun? We took due diligence to stow and cover during winter months. This product was defective from the start. After paying $1000.00 for this set less than 3 years ago. Hampton wants to offer $100 toward a new table. This is not fair and not enough compensation. The chairs are showing signs of degradation. Don't know how long they will last. Now we must find another patio set after 3 years. Really disappointed in Home Depot.

3 piece patio set Model t03f2voq0114r - Had this set for three years on my covered patio in Hawaii. Today, I go to sit on one of the chairs and I drop to the ground. I saw two of the three main supports that keep this chair upright torn completely through and the third one half way. No rusting to explain this. Just poor quality metal tubing I think. Chair does have a 300 lb. limit warning but I am 205 lbs. These chairs are rarely used. At 70 years old, I do not need to be falling out of a chair onto a cement floor. Hard to contact anyone from Hampton Bay. Looks well-made but take it from the guy with a sore bottom it is dangerous and should be recalled not sold.

Bought a patio set with all rockers for chairs like 5 years ago and every one has broke. Paid good money for the set. Can't believe you make a product like this, that the chairs collapse like this. I think it should be a recall on these chairs.

While setting in my swivel rocker with a hot cup of coffee, the chair broke and I fell backwards. Hot coffee all over me, bent glasses and a bruised back. After examining the chair, I found the welds broke loose. So I inspected the three remaining chairs and found cracks at the welds. Now I am minus one chair, and concerned about the other cracked chairs.

I purchased on-line two Hampton Bay Eastham chaise lounges. They arrived with no assembly parts and no manual. I purchased them through Home Depot. They said there are no parts available, and that I could ship the chairs back. I assembled the chairs using self-tapping screws. Considering that Hampton Bay has very poor quality control, and no support for their products, I would recommend avoiding anything from Hampton Bay, and check the box for parts if you purchase anything made by Hampton Bay at Home Depot.
Hampton Bay Patio Furniture Company Profile
Company Name:

Hampton Bay

Website:

http://www.homedepot.com/