Written by
Read our guide to find the best awning company for you. We compared different styles, materials and sizes for homes and businesses. Before purchasing, you should also consider the build quality, price, installation and warranty.
Why trust ConsumerAffairs?
Our recommendations are based on what reviewers say.
4,354,002 reviews on ConsumerAffairs are verified.
We require contact information to ensure our reviewers are real.
We use intelligent software that helps us maintain the integrity of reviews.
Our moderators read all reviews to verify quality and helpfulness.
Compare Reviews for Top Awnings Companies

Read 3,173 Reviews

Manufacture a variety of awnings for windows, decks and patios. Specialize in manual and motorized retractable awnings, freestanding awnings and solar shades. Offer a large selection of fabric choices and 29 colors.

Read 473 Reviews

Located in Long Island, New York, Rollup Awnings has been in business since 1979. The company offers awnings, shutters, storm panels, and more with complete customization and fabric selection.

Read 13 Reviews

Sunesta is known for making retractable awnings for windows, doors and decks of all sizes. The company was founded in 1981, and it also sells screens, shelters and other patio accessories.

Chat with a ConsumerAffairs decision guide

Live agent

Read 14 Reviews

Retractableawnings.com is an online supplier of a range of awnings for the home or office. The company operates out of Miami, Florida and features on-call experts to fix any issues at hand.

Chat with a ConsumerAffairs decision guide

Live agent

Read 20 Reviews

Awntech, a Texas-based company, is an awning company that offers door awnings, window awnings and replacement awnings. The company's goal is to provide quality awnings at the lowest possible prices.

Chat with a ConsumerAffairs decision guide

Live agent

Read 10 Reviews

Durasol, based in the Hudson Valley, makes durable, retractable fabric awnings. Proud to be a "Total Shading Solution" since its founding in 1984. Durasol also offers solar screens and sun structures.

Chat with a ConsumerAffairs decision guide

Live agent
Read Author Review

Solarus USA is a company that specializes in retractable awning systems with customized detailing. It sells window, cottage, patio and commercial awnings from its headquarters in Miami, Florida.

Chat with a ConsumerAffairs decision guide

Live agent
Read Author Review

Located in Phoenix, Arizona and Jessup, Maryland, Sunair is a company that sells awnings, solar screens and pergola covers, along with Solharos® and Variettes®. The company has been in operation since 1978.

Chat with a ConsumerAffairs decision guide

Live agent
Read Author Review

Located in Jacksonville, Florida, Thompson Awning Company sells a wide range of awnings, canopies, signage, shutters and more. The company has been making and selling awnings in Florida since 1920.

Chat with a ConsumerAffairs decision guide

Live agent
How to choose an awning
Awning materials
Awnings come in a variety of materials. While their main function is to stand up to harsh weather and provide proper shade and protection, awnings made of strong materials can also help keep homes cooler and more shaded, reducing energy costs and potential sun fading on furniture.
Machine washable: Machine washable awnings provide easy cleanup. They save time and money compared to awnings that require wiping down.
Sun/UV blockage: Materials that block the sun and UV rays offer more protection in sunny climates. Having a patio or outdoor area with less direct sunlight can make it a more appealing area.
Water resistance: Water resistant awnings keep the area underneath completely dry and don't grow mildew as easily.
Adjustability
Some awnings offer more adjustability than others. Controls should be simple and allow the necessary amount of movement depending on the awning placement.
Retractability: Some awnings can be pulled back to provide more or less cover.
Motorized: Motorized awnings allow a person to adjust it with the touch of a button.
Remote: Remote control awnings can be adjusted with a handheld remote.
Treatments
You can treat your awning cover with different materials to protect it from the weather. This can extend the life of an awning to a considerable degree.
Vinyl or laminate coatings: Vinyl or laminate coatings are flame and water resistant but prone to fading.
Acrylic coated: Acrylic is not flame or water resistant, but has longer lasting color.
Awning installation
Some awnings can be installed on your own, but others require a professional. Installation costs will vary depending on what is involved in the installation process.
Protective housing: A protective cover can provide greater longevity of fabric and protect the motor of a motorized awning.
Electrical: Motorized awnings require some electrical installation, which means professional help may be necessary. Installing some motorized awnings may be as simple as plugging in the electrical cord.
Attachment: These awnings can be installed by the buyer and can be attached to a wall or to standing columns.
Ease of use
Awnings should be simple and easy to use without requiring much maintenance or manual labor.
Sensors: Sun, wind and rain sensors automatically retract the awning so you can store it more easily when it's not in use.
Durability: Awnings made from more durable materials will require less maintenance, but might come with a higher price tag.
Motorization: Motorized awnings are easier to retract but can require more repairs over time if there are any electrical issues. Motorized awnings also come with a hand crank in the event of a power outage.
Warranty
A warranty will cover various issues should any arise with your awning.
Time-based warranty: This will protect your awning against defects in materials and workmanship for a period of time, such as one year, five years or 10 years. It is standard in this industry to offer coverage for manufacturing or installation issues, but coverage for rain or weather damage is usually an additional cost.
All-weather warranty: This gives additional protection against severe damage from storms.
Types of awnings
Aluminum awnings
Aluminum awnings are sturdy and require very little maintenance. They are available in many colors and create cooler temperatures inside the home. They provide a lot of shade and are great at protecting furniture and window treatments. However, they are not as stylish or decorative as fabric awnings.
Fixed awnings
Fixed awnings are permanently attached to the wall and can't be adjusted. They are sturdy, long-lasting and offer full weather protection. The downside is that a fixed awning can't be stored or protected when not in use, which means it may incur more wear and tear over time.
Retractable lateral arm awnings
Retractable lateral arm awnings extend from a rooftop to provide shade over a patio or deck, making them the largest type of awning. They can either be hand-cranked or motorized and provide as little or as much coverage as you like. They offer maximum flexibility throughout the day and the different seasons and can be tucked away into holders during rainy or cold months.
Retractable side or drop arm awnings
Side or drop arm awnings are the most traditional types of awnings and provide the most sun protection, keeping your house cooler and your outdoor area more shaded. They can be found in both motorized and manual versions. These can also be stored in holders when not in use in order to preserve them over time.
Window awnings
Window awnings are smaller and protect the inside of a building from excess sunlight while adding an aesthetic touch. Some window awnings come with a cord that allows the owner to adjust the angle of the awning.
Awnings FAQ
How long do retractable awnings last?

The fabric shade of a retractable awning can last up to 10 years with proper maintenance, while the frame can last up to 20 years.

To extend the life of your retractable awning:

Clean it regularly.
Leave it retracted as much as possible.
Check for rust on the frame.
Keep plants from growing on it.
Don't leave it extended in harsh weather.
How much are retractable patio awnings?

Retractable patio awnings cost anywhere from a few hundred dollars to upward of $4,000. This is before adding the cost of installation, which ranges from $200 to $500. Your overall costs will vary based on the type of retractable patio awning you purchase and the company you select to install it.
Are retractable awnings worth it?

Retractable awnings are worth it if you are looking to:
How much wind can a retractable awning withstand?

Retractable awnings can withstand a great deal of wind — in some cases, as high as 75 mph or greater. Before buying an awning, ask the seller or manufacturer about the awning's wind resistance and how a warranty applies in case it's damaged by wind.

It's always recommended you retract an awning during windy conditions; some models even have sensors that detect wind and automatically close the awning if it's too windy outside.
Do awnings need planning permission?

Installing an awning on a residential property generally does not require a planning permit. If you plan to add an awning to a commercial property, your local government may require a permit.

If you live in a neighborhood with a homeowners association, you should clear your new awning with the HOA as well.
How much clearance is needed for a retractable awning?

While the clearance necessary for each retractable awning differs, all awnings should be at least 8 feet off the ground. If you are installing your awning above a sliding door, add about 10 to 12 inches of additional clearance.
Are retractable awnings waterproof?

Most retractable awnings are not 100% waterproof. Instead, many retractable awnings use fabrics that work to repel water, making them water-resistant.
How big can a retractable awning be?

Retractable awnings can be up to 40 feet wide with projections as long as 15 feet, but maximum dimensions will change depending on the company you choose to purchase your retractable awning from.
How far can a retractable awning extend?

Retractable awnings can extend anywhere from 5 to 15 feet. When determining how far your awning should extend, consider the length of your patio or yard, along with the furniture you intend to keep beneath it.

If your home has a scenic view, make sure the awning does not detract from it when extended, either.
Thanks for subscribing.
You have successfully subscribed to our newsletter! Enjoy reading our tips and recommendations.
Awning company reviews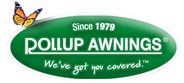 Rollup Awnings has been in business for over 30 years and has showrooms that customers can visit to see their products firsthand. They offer awning delivery and installation throughout Long Island.
Read more about Rollup Awnings

SunSetter Products is America's largest awning manufacturer. They specialize in retractable deck and patio awnings, freestanding awnings, window awnings and vertical solar shades. Customers can either buy awnings and install it themselves or have a free in-home consultation with SunSetter dealers who can install the awnings.
Free consultation: The free consultation gives customers a chance to work directly with a SunSetter dealer and get expert advice on awnings and installation.
Toll-free customer service line: Customer with issues or questions can receive support from their customer service hotline.
Wide selection: Being the largest manufacturer of deck and patio awnings in America, SunSetter has a wide selection of awnings, fabrics and colors to choose from.
Customer service: Because they are a national company with many different offices, their customer service varies depending on location.
Read 3173 Reviews

Sunesta has been providing North America with ready-to-install retractable awnings since 1981. They partner with component specialists and engineers around the world to continuously improve their technology and product.
Read more about Sunesta Retractable Awnings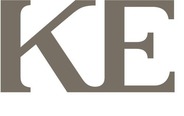 Known for being a leader in motorized and manually retractable awnings, KE USA has been in business since 1984. They are located in upstate New York and have a strong distribution network and a reliable reputation.
Read more about KE USA Inc.

Solarus is a custom manufacturer for awnings and retractable screens for homes and businesses. They are a relatively new business but have already won awards for their services.
Customer service: Solarus has excellent customer service standards and prides itself on resolving issues quickly.
Materials: Solarus uses exclusive materials, including Sunbrella's premium Marine-grade fabric. They also import hard carbon metals, which is imported, and tend to be stronger than others.
Quality: Awnings are made specifically to endure the extreme weather conditions in Florida, and have been thoroughly tested to ensure that they will operate smoothly.
Service: Solarus sells material across the country but only services select locations in Florida.
History: Solarus hasn't been operating very long so they don't have the history and reliability that older businesses offer.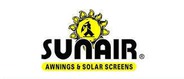 Sunair, which was originally founded in Sweden, has been in business since 1978 and makes retractable awnings and shade systems for homeowners and restaurants. They work with a large network of independent dealers in North America, the Caribbean and Mexico.
Delivery time: Sunair has a faster than average delivery time, even on customized items.
Fabric: Sunair offers hundreds of acrylic and mesh fabric colors to choose from.
Experience: The company has been in business over 35 years and is highly experienced in making and selling awnings.
Motors: The manual crank handle is much more popular as the motorized versions are prone to needing repairs.
Warranty: A 10-year warranty is offered but it doesn't cover damage by wind or rain.

Thompson Awning Company has been in business since 1920 and has a solid reputation. They are located in North Florida and specialize in both commercial and residential awnings.
Selection: Thompson Awnings offers the basic selections as well as additional options such as canopies, metal awnings and Bahama shutters.
Experience: The company has been in business since 1920 and has a proven track record of both client satisfaction and quality craftsmanship.
Graphics: Thompson Awnings also offers a graphics and signage service.
Location: Thompson Awning Company only services select locations in North Florida.
Fabrics: The company doesn't offer a huge fabric selection and sources all fabrics from one company.

As a family-owned business, RetractableAwnings.com® has been putting customer satisfaction first for 32 years. They believe quality retractable awnings means satisfied customers, and as the buyers, assemblers, distributors and installers, they are in a unique position to take care of quality assurance.
Read more about RetractableAwnings.com
Disclaimer
Information in this guide is general in nature and is intended for informational purposes only; it is not legal, health, investment or tax advice. ConsumerAffairs.com makes no representation as to the accuracy of the information provided and assumes no liability for any damages or loss arising from its use.
Comparing
×
You're signed up
We'll start sending you the news you need delivered straight to you. We value your privacy. Unsubscribe easily.