What is a certified pre-owned car?
They're used but "like new"



Written by

Edited by
Find Extended Auto Warranties near you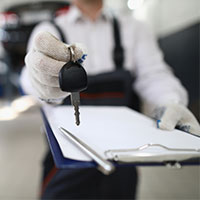 Let's say you're in the market for a car. If you buy a brand-new car with zero miles on it, you'll get a fresh vehicle backed by warranty coverage — but it'll cost you. If you buy a pre-owned car, you'll save thousands of dollars — but you may not know what you're getting in terms of quality and wear and tear.
That's where certified pre-owned (CPO) vehicles come in. The proverbial "Goldilocks' choice," CPO vehicles are used vehicles that have passed dealer inspection and include an extended warranty plus other benefits. In a broad sense, you can think of CPO as offering a third option between new and used.
The trick with certified used vehicles, however, is that every automaker does it a little differently. So, how do you know when it's worth it? And what exactly does CPO include? Read on to find out.
---
Key insights
Certified pre-owned (CPO) cars are used vehicles that a manufacturer inspects, brings back to a like-new standard and provides warranty coverage for.
CPO cars are typically priced around $1,000 more than conventional used cars and $5,000 less than new cars.
Every car manufacturer has its own qualifications, but in general, a pre-owned vehicle must be under six years old, have under 80,000 miles and pass a rigorous multipoint inspection by a trained technician to qualify as CPO.
Buying CPO is more likely to be worth it if you're buying a vehicle known for having below-average reliability; the price is within $1,000 of a noncertified counterpart; and you're getting at least one bonus year of bumper-to-bumper protection.
"Certified pre-owned" explained
Certified pre-owned programs let dealerships "certify" that some used vehicles meet standards set by their respective automakers. In a sense, this is a win-win for consumers and dealerships. Car buyers get extra peace of mind, and dealerships get to sell the vehicles at higher prices.
Qualifications vary by automaker, but CPO vehicles generally need to:
Be under six years old
Have fewer than 80,000 miles
Pass a rigorous inspection
In return for meeting these standards, a CPO vehicle usually comes with a short warranty, plus other benefits we'll discuss in more detail below.
Every automaker does CPO differently, so it's worth checking out exactly what a program entails before you buy.
Dealers tend to charge an extra 3.6% for CPOs than for regular pre-owned vehicles, according to iSeeCars. That means they averaged about $813 more, but your results will vary based on how much you're looking to spend on your car.
The price gap between CPO and new vehicles is much wider. Cars.com data shows that the average advertised price for a CPO car in the first quarter of 2022 was almost exactly $5,000 less than a brand-new equivalent.
So, buying certified pre-owned is way cheaper than buying new and a little more expensive than buying used, but what do you get for that upcharge?
What do CPO cars typically include?
When you buy CPO, you receive two main benefits:
An approximately 150-point quality inspection

In order to qualify as certified pre-owned, a used car must undergo a rigorous quality inspection conducted by a trained technician. There aren't always 150 points on the checklist (Hyundai does 173 points; Porsche does 111), but this inspection should include a detailed look at the engine, transmission, brakes, tires, interior, infotainment system and other components.

If you're curious, here's a BMW CPO inspection checklist from 2019. As you can tell, it's pretty rigorous, and it's not so easy for any old used vehicle to pass. As a result, CPO vehicles tend to be in better shape than your average used car, which adds to the allure of buying certified pre-owned.

A one-year extended warranty

The average CPO vehicle includes a one-year/12,000-mile bumper-to-bumper warranty that either starts on the date you purchase the car or tacks onto the end of whatever factory warranty you have remaining.

For example, if you buy a CPO Chevy that's two years old with 20,000 miles on the odometer, you technically still have one year/16,000 miles left of the factory three-year/36,000-mile bumper-to-bumper warranty all Chevrolets come with. But because certified pre-owned Chevrolets come with an additional one-year/12,000-mile CPO warranty, your remaining protection gets extended to two years/28,000 miles total from the date of purchase.

Other benefits

You'll also typically get an array of other perks with your CPO vehicle, including but not limited to:

24/7 roadside assistance for the duration of your warranty, including flat-tire assistance, lockout services, battery jump-starts, fuel deliveries and emergency towing to the nearest dealership
Trip interruption insurance, which helps to cover the cost of meals and lodging if your vehicle breaks down more than 100 miles from home
Rental car reimbursements of between $35 and $50 per day to help cover the cost of a rental car if your dealer doesn't have a loaner while your vehicle is getting repaired
Special CPO financing rates, such as Volvo offering qualified borrowers rates as low as 5.99% on CPO cars at the time of publishing
A complimentary Carfax report, which shows a detailed record of your vehicle's location, accident history and maintenance records
Various trial memberships, such as three months of SiriusXM or one year of Starlink
» SEE WHICH BRANDS HAVE THE TOP PROGRAMS: Best CPO warranties
Pros and cons of buying certified pre-owned
Purchasing a certified pre-owned car is the right choice for many buyers, but that doesn't make it a perfect proposition. We've broken down the key advantages — and hidden drawbacks — of buying CPO below.
Pros of buying certified pre-owned
Here are the main benefits of buying CPO versus new or used:
It's cheaper than buying new: Buying a CPO car is almost always cheaper than buying a new one, yet you're still getting like-new quality in many cases.
CPO cars are typically of a higher quality than regular used cars: In order to be certified, used vehicles must pass a rigorous quality inspection. That means you can reasonably expect them to be of higher quality than the average used car.
CPO cars come with extra warranty coverage: For added peace of mind, the average CPO warranty adds one year/12,000 miles of bumper-to-bumper protection to whatever factory warranty you have left.
You get valuable benefits: Roadside assistance, rental car reimbursements and trip/travel protection can collectively save you hundreds of dollars after a breakdown.
You can access special financing rates: Some CPO programs offer low APRs for qualified buyers.
Cons of buying certified pre-owned
And here are the main drawbacks of buying CPO:
It's more expensive than buying used: Certification doesn't come free, and while the average upcharge is around $1,000, some dealers charge $2,000 or even $3,000 more after a vehicle is certified. Luxury automakers, like BMW, Volvo and Mercedes-Benz, tend to charge the highest percentage premium for certification, according to iSeeCars.
Selection is limited: Not every used car is certifiable. According to our analysis of CPO-versus-used inventory on Edmunds, only 1% to 10% of all pre-owned cars are certified pre-owned.
Some CPO warranties are lacking: Audi and Mercedes' CPO warranties only cover roughly 200 to 300 parts, and Jeep offers bumper-to-bumper protection for just three months/3,000 miles. For context, some bumper-to-bumper plans cover 5,000+ parts, and some CPO warranties last up to two years.
You'll likely get worse financing rates than when you buy new: CPO cars qualify as "used" with lenders, so you'll pay a higher interest rate than you would when financing a brand-new car.
CPO cars can still be lemons: "Certified" doesn't necessarily mean the car is bulletproof. Dealer technicians make human errors, and as a result, CPO vehicles can still have their share of issues after purchase.
CPO pros
It's cheaper than buying new.
You get a quality inspection.
CPO vehicles come with extra warranties.
They also come with other benefits, like roadside assistance.
Special financing rates may be available.
CPO cons
It's more expensive than buying used.
No inspection is bulletproof.
Those warranties may be lacking.
You get a limited selection versus buying used.
Loan rates are usually worse than for new vehicles.
Are CPO vehicles more reliable?
We briefly mentioned this above, but even though CPO vehicles have to pass an inspection, dealer service technicians can still make human mistakes.
"All of the certified vehicles may be inspected by a professional technician but most are not as thoroughly inspected as they should be," Eric Hamilton of Whyte Knyte Inspections told us. "Whyte Knyte Inspection Services has inspected CPO vehicles in the past and none have passed with 100%."
Plus, being certified doesn't necessarily mean a vehicle was built well in the first place, and your CPO warranty won't cover you forever. That's why it's a good idea to consider a brand's overall reliability rankings when researching new vehicles.
"Please tell me why a CPO vehicle still well under original warranty according to miles would need a new transmission — even if you'd had it a year." wrote D, a ConsumerAffairs reader from Georgia, of their experience with Mercedes-Benz.
In short, buying CPO may increase your chances of getting a vehicle in good condition, but a pre-owned vehicle from an automaker known for reliability may very well outlast a CPO vehicle from a less reliable brand.
Is a certified pre-owned car right for you?
In a broad sense, buying certified pre-owned is worth considering if you want most of the benefits of buying new combined with the savings of buying used.
To get a little more specific, paying extra for a CPO vehicle tends to make more sense when:
The vehicle you're considering has below-average expected reliability.
The CPO warranty offers at least one year/12,000 miles of added bumper-to-bumper protection.
The dealer is charging $1,000 or less extra to buy CPO instead of buying used without certification.
That said, the value of certification often comes down to the quality and value of that specific automaker's CPO program, and a certified vehicle that fails the above test can still be a good choice if it matches the other criteria you're looking for. (There's no reason to be scared off by a bad certification if you weren't set on a certified vehicle anyway.)
Alternatives to buying CPO
If you're set on buying certified pre-owned, though, chances are you're mostly interested in the peace of mind you get from the quality assurance and extra warranty coverage. If that's the case, there are alternatives to CPO vehicles that are worth considering.
For example, if you want the primary benefits of buying CPO without buying straight from a dealer, you might want to try this:
Schedule a pre-purchase inspection: If you're mostly interested in avoiding a lemon, you can always "certify" a car yourself by hiring an independent mechanic to conduct their own inspection, provide a detailed report and discuss their findings with you. This common service is called a pre-purchase inspection and costs about $200.
Purchase an extended auto warranty: While most CPO warranties expire after just 12,000 miles, extended auto warranties can last until your vehicle hits 300,000 miles. Check out our picks for the best extended car warranty companies to get a head start on finding the right warranty provider.
Did you find this article helpful?
|
You're signed up
We'll start sending you the news you need delivered straight to you. We value your privacy. Unsubscribe easily.