Toyota certified pre-owned warranty
A strong warranty at a good price — with a hidden caveat



Written by

Edited by
Find Extended Auto Warranties near you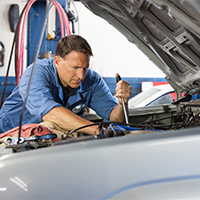 Toyotas are known worldwide for their longevity and build quality, but even the most reliable cars rolling off of Toyota's production line can have issues.
That's why you might consider purchasing a certified pre-owned (CPO) Toyota. Unlike their used counterparts, CPO Toyotas must pass a quality inspection and come with extra warranty protection. But how does Toyota's CPO program stack up? Is it as robust and trustworthy as the vehicles themselves? And is it worth paying extra for CPO status?
---
Key insights
CPO Toyotas come with an additional one-year/12,000-mile bumper-to-bumper warranty and a powertrain warranty that effectively extends your factory powertrain coverage by one year or 40,000 miles.
Toyota's CPO bumper-to-bumper warranty can overlap with your factory warranty, so it's best to purchase a CPO Toyota with an already-expired factory warranty.
As reliable as Toyotas are, paying extra for CPO status could be worth it if you find a dealer willing to sell you one for less than 4% more than an equivalent noncertified vehicle.
If you want long-term warranty coverage, consider an extended warranty. Just be sure to shop around for a good deal.
Toyota's certified pre-owned program explained
Toyota calls its CPO program Toyota Certified Used Vehicles — or TCUV for short.
In order to qualify as a TCUV, a used Toyota must be newer than six model years old and have fewer than 85,000 miles on its odometer. The vehicle must also pass a 160-point Quality Assurance Inspection at the dealership, which includes a thorough look at the engine, transmission, drivetrain, brakes and electronics.
When you purchase a CPO Toyota, you'll get a one-year/12,000-mile limited comprehensive warranty, a seven-year/100,000-mile limited powertrain warranty (measured from when the vehicle was new) and a slew of extra benefits, including roadside assistance and rental car reimbursements.
How good is Toyota's CPO warranty?
Toyota's CPO warranty is generally solid, with a catch.
The one-year/12,000-mile Comprehensive Limited Warranty on TCUVs offers the same bumper-to-bumper protection as Toyota's factory warranty, meaning it covers almost everything except parts designed to wear down over time, like windshield wipers and tires.
So, if you buy a CPO Toyota with 85,000 miles on it, you'll have bumper-to-bumper warranty protection for a full year or until the odometer hits 97,000 miles. That's a nice benefit, considering that extended warranties for high-mileage vehicles can be more expensive.
You'll also get your Toyota's existing six-year/60,000-mile factory powertrain warranty extended to seven years/100,000 miles. Just be aware that, as we mentioned before, this warranty term is measured from when your vehicle was brand-new, not when you bought it. That means you're only getting one more year or 40,000 more miles of powertrain coverage.
The catch
There's one odd string attached to Toyota's CPO warranty that held it back from our best CPO warranty ranking: the start date.
For context, most CPO bumper-to-bumper warranties either start on the date you purchase the vehicle or the date your car's existing factory warranty expires. Ford, for example, will either start its one-year/12,000-mile Gold Certified CPO warranty on the date you purchase the car or add one year/12,000 miles to your remaining factory warranty, giving you a total of four years or 48,000 miles of coverage.
But Toyota doesn't do this. Instead, your CPO warranty always starts on the date you purchase the vehicle — even if it overlaps with your factory warranty.
"The CPO warranty runs concurrently with the manufacturer warranty," a rep with World Toyota told ConsumerAffairs. "So if you buy a CPO Corolla with 5,000 miles, the CPO warranty ends at mile 17,000."
And since the two warranties are virtually identical, you're not getting any benefit from that overlap. "They're the same warranty, so there's no advantage to having the CPO warranty on top of the manufacturer's warranty," the same rep told us.
So, to maximize the value of your CPO Toyota warranty, it's best to buy a certified Toyota without any factory bumper-to-bumper coverage remaining. That means you want to look for a vehicle more than three years old or with over 36,000 miles.
How does Toyota's CPO warranty compare?
Toyota's CPO program matches most of the competition beat for beat, but no other brand we've seen — not even Lexus — has the same overlapping warranty issue. So, if you're looking for a CPO vehicle that's within two model years old, it might be best to look elsewhere.
Make

Additional CPO warranty coverage

Toyota
1-year/12,000-mile bumper-to-bumper warranty*;
7-year/100,000-mile powertrain warranty***
Honda
1-year/12,000-mile bumper-to-bumper warranty**;
7-year/100,000-mile powertrain warranty*** on HondaTrue Certified vehicles
Ford
1-year/12,000-mile bumper-to-bumper warranty**;
7-year/100,000-mile powertrain warranty*** on Gold Certified vehicles
Chevrolet
1-year/12,000-mile bumper-to-bumper warranty**;
6-year/100,000-mile powertrain warranty***
Lexus
Extends remaining factory bumper-to-bumper warranty to 6 years/unlimited miles*** or adds a 2-year/unlimited-mile warranty**
*Measured from when you bought the vehicle **Measured from when you bought the vehicle or the end of your factory bumper-to-bumper warranty, whichever comes later ***Measured from when your vehicle was new
Other CPO Toyota benefits
Toyota offers some solid additional benefits with its CPO program beyond warranty coverage, including:
A $0 deductible on all warranty repairs, which not all CPO programs offer
Travel protection to cover meals and lodging if your Toyota breaks down more than 150 miles from home (up to $100 per night for up to five nights)
Substitute transportation reimbursements, covering up to $50 per day for up to five days, if you need a rental car while your Toyota is undergoing warranty repairs
24/7 roadside assistance for the duration of your CPO powertrain warranty (seven years/100,000 miles from new), including towing, flat tire changes, dead battery jump-starts, lockout service and emergency fuel delivery
(One interesting detail is that Toyota will tow your CPO vehicle to the nearest dealer after a breakdown or a collision. Most warranties only tow for breakdowns.)
Between the $0 deductible, generous reimbursements and lengthy roadside assistance, Toyota's CPO benefits are well above average.
Is a CPO Toyota worth it?
Paying extra for a CPO Toyota is possibly worth it as long as dealers aren't asking more than average, and we'll explain our reasoning.
In general, paying extra for CPO status is more likely to be worth it if:
The vehicle you're considering has poor reliability ratings.
The brand's CPO warranty offers bumper-to-bumper protection for at least one year/12,000 miles.
The dealership is charging less than $1,000 more for your CPO car than an equivalent used vehicle.
Based on what we've established so far, Toyota's CPO program checks two out of those three boxes. But are they too reliable to justify paying extra for an inspection, warranty protection and some benefits?
How reliable are Toyotas?
It probably comes as no surprise that Toyota still ranks high for dependability.
For 2023, J.D. Power ranked Toyota seventh out of 32 brands overall, with just 168 problems per 100 vehicles after three years. Consumer Reports, which pulls from a wider range of model years, ranked the brand first out of 24 automakers in 2022, leaping over its own luxury sibling Lexus.
When things do go wrong, Toyotas are generally cheap to get back on the road. RepairPal, a site that estimates car repair costs, claims that Toyotas cost just $441 in maintenance and unscheduled repairs each year, well below the $652-per-year industry average. Toyotas also make unplanned trips to the mechanic 25% less often.
Reliable vehicles don't break down often, which makes warranty coverage for them less valuable.
Reviews of Toyota on our site reflect mixed experiences with its dealers but an overall positive experience with its vehicles.
"Reliable, is easy to drive, includes updated features and safety features. Adequate space. I have been Driving Toyota Corolla for many years and have been very satisfied. My next car will be a Corolla," reported Susan, a ConsumerAffairs reviewer from Arizona.
"Everything is great until you run into any sort of a problem," wrote Anthony, a ConsumerAffairs reviewer from North Carolina. "If you need the dealership to fix a mistake on their end or on Toyota's end, GOOD LUCK!!!"
Difficulty with dealerships aside, Toyota's record for reliability likely makes a CPO warranty less valuable, but before we make our final call, let's look at what they cost.
How much extra does a certified pre-owned Toyota cost?
As mentioned earlier, a study by iSeeCars estimated that Toyota dealers charged, on average, 3.4% more for CPO vehicles than pre-owned ones, which usually meant an upcharge of around $635. We compared prices for noncertified used Toyotas vs. CPO Toyotas on Edmunds and confirmed that while a 3% upcharge certainly seemed average, some dealers charged more than others — so be sure to shop around for the best price.
In the end, ~$650 isn't much to pay for a quality inspection and an extra year of bumper-to-bumper coverage, powertrain coverage and roadside assistance, and these benefits become much more valuable if you purchase an older CPO Toyota near the six-year/85,000-mile TCUV limit, since repairs will be more likely as the car ages.
How to get the most out of Toyota's CPO warranties
If you're interested in a CPO Toyota, here's how you can maximize its value:
Buy a vehicle outside of its three-year/36,000-miles factory warranty: If you buy a CPO Toyota with a good chunk of factory bumper-to-bumper warranty left, your CPO warranty won't do you much good since the two will overlap.
Better yet, buy one near the six-year/85,000-mile limit for TCUVs: Not only will an older CPO Toyota be much cheaper upfront – the roadside assistance and warranty coverage will generally be more valuable at higher mileages.
Remember your benefits and how to use them: If you experience a breakdown years from now, it can be easy to forget that you still have roadside benefits through your CPO warranty. That's why it's a good idea to log the Toyota Roadside Assistance number in your phone and remember to bring your rental car receipts to your Toyota dealer's service manager for reimbursement.
Do you need an extended warranty for your Toyota?
If you plan to own your Toyota beyond the 100,000-mile mark (like many owners do), keep in mind that all factory and CPO warranties will have expired by then. So, if you'd like to protect yourself from repair bills long-term, you might consider an extended warranty.
(Toyota's official Extra Care extended warranties last up to eight years or 150,000 miles, whichever comes first. However, if you're looking for coverage for the really long haul, be aware that some third-party warranty companies offer coverage for up to 300,000 miles.)
Our criteria for whether an extended warranty is worth it are fairly similar to our criteria for whether CPO status is worth it, and in Toyota's case, the answer is the same — because these vehicles are so reliable, you'll need to get a good deal on coverage to get your money's worth.
When we got price quotes for Extra Care plans, costs ranged from $2,362 to $2,800 for our sample Camry, which was potentially worth it for the added peace of mind and protection against catastrophic repairs. There's also a good chance that you'll be able to score a deal if you shop around and get quotes from multiple warranty companies, meaning you may even come out ahead financially if enough goes wrong on your vehicle.
Bottom line
Toyota's CPO program offers generous warranty coverage and benefits for a generally small upcharge. That means buying a certified Toyota could well be worth it if you can find a CPO vehicle priced within 3% or so of a noncertified version.
Just keep in mind that your CPO warranty coverage starts right away, so it's best to look for a CPO Toyota that's past its three-year/36,000-mile factory warranty if you want to get the most bang for your buck.
Label
Authorized Partner
Company name
Logo
Contact
Summary
Learn More

Label
Authorized Partner
Company name
Logo
Contact
Summary
Learn More
---
Article sources

ConsumerAffairs writers primarily rely on government data, industry experts and original research from other reputable publications to inform their work. Specific sources for this article include:
Did you find this article helpful?
|
You're signed up
We'll start sending you the news you need delivered straight to you. We value your privacy. Unsubscribe easily.