Porsche certified pre-owned warranty
It may be a good idea on high-performance Porsches with over 50,000 miles



Written by

Edited by
Find Extended Auto Warranties near you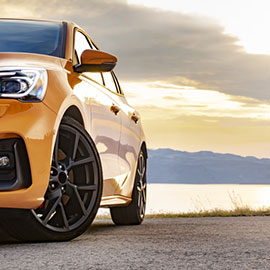 There's an old saying in the Porsche community that "if you can't afford a new one, you can't afford a used one."
That's not necessarily a dig against Porsche's overall reliability, but rather a reminder that these German performance cars generally have a high cost of ownership. Porsche repairs aren't cheap, but judging by the sea of classic 911s still on the road, many people think they're worth the expense.
Would purchasing a certified pre-owned (CPO) Porsche help reduce your ownership costs enough to justify the upcharge that dealers add to these vehicles? Read on to find out. We'll break down what CPO Porsches include, what dealers are charging for them and whether they're worth it overall.
---
Key insights
In order to qualify for certification, a pre-owned Porsche must be under 13 years old, have fewer than 124,000 miles and pass a 111-point inspection by a certified Porsche technician.
Porsche provides a two-year/unlimited-mile bumper-to-bumper warranty with its CPO vehicles — coverage Audi, BMW and Mercedes can't match.
Porsche dealers tend to charge around $2,500 to $3,500 extra for CPO vehicles, which may be worth it if you're buying a 911 or a Taycan with higher miles.
If you're shopping for an entry-level model, like a 718 Cayman or a Macan, you're probably OK getting a $200 pre-purchase inspection and leaning on the four-year/50,000-mile factory warranty for now, though.
Porsche's certified pre-owned program explained
Porsche calls its CPO program the Porsche Approved Certified Pre-Owned Program — or Porsche Approved for short.
In order to qualify as Porsche Approved, a pre-owned Porsche must be from within 13 previous model years (e.g., a 2010 or newer in 2023) and have fewer than 124,000 miles. The vehicle must also pass a 111-point inspection by a certified Porsche tech, who will ensure that only genuine Porsche parts have been installed during any previous repairs or maintenance.
All Porsche Approved vehicles come with an impressive two-year/unlimited-mile bumper-to-bumper warranty covering almost every part of your vehicle. You'll also get 24-hour roadside assistance with trip interruption benefits, a vehicle history report and more.
Before discussing those other benefits in detail, let's pick apart the warranty and see how it stacks up to Porsche's luxury performance rivals.
» LEARN: What does a car warranty cover?
How good is Porsche's CPO warranty?
Let's not beat around the bush. Porsche's CPO warranty is excellent.
For context, all new Porsches come with a four-year/50,000-mile bumper-to-bumper factory warranty that automatically transfers when the vehicle is resold.
If you purchase a Porsche Approved vehicle, the two-year/unlimited-mile CPO warranty either begins on the date you purchase the car or the date the original four-year/50,000-mile factory warranty expires, whichever comes later.
"The CPO warranty kicks in when your factory warranty expires," a rep with Beverly Hills Porsche told us.
As for coverage, the CPO warranty covers virtually everything the factory warranty does, with minor exceptions. "It's pretty much the same. There are some wearables that aren't covered — like rubber and stitching — but they're both comprehensive," said the Beverly Hills Porsche rep.
While it's a bit of a letdown that Porsche doesn't include a longer CPO powertrain warranty, especially given the cost of repairing those parts in mid- and rear-engined cars, two years of bumper-to-bumper protection is still a standout, especially among German automakers.
How does Porsche's CPO warranty compare?
Porsche's CPO warranty blows away most of the competition. The only two brands that come close are Lexus and Genesis, and other German luxury brands fall far behind. BMW offers half of the bumper-to-bumper term Porsche does, while Audi and Mercedes don't truly offer any.
This means if you want a certified pre-owned German sports car with a long warranty, Porsche is likely your best option.
| Make | Additional CPO warranty coverage |
| --- | --- |
| Porsche | 2 years of bumper-to-bumper coverage |
| Audi | 1 year or 20,000 miles of stated component coverage |
| BMW | 1 year/unlimited miles of bumper-to-bumper coverage |
| Mercedes-Benz | 1 year of stated component coverage |
| Lexus | 2 years of bumper-to-bumper coverage |
| Genesis | 1 year or 15,000 miles of bumper-to-bumper coverage; 4 years or 40,000 miles of powertrain coverage |
» MORE: Best CPO warranties
CPO Porsche benefits
In addition to a superb warranty, Porsche Approved vehicles also come with the following benefits:
24/7 roadside assistance for the duration of the CPO warranty, including flat-tire assistance, lockout services, extrication/winch services, emergency fuel deliveries and out-of-charge services for electric vehicle (EV) owners
Trip interruption benefits of up to $250 per day for up to three days to help cover the cost of meals, lodging, transportation and/or a rental car if your Porsche breaks down 100-plus miles from home and the Porsche dealership is unable to repair the vehicle on the same day
One notable absence is rental car assistance for breakdowns that occur within 100 miles of home. Your Porsche dealer may be generous with a loaner Macan, but neither a loaner nor rental car reimbursements are guaranteed in your CPO benefits.
With that in mind, these are average benefits for a CPO program.
Is a CPO Porsche worth it?
A CPO Porsche can be worth intentionally shopping for, but it largely depends on the model, age and mileage of the vehicle in question. We'll break down why so you can decide for yourself when the time comes.
In general, paying extra for a certified pre-owned vehicle is more likely to be worth it if:
The model you're considering has below-average reliability.
The brand's CPO warranty offers at least one year/12,000 miles of added bumper-to-bumper protection.
The dealership isn't asking more than 3% more (usually about $1,000 more) for a certified vehicle than for a conventional used counterpart.
We've already determined that Porsche offers double the standard warranty term, so let's see how it does with the other two points.
How reliable are Porsches?
Porsches tend to rank below average for reliability.
In its 2023 U.S. Vehicle Dependability Study, J.D. Power ranked Porsche No. 20 out of 32 brands. Consumer Reports gave all seven 2023 Porsche models a predicted reliability rating of 3.0 out of 5.0 — with the exception of the Taycan, which scored a 2.0.
RepairPal estimates that Porsche vehicles cost $1,192 in annual maintenance and unplanned repair costs. That's considerably higher than the industry average of $652 per year. RepairPal's data also shows that Porsches make unplanned trips to the mechanic 0.8 times annually — twice the average across brands. 21% of those repairs are also considered severe, costing $2,000-plus. As a result, the site ranked Porsche No. 32 out of 32 brands for reliability.
Such costly and frequent repairs suggest that bumper-to-bumper warranty protection could save you hundreds, if not thousands, of dollars per year. So, what are dealers charging for an extra two years of bumper-to-bumper protection?
How much does a certified pre-owned Porsche cost?
Compared with conventional used Porsches, CPO Porsches tend to cost around 3.6% to 5.3% more, according to iSeeCars. This amounts to an out-the-door cost difference of around $2,300 for a Macan to $3,500 for a 911.
Depending on what kind of Porsche buyer you are, that cost may still be worth it, though.
What you get for your extra $3,000 or so over the cost of a noncertified Porsche:

A 111-point inspection by a Porsche technician
Two extra years of bumper-to-bumper warranty protection
Two extra years of roadside assistance with trip interruption benefits
For example, if you're investing $75,000-plus in a used 911, you'll probably want the extra peace of mind that the vehicle has passed Porsche's inspection and isn't hiding any cheap, non-Porsche parts. Or, if you're buying a used Taycan with a low predicted reliability rating, you might like the added peace of mind of having two extra years of bumper-to-bumper protection plus roadside assistance.
Conversely, if you're buying a more affordable Porsche, like a base Macan with low mileage, you may be OK buying noncertified. Just be sure to get a pre-purchase inspection.
How to get the most out of Porsche's CPO warranty
If you do end up purchasing a Porsche Approved vehicle, here are three quick tips for maximizing your benefits:
Log your roadside assistance number: You probably don't want to pay a less-qualified driver $100-plus to tow your Taycan when Porsche will do it for free, so go ahead and log Porsche's roadside assistance line in your contacts ASAP.
Preauthorize your travel expenses and keep your receipts: Porsche requires prior authorization on all meals/lodging/rental car expenses, so be sure to call the company right away if your vehicle needs warranty repair work 100+ miles from home.
Ask for a loaner in advance: Since your Porsche Approved benefits technically don't include any sort of rental car assistance for breakdowns within 100 miles of home, you might want to call dealers in advance to see who has a loaner before you bring your car in for warranty work.
You might also consider a Porsche extended warranty, so let's touch on that before wrapping up.
Do you need an extended warranty for your Porsche?
What's the best way to protect yourself against pricey Porsche repairs once your CPO warranty runs out? An extended warranty? Or something else?
In our full breakdown of Porsche extended warranties (aka Porsche Vehicle Service Plans), we determined that, although robust, these plans were probably too expensive to consider. Our quotes for various models averaged about $2,500 per year of coverage, which is double the expected cost of ownership.
» READ THE FULL ARTICLE: Porsche extended warranty: cost, coverage and plans
That said, we did get a decent rate on a "CPO+1" warranty, which adds one more year to your two-year/unlimited-mile Porsche Approved warranty. Porsche quoted us $2,100 for a plan on a CPO Macan S, which might be worth considering for added peace of mind.
There's also a bevy of third-party companies to consider, although not all of them offer plans for Porsche given the high cost of repairs. Still, you probably want to try getting some quotes from our top-rated third-party warranty companies to make sure you're getting a good deal.
Label
Authorized Partner
Company name
Logo
Contact
Summary
Learn More

Label
Authorized Partner
Company name
Logo
Contact
Summary
Learn More
---
Article sources

ConsumerAffairs writers primarily rely on government data, industry experts and original research from other reputable publications to inform their work. Specific sources for this article include:
Did you find this article helpful?
|
You're signed up
We'll start sending you the news you need delivered straight to you. We value your privacy. Unsubscribe easily.