Jeep certified pre-owned warranty
A disappointingly short warranty with a hidden upside



Written by

Edited by
Find Extended Auto Warranties near you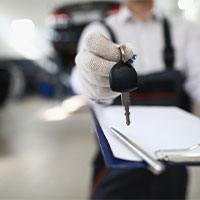 Brand new Jeeps are expensive these days, and buying pre-owned can be risky — who knows what off-road shenanigans the previous owner may have attempted? That's why certified pre-owned (CPO) Jeeps have a lot of appeal. They're cheaper than buying new, but they've also been inspected by the dealer, so you know the undercarriage hasn't had direct contact with a boulder.
But how does Jeep's CPO program stack up to what other manufacturers offer? And is it your best option for protecting yourself from repair bills?
Read on to find out. 
---
Key insights
Jeep's CPO program is called Jeep Certified Pre-owned Vehicles (CPOV).
Jeep CPOVs must be under five years old, have fewer than 75,000 miles and pass a 125-point dealer inspection.
They also come with a three-month/3,000-mile Maximum Care (bumper-to-bumper) warranty plus an extension of the vehicle's existing powertrain warranty.
That bumper-to-bumper warranty is much shorter than what other brands offer, but one hidden benefit of Jeep CPOVs is that they get steep discounts (up to 30%) on Mopar Maximum Care extended warranties.
Jeep's certified pre-owned program explained
Jeep matter-of-factly calls its CPO program the Jeep Certified Pre-Owned Vehicle program — or Jeep CPOV for short.
In order to qualify as a Jeep CPOV, a pre-owned Jeep must be within five model years of the current year (e.g., a 2018 in 2023) and have fewer than 75,000 miles on its odometer. The vehicle must also pass a 125-point quality inspection at a dealership, which includes a thorough check of its undercarriage, engine and transmission.
Warranty limits are usually measured in terms of years and miles. The warranty ends whenever either limit is passed.
To show the confidence Jeep has in the vehicles that make it through this process, Jeep CPOVs come with a three-month/3,000-mile Maximum Care warranty, a seven-year/100,000-mile powertrain warranty, and various additional perks and benefits, like roadside assistance and a SiriusXM trial. (Both warranties have a $100 deductible.)
The Maximum Care warranty is like a direct extension of your factory basic warranty, covering over 5,000 parts and effectively giving you bumper-to-bumper protection. The three-month/3,000-mile term is measured from the date your three-year/36,000-mile factory basic warranty expires; if it's already expired, then your new CPO warranty starts the day you purchase your Jeep CPOV.
The longer powertrain warranty, meanwhile, only covers a few dozen parts inside your engine, transmission and drive axle, and it has a quirk you probably want to be aware of. Unlike the Maximum Care warranty, the term for the powertrain warranty is measured from the date your Jeep was sold new. Because all Jeeps come with a five-year/60,000-mile powertrain warranty from the factory, the CPOV powertrain warranty really only adds two years/40,000 miles of coverage.
Note: In 2022, Jeep's parent brand, Stellantis, began offering CPO Go, a certification program for Jeeps, Chryslers, Dodges, Rams, Fiats and Alfa Romeos between six and 10 model years old and with 75,000 to 120,000 miles. CPO Go vehicles must pass the same 125-point inspection as Jeep CPOVs but do not receive the same seven-year/100,000-mile powertrain warranty. For this article, we'll be focusing on Jeep CPOVs, since they include the better warranty and benefits.
It's also worth mentioning that your CPO warranty won't necessarily protect you from all issues. That's because warranties traditionally only apply to manufacturing defects. So, if your Jeep's previous owner damaged the vehicle in an off-road stunt, your warranty probably won't pay to fix it.
This kind of damage should usually be caught in a CPO inspection, but there's less incentive for dealerships to notice problems that they aren't on the hook to fix. (That's why it's a good idea to get your own inspection, even on a CPO vehicle.)
» LEARN: What does a car warranty cover?
CPO Jeep benefits
In addition to the extra warranty protection, Jeep CPOVs come with 24/7 roadside assistance, a three-month SiriusXM trial and a free Carfax Vehicle History Report. Jeep roadside assistance includes flat-tire services, gas delivery, battery jumping, lockout services and towing, but the benefit is limited to $100 per occurrence.
All in all, these are pretty standard benefits for a CPO vehicle.
How good are Jeep's CPO warranties?
All things considered, Jeep's CPOV warranties aren't very strong. Maximum Care may be one of the most robust warranties in the industry, but three months is an extremely slim window for anything to go wrong. And, although an additional two years/40,000 miles of powertrain coverage is nice, powertrain warranties only cover about 1% of the parts on your car. (Granted, they're usually the most critical parts and the most expensive to replace.)
How do Jeep's CPO warranties compare?
With just three months of added bumper-to-bumper coverage, Jeep's CPO warranty falls short of most competitors, who generally offer a full year or more.
| Make | Additional CPO warranty coverage |
| --- | --- |
| Jeep | 3-month/3,000-mile bumper-to-bumper warranty*; 7-year/100,000-mile powertrain warranty** |
| Chevrolet | 1-year/12,000-mile bumper-to-bumper warranty*; 6-year/100,000-mile powertrain warranty** |
| Lexus | Extends remaining factory warranty to 6 years/unlimited miles** or adds a 2-year/unlimited-mile warranty* |
*Measured from when you bought the vehicle or the end of your factory bumper-to-bumper warranty; **Measured from when your vehicle was new
CPO vs. extended warranties for Jeeps
If you want longer warranty coverage than what Jeep offers on its CPOVs, you should consider an extended warranty. These plans have their pros and cons, but they can offer the same level of coverage as your original warranty long after it runs out.
When we did a full breakdown of Jeep's official extended warranties, we found that an extended warranty often makes sense for Jeep owners, given the brand's mixed reputation for reliability and the relative affordability of warranties for these vehicles.
Greg, a ConsumerAffairs reviewer from Washington, bought a certified pre-owned Jeep that cost $2,000 in repair bills over the next three years, telling us: "I just can't get past the fact when I took it in for the problems the sales tech asked if we bought the extended warranty for the Jeep, I said, 'No I figured a $34,000 suv would have decent reliability.' He looked up and smiled 'Oh you should've.'"
A rep with Zeigler Auto Group — a dealership chain that sells Jeep's official extended warranties online — also told us that certified Jeeps tend to get a 20% to 30% discount on Mopar Maximum Care extended warranties. (Jeep's official extended warranties are provided by Mopar, which offers vehicle protection plans for all Stellantis brands.)
The reasons the Zeigler rep listed made perfect sense: Jeep CPOVs have been inspected and are already partially protected by the seven-year/100,000-mile powertrain warranty, so the risk of them breaking down is lower. We also spoke with a local Jeep dealer who confirmed that the Maximum Care extended warranty covers the same parts as the Maximum Care CPO warranty.
If you're interested in getting an extended warranty for your Jeep, it's usually worth shopping around, though. Because extended warranty companies price their plans to match your vehicle, there's a lot of variation in the industry, so you may be able to catch a deal by comparison shopping.
» FIND WARRANTY COMPANIES: Best Extended Car Warranty Companies
Label
Authorized Partner
Company name
Logo
Contact
Summary
Learn More

Label
Authorized Partner
Company name
Logo
Contact
Summary
Learn More
Bottom line
Jeep Certified Pre-Owned Vehicles (CPOVs) come with solid benefits and a robust bumper-to-bumper warranty. It's just a shame that the latter is so short, lasting just three months or 3,000 miles.
That said, if you can find a Jeep dealer willing to sell you a Jeep CPOV for no more than $500 extra, it might be worth it — especially considering the hidden discount you might get on a Maximum Care extended warranty.
Did you find this article helpful?
|
You're signed up
We'll start sending you the news you need delivered straight to you. We value your privacy. Unsubscribe easily.