Consumer Complaints and Reviews

Ordered all in one HP desktop. Early Monday (Nov 28), got a confirmation and delivery date for Tuesday Nov 29. On Tuesday I received an email saying the item is out of stock and that I can go back and reorder once item is in stock. This was a cyber Monday deal, no back-order as an option. I had already promised my son the PC is coming the next day. :( Called customer service, spoke to one employee from overseas, asked to talk to someone in the US, hoping to get the same price as the one I got on cyber Monday. The person from Kentucky apologized profusely and said that I would receive a call from someone in two business days.
Two days go by no call. Called customer service, explained the dilemma. It sounded like she and her manager did not really care what the issue was, and rather had a canned response, "we are very sorry, and if you still want the same item you will have to pay regular price". Not sure which universe this company operates in but they should honor their obligation. They made a promise and once the inventory was cleared left me holding the bag. In any store you go if you have a coupon and the item is not available they will honor it once the item is available. That goes without saying.

I purchased a laptop on Cyber Monday and was able to check out and got a confirmation. Two days later after all sales were over they cancelled my order and said it was out of stock. The same laptop was still available online to purchase that day for $250 dollars more and they would not honor their commitment in my sale. I asked for a supervisor and basically was told "you are never guaranteed a purchase online from Staples." My advice is never shop an important purchase from them and I know I will take my business elsewhere from now on. I am now at a hardship to find a decently priced laptop for my 75 year old mother for Christmas.

I researched many Cyber Monday laptop deals at various websites and selected an offer at Staples. My order was processed and an email confirmation was sent even showing estimated delivery. Then four hours later they sent an email which I saw several hours after that saying, "Sorry but we are cancelling your order. We are out of stock." So of course by this time any other Cyber Monday offer I could have pursued is also sold out. I spoke with customer service, a supervisor from customer service and finally the office of the president. They all "understood" my frustration and apologized but there was nothing they could do.
I understand items selling out. I have had items I have added to my cart during this type of sale that when I went to check out they said they were out of stock. I understand that. What I don't understand is allowing a person to process their order and confirmation email (definition of confirm from dictionary - to give new assurance of the validity of: remove doubt about by authoritative act or indisputable fact). From other comments I have seen on social media, this has happened to many people, and all have received the same "customer service" response of apologies and no ability to make the situation right.

I bought Lenovo Flex 4 in Staples online for 499$. They got my money and placed order. After 24 hours when I try to track item it shows item is out of stock. When I try to contact customer care they are useless, not supportive, rude and they said, "You will get money back within 3 days". Today is Black Friday. I am supposed to buy something. If they hold my money how can I buy somewhere else? They suggested to buy something in Staples. This is second time I'm experienced this kind of problem. Don't go for Staples. They bluff people and try to block them not to buy in rest like Best Buy, Amazon etc. Aware of their fraud. I writing this to help someone who is planning to buy in Staples.

Ordered a filing cabinet that was to be used as a medcart. This needed to be delivered Monday 10/31. I knew something was off when the tracking wasn't showing up. I kept being told no one can contact the courier but was assured it would be there by 5pm. 5pm came and went, no one can tell me where my package is and I have wasted 5 hours of my working time trying to find out. I lost a $500/month account because of the incompetence and no one being able to help. Still don't know where my package is. They can't reach your delivery service and no one is offering to help. I was expecting at least to find a similar product in a store that's close and have it delivered same day. This is what should happen. I am being told there is nothing they can do. Ridiculous.
How do I know I can trust these reviews about Staples?
638,664 reviews on ConsumerAffairs are verified.
We require contact information to ensure our reviewers are real.
We use intelligent software that helps us maintain the integrity of reviews.
Our moderators read all reviews to verify quality and helpfulness.
For more information about reviews on ConsumerAffairs.com please visit our FAQ.

Live on an island off the coast of maine. Drove to airport about 1.5 hours away to pick up son. Stopped in Staples to purchase a dozen special pens. Later on when I eventually opened the pens they didn't work. On trip back to airport recently, I attempted to return the faulty pens. Unfortunately, the store no longer exists. So I called customer service and was told I would have to return the item to the store for refund or exchange. Regardless that the store was now closed, the customer service rep explained that she had no other solution. I wrote an email to describe the issue and received a response declaring the same solution the operator gave me. Return the item to the store as there is no other solution. If this had been an amazon product it would have been picked up with an apology the next day. Guess there's a reason the Staples in our area closed it doors.

First 1 star is too much. I don't know how Staples is still in business. I went to a local Staples store. Tried out several chairs. Liked 1 of them but it was in a brown color. I wanted black. The sales assistant said they cannot get 1 in black, out of stock even online. Today I look online just to double check. What do you know. 2 of them available at stores within 100 miles. It would be great but in store the chair is on sale for 90 from 170. Call the local Staples store back. The tech guys says "there is a chair in another store not listed".
I ask "why don't I see it", he says "the online store is about 6 months behind". Talking to him I start talking to online live chat. The live chat says "there is 46 of them in the warehouse". Put me on hold they said they would call me if one is available. If with 46 in warehouse, how does that make sense. They wanted me to purchase one online and would give me the discount after the purchase. Not a chance in hell I'm about to do that, all so they can give me store credit. I know how this works. A real pain to buy a chair, still don't have 1. With 46 available I don't get how it's so hard.

Production center - I sent some items to print there, after weeks they said can't do it and my items returned to me. When the items were received in one Staples store, the quantity changed (I sent 11 but only 8 were sent back) no explanation at all, no excuses, no apologies. This is how difficult Staples make the things for you, it is not true the issue button.

Wanted to buy a laptop computer. After 20 minutes and no one would wait on me I asked the manager for help. I waited another 20 minutes and no one came to wait on me. I called customer service who transferred my call to the corporate office. The lady should have known the office closed 3 hours earlier. This all occurred between 7:00 pm and 8:00 pm on September 30. I will be purchasing my computer from Best Buy tomorrow.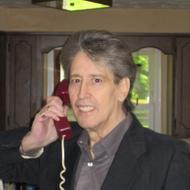 I purchased an HP Laptop on sale for $470.00. Best buy had the same base computer but with touchscreen, more memory and faster for $350.00. I decided not to purchase the computer and was told that it would take ten days after they received the computer back until my credit card could be credited. It normally takes 3 to 5 business days and since they had the tracking number, there was no need to wait until they received it in their warehouse. The order process is simple unless you are using Staples Rewards. If you cancel an order, it could be up to two weeks before receiving your Rewards Points and in the meantime, you don't have access to them to purchase something else. Please be aware, I am referring to my online experience. My experience with customer service in the actual store was great, rating a five.

Good quality of Angling corkboard plugs. I say a minor price of $2.99 & not $4.50 on the shelf, and the foreign employee partially agrees while simply lowering my price & finishing my order. Employees are very professional & not robotic like other retail stores. Staples employees feel very much for customers, while fully attempting that they will repetitively return when interested. They are almost & psychological trying to help you out (like a family member), that I fully appreciate. Many retail stores never truly care about customers, & unlike Staples.

Placed the order and the next day picked it up at the store. Store personnel very courteous and professional. Went online and searched for an ink cartridge for my old Dell printer and found exactly what I needed. I found exactly what I wanted and the price was good. It was so easy to order online and they delivered it to the store at no cost to me. Couldn't believe that it got to the store the next day.

Worst experience. I bought a device from them. Didn't work with Android. Wanted to return. They told me the device S/N and box don't match. The manager was very offensive. I asked, "Should I open everything I buy from you and check all these things before buying?" She told me, "That would be your choice. I can't educate you how to purchase." Will never go back to any Staples store. If you want to buy s.t. from them, first open and check everything in front of the cashier.

Called staples at Fremont hub, CA to place an order by email. They inform in a very curt and rude way that the service ordering by email is no more available. Try to order online. The system doesn't let me select the store - The system is down (bad request it says). I call the store. They say "you have to call customer service". They can't help. I call customer service who take the call in about 10 min but are very kind to fix things. Total duration of events - 90 minutes. Order - 50 colored copies (time sensitive work) on a Friday. Call the store that I am coming to pick the order - wait time 15 minutes. Same person on the phone again the rudest way to talk: 'Next time you will be charged rush charges' - Irony of the situation - They will charge me a rush charge for my time wasted on STAPLES! I recorded my conversation with the sales guy in store. This is the third time an event like this happened.
I have used Staples since the past 3 years regularly, giving them thousands of dollars in business. They seem to think they are indispensable and can do away with anything. They have emails for coupons, etc for reward members but can't inform the customer for policy changes and then advertise for the 1 hr service. They need to hire polite people with some customer service skills in store than such rude people who pile their bad day on you! I have heard other people complain but I thought I should take time to take this to the next level. Thanks so much for providing a platform for this. Last of all, the sales guy (not naming him though I know his name) tore my receipt. Thankfully I have the email confirmation of the order and the whole thing recorded on audio.

A few years ago, I use to have my logs scanned at the local "Staples" store among other stores to email to my employer. About half the time that I entered, however, the girl behind the counter would tell me that the machines were being used and she couldn't do it that day. Finally, in frustration I wrote Staples Customer Service. I told them that they should either offer the service or not. I stated that if they were only going to offer it at their convenience, then they should clarify this to the customer by posting a sign. I told them that I delivered brand new trucks and when I came to the store it was through public transportation which made it extremely difficult.
I shared how frustrating it could be for me to take a public bus or taxi and then to be told, "Sorry, we don't offer the service today." I heard back from the "Office or desk or something of the presidency," and the individual promised no problems in the future. I had future problems and when I emailed him again, I was simply ignored.
I bought a personal scanner so in emergencies I scan my own logs, nonetheless, I still on occasion have OfficeMax, or Office Depot scan them and sometimes Staples when I am in other parts of the country. A few weeks ago, however, I was in town and badly needed to send my logs in, so I went to the Staples that is so unreliable which is near my storage.
I go in and ask the girl to scan my seven pages of logs. At the same time, I told her that she could sheet scan them very easily. You see, most of the time when I go in any other stores whether it be Staples, Office Depot or OfficeMax, when they feed scan them I am only charged a quarter a page. Sometimes, though, they will charge two dollars for the first feed because that establishes the PDF file which the others will be attached to. When I get my Thumb Drive back from the clerk there is always only one file. In other words, they place the papers on top of printer and push a button. Zip, zap, zip, zip, zip, zip, zip, the pages are run through the machine in a matter of maybe four seconds.
Next all seven pages are placed where they were told to go, which is my Thumb Drive. "Bit, bat, zoom, but, today," and the whole process takes a couple minutes of the clerks time, and as I stated most anywhere you are only charged 1.75, or sometimes 2.00 for the first sheet, and a quarter for the remainder that go in the same file. Maybe four dollars and some change at the very most!!! So, I go in this Staples where I haven't been for months and ask the girl, maybe seventeen if she can scan my seven logs by "Feed scanning them," she replies, "No problem." She scans them and then tells me that I owe her fifteen dollars and something. I try to explain, she doesn't have a clue. I ask, "What is your measurement or standard that you are using to charge me fifteen dollars?" "Well, I was told it is two dollars a page."
I ask for a manager, a "Tech manager," who is acting as store manager comes out, and he is completely useless. Not even sure he knew what a feed scan was and he claimed to be a "Tech Manager?" First, they refused to delete my file, acted as if they were going to call the cops, if I didn't pay. I repeatedly ask them for some kind of standard to show me that price. Claimed they had no book, no posting, but that price was based on seventeen year old, new to department who had been told 2.00 a scan. I ask this so called manager five to ten times, "Please call another Staples," he adamantly refused, because no other manager was going to override his decision???
Finally, I pay, go home and pull up email of "Desk of the president," write the entire episode up and email him. I was completely ignored again. I go on road for few weeks, and come back Labor Day. Take bus to store and ask for store manager. Meanwhile, I grab a fan that I had been needing and I see two other items in clearance. A Professor Teaches Windows Eight and a small pack of computer wipes.
The fan has now gone from seven fifty to ten dollars, I tell her to forget it, she also has charged me nineteen dollars and forty nine cents over the clearance price for the DVD? I tell her that I no longer want the fan and can she fix the wrong price of the DVD. She does it, I purchase the two items and later realized that she charged me two dollars for the wipes, and not the one dollar for clearance price. The regular price was 3.99, so I am still wondering where she got the two dollar price? Later, I take it back and get it adjusted. I have receipts if anyone doubts me.
Concerning the fifteen dollars, I was charged for scanning issue, she basically tells me that she doesn't know anything or cannot help me, but that I needed to talk to Roxy, the woman who use to always tell me that she was too busy doing other work to scan my logs. Roxy, of course cannot help me and when I start asking questions like "Why isn't the scanning price posted," or "How come you don't have a looseleaf book like other Staples and Office stores do to show their prices?" She gets very upset. Finally, I ask if I can ask one other question, and she answers me, "No, you have disrespected me, so I don't have to answer you." At this, I am thinking, "Hmmm, let me get this straight, you over charge me twelve dollars for a scanning job, and I am 'disrespecting you,' for asking clarification on the issue?"
Later, when I returned the computer wipes to have the prices corrected, the cashier gal told me that they have no real store manager, and "Shannon," was the assistant store manager acting as store manager, while in transition. First off, let me say that this store ought to be shut down because this is typical of the treatment that I have received there for these last two to three years. Lastly, it is not just this store, there are other Staples stores who will tell you the exact same thing. "Two dollars a scan, simply because we can." In other words, it is a joke, what this corporation is doing is preying on the ignorance of the typical customer who doesn't have a knowledge of the industry standard. The industry standard for having a simple page scanned is not two dollars. I am a truck driver and at tax time I have gathered my scanning receipts and they have cost me upwards of a couple of hundred dollars a year.
Apparently, however, Staples is not happy with that, so what they would like to do is to charge a typical worker four times the amount that any other copier would normally charge. Yes, they believe that a hard worker, as myself should be paying them upwards of eight hundred to a thousand dollars a year and they apparently would like me to smile while they are doing this to me, lest I be "disrespecting them?"
I think not, "No, I believe that this company ought to learn respect for the individual or to close their doors." This is why I bought my own travel scanner and will never darken the door of a Staples, unless I absolutely have to. Office Depot and OfficeMax offer the exact same services with integrity. If I remember right, I heard, Staples wanted to merge with the other corporation? Please do not allow that to happen. This is why we have criminals running for public office, it is because we have quit demanding "Integrity." This is also America's shame!

I have been shopping at Staples for a long time. I buy all my ink cartridges there. I was told that if I bring back the used ones I would get a $2 rebate each. I have been bringing them in a long time [more than a year] I never get a rebate. I was told that since I turned them early in the month I would get the rebate the following month. The next month I turned in two more, and they told me I had to buy new ink the previous month and I would get a rebate discount. The next month I was told I would have to go to my home computer and print a coupon from the Rewards site. I said I had no ink that is why I needed the cartridge. In short, I never get the promised rebate, and I have turned in over 24 used cartridges. I heard Office Depot is the same. Is there a place where I can get credit on a new cartridge by turning in the old one?

Shopped at Staples for over 6 years for my business, spent thousands of dollars at your store, have Premier Rewards Status that does nothing for me as I have never received a reward. Spoke to 3 people at your Store in Charlottesville VA and no one knew anything there and was lied to on at least 4 occasions while shopping. Called for customer assistance, explained these problems to them and the young woman, Shila I believe she said her name was, said that she could not offer any assistance either. Adios Staples. Why did I ever bother to shop there in the first place. Future doesn't or won't be very rosy if you treat your customers this way.
Now I will go to Lowe's and Amazon because they appreciate my business and show it time after time. As a 31 year veteran of serving our nation Lowe's gives me 10% off on whatever I purchase and Jeff ** and his team really care about customer service and demonstrate it time and again. Ok hope you all improve your rewards program and train you employees on what the rules are because you will get several different versions depending which employee and what person answers the phone. Very dissatisfied and will cancel all email and further communication with Staples. What a great store you were at one time.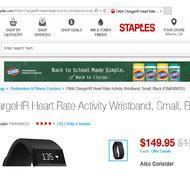 I placed an order for Fitbit today morning. The price showed as $89.99 and estimated tax as $6.30 totaling to $96.29. I paid the amount using two gift cards ($21.40 + $20.04) and paid the remaining amount of $54.85 using my credit card. After confirming the amount, the receipt showed the total price as $125.29. Immediately I called the customer care and asked them. They said the price charged on the card was $83.85. They said that their site has the price as $117.09 and not $89.99. They said that they cannot give me for $96.29 and I had to cancel my order. Be careful with such fraud and verify your receipts after placing the order. I canceled my order immediately. I did not take any screenshot while placing the order online. I noticed the change of price in the receipt itself. The price from morning is different now in their site.

After giving Staples the benefit of the doubt I returned again to mail something in their Mailing Center. When I was here last month they didn't have any priority mailing boxes, however the person behind the counter was extremely helpful and kind...unlike tonight when I found out there weren't any boxes the person was extremely disinterested and indifferent to my situation. She couldn't wait to help someone else when I had patiently waited for her to help me. In fact I wasn't through talking to her when she abruptly walked away and helped someone else.
She faulted the United States Postal Service for not providing the boxes. I fault Staples for advertising a service that they can't accomplish. I asked for the Box on display and she said I couldn't have it and if I wanted to buy my own box and mail the same item priority I would have had to pay $8 more. Hey, Staples, if you're going to offer a service and you're a big rich chain store then offer the service! If your worker doesn't want to deal with people then make sure they get a job cleaning instead of being a customer service representative where they have to actually do customer service and help individuals. I am a professional and this is the local store that carries business supplies but every time I come in here I feel this overwhelming feeling that no one's interested in helping. I hope someone from Staples reads this. They really need to get their act together.

Yesterday (Mon., 8/22/16) I had gone to buy 16 composition notebooks at the Staples located in Bay Plaza, the Bronx that were on sale for $0.50 each. After looking throughout the store there wasn't any composition notebooks to buy. I had seen a sales rep on the floor and asked him if they were any in the back. Being that he just started his shift he said that he will check for me. After 5 minutes he came back and told me there was a huge box in the back with them. I asked him if I could get 16 of them and he said that unfortunately the night staff from the previous night didn't place them on the floor for sales. He said that I had to speak with the manager.
After finding the manager and asking for the notebooks he tells me with an attitude that they didn't have any and that a shipment will be arriving later during the day. I then told him that a sales rep checked the back and saw the notebooks. He immediately said that there wasn't any and that I have to come back. He also said that I could place the order on the Kiosk. So I walked over to the kiosk and placed the order for 16 composition notebooks. Once I received the receipt I then decided to get (1) rent book.
I then stand online and when it was my turn I told the cashier that I wanted to pay the rent book first. Once she rang up the rent book she tells me that it is $21.00. I then looked at her and said that that amount is crazy for a rent book. She then tells me that the price is correct. I then take the rent receipt book and walk over to the aisle where they were located. I take a picture of the price along with my phone and show her that the single receipt books are priced as being $5 plus change. I tell her that the $21.00 price is wrong and then show her the picture which was my proof. She had the audacity to tell me that someone must have opened a pack of 4 and placed them as singles. I don't understand how a receipt book that costs $21 to her doesn't send a red flag in her mind. She then contacts the manager over the phone and after a conversation she tells me that they will override the "original price of $21.00" and bring it down to the list price of $5 and change.
I was so upset that when it came time for me to pay for my order of composition notebooks I just wanted to get out of that store. Upon arriving home I look at the composition notebook order receipt and noticed that I had paid $57 plus dollars for notebooks that were on sale for $0.50 each. I then call the customer service number on the receipt and mention this to a lovely woman "Theresa" who said that I did in fact order 16 notebooks at 50 cents and she couldn't understand why I was charged the regular price for each. She told me that I should be receiving the notebooks the following day and once I receive them to call customer service again and give the order number so that I can have my card credited for $48 plus. I will never ever step foot at this Staples store. The Manager that was there this past Monday morning should not be a Manager. He was rude and had no communication skills let alone Manager skills.

"Easy Rebate"??? "Difficult if Not Impossible To Get Rebate" is more accurate! It is the most outrageous waste of time and RIPOFF! Never received redeem coupon for substantial purchase and when I tried to redeem another rebate Staples puts you thru hell to get it, that is, if you ever get it. First I had to go back to the store because I never received the Rebate Redemption number but they assured me that I would receive it by email. When I finally got back to the site I was shocked at how difficult Staples makes it for one to fill out the forms with all those numbers and the wait time for a refund - up to 6 weeks. Be prepared to are enter a gazillion numbers: rebate#, SKU#, Redemption rebate number (a mere 17)...
You are then instructed to keep all records and tracking number in the event that you do not receive it. Meanwhile, please keep in mind that for my in-store purchase for paper it was advertised as only $1 after "EASY REBATE" and I ended paying $7.29 for it. My friend said he never got his rebate and then wasted his time calling the RIPOFF masters at Staples. Customer service said he would have to do it all over again and wait another 6 weeks. Consumers do not be mislead by Staples EASY REBATE. Please give your business to a company that deserves it and treats customers fairly!

I bought a CANON Printer MB2020 printer six months ago and for one week I turned it off and we went to vacation and when I came back, display turned to Chinese language and orange light is flashing. I checked their website and I did whatever I have to do based on their website, but doesn't work. I don't have my receipt but I have my bank statement and unfortunately manufacturer's website and customer service is a DISASTER and nobody is responsible. Could you please help me to return or exchange it? Please update me.

I get emails from Staples.com with daily deals, special promotions, coupons, etc. A couple of weeks ago I was looking for a printer and noticed a coupon with $25 off $100 from Staples.com if I signed up for VISA checkout. In the description it said that the coupon will get reflected at the last step. I also used Staples rewards to partially pay for purchase. Not knowing how VISA checkout works I kept on clicking next until very end including clicking on submit but never saw any $25 credit or reduction. Immediately after I placed the order (literally few seconds later) I called Staples customer service and asked them to explain. They told me that coupon has just expired and can't be used.
I asked to cancel the order but was told that order can't be cancelled because it is already in shipping status. "Shipping status" 5 seconds after I placed an order? Make very long story short, two weeks later I still can't get my money and rewards money back. I went to the store, and spoke to assistant manager who was really nice and genuinely tried helping me. But, since I placed the order online, he could not do much. The lesson I learned from this experience is if you want something from Staples go to store. They will match online prices and will help you as much as they can. Do not buy from Staples.com. It is like playing Russian roulette.

Okay STAPLES can't believe I Have to spell it out to you but here it goes: an EMAIL print job means you don't to have to come in and you should not have to call!!! You send the email, you walk in and pick up products. Nothing else nothing more. Why are the STAPLES employees making this so damn difficult??? If you have an email print job the STAPLES store that you sent it to should call you or send you a text stating they have received the order, not the other way around and let you know when to pick it up. Period. There also should be two lines one for pick up, one drop off. Easy peasy. Don't make something so small get out of control.

Like this store Staples Londonderry NH for convenient office supplies. But be careful when you use their mail services. Make sure to save the receipt. A label was printed up for my package that was not the address I need, foolishly, I did not notice nor did I keep the receipt. Package was returned to my home. There was nothing they were willing to do to help me, because I did not have the receipt.

Although the guy that helped me at store #0986 was very nice, the nonsense with their promotions, rebates you never get, rewards for ink cartridge that you never get means that I will be shopping elsewhere from now on. The store is one big scam! There is no number on the receipt called "Order Number" making it very difficult to file for a rebate or reward, or for recycling credit.

Staples has been unable to post my purchases to my rewards account including my ink recycling since May of this year. I have gone through hell to get them to rectify their errors and they keep sending me a bone to pick on. They have no idea how unworthy and unproductive, not to mention unprofitable, the rewards program is to them. You have to fight for everything. What a joke. They need to clean house of all the high paid sergeants around the world and let good employees who sweat and toil get the job done.

June 29, 2016 - Staples, 2950 Belcrest Center Drive, Hyattsville, MD 20782 - New copiers installed. Copier can fax, print, email, copy etc. Copy center white male employee reboots copiers after customers prints or send emails from printers to see what they're working on and even takes photos of customers with his cell phone when they're about to leave the store. Is this right? Customers don't even know what's happening to them at this slick Staples.

I have been shopping at Staples for over 10 years. Same with Home Depot... so here we go. First rebate check for 1999 was sent to me in another person's name, on the check it said, "To make sure you brought in proof of identity... right." Wrong name, then in last september I received the paper at regular price which is what Staples told me, and then I was to get a 35.00 rebate in the mail in the form probably of a visa for staples card. I never received it. So why is staples not doing so well, maybe they need to satisfy their customers, stand behind what they say, and correct their problem the first time they are addressed. Not never, or someday.

I ordered the portable AC from Staples store. All paid up with free delivery, I also provided my cell phone # for any contact. The ETA for delivery was 2 weeks after the order. There was no delivery at that time so I came back to the store to ask for help. They mentioned I should contact to customer service online which I received the respond after 2 days. They provided me the tracking # from carrier UPS. I followed the tracking # but somehow UPS couldn't make the delivery either by saying they can't locate my name in the building directory. I called to STAPLES customer service to give the feedback. All they said that's between the carrier, UPS, and me. STAPLES has no responsibility for late or missed delivery. That's it STAPLES. No more business with you guys for anything. Best of luck on the market for competition.
Company Name:

Staples

Website:

http://www.staples.com/