Consumer Complaints and Reviews

I was accosted by one of your salespersons at the Lynnfield Massachusetts storefront. I asked the salesperson to take my measurements. I then asked if he could assist me in trying on several different styles/fits of shirt. He told me he would only allow me to try on a couple, and that he did not want me trying anything on unless I was going to buy it. I then asked again if he would help me. He basically said he would only help me if I was going to buy something. I did intend to purchase some new clothes that day but I was very turned off by him so I said I would help myself.
After trying on a few ** he approached me and asked how I was doing. He suddenly said he was going to have to ask me to leave. He said I had made it clear I was not planning on purchasing anything. I was so taken aback, I started shaking. It was a very humiliating experience. I have no idea what got into this man. I wish I didnt actually need to buy new clothes that day because then I could have just left.

Terrible fitting suits. I need a 46 jacket and a half 37 waist. I was told that combination was unavailable. I was told the pants were too big that went with a 46. I was sold 3 size 43 suits and one 42. I went with because I thought after tailoring they would be okay. They mind terribly. I told this to the sales person and he told me, "Well you don't move that much in a suit anyway." I went back to the store to explain this. I was told the same story again. What a waste of time money and effort. I won't be back.

The Jos A Bank location in Princeton Marketfair, NJ is a location you want to STAY AWAY FROM. Morale is low, employees openly complain in front of customers. Most importantly, they charged my debit card AFTER I left the store unauthorized and LIED to me about it. My bank clearly saw the charge was made from Jos A Bank to my card 10 minutes after my original purchase. So apparently, watch out because they have the ability to charge you after you leave the store, and will not rectify the situation. DO NOT GO TO THIS STORE. SHOP ELSEWHERE.

In this message I will outline why I will NEVER shop at JoS. A. Bank ever again. During the Presidents day sale I bought 2 suits online. However they weren't the right size so I decided to exchange them if the store had something in my price range. I told the gentleman that was working that I had a budget of $270 so if it's more than that don't bother showing me because it will waste both his and my time (I wear a size 50-52 so the suit sale was priced at $229). After looking at different suits he finally found me one in blue which is the color I was looking for. I asked him to confirm the price before the tailor marked up the suit. He confirmed that the suit was a part of the sale for $229 plus tax.
After trying on the suit and having the tailor take a look the associate went to ring me up. He then told me that the suit was upwards of $350 and asked if that was an issue. I stood there in disbelief as if this guy was just not paying attention to a word I said over the last 30+ minutes. I said "yes, I've already told you my budget." So before processing my return for the items I bought online I asked him to put everything on a gift card so I could buy a suit online (this was the last day of their sale. Everything was going back up to regular price the next day). He said no problem. As he's processing the return he looks at me and tells me that he put the two suits I purchase back onto my credit card then asks if that'll be ok. I said no because I would like to use the gift card to purchase a suit online but he informs me that it's too late to change. At this point I'm convinced that this man did not pay attention to a single word that I said while in the store.
This should have been a sign to shop somewhere else seeing as how the customer service was non-existent, but I made the mistake of using my credit card to buy 2 additional suits online later that night (once again, I needed the suits and this was the last day they were on sale). When I went in to get fitted I was shocked to find out that my alterations would be nearly $500 for 3 suits. After marking them up I was told that I should have just bought custom suits for that price. A little too late but it was nice to know that I made a bad purchase. I had to wait 2 weeks for the suit pants to be re-cut so I then had to come in again to have the bottoms hemmed. This time I was passed around by 3 associates like I had the plague and they were trying to avoid me. Finally a nice younger ** gentleman (He was tall, 20-ish & skinny. I wish I could remember his name because he was the best thing this store had to offer) helped me.
When I came back to pick up the suits the same younger gentleman was there and greeted me with a smile. He asked me if I wanted to try on the suits & then asked me if there was anything else he could assist me with. Great kid, fantastic service. I felt a little better about my experience after dealing with this associate, however this didn't last long. I noticed that although I'm enrolled in the "Bank Account" rewards system & spent right around $1,000 total between suits & alterations, I didn't receive any credit from my purchases. At this point I'm reminding myself that "you get what you pay for" and will never trust JoS. A. Bank again.

I have no doubt they are violating their customer privacy policy and sharing their customer information. Why am I so sure? This is the only store where because of some confusion they have an account with my father's first name and my husband's last name and I never bothered to correct because I thought it was funny... All of a sudden that is the name I start receiving non affiliate catalogs. Upset to received unsolicited mail and that they violate customer's trust.
How do I know I can trust these reviews about JoS. A. Bank Clothiers?
851,761 reviews on ConsumerAffairs are verified.
We require contact information to ensure our reviewers are real.
We use intelligent software that helps us maintain the integrity of reviews.
Our moderators read all reviews to verify quality and helpfulness.
For more information about reviews on ConsumerAffairs.com please visit our FAQ.

Went to the JoS. A. Banks for a tux for my best man and me in Stony Brook and Older gentlemen Paul helped us. He was great. Took his time measuring asking questions and really gave us a good experience. We bought a tux each from soup to nuts and within five days got a call they were ready. I had to go to the one in Merrick for my nephew. What a nightmare. Joshua was the worst salesman, didn't ask anything, didn't want to know anything. He would put a jacket on him 2 sizes too small and only changed it upon my request.
We had to call after a week just to see if pants came in because they didn't have in stock and they arrived probably 2 days ago without a phone call. Got them fitted and after a week had to call again to see if they were altered and again no phone call from him even though they already arrived. He gives the store a bad name and should be dismissed. Told me when I asked even though they were there he didn't have to call me till after a week. Don't go to that one unless you can help yourself and especially do go to Joshua.

As a rule I generally shop in the retail location, but recently I decided to purchase a few suits off of the JoS.A. Bank's website during their clearance sale. All 4 suits were for my 19 year old son. When the suits arrived we noticed that 3 of the 4 suits had issues. A solid Navy Blue suit looked great coming out of the box but when viewed in the light there were visible iron marks on the jacket lapels, one sleeve cuff had alterations, and the pants had hem marks where they had been previously taken up. Suit 2 had sleeve cuffs that were slanted upperward which was unexplainable and just plain weird. As for suit 3 the one sleeve was shorter than the other. I had never seen anything like it before on new clothing. Three of the 4 suits had been altered.
Joseph A. Bank seems to selling their 2nd hand previously altered suits as new clearance on their website. In the past Joseph A. Bank had sent a previously altered suit which I returned to the store and was told by their customer service that it was just a fluke and they don't normally sell previously altered suits as new. They apologized for the mishap but after this second incident I realize the practice of Joseph A Bank selling second-hand suits online is more their rule not just an exception. I attempted to post this review on the Jos A. Bank website and their moderators rejected it based on the content. For the record, Joseph A. Bank what you are doing is not acceptable. No one expecting to buy new clothes online wants to receive previously used clothes. In the future do the public a favor and donate your second hand previously altered clothing to the goodwill.

I placed an order on December 20th. And today is January 9th I still haven't receive my order so I checked my email and found a message from JoS. A. Bank that been sent on December 31st saying that my order has been canceled without any explanation. So I purchased it on December 20th and 11 days later they found out that they don't have an item. And after 20 days my money still hasn't been refunded. No wonder why they have such a "GREAT" rating online.

I placed an order for an overcoat with JoS A Bank on the 27th of December 2016. They sent me an email that clearly stated that they would not charge my credit card until the order shipped and that they would provide me with tracking information at that time. I checked my bank account on the 27th and they took the $101.10 out from my account the same day. This was lie number one. Then I waited until the 2nd of January 2017 expecting that I would receive tracking information but none ever came. I contacted their customer service number and they had a recording that stated they would call me back as they were experiencing very heavy call loads which I have no problem believing as they do not tell the truth to customers when they place orders with them so naturally their lines will be full of angry people wanting some answers.
After a half hour I was called back and gave my order information asking where my package was and the tracking information. They advised me that they had no tracking information and that my order was in transition. I asked what transition means and they said "your order is in transition." Which of course means nothing to me as I have no idea what transition means just that the order had been placed 6 days ago and that they had done nothing with it so I told them to cancel the order and refund my money. They refused to cancel the order flat out saying that once the order is in (transition), whatever the hell that is that they can not cancel the order. I asked to talk to a supervisor and was told that the supervisor was going to tell me the exact same thing but I said to transfer me to a supervisor and was put on hold for over an hour.
Naturally I have better things to do than be put on an endless hold loop hoping I will hang up which everyone will eventually. I emailed their customer service and advised them I was stopping the payment and would not be doing any business ever again with Jos A Bank. I contacted my bank and put a stop on the transaction. So folks the moral of the story is this: When dealing with Jos A Bank expect to be lied to and given the runaround. You still have recourse with your financial institution and can stop payment if they refuse to cancel your order like any reputable company will do if asked.

I ordered a coat for my son from Jos. A Banks for Christmas. My son just started a new job in MO and he told me he needed a coat. It was getting very cold (we are from Texas). We were celebrating Christmas early so I paid for rush delivery. When the coat did not arrive I spent 55 minutes chatting with their customer service representative. She told me the coat was sent overnight but FedEx by mistake sent it ground.
While we were chatting I was on the phone with FedEx who assured me that Jos. A Banks shipped the coat ground. I asked FedEx if they could reroute the package to my son's address as it was going to arrive after he left. They responded no but Jos. A Banks could. Shari assured me the package would be rerouted to my son's address.
Two days later I received a package update from FedEx then package was scheduled to be delivered to my address. I chatted again to a customer service rep for over 55 min who stated she was sorry for the delay the package would be delivered the 14th. I asked where and did not receive an answer. I cut and pasted the part of the chat where Shari assured me the pkg would be rerouted. I was then asked to be patient while she reviewed the account. I thought that is what she had been doing over the last 20 minutes while I was waiting. She stated she contacted FedEx and the package had been rerouted.
Another lie, FedEx system is automated and the package traveled for 2 more days in the wrong direction. I expressed my concerns about my son needing a proper coat before the polar vortex hit and she did not reply. They very easily could have rerouted the coat back to the weather use and allowed my son to pick one up in one of their stores. Or paid FedEx to reroute the package overnight since I had paid for that service. It was obvious they had no intentions of correcting their mistake if it cost them an extra dime. During the chat I had to ask twice for the corporate office events address and phone number and I asked twice for her manager's phone number and she ignored both requests.
Between my son and myself we have spent thousands of dollars in that store. We purchased over 5 traveler suits, numerous wrinkle free shirts, golf pants, and sweaters. I believe correcting their mistake was the least they could have done. I cannot begin to express how disappointing it was to be treated so poorly by the customer service representatives. Online shoppers beware!

I placed on online order that I never received. After my email order confirmation I never heard from them. There was no tracking after 2 weeks, so I tried to call them for status. When I called I was on hold forever, so I finally left my number for them to call me back. 6 hours later they called back and I missed the call (YES 6 HOURS LATER). I called the next day and again was on hold for 20 minutes, so I hung up and decided to send an email to their customer service dept. That email was never responded to.
After another week I was forced to call again. After another 30 minutes on hold, I left my number again. I made sure I kept my phone attached to me so I didn't miss the call. This time they called me back about 2 hours later. I asked for the status on my order, and was told that my order was canceled because it was not in stock. Yes, canceled. I asked why I was never notified and the response was: "I don't know they usually notify people." I told this person that they didn't, and they didn't even answer my online customer service email inquiry. This person didn't seem to care one way or another.
This was my first and last experience with JoS. A. Bank. They obviously do not care about their customers. It doesn't matter when you call. You will never get through, and they just cancel orders without informing you. I will take my business to anybody else. I'm so disgusted with whole experience that I went out of my way to post this and warn other consumers

What more can I say. I bought a suit at JoS. A. Bank in Pittsburgh several years ago, and was very satisfied. I did not have them tailor it at the time. Just last week I purchased 2 suits - on sale, and had them tailor the suits. They DO NOT have a tailor measure you, instead having the inexperienced, ill-trained sales person mark the suit. When I tried it on, I noted that I was very dissatisfied, and was met with dead silence. I simply walked out, and called to speak with the manager - and was turned back to my sales person. What a joke. Then, when I compared the fabric to the suit I bought several years ago, I immediately noticed the difference in quality. They act like they know what they are doing. THEY DO NOT. Stay away. Go to a department store or somewhere more expensive if you can afford it, but STAY AWAY from Joseph Banks in downtown Pittsburgh.

On 11/26/16 I purchased items on the internet. I became concerned about one of the items & called customer service. I was on hold for over an hour then tried live chat but was not able to get through. I tried again on 11/27/16 & after over an hour a recorded female voice said my call couldn't be taken at this time & to call back later. On 11/28/16 I received an email showing more discounts on the items I had purchased so I called again & was on hold for 1 hour and 40 minutes when a customer service rep (Nate) answered. I explained to him about my not being able to get through to customer service & my displeasure in the price drop on the items I had purchased. Nate agreed to refund the difference to me & gave me a reference number.
Yesterday I received an email from customer service agent, Aleta, apologizing for my not being able to get through via phone & then went on to say that I could return my items to a store for a refund. Nice customer service! NOT! Today I received an email from customer services agent, Kiya, apologizing for my not being able to get through via phone (same EXACT paragraph in both emails) but Kiya said she wouldn't be able to "modify" my order as the Cyber Monday sale was only for Cyber Monday sales. It never said that on the email. But once again nice customer service! NOT! I now understand why they're having to close so many stores & why there are so many negative reviews. I will NEVER purchase any item EVER again from this store or any of the stores associated with this company. I also love to talk & will tell EVERYONE I know about this awful experience. I hope they go bankrupt.

I have had this problem with Joseph A. Banks multiple times: you pick two shirts from the same rack, same model name (the latest case, their "travelers" shirt), same everything, but in different colors. You bring them home, and one fits tighter. Then I lay them down on a flat surface, sure enough, the tighter one is about one inch less, which means all around, it is two inches less than the other one. When I complain to them, they made the ridiculous statement that I need to buy one size larger, then everything fits!!! They did take the product back for a refund, but at the expense of an extra trip, frustration, and inconvenience.

As an ex-wholesale representative of a major men's apparel firm I'm amused and struck by the blatant smoke and mirrors tactics of the retail community. Most are following the lead of Macy's and Jos. A Banks by marking up an item to an extraordinary high number to then offer it at a discount. The extra high mark-up covers their margins and they wind up selling the item for a sale price that would have and should have been marked at in the first place. In most cases these stores never ever (ok occasionally sell the item at these ridiculous prices) so the original marked price is really fictitious. How the "Retail Public" doesn't object is what amazes me the most and until they do these retail operations will continue to "Pull the Wool" over our eyes... SHAME ON THEM :(

I would give this store no stars based on my most recent experience if I could. Visited my local Joseph A Banks store where I have been shopping for years located in the Flatirons Mall in Louisville, CO. Looking to purchase four pairs of Signature Series Pants. When I arrived in store, there were no other customers in the store. Two sales reps and one manager on duty. At my request, the female sales rep proceeded to measure my waist - part of the reason I went into a store was to find out and try the size of the pant. She measured my waist and then walked me over to where the pants were located. I was then informed that I would need to look through the pants and that it might take a while as the pants were not sorted by series - only size. There was no offer of assistance. When I asked her if this would be more convenient for them if I order the pants online, she responded "probably" and then walked away.
After a few minutes of trying to find the pant style I wanted without success, I made the decision to leave the store. While I have fairly low expectations, a little customer service would have been nice especially given the fact I was the only customer in the store. Based on this and other recent experiences, I will never shop at this store or purchase another item from this company. This was an awful experience!

On August 29th, I order a $100 gift card online for my grandson's birthday on Aug. 31. On Aug. 30th I received a call from Joseph A. Bank saying they needed to verify my name, address, email, etc. I was assured that there was no problem with the credit card. On the 31st (the birthday), I received an email saying they had been unable to reach me and were cancelling my order. I called again, saying I'd given them the information they needed. Punctuated by long wait times on the phone, I was told that the order was going forward and would be sent within 24 hours. Yesterday, Sept. 1st, I received another email, this time saying that the order had been canceled. More wait time on the phone ensued when I called to see if the email was an error because of assurance the day before that the email card was on its way, and found that indeed the email gift card had been canceled.
Both the sales associates and the customer service person I spoke with, kept saying when I gave them information, "No problem." Well, they have a problem - the left hand didn't know what the right hand was doing. My grandson was going to be at his dad's house where there is a Bank's store and he could have used it. He'll receive cash instead. And as for Joseph A. Bank? I'll never shop there again.

I have had two pairs of these pants for six months, wore them lightly, and washed according to directions only about a dozen times. Both pairs had seams along the sides that came undone. I returned them to the local store, which could not provide any refund since the warranty is only for 90 days. I called customer service and they were somewhat more accommodating, providing in-store credit for less than half of the original cost. It's disappointing that the store won't stand behind their product when there is a clear manufacturing defect, especially when they emphasize quality in their product descriptions.

My 85 year old father rented a tuxedo for a wedding this weekend. He went into the store to be fitted for the tuxedo, but he did not try it on when he picked it up. When he put the tuxedo on before the wedding, he was unable to adjust the pants so they would stay up. We rushed to the wedding, and when we got there, I tried to tighten them, but the smallest setting was still too big. The reason that he had rented a tux was because he was walking my aunt, the grandmother of the bride, down the aisle. He was terrified that the pants would fall down. All night they were coming loose, and he was extremely self-conscious and uncomfortable.
When we returned the tux to the store, we told the men at the counter what had happened and that we wanted to check to see how he had ended up with this ill-fitting tuxedo. One of the men apologized, and the other said that next time he try suspenders, but they did not offer any reparation. I suggested that they should only charge my father for the pieces that he rented that had actually fit, and they told us that they do not give discounts. No discount could change how the discomfort of the pants colored his evening, but it would have been a nice gesture. I don't often submit reviews, but I really wanted to this time. My father rented his tuxedo from Joseph A. Bank because he thought it would be a better experience, but it was exactly the opposite. They did not stand behind their product or services.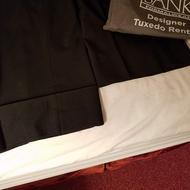 Right leg of pant not sewn, so hemming not complete. No quality control. My son is Edward **, and of course that is misspelled. I returned this tux yesterday, Sun., June 12 for my son who had to go to work. The only offer prior to the return was the store manager who offered to fix, if we brought it back to the San Jose store at 10am. The photographer was taking pictures at 10:30am in San Carlos.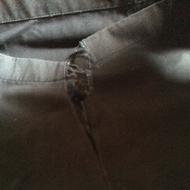 At the end of the 2015 summer season, I purchased shorts for my husband. He put them on this season and they shredded at the seam. Having only worn them a few times, I brought them back to the JAB store in Fishkill to be replaced since they were clearly defective. I was told by the store manager, Daniel **, that he would sell me a new pair. I told him I expected them to be replaced at no cost. He said given it was beyond the return period of 90 days, he could not do this. I said given the shorts were purchased late last year and not worn over the winter, finding the defect during the return period of 90 days was not feasible and I expected JAB to replace or refund the shorts.
I told him myself, my husband and family have been loyal good customers for many years and I hoped he did not want to lose our business over $29.95. He said his hands were tied. He never asked me for my name to look at my buying record before making this decision. Going forward, I nor my family will shop at JAB since I will not shop at any store that does not stand behind its merchandise. Overall, the manager was very rude and dismissive. I will spend my hard earned dollars who treats loyal customers fairly.

JoS. A. Bank Clothiers is a total rip-off! The worst company to do business with! Here me out people. Here it is in a nutshell: Placed an order over the phone small polo, the idiot is shipping x-large. I return at store by my house. I complained about it and reorder. Never got it. Few weeks later I complained and canceled the order. Till this day no refund, no replay to email, no calls, no return ck as promised! JoS A Bank is a total fraud and disaster. The svc. here stinks like the manager in Kingwood TX. Personally recommend stay away for this store - they don't deserve to be in business.
If you are looking for quality and svc. Charles **, and Paul ** far superior quality and svc. Great people to do business with. This is going on since 04/06/2015. The meter is still not resolved! I talk to Tim **, Gene, Calvin - total idiots. On top of it I address the problem to store manager Jeff ** an **! And no results! JoS A Bank is nothing but bunch of crap, irresponsible incompetent piss poor svc.

A compliment on leadership at the JAB Store in St. Simons Island. Elizabeth, the manager, has a particularly fine combination of personal efficiency and professional know-how. She has imparted the combination to her staff, all of whom exemplify these traits by "going the extra mile" in customer service. Top Grade!

HORRIFIC!!! DO NOT PURCHASE, DO NOT RENT FROM. Tux rental is a total joke and cost over $200 for pants that don't even fit, even after being fitted...and then when you go back into for the final fitting...the store rep doesn't even RE-CHECK the fit or the pants or jacket! The comment from the old man at the store...and let me point out the man that I spoke with when returning the tuxes...wore his pants just below his chest...old man pants!!! His comment to me, "On tux rentals, we're lucky we even get the right pants in!!" What the **!!??? Seriously???!!! Very poor service, very poor attitude! And the final comments from this old man? "Well everyone got married right? Then I guess it all worked out." I seriously wanted to throttle him!
After spending over $400 for rentals and they don't fit and the so-called "adjustment" cinching contraption was at its max "cinch"...the pants were falling off, and if worn where men usually have their waist measured, AT THEIR HIPS not under the "boobs", the pants were too long and dragging on the ground!! Once they get your money...you're screwed and they don't give a rat's ass that they don't fit. SAVE YOUR MONEY AND THE HEADACHES...GO ELSEWHERE! Horrid, horrible, terrible, poor service, horrific, appalling, awful, dreadful!!!

I purchase 6 items online from Joseph A. Bank Clothiers. 2 items needed to be exchanged and it has taken 3 weeks, 4 phone calls and a great deal of frustration trying to complete the exchange. Today I spoke with a customer service manager (Eric) who confirmed that my items have been returned and informed me that the company has an additional 10 days to process the order. He then sarcastically suggests that I should have gone to a retail store! So much for online convenience.

I purchased a nice pair of black shoes. I wore them no more than 10 times and noticed that the bottom of the shoes came apart. I took the shoe into the nearest store and they said they would not help me without the receipt. When I purchased the shoes they apparently did not put me in the system. I showed them my credit card receipt of when I purchased them and they still insisted on having the paper receipt. They acknowledged that the shoe was defective. The shoe was purchased at their St. Augustine, FL (off of I-95) store and I took them back to the Charleston, SC (Tanger Outlet) store. Neither store was willing to resolve the situation, despite clear acknowledgement by the workers in the store that the shoe was defective. I will never shop at this store or Men's Warehouse, since they are the parent company again.

Wish I had known about this site before. On Oct 20, 2014, I bought two pair of $100.+ pants and then paid to have the legs cuffed. Terrible job... The sewing was uneven. I took them back two more times. The last time I am sure no one even touched them. I made a complaint to the company but never heard from them. I will never buy anything from them again. The pants are still hanging in the back of my closet. I may look for another seamstress someday. I have found I can buy comparable pants elsewhere with efficient alterations at less than half the prices.

A general manager refused to correct a problem she created when I bought a defective suit. They realized the problems two hours after I left. They called to tell me this and said they could not discount the suit, nor sell me any discounted suits for me having to come back 50 miles to try on something else. They refuse to offer any viable solutions causing me to cancel the entire sale. She did not care what I did and stated there is nothing else she is going to do. She refused to honor the price for another suit the next day which is what really caused me to file consumer complaints all over.

Went for a suit, there was nothing in my size but they said they could order one. I had to pay in advance. The next week I went in & what they had didn't come close to fitting me. They said they could correct the mistake but after hours on the computer the manager admitted he had nothing in the size/color I wanted.

I purchased 17 shirts that required tailoring. The JoS. A. Bank's in-house tailor had no idea what she was doing, so the store (Wichita Falls, Texas) informed me that they would have to be sent to Dallas for tailoring. They were sent out and I did not get them back for over five weeks. What I got back was a huge disappointment. Each shirt apparently was tailored by a different person. They all fit differently, with various issues of quality and style of stitching. I sent the shirts back a second time and they came back with the very same issues. I tried to send them back a third time and I was told that they did all they were going to do and basically to stick it in my a$$ (I'm paraphrasing of course). I paid in good faith for tailoring that I never received. I told the manager to return the shirts that have been sitting there for six weeks to me and to refund the tailoring fee, she agreed to do this.
I also discovered that Men's Wearhouse has closed 15 Banks locations with more to follow. Jos. A. Bank had some issues previously, however: since Men's Wearhouse has acquired Jos. A. Bank things have become much worse and I see no end in sight. I spend $4,000 to $6,000 annually on clothing and I can honestly say that I will NEVER again spend a dime at Men's Wearhouse or Jos. A. Bank. Thanks Men's Wearhouse for totally destroying Jos. A. Bank!!!
JoS. A. Bank Clothiers Company Profile
Company Name:

JoS. A. Bank Clothiers

Website:

http://www.josbank.com/