Consumer Complaints and Reviews

I have had this problem with Joseph A. Banks multiple times: you pick two shirts from the same rack, same model name (the latest case, their "travelers" shirt), same everything, but in different colors. You bring them home, and one fits tighter. Then I lay them down on a flat surface, sure enough, the tighter one is about one inch less, which means all around, it is two inches less than the other one. When I complain to them, they made the ridiculous statement that I need to buy one size larger, then everything fits!!! They did take the product back for a refund, but at the expense of an extra trip, frustration, and inconvenience.

As an ex-wholesale representative of a major men's apparel firm I'm amused and struck by the blatant smoke and mirrors tactics of the retail community. Most are following the lead of Macy's and Jos. A Banks by marking up an item to an extraordinary high number to then offer it at a discount. The extra high mark-up covers their margins and they wind up selling the item for a sale price that would have and should have been marked at in the first place. In most cases these stores never ever (ok occasionally sell the item at these ridiculous prices) so the original marked price is really fictitious. How the "Retail Public" doesn't object is what amazes me the most and until they do these retail operations will continue to "Pull the Wool" over our eyes... SHAME ON THEM :(

I would give this store no stars based on my most recent experience if I could. Visited my local Joseph A Banks store where I have been shopping for years located in the Flatirons Mall in Louisville, CO. Looking to purchase four pairs of Signature Series Pants. When I arrived in store, there were no other customers in the store. Two sales reps and one manager on duty. At my request, the female sales rep proceeded to measure my waist - part of the reason I went into a store was to find out and try the size of the pant. She measured my waist and then walked me over to where the pants were located. I was then informed that I would need to look through the pants and that it might take a while as the pants were not sorted by series - only size. There was no offer of assistance. When I asked her if this would be more convenient for them if I order the pants online, she responded "probably" and then walked away.
After a few minutes of trying to find the pant style I wanted without success, I made the decision to leave the store. While I have fairly low expectations, a little customer service would have been nice especially given the fact I was the only customer in the store. Based on this and other recent experiences, I will never shop at this store or purchase another item from this company. This was an awful experience!

On August 29th, I order a $100 gift card online for my grandson's birthday on Aug. 31. On Aug. 30th I received a call from Joseph A. Bank saying they needed to verify my name, address, email, etc. I was assured that there was no problem with the credit card. On the 31st (the birthday), I received an email saying they had been unable to reach me and were cancelling my order. I called again, saying I'd given them the information they needed. Punctuated by long wait times on the phone, I was told that the order was going forward and would be sent within 24 hours. Yesterday, Sept. 1st, I received another email, this time saying that the order had been canceled. More wait time on the phone ensued when I called to see if the email was an error because of assurance the day before that the email card was on its way, and found that indeed the email gift card had been canceled.
Both the sales associates and the customer service person I spoke with, kept saying when I gave them information, "No problem." Well, they have a problem - the left hand didn't know what the right hand was doing. My grandson was going to be at his dad's house where there is a Bank's store and he could have used it. He'll receive cash instead. And as for Joseph A. Bank? I'll never shop there again.

I have had two pairs of these pants for six months, wore them lightly, and washed according to directions only about a dozen times. Both pairs had seams along the sides that came undone. I returned them to the local store, which could not provide any refund since the warranty is only for 90 days. I called customer service and they were somewhat more accommodating, providing in-store credit for less than half of the original cost. It's disappointing that the store won't stand behind their product when there is a clear manufacturing defect, especially when they emphasize quality in their product descriptions.
How do I know I can trust these reviews about JoS. A. Bank Clothiers?
633,951 reviews on ConsumerAffairs are verified.
We require contact information to ensure our reviewers are real.
We use intelligent software that helps us maintain the integrity of reviews.
Our moderators read all reviews to verify quality and helpfulness.
For more information about reviews on ConsumerAffairs.com please visit our FAQ.

My 85 year old father rented a tuxedo for a wedding this weekend. He went into the store to be fitted for the tuxedo, but he did not try it on when he picked it up. When he put the tuxedo on before the wedding, he was unable to adjust the pants so they would stay up. We rushed to the wedding, and when we got there, I tried to tighten them, but the smallest setting was still too big. The reason that he had rented a tux was because he was walking my aunt, the grandmother of the bride, down the aisle. He was terrified that the pants would fall down. All night they were coming loose, and he was extremely self-conscious and uncomfortable.
When we returned the tux to the store, we told the men at the counter what had happened and that we wanted to check to see how he had ended up with this ill-fitting tuxedo. One of the men apologized, and the other said that next time he try suspenders, but they did not offer any reparation. I suggested that they should only charge my father for the pieces that he rented that had actually fit, and they told us that they do not give discounts. No discount could change how the discomfort of the pants colored his evening, but it would have been a nice gesture. I don't often submit reviews, but I really wanted to this time. My father rented his tuxedo from Joseph A. Bank because he thought it would be a better experience, but it was exactly the opposite. They did not stand behind their product or services.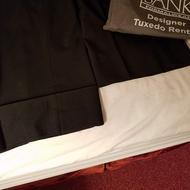 Right leg of pant not sewn, so hemming not complete. No quality control. My son is Edward **, and of course that is misspelled. I returned this tux yesterday, Sun., June 12 for my son who had to go to work. The only offer prior to the return was the store manager who offered to fix, if we brought it back to the San Jose store at 10am. The photographer was taking pictures at 10:30am in San Carlos.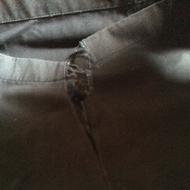 At the end of the 2015 summer season, I purchased shorts for my husband. He put them on this season and they shredded at the seam. Having only worn them a few times, I brought them back to the JAB store in Fishkill to be replaced since they were clearly defective. I was told by the store manager, Daniel **, that he would sell me a new pair. I told him I expected them to be replaced at no cost. He said given it was beyond the return period of 90 days, he could not do this. I said given the shorts were purchased late last year and not worn over the winter, finding the defect during the return period of 90 days was not feasible and I expected JAB to replace or refund the shorts.
I told him myself, my husband and family have been loyal good customers for many years and I hoped he did not want to lose our business over $29.95. He said his hands were tied. He never asked me for my name to look at my buying record before making this decision. Going forward, I nor my family will shop at JAB since I will not shop at any store that does not stand behind its merchandise. Overall, the manager was very rude and dismissive. I will spend my hard earned dollars who treats loyal customers fairly.

JoS. A. Bank Clothiers is a total rip-off! The worst company to do business with! Here me out people. Here it is in a nutshell: Placed an order over the phone small polo, the idiot is shipping x-large. I return at store by my house. I complained about it and reorder. Never got it. Few weeks later I complained and canceled the order. Till this day no refund, no replay to email, no calls, no return ck as promised! JoS A Bank is a total fraud and disaster. The svc. here stinks like the manager in Kingwood TX. Personally recommend stay away for this store - they don't deserve to be in business.
If you are looking for quality and svc. Charles **, and Paul ** far superior quality and svc. Great people to do business with. This is going on since 04/06/2015. The meter is still not resolved! I talk to Tim **, Gene, Calvin - total idiots. On top of it I address the problem to store manager Jeff ** an **! And no results! JoS A Bank is nothing but bunch of crap, irresponsible incompetent piss poor svc.

A compliment on leadership at the JAB Store in St. Simons Island. Elizabeth, the manager, has a particularly fine combination of personal efficiency and professional know-how. She has imparted the combination to her staff, all of whom exemplify these traits by "going the extra mile" in customer service. Top Grade!

HORRIFIC!!! DO NOT PURCHASE, DO NOT RENT FROM. Tux rental is a total joke and cost over $200 for pants that don't even fit, even after being fitted...and then when you go back into for the final fitting...the store rep doesn't even RE-CHECK the fit or the pants or jacket! The comment from the old man at the store...and let me point out the man that I spoke with when returning the tuxes...wore his pants just below his chest...old man pants!!! His comment to me, "On tux rentals, we're lucky we even get the right pants in!!" What the **!!??? Seriously???!!! Very poor service, very poor attitude! And the final comments from this old man? "Well everyone got married right? Then I guess it all worked out." I seriously wanted to throttle him!
After spending over $400 for rentals and they don't fit and the so-called "adjustment" cinching contraption was at its max "cinch"...the pants were falling off, and if worn where men usually have their waist measured, AT THEIR HIPS not under the "boobs", the pants were too long and dragging on the ground!! Once they get your money...you're screwed and they don't give a rat's ass that they don't fit. SAVE YOUR MONEY AND THE HEADACHES...GO ELSEWHERE! Horrid, horrible, terrible, poor service, horrific, appalling, awful, dreadful!!!

I purchase 6 items online from Joseph A. Bank Clothiers. 2 items needed to be exchanged and it has taken 3 weeks, 4 phone calls and a great deal of frustration trying to complete the exchange. Today I spoke with a customer service manager (Eric) who confirmed that my items have been returned and informed me that the company has an additional 10 days to process the order. He then sarcastically suggests that I should have gone to a retail store! So much for online convenience.

I purchased a nice pair of black shoes. I wore them no more than 10 times and noticed that the bottom of the shoes came apart. I took the shoe into the nearest store and they said they would not help me without the receipt. When I purchased the shoes they apparently did not put me in the system. I showed them my credit card receipt of when I purchased them and they still insisted on having the paper receipt. They acknowledged that the shoe was defective. The shoe was purchased at their St. Augustine, FL (off of I-95) store and I took them back to the Charleston, SC (Tanger Outlet) store. Neither store was willing to resolve the situation, despite clear acknowledgement by the workers in the store that the shoe was defective. I will never shop at this store or Men's Warehouse, since they are the parent company again.

Wish I had known about this site before. On Oct 20, 2014, I bought two pair of $100.+ pants and then paid to have the legs cuffed. Terrible job... The sewing was uneven. I took them back two more times. The last time I am sure no one even touched them. I made a complaint to the company but never heard from them. I will never buy anything from them again. The pants are still hanging in the back of my closet. I may look for another seamstress someday. I have found I can buy comparable pants elsewhere with efficient alterations at less than half the prices.

A general manager refused to correct a problem she created when I bought a defective suit. They realized the problems two hours after I left. They called to tell me this and said they could not discount the suit, nor sell me any discounted suits for me having to come back 50 miles to try on something else. They refuse to offer any viable solutions causing me to cancel the entire sale. She did not care what I did and stated there is nothing else she is going to do. She refused to honor the price for another suit the next day which is what really caused me to file consumer complaints all over.

Went for a suit, there was nothing in my size but they said they could order one. I had to pay in advance. The next week I went in & what they had didn't come close to fitting me. They said they could correct the mistake but after hours on the computer the manager admitted he had nothing in the size/color I wanted.

I purchased 17 shirts that required tailoring. The JoS. A. Bank's in-house tailor had no idea what she was doing, so the store (Wichita Falls, Texas) informed me that they would have to be sent to Dallas for tailoring. They were sent out and I did not get them back for over five weeks. What I got back was a huge disappointment. Each shirt apparently was tailored by a different person. They all fit differently, with various issues of quality and style of stitching. I sent the shirts back a second time and they came back with the very same issues. I tried to send them back a third time and I was told that they did all they were going to do and basically to stick it in my a$$ (I'm paraphrasing of course). I paid in good faith for tailoring that I never received. I told the manager to return the shirts that have been sitting there for six weeks to me and to refund the tailoring fee, she agreed to do this.
I also discovered that Men's Wearhouse has closed 15 Banks locations with more to follow. Jos. A. Bank had some issues previously, however: since Men's Wearhouse has acquired Jos. A. Bank things have become much worse and I see no end in sight. I spend $4,000 to $6,000 annually on clothing and I can honestly say that I will NEVER again spend a dime at Men's Wearhouse or Jos. A. Bank. Thanks Men's Wearhouse for totally destroying Jos. A. Bank!!!

I went into the North Andover, MA, Turnpike store on Sunday December, 27 at 2:00pm. I was the only one there and there was only one old man working the counter. Instead of trying to help me find a suit that would fit and potentially purchase, he opted to be condescending, tell me not to remove any of the suits from the rack, and snarl whenever I touched anything. I actually found a pretty decent suit that I probably would have bought because of their 75% off deal, but after his multiple attempts to try to get me out of the store, I decided to thank him and leave. His response, the sassiest "Mhmmm" I had ever heard. Needless to say, I will never be going back to a JoS. A. Bank store and I hope the old man who was working there gets fired and never finds work again.

In January, my fiance and I went to a bridal fair in San Francisco. We were approached by a representative from JoS A. Bank and was asked to register with them for our wedding and I would receive 3 free suits for every one suit I would purchase. That is a great deal especially since I have 9 groomsmen + my father and father-in-law. Including me that is 12 suits, which works out that all my groomsmen would get suits as a gifts from me. Like I said, the fair was in January, my wedding is March the following year (2016). I was guaranteed that that the deal I would be offered would still be valid later on when I would get my groomsmen fitted for suits.
The other day I go into the JoS A. Bank to get fitted only to be told that the deal is no longer valid. Even though I have paperwork stating that we can still have that deal. Then I was told that they were thinking of removing that deal the year before, but why I was heavily promised that I would receive that deal. Now I am stuck, it is not in my wedding budget to purchase suits for 9 groomsmen, we are now resorting to renting the suits. Their loss on sales and possible sales, which I was going to refer them for my other friends who are getting married in the next year or so.

2 weeks ago I went there due to their commercial. I picked 4 pants, 3 neck ties and 4 dress shirts. When I wanted to pay, the cashier said it's 12100 dollars. But when I confronted him and told her regarding their commercial, the sum was lowered to $800. And a little more showing him what the real price should be, it came to $700. They charged me & 22 for hamming and today when I saw their poor job and I told them that it's not acceptable, Mark the sale person got very rude and irrelevant (he said that he is very rich and last year he made $180000). Finally they agreed to reimburse half of alterations. But they said they will send me a check by mail.

They sell online by saying that customers can return purchases at stores if they are not satisfied. But when I buy products and I try to return as it was not fitting at Reston store, I was denied saying that they don't accept online purchases without receipts. But online purchases do not have receipts. It is discrepancy with their policy. And stores are independent from brand I guess, their store salesperson advises us not to buy from online as they increase price online and sell as normal cost showing discounts. So better avoid purchasing from JoS. A. Bank. Btw, I could not return the dress I bought online even after visiting 2 more stores.

I purchased 2 each @ $700 suits from Jos. A. Bank shortly before July 2013. At that time, I signed up for their loyalty program so they should be able to determine the exact date and amount of purchase. Due to my job as an online Professor working from my home, I rarely need to wear a suit. I had worn both suits about 6 times each since the time of purchase. I took them to Sam Meyers Cleaners at Tyler Village, 12613 Taylorsville Rd # 101, Louisville, KY 40299 for their first cleaning in July 2015. When returned, the seams were puckered in a number of places. When I brought the problem to their attention, they responded with the attached note pinned to my suits. **, Manager, indicated that Jos. A. Bank uses glue for bonding in the production of their suits and on occasion, when cleaned, it gives the appearance of puckering.
I took my suits to Jos. A. Bank on or before July 31st. The people on duty were unable to help me, referred me to Bradford **, Store Manager, and kept my suits so he could review on his next shift. I left a message for him to call. Since that time, I have called multiple times. On the occasions when we have talked, he has stated each time that he would call me back and has not returned my call once. When I talked to him by initiating the call shortly after dropping off my suits, he said he would wait for his boss to look at the suits that week. He also mentioned that they take care of this sort of issue for about 3 years from the date of purchase.
When I called a week later, he told me his boss did not come and he would speak with him and call me back. He did not call. I had a subsequent conversation with the same response and result. I called again today and left a message to call me back before his shift ended. He did not call. Sam Meyers states it is a manufacturing problem and Jos. A. Bank seems unable to respond. To not return phone calls seems rude or signals a disinterest in resolving the issue. In any case, they have my 2 suits and I seem no closer to a resolution then when I dropped them off.

I ordered my son 10 pairs of pants to wear as uniform pants for school. I was told they were in stock and I would have them in 3-5 days. After long hours on hold and two phone calls with customer service, where they basically told me they couldn't do anything to help me, it has been a week and the pants have not even been shipped yet. I have been told I would get calls back but this has not happened. This company obviously does not care about customers and at this point I don't know if I will ever receive the pants that I ordered.

Wanted to buy pants in Asheville store, but not in stock, so ordered online. Pants received dirty and with double seams (had paid $20 extra for permanent seams).Returned pants through Asheville store, but received credit only for pants, but not the $20 extra cost. Called on 7/7/15 and waited 45 minutes, then promised I would receive the additional credit. Called again on 8/14/15 and have been waiting on hold now for 42 minutes to find out where my promised credit is. I'm giving up. HOPE NOBODY EVER DEALS WITH THIS COMPANY!

I have always had wonderful service when I went into Joseph A. Bank at The Greenbrier location and Chesapeake. Tracy and Kyle along with the rest of the personnel have always treated me very well and have always been attentive to my needs. I always buy the gold signature line of their clothing. And I always get really great compliment about my clothes. I highly recommend them to anyone who wants to dress to impress.

I ordered a suit online to be sent to my APO address. The order was filled and shipped within two days and to specifications, but the jacket arrived with both buttons broken. There were even tailor's tags attached to each button. The pieces were not in the box. There were no replacement buttons in any of the pockets. I chatted with a JAB rep online whose first response was "I will not be able to provide you with the buttons for the merchandise." When asked the reason, she would or could not say why not. Forty five minutes later with a supervisor, with more prodding, she explained that "if this had happened in the U.S." they would ask me to bring the suit into a store and have a tailor fix it (I guess he has buttons, at least). In the end, the supervisor offered me a refund for the entire suit and verified that they couldn't send buttons.

Your Asst. Mgr. - Ms. Aleksandra ** in your store in the Collection Mall in Oxnard, from the time I walked in to the store, very professional. Very helpful in my shopping for shirts and Polo Shirts. Went out of her way to look for sizes for me. Not a huge shopper, but have shopped enough, to where I have had workers just point and tell me "it's over there" type of attitude. Not Ms. ** - very helpful, and glad to know that there are still people out in this trade that treat customers the right way. Thank You Ms. **! I will be back to shop at your store.

Poor customer service at multiple locations when staff have determined you aren't spending significant dollars. Lack of assistance with clothing details and sizing when not looking at suits or high dollar items. No assistance given when asking about sizing and told that "everything is out". No suggestions as to alternate options or how to get the proper size. Regardless of the time of day the 800# requires 30-45 minute hold times. I've experienced nothing short of a well-rounded lack of service provided by this company and will certainly move my business elsewhere.

As a successful businessman with every intent of spending thousands of dollars at the Columbia, MD store, I've never experienced service so bad. As an individual that deals in the service field, I understood early on that good service is priceless. Let's just say I was reluctant to spend 5% of the money I came to spend. Needless to say I will NEVER spend another dime at Jos. A. Bank. And with all honesty, I personally believe that the customer service will bankrupt Jos. A. Bank.

I've been a JAB satisfied online customer for many yrs but what the heck has happened to them? I suspect it has to do with the takeover by Men's Wearhouse. My orders are getting significantly delayed or run around, then canceled after they take money from my card. Calling the 800# is pointless as you wait on hold for hrs, not kidding. I've gone into my local store to enlist help from the mgr and she gets the same run around treatment. Just terrible. Can't blame the system cut over on this either. The shame is I've gotten good deals over the yrs and hate to see them come to an end, but it isn't worth the time/headache any longer so I'm moving on to find the next best deal out there. So sad...
JoS. A. Bank Clothiers Company Profile
Company Name:

JoS. A. Bank Clothiers

Website:

http://www.josbank.com/