Consumer Complaints and Reviews

I have been ordering from Office Depot online for the last 10 years. This year the service and the product has been horrible. The last 3 orders I placed they sent me damaged and dirty product. I'm not sure what has changed, but it isn't working. This means I need to spend at least an additional 1/2 hour on the phone talking to customer service. When I asked for a supervisor they would not transfer me - just sent me to another customer service rep. I think Amazon now has my business.

If you haven't been convinced by all the other bad reviews, here is my experience: I was asked to order two filing cabinets for one of my company's satellite offices. I guess we had ordered them directly from the manufacturer but they were lost in transit and now we needed them within a week. The manufacturer was back ordered 3 weeks. Enter Office Depot. This was a Friday (8/4) and they said they could deliver by Tuesday (8/8) so I ordered them. Shipping confirmation gets emailed and the new date is Wednesday (8/9) -- no problem. But by Wednesday and again Thursday I am calling to figure it out and they are blaming the courier (which is their in-house courier) for the problem.
By the weekend, I have received a new shipping confirmation for a new order number (and incidentally a new order date) so on Monday I call to find out why. They say that it was the manufacturer that claimed to have them available but only just now supplied them. I asked why OD sent a shipping confirmation if nothing shipped... no real response. I asked if it was lost. "I can't say that it was lost..." Also, I confirmed with the manufacturer that this is bogus: they did not just supply the cabinets and they are still back ordered. Well anyway, I am promised over and over again that it will arrive by Tuesday (8/15) so I wait. The day comes and nothing. The next day nothing again. I call and now they are saying, "Well, on our end it says that it arrived but if you don't have it, we can ship again."
These are not cheap cabinets. Wouldn't you want confirmation that I didn't in fact have them if your courier says they delivered them? My guess is that there was nothing saying they had arrived or their courier is so unreliable that they don't trust anything reported from that end. Okay well I wanted a refund at this point. The woman asked, "What if we refund 10% for your trouble and ship it today with FedEx or UPS instead of our courier and we will eat the shipping cost?". So I approve that. Next day I have a shipping confirmation but it is NOT being shipped by FedEx or UPS but, rather, their ** in-house courier again. Called to confirm and got the same old guarantee that it will arrive on Monday (8/21)... Yeah right...

I had place an order online for a modem that I needed in 2 days and paid extra for shipping. They said I wouldn't get it for almost 10 days later so I called and canceled the order right after I had placed it. The guys said I would not be charged and my order was canceled. They sent me an email 2 days later saying I was charged and my order was shipped. OMG, that is theft!!! So I had to make sure the package was returned and I don't get my $100 back for up to 10 days.

I have been to the Office Depot store in Auburn, WA; several times now and have always received excellent service. I am doing job training a few blocks away and come over to Office Depot on my lunch time and thus I don't have a lot of time to browse through the store but need to get in and out rapidly and it always happens in this store.
In particular, there is a sales rep/associate named Max and he has helped me several times, answering some technical questions that I have had about products I was about to purchase. There was a manager there named Linda, not sure if she is still there, who earlier who answered questions about my printer and a sales rep/associate named Olivia who has also helped a lot. The store personnel are willing to help and answer any questions and also do not let check out lines become too long before bringing over more personnel. Office Depot Auburn, is definitely an excellent store.

Offered a "free" checkup for laptop while making a purchase for an item not related to this by Salesman "Mark". Days later, laptop was very slow, a virus protection renewal placed doubts that I had not been scammed & worries that I might have & all that could happen further caused me to recall the "free VIP check up" offer, called and was told to bring right in. "Mark" was expert in sales 101 i.e.; talk about everything BUT what customer came for directly as fast as possible, leaving customer exhausted & open to agreement of non related services.
Although identified as scammer I admit I agreed IF THERE WERE SEVERE PROBLEMS TO FIX, however he insisted there MUST be many issues needed to have all in my laptop brought to workable condition. Was charged PRIOR to his even glancing into laptop $178.38 with agreement of FULL workable conditions when I returned next day, and everything would be FULLY placed back on to continue w/o any concern exactly as installed at the moment turned over to.
The following day I called as per his request, and he said "his boy" (the term for a co-worker) had let him down and nothing had been done, it would be another day or so. Now this is a direct counter to the agreement the night prior as where "Mark" relaid SEVERAL times in his fast salesman chatter, HE WOULD BE DOING ALL RELATED TO PERSONALLY, hence by his expertise there would be no worries about the expertise in all done to place my laptop in excellent condition. Three days passed in addition to the two already and heard nothing. Not a phone call, & still have the record of call log during those days to counter any claim(S) by OD of trying to reach me.
I was tired of waiting, so went to OD to find out status of laptop. I waited for "Mark" to finish with customer, then approached & he seemed to not recall me, nor the repair/checking/laptop at all for a few mins? Then he somewhat glared at me (obvious to my witness I had brought w/ me) & said "Wow, I wouldn't have recognized you, you look so different from the other night (**hello? Thought he did not recall one min ago). You should get some sleep" (??!?) & started off towards a cabinet, grabbed my laptop out of & thrust at me. I asked SEVERAL technical repair questions of reasonable venue, what was done? Was all replaced? Was the wifi issue now working? All of which he never acknowledged, only stating ALL MY MICROSOFT OFFICE HAD BEEN REMOVED AND UP TO ME NOW TO REINSTALL????
I was stunned, as I had told him (as noted on HIS paperwork accidentally placed inside laptop) I was unsure of and NOT to remove UNTIL located, & promised such. He said something to "whatever" and then addressed my wifi connection issue not as repaired, but it worked in there... There being the OD building I can assume. He walked off, and I was still in a state of shock, I left to return home & see what all had been achieved and deleted.
My fears were all validated, my laptop was WIPED, NOTHING reinstalled, even down to my wireless mouse no longer reading to connect. The insult being most recognized in all this mess, the wifi connection issue IS RIGHT BACK TO WHERE I HAD EXPLAINED I COULD NOT CONNECT BEFORE. I had to uninstall Windows 10 to allow connection long before I brought it in???
Calls are not returned, and now contacting the "corporations" number goes unreturned as well. Regretfully, I paid with debit card, leaving no way to hold payment until resolved. My error, nevertheless their company is responsible for reinstalling all, replacement of my Office (which comes w/ a high cost) my iTunes installed is irreplaceable, as my files? My everything holds no price, except the emotional, and financial cost I have to endure along with my professional name has been harmed, as the files for reference held had to be requested from the corporate offices I subcontract through, leaving questions to my abilities of professional knowledge. I forgot to include above that my back ups had been limited by the problem encountered prior to the request for "check up" with Office Depot. So fully aware of this, they knowingly removed EVERYTHING FROM THE LAPTOP WITHOUT A BACKUP OF THEIR OWN???
All leaves me without business prior and current until a solution is available, and accepting my mistakes included does not release OFFICE DEPOT FROM THEIR RESPECTIVE RESPONSIBILITIES TO RECTIFY THIS!!!! None acknowledgement of this will not make it go away, & just infuriates me more. Being a consumer coming for professional advisement & repairs IF needed has not been provided, nor have they enriched my situation in any manner they would need to show to disagree in my requests of all.
Do not agree to any checkup/pay for prior to solutions being provided with this sketchy, manipulative company! I hope to find some way to rectify my situation soon, but very sure at this moment in time court proceedings will be my only method of resolve, but honesty I don't foresee my ability to financially continue that process to end, as I'm sure they will hold out longer than my retainer amount does. Ending with this is a cautionary tale to others not to engage with the technical support scamming allowed in Office Depot/OfficeMax.
How do I know I can trust these reviews about Office Depot?
854,137 reviews on ConsumerAffairs are verified.
We require contact information to ensure our reviewers are real.
We use intelligent software that helps us maintain the integrity of reviews.
Our moderators read all reviews to verify quality and helpfulness.
For more information about reviews on ConsumerAffairs.com please visit our FAQ.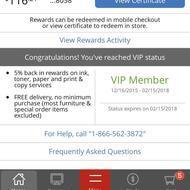 I have been a member of the rewards program for 5+ years. I am considered a VIP member and spend 200-800 a month on supplies. The changes to the program have been continual and confusing. One minute the rewards are to be given out at the end of the quarter and now immediately. If that is the case why do I have some rewards that are pending? My biggest problem with the program is the way rewards are calculated and dispersed. One day the website says I have an amount pending and another amount available, then the next day, it says those amounts completely different.
I feel like something is weird with their system. I am not saying they are "cheating" people out of their due rewards, but, something is off. I have spoken to customer service multiple times and never get a clear answer. All I hear is "The rewards have been paid". BUT they haven't! I asked for a phone number to a manager or district manager who can answer some of my concerns and was told to call the 1-800-depot number. I have done this already with no resolve. I won't say who she is, but a cashier at one of their stores, told me that have had multiple people say the same thing I am saying. Also, I am not getting credit/rewards for recycling old toner cartridges. Again should I say "weird"? I would love for someone from the company to contact me and go over my purchases and rewards. I hope they could prove me wrong.

I bought a computer last month with a 2 year service warranty. Many things wrong. Female tech faulted me because my machine didn't look spotless. I showed her the paperwork and she agree to help. She gave me a number to call and sent me home. The number was not the right one so I will have to find a shop that can fix it. They never have enough people on hand with any knowledge. This was at the store in Gresham, Oregon.

I somewhat recently got my iPhone 6 battery replaced at Office Max. I am completely disappointed and regret my decision to do it there. First, it took a long time for the employees to find an employee that actually knew how to do it. I tried to make an appointment, but apparently that doesn't mean anything, because no one was expecting me. The battery that they replaced it with is just as bad as the battery that they replaced. It seems like the only way the replacement battery would be better is if the original battery was completely dead.
On top of that, my iPhone doesn't vibrate anymore. It seems to be too much of a coincidence to not be related to the replacement, especially after the employee went on about how they shouldn't replace the batteries in the first place because it is so easy to damage them. In short, I don't recommend replacing your cell phone battery here. If you have an iPhone, pay the extra money and just have Apple replace it. Please don't go here, unless they magically get 100x better.

I purchased McAfee Antivirus via Amazon - sold by Office Depot. I ordered it on July 1, 2017. It was promised to be delivered by July 16, 2017. It has not been delivered. Today, July 19, 2017, I checked for shipping & it stated it might not arrive for 4 more days. As my present antivirus ended yesterday I had to use another product. It should NOT take 3 weeks for Office Depot to send a small box. I am extremely disappointed in Office Depot & will not buy from them again.

I ordered the Canon Printer and It came damaged, then I request to return my item. They said we generate the return process but today is 8th day but no response from them. I called them and they said that they are working on return process and they contact you in 4 business hours. But today is 8th day no response from them. Please don't buy anything. They are pathetic in customer service. I read article regarding Office Depot, their business is declining day by day due to their poor customer service. They always rude to their customers, never help them.

I ordered 2 cases of paper on 6/26/2017. They were on sale for $26.99 each. I got my confirmation for my card to be billed $57.76, which I printed for my records. Anyway, I get an email stating the paper is on back order and will be shipped when it is available. I noticed at the bottom of the order the total has changed to $119.82. I started a live chat and was ensured that I would only be charged the $57.76. I am verifying some charges on my account a couple days later and I see the charge from Office Depot for $119.82. I called and talked to a woman named Michelle who tells me that she can't credit me the money back until I receive the product, but she puts a note in my file stating I am owed a $58 credit and why.
I get the paper yesterday 7/3/2017, I call and I am playing 20 questions again and they are asking me why I want the $58 credit. How hard is it to give me back the money I am overcharged. So, she reads the notes and says that she is sending it over for approval and processing. I get an email this morning stating that they want to know again why I am requesting a $58 refund. I want to scream. I actually left a message telling them that all I want is to pay the price I ordered at and if they cannot give me the $58 difference they can come pick the product back up and give me all my money back. I have attached a copy of my order. I have my proof that I was overcharged and might have to file with the bank and police if this is not resolved.

I returned 6 empty cartridges today... Suppose to receive $2/per credit on OfficeMax account. Policy last 90 days on acct.? Takes 5 weeks for credit to be posted to acct. I buy $50 worth of new cartridge at least 5 times per year. Have returned empty cartridges at least 3 times in past year... HAVE SEEN NO CREDITS on my account to date. This is a huge lie and a rip off... They are pretending they're offering a "benefit" when they're actually offering you... NOTHING!!!

5/17/17 I placed an order for several pieces to furnish a new office. Delivery dates ranged from 5/18 to 5/26. Ordered 2 desks, a library return and a library along with 3 chairs. Not too much right? Wrong!! Chairs came - no problem. One desk came - right order # wrong product, library base came on the wrong order and it's gone downhill from there. Nothing else showed up. Called 3x - got one more piece on the wrong order#. Then they tried to send me a desk I already had. It's now 6/12 and I'm still waiting for a desk.
I had to actually explain to the rep the problem by telling her to get a piece of paper, divide it in two and write the order#'s down and draw lines to what we got and what we need. Sigh. Then they said, "We'll fix it, you'll have it by June 22nd." And apologies to the girl on the phone but I lost my patience. Sooo... as I said, for the love of God pleassseee do not order from here. Lesson learned - always check reviews before ordering and DO NOT SHOP AT OFFICE DEPOT. Wish I could have given them negative stars. NEVER EVER EVER AGAIN!

I ordered a desk from OfficeDepot.com. I ordered this particular desk at a $45 premium over other sites because they guaranteed (if in stock which it was) free overnight delivery. Not only was there a $20 upcharge for the overnight delivery which I required, I am now on day 8!!! With no desk. I have been passed around from office depot customer service to their delivery company to another local delivery company, with ZERO acknowledgment of this error. I am hoping that I might make the delivery schedule 2 days from now. I live in a large enough city that this should not be an issue. Again, hopefully by day 10 I will have an item that I paid a premium for to receive overnight!!! Horrible customer service, horrible delivery and ZERO follow through. Absolutely will be using a competitor for anything I can in the future.

Ordered a $2,000+ dollar computer on 6-4-17 was given a delivery date of 7-10-17. Didn't want to wait well over a month to get it, so I tried to cancel. Contacted customer service and was told it would take 7-10 days to cancel. This is the worst service and the biggest waste of time in my life. They will charge your card fairly quickly though.

Office Depot #923 on 5533 N. Rosemead Bl., Temple City, CA 91780. I went in on 5/30/2017 at around 5:00 pm for scanning service on 7 large original calligraphy paintings. There was one customer service rep, **, in the print service department doing his best to handle every customers' needs of at least 7-10 people, plus the phones, during the roughly one hour I spent there. He told me it would be a while and it was understandable. He was able to scan one sheet but it came out slightly slanted so it needed to be redone. During the first (and only) scanning, he would assist other customers and that's how he had to handle most cases. What ended up happening was 2 or 3 of us would be waiting while he's already in the middle of helping someone else.
** was doing his best, courteous and had a great attitude. He suggested that instead of waiting, I could leave it there and pick it up the next day before noon and that someone would call. A great idea. He wrote a Project Folder and I purchased a brand new Sandisk USB. It was an empty acrylic box with no item in it. ** called for product pick up with no response. After a few minutes, he saw the one and only cashier on duty with no lines, he told me it might be quicker if I went to her. Did that, paid and got the new USB at the cashier line, went back to ** and paid for the scanning service. The next day, no calls. I went in around 3:30 pm the next day 5/31/2017.
This time there were 2 or 3 service reps in the department but no **. After finally locating my order, it hasn't even been started. Again, being told by another young man that they'll have someone get on it right away and should be ready by 6:30 and that someone would call. Again, no calls. When I called this morning 6/1/2017 at 9:30, I was told the printer is down and there's nothing they can do until it gets fixed which is another unknown and that I could go in for a refund. Monetary refund is not the only recourse to time lost and energy wasted!!!! There are severe mismanagement issues with personnel scheduling, training, hardware maintenance, and the entire customer service policy system flow. As accountability goes, this Office Depot has NONE.

I ordered a desk and chair to be picked up from a particular store that the items where showing available. I received a text saying "We had an issue with your order, an Office Depot manager will contact you shortly". I NEVER received a call, so I decided to call the store myself. Upon me informing the clerk that I received a text, the idiot cut me off, and said "Are you the one who ordered the desk and chair?" I said yes, and he then proceeded to say "Oh, I was "suppose" to call you and let you know that the items you ordered were not in stock." So I said, "Okay... What store has them in stock?" he gives me a different store and advised me to call that store to have them hold the item. Even though I was frustrated, I just said "Okay, I'll give that store a call."
HOWEVER, before I could hang up, he says, "Oh did you pay for the items already?" I said yes (I was thinking, duh dumbass! How else could you order online). Anyway then he placed me on a hold, came back on the phone and said "I cancelled your order, so if and when you find the store that has your item, then you can pay them." I said, "Why would you do that!!!", and said "Because you ordered to pick up at our store." I told the guy that my money was not back on my card. He placed me on hold and came back and said, his manager said check in an hour or so to see if it's on your card, it's going to be holding on there for sometime. Why should I be inconvenienced in paying double the money, and trust that I'll get a refund in an hour, when I haven't even got the right info online about proper in stock items and haven't received my refund still, after an hour!!!! Will never shop with Office Depot again!!!

I'm a coach. Brought in some stuff I needed copied into a PDF. I asked if they could save it to my hard drive. They said yes so I went on in. The lady was very helpful and nice. Made copies. Put it on my hard drive. When I got home 5 min after that neither of computers would recognize the hard drive. After returning into store they eventually told me I had to pay for data retrieval. I said, "Wait I paid you guys 50 bucks for the work and you mess up my hard drive which has my entire career on it and I'm responsible?" Store manager said, "Oh well". They refunded my 50 then sent me out the door. I will never go back. I didn't think that business was as amateur as that to take some things break, say "My bad" and out you go.

I ordered a small fridge. When I asked them if they could bring it in they said they were not allowed to. OKAY. I understand, so I asked them if I can use their dolly for 10 seconds to bring it in. The delivery guy said NO, I told him I can't leave it out and I was a girl alone who could not carry it. He left. RUDE, RUDE, RUDE and inconsiderate! Thank God I did not raise boys like that.

I ordered a set of (5) 48" x 40" x 36" pallet boxes on 4/28/17. The delivery terms were 3 to 5 business days (or slightly longer if ordering furniture). The item I was purchasing was definitely not furniture. On the 4th business day I called Office Depot to inquire about my order. A representative told me on the phone that I would be receiving my order that day. My order did not arrive that day. The following day (5th business day) called and went through the automated attendant which told me my order was delivered that day on 5/4/17 which it definitely was not. I spoke to another representative and she stated that she could see that the order was not delivered but she couldn't provide any information as to when it would be delivered but she was going to have the carrier contact me and provide me the information as to when the order would be delivered. No one called or emailed me after that phone call.
On 5/8/17 I called to speak to a representative to find out information regarding the delivery of my order. A representative tells me the same thing that they don't know when my order is going to arrive but she was going to "submit a request" to the resolution department to look into the order. I then asked if I could speak to the resolution department myself to expedite the process as I feel that I've already been more than patient. The representative denied my request. At that point, I figured it was best to cancel my order and purchase the same item from Uline, where I may have to pay a little more, but the item is guaranteed to be delivered the following day. I lost many valuable days waiting for this order and now there's nothing to show for it. Complete waste of Time!!!

I was not planning on making a purchase but an offer came into my inbox that promised that the item that I was going to purchase in the future could be delivered on the NEXT BUSINESS DAY, if I made the purchase within approximately half an hour. I placed the order and, only when I got the receipt, did it let me know that the item would be delivered in 5 days! When I called back, I was told that the item was a special order (even though it was specifically listed on the sale). I don't believe anything they tell me anymore. Isn't that false advertising??

DO NOT BUY A COMPUTER FROM OFFICEMAX! I bought a Dell Computer at this store just to find out that 2 1/2 months later the motherboard goes out. OfficeMax doesn't care and bears no responsibility. Just wants to pass the buck onto Dell with zero resolve. I was told, "Not our problem", I guess when you take the chance of buying a large purchase and one you bank on to run your business at OfficeMax you take the risk of getting sub-par equipment. In the past I have always bought my computers at Best Buy and I have never had a problem with their merchandise but unfortunately I chose to stay in my community and spend my money in Apache Junction... BAD MISTAKE!

Worst experience ever with this company (Office Depot). We bought a small Fridge online, by 02/02/2017, were told will get it March 2nd. Didn't happen. Give them one more week. Still didn't happen... then we asked for a refund since the merchandise wasn't received. They told us tomorrow it will happen, tomorrow will happen, the next day it will happen... and now April 14th and still didn't happen. This was the first time to deal with this company and definitely the last. I will do my best to drive business away from this company.

Avoid doing business at Office Depot like the plague! I dropped off 11 pages to get faxed and was told it would take 15 minutes! Yeah! 15 minutes to fax 11 pages. When they were done (25 minutes later) the bill was over $23.00! To justify the high price I was told that since the number used was outside the prefix number for that store it is considered a long distance phone call by them. The store is in Greeley with a prefix of 970, they faxed to Denver with a prefix of 303 but this is not a long distance charged call. The phone company simply uses different prefixes due to the high number of users, but all calls are still considered and charged as local calls. Services were rendered and I paid the bill but I personally nor will my company ever spend a nickel in the store chain again. They stung me once but never again.

Made an in store order for office furniture and in home assembly on Saturday. I paid with my Bank Debit Card. 30 minutes later when I got home I realized all the furnishings would not fit, so I cancelled 1/2 the order. When I checked my bank they had not removed the charges from the cancelled portion of the order. I called the store who told me to call corporate, when I finally reached someone in corporate they told me to talk to the store - who sent me back to corporate. Finally someone in corporate says they will give me a call in 48 business hours to let me know when they intend to refund over $900.00 that was charged to my Debit Card.
I was promised the order on Tuesday which did not happen, so I called the store and the manager asked if I would like to give my Debit Card again so that she could just create a new order (which I did not give her), miraculously she found a way to get the furniture delivered to me on Saturday without charging my card again. Now on the Monday morning there was a knock on the door with someone trying to deliver a duplicate order, I turned him away. I am yet to receive my refund of over $900.00 and this is 7 business days later. Office depot corporate office speaks to me in a tone that they have all the time in the world to refund a debit card purchase. I'm not sure how they stay in business with their attitudes, but one thing I know for sure - this long time customer won't be doing business with Office Depot in the future.

I am a consumer that seems to choose the wrong companies to do business with. First mistake signing up with CenturyLink - girl selling internet/phone deal says it is a better deal if I BUY a modem. Second mistake going to Office Depot/Office Max in Milwaukie to buy one. Installation day installers said our modem was crap and didn't bother with it. Attempted to return NEW modem to Office Depot/Office Max a month later. They REFUSED to give me my money back, would NOT give me CREDIT to use my RETURN in their store. Told that I only had TWO WEEKS to return the modem??? Retired and on fixed income so will try to sell this worthless NEW modem to someone else since I didn't need it. Does modems get old and no good AFTER TWO WEEKS??? Canceled CenturyLink a month later!

Office Depot should be avoided at all costs! Our most recent experience has been another exercise in total futility. We wanted a small, inexpensive desk quickly so did an online search and the website said the desk we wanted was in stock at the local store. Off we go, only to find out that their inventory was wrong so it would require delivery. One week later, still no delivery! No excuse, no information, no nothing. One excuse we were provided was that "Your address isn't in GPS." Since our subdivision is new, of course it isn't. But the driver never attempted to call and ask directions, anything... just decided not to deliver.
Only action we got was when we rated our satisfaction a ZERO -- then the store manager called. We explained the situation. Guess the store and delivery service don't communicate because the store manager said he was as clueless as we were about the delivery!! Are you kidding me... this day in age no way to contact the delivery people directly? That is insane!! One week and counting on the missing desk.
Two years ago had similar issues with them. (You would have thought we learned our lesson.) Ordered an office chair for delivery. NEVER showed up on my doorstep. After numerous calls the driver insisted it was on my porch and I should just bring it in. Apparently they delivered it to the wrong address -- not just the wrong address, the wrong CITY! I was told in order to get a refund I had to prove it was not delivered. Are you kidding me!!! I begged to have a picture of them showing it sitting on my front porch but that never happened. I even checked every house in my subdivision and it wasn't there.
Office Depot and their delivery service have to be the most incompetent organizations in business today. There is NO excuse that they do not have any knowledge of delivery locations, status, etc. In regards to our latest issue (missing desk) the local store manager only got involved when we provided a low rating and to quote him, "Your low rating effects everyone at the store and their bonuses." How about doing great customer service simply because it's the right thing to do???

On February 17, 2017 I ordered a six pound packet of wintergreen paraffin wax. Instead I received a one pound packet of unscented wax. I called customer service and they credited my account and placed another order. A few days later the same thing happened. I received a one pound packed of unscented wax. I contacted them again but this time they said they needed to contact the manufacturer and would get back with me. They never did. I called again and spoke with a supervisor who swore she would handle this but she never did. I emailed them with no response. I took the wax to an Office Depot store only to be told that I could not return it there because it was not in their system. I tried calling the corporate headquarters but they don't answer the phone. A voicemail says leave a message. This has been extremely frustrating and to date, I have not received a refund for an item that was never delivered.

Most horrendous delivery service I have dealt with. Office Depot should discontinue the service since they evidently cannot provide it efficiently. Run around and lies and still no delivery of filing cabinet... Completely disappointed and disgusted. DO NOT order anything online from them.

My wife and I went into the Office depot store on Halsey in Portland on 2 Feb to buy labels for a project. I had seen the ones we wanted on their website. Of course they didn't have them in the store but we could order them for delivery. We had to find them on the store computer ourselves as the agent couldn't. OK we ordered them with some ink for the next day. Of course again they did not come until the 6th. And they sent the wrong labels. We called and finally got thru to someone who helped us find a similar label. Promised for next day. It is now the 10th and we still don't have.
Tried to get help online chat and they are sorry but cannot access order info. Have to phone store. Phoned store, same response even though I have my account # and an order number for some candy I bought at the same time in store. Phoned 800 number, tried to give me the same runaround but I insisted and they found it. Told me that they could not deliver on Wednesday the 8th (remember the "next day" promise) because of weather conditions. I am in Portland. What weather conditions. On top of everything, only the candy purchase went thru to my so-called Rewards program. No wonder I never get any points! This crappy service is getting worse, and unfortunately not just at Office Depot. T-Mobile same thing. Centurylink same thing. On and on. Consumers in Europe do not tolerate this type of service. Why do dumb-** Americans?
Office Depot Company Profile
Company Name:

Office Depot

Website:

http://www.officedepot.com/