ConsumerAffairs Accredited Brand
BarkBox
Get ready to spoil your pup with BarkBox! Every month you'll receive TWO original toys designed in-house (with the help of their dog-obsessed toy experts), TWO full bags of all-natural treats, and ONE drool-worthy chew. Each box is built around a fun surprise theme for all dog & dog parents to enjoy. If your pup doesn't absolutely love something, BarkBox will make it right, no questions asked!
View More
View More
BOTTOM LINE
BarkBox provides a fun monthly subscription box with treats and toys for your dog. While you can't cancel a subscription early, there is a month-to-month option available.
PROS
Options for dogs with allergies
High-quality ingredients
Customized to your dog's size
CONS
Subscriptions renew automatically
​
Carolyn of Chicago, IL
Verified Reviewer
Mabel our pup loves her BarkBox. She always knows when a package is for her and gets so excited when she sees it! We love the variety of treats as well as the "allergy" option to prevent her from receiving treats she's allergic to.
Read full review

Sara of Salem, IL
Verified Reviewer
My dog absolutely loves all of the treats they send out. I've been having trouble with her breaking all of the toys however I just spoke with a representative [and] they are also going to send out new toys to replace the ones that my dog chewed up. Excellent!
Read full review
What is BarkBox, and how does it work?
BarkBox is a monthly toy and treat subscription box for your dog. You can purchase a 12-month, six-month or month-to-month subscription plan, and BarkBox delivers a new box straight to your door each month.
When you set up your subscription, you have an opportunity to let the company know your dog's size so you receive correctly sized toys. You can also alert BarkBox to any allergies your dog has to ensure the company sends appropriate treats.
What comes in a BarkBox?
Each BarkBox includes two toys, two bags of treats and one chew. You can add an extra toy to your box for $9 more each month. BarkBoxes are centered on a new theme each month — past themes include Chewrassic Bark, New York City, an '80s-themed Throwback Thursday box and a Grinch-themed Christmas box.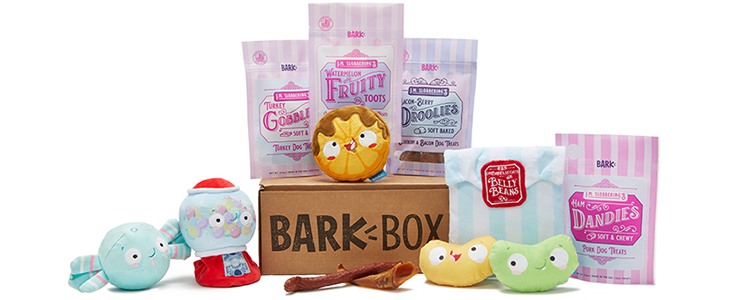 BarkBox toys: BarkBox's in-house designers plan out its line of brand-exclusive toys. The toys may include stuffing, squeakers or crinkle material.
BarkBox treats: BarkBox develops and makes its treats and chews in the U.S. with high-quality ingredients. You can customize your box to exclude any ingredients your pup may be allergic to, like chicken, turkey or beef.
How much is BarkBox?
BarkBox subscriptions start at $22 a month, but the price varies depending on the length of the contract. Your dog's size does not affect BarkBox's prices.
| Subscription | Monthly Price |
| --- | --- |
| 12-month | $22 |
| 6-month | $25 |
| Month-to-month | $29 |
BarkBox FAQ
Is there a toys-only BarkBox?

BarkBox does offer all-toys and all-treats boxes. You have the option to completely tailor your box to whatever best fits your pup.

What is Super Chewer by BarkBox?

Super Chewer is a monthly subscription box for dogs who are tough on toys. Just like the original BarkBox, each box contains a mix of toys and treats, but each toy is designed for dogs with heavy chewing tendencies. Super Chewer subscriptions are slightly more expensive than standard BarkBox subscriptions.

Are BarkBox treats OK for dogs with allergies?

At sign-up, you can indicate if your dog has a common food allergy, like chicken, turkey or beef. If your dog has a less common allergy, you can contact BarkBox to ask about creating a custom box.

How do I cancel BarkBox?

If you sign up for a multiple-month subscription plan, you are unable to cancel early. However, you can turn off auto-renewal at any time and your boxes will be canceled after your current subscription plan has ended.
Is BarkBox worth it?
If you regularly spend money on treats and toys for your dog, we think BarkBox is worth it. The subscription plan ensures your beloved pet gets a new batch of toys each month and makes it simple for you by delivering the goodies straight to your door. The cost of the box is less than the value of the items, so BarkBox helps you save money and time on toys and treats.
A link has directed you to this review. Its location on this page may change next time you visit.
This review is featured by BarkBox
Katie of Swoyersville, PA Verified Reviewer Verified Buyer
Original review: Nov. 15, 2019
My dogs go insane over Bark Box. They get so excited when the box comes and have loved every single toy they have gotten. I can't even describe how they get when they see a new toy. They start jumping and barking and that's how I know they are excited. In the past they just laid around all day. Now they are constantly playing with the toys. Don't even get me started on the treats. The only thing bad about the treats is that the bags aren't bigger! I could probably get my dogs to do anything when I pull out the bark box treats. Thank you so much!
BarkBox response
Hi Katie! Thank you so much for taking time to share your feedback! We are so happy to hear BarkBox has brought so much excitement to your special pups! I think my own pup would definitely agree on bigger sized treat bags so I'll see what we can do about that. In the mean time though, we can at least customize your box to include more treats if you wish! If you're interested, feel free to reach out to our team at lindz@barkbox.com to learn more! Pass some extra belly rubs to your pups from all of us here at BARK!
Be the first one to find this review helpful
This review is featured by BarkBox
Kayla of East Providence, RI Verified Reviewer
Original review: Nov. 13, 2019
My pups and I love BarkBox! Anytime I have ever had a question or concern I get an email back almost immediately. Every box my dogs have ever gotten is good quality and well worth it! They go the extra mile and really care about their customers! I had three dogs and one of them was a major chewer. I upgraded to Super Chewer. He loved it! Unfortunately he passed away, I reached out to them asking to downgrade back to BarkBox cause my two other dogs didn't need the heavy duty toys and they did it no problem and were very thoughtful, they even sent a few extra toys for my other two pups when I told them the news. I am very impressed with the customer care. My pups love their BarkBoxes!
BarkBox response
Hey Kayla! Thank you so much for taking time to share your feedback! We at BARK are sorry to hear about the passing of your pup but we are so happy to hear you and your pack has had a fun experience with BarkBox! Our goal is make sure you and your pups are happy and well taken care of! Please don't hesitate to let us know if there is ever anything we can do to make your BarkBox day even better!
Be the first one to find this review helpful
Page 1 Reviews 1 - 10
C of Indianapolis, IN Verified Reviewer
Original review: Oct. 29, 2019
My three small elderly dogs love their boxes! My 13+ yr old chihuahua, Newman, was especially fond of the September 2018 Fluffafel toy and carried those little falafel balls everywhere. Newman was down to one and it's now lost its squeaker! Is there any way to contact BarkBox to get a replacement toy or box from a discontinued line? I really want to get the dog new falafels since it's one of the few joys in his sunset years.

BarkBox response
Hi there! Thank you so much for sharing your feedback! We are so happy to hear that your pups are loving their BarkBoxes! We love that Newman found a favorite but sorry to hear it has lost it's squeaker! We'd love to keep Newman's tail wagging as long as possible so we'll be sending a direct email to help get this taken care of as soon as possible! :)
Be the first one to find this review helpful
Thank you, you have successfully subscribed to our newsletter! Enjoy reading our tips and recommendations.
We value your privacy. Unsubscribe easily.
Crystal of Port Saint Lucie, FL Verified Reviewer
Original review: Aug. 6, 2019
Let me start off by saying I have a full pack here. Complete with 4 dogs. That's right. Four, gorgeous, big, psychotic, VERY spoiled, energizer-bunny-like dogs. (Two huskies and two Belgian Malinois to give you a better idea.) Now to be honest- I was skeptical about BarkBox. I knew people that had little dogs, labs and collies that were getting them... but my four? Well, they're monsters. Lol. I couldn't imagine that this would be a good fit so I brushed it off. I was spending a better part of $120-150 every TWO weeks on toys. And our huskies looove stuffed toys.... so I was finding fluff everywhere. Every day. It was never ending. So, begrudgingly, I reconsidered BarkBox. I ran into a bit of an issue after I ordered, because I found out about the Super Chewers BarkBox. So I called and was blown away at how extremely accommodating their customer service reps are!!
My first box had already been shipped out (They're quick, people!) so there was nothing she could do there, but she offered to send me out a couple Super Chewers toys to hold us over until our next box free of charge!! SO FAR- Our BarkBox came & My dogs liked all the treats but surprisingly LOVED all the toys! I was impressed, not only were they given 3 toys, but there're toys INSIDE of toys. So after they ripped them open, there was still something to play with! They lasted a good while, but they're no match for this pack! We're looking forward to our Super Chewer box. Overall, I'm very happy with my experience so far!
Read full review
BarkBox response
Hi Crystal! Thank you so much for sharing your feedback! We are thrilled to hear you and your rambunctious pack are enjoying your experience so far! I'm so excited for your pups to receive their first Super Chewer box and I hope they love it as much as my own pup does! If any concerns ever come up or any items are destroyed too quickly, please let us know! We're always happy to send a replacement per our Scout's Honor guarantee and we also have many customization options to ensure your pack is receiving the best assortment of goodies possible! Please give all those special fur babies some extra belly rubs from all of us here at BARK!
5 people found this review helpful

Shelby of Stow, OH Verified Reviewer
Original review: July 10, 2019
I have been getting the Barkbox for my Golden Retriever for a little over a year now and he is IN LOVE with his box. He knows every month when it comes in the mail and loses it! I put the box down for him to go through it and it's as happy as he could be. Every month we get two bags of treats, a bone, and at least two toys. He did happen to destroy one toy instantly when we got it. So I reached out to the customer service department and they sent him a brand new toy that was a little better for hard chewers. I highly recommend trying the subscription out if your dog enjoys toys and cookies.
BarkBox response
Hi Shelby and Gibby! Thank you so much for reaching out and sharing your feedback! We are so happy to hear that you and your pup are enjoying the monthly goodies! Nothing makes us happier than to have the chance to spoil the special pups in our pack! If you and Gibby ever want to change up the contents in your box, we would be happy to go over our customization options with you! Please don't hesitate to reach out if you ever have questions or concerns! Pass some extra belly rubs along to Gibby from all of us here at BARK!
Be the first one to find this review helpful
Paula of Denver, CO Verified Reviewer
Original review: June 23, 2019
I signed up for a BarkBox subscription before one of my dogs passed away. I then received the first box after she had died. I had actually forgotten about it until the box came and had her name on it. So sad. I got online to change the account name and couldn't figure out how to do that, so I reached out via email to customer service. I received a very sweet condolences email adding that she would take Lucy's name off the account. She also offered to decrease the toy count from 3 to 2, which would also decrease the cost. Perfect.
We then exchanged several emails with her asking about my dogs and sending me pictures of her dogs and letting me know about their companion loss department. I sent her a few pictures as well. I mean who doesn't like to talk about and show pictures of their dogs? A week later, I received a handwritten sympathy card from her...very sweet. Then 2 weeks later, I received a small book-sized package in the mail from BarkBox... too small to be THE BarkBox. Inside was a picture frame with an artistic sketch (it looks hand drawn to me) of one of the pictures I had sent. I burst into tears at not only the picture of my dogs, but the amazingly kind gesture. I have now received 3 boxes and my two other dogs love them. The toys and treats are great and I love the themes each month. I don't think I've ever been treated with such kindness and compassion from a company and will continue to give them my business.


Read full review
BarkBox response
Hi Paula,
We are so happy to hear that your pups have been loving the goodies each month. We hope they are so excited for the fun themes and surprises we have in store. Do they have any favorites?
We're so sorry for your loss, but I know Lucy was very loved, and so lucky to have an amazing parent like you. We are always here to talk, or help with anything you may need.
Thank you for being in our pack!
5 people found this review helpful
Jordan of Tempe, AZ Verified Reviewer
Original review: May 30, 2019
I signed up for BarkBox several months ago after my cousin recommended it to help provide my pup with some entertainment when I was away. So far I have been happy with it. You get an assortment of treats and toys each month and my dog smells the box the second it arrives and gets excited. I signed up for the SuperChewer version since my dog is a strong chewer. I will get a toy every month or two that just doesn't last more than a few minutes after giving it to her. Luckily you just email BarkBox with a picture of the destroyed toy and they send out a new one free of charge that is more tailored to your dog's chewing style. So far I have been very pleased with the customer support.
BarkBox response
Hi Jordan,
We're thrilled to hear that your pup is loving the Super Chewer goodies each month. We love spoiling her, and we have so many fun themes and surprises to come!
Does she have any favorite toys so far? We would love to see any #barkboxday pictures you would like to share with us.
Have a great day!
Be the first one to find this review helpful
How do I know I can trust these reviews about BarkBox?
2,208,408 reviews on ConsumerAffairs are verified.
We require contact information to ensure our reviewers are real.
We use intelligent software that helps us maintain the integrity of reviews.
Our moderators read all reviews to verify quality and helpfulness.
For more information about reviews on ConsumerAffairs.com please visit our FAQ.

Cindy of Pensacola, FL Verified Reviewer
Original review: Feb. 20, 2020
I started BarkBox a couple years ago. It's like a subscription service for your dog(s). It is anywhere from $22-$29 a month. The staff is incredibly obsessed with dogs & it shows with any type of interaction you have with them. Whether it's over the phone, text or email. They ask you about your dog such as do they have any allergies and if they need super strong toys (super chewers!), etc. and every month they have a theme. Once it was a summer box and with the toys & treats they included a "passport" where you could put your dogs photo on it. They give a lot of thought and care to every theme. Here's a bonus: if your dog does not like a treat - contact them and BarkBox will send out a replacement treat at no charge. ????❤️????
Be the first one to find this review helpful
Teresa of Fountain, CO Verified Reviewer
Original review: Feb. 14, 2020
I like this as an opportunity to not worry about what I want to pick out for her, but they give me a variety of pet toys in the new edibles to try that I never would have thought to try before. It's easy and it comes to my door once a month and she is excited to see what items I will be pulling out of the box. I don't necessarily like hard treats for her, but they do give me a variety of treats for her to try.
Be the first one to find this review helpful
Kelsey of Newport, WA Verified Reviewer
Original review: Jan. 29, 2020
I received the "gift code" from a friend and I was unaware that the only way to get said "free box" that you have to sign up. I did just that and sadly had to cancel it due to unforeseen circumstances. However we were allowed to keep our "free box" and that is where I have issues. In a matter of 30 minutes the toys were torn in chunks and I had to take them away. For the treats it asked you to pick protein that you don't want if your dogs have allergies and the treats that were in the box I can't give my dogs because they have allergies and chicken and beef and yet we got beef treats. For the price of the box for the "super durable" toys which didn't make it to 30 minutes and treats that I can't give my dogs I have to say we won't be coming back.

2 people found this review helpful
Susie of Burbank, CA Verified Reviewer
Original review: Jan. 25, 2020
I received a special promo offer for 1 box and the items I received were not even worth the discount price. The toys lasted only about 2 hours at the most and the treats were in small bags. Not worth it. You can find better deals on Chewy.com.
2 people found this review helpful
Carol of Keller, TX Verified Reviewer
Original review: Jan. 24, 2020
The quality of toys/dog treats you receive are terrible for the cost per box. The plush toys sent lasted less than 2 hrs & both toys & treats can be purchased for cheaper on Amazon. Further, you're able to return/exchange & most importantly, an Amazon representative is available to talk to. I waited in the chat queue over 40 min twice & sent an email.... crickets. Do yourself a favor and spend your money with a company who isn't just interested in the sale & not service!!!!
4 people found this review helpful
Thank you
Keep an eye on your inbox, the latest consumer news is on its way!