Find a Dog Treats partner
Our promise. We provide a buying advantage with verified reviews and unbiased editorial research.
About BarkBox
Get ready to spoil your pup with BarkBox! Every month you'll receive TWO original toys designed in-house (with the help of their dog-obsessed toy experts), TWO full bags of all-natural treats, and ONE drool-worthy chew. Each box is built around a fun surprise theme for all dog & dog parents to enjoy. If your pup doesn't absolutely love something, BarkBox will make it right, no questions asked!
Pros & Cons
Pros
Options for dogs with allergies
High-quality ingredients
Customized to your dog's size
Cons
Subscriptions renew automatically
Bottom Line
BarkBox provides a fun monthly subscription box with treats and toys for your dog. While you can't cancel a subscription early, there is a month-to-month option available.
Top BarkBox Reviews
Mabel our pup loves her BarkBox. She always knows when a package is for her and gets so excited when she sees it! We love the variety of treats as well as the "allergy" option to ...
Read full review
Sara

of Salem, IL
My dog absolutely loves all of the treats they send out. I've been having trouble with her breaking all of the toys however I just spoke with a representative [and] they are also ...
Read full review
What is BarkBox, and how does it work?
BarkBox is a monthly toy and treat subscription box for your dog. You can purchase a 12-month, six-month or month-to-month subscription plan, and BarkBox delivers a new box straight to your door each month.
When you set up your subscription, you have an opportunity to let the company know your dog's size so you receive correctly sized toys. You can also alert BarkBox to any allergies your dog has to ensure the company sends appropriate treats.
What comes in a BarkBox?
Each BarkBox includes two toys, two bags of treats and one chew. You can add an extra toy to your box for $9 more each month. BarkBoxes are centered on a new theme each month — past themes include Chewrassic Bark, New York City, an '80s-themed Throwback Thursday box and a Grinch-themed Christmas box.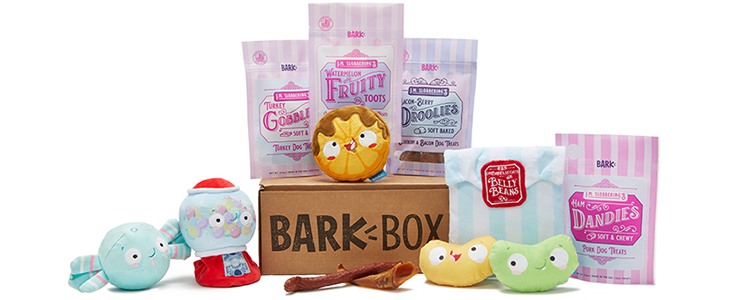 BarkBox toys: BarkBox's in-house designers plan out its line of brand-exclusive toys. The toys may include stuffing, squeakers or crinkle material.
BarkBox treats: BarkBox develops and makes its treats and chews in the U.S. with high-quality ingredients. You can customize your box to exclude any ingredients your pup may be allergic to, like chicken, turkey or beef.
How much is BarkBox?
BarkBox subscriptions start at $22 a month, but the price varies depending on the length of the contract. Your dog's size does not affect BarkBox's prices.
| Subscription | Monthly Price |
| --- | --- |
| 12-month | $23 |
| 6-month | $26 |
| Month-to-month | $35 |
BarkBox FAQ
Is there a toys-only BarkBox?

BarkBox does offer all-toys and all-treats boxes. You have the option to completely tailor your box to whatever best fits your pup.
What is Super Chewer by BarkBox?

Super Chewer is a monthly subscription box for dogs who are tough on toys. Just like the original BarkBox, each box contains a mix of toys and treats, but each toy is designed for dogs with heavy chewing tendencies. Super Chewer subscriptions are slightly more expensive than standard BarkBox subscriptions.
Are BarkBox treats OK for dogs with allergies?

At sign-up, you can indicate if your dog has a common food allergy, like chicken, turkey or beef. If your dog has a less common allergy, you can contact BarkBox to ask about creating a custom box.
How do I cancel BarkBox?

If you sign up for a multiple-month subscription plan, you are unable to cancel early. However, you can turn off auto-renewal at any time and your boxes will be canceled after your current subscription plan has ended.
Is BarkBox worth it?
If you regularly spend money on treats and toys for your dog, we think BarkBox is worth it. The subscription plan ensures your beloved pet gets a new batch of toys each month and makes it simple for you by delivering the goodies straight to your door. The cost of the box is less than the value of the items, so BarkBox helps you save money and time on toys and treats.
A link has directed you to this review. Its location on this page may change next time you visit.
How do I know I can trust these reviews about BarkBox?
4,244,075 reviews on ConsumerAffairs are verified.
We require contact information to ensure our reviewers are real.
We use intelligent software that helps us maintain the integrity of reviews.
Our moderators read all reviews to verify quality and helpfulness.
Page 1 Reviews 0 - 10
D of Louisville, KY

Verified Reviewer
Original review: May 13, 2023
I have tried to cancel my subscription three times and my credit card is still being charged. I had to cancel my credit card to stop these charges. I was going to reach out to the Attorney General of Barkbox's home state, and then I saw it was lawless NY. No one prosecutes any crimes like this in New York anymore, I'm on my own.
Be the first one to find this review helpful
Bobbie of Nampa, ID

Verified Reviewer
Original review: April 16, 2023
The quality of the toys is top notch. The price is definitely a good deal, especially since many toys have another inside for those that like to tear them up. The themes are so fun, you'll look forward to it as much as your dog. Customer service is exceptional! I've been a customer for almost two years and it has been a positive experience in every way. Once, a toy was torn apart (new Pittie pup) in 20 minutes. They replaced it for free. The treats are great quality...and I am very particular about what I feed my dogs. Yes, there may be something extra when you sign up that ends after the first year. It is up to you to read before hand. Or, ask later if you notice a change. Customer service thru text or email is very fast and friendly. I have never been disappointed in any way.
Be the first one to find this review helpful
Thank you, you have successfully subscribed to our newsletter! Enjoy reading our tips and recommendations.
Tate of Fort Worth, TX

Verified Reviewer Verified Buyer
Original review: March 27, 2023
Barkbox is unfortunately one of the several subscription services that attempts to bring in new users through discounts then makes cancelling your account near impossible. The toys are poor quality and durability and once you realize this and try to cancel your subscription, they are intentionally deceptive about "updating your subscription" instead of allowing you to stop future payments. Bad experience all around.
3 people found this review helpful
Ashlee of Aubrey, TX

Verified Reviewer
Original review: March 18, 2023
BarkBox traps you in joining by offering a free extra for first timers. Which seems to be the trend with subscription services. I realized signing up I had to participate for 6 months. I was renewed for another 6 months, and you cannot get out of it. The toys are the same, my dog at this point destroys them in 30 minutes so it's not worth it for me. I have had shipping problems and delays. Two of my boxes we received weren't the themes of the month, that was disappointing. The biggest disappointment with this company is they take your money out at the beginning of the month and you don't get your items until the 17th of the month. The company will make things right when needed, I personally will just go to the pet stores to purchase items for my dog.
Be the first one to find this review helpful
Steve of Cleburne, TX

Verified Reviewer
Original review: Jan. 23, 2023
I feel like the subscription is misleading. I bought what I thought was a one time box, later to find out I am on for a year. 90% of the treats we get we give away because our dog won't touch them. The toys are ok but we get some that's way too big for our Morkie. Seems a company trying to make its way with superior customer service would take into account when someone wants to cancel. Not Barkbox. Then you need to manually change your subscription which in my case was to cancel it, so it don't auto renew. I get auto renewing but that should be a customer choice, not a default. Again we come back to customer service. So clearly they are out for the dollar not the reputation as a great company. Once my year is up I'm out and will never use a box subscription for my pet again. If they need treats we have a Walmart.
6 people found this review helpful
Mirca of Riverview, FL

Verified Reviewer
Original review: Jan. 14, 2023
My dog Max passed away two weeks ago and I contacted BarkBox to cancel their product. They immediately gave me a refund for my last box with Max without me asking for it. It was just a nice gesture. They also sent me sympathy cards with an artist who drew Max for me. They just simply asked to email a picture of Max and to my surprise, the artist drew him. They even followed up to ask if I was ok. Max loved his BarkBox so much that I decided to keep sending to my son's dog. Thank you Barkbox, companies like you are difficult to find.
2 people found this review helpful
William of Erie, PA

Verified Reviewer
Original review: Dec. 16, 2022
BarkBox provides a great product for dogs and horrible customer service for humans. There have been several occasions on which the shipment of a box has been delayed or missed entirely. When contacting customer service, one needs to be prepared for at least an hour, long wait and chat. On one occasion, I was promised a replacement box, which never arrived. Upon contacting customer service a second time I was informed that my contract would be extended by a month to compensate for the missing shipment. That also did not occur. Today, I reached Edwin at customer service, who attempted to suggest that I had received a replacement box. Unfortunately, He suggested that one of the boxes that was part of my regular annual subscription had constitute a replacement box. Simply untrue. Again, the boxes are great for dogs. From a different perspective, the customer service is for the dogs.
6 people found this review helpful
julie of Port Townsend, WA

Verified Reviewer
Original review: Dec. 16, 2022
I had the Bark Box for a year, and after the year was up, I cancelled my subscription, twice. They keep sending me boxes even though I had cancelled them. After the first time I cancelled and they sent another box, I emailed them telling them that I had cancelled. I went in and cancelled them again, only to get another email today saying they were sending me another box. They do not understand what the words "Cancel My Subscription" means.
7 people found this review helpful
Jessica of Thibodaux, LA

Verified Reviewer
Original review: Dec. 4, 2022
So I ordered a 1-time Bark box as a gift for my daughter's two dogs and I wanted the Christmas Barkbox and that's the one I had ordered. Well, when she received it, it was Thanksgiving and I was not happy so I decided to chat with company and they said they would exchange it but it wouldn't be available till the 25th of Dec and this was a Christmas gift, this is bad business. Then when you look at email confirmation to confirm that I did order Christmas box it was not specific. I will definitely not be ordering again or referring to anyone.
3 people found this review helpful
Sharon of Radford, VA

Verified Reviewer
Original review: Oct. 26, 2022
I got a 6 month subscription to BarkBox and failed to stop the autorenewal. Now I'm stuck paying $20/month for 6 more months on a product I don't want. I've asked if the company will reconsider their policy and all I get is a "Sucks to be you. Keep paying until your sentence is up." Do NOT get sucked into this scam.
5 people found this review helpful
BarkBox Company Information
Company Name:

BarkBox

Website:

barkbox.com
You're signed up
We'll start sending you the news you need delivered straight to you. We value your privacy. Unsubscribe easily.