Find a Best Dog Treats partner
Our promise. We provide a buying advantage with verified reviews and unbiased editorial research.
About Super Chewer Reviews
Meet Super Chewer: This monthly subscription box is made for dogs who play harder and demand a challenge. Each month, you and your dog receive an immersive adventure of 2 tough toys, 2 full-sized bags of treats, and 2 meaty chews. Super Chewer's in-house toy designers create interactive all-natural rubber and nylon toys with features like puzzles, treat-lock systems, 2-in-1 toys, fetch-flinging toys, and more! All chews and treats are made in the USA and allergy-friendly options are available for pups with dietary restrictions!
Pros & Cons
Pros
Includes 6 toys and treats each month
Products for dogs of all sizes
All-natural and made in the U.S.
Cons
Subscription renews automatically
Bottom Line
Super Chewer is an online subscription service that creates toys and treats specifically for dogs who love to chew.
Featured Reviews
Verified
Venice, FL
Molly was chewing the toys in the beginning, the customer service team gets an amazing review from me moving her to a Super Chewer and fixing the problem! She got replacement toys...
Read full review
Verified
Knoxville, TN
In January of 2016 I adopted two Greater Swiss Mt. Dog x Black lab pups. As young pups they liked similar toys and nothing lasted long in the onslaught of teething puppies! Stumbl...
Read full review
What is Super Chewer?
Super Chewer is an online treat and toy subscription service designed for dogs who love to chew. The service creates products for dogs of all sizes and comes with plenty of options. Super Chewer prides itself on creating durable products that can withstand pups that are tough on toys.
If you're ready to get started with Super Chewer, head to the company's website and submit information on your dog, including their size, weight, breed and any allergies they might have.
Once Super Chewer has this information, the company creates a customized box of toys and treats for your dog. Super Chewer has three different boxes made for dogs of varying sizes, and you can choose the best one based on your dog's weight and jowl-size:
Small: For dogs less than 20 pounds
Medium: For dogs between 20 and 49 pounds
Large: For dogs more than 50 pounds
What comes in a Super Chewer box?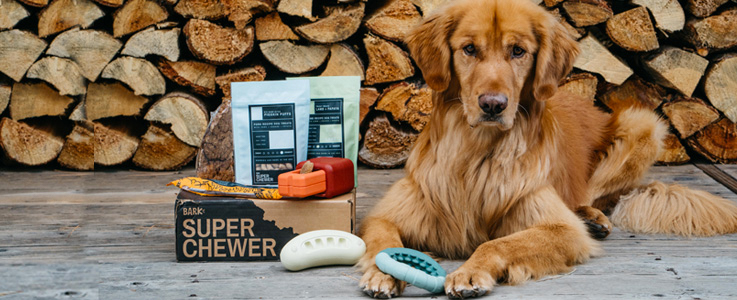 The Super Chewer team designs and creates each Super Chewer dog toy with durable, all-natural materials. All edible treats are corn-, soy- and wheat-free, which makes them a great option for dogs with food allergies. Each Super Chewer box includes six full-size products:
Two tough, non-fluffy toys
Two hearty chews
Two bags of treats
Every Super Chewer toy has an entertainment purpose, so you never have to worry about getting an ordinary rubber toy in your subscription box. Some popular products include treat-dispensing toys, floating toys and fetchable toys.
Super Chewer dog boxes are also highly customizable. While you can't pick the exact toys and treats you want, you can specify your dog's ingredient preferences or allergies and request more toys and fewer treats or vice versa.
How much does Super Chewer cost?
Subscriptions range from $29 to $39 a month. The Super Chewer price varies based on the length of your subscription. The company offers month-to-month, six-month and 12-month subscriptions — a month-to-month subscription is the most expensive option, while a 12-month subscription gives you the best value. Shipping is free in the 48 contiguous states and $8 for Alaska, Hawaii and Canada. Delivery takes two to eight days.
Monthly prices for subscriptions are:
12-month subscription: $30/month
6-month subscription: $35/month
Month-to-month subscription: $45/month
Super Chewer also allows you to gift a subscription to a special dog in your life — unlike subscriptions, which you pay for each month, the company charges a one-time cost for gifts. Prices for gifted subscriptions are:
12-month gift: $360
6-month gift: $210
3-month gift: $109
1-month gift: $45
All of Super Chewer's products come with a Scout's Honor Guarantee, so if your dog isn't satisfied with a toy or destroys it, you can get a new one for free, no questions asked.
Is Super Chewer worth it?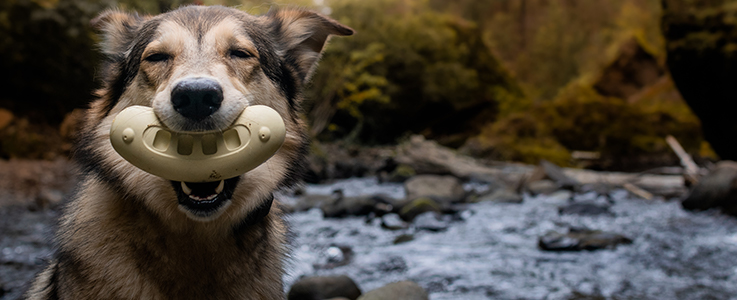 Super Chewer toys are durable and made to last. The plan comes with multiple subscription options and can be customized to fit your dog's needs, whether that be additional treats or more toys each month. If your furry friend tears up everything in their path, Super Chewer could have the toys you need to keep them entertained. The company is dedicated to customer service, and their "Happy team" is located in the U.S. and available to help customers with questions, issues and even toy replacement.
A link has directed you to this review. Its location on this page may change next time you visit.
How do I know I can trust these reviews about Super Chewer?
4,315,041 reviews on ConsumerAffairs are verified.
We require contact information to ensure our reviewers are real.
We use intelligent software that helps us maintain the integrity of reviews.
Our moderators read all reviews to verify quality and helpfulness.
Page 1 Reviews 0 - 10
Reviewed Aug. 30, 2022
We bought this box after trying some Super Chewer toys in target and having them last really well! We committed to the year subscription based off this experience. However the toys we got in the box just don't work, we've tried all the types but they constantly send toys that last less than an hour. Even the nylon ones break off and become sharp, and have basically taught her to chew plastic. They've sent us replacements and I will say the customer service has been excellent. But the replacements are just as bad. We don't need replacements. We need to be able to cancel. However I do wish they had a get out of the subscription option when their toys aren't as durable as they say they are. In my mind that's what the 100% guarantee should entail. Because it's a lot of money for toys that last only a little longer than cheap ones we can pick up at tjmaxx.

Response from Super Chewer
Thank you for reaching back out about this and we are so sorry to hear that you haven't received that message from us. It was sent the same day as the original response and was sent as a private response on this platform. We have copied that and sent it via email today so please let us know if you receive it and how we can help further. Thank you for your time and for being a part of the pack.
Reviewed Jan. 19, 2021
Hello again. I keep complaining that the toys I receive are either too big for my miniature dachshunds to even pick up, (I have given away at least 7 or 8 of there to friends with big dogs) or are fragile little gimmicky squeak toys that get destroyed in a couple of hours. Honestly, I do better spending some time searching online for the right kinds of things that will last.
After contacting you about a month ago to quit, someone talked me into staying on and switching to "CLASSIC" toys. So today I received the current Bark Box, Spa day—again a cute little themed fluffy thing with a squeaker that got destroyed within minutes. I have yet to receive a box with CLASSIC toys. I don't know what to do anymore. Just because one of your employees promises me something with cute gimmicky dog language like "thanks for barking back at us" or "we're happy to lend a paw" doesn't mean anything at all is going to happen. At a certain point, that's just offensive. The Wet Dog Mud mask is a waste of money.
I've come to the conclusion that your toys are actually designed for human entertainment, and not for dogs. I'd rather have long lasting well designed toys in an unmarked shipping bag than cute packing and clever illustrations around something that ends up in the trash in three or four days. Maybe I can quit my subscription and just go shopping on your site from time to time, because you cannot seem to adjust to any real modifications. Having gone from patient, to tolerant, to frustrated, to hopeful, I am now ANGRY.
Pat ** and Ellie

Response from Super Chewer
Hi Pat and Elli! Thank you so much for taking time to share this feedback. We are so sorry that this experience so far has not been perfect for your special pup. We definitely understand the concern and frustration that comes with not receiving suitable items for our pups and we sincerely apologize that you and Ellie have been disappointed. We would love the opportunity to make this right for you and your pack as soon as possible. Please keep an eye out for a direct message from our team so we can help further!
Thanks for subscribing.
You have successfully subscribed to our newsletter! Enjoy reading our tips and recommendations.
Reviewed Sept. 21, 2020
I received my last ever Bark Box. For the last several months I have been asking for hard toys or interactive toys. NO SOFT TOYS, they are destroyed in minutes. I get better toys at Walmart! This last order & final was 1 soft toy. The first 2 boxes had great toys, then it was downhill. All soft toy. I will never recommend Bark Box.

Response from Super Chewer
Hi Diane. Thank you so much for reaching out sharing this feedback. We are so sorry to hear this experience hasn't been perfect for you and your pup. This definitely is not the type of service we strive to provide and we want nothing more than to make this up to you. Please be on the lookout for a direct message from our team so we can make this right!
Reviewed Sept. 8, 2020
We LOVE Super Chewer! Karma destroyed any and every toy we ever purchased anywhere else, but Super Chewer toys have been durable, easy to clean and consistently stimulating. She gets so excited every month when her box comes! The treats are great quality and always a favorite, I'm so glad they send small ones that can be used easily in the dispensing toys.
Reviewed Aug. 13, 2020
When I got a new pup, I knew he'd need durable toys. Super Chewer was appealing because I love the themes and they guarantee their toys. I've been super happy with the monthly deliveries and the customer service is excellent. My pup loves it too and gets very excited when the box comes in the mail!
Reviewed Aug. 7, 2020
Everyone I have ever come into contact with at Super Chewer has been enthusiastic, professional, fun, upbeat, and pleasant. I am completely satisfied with all of my products. If there has ever been an issue with a toy not ending tough enough, Super Chewer and its awesome staff always send a tougher replacement right away. Pretty incredible care and service, especially during these times. Would recommend to any dog parent 110%.
Reviewed Aug. 6, 2020
I have a 4 year old Doberman who LOVES to chew. This Super Chewer box has been a life saver; I've had the subscription for a couple years now and I don't think he's destroyed any of them and he is a rough player! We recently just adopted a puppy as well, who looks to be mixed St. Bernard (she's a big girl!) and these toys have survived puppy teething and still are in great shape! I will continue to only get my toys through the Super Chewer box as long as they maintain these great standards! Not to mention their customer service is beyond great as well. When I first tried the boxes, I didn't know about the super chewer option and he was flying through the stuffed toys within minutes; a representative helped me find the option and upgrade it and even followed up to make sure it held up to its standard. I have and will always recommend these boxes to anyone. Thank you Bark Box!
Reviewed Aug. 4, 2020
Our Super Chewer box is amazing every month. The toys last much longer than regular toys and always have a great theme. The team was very helpful in customizing our box to suit our dogs allergies. All in all we love Super Chewer.
Reviewed Aug. 4, 2020
I have enjoyed my Super Chewer Barkbox and recommended it to many people. Most of the product I received were great and lasted. My pup likes all the treats. However, the last 2 boxes each contained a toy that lasted less than a hour. I don't recommend these toys for the Super Chewer box.

Response from Super Chewer
Hi Shely! Thank you for taking time to share your feedback. We are very happy to hear that most of those goodies worked out well for your pup! However, we are so sorry the last two boxes weren't a hit and those toys didn't last long. This definitely isn't the type of experience we hoped for you and your pack and we want nothing more than to make this right for you. Please be on the look out for a direct message from our team!
Reviewed Aug. 4, 2020
Very helpful customer service and my dogs love all of the treats! They know when a box arrives for them and it's funny to watch them! Best quality treats I've purchased thus far for any dogs I've had! I had a question not long ago and emailed them and a reply was instant and follow emails! They are great and I can't say enough about this company! NO I'm not paid to say this lol????
Super Chewer Company Information
Company Name:

Super Chewer

Website:

superchewer.com
You're signed up
We'll start sending you the news you need delivered straight to you. We value your privacy. Unsubscribe easily.