ItsHot.com
We specialize in manufacturing and wholesale of high-end fine diamond jewelry and diamond watch designs. We are proud to introduce our large selection of diamond jewelry with round diamonds and princess cut diamonds set in invisible setting in 10K, 14K, 18K white gold, yellow gold and pink gold (also called rose gold or red gold), sterling silver or Platinum. We strive for the highest degree of customer satisfaction by offering quality merchandise, the amazing selection and prices and one of the leading customer service departments in the jewelry industry with 24/7 customer support.
Consumer Reviews and Complaints

I had a great experience with these people. They worked hard to make sure I got the exact custom diamond ring that I wanted. It is beautiful. I highly recommend them!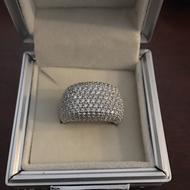 My husband and I purchased a diamond ring from this site for almost 8,000$. We took it to a jeweler to get it sized. She took off the tag because she needed to look at the ring accurately. My husband has never worn the ring and it is flawless, no scratches and nothing! Because it is covered in diamonds, we were told they don't want to take the risk of sizing the ring, because the diamonds might fall off. We then called ItsHot to ask if we can send the ring back. First of all the lady on the phone was super rude and said that they won't do it because we might of just bought the ring to wear it a few times. Then she said they can't replace it because the tag is off. Excuse me but in that price range you want to see the whole ring. Also what is under the tag... Plus we were getting the ring inspected. She told us that we are not getting our money back and that was it.
Big shame, since we were planning on buying other items off the site. We are big jewelry fans. The ring was also much chunkier than on the picture and it hurt my husband's fingers when trying it on. You obviously can't fully view your item without losing your return option. I am very mad and this will be our last purchase and we will be charging our credit card back! I have never been treated so disrespectfully as a customer... This was supposed to be his marriage ring. It was supposed to be a happy purchase. This experience was just very sad. We are very disappointed.
We tried to look up the customer in our system but there is no customer by the email, name or the order number listed.
We put very thin tags on our items, they do not prevent to put the ring on without removing the tag, you can also easily slide the tag to the side of the ring to see what is under it, so its not required to remove the tag to examine the rind fully or even try it on.
It is also not possible for our representative not to assist a customer (even with the ring from which the tag was removed) with exchanging the ring for the required size or returning the ring for a store credit which can be used anytime.

Itshot.com is such a ** joke. They claim to have "luxury watches" yet they are as mediocre as they come. The crystal on the watch is not sapphire, which means it is not scratch resistant. They claim that their watches are "Swiss made" when they are lying their asses off. They contain Swiss movements, but they're not "Swiss made". This is a huge difference, yet they lie and claim that their Luxurman and Joe Rodeo watches are Swiss made and were manufactured in Switzerland. True luxury watches like, oh idk, Rolex, Cartier, even Gucci, have scratch resistant sapphire crystals and are SWISS MADE. These are two simple indicators of a luxury watch.
The Luxurman Liberty watch was great when I first bought it. It didn't take long before I noticed the ridiculous inaccuracy of the day/hour/date complication on it. Especially the date complication. Virtually every day it's on the wrong date. And now the crystal is scratched. Just because you throw in a couple carats of garbage diamonds doesn't make it a luxury watch. Anyone who knows anything about luxury watches knows that Luxurman, Joe Rodeo, and similar watches like them are a laughing stock. But what can I say. You get what you pay for. Let's wait and see what the loyally paid robotic Itshot.com apologists have to say about this review.

This company is GREAT and the products they have are TERRIFIC! I would definitely order again and recommend this company to others.

Got two watch yesterday and they're beautiful... The order was placed over the phone and they couldn't found it when I got there. I must admit I was a bit upset but Eugene came in and save the day. He was very patient with me and even apologizes for someone else's mistake... I was very please with my service.
How do I know I can trust these reviews about ItsHot.com?
636,825 reviews on ConsumerAffairs are verified.
We require contact information to ensure our reviewers are real.
We use intelligent software that helps us maintain the integrity of reviews.
Our moderators read all reviews to verify quality and helpfulness.
For more information about reviews on ConsumerAffairs.com please visit our FAQ.

Order from Czech republic (my first order) and it is amazing. Love these diamond earrings, happy with FedEx delivery (it was only few days from N.Y. to Prague (CZ). 12.11.2015 order/19.11.2015 delivery. I am sure I will order again soon. Thank you - perfect service.

Bought two diamond pendants and was amazed at the low price and high quality.

I am completely happy with ItsHot and I will recommend anytime to any and everyone. I find your service very good and tour staff to be very very good and especially Denise ** because I have dealt with her lot of times. I find the quality of your products very great and every time I order something, I'm completely happy. I will continue to order from ItsHot. Thank you.

I was first worried about purchasing my engagement rings from an American website as I live in australia, but was no need to worry. The team at ItsHot were more than happy to answer any questions. Had small issue with sizing but no problem with get resized. Highly recommend this company.

Great watch, great price, great style. Will have people breaking their neck to look at it.

Ordered a watchband for my watch and Kim called me and made sure about all the details. Great job! Will shop there again.

Everything authentic. Cool Stuff online. Problem they Had not the chain I liked all the time of my purchase so they gave me another one. Anyways I liked shopping and Will buy again for sure.

Poor customer service and cancelled orders without informing me way or even when it was cancelled, and to top it off, I was never refunded. That's not even important to me though. All I wanted was what I ordered, and they couldn't do that. I highly discourage anyone to use this company to order anything.
This person placed 2 orders for over a million dollars each. First of all there is nothing to refund since there were never any charges from our end, second: we did try to contact the customer but unsuccessfully, there were no replies to emails, the phone number provided with orders does not work...

I am absolutely thrilled with this site! I've never seen any other that was actually legit, selling high end luxury items for such great prices! No other site I've found compares! I searched for days to find my husband the perfect luxury watch and this one took the cake! Hands down, the best site for your high end jewelry needs!!!

If you're debating about using ItsHot you should definitely go for it! I was wary of ordering an engagement ring online but felt reassured by the reviews. My ring arrived and I was so relieved! It's of superior quality and she loves it! I will definitely be using these guys in the future!! Great customer service from Kim throughout the entire process. She helped get me the ring a day ahead of schedule which was perfect as I didn't give myself much leeway.

Purchased this platinum pendant for myself online a few months ago. It took some time to have it shipped - very friendly customer service informed me about all specifications. They offered also an option to customize it, I ordered it the way it is. Quick delivery to Miami. Recommending ItsHot site to all my friends.

I was looking for a gift for my girlfriend. Finally, found online a bracelet she mentioned once. Round Baguette Diamond Tennis Bracelet. I went down to New York to Itshot show room. Her gift was perfect. The store had so many great items and deals, had to get myself a watch. Thanks to a helpful sales girl.

I recently purchased an engagement ring for my fiance through this site and it is amazing, it's big bright and genuine. Everywhere we go people notice it and compliment about how beautiful it is.

Received this Joe Rodeo watch for Mother's Day, and absolutely loving it! Stunning, shining, and eye-catching watch. The gift came on time, in a gift box with one year warranty. Great experience.

One impressive chain necklace! I have been searching for a diamond chain necklace for a while now. I finally found the perfect one, a real eye catcher. This website has everything I could dream of! I am really glad I got a good deal here because my necklace looks like million dollars. I will definitely recommend this site, fast delivery and good price.

I always have great online shopping experience with this company. My first purchase was a bracelet for my girlfriend. Have been shopping there for about two years and haven't been disappointed since. Had to use a live chat option since there were tons of valuable deals. Got Joe Rodeo watch last month. Reasonable delivery time, great customer service. Well deserved five star rating!

This is the first time I purchased anything from ItsHot and I am not happy at all. I place an order and I was told it was on back order and it would take 4 to 6 weeks to get. I decided to wait on the items. It is week nine and I still don't have my order. I have talked to different people and for 3 weeks I was told it would be in this week, and still no order. Then every time I ask for my money back, they change the subject. I had to get married last week with no rings. This does not make any sense.
This is a trio set (three rings). We are sorry, there was a production delay and I do see there was communication with the customer and customer indicated (we have an email proof) not to cancel the order willing to wait for the rings.
As of today the full refund was issued on the order.

This site has awesome deals! Purchased Gold Diamond necklace for my sister and both are loving it. We had to order a delivery to UK. Knowing that the company is located in New York, we're worried that there will be some issues. Everything was smooth and on time. Good quality product for the reasonable price.

So I ordered a chain pendant and earrings from these guys and they emailed me saying that a few things were back ordered and they actually didn't have my chain at all. So they gave me some options and the only option I liked they didn't have in the right size so I called the next day, I told them I found a chain that would be the same price as the one that offered me (which was 1000 something and they told me that my price wouldn't change. They sent me an email and applied discounts). Now they tried to charge me the difference for the original chain that they didn't have in my color at all (which was 700 something). I'm very disappointed at the level of service and I was forced to cancel my order.
One of the items in the order was a gold chain which we had in stock in yellow gold but not white gold as customer wanted, we offered some similar chains in white gold some which cost the same, some more (as they have more gold in them) customer picked a much heavier chain as a substitution in white gold and it was impossible to offer it for the same price. We did not try to charge the customer, customer was contacted and notified that its a more expensive chain which costs $700 more at which point he decided to cancel the order. There were no charges on the account.

I recently ordered a mother's day present from ItsHot. My mom always wanted a tennis bracelet, and until recently, I thought I wouldn't be able to afford one for her. I wanna recommend this site to all! I purchased a 1.5 carat tennis bracelet (rose gold) for only $1000! P.S The gift box it came in is awesome!



This was my second purchase from ItsHot. I came back to purchase my fiance a wedding band to match her engagement ring which we had custom made in September. Their great customer service, fair pricing and personal attention has made me a customer for life. Thanks again to ** and the design team. You guys rock!

I purchased two items (engagement ring and diamond bracelet) and love them both. The items were well beyond my expectations. I plan on making another purchase in the near future.

I ordered a custom diamond bezel for a Breitling watch. I provided the exact model number as there are a few variations on the Super Avenger model. They shipped very quickly which was great. The item looked of good quality, in fact, I believe it to be an OEM bezel from breitling based on the markings. However they did not use the correct bezel for the model. It is 0.5 mm too small in size. Now they are requesting I send my watch with the item back. A $6000 item so they can presumably shave or force the bezel onto it. Customer service could not answer how long, insurance while they are working on it, what if something happens to the watch, will I get my oem bezel back?!
I understand that custom orders are not refundable but when you are given an exact model number you should be able to expect that the bezel will fit, instead of just grabbing a (what looks like OEM) 48 mm breitling bezel assuming as the maker that, oh well, it's 48 mm that will work. $1385.00 worth of scrap is what I have to show for my itshot.com shopping experience.
Checked on the order status: customer did decide to send us the watch and we did install the diamond bezel, both the watch and bezel work fine.
ItsHot.com Company Profile
Company Name:

ItsHot.com

Address:

2 West 46th St., Suite 602

City:

New York

State/Province:

NY

Postal Code:

10036

Country:

United States

Website:

http://www.itshot.com/