Consumer Complaints and Reviews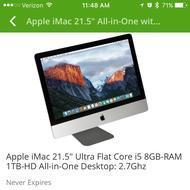 I frequently purchase deals off Groupon and I've never had a problem. This situation in particular was very dissatisfying and disappointing. I logged on to the Groupon app to set an appointment with a massage I just purchased. I noticed a "computer" was purchased, something I never tapped on it confirmed, how it happened goes beyond me. I then tried to contact customer support and it directed me to live chat. I explained the situation and waited for a response which took about 5mins. Live chat finally responded and replied with... "You have two hours to cancel." and ended live chat.
That was not resourceful information, Bad customer service with almost $800 withdrawn from my account. This will most likely be the last purchase from Groupon. I am a very unhappy customer. Now I have to wait to receive the item, return it and wait two to three weeks to get my money back. I'll stick to Amazon and other resources for my purchases. Thanks for nothing Groupon.

Bought a Groupon for a cleaning service in CT Cervantes Cleaning in Danbury. Been trying to reach them for weeks to get my condo cleaned... they won't call back despite numerous voice messages. I called Groupon to try to get a credit to use another services... they told me they won't give me credit. I'LL NEVER USE GROUPON AGAIN.

I to received system error. Was charged $20.99 3 times. All I want is a refund of $20.99. They give you the runaround. I don't want any more merchandise. This is their way of keeping your money. THEY WANT TO CHAT! I DON'T WANT TO CHAT! Is this some type of SCAM? VERY BAD BUSINESS! DON'T ORDER!

I purchased a laser removal from Groupon. They only open on Thursdays (which wasn't mentioned on the deal at all). Anyway, I made an appointment with them on 11th May at 12. No one was there, the lady didn't pick up the phone call. They just didn't show up. I contact Groupon customer services, tell them the whole situation and ask for a refund... TWICE. They said the management team will contact me in 10 working days. It's been a month, nothing come back at all. I called the customer service today. The guy said the system doesn't have a record of the last two times complain and requires. He said I have to wait another 10 working days. I asked to speak to a manager or a supervisor, he said they don't have one. I asked " so you don't have a manager?" He said "YES". Well, I never got so mad to any customer services before. But this is really out of the line.

Purchased the makeup coupon on Groupon. When talk to the owner of the business and was told I am not a good candidate for the makeup. Request the refund from Groupon. They refused and act of no interest for the refund. I have purchased others from Groupon also request for refund but refused and didn't refund back. Some goods were returned due to not fit (bracelets, necklaces, and massage). Never get a refund back from Groupon. Will never buy anything from them any more. They think they are in 3rd world countries that refund is not allow.
How do I know I can trust these reviews about Groupon?
794,387 reviews on ConsumerAffairs are verified.
We require contact information to ensure our reviewers are real.
We use intelligent software that helps us maintain the integrity of reviews.
Our moderators read all reviews to verify quality and helpfulness.
For more information about reviews on ConsumerAffairs.com please visit our FAQ.

I bought a Fitbit from Groupon and it does not work properly. I called Fitbit and they do not cover sales from Groupon. So if you buy from Groupon, you are SOL. They even told me they do not know how Groupon got their product!!! So now I have a tracker that does not work and Fitbit will not replace it because Groupon is not an authorized dealer, but nowhere in the Groupon site they disclose there's no warranty on their products.

I called to book an appt. for the service that I purchased from Groupon. I had never purchased this service from Groupon before to violate the limit 1 per person offer. I had purchased another item from Groupon in the past and was told when booking my appt. that they do not accept more than 1 Groupon purchase. Ever... no where is this stated in the fine print for what Groupon is promoting. I called to have a refund and the Groupon chat person, Jessica was less than helpful or empathetic. It was a clear case of being given the chance to do what is right for the customer in the moment, except she did not care one iota and basically told me sorry, not sorry. I will never use Groupon again. Buyer beware, they do not care about you at all.

You order a Groupon for house cleaning services. The company then uses various ways to delay, mislead, cancel, or flat out, not respond to attempts to schedule an appointment. By the time you reach a frustration point, you contact Groupon to cancel and they say they can't do anything after 3 days. This has happened to me twice and I am seeing a pattern of Groupon not vetting retailers, selling false services knowingly, then keeping people's money when the scam becomes obvious.

I've purchased a Groupon for PCS Services to clean my carpet. I had an appointment scheduled for 16 May 2017. It was important for me to have them come on that day, because we were putting our house on the market once they cleaned our carpet. The morning on 16th, I received a call telling me that the technician that was supposed to come fell and injured himself. She said that the appointment can be rescheduled for 18 May. I was not happy, but OK. Well, 18 May came and went, and I heard nothing from the PCS Services! I have left them numerous voice mails (because they do not answer the phones) and heard nothing back.
I have complained to Groupon and asked for a refund; however, they gave me a runaround for about a month. I received an email today, 13 June, from Groupon telling me that they have good news, they finally gotten in touch with the PCS company and I will still be able to use the coupon. Are they on crack? I don't want to use that incompetent company who only take someone's money and provide no service and do not return calls!!! Groupon has terrible refund policy, they do not stand by their customers, even though they are the ones advertise shady businesses. I am beyond frustrated with Groupon!

After purchasing several Groupons during my 3 week stay on Oahu even with a very flexible schedule I'm out the money! $300 wasted!! No refunds or exchanges. The Groupon says you need to make reservation 5 days ahead. Like I stated I am trying to make reservations 2-3 weeks ahead and all the "Groupon" seats are taken for every day I'm here. Difficult to deal with live chat and no actual phone number that works. My review of Groupon is going on every site I can put it on. I don't want anyone to have to have this experience. Better off buying tickets (which I now have to do) there and know you'll get what you are paying for. Disappointing for family taking advantage of elderly and handicapped family members. BIG RIP-OFF!!!

I reached out to Groupon after purchasing a voucher for off-site airport parking in Atlanta. I bought the voucher specifically to be used on a certain date. I made the reservation at WallyPark to arrive at 4:30 a.m. on June 10th which was confirmed with WallyPark. I arrived to find the lot full and I had to scramble to find another place to park at 4:30 in the morning. I then had to pay $26.00 to park. So now I have Groupon price of $19.75 as well as the $26 invested in 2 days of parking! Groupon refused to refund my money even though the Groupon did not work. I will not be doing business with this company again.

I have had nothing but problems with Groupon. I was given a massage for my birthday from Groupon. It was sent from a text. Well the massage place was booking months out. So In April I contacted Groupon and since it was a gift I was given the run around even though I had the voucher number and the Groupon number. I was told on April 28 I would get it emailed to me. Fast forward my appointment is tomorrow and I realized they never sent my Groupon.
I contacted their chat... since you can't pick up the phone and call anyone... the first lady (Ana) barely took any information and just ended the chat. The second lady (Jordan **) said she could not help and when I pleaded with her she said she would look into it. Then she came back and said "we will email it to you... and then ended chat and I could not respond. I know everyone loves Groupon but I will be honest the three times I have used Groupon has been a hassle and this one is outrageous. I cannot get any answers or help. Needless to say... the emails never come...

In late April 2017 I contacted SoCal Movers (San Diego, Ca) to inquire about a Groupon I found online regarding a moving discount. I was informed I needed to purchase the voucher and then email the voucher and confirm move date. I spoke with John who informed me the move day I would be requesting was available. I purchased the voucher and then emailed John the voucher and confirmed the move date. I did not hear back from John. A few days later, I emailed again and also asked the move date be changed one day. John quickly replied, confirming my new move date and time and requesting additional information about the move.
Three days before my scheduled move I contacted SoCal movers to confirm actual arrival time of movers (they gave me a window of 8-10 am initially and I scheduled my move around this). Upon contacting them, they informed me I was not on the schedule and they had not received the voucher. I informed the gentleman I spoke with that I have all of my email chains with John confirming that I sent the voucher and that my move was scheduled. I was then informed that I could change my move time to between 2-4 pm. I told them this was unacceptable as I had scheduled my move around the initial time provided. I was then asked to resend all documents and that John would get back to me. John never called or emailed. I then contacted Groupon requesting a full refund as I could not get a hold of the movers and I would now have to find alternative plans.
Groupon requested all email interactions with the company. I provided them with that. I was then informed that because I had purchased the Groupon more than three days ago, that I was not eligible for a refund. Despite the fact that they have all information showing I have now paid for a service that the company has not provided, and clearly won't be providing. I contacted SoCal movers again trying to get information about the move and they immediately replied that my move was scheduled for the 2-4 pm time slot.
I emailed back immediately requesting a phone call, as I had already been provided with one confirmation email from them that they clearly ignored, double booked, or just forgot to add to their calendar. I would NEVER recommend SoCal movers or frankly Groupon after my poor customer service experience. SoCal Movers still have not returned my email requesting a phone call back, and my move out date is tomorrow. I hope this prevents anyone else from having this experience.

06/09/17 3 weeks ago I ordered a refurbished handheld Shark vacuum from Groupon to use on my stairways. When I received the vacuum in the mail, I opened the box that it was shipped in, and the cord literally fell out of the box. That already was a red flag. Then before I could get the box out of the box the item was shipped in, dust was everywhere. You mean to tell me someone was that mean and inconsiderate to send someone a used item (and I mean literally used). Dust and dirt was in the vacuum cup where they had just used it before they sent it to me. There was dust all over the vacuum and I hadn't even taken it out of the box. It also came with a note in the box that said "Please call us before you do a review if you are not satisfied with your purchase". REALLY!! I have spoken with Briana who was so nice and she is really trying to help me. The first time I called, she called me back, and it was MemoriaI Day. Kudos to Briana!!!
I was suppose to have received my refund days ago and still have yet to receive it. Evidently someone does not know what 24-72 hours are, when it comes to refunding money back into accounts. I think I have been relatively nice about waiting for them to refund my money, but next week may change. It's bad business to send a customer a dusty, dirty item. It came from Overtronics and whoever is over this company needs to make a change, they need to tweak some things because after awhile they will not have any customers. They have got to do better, because the consumer is spending their hard earned money to support their business, and they don't even consider that when you treat the customer right you will have a customer forever!!! IJS. So hopefully they will read this and make some major changes or they will be on the losing end.

I purchased an item in Groupon to get my eyelashes done, somehow I was charged twice for it. When I realized it I called them, of course there were no explanation why that happened. Later I tried to purchased something else because I did not like the place I went to. Well Groupon did not want to give me the value of the money neither allowed me to purchased anything else. I felt I was taken advantage of. People need to be careful with Groupon, they take money from people and charged twice for vouchers.

My child saved her money to buy an iPhone and found a Groupon deal online... Phone did not work and in the package it had a contact number for the seller. We followed the instructions and seller gave us option of refund or they will immediately ship a new phone. That was over a month ago and we have no phone and no refund. Groupon refuses to help even though I paid through Groupon. I will not recommend or use Groupon EVER again.

I purchase a massage and facial for a friend just to show my appreciation. When she went to redeem it the company said they no longer accepts Groupon. I spoke with Mahalakshmi from Groupon through email because Groupon no longer have customer service you can speak to. The response was she would not be able to refund me my money. I am very petard about this. I will never use this company again. I suggest you contact the company before purchasing from Groupon. Groupon is a horrible company.

Me and my husband have been loyal customers at Groupon for more than 4 years. We would regularly buy restaurants deals and enjoy savings. We have visited more than 30 places thanks to Groupon. Until now. On April 6th 2017 I purchased several Groupons for dining for my upcoming trip to Miami. I came to Miami and was unable to use one of my Groupons. The business in question (the restaurant) was simply closed. I came 3 times: On Tuesday, Wednesday, Thursday and it was closed on all those weekdays during normal business hours without any notice on its website or the door. When I returned home the first thing I did is chatted with the Groupon customer service representative regarding the issue. I explained that I am not local to Miami, that I really did try hard and came several times to the restaurant, I tried calling the restaurant as well as calling the Groupon while in Miami, but nothing helped.
The restaurant never responded, never picked up my calls, never put any sign on its door explaining why it's closed. I tried different times of the day as well, and it was always closed. I was simply unable to redeem the Groupon and it wasn't my fault. I even mentioned to Groupon that I have been the loyal customer for many years. And you know what? To Groupon it doesn't matter! They not only refused the refund, but they even failed to explain what was my fault and why they refused me the refund. I tried to raise the question of what could I have possibly done in that situation, and none of the customer service representative answered it. Instead they just preferred to give the rude answer that they don't want to deal with me and they simply won't refund. Nothing: no explanation, no apology, nothing.
They didn't treat me like a loyal customer, they clearly didn't value me. I spent hundreds of dollars at Groupon over the years, and yet they were willing to lose me as a customer after I tried to dispute a $19 transaction? This is very not typical of an American company, I am always treated in this country with respect and attention, something that Groupon failed to show. I urge you not to use this website. They don't value their customers, they don't want to validate your feelings, they don't want to listen to you. Instead start saving using other programs, like dining with Aircompanies' Miles for example. It will save you money and stress in the long run. I think the Groupon showed a completely unethical behavior and what they did is fraud: They made me pay for services that were never provided to me.

Refund process - On May 30, 2017 I purchased a Moving Service off of Groupon. The service was for 2 hours of moving service with 2 men for $99.00. In my opinion this was a great deal. I had already moved most of my things. What I had left would have taken only about an hour and a half tops from start to finish. Once I purchased the service using my PayPal account I immediately called the company to schedule the move. This is when I learn that there is a fee for "zone to zone" moves. My starting location was in Spring Tx. and the storage was in Humble Tx. although 2 different cities. They are exactly 2.4 miles from each other. The company wanted to charge me $125.00 for that. I thought that was unreasonable.
Immediately I went on Groupon to cancel the order. I then called a number that was on Groupon. I spoke to a live person, told her my issue and she supposedly processed the refund. Against my better judgement I replied to the survey that was automatically sent to my email regarding the call. I gave the lady a good review.
Couple days later I had not received my refund. So I went on Groupon to get the number to inquire about it. NO NUMBER LISTED ANYWHERE. I return to my call log and call the number I previously called. While the automated system informed me that I was calling Groupon it also informed me that it was no longer a valid number. Next option was email. I sent 2-3 emails and waited 3 days. I finally get a response and again it was like I was email a computer. I then go looking for a number. No numbers listed anywhere. The one number I found through Google was a different number with the same automated message. It seems very shady that a company will use only temporary numbers. Needless to say after a week and a half I contacted PayPal before the end of my work day. My $99.00 was sent back to my account. PayPal gets an A+ while Groupon gets an F-. They ruined my first Groupon experience.

I bought a Groupon for a microdermabrasion series and when I showed up, the New Image company tried to upsell me to a different product claiming that microdermabrasion will not work for me and that I needed laser resurfacing. I went to them as my dermatologist had recommended a series of microdermabrasions and retinoids to reduce the acne scarring and I had already had 2 treatments in the past (1 in Feb and 1 in March) so I knew they worked. When I refused to buy the upsell, the company refused to perform the microdermabrasion. (FYI, laser resurfacing is not for women of color so they were trying to sell me an incorrect product so they can make more money- not really to help me.)
I contacted Groupon and told them the company refused to do the treatments and Groupon refused to give me a refund. They claimed if I responded to their email they would give me a refund in Groupon bucks that had to be used the same day or would expire but they never did. They also claimed they would talk to the company and 'convince' them to do the treatments. They did not do that either. In short, they are in cooperation with these companies to take your money and not give you anything for it. If the company refuses to provide services, I should at least get a refund in Groupon bucks that you can take longer than a day to use or lose. The barcode ID is **. The Groupon number is **.

I purchased a Groupon for a vial of Kybella from a medispa. The fine print states that only one or two vials are commonly recommended. When I finally get an appointment which is 3 weeks after my purchase the medispa consultant tries to convince me to buy 5 more vials. I felt scammed. I tried to get a refund but unfortunately Groupon states you can only get a refund up to 3 days after purchase. I lost out on $575.00. I feel completely scammed out of my money.

Horrible company, reprehensible Customer Service. Tried to purchase a Groupon, website immediately came back and told me the transaction failed due to technical difficulties. I tried to purchase again, it went through. Went to print out my voucher a couple weeks later for my appointment and found that Groupon put 2 transactions through. I tried to call but, there's no number to call. They have no phone options anymore. You have to do live chat or request a callback which will occur in 30-60 min. I did the live chat and chatted with someone in India. I explained my issue and said I wanted a refund. They told me "Sorry, you only have 3 days to request a refund." Umm, had no idea that they did this and it was their fault so I asked for a mgr. Same thing.
So, I then did the callback option because I was getting nowhere fast with the live chat. A woman called me back and I explained my issue and she just gave excuse after excuse as to why things happen and how secure their website is and how all merchants are like them and they are one of the best. I told her "l don't care, I just want my issue resolved" and what she's saying is not true about all merchants being like them. Not true at all!. So she wouldn't help me and I escalated to a mgr. and she proceeded to tell me that the mgr (Trevor) wasn't going to help me either. I insisted on talking to a mgr. She put me on hold and I waited about 10 min. Finally hung up.
The manager ended up calling me back only to start yelling at me and talking over me and not letting me explain my issue that Groupon did to me. Trevor just kept yelling at me and telling me it was my fault this happened because I should not have done the 2nd transaction and should have waited 24 hours to see if the first one went through. Kept yelling at me telling me it was not Groupon's fault but my fault. Wouldn't let me say a word. I finally hung up on him. I have never had such horrible customer service and NEVER have I been yelled at by a manager of a company. What manager yells at customers and argues with them.
I will never order from Groupon again. This would be the 2nd time they have done me wrong. First time, they were hacked and someone ordered hundreds of dollars of stuff off my account. I got no notification, nothing. I just happened to notice a lot of money missing from my bank account. At that point, they had customer service numbers to call so I called and had to go through a huge fiasco to get that fixed and my money back. Don't feel secure with Groupon having your credit card info, they do what they want and there is no recourse for consumers. They simply don't care and you will not get your money back. They are a vile company and should not be in business. I'm absolutely appalled at how I've been treated and they will not refund my money and it was THEIR fault. Done doing business with them.

My daughter had a Groupon that she was unable to use. I purchased it and gave it to my husband as a gift. It was for a deep tissue massage in Auburn, MA with Colleen **. Colleen sent us a text minutes before the appt. stating they were no longer in business!! What, are you kidding me. Lousy, lousy customer service. Now Groupon will not talk to me. The phone is down and they have not responded to my daughter regarding the $35 owed. It seems like a small amt. but to us it's lots of money!!! Groupon should back up this purchase and refund our money!!!

Four packs of Shell gas cards were sold by Groupon with the large print saying they expired in 1 year. Hidden in the small fine print, it says they expire in 6 months. A COMPLETE RIP-OFF BY GROUPON AND THEY BACK THE MERCHANT. DON'T BUY GROUPON AT ALL. THEY ARE A RIP-OFF OPERATION.

I bought 2 tickets through Groupon to do a Hot Air Balloon ride in Sonoma Valley. When I called to schedule a ride, they don't answer and don't return phone messages (I tried probably 20 times to get a hold of them). I contacted Groupon and complained, but they just keep telling me to wait 3-5 days for the vendor to contact me, which they never do. I went through 7 service reps at Groupon, none of them did anything different except to tell me to wait. It has been a month of this, and I think I've been ripped off for $328. I understand that Groupon is a 3rd party sort of business, but really just comes down to their customer service not doing anything to resolve the situation and partnering with scrupulous businesses.

I order this ottoman faux leather which it came as a flat pack, it took me about 7 hours to put together as it was so badly made. I wrote to Groupon which they said they would refund money. I wrote back saying I would like a new one but it to be erected. I never heard back from them. I still have faulty Verona and the offer of only money back after my day's work is not acceptable. I would like a new one erected with it not being wonky it is not a lot to ask for. A few months wrote back to them and all they say is I can have is refund and again this is not what I asked for, I would like a new one with it erected as I need the item and although I have original one it is not in anyway a perfect ottoman and will not last as it was not made correctly. I would like a refund plus compensation for my hard day's work if that is all you have to offer but just taking it back and not replacing with perfect but erected one.
I would like money plus compensation. I had to struggle putting it together, again they have ignored my complaint. Yes ok giving money back but really I need compensation for 7 hours of my time due to badly made ottoman and dreadful instructions, a refund isn't acceptable with no compensation. I would of liked a non faulty one and it put together... still no joy. OR failing this I would like to be sent quite a big refund plus keep the goods as it is in no way perfect and should not of been sold for that sort of money, as it is now I should imagine a shop if in this condition would maybe get £25 for it not the £59.99 I paid... if it had not been faulty it may well of been worth that money but it is not. I do not want to have to put another one together so sending another flat pack is not an option.

On Saturday 6/3 I was in the process of purchasing a concert ticket via Groupon, actually it was a gift. As I was entering the person's name who will be attending the concert (as instructed per the site) the screen refreshed and the Purchase Confirmation screen was what was reflecting. I intended to purchase the ticket but not for myself, as I stated earlier, so I reached out to a rep for ticket editing assistance (all while logged into the site). I clicked on the "to cancel/edit transaction" button and was assigned a CS rep who refused to edit the ticket, didn't acknowledge there is an issue w/ the system & kept telling me all sales are final despite the fact that I was not looking for a refund. Prior to my experience, my co-worker experienced the same issue however he did not need to make any name changes so the transaction went thru fine but he had never hit the button to buy the ticket yet.

Chat request number: 48513448. Failure to acknowledge or follow-up chat number: 60239637. I am writing this because I am no longer happy with how Groupon has been handling their customer service. I had purchased a massage package back in 2013 which was discounted at 72% off the regular price (mistake 1). I was able to book an appointment almost immediately with over 310+ bought (mistake 2) and lastly when I arrive there was no massage suite setup, it literally looked like a room with a giant TV and personal items (mistake 3). Being new to Groupon, I had assumed this was the new service type, you dismiss any decor and you simply pay for a cheaper reputable service.
In September of 2016, I run across an article of massage places that were shut down for being less than reputable, being overdue for one, I looked at my old Groupon in an attempt to cross off any place that might have been affected or validate that was experience was genuinely good based on past purchases. Turns out with some additional digging, a place I had visited before was in fact shut down. I was furious when I found out that the massage which was sold as a specialty massage was also unlicensed and had a record of an arrest prior to this revelation.
I immediately contacted Groupon to discuss my largely unsatisfactory experience and were met with immediate "Tough ** syndrome." Instead of escalating to a manager who was competent, I was informed that since I had used this Groupon there was nothing I could do and I wasn't able to do anything because I had used it in 2013. It was akin to someone telling a potential sexual assault victim that because you were potentially violated in 2013 and it's 2016, tough **. Although my experience was neutral with the original false massage practitioner, Groupon has turned a blind eye to this cause (Please note I was NOT assaulted in any way). So to Groupon, I will be deactivating my account once this is addressed.

I purchased a groupon. When I went to use it, I found that the business didn't exist. When I phoned their number there was a message saying they'd moved. I contacted Groupon who told me that I had used the groupon the previous week. I HAD NOT. I told Groupon this and they said they would investigate. I sent them 3 emails over the course of the next month. Each time I got the same cut and paste response. "We're looking into it, we're actively involved in solving it, we'll get back to you". Rubbish! I contacted my credit card company to tell them what was going on and they refunded my money and took on Groupon on my behalf. I would recommend anyone else with this problem to do the same. Keep a copy of your emails in case your credit card company wants to see them.

First, I live in a remote area, and sometimes businesses say my address isn't valid. I accepted that and figured I'd deal with it later. Since my sister was visiting in 10 days, I had the order shipped to her and asked her to bring it to me. Although the fine print said it would go out in 2 days, it wasn't delivered until after my sister left for my home. She's visiting a week, so when she returns home and ships me the package, it will be too late to get a refund if I don't like the shoes, or they don't fit. I tried to call and found out Groupon doesn't even provide an operating phone number. I did live chat, and the person clearly didn't speak English well enough to address my problem. I will never buy another Groupon.

Erin HuffstetlerDeal Websites Contributing Editor
Erin Huffstetler is the Frugal Living Guide at About.com, and the founder of MyFrugalHome.com. If there's a way to get something for less, Erin will find it, and tell you about it. More about Erin→

As one of the first deal sites on the scene, Groupon has been offering discounted vouchers and merchandise since 2008.
What consumers say
We don't hear a lot about Groupon at ConsumerAffairs. This generally is a sign that, while there may be occasional problems, there is no single issue, or group of issues, that irk consumers.
Vouchers retain value: After vouchers expire, they can still be redeemed for the purchase price.
Returns accepted: Vouchers can be returned within seven days of purchase. Some Groupon Goods purchases are eligible for returns.
Accessible customer support: Both online and phone support is available.
Easy email management: Email subscriptions can be set and changed with ease.
Deal overload: With hundreds of local deals to sort through, and just as many national deals, it can be time-consuming to sift through all the offers, and hard to zero in on what you're interested in.
Vouchers: All vouchers remain in your account until you mark them as redeemed, so it can be tricky to remember which ones you've used and which ones you haven't (especially if you buy a bunch).
Best for Bargain shoppers, occasional users, businesses
Company Name:

Groupon

Address:

600 W Chicago Ave #620

City:

Chicago

State/Province:

IL

Postal Code:

60610

Country:

United States

Website:

http://www.groupon.com/