Consumer Complaints and Reviews

Groupon is by far one of the most unsuccessful rude place of customer service ever. I tried to make a transaction in September of 2016 due to a last minute death in the family and my card was declined due to fraud alert from Groupon. Being that I thought my card was declining I thought it was my fault from the first transaction and tried it again. And it declined again. No email confirmation. No nothing. I called to speak to management about the whole transaction and they said it was nothing that they can do. After months and months of going back and forth with them I'm exhausted and angry. Manager Chris was just rude and not helpful at all. I just want my refund.

I purchased a Groupon for a service that the associated business has refused to honor for a year, despite repeated attempts to schedule more than a month out. I informed Groupon of that they have a company client who isn't honoring the Groupon I purchased. They refused to offer any remedy or refund.

My wife and I both attempted to order a set of the Gotham Steel pan set. Her order had an issue, it would not go through, so I ordered from my account. My order went through with no issues. Hers went through the following morning at 7:45 am. She got that email, called them in 30 minutes of that order going through, and was told she had to cancel the order in 2 hours of the order. She explained the whole situation to them and they would not listen. Now we have ordered 2 sets BUT neither have shipped after 2 weeks and they will not respond to us!!! We are filing BBB complaints and telling everyone about our experience with Groupon. The savings is NOT worth the hassle!

I should have read all of the reviews!! I purchased a haircut/color to a local salon, but could never get hold of a live person there. After many attempts and voicemails left, I finally gave up and just wanted a refund. Groupon (in live chat) said, "No refunds." Really??? Unbelievable! What a scam! Thankfully my credit card company is awesome and I opened a dispute with them, and was able to get my refund. Never again!! Buyer beware!!!

I schedule the show to be seen on November 16, 2016. The show was canceled for the night. The V-theater of Las Vegas told us to contact Groupon that they would allow a refund due to show being canceled. However when contacting Groupon they refused to give me my money back. They didn't stand behind their voucher. They stated show was open, could be seen Sat-Thur. It was Wed. I couldn't see my show. Here is the copy of the email from Groupon:
"I'm sorry to hear about the cancellation! Fortunately, the business should be able to assist with rescheduling you so that you can still enjoy your Groupon. As long as you contact them before your Groupon expires, they should be able to reschedule you for any available date, even if they are fully booked through the expiration date. If you aren't able to find another time that works for you, you can always give this Groupon to a friend who might have time to use it. Unless the Fine Print states otherwise, Groupons are fully transferable and make great gifts. We never intend to upset our subscribers, and we genuinely appreciate your thoughts. I'll make sure that your opinion is communicated to the appropriate channels. It is not our policy to issue a refund after 3 days from purchase. All sales are final. We only issue refunds if the business is unable to provide the services offered in the deal."
I don't understand. I was told by a group agent that the money would be refunded. You are not standing behind your product. The V Theater needs to be called so my money can be given back. The theater was dark that night, and you guys need to refund my money because your voucher states that it can be used on: Marc Savard Comedy Hypnosis at V Theater on Saturday-Thursday at 10 p.m. (up to 66% Off). That was not the case. The theater was closed on Wed night. In return, your voucher does not stand up to the term and condition that Groupon and I agree to. I was there and ready to see the show. Not my fault that it was canceled. Groupon needs to make this right. Stay away from Groupon. This not the first time they have done this to me.
How do I know I can trust these reviews about Groupon?
637,576 reviews on ConsumerAffairs are verified.
We require contact information to ensure our reviewers are real.
We use intelligent software that helps us maintain the integrity of reviews.
Our moderators read all reviews to verify quality and helpfulness.
For more information about reviews on ConsumerAffairs.com please visit our FAQ.

I was a big fan of Groupon when it was first started by Andrew Mason because he had good intentions, but then he got mixed up with greedy investors like Eric Lefkosky and Brad Keywell and it's turned into a sleazy business since Andrew was ousted. I got an email on a Tuesday featuring a deal for goods that would last until Wednesday, so late Tuesday evening, I went to purchase the deal and WHILE I was in the process, it switched the price from $99 to $149. My first thought was there must have been a mistake on my end, so I tried again and same problem. I contacted customer support and the rep first debated with me that I might be making up the original $99 deal since it now showed $149. I told him repeatedly it was through Wednesday, but he kept arguing with me.
Then, he said "if you have a screenshot of any proof, we can match the price" so thankfully, I had the original email featuring a dozen deals and took a screenshot and sent it. He then said "we need a screenshot that shows the Groupon logo" on the email. I explained that I can't take a screenshot of the ENTIRE email but could forward the original email. After receiving it, he said it didn't matter because it wasn't a screenshot, even though it was better proof than any screenshot. He then suggested to just wait and see if the deal comes back next year unless I wanted to pay the $149 price. He said that it's still a savings from the regular retail price of $249, but that is FALSE. The manufacturer's list price is $149. In other words, Groupon not only did the bait and switch on the deal, but even lied about the retail price of the product.
The reckless disregard of this rep was alarming because while demanding that I somehow prove information about a deal they already have information about, he then couldn't care less about the deception and false information. My purpose is writing this is not because I expect my deal to be honored, but when these type of companies are allowed to misbehave so badly, there must be consequences.
I not only will never purchase anything or trust Groupon, but I will take it one step further by urging everyone to boycott working for the company, unload any shares in this sleazy operation and help accelerate the demise of what started out as a good company but has become a giant boiler room to exploit both business and consumers. The investors, Eric Leftkosky and Brad Keywell, became very rich from Groupon. I can only hope what goes around comes around to them and they have to give back every penny to shareholders when the company goes bankrupt.

Ordered jewelry as a present for someone. Item states it was delivered however never received the item and as no one was home no one signed for it. I call Groupon and speak to a very condescending "customer rep". Very nasty woman. Basically tells me it's not their problem and for me to investigate what happened to the item because that's not their job to investigate - that that is my job. She then just hung up on me after saying "have a nice day." This is by far the worst customer service I have ever dealt with. As such I will no longer be using them for anything. I am disgusted. Thankfully just 14.00 dollars lost. Now hopefully the rest of the stuff I ordered in other orders will come and I won't lose more money.

I have very bad experience by purchasing one item through Groupon. I purchased a Real estate course for 75 hours from them. When I went to Real estate school they refuse to take the coupon because I enrolled with that school before. When I was trying to purchase online Groupon site never asked me if I enrolled with them before so I purchased it. When I was trying to refund it today customer service said I can not returned it back and get a refund. Since I never used the coupon and School does not want to accept, what can I do? They said I should sell to any other person.
If we purchase anything online if we do not use it we can returned it and every online merchant accept and issue a credit. This is the first time I saw a company which you can buy but you can not return. I tried to talk to Supervisor or Manager. She never connect me with them and hang up. I am requesting all the Groupon consumers please go to other reputed online service so you should not go with all the hassle. I rated them No Star service. Do not use them at all.

I purchased a Groupon on November 17th for a restaurant in Nashville Tennessee. My wife and I went to the restaurant on November 28th. On the hostess stand was a sign saying Groupon is no longer accepted. When I call Groupon for a refund they say it was a final sale and a refund can not be accepted. On the same trip another coupon also purchased on November 17th for a bar crawl was to be used on November 27th. We get on the company's website. It explains it will meet at Buffalos at 6. We show up with another couple and nobody is there from the company. I would highly not recommend Groupon at this point.

I purchased 2 groupons for harvester 1 as a gift and 1 for myself. After I brought them the vouchers were made invalid and I was instead sent a code by email. I tried to explain I needed the actual voucher as it was a gift so I wanted to pop it in a gift card. After 2 phone calls and loads of messages I still could not get my vouchers. I feel that once they have taken your money the after care is awful and I must add this is not the first time they have done this to me. They are quick enough to take your money but getting a refund is a different matter altogether. Please Please do yourself a favor and use voucher instead as Groupon seriously need investigating as their customer care is non-existent. If I could have gave them 0 stars I would of.

In early Nov 2016, I ordered 2 different types of Himalayan Salt Rock Lamps. Within a few days the first one arrived and to my extreme disappointment the lamp didn't work. I changed the bulb and it still did not work. I contacted customer support via live chat and was told I'd get a mailing label to return the item but a refund could take up to 3 weeks. That angered me because this was the first item I'd ever ordered from Groupon and with it arriving broken I felt they could do more to make this better than tell me I'd get my refund in 2-3 weeks. About 4 days later the second lamp arrived and to my major displeasure that one also was not working. I contacted customer support via telephone this time. The same promises were made to send a mailing label and to issue a refund.
All of this is well and good IF I actually receive the refund, but at this point they cannot understand that as a consumer I have no faith and no trust that they are operating a legit business since the first two items I've ever ordered from them came defective. So that remains to be seen. I do want to caution others that if you are ordering anything from Groupon that is electronic or has to do anything other than "sit and look pretty" then you may want to look elsewhere for your purchase. I will not be ordering from them again because it's not worth the hassle only to receive broken items and a promise to refund in 2-3 weeks.

Purchased a $69 special for Xmas from Groupon for Ancestry by DNA. It was not until I looked at Yelp.com for a review on this company that I realized what a rip-off this company was as there are just TONS of one star reviews for Ancestry by DNA. This is NOT the REAL Ancestry.com company but a fake. Groupon has to know this and does not care.
I have purchased probably 8 different Groupons that turned out badly: a transit shuttle to the airport that was a total rip-off for $59 or so that I could not use, a restaurant that would not give me but $20 for a $50 coupon, restaurants that when I got there were closed, etc. etc. This is the last time I am buying any more Groupons. Why a company like Groupon would not drop illegal or bad companies makes me wonder what is going on? They have to be getting complaints, so--to me--they are either just greedy or just do not care. Under any circumstance, I won't be buying more Groupons from the company ever. I have had it!

I purchased a group on for my fiancee for Bon Appetit Fitness and Wellness Spa. My suggestion is to never ever visit this place. On Groupon which disturbs me rated it 5 stars. The reviews on Groupon were all excellent. I failed to do my homework and check other reviews. If I had I would have never purchased the Groupon. So my complaint is about Groupon in rating businesses so high yet when they are not. Years ago when Groupon started they were humble in getting business and more interested in doing the right thing such as ratings. If you did not have a good rating they would not market for you. But now they like a lot of companies have gotten so large and the money is flowing they forgot their basic concept which was the very people who got them started.
So how could you Groupon walk and take advantage of the people who got you where you are today. Not even that but when I purchased the voucher I could not print it or email like then say you could as a gift. Four time and over an hour with customer service and I was never actually able to print the voucher with the bar code. However the Spa did honor the request with the receipt. Too much time effort and work to use them again. This is no deal. I would rather just work directly with the vendor.

I attempted to buy tickets to a local museum exhibit. When I pressed the purchase button an error message came up saying "there was a problem with your transaction." So I tried it again. Same error message. I changed credit cards and then the transaction went through. However, when I went to see my ticket purchase I had 16, not 4, tickets!
I immediately contacted Groupon and let them know. Their response was no returns, period. Even when they acknowledge it was their system that had caused the issue. It took about the 5th customer service rep to actually articulate that the system reprocessed without showing me on the purchase screen. "We sent you an email while you were making the purchase"?!? "Didn't you read it while you were trying to make the purchase!?!?". It also took talking to a human being to escalate beyond the 1st level of CS. However, I have not heard from the second level so I have contacted my credit card company to dispute this transaction and their rep indicated this is not unusual with Groupon. Avoid Groupon, the discount isn't worth it.

I ordered two letters through Groupon for Sealedbysanta.com. I filled out the order as instructed and was told by company it was an invalid code. Groupon insisted I put code in wrong till I sent them screen shot. They stated they had nothing to do with the company and could not help. They told me to keep trying to order and call company. Company says there is nothing they can do and Groupon won't do anything. So I am out 36 dollars.

I'm a Marketing Manager for a company in the Chicagoland area (Groupon's backyard), and I understand the importance of having a very good online reputation, generating positive reviews and addressing the negative reviews so your customers are happy. I've spoken with 2 different Customer Service representatives at Groupon and neither could help me with a very simple issue. I never received a callback from either of them when I was told I would.
This past Monday I called the 312-239-2980 phone number that I was given and of course had to leave a message because it went straight to voicemail. I let them know that if I didn't receive a phone call from someone on Tuesday, but Wednesday I would be leaving a 1 star review. Apparently, they don't care about receiving 1 star reviews because there are a ton of them on ConsumerAffairs' site. I will never buy a Groupon because if this is the type of Customer Service they provide, when it comes to fixing a small issue, I'd hate to see the lack of service, when it's a big issue. Please call me at some point in the future, or don't and I'll figure out some other way to fix it.

I did not read here first. The discount I purchased was for a non-company. Could get no response and when I let Groupon know, I also was told no refund and really no help. I certainly have to question their consumer response or perhaps understanding of nuances in that they are happy to help? Would help if the business was unable to complete the order? Or if I could not contact the business? Oh, really? Why would I contact them if I was able to get the service 'purchased'? It is my right as an USA citizen to complain, to seek reimbursement, and to be heard. It is also my right to ask my credit card company to suspend payment from me to them. Please use Groupon as an aware person if you feel inclined. I strongly feel I will not be using this service in the future.

I made a purchase for 3 people to attend the Blue Man group but this purchase was doubled and I was charged twice. I exchanged lots of emails requesting the refund of a purchase that Groupon made alone without my authorization and yet everyone they say that it will not be possible to refund! Great. I'm crazy trying to pass the ticket to not have prejudice that Groupon is causing me and to my surprise on the site I can only see 3 vouchers! As a matter of fact, it is possible that Groupon is a great company and I am not having the unpleasantness of experiencing it!
First I receive an email that the purchase was not made, then I made another purchase by changing the number of the card then the purchase was made and I received the email after that without any email from the Groupon or without my authorization was charged the value of the comlra that was canceled and after disappointing me to know that I will not have the money back I can not see the voucher that I paid without wanting and that I have not yet available! The Groupon charged me 6 tickets instead of 3 is in my credit card but only 3 vouchers are available. Will you give me back the money? Important detail the show is in 6 hours. I want my money back or the voucher available in 1 hira oarabque I can sell! This is a steal for the rest of the Groupon. I'm feeling so badly injured! Shameful.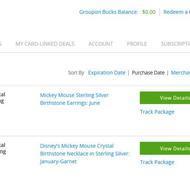 I ordered two items from Groupon on November 14, 2016 - Mickey Mouse earrings and necklace. They were supposed to be processed within 2 days. It is now November 22, 2016 and the order has not been processed. Groupon CHANGED my order on their backend (so the order that's processing isn't even correct - and I have the receipts for proof), and I have called twice and spoken with Elise (November 21) and Kevin (November 22) and no one can give me any information on the order and they will not allow me to cancel the order even though they can see that the order was changed internally and has not even processed.
This is FALSE advertising as they specified that this item will process within 2 business days; ILLEGAL changing of data on the company's backend as the original order was changed by Groupon after I made the purchase; and UNFAIR business practices as I am not able to cancel the order after all of the above. Of course Groupon took the money out of my account on November 14th. So now, here I am, with no products, no tracking or order information, I'm out $29.62 and Groupon has not tried to help or rectify the problem AT ALL. Each customer service rep has told me a different story and neither offered any kind of resolution. Nor did either offer to look into this further and get back to me with some information. I do not even know how they stay in business with these shady practices.

On 11/11/16 I purchased a Groupon for a wax service. I attempted to reach the vendor several times unsuccessfully. On 11/15/16 I contacted Groupon and they indicated that their scheduling department would contact the vendor. On 11/20/16 I reached back out to Groupon because I had not heard from their scheduling department. I was informed that the agent had not sent my information to scheduling. Annoyed with the whole process I asked for my money back. The agent explained a refund was not an option because it was past 3 days since the date of purchase. Even though the vendor wasn't responding and Groupon dropped the ball I'm being penalized. After a few rounds of not getting anywhere except another promise to once again send my information to scheduling, I told the agent to keep the money and just close my account. I will never use Groupon again.

Have placed two orders, one for Sams card (have not received anything on that yet), the other on clothes... Henley shirts. On sale 1/2 off. Ordered two, received one. Contacted Groupon right away, had no explanation, but could not ship another and would issue credit. That was good because the shirt I received is hardly worth using as a rag. It is horrible in all ways... no hem, oversize, neck cut go the shoulder edge, material is terrible. What else can I say? It is not worth a dollar, charged 9.99 originally 19.98. I won't even waste the money sending it back. Have deleted GROUPON from all my contacts!

I wanted to start by saying I have used Groupon for many years and have used over 5 addresses on their site. I have never in my years had such bad customer service with Groupon. I recently moved to another apartment complex and when I attempted to ship a Christmas present from Groupon it told me my address could not be found. I have had to contact FOUR customer service representative - two through calls and two through emails with IT and my issues has not been resolved. If anything I am more upset and frustrated.
The emails IT sent me are generic copy and paste responses telling me I should check my address with USPS since it's apparently connected to their website. Well USPS has my address on there. Another suggestion on these generic emails and by a representative says I should just mail my package to a relative or friend... Are you kidding me? I want my packages sent to my OWN HOME! Come on people you are a multi million dollar company. Get it together!!!

I purchased 2 Groupon certificates for 2 Monogrammed Mason Jars. It was $ 5 each mason jar. That is $20. When I went to get monogrammed on website purchased from I could not use both certificates at once. I had to order them separately. The first order I placed shipping and handling was $22.90. The second order I placed shipping and handling was $12.95. Why so different. I do not know. It is the exact same purchase (2 Mason jars). So I ended up paying $20 for the Groupon and $35.85 S/H. That is a total of $74.85 for 4 Mason Jars. I looked on the Groupon website before purchasing and it said nothing about having to pay S/H. I figured I would have to, but never realized it would be this much. Very disappointed all around. I will never ever do GROUPON again. It would have been cheaper to buy directly from website, because of the 20% off coupon I could have used. PISSED OFF EX-CUSTOMER.

I ordered something on Groupon as a birthday present 4 weeks ago today. I took into account all of the appropriate time allotments for prepping and shipping in order to receive the product by a certain date. Those came and went with the only update I received on the tracking being "Preparing to Ship" dated the day after I placed the order. After waiting for over two weeks for the product to even ship, I messaged Groupon on their online customer service. I was met with scripted apologies and a joke of an answer for why my product hadn't been shipped: "I'm so sorry for the trouble. Unfortunately, your order has been delayed and we don't currently have any updates on the expected delivery of your product. We are still working with the business to resolve these issues, but at this point we're unable to provide a time frame for the arrival of your shipment."
They offered me a refund. When I tried to discuss that I just wanted the product, they gave me the SAME template. Finally I got them to give me a number to call. They convinced me to cancel my current order, get the amount refunded onto my Groupon account, and then reorder the same product assuring me that they hadn't had any further problems with shipping since October 28th (this was November 7th). The guy I spoke with on the phone was literally the only redeeming factor of this entire ordeal and told me to check back with them if it hadn't been marked shipped sighting two days.
Fast forward two days. Hadn't shipped. When I called (I now have the Groupon customer service number saved in my phone), they told me that the shopping window hadn't expired and I would need to wait even longer to call. Called back yesterday (November 17th) and was told once again; "I'm so sorry for the trouble. Unfortunately, your order has been delayed and we don't currently have any updates on the expected delivery of your product. We are still working with the business to resolve these issues, but at this point we're unable to provide a time frame for the arrival of your shipment." WHAT?? They send me on to the Groupon Goods department, which is apparently a step up from customer service, and tell me that I should receive word from them within 1-2 business days.
The email I got today was that EXACT same template that I had gotten both electronically AND verbally three times before. When I emailed back asking for a phone number to contact the rep that had emailed me, I received an email informing me that my order had been cancelled and my money refunded to my Groupon account. Needless to say, I called once again, spoke to two more people who offered scripted apologies and little to no help. They tried to convince me to keep my money in my Groupon account "for future use", to which I laughed at, and informed them there would be no future use of their website.
In the end, I do get my money back to my card which shouldn't have even been a question from the start. I will not use their site again and I will tell anyone who asks that they shouldn't either. One thing I know is that word of mouth is the most effective form of marketing. The ironic thing, the same gift on the providers website is the same price as Groupon.

My experience with Groupon customer support is beyond surreal. I contacted them for help with a merchant (best tours) that has zero customer support as well. This was fri. After 30 mins on phone, agent says he cannot help me and would escalate my issue to a Groupon escalation specialist? I would receive an answer with 24 to 72 hours. Yesterday, I received an email from a support agent who totally misunderstood the issue, clearly did not want to deal with anything negative about this merchant and told me I would hear from the merchant in 3 days. I told her it was a moot point as I had already rescheduled the tour. NEVER did I ask for a refund.
So another agent writes back saying that to make me happy, she gave me $40 in Groupon bucks. At first I thought that was a good thing until I realized she had merely refunded and canceled my tour! So now I have a scheduled tour, but have no proof of the Groupon. How incompetent. I've since sent 3 emails asking to cancel the bucks and put the tour back on my Groupons. I am told that is not possible. So instead of helping me Groupon has made the situation worse causing me more time. In addition the 'specialist' wrote that I can repurchase the tour (at more than twice the price) and to "ENJOY". What??? This is a sad state when businesses outsource their customer training and provide zero training.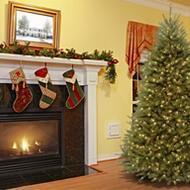 My daughter forwarded me a photo and a link to a GREAT looking Christmas tree and an even GREATER offer for the tree: 7.5 Ft. Dunhill Fir Christmas Tree with White or Multicolored Lights... $179.99 (Additional $40 discount 11/14 (typed in RED) under the price for the tree.) The both of us got together later that evening (11/14) to order the trees before the "SPECIAL OFFER EXPIRED". I clicked the "BUY" button and my daughter did the same on her tablet. Before I completed the transaction, I saw that there was also a Groupon $10 coupon so I went to check it out. My daughter completed her order and let me know that the $40 discount did not show up on the purchase receipt. So I decided to not complete my purchase to investigate what was going on. Well as you may suspect something is SERIOUSLY wrong. My poor daughter's total for this fiasco ended up being ONE HUNDRED NINETY TWO DOLLARS!!!!!
Because of my daughter's occupation, she could not call and complain herself so she gave me the info and I called. NOW let me say that it has been a long time since I ordered from Groupon and I must confess I have been a GROUPON FAN. Anytime I had an issue with anything the customer service was STELLAR! Making the call to inquire about the discrepancy with the tree order, I couldn't believe that I was speaking with a Groupon Representative. Her communication with me was beyond impersonal with a heavy dose of disinterest. It seemed from our transfer of information she just would have preferred to cancel the order. After going over the situation SEVERAL times, I asked to speak with a Supervisor and this is what I was told: CSR: "I have a Supervisor but she is on the phone". I told her that I would wait. CSR: "She's on the phone." So I took that as a cue to not expect a Supervisor to talk to me.
FACT 1: THERE WAS an offer under the price on that site stating that 11/14 was the deadline for the Additional 40$ savings on the tree. By the time I could get someone to respond from Groupon I kept getting the "well it's not on the offer now and the price is $219 now." I believe that Groupon knows there was an offer for this additional discount, come on, SOMEBODY ordered this tree and got that discount unless there is a multiplicity of like complaints.
FACT 2: There was an additional GROUPON $10 discount for spending at least $25 that my daughter did not receive. I simply believe that "there is a DEAD CAT on the line" with this situation. I really would feel badly to think that Groupon cheats and lies because I have never ever had one single concern with any transactions between Groupon and myself in the past. I just don't like ANYONE trying to make me think that I didn't see what I saw or didn't understand what was written. I hold a higher education degree and my daughter has 3 to her credit. I am certain between the two of us being proficient in reading and understanding WHAT we have read, the mistake is not ours to own.
Final observation: I do not believe that Groupon will care about this situation as indicated by the reaction and action of their Consumer Representative I communicated with but I intend to put this experience on all media so that others will proceed with caution when on the Groupon site. It is always a good thing to share negative experiences, not for the purpose of causing harm but to make the INNOCENT buyer more purchasing process vigilant on these retail sites. Thank you for your time.

Purchased a High End TV through Groupon last Tuesday. The ad read that they delivered to your door within 48 hours after purchase. It's been a week, and the item hasn't even been shipped! Their trucking company states that it's not even in their warehouse for pick up, so they can't ship, or deliver it. I wasn't being impossible about the fact that it's taken longer than is stated on their wall, but my main tv blew out, and I have relatives coming for the holiday. Groupon tells me that the information that is clearly visible on their wall is a discrepancy, on their part, and refuse to be held accountable for it, but on the other hand are holding my feet to the fire on their "7 business day window" which is in fine print somewhere in their contract.
They refused to give me my money back, and expect me to wait another 70 some odd hours until they can get some real info on when the product would actually be shipped! Now they're offering some compensation points, like they will actually make up for my entire family coming for a holiday with nowhere to watch football! My next stop... the attorney general's office!

"I understand you have changed your mind about using your Groupon coupon", said 'Groupon support' in their email response to my complaint. No, I did not change my mind. I wanted the service. I was standing in the salon ready to use the coupon. The salon, however, refused to give me a receipt for the cash I was handing over to pay the tax. There is no dispute with having to pay the tax. However, the business IS required to provide a receipt (and for, especially, cash.)
I phoned Groupon 'support' from the salon. Two reps hung up during our conversation. I called the 3rd time, and Sheila reiterated the pat response of 'after 3 days there are no refunds.' With all my 'buts', and 'I do want the service', and 'I just want a receipt to acknowledge payment'... the same 'support' was repeated: no refund. On emails back and forth they keep sending the same no refund response. I then requested they credit my account. Same response: no refund. So they are allowing me to be out of pocket for requesting documentation of tax payment from their service providers. It is the responsibility of the business to give me receipt of payment. They provide NO support once you have released your payment. I will never use GROUPON again.

I purchased a Groupon for a Boot Camp at a local gym. I went to the gym to use it, and they stated that it's not their Groupon and I wouldn't be able to use it. I contacted Groupon via chat and phone and never received resolution. This was the first time I had a problem using Groupon and this was a merchant and Groupon issue, not a paying customer issue. I am distrustful of Groupon now, and felt my concerns were disregarded. I requested a refund but never received it; I didn't even get an offer for a Groupon credit! Not a good way to keep a customer, Groupon! I have unsubscribed from Groupon and LivingSocial, since Groupon recently bought them out.

I ordered boots through Groupon for $25 and I read reviews about the sizing being small so I ordered a whole size bigger than my normal size. And they were very, very tight. Checking Groupon page, I found out this item was unreturnable. Technically, I wanted an exchange and after calling Customer Service, and holding on the phone over 15 mins, and being unable to use the automatic callback feature (the system wouldn't accept that option and just kept looping back to the same prompt), I hung up, dialed an alternate 888 number but the same thing happened. I am a very unsatisfied ex-customer. Groupon customer sucks.

Erin HuffstetlerDeal Websites Contributing Editor
Erin Huffstetler is the Frugal Living Guide at About.com, and the founder of MyFrugalHome.com. If there's a way to get something for less, Erin will find it, and tell you about it. More about Erin→

As one of the first deal sites on the scene, Groupon has been offering discounted vouchers and merchandise since 2008.
What consumers say
We don't hear a lot about Groupon at ConsumerAffairs. This generally is a sign that, while there may be occasional problems, there is no single issue, or group of issues, that irk consumers.
Vouchers retain value: After vouchers expire, they can still be redeemed for the purchase price.
Returns accepted: Vouchers can be returned within seven days of purchase. Some Groupon Goods purchases are eligible for returns.
Accessible customer support: Both online and phone support is available.
Easy email management: Email subscriptions can be set and changed with ease.
Deal overload: With hundreds of local deals to sort through, and just as many national deals, it can be time-consuming to sift through all the offers, and hard to zero in on what you're interested in.
Vouchers: All vouchers remain in your account until you mark them as redeemed, so it can be tricky to remember which ones you've used and which ones you haven't (especially if you buy a bunch).
Best for Bargain shoppers, occasional users, businesses
Company Name:

Groupon

Address:

600 W Chicago Ave #620

City:

Chicago

State/Province:

IL

Postal Code:

60610

Country:

United States

Website:

http://www.groupon.com/