Consumer Complaints and Reviews

I placed an order for 2 dive skins on November 30th for departure to the Galapagos on December 14th. Even though there was plenty of time, I paid the extra for expedited delivery (3-5 business days), just to be sure. I am now returned from Ecuador - January 13th - and DHL wants to deliver the items. To add insult to injury, not only did I not have the suits for diving in the Galapagos, now I have to pay an additional 60% (approx.) to DHL for taxes and shipping, which were supposedly prepaid to LightInTheBox. I have been unable to find either an email address or telephone number for LightInTheBox to even attempt a satisfactory resolution to this matter. I will NEVER purchase from this company again! I still don't even know if I like the products!

I ordered a surveillance DVR recorder and it is working great. It was super cheap and arrived within 10 business days. I recommend the security systems at this website for your restaurant or store. Give it 5 stars!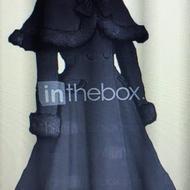 This coat was nothing like in the pic. It looks like a Amish dress, completely straight not nice at all like in pic and cheap bow holds top piece together. And we only got $60 out of the $88 back. Shopping they said was the $28... Why should I be charged shipping when it's not what I was expecting to get... it only cost 6$ to ship back to them (go figure). DON'T USE THEM AT ALL!!! Ps. I ordered this same jacket from a real company online and it was perfect.

I bought 2 dresses. Both unusually small. They make it difficult to send back. I wrote them 50 times. Sent pictures. Spent literally exhaustive hours. They respond with form letters. I got only $50.00 back but spent $231. PayPal got me $50.00 extra. I want the $128.00 owed me. Please DON'T BUY. THE QUALITY WAS HOMEMADE AND THE SIZING RIDICULOUS. THEY DON'T WANT TO REFUND. HORRIBLE, HORRIBLE EXPERIENCE. Write down tracking #.

I've purchased two pairs of sports shoes there in the end of December. Was surprised with fast shipping. Order was shipped within a couple of days and delivered in just 7 days. Trust me, I've done quite some shopping in Chinese online stores, but I've never received my purchases so fast. And I must say the quality is awesome. Overall I'm satisfied with this store. It's definitely worth trying.
How do I know I can trust these reviews about LightInTheBox.com?
671,681 reviews on ConsumerAffairs are verified.
We require contact information to ensure our reviewers are real.
We use intelligent software that helps us maintain the integrity of reviews.
Our moderators read all reviews to verify quality and helpfulness.
For more information about reviews on ConsumerAffairs.com please visit our FAQ.

Ordered two swimsuits a few days ago, and decided I wanted to cancel the order. My money was taken within 5 minutes (naturally) and I still haven't heard from the company. I previously bought a dress from this site which was great but unfortunately they will be losing a loyal customer if I do not hear from the company within the next few days & I will be looking into taking legal action if I do not get a full refund for these unwanted items.

I had ordered 2 Dragon Ball Z action figures from LightInTheBox.com on November 29th for my brother-in-law for Christmas only because their website advertised their shipping was 5-8 days. I was sent a confirmation email on November 30th, saying that my order had been processed and shipped. They sent me a tracking number that did not work. The only thing that was displayed was "Your order is processing." With some codes.
By December 15th I had still not received my order according to the "5-8 days" shipping time so I sent the website's customer care an email stating that I had not received my package and that I would like to know at least where it was and if I would receive it by December 24th. Their customer representative who emailed me back proceeded to say "Due to high requests this month your package may be delayed. Please wait until January 7th to receive your package."
I was also subscribed to receive promotional emails from this website and as of December 15th, they were still sending emails that said "Order now to receive your Christmas order by Christmas." So I was a little confused as to why my order would take until January 7th, if the website was still claiming to be able to send out orders by Christmas.
I waited until December 23rd to again email the website so that I could at least find out where my package was. I even told them that the tracking did not work and did not display where it was because in the first email they had sent me they had claimed to be able to call and find out where your package was if it was late. The person who emailed me back said that since it was peak season all packages were going to be delayed, and that I should wait until January and if I do not need the packages anymore then I can send them back when they arrive and get a refund when the company received the packages again. Again they did not even bother to address the fact that the website was still advertising on time delivery when I had sent them an email.
Finally on January 9th, I received my order that I had placed on November 29th. Considering that these two items are something you would collect, I thought maybe they would have at least put "Fragile" or handle with care or at least done a better job with the boxing. Both boxes arrived damaged and dented. Thrown into the box without a care; no papers or anything about what my order was. I would highly NOT recommend this website to anyone. Do not order from them. Their customer service them seems to just have a copy and paste passage that they use to tell all customers when they do not receive their orders. Awful service, lies, and false advertising.

Do not do business with this company. I was charged twice for one order 7 months ago!!! Ordered 2 vessel sinks in July. Total cost $529.34. August credit card statement listed 2 charges of $529.34 EACH. I have many attempts to get the second charge of $529.34 refunded to no avail. It is NOT possible to contact this company in any manner. I have printouts from my account with LightInTheBox that show the refund due, however my credit card company have not received a refund nor have I.
Frankly, I would never have ordered had I known this company was located in China. Their address is listed as California, which is where I placed my order. Check out the (many) other reviews on ConsumerAffairs or the BBB. I sure wish I had. Do not rely on other reviews that I believe are fake. I have been cheated out of $529.34. Since this is not only across state lines but out of the country, this is a federal offense, thus I intend to file a federal complaint against this company striving to get all who were cheated repaid. Note to the wise, do not buy from China.

I will never ever purchase anything from this site. They are thiefs. I purchase some shoes for my gals for Christmas. The item never came on time. When one item came they were charging for duty fee. I have asked for a refund for the 2 items I purchased. They never gave me my money back. Please, please never buy anything from this site.

I ordered some Wii controllers for my kids on 11/28 as part of their Christmas. I had two separate orders. Both get "lost" and after 5 emails to customer service and still no controllers on 1/6.. I receive message from customer service wanting me to locate the item. USPS has no record of either tracking number. Both packages have been at JFK airport since 12/19. AVOID, AVOID, AVOID this company. YOUR ORDER WILL GET SCREWED UP, PACKAGE WON'T COME, AND WILL BE SO FRUSTRATED!!! Stick to Amazon and eBay.

I've ordered a package on November 26th with expedited shipping (5-8 business days) and having after the stated period. After 3 weeks I clicked on Package Not Received button on the order page and a popup message indicating the usual time for shipping was up to 30 days. So I waited for more than 30 days and on Dec 29th (still haven't received the package) I clicked on the Package Not Received icon again and surprising it worked. I requested for a refund and they replied with a very nice e-mail and asked me to patiently waited until Jan 4.
On Jan 6 I still haven't received the package and when I tried to request the refund again, the ticket was closed on Jan 5 (one day after Jan 4). I clicked on Package Not Received again, Return or Replace Product and all methods resulted in Access Denied message. All they say are excuses to ask you to wait and wait but leave you no chance to request for refund. DON'T EVER, EVER BUY FROM THIS SCAMMER AGAIN!!!

They first took 10 days for what should have been up to 4 processing days and when I inquired, no one could tell me anything until I started to behave very badly on the customer tickets. O e person finally told me that the reason processing is taking so long is Beaune they can't find 2 items, so I told them to take off the items and refund me. They took the items off the order, but never refunded me. When I received the rest of my order, which I must say, that shipping was very fast (within the 3-4 days as promised). The items were of the worst quality I have ever seen in my life. Horrible quality clothing and the sizes are in no way true to form, although they say it is. The male jeans I purchased were the lightest pair of jeans I have ever seen; almost a thin stretch material and is not true denim. I am planning on returning everything, but I'm going to need all my money back first. I highly recommend that no one buys from this site.

I ordered two products in November 2016 as presents for my sister for Christmas. I was guaranteed delivery in 5 to 8 business days and therefore purchased the items knowing that I would receive them prior to Christmas. It is January 4th 2017 and I'm still waiting for the delivery of the presents. I am very unsatisfied with the customer service. They were unwilling to assist me in any way or provide me a refund for the product which I have waited 30+ business days for! I would like to warn others not to purchase from their site as their shipping and delivery times are not accurate and their customer service is not helpful or willing to accommodate.

Please do not and I stress, DO NOT order from this company. I purchased an item on December 17th 2016 for my 7 year old granddaughter who was visiting for the Christmas Holiday. During the ordering process it asked if I wanted to expedite my item which I did in order to get it within 3-4 business days. Let me just stress that today is January 2nd 2017 and my package still has not arrived. Mind you the original expected delivery date was December 31st. I contacted the company 5 different times through e-mail along with phone calls and all I keep receiving is some unknown person that keeps telling me my package will be shipped soon. However today an e-mail was sent stating that it should arrive 3-4 business days. I tried getting the expedite fee returned to my credit card but they denied me saying that I needed to give them more processing time.
There should be a law that companies should not be allowed false advertise over the internet. Now if my package does not arrive this week I have to contact my bank to see what help I can get from them. I AM VERY DISAPPOINTED. My granddaughter has left so now if the package ever comes I have to pay another fee in order to ship them to her. PLEASE, PLEASE, PLEASE people do not order from LightInTheBox. You are better off going through Amazon or eBay. At least they will make sure that if your package is not received or you pay an expedite fee to get it shipped quicker they go after the company to make sure you are treated fairly and refunded if not. What a horrible experience this has been for me ordering ONE item from this company which still has not arrived to date. I'm so upset!!!

I noticed that at the end you are tagged with odd shipping charges with preferred shipping greyed out. The other merchandise was too cheap to be real and after reading reviews will ignore spam asking me to finish buying merchandise I already took out of basket. First time I have had a company badger me after using the back button on browser and emptying basket.

I have had the same experience as several others with the company. I placed an order of just under $150 with them on December 12, 2016 (the transaction was posted to my account the 13th). I paid extra for the fastest shipping. It was represented on the site that the items would ship within a 24 hr period and that with the faster shipping I paid it would take 3-4 business days to arrive. I first inquired about where my order was on the 22nd. The response I was given was that my order would ship no later than the 23rd.
Now I'm told my order shipped the 28th (tracking shows it was loaded onto a ship today the 2nd). I have yet to see my items, so can't review the actual product, but so far I am getting nothing but the runaround and answers that say it takes longer and longer to get here and my frustrations are mounting. They have not offered any refund as requested and their customer service responses are not helpful, just more of the same runaround. Just want to help steer others away from making the same mistake I unknowingly did.

Purchased an item that was not as described, and tried to return it. They offer a refund lower than the purchase price which I disagree with. Had to escalate it with PayPal (which they are proving to be very difficult with). I sent the item back and have heard no word from the company. I re-escalate the issue back to PayPal and still no refund. The item should of reached them since the 17th of December.

They charge you without having the product in stock. You should never charge a customer for an item until it actually ships. They don't automatically refund your card, but issue a credit with an email saying your You have seven days to respond to the resolved issue. Then to top it off you have to go in and click Withdraw, to get the money back onto your card taking up to 14 Business Days! I wonder how many people they have scammed. Plus I paid extra for expedited shipping to have it here before Christmas. No phone numbers, etc. These guys are crooks.

DO NOT ORDER FROM THIS WEBSITE. I placed an order of $190 purchases. I was told the order was "shipped" with UPS via a tracking number on Dec 20, 2016. However, the UPS tracking showed it was not shipped. Every time when I opened a ticket to ask for help, but the ticket was closed immediately after it was submitted without real resolve by someone called Sarah. There is no email address, no phone number you can reach the customer service. But I did find a number from Chinese website (in Chinese). However, the phone has been always busy for hours/days, no one take the phone call. IT IS SCAM FOR SURE.

I ordered my daughter animation merchandise which was figures a T-shirt squishy toys etc. and we got it for her Christmas gift this year. They promised 5-8 business day guarantee. It's still has not shown up and when I try to put my tracking number it says I have no orders when money has been taken out and I have my order number. This is a fraud business and now my daughter's Christmas gift and my money is gone. Somebody please help!!!

By far the worst eCommerce brand on the planet. I purchased an item from LightIntheBox on the 9/12 and the shipping was supposed to be 3 to 5 working days. By the 20th of December, I still did not receive anything and the shipping period has been increase to 5 to 10 working days. It looks I cannot cancel anymore the purchase and it looks difficult to directly contact the customer service. I would highly suggest everyone avoid to buy from them. Alternatively, you can try the service yourself.

As with everyone else on here... I too was scammed by the "expedited shipping". An extra cost of $17.02 that turned out to be complete BS. After ordering and seeing that "everything was in stock and ready to ship"... I logged back in and saw that they weren't going to ship for another 10 days after ordering. Then, I find out that my 4-5 Day delivery is out of the question according to DHL... who said that this company does this all the time... People need to find this webpage and stop ordering from these clowns. I told them I want a refund because the order STILL hasn't left China yet... and I ordered 20 days ago. Buyer beware of this company. They will take your money, laugh all the way to the bank, and good luck if you get your items. #disgusted.

LightIntheBox is highly inconsistent. I order for goods, paid only to get a mail that goods are out of stock. I asked they should send the rest of my goods. I didn't get my goods till 3 weeks later even though I paid for Express. The goods were substandard. I think this site should be banned, they cheats. It's not good value for money, I ended up paying 127 euro to DHL for custom charges for clothes that are not useful. It's really annoying.

DO NOT ORDER FROM THIS WEBSITE. I placed two orders a day apart and one was "shipped" two days after placing the order and the other was shipped 10 days after placing the order. They tell you that it will take 5-8 days for delivery. However after 10 days my first package still had not arrived. I contacted "customer services" which you can only do online. There is no telephone number to call. I received a generic response about package not received, stating that it could take up to 30 days for delivery, they have no control of shipping companies. I responded stating this was unacceptable as the package contained gifts for Christmas so delivering them on Jan 13th was not satisfactory and to refund my order in full. I am still waiting to hear from them.
My second package appears to be being delivered this week. However I have received a message stating that I owe a further £36 (on top of the £45 shipping fee) for importation charges - at no point during the process of ordering does it tell you that you will have to pay these charges. Again I have emailed them as such and requested a full refund and again I received a generic response stating that they are not responsible for importation charges. AVOID AT EVERY COST.

After posting reviews, I did get a response from customer service. It seems the only way to communicate with them is through sites like this if you want anything beyond their automated choices. There is no way to email, phone, or chat. I was able to get my refund and presume it will hit my credit card in a few days as customer service suggests. They have a button called "withdraw" which, in this system at least seems to mean "withdraw the credit and put it back on my credit card" and not "withdraw my request" or "withdraw funds" or "withdraw because I used it" or something else.

I ordered a painting from them, but what I got didn't look anything like the photo on their website. Like a poor attempt at copying something similar to the original. Absolutely hideous. This is not going on my wall... They did offer me a refund, but shipping back to China is $80, which I'd have to pay out of my own pocket. Since I have no idea if I'd ever get the shipping fee back either, I decided to just throw the painting in the trash and be done with it. I don't have time for this. Also, they keep spamming my inbox several times a day, and unsubscribing to their newsletter is impossible. I had to block them, which is OK, since I won't be dealing with them again.

I was excited to find these shoe for my grandbaby. It has been 4 weeks. I got a email saying my shoes were on the way & they aren't here. Don't take a gamble on this company. I can't afford to throw away money.

I ordered Dive torches for me and my partner required for a trip. As per their delivery times it was 5-8 working days and I allowed time for it. However, by time it did not turn up and the tracking code given is fake -> does not track anything. Yet they keep saying that's the tracking code. It shows "no item found!" Most ridiculously, they are telling me now allow about 35 days for delivery! "As a token of our apology, we would like to offer you a rewards worth shipping fee 14.12 AUD." I will never use them again. I do not want any CREDIT.

This company has no customer service department to contact so it is considered fraudulent. I had to push the issue to get past the first representative at Chase to do a dispute and reversal but once I spoke with her manager and mentioned I had no way to contact them she put me over to their fraud dispute department and they refunded my money and started an investigation. These people promised a delivery within 3-5 days and their tracking number is fake and my package is untrackable. This is illegal. A POS (point of sale) is contractual.

I bought some GoPro accessories for my holidays, they arrived just in time before going there! I was able to make some really cool pictures. I can recommend standard shipping and to take the customs tax insurance, so the customer service can refund you. Already placed other order waiting for it. :)
LightInTheBox.com Company Profile
Company Name:

LightInTheBox.com

Website:

http://www.lightinthebox.com/