Going green could make you some green
04/18/2019
|
ConsumerAffairs

By Mark Huffman
Mark Huffman has been a consumer news reporter for ConsumerAffairs ... Read Full Bio→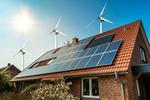 Research consistently shows that consumers shopping for homes are impressed when a home has energy efficient features. After all, that can save money for as long as you own the home.
But some energy efficient features are more attractive than others. A new Zillow analysis has found that homes equipped with solar panels sell for 4.1 percent more on average than homes without them.
The premium will vary by housing market. In New York, for example, solar panels will raise a ...
More
The oil and gas industry is hopeful that it can transport more natural gas by rail and override authority of states that reject pipelines
04/11/2019
|
ConsumerAffairs
President Trump is trying to make it even easier for the oil and gas industry to remain the dominant source of energy. He signed executive orders on Wednesday that the oil and gas industry hopes will strip states of their authority to reject pipeline projects and expand the transport of fossil fuels by rail.
"When states say 'no' to the development of natural gas pipelines, they force utilities to curb safe and affordable service and refuse access to new customers, inclu...
More
Sort By