The company says its investment will help create 'additional methods to combat weeds'
06/14/2019
|
ConsumerAffairs

By Sarah D. Young
Sarah D. Young has been a columnist for a blog ... Read Full Bio→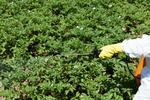 Amid mounting legal claims that the herbicide glyphosate causes cancer, Bayer has announced that it plans to invest $5.6 billion in developing new weedkillers over the next ten years. Bayer, which now owns Monsanto, says the move is intended to address public concerns about the risks of the ingredient.
While Bayer has maintained that glyphosate is safe, thousands of plaintiffs have claimed that long-term exposure to Monsanto's glyphosate-based Roundup was a factor in th...
More
ALDI, Kroger, and Albertson's ranked highest
06/12/2019
|
ConsumerAffairs

By Mark Huffman
Mark Huffman has been a consumer news reporter for ConsumerAffairs ... Read Full Bio→
Environmental group Greenpeace has released a report ranking grocery retailers on their efforts to minimize single-use plastic on their shelves. The report finds the industry as a whole has a lot of room for improvement.
Single-use plastic, such as containers and water bottles, end up in landfills if they are not recycled. In many countries, the plastic -- along with other garbage -- is dumped at sea where it forms large islands and poses threats to marine life.
In a rece...
More
Sort By