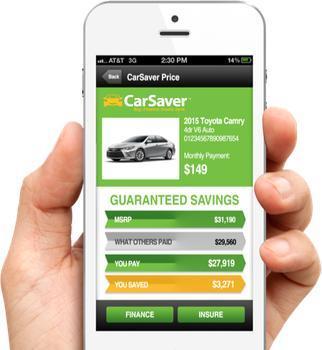 Walmart already sells just about anything you can think of, but now it's adding cars to the list. According to a report in Automotive News, Walmart will be teaming up with CarSaver, an online car-seller, which will lease space from Walmart, much as McDonald's and others do now. 
Of course, there's no need to actually go to the store. You can download the CarSaver app and buy the car of your choice without leaving home. But Walmart thinks many consumers would still like to kick the tires before signing on the digital line. And many would prefer to do so without the pressure that visiting a dealer showroom often entails.
CarSaver has had space in a Walmart Supercenter in Stuart, Fla., for about a year, Walmart spokeswoman Molly Blakeman said. She added that customer response was still being evaluated.
Less hassle
CarSaver claims to take much of the hassle and risk out of buying a car, although local car dealers are still involved in the transaction. CarSaver says it conducts competitive pricing research to be sure it is offering the best possible price for each model and "shadow-shops" dealers to be sure they are in compliance with the program's rules.
What this means is that by shopping through Walmart and CarSaver, you may wind up getting the same car from the same dealer that you would have gotten if you did all the footwork yourself, but the claim is that you will get the best price with less hassle.
The CarSaver program is similar to TrueCar, which already is affiliated with Sam's Club, Walmart's members-only shopping club. 
So far, Tesla is the only major car company to do away with dealers. It has managed to convince legislatures in a handful of states to let it sell directly to consumers. General Motors has experimented with selling cars online but delivery is still through local dealers, who are protected by local laws that prohibit direct sales to consumers.