Most consumers haven't heard of the Consumer Financial Protection Bureau, which may be bad news both for the CFPB and the consumers it works to protect.
The financial services industry has been hell-bent on abolishing or weakening the agency, which was established in 2011 to work as a "cop on the beat" protecting consumers from the abuses that played a prominent role in the financial crisis of 2008.
Since the Republican takeover of Congress and the White House, the CFPB's days appear to be numbered, and a recent CreditCards.com survey provides little encouragement, finding that only 1 in 8 U.S. adults have a favorable view of the CFPB. 
The vast majority (81%) say they haven't heard enough about the agency to make a determination; 4% view it unfavorably. Consumer advocates and many state attorneys general have spoken up for the embattled agency, but without massive financing for a public education campaign, there's little hope of stirring up enough voters to dissuade Congress from gutting the CFPB.
Vulnerable and exposed
"Following the 2008 financial crisis, many consumers were left feeling vulnerable and suspicious of financial institutions," said Matt Schulz, senior industry analyst at CreditCards.com. "The inception of the CFPB in 2011 made financial companies accountable for improper practices and provides consumers a formal course of action for infractions. Notably, the CFPB reports that it has delivered $11.7 billion in relief to consumers from its enforcement actions."
Consumer advocates have rushed to defend the bureau but lack the clout of heavily financed lobbying efforts mounted by Wall Street, banks, payday lenders, car dealers, and others. 
"Undermining the CFPB will leave our borrowers, and the families they support, vulnerable to financial abuse by bad actors in the financial industry. The agency has fought hard against payday and car-title lenders and returned nearly $12 billion to 29 million consumers who were deceived or harmed by the big banks," said Maeve Elise Brown, Executive Director of Housing and Economic Rights Advocates and Chair of the CFPB's Consumer Advisory Board.
They like the idea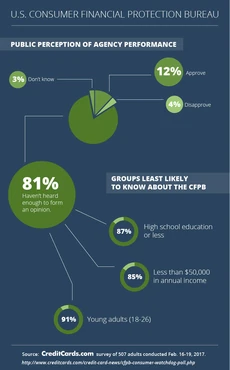 In theory, Americans are overwhelmingly in favor of an organization like the CFPB. A whopping 80% said they are in favor of having a federal government agency whose goal is to protect consumers from unfair, deceptive, or abusive practices and take action against companies who break the law (words lifted from the CFPB's mission statement without specifically naming the agency).
But when asked specifically about the CFPB, just 12% responded favorably. Positive viewpoints are more likely as age, income, and education increase.
"There's no question consumers want more oversight of Wall Street and predatory lenders rather than less," said Rohit Chopra, a former CFPB assistant director who now is a senior fellow at the Consumer Federation of America. "So many consumers have had an experience where they feel cheated or ripped off."
Besides efforts in Congress to annihilate or weaken the agency, the CFPB faces a serious legal challenge. A federal appeals court ruled in a case brought by a New Jersey mortgage lender that the CFPB was structured unconstitutionally, but it has agreed to rehear the case 
CreditCards.com commissioned Princeton Survey Research Associates International to conduct the survey. PSRAI obtained telephone interviews with a nationally representative sample of 1,001 adults living in the continental United States.