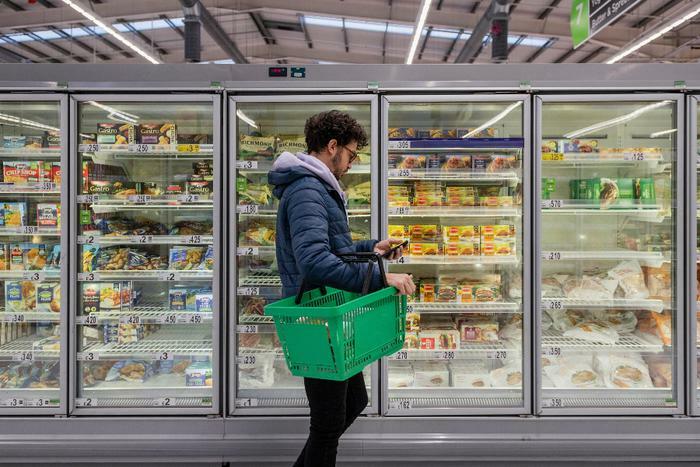 A new survey from Swiftly, a retail technology platform, found more than two-thirds of consumers indicated that they are struggling to pay their grocery bills. Those consumers might benefit from a visit to Dollar Tree.
In the past, Dollar Tree was the perfect place to go for things like party and holiday supplies, but more and more savvy shoppers are finding themselves towards the back of the store, adding food items that they might normally buy at a big grocery chain like Kroger's, Food Lion, or Publix. 
And this fact isn't lost on Dollar Tree, either. For two quarters in a row, consumable sales outpaced discretionary sales across the chain, grew nearly 5% and is now close to the 10% mark in food and beverage, snacks, cookies and candy.
Private-label brands are beating well-known brands
Dollar Tree CEO and President Michael Witynski told analysts that Dollar Tree – like other stores are seeing from consumers – is witness to a growing interest in its private-label items like Home Style Select and Nature's House. Witynski said that for 39 weeks in a row, sales of private brands have outpaced those of national labels, marking the first time that has happened in five to seven years.
With that trend providing a strong backdrop for potential growth, the company will double-down on broadening the available options in the food, over-the-counter drug and health items, and paper products.
Frozen foods are warming things up, too
Increasing frozen and refrigerated offerings is another major area of Dollar Tree's focus, the company said.
"Every time we remodel a store, we want to bring in more coolers, both cool beverages and frozen beverages, because that's where the customer is moving to," Witynski said. "It's a convenience item, and it's meeting their needs. So, there is room for continued expansion there."
And now that the shock of Dollar Tree making most everything $1.25 has worn off, the company is adding $3 and $5 price points to its frozen foods category and says it's finding success and not pushback.
A quick heads-up for shoppers looking for those $3 and $5 frozen items -- they're not listed on the box, but on the frozen foods case door.
Is Dollar Tree emerging as a cost-saving alternative in the face of large retailers? 
The grocery game is not suited for the weak. Dollar Tree evidently thinks it has the allure to impress consumers as they try to withstand the bite of inflation.
"As inflation continues to hammer consumer wallets, discount retailers, such as Dollar Tree, are becoming a preferred destination for today's shoppers for a few reasons," Sean Turner, the co-founder and CTO at Swiftly Systems, told ConsumerAffairs.
The chief reason Turner gave is that shoppers are willing to trade down brands and visit new retailers to get the most savings. He shared some recent Swiftly survey data with ConsumerAffairs that showed 69% of shoppers struggle to pay their grocery bills and 74% have changed their grocery habits in the last year. 
"Compared to Kroger, Dollar Tree's smaller store size and diverse inventory of items cater to this change in behavior," he said. "Given that most consumers still prefer to shop in-store, Dollar Tree offers the convenience, savings, and value that give them a strong edge against larger retailers." 
Turner shared one interesting tidbit about Dollar Tree – that it accepts coupons (up to four of the same manufacturer coupons per customer per day) – giving consumers another way to lower their spending.