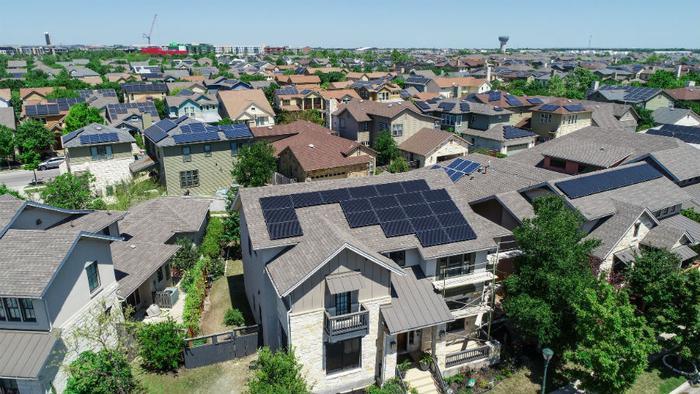 Americans buying new solar panels may now be paying millions more on their initial purchase thanks to new tariffs, but that's no reason to shy away from energy-efficient home technology.
New homeowners and builders are avoiding energy efficient homes over the mistaken belief that they are prohibitively expensive, according to a new report by an environmental think tank.
The Rocky Mountain Institute analyzed the cost and savings linked to two types of energy efficient homes -- zero energy homes and zero energy-ready homes. The former produces more renewable energy than it uses, and it is only attainable for homes that capture enough sunlight, while the latter can be be built anywhere.
Zero energy-ready homes, according to the Department of Energy, are certified as such if they have airtight construction, non-toxic construction materials, good air quality, energy-efficient appliances, and higher levels of insulation and window performance.
These homes are also built in such a way to allow for solar panels to be installed at a future date, if the homeowner cannot afford to install the panels initially. When that happens, the homes would then have the potential to be zero energy.
Sales of homes that are under construction or have yet to be built represent a major market for developers, but only a small fraction of those homes are slated to be energy efficient.  
Most home builders believe that green homes will be a tough sell and that they will add more than 5 percent to total costs. Consumers have also avoided buying green homes over cost concerns.
"These perceptions are preventing or disincentivizing stakeholders from acting in their own long-term interests," the Rocky Mountain Institute says.
Saving money over time
According to the non-profit's research, building a zero energy-ready home actually only adds somewhere between .9 to 2.5 percent to total housing costs. A zero energy home costs more, an average of 6.7 to 8.1 percent higher than a regular home.  
But living green will eventually save homeowners thousands of dollars over a home's lifecycle, the institute says, pointing to research that the typical consumer keeps their home for 12 years before selling it.
The benefits vary from region to region, but they are most obvious to homeowners in the midwest. In Detroit, for example, a zero energy-ready house without solar panels costs $1,574 more than a typical house, and the energy savings would be reaped in less than two years.
InsideClimate news recently toured energy efficient homes under construction in Michigan. The builder said that such homes are also more comfortable because they have better temperature control.
Houses currently account for 10 percent of carbon emissions in the United States.