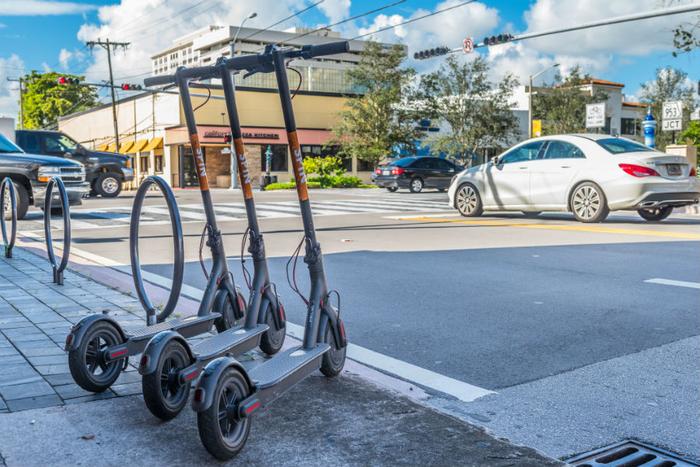 Electric scooters and bicycles are about to be part of the New York state landscape.
It took some give-and-take, but tech leaders, delivery workers, and Manhattan residents should all feel good about the deal. The e-scooter and e-bike companies gain some valuable territory, but they have to stay out of Manhattan -- at least for the time being.
"Our state leaders appear ready to enshrine e-bikes and e-scooters into state law and answer the call to bring more transportation alternatives to New Yorkers," Paul Steely White, the director of safety policy at scooter company Bird, told the New York Times.
The legislation seems like a slam dunk. The only thing missing is Gov. Andrew Cuomo's signature. Despite some safety concerns, Cuomo has said that he supports the bill. The bill's sponsor, Jessica Ramos, said that the bill should assuage the governor's concerns because it bans scooters from sidewalks. It also gives local governments the power to decide exactly where the devices would be allowed.
"We are leaving the nitty-gritty, the pieces of this that can be very hyper-local and sensitive, we're leaving that to cities and towns," Ms. Ramos said.
Delivery workers raise a glass
Delivery workers, in particular, are heaving a sigh of relief. Since the e-scooter rage began, and without any laws in place to regulate them, delivery workers claimed they were frequently hassled by the police, going as far as having their bikes confiscated and being slapped with expensive fines.
New York City Mayor Bill de Blasio hasn't exactly been in the workers' corner, calling them out for "reckless behavior" on electric bikes and saying that restaurants should find a different way to deliver food.
Nonetheless, de Blasio appears to be okay with the new rules. His office told the Times that he welcomes the regulations, but he has warned scooter rental companies that they will have to get special permission from the City if they want to do business in any borough outside Manhattan.
Consumers raise a couple of questions
In comments on the bill, consumers raised questions on several points. For one, they questioned restrictions on e-bike riders and passengers younger than 16.
"This criminalizes parents ferrying their kids around on e-assist cargo bikes and bakfiets (a freight bicycle used by delivery companies)," wrote one person.
Another commenter felt like the new rules leave electric skateboards in a legal gray area because they weigh less than 100lbs. The products also do not have handlebars and have four wheels, not two like the bill stipulates.
"Please include these devices, much the same way Michigan recently has. This is a growing market that deserves the same recognition as the large scooter startups," they said.
Another consumer voiced concerns over the 750 (electric/power) watt limit, speculating that "750W might be adequate for a light 130lb person going up a steep hill, but for someone +260lbs they will be underpowered."