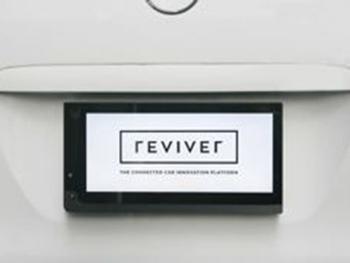 Soon, every square inch of earthly space not covered by an advertisement will be covered by, yes, an advertisement. Helping to achieve this goal is a company called Reviver, which is proposing to replace the lowly license plate with a digital advertising screen.
Besides putting prison inmates out of work, eliminating the stamped metal plates would be a great leap forward in oh so many ways, as Reviver CEO Neville Boston sees it. He's been promoting the so-called rPlate at this week's Detroit Auto Show. Already operational in California, the rPlates will be coming soon to Florida and maybe Arizona, Boston said. 
"The rPlate opens up the 'connected car' ecosystem to a myriad of solutions – some of which are already in development and many that have yet to be imagined," said Boston in a news release. "In addition to automating the costly DMV registration process and providing telematics and fleet management capabilities, the rPlate immediately unlocks a powerful new channel for OEMs, dealerships, and organizations, to reach and service customers in hyper-local and targeted ways."
In other words, the dealer could slap digital ads fore and aft on all its cars, a great leap forward considering that the current options are pretty much limited to a customized license plate holder or a crude sticker affixed to the trunk lid.
"Fifth screen"
"The rPlate is the first ever 'fifth screen' or digital signage platform to grace the back of a vehicle and can be installed as an aftermarket product or seamlessly integrated directly into the design of the vehicle," said Allan Cooper, another Reviver executive. "It can display hyper-local targeted messages to a captive audience when a vehicle is legally parked in any location.
Like what, for example?
"In a Home Depot parking lot, you could send ads that speak to what's in a store," Boston said. Most people already know what's in a Home Depot store but wait a minute and Boston will come up with something else.
Boston and Cooper list all kinds of conveniences that could, at least theoretically, accrue to the owners of rPlate-equipped cars. We've also added a few ideas of our own:
You wouldn't have to go the DMV to register the car; it could all be done online.
Tolls and parking fines could be paid automatically.
The rPlate could display your speed, saving traffic enforcement officers from the tedium of staring at their radar guns.
Your license plate could tell the world if you fell behind on your alimony and child support payments.
Your credit score, body mass index, and blood alcohol level could be updated regularly. 
There are, of couse, even more things the rPlate could do. It could display obscene messages to that jerk who cut you off, ask the attractive person at the bus stop if he or she would like a ride, and even display reviews of the car's performance and the car dealer's business practices. 
You could also, of course, display political messages, not necessarily a good idea given the current climate.