Consumer Reviews and Complaints

AT&T is here again today for the fifth time due to the fact that they went with a cheap modem that will only handle two lines for a business and some gray add on box. There is no one at AT&T that knows how to properly program these components so my phone lines have been scrambled for a month now. My company has lost business due to these errors they made. Today I am making them change everything back to analog phone service due to the cheap modem they are using. My goodness I only have three lines. To sum all this up in one word... "INCOMPETENT".

Switched to Uverse Sep 1, and the next day, found out they didn't retain my 20 year old wired landline like they are supposed to do. When I called China (?), they very kindly told me I would get my old number back on Sep 11. Well, that was yesterday. After 62 minutes on the line with "customer service", they have been able to tell me that their records show my old number was restored yesterday as scheduled. But after calling the number, they tell me they will have to check to see what has happened, as you get the "I'm sorry, this number is not in service" when you call my 20 year old number that supposedly was restored yesterday. Can't wait to hear what the next excuse is when I complain that my new bill is over $60 dollars higher than what they told me it would be. Time-Warner/Spectrum, I'm sorry that I left you, and will reconsider as soon as I can.

After switching to AT&T (huge mistake), my internet service was slooow like old dial-up slow. Speed checks came up with single digit download & upload speed every day for 6 weeks. They came to fix it & tech sat in truck for 20 mins, got out and opened box at street, clipped his speed meter in and left. 35 mins later he's still gone & kids in street start playing with live wires. I shoo away the kids, call AT&T, take pics, start video, and AT&T tells me the tech is on site. I explain no he's not. Now he's in trouble. He finally comes back and says to me "Well, looks like you're not gonna get service reconnected for a while." I asked why and he just shrugged, looked me square in the eye laughing & said "That's just the way it is."
Wow, I had service before he got there - it was slow but it was service. He gets in trouble when I call him out for leaving exposed wires unattended for nearly 45 mins & he threatens to leave me disconnected. Thank goodness I was still videotaping him. Customer service does nothing to get this guy off my property & get me a new tech. He reconnects my service, closes the ticket, leaves for 5 mins but comes back and disconnects me again! I call AT&T AGAIN, they call him back, he reconnects me AGAIN & closes ticket again while I'm on phone with CS. But wait! He gets back out of truck and disconnects me 3rd time! Stands there staring at me, sees I'm recording him, and reconnects me again before finally leaving. What do you bet he comes back to vandalize? This is creepiest experience ever.

AT&T is billing me for service a month and a half after service was ended and equipment returned. If you get new service, don't rely on new service company to notify AT&T. Even if they say they have/will notify AT&T, AT&T will say they did not receive notice and will bill you until you call yourself to disconnect.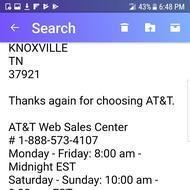 Ha!! We attempted obtaining service with AT&T 5 years ago and then again in 2017, when our old internet provider raised our rates. Both times AT&T technicians never showed up on the scheduled install date. Both times I had to take half a personal day off from work and they never called or showed. 5 years ago, we allowed them to apologize and reschedule the install three different times. They continued to be a no-call, no-show company back then. Finally, completely frustrated we told them to shove the service. This time (2017), after being stood up another half a day and calling the company 5 different times throughout the day and being assured the tech would show up, I cancelled service. Clearly, this was going the same way as before. AT&T IS THE MOST INCOMPETENT COMPANY I HAVE EVER HAD TO DEAL WITH! RUN, DON'T WASTE YOUR TIME WITH THIS COMPANY.
How do I know I can trust these reviews about AT&T?
882,235 reviews on ConsumerAffairs are verified.
We require contact information to ensure our reviewers are real.
We use intelligent software that helps us maintain the integrity of reviews.
Our moderators read all reviews to verify quality and helpfulness.
For more information about reviews on ConsumerAffairs.com please visit our FAQ.

The TV works but I have called 10 times to just get more channels but they simply cannot find my account. HOW IS THAT POSSIBLE? It just amazes me that 10 times calling they cannot find my account. I have spent hours and hours online on the phone and each time no luck. I just cannot believe it. They are just totally at a loss. But they do manage to send me a bill? I am just mystified??? The internet works great, it is really fast. The phone works really well. The TV is on and we get almost no channels but there is no way to change it. NO WAY! Call after call after call. I am simply baffled?

The internet speed is too slow as described. I had 25 mbps plan but at this speed I cannot even play Facebook video, and they charge $ 41 for such bad speed, and there are many charges need to pay if you miss the payment. I miss my payment just one day and they suspend my account and charged me almost $ 40 for the fees. I suggest to avoid AT&T service for the customers. Better to get T-Mobile instead of AT&T. T-Mobile internet is faster and good as compare to AT&T.

There is so much to complain about AT&T, that it's difficult to pick only one issue. However, my main complaint with this company is its continuous attempt to confuse their customers. If you sign up for service, they will lie to you, then change your bill and insist that you were the one who did not understand what you agreed to. They have 50 telephone numbers, but many of them just tell you to call another number. I have had WiFi with them at my new house since 2013. There have been at least 15 service people out here, to "solve my problem," but they never do. If they solve one problem, they cause another. I was told by one honest technician, that the AT&T service in my area is unpredictable, hence all the issues I've been having.

I regret the day I chose to switch to Uverse... We have had nothing but problems. From disconnection to having to reboot my box over and over again. I'm so tired that I have to pay $180 a month for crappy service that I always have to call in to fix!!! I'm fed up and I'd rather pay the fees to disconnect and be done with AT&T than to continue on with them!

Be prepared for a 30-minute minimum before you even get someone on the phone to answer your questions. It's horrible. You cannot cancel online so here I sit. Their customer service is awful. Be prepared to have support members NOT do what you discussed with them. They don't care. Take notes, record conversations, protect yourself if you sign up with them.
It took 4 visits from the ATT contractor to get our service set up properly. At that point, I had probably spent 8 hours or more on the phone waiting in queues or arguing with the support staff to get my service set up properly. I couldn't even cancel because I had already signed the contract. Such BS. They never sent the rebates they promised. They make you wait ** amount of days, and of course, you forget to follow up and they depend on that. Apparently, I missed the window to receive my big promotions. so, poof, there goes that. 800-531-0500.
Ok 53 minutes later. I still need to call DirecTV to cancel my ATT bundled service. Ridiculous. I still need to box and ship my components back to ATT, though he was not sure of what items I needed to ship back and what belonged to DirecTV. If I can give you one piece of advice. Use another provider. Service is spotty. Billing is often wrong, technicians are third-party contractors and half of them don't speak English or Spanish because they are eastern Europeans. Every call is at least an hour long.

Me and my wife decided that we would go with AT&T Internet Service over Comcast because she was sold on the Advertisement that you all showed. However, little did we know that this would be the WORST EXPERIENCE EVER! We order the Service on August 2, 2017, we were told that service would be rendered on August 12, 2017. So we were like, ok Great. August 10, 2017 we were notified that something was wrong with the install on the Electrical Pole or what not and that they was going to send a tech out to fix the problem before Install. Ok! So August 12 came and there was no update on the status of the service so we called again. We spoke with a representative, she said that someone would be out to fix the problem and that our install date would be August 22... Once again NO FREAKING UPDATE, NOR DID ANYONE CALL NOR DID ANYONE SHOW UP! So now I'm PISSED!
So August 29 I called and ask what is the Damn Problem on why I can't get any service at my residence... Take it in mind, this is inconveniencing me to the fullest! Then the CSR that was on the line, said at first that she didn't see anything in her system about them fixing a problem on the pole, then after 20 minutes on the phone she came back and said there was a problem... So I asked her, "WHEN IS SOMEONE COMING OUT TO FIX WHATEVER THE FREAKING PROBLEM IS?" She said, "Well Sir I don't have a date or time." "Huh??? But 3 mins ago you gave me another Install Date for the Sept. 12, 2017!!! Huh??? That doesn't make a lick of sense to me!" So I asked to Speak to a Supervisor. It took Daniel the Supervisor 35 whole minutes to get to the phone! Then once he answered, He tried to get real firm with me... Hold Up...
I asked my wife who is he getting firm with when he hasn't even asked me what my Freaking Problem is! So then I asked him the same question I asked the CSR! He says that He doesn't know when a Tech will be able to come out! So, then he comes back to the phone takes my number down and says, "I will call you back in 15 to 30 mins to give you an update." I'M STILL WAITING ON DANIEL'S CALL OVER 23 HOURS AGO!
Is this the type of Service that you all are giving people? Cause that is ridiculous! All I want is some damn internet! If I would have known that you all were gonna give me some piss poor ass service, I would have just went to Comcast! And we all know that their service sucks too but at least they will get you installed and going! I would like an email or a phone call from a top official or something on how you all can rectify this! I don't even take time out to write a review on nothing that goes wrong but this was just AWFUL in a sense! And this is not a fake review.

Why I am no longer an AT&T internet user: AT&T problems… In the start of 2017 I was paying $59.55 a month for AT&T internet 'basic' speed. I noticed on my bill that the internet was $52.00 and the Router was $7.55 per month. I called in February to see if I could get my own router or if AT&T would cancel that $7.55 monthly charge since I had been a customer for over two and a half years, without any problems. After some consultation with his boss the rep said he would cancel that $7.55 charge and 'it will no longer be on your bill'. I felt great to get my monthly charge reduced to $52.00 dollars. Next month it was $52.00, but the following month it was again $59.55. I called and explained that the router charge was no longer to be applied to my bill. The rep said I will issue you a $7.55 credit. The following month the bill was $52.00.
Friday July 28, 2017 - The next month the bill was again $59.55. I called again and was a bit upset over this. This rep was extremely nice and apologetic and asked me questions regarding the service. She checked what my address was and saw it was an Anaheim address, but my service was from LaHabra which is about 10 miles away. She stated that Anaheim has a more robust 'backbone' and she could get me 3 times faster speed by moving my service to Anaheim. She stated that, "I will have to disconnect you from your existing account.", then attach me to a new account in Anaheim and with this move my internet speed would be three times faster. So I said, "Fine, go ahead."
I gave her my email address and phone number and she called me back and said that, in effect, I would be a new customer and because of that she could offer me a price of only $42.00 a month for 12 months (which would then revert back to about $60-65.00 month). Sounded great - a lower price (for a year) and faster speed. So at this point (July 28th) my original internet service was terminated. Within a week I received a letter to return the equipment to AT&T so I won't get charged for it (which was free to return). She said, "I have scheduled you for an install on Aug. 11th 2017." I asked if it were possible to hasten the install. She said a supervisor from the install dept. will call me on July 31, 2017 (Monday) and she was sure it could be moved up.
July 31, 2017: Sure enough, on Monday I received a call and the rep said that we can have someone out to my address on Aug. 3rd. Someone over 18 had to be home between 1-3 PM. I agreed and made arrangements to be home. When I checked my text messages, AT&T had sent me a text stating, "thank you for changing your install date to Aug. 11th" with the "someone needs to be home etc". I called customer service to find out why and the rep assured me that the install would be Aug. 3rd and "someone needs to be home blah blah blah". About an hour or so after hanging up, I received a text thanking me for changing my install date to Aug. 11th!!!
So, kinda upset at this point, I called back explaining the changing date of my install and the rep told me that the disconnect was taking place from LaHabra and the order to install was sent to Anaheim offices and my home install will be on Aug. 11th. I told her that, twice before, I was assured it would be Aug. 3rd and if it was some move of AT&T's inter-office equipment why was I told to be home for the supposed Aug. 3rd 'install'? She said it is a generic text and apologized for the 'confusion'. So I waited without internet until August 11, 2017.
Friday August 11, 2017: The install technician arrived (on time) and soon determined that an outside phone line is defective and he is not an outside line tech. Note for the uninitiated: The higher speed service is by using two phones lines into your house rather than one. The install tech called for an outside splicing tech and he arrived in about one hour later. He told me "I will find and fix your line". He returned about 30 minutes later with this statement: "Sir, you have a unique situation". Turns out that the phone line into my house goes over to my neighbor's yard where there is a post that holds the phone wires and my neighbors had poured a cement patio all around the post, effectively cementing it closed. He stated that to remove that cement is just a "30 minute" job and they have a "ground crew" that does this all the time and that they should be out on Monday, Tues. or perhaps Wed.
When no one showed on Mon or Tues or Wed morning, on Wed. afternoon I called AT&T customer service and explained my rather lengthy situation but bottom line I need the ground crew out to remedy this situation, the rep told me the splicing tech had "canceled his ticket" effectively saying he was done with the job. I explained that I was still without service and we need a ground crew out here ASAP. He assured me that he would have someone out early Monday August 21st.
Monday August 21, 2017: Sure enough on Monday AM, a regular inside tech arrived and after double checking the cemented post he made this comment: "This post needs to have the cement removed from around it so that we can access the wiring". In my mind I was thinking "Yeah, I know", but I asked if he could get the ground crew to do it today? His comment was "No, that is another dept and I have no authority to make them come out". I will put in a ticket for them to come out. Of course my next question was "When?!" This was his response, "I put in the ticket and they determine when they will come out based on the number of jobs they have in their queue".
All seemingly reasonable except for the fact I did not have internet service. Then he said this (which really made me mad) "Sir, you'll just have to wait". Of course he had no way of knowing I had been down since July 28th, but I was very upset. I immediately came in and called customer service. The rep looked into it and said he had determined that the first guy had put in a ticket and the ground crew was scheduled to come out on September 8th 2017!! I called Spectrum to ask about when could they come out to install internet service? They said 'tomorrow'. Their tech arrived on Aug 22nd and installed internet and TV service in about three hours and I am now a Spectrum customer.

Almost two weeks ago (on a Monday) I called AT&T asking to get internet put in my home. I said I really needed it by Saturday, they said the earliest they could get it done was Friday (the 25th). I had a feeling something would go wrong just like they always do, and of course, I was right. The technician said he wasn't able to finish the install and that another technician would be at my house in about two hours to finish the job. After four hours of no contact from anyone, I started making calls to the number online since that was all that I had. They told me that the earliest they could have someone out to fix the problem was on Wednesday, the 30th. So my fiancé misses a college paper due and we have to move a party of people who flew in from different parts of the country to a different location due to not having the internet at my house yet.
It's now Wednesday the 30th and a technician shows up to my house an hour later than I was told just to tell me that no information was passed on to him to finish the job and that he thought he was just coming to do an install. Shocker. So I decided to call the same number online that told me they wouldn't be able to come out here until the 30th hoping that they could explain to the technician what exactly it was that he was out here needing to fix. They put me on hold, called the technician and said the customer is complaining that you left the premises. I must be on crack because I don't remember saying this at any time. Customer service jerk comes back on the phone and says the technician knows exactly what's going on and he is perfectly qualified.
To anyone who is even considering the thought of doing business with AT&T internet, I highly highly recommend not doing so. I've had a terrible experience with these people and I will advise others not to do business with them and to switch to a different company. I have worked in this industry before and there is no excuse. I have many close business partners as well as family and friends who I will strongly advise not to have anything to do with AT&T from here on out. Customer service and Management are horrific in the Tulsa office.

I was experiencing a very slow speed with my internet. I called technical support and after running through several different tests they said that they would have to send someone to look into the problem. They also mentioned that if the problem was internal I would have to pay for it, anything external would be covered by AT&T. When the technician arrived, he worked on the equipment for about 5 minutes then saying to me there's nothing that he can do because I'm not receiving the speed that I should be receiving since my residence was too far from their station. Nothing was done and he left.
When I received my bill I was charged $149 for service that was not rendered. After spending hours and many days of speaking to people to their billing department they claim that I was told that I would be charged for a service that was never provided. Again after speaking to many people at AT&T the final outcome was that I am to pay for something that was never provided and I was told by the supervisor that they realize that my equipment is not working the way it should be and they will like to send someone to fix the problem outside of my home. I told them that I do not want them coming to do any work because I will be charged for it again.
The supervisor then said to me we would like to fix the problem this way you can get the service that you have been paying for. When I asked him if I've been paying for a service or should I say internet speed over the years and not receiving it they should be reimbursing me instead of me having to pay them $149 for something that they never did. He redirected the conversation and would not answer. Bottom line is they claim that I have to pay for it because their technical department says it's a valid repair. How could be a valid repair since nothing was done? I would not recommend anyone use AT&T because they charge you for something that is not provided to you and their customer service is horrible, and why offer a service that you know is not being provided properly. I may have to pay the $149 but they will lose a customer after 5 years.

Pricing increased almost $100 in 3 months. Spent hours with many representatives including supervisors who made many promises. I was told it would be taken care of, it wasn't. Many lies and no follow through even with bad TV service. If their equipment is working properly they try to charge you to fix their equipment. Put on hold many, many times only to have to repeat my concern to someone new. Don't understand how this can be lawful. Goodbye AT&T!

AT&T internet service was very poor. I was not getting the download and upload speeds I was promised. I was not getting the right bandwidth. I did multiple speed tests and concluded that I was paying for services that it was not getting on the DirecTV side. The picture quality was pixelated and I would lose picture often. AT&T DirecTV lied about contracts to me. I was told there were no contracts for the internet or DirecTV. I was later hit with hundreds of dollars in fees and fines.
DirecTV would lose picture over anything and everything. A butterfly could land on the dish and I would lose signal. Overall I wouldn't even give them one star but there's not an option for that. They deserve no stars. Customer service for both AT&T and DirecTV was so poor I would get three different answers from three different people. Do yourself a favor and do not order any of the services from these two companies because they are corrupt.

I called AT&T just looking for internet services. I was quoted $60/month for the highest speed internet available in my area. I was interested in AT&T because they promote price locking for an extended period of time. This rate was only good for 12 months. We're not big TV watchers, so I wasn't interested in a bundle until the representative told me that if we bundled internet with DirecTV he could provide me with a rate of $67/month for both for 24 months + a $100 Visa give card. Oh, and he could waive the $99 install fee, but not the DirecTV activation fee of $30. Understood. I confirmed all pricing and took extensive notes of the conversation and the individuals I spoke with. Well the install happened quickly without issue. However, I saw my first outline of my bill via email from AT&T for internet only and it was $40. Because it was only for half of the service, I waited to see what the DirecTV charge was going to be and assumed this was just a preliminary outline.
This also included the $99 install that I was told would be waived, but again I was waiting to see what the entire charge was to be sure that I had all information. DirectTV then sent me a bill in the mail for $50. Somehow nothing added up to the $67 I was quoted. After calling AT&T, I was told by the 3 people I had to speak with that this package doesn't exist, there are no notes in my account regarding this rate. I am confident that the recording of my call will say otherwise, but nobody was willing to honor this rate because the lowest DirecTV price was $50 and they couldn't make that pricing work no matter what. I asked that my DirecTV package be canceled since I didn't want this service anyway, it was just part of a better bundle.
However, while AT&T can sell DirecTV services, apparently they can't cancel them. So I had to be transferred to DirecTV after an hour of back and forth at AT&T. Since this is my complaint of AT&T, I'll keep this brief. Essentially after speaking with 3 more people at DirecTV, they "graciously" let me out of the early cancellation fee (because I canceled 9 days after install instead of 7), but refused to waive the install and initial bill because I ALLOWED them to install the service.
I explained extensively that I only allowed the install because I hadn't yet received the incorrect billing and this install was based on inaccurate pricing by AT&T but they didn't care. Had I not already been on the phone for 2.5 HOURS I would have called AT&T back and canceled my internet too due to the massive headache. Long story short, customer service on the part of both parties was terrible with each pointing fingers at the other and leaving the customer with unfair charges.

Month after month we were getting a different (increased) amount bill. In order to fight it every month we needed 2-3 hours at hand, as the call initiates some where in Philippines, the poor folks there can't do anything except apologizing to you for everything at every minute. Then you get call transfers from one place to another for 30-40 minutes. By then you are so frustrated, you want to kill someone.Then a supervisor shows up about 120-140 minutes later and would take off 40 to 60 bucks off your bill and next billing time you go through this nightmare again. One wonders, what happened to, once such a great company? We quit the contract, paid penalties and now have a very peaceful life.

The reason for this review is the fact that my experience with AT&T trying to pay them money after they started charging me with no consent of mine the NFL Sunday Ticket. I have since stopped using AT&T. Sent back their equipment. Have gotten a confirmation number. After 4 * calling them and being transferred for different times an hour on the phone. Each time confirmation number my bill doesn't change. I call back 2 days later. My bill has actually gone up. I have talked to supervisor Mary. Told me what my bill had dropped to wanted $5 to accept the bill. I told her I wasn't paying AT&T another penny than what I owed them. She promised me gave me her name and ID number that if I called back in 3 minutes my bill would be $53 and change. I did that. My bill was still $147. I don't know what's wrong with this company but I would not accept service lifetime for free from this company.

My experiences started when I first signed up in '04 for cellular and was told I needed an AT&T email address in order to purchase phone and have internet services. Ok with email address however had to lose a number of possible clients due to this immediate email address change. After that they would always have some suppose to benefit for their consumer however they do anything for a buck. Finding out what you sign up for isn't the way they shared it to be. Monthly bill never the same and the customer is always in fault. Years pass and they ask me to get Uverse service and with phone service I would save money. Well that was a joke cause bills were ridiculous and the service along with techs was more distasting and extortion of every dime they could get.
Customer service personnel would call with all kinds of save your money ideas to make you sign in on a 2-year contract and jack up the monies each month and tell the customer they must be doing something wrong or they tell people of ** these things when they can. I know the tech that would come over always got pissed and ** when I asked if they would cover their shoes which would be full of mud, dirt, dog ** or whatever they have stepped in. And it's always they profile me as some customer that complains. They don't do that in the ** communities. They do it at their Boss house or the CEO. Bosses most time is poor trash living like animals today. They come out always want to fix something wrong way up on the pole where no one goes but him and come down with a fee to correct problem and never any offering of appreciation for being a loyal customer even with problems reflecting company.
I shared 6 mos in advance. I was leaving due to unfair treatment and profiling and 9 mos later I get a bill. 700 dollar bill saying I didn't let them know and I have an early termination of which I wasn't on any plans or contract after the years had passed... Then after 3 months I got another 400 dollar bill saying I didn't turn in equipment which is a damn lie cause when 2GO to turn in equipment they share 2GO to FedEx I think or one of those places and drop off. Which I did and mailed copies. Then couple months pass and it was like the middle of a month and I had till the 18th of the next month to pay all monies or it would be turned over to collections. That's almost a month away.
However the 5th of the following months I began receiving harassing calls and threats of suing and court on the 5th of that month. Like 2 weeks before I was to pay AT&T or inform them of my decisions. And they are still harassing me with calls from a number of different locations and numbers. Various personnel calling any given time or day. The collection harass me and is intimidating with manner of calls. They suppose to present me with what the company is stating to see if it is true or if they both work together extorting certain people and people of ** when possible out of monies, peace of mind, and they definitely seek to destroy any ** person on this planet opportunity to get from under the foot of extortion and torturous conditions.
I was charged extra cause I would not give a grandfather plan I am on and they charge extra for paper mail. So I signed up for paperless to save that $5 a month and when I signed on with Google Fiber they immediately canceled my email address of which they said I had to get and could not keep my old one and this was before Uverse services. So after canceling my email they like to text my phone (I still have Cell services and it was why they shared I needed At&t address to use phone. Okay. They text saying to check email cause they can't contact me. I never respond because how dumb can one be??? Cancel your service and then wonder why you can't be contacted...
They made me cancel paper so if a letter come the hell with it and straight to trash. Not saying it right but I am not playing some ** toddler's game with a company extorting millions of dollars from people and don't give a rat's ** about or for them. Now I am being harass by them about this Spectrum TV with all kinds of deals!!! Now they say I owe money for some** they made up and now they got all this, "We can help you and this deal and service... LOOOt... OOOFFF LAUGHS.

I been (unfortunately) with ATT&T for about 5-6 years (going on and off depending on the area where I used live,) If it was a 0 number that will be my choice, why? The service (I have the best one not the cheap one) every month get disconnected, I call and they give me that crap that is been an issue all over my area (Fontana Ca ), also they say (this only for make you feel better) that all the team are working on the problem (**) , big liars on the phone (the line will be back in about 2-3-4-5-6-... hours. **. The line come back not in about hours but DAYS. Yes days with out connection, without phone line. This company SUCK and believe me they don't care about customers it ALL, otherwise whatever they say they will keep promise. DO NOT GET ATT&T. I'm planning to move and as soon I will my first thing will be to get that hell out this service. Thanks AT&T for ruining my days and my work.

My internet service is so slow I can't do anything online. Also my payments were set up on autopay. To be deducted from my account on the 5th of each month. They have my checking info, yet do not ever take out my payment. I assume my payment has been made and then my service is disconnected. So my normal bill that should be 89 dollars turns into 160 dollars. When I pay them online to keep this from happening then they decide to deduct the amount from my auto pay also doubling my payment. I pay for basic cable. I get infomercials. Very minimal other channels. I had to sign an 18 month contract. Absolutely the worst service I have ever had.

I was a happy AT&T customer although the service for my Internet and tv was never perfect, overall I understand nothing works perfectly. AT&T really did me wrong and this is what I am upset about. I received several emails that said that they have received my cancellation notice. I never cancelled. The last email I received said welcome to AT&T, so I just laughed it off thinking that they realized their mistake and everything would be fine. A little time goes by, maybe about a week or so and my service was turned off. I immediately called AT&T and told them I never cancelled service. They apologized for canceling my service and admitted that it was a mistake on their end. I told them I wanted the exact same service I had before this mistake. I ended up talking to 5 or 6 representatives because they were telling me they could not turn my service on without automatic payments set up.
I told them no, I have always paid my bill every month, but I have never had automatic payments set up and the reasoning for this is that I have a odd pay schedule and sometimes I need to pay early and sometimes I may need to pay a few days late depending on the circumstances. They refused, and I was just about ready to hang up, but my problem was my apt already comes with basic AT&T cable for free, so I could not just go with another carrier. I ended up having to agree with the automatic payments reluctantly, but I told them it's very risky for me and that I cannot guarantee that I will have the funds in my account on a certain date but I will definitely give it a try. Well, after no problems of paying for almost a year at least without automatic payments, my first automatic payment did not go through. It just so happened that my debit card was compromised and someone went on a shopping spree.
The timing could not have been any worse. AT&T tried to take the payment out of my depleted account 3 times, each time my bank charged me a 20 dollar non sufficient fund charge. AT&T end up costing me 60.00 because they forced me to sign up for something that I did not want to do. Now I definitely could not afford to pay my bill, and this dragged me in the hole financially, causing multiple things to bounce, costing me over a hundred dollars in the end of additional fees. I still cannot believe they did this to me. I called AT&T and told them about this situation and told them to please not try to get the funds out of my account again. The girl on the phone said, "Oh do you want me to turn off automatic payments."
I just about passed out, really, you all forced me to sign up for them and then you tell me I don't need to? Wtf AT&T? You all owe me money! AT&T needs to understand that their service is not a necessity, people will survive without cable and Internet. People's mortgage, car payment, credit cards, and phones come way before this service. I'm late but I finally got things straightened out financially a couple weeks later, so I just paid my at&t bill, my service has not been turned back on. I just find this whole situation very unbelievable. I am going to cancel their service and for the rest of my life, I will never ever use an AT&T service and I will make sure anyone that I care about does not either!

Went to AT&T store in Burleson, Texas to check on internet with phone and ended up getting a full package for the price was right. Because they said THEN it would ALL work. The internet never worked properly, slow and kept cutting out. Went back to the AT&T store and told them and they said it does not work in my area. Totally opposite what AT&T rep said at the first store visit. Now, I have increased in both my mobile phone charge AND from DIRECTV because I stopped the internet. Went back to the AT&T store and complained to a rep. When I left, it was understood that the charge would go back to the contract price. Well, it didn't. I keep being charged. It sounds like AT&T does not honor contracts.

I was talked into going with U-Verse from my original plan. At first there was no charge to use the modem, then they suddenly put a $7.95 charge to rent it. You can buy one for about $100. I worked for GTE/Verizon or Florida as a computer analyst and repair for over 31 years. I also maintained other companies equipment in the Central Office including AT&T. AT&T by far even back then was by far the worst. Now with AT&T I get dropped off several times a day and Norton looks at them as an unsafe site. Tried calling repair and all I got was overseas with no knowledge at all. I just tried to look at their bundle packages and AT&T would drop out and I got a AT&T is not responding. I am going to try to find another company in this small town I live in. Whatever anyone does stay away from AT&T.

I have been with AT&T almost 15 years and have been fairly happy with it until a year ago when they started to install U-verse cable in my neighborhood. I was excited about the availability of U-verse because before we had it internet speeds were slow and service was unreliable. When I adopted U-verse, my internet service was great and my monthly billed dropped.
The problem with the U-verse is the cables lie on the ground until some contracted company hired by AT&T buries them. When they do this, they don't have care or consideration for water irrigation lines or previous U-verse lines. They buried my cable and damaged my sprinkler system. My husband was able to fix it. That was bad enough. Six weeks later, they buried my next door neighbor's line and cut my U-verse line. This happened the afternoon before we went on vacation.
I figured out what happened and called for repair. All these arrangements are made out of India and when you try to explain the problem with them, they have no clue what you are talking about. They can only schedule an appointment for service and I was going out of town for 2 weeks. Even though the damage was outside my house, they had to have someone over 18 home, so the repairs had to wait 2 weeks. Since I no longer had a working phone line, I couldn't alarm my home alarm system.
After I returned home, I got a repairman. He found the break but couldn't repair it because the main source was in my neighbor's yard 2 house down and the neighbor had buried the box. Repairman told me a guy would be out the next morning to find the box and reattach the new line. The internet would work, but the new line would have to buried again. The repairman left and I forgot to ask for his card. I got a message to reschedule for a new appointment and no one showed up the next morning to do the repair and get my internet and phone working again.
I had enough. I had no one to call. I didn't know when they would finish the job. I need my phone and internet and no one at AT&T seemed to care. I called another company and as of next week, I will no longer be an AT&T U-verse customer. I don't care how good your service or product is. When the communication is so poor, you are screwed when you run into a problem that isn't on a little list. It isn't good when your only contact is some person in India who means well, but who doesn't have the power to help you. U-verse has had a lot of trouble with their line burying contractors, and they haven't addressed the issue. They have cables lying around on our neighborhood streets and I don't know if they are content to keep them all out there forever. No matter. It isn't my problem anymore.

My service is now canceled because AT&T wants to charge their customers to troubleshoot their OWN EQUIPMENT!! Tried to get support then got passed off to some other department and when all is said and done I'm all of a sudden I have a monthly fee on my account and dispute that then I get charged a Early Termination Fee!!! I've been trying to get this issue resolved since June 2017 and today another 5 departments and one foreigner after another that barely speaks English and can only read off a script, they are losing a customer. Tried to tell me I had a virus on my computer and they needed access to it to resolve. Funny, that's NOT why I called in for support!!! I'm an IT person and can confirm I can troubleshoot MY OWN EQUIPMENT and I've NEVER HAD A VIRUS!!! A bunch of scam artists and can't even conduct business in the United States!!!

AT&T is and has the worst customer service I have ever had to deal with! They lie and lie about everything, they train their staff to be the worst liar that they can be! My parents for the last 2 years have try over and over again to close their account with these clowns and they would not to do it for them! Finally they are here with me on vacation and they asked me to call for them and the girl try over and over again to get them to keep in open! When they first got this account opened they told the gentleman that they did not want NO CONTRACT and he said "Oh yes no contract." Lie #1! The bill got higher and higher every month and no one would help them. So today I was able to get it closed for them, and a cause they have to pay a stupid early fee for closing it early really! They should not have to pay for anything since it was their lie and that got my parents in this debt to begin with! Why are they allow to do this to people!

Their customer service has got to be one of the most atrocious I can think of. On one occasion, I called to make a payment arrangement and the rep was so rude that she talked over me before cold transferring me to the wrong department. (Yeah, I work in a Call center too and this is a huge no-no.) They were finally able to help. I have reached out to customer service on Twitter, assuming it would be easier. Wrong. They have replied to inquiries only to not allow them to go unread in their queue. All communications after have been subsequently ignored. If my area didn't monopolize cable and internet service, I'd have switched to a different provider eons ago. Simply awful.

A month ago, a salesman from AT&T contacted me about my business plan with AT&T, telling me they would give me a great deal if I switched over to fiber optics. We set up an installation date, a Monday, as I told them that Monday is my only day off, and the only day I am available to have this installation take place. That Monday came and went - no contact. I called the AT&T help line, explained what the problem was. They apologized, and we set up a new installation date - today, another Monday. I received a verification email stating that the work was scheduled for today. On Friday, unannounced, an AT&T man came by "just to look at the office configuration." I happened to be available, so he came in - he said they would need to hire a contractor to come in and do the prep work. I asked him if it could be completed Monday, and he assured me it would be. I received a confirmation email Saturday for today's work.
I got to my office at 8:00, because I was told they could not give me ANY idea of when they might arrive, and I needed to be available. After hearing nothing for 5 hours, I called the number AT&T gave me, and the woman I spoke to said the contractor was on site and working! This is impossible at my office, because the only way to get to the phone lines is through my office - all other office doors are locked. She put me on hold again, called the contractor again, and informed me the contractor had an "open ticket" on me, and they would be coming. By 4:00, I cancelled the installation, and left my office. Within 30 minutes, I got a call - from the contractor! I asked him if he was at my office, and he told me no, he was in a nearby city, an hour and a half away, and he was calling to set up a time for him to come to do the work tomorrow. I told him his services were no longer needed. I am done with AT&T, ready to find another carrier to handle my business internet.

ConsumerAffairs Research Team
The ConsumerAffairs Research Team believes everyone deserves to make smart decisions. We aim to provide readers with the most up-to-date information available about today's consumer products and services.
AT&T Uverse Internet service is provided by AT&T, one of the oldest utility companies in the United States. With over 10,000 patents and nationwide coverage, AT&T offers various Internet, telephone and satellite options to customers all over the country.
Online orders: Customers can order services directly from the AT&T Uverse website. Available options are based on zip code and street address.
24/7 support: Uverse technical support is available 24 hours a day via telephone, and live chat is available via the AT&T website.
Reliability: Users get a dedicated line with steady services and little variability in speed, even during the busy evening hours.
Easy switch: Moving from another company to AT&T is simple and quick as the company offers coverage to the majority of U.S. addresses.
On the go mobile viewing: Subscribers can download the Uverse app to view live or recorded TV straight from their mobile devices.
Best for Those who need a reliable connection for news, information and homework help.
Compare Internet Service Providers
AT&T Uverse Company Profile
Company Name:

AT&T

Year Founded:

1983

Address:

208 S. Akard St.

City:

Dallas

State/Province:

TX

Postal Code:

75202

Country:

United States

Website:

http://www.att.com/