Consumer Complaints & Reviews

I had AT&T U-verse and internet for three years. When I moved next door I had to communicate with them and their service is awful. If you call and are talking with a representative they just transfer you randomly because they don't know how to help you. When you ask for a supervisor they put you on hold for eternity without ever getting a supervisor. I have been trying to cancel my service with them for over two months since they kept trying to bill me for random things that we had not discussed and couldn't communicate between their technicians and service department. It was a two week nightmare of talking on the phone for hours of each day just to never get the service moved over.
I shut down the account with DirecTV and AT&T months ago and still received a bill today. When I called they didn't know how to handle it so just kept transferring me around. Once I asked to speak with a supervisor they put me on an eternal hold. Absolute garbage. I will never deal with this company again. I wish I could choose negative stars. Stay away!

Ordered the internet and tv bundle. They advertised 24 MBPS in my area but could only provide 18 MBPS when ordering. The service was sporadic at best with speeds continuously dropping to 1-3 MBPS. Technicians could not repair it and advised to cancel the service because they exhausted their capabilities. Every time I called to cancel the service, the telephone call became mysteriously disconnected when they were asking for a number where they could call back if needed.
When I called again, they absolutely refused to cancel the service. During hours of contacts with several customer service representatives, lies about their cancellation rules, lies about my services and the date it was started, they took me to the last possible date to cancel before the early termination fees applied. They continued to lie saying that I had to pay early termination fees despite the fact that they could not provide the services they promised. I was still within the 30 day tryout period. HORRIBLE customer service. Stay away from this company. It will be next scandal and/or class action lawsuit because of their illegal refusal to cancel. I believe their customer service representatives have a quota of cancellations as it was mentioned during one of the calls.

Lost service on Sun at 130 due to tech pulling wire for my apartment while installing another tenant. Called AT&T and said no tech available until Mon between 4 and 8. Tech picked up ticket remotely at 255pm. Never let me know if issue was fixed as I came home at 4pm only to find service still out and no tech anywhere to be found. Called AT&T again, on phone 53 minutes, told we are priority stop for Tues between 830 and 1230. Tech showed at 12pm and said he is unaware of issue and will take approx 2 hours to repair. Now I have missed 6 hrs of work, out of service 2+ days and given a $15 credit on my account. Total joke for issue. THEY CAUSED loss of pay and downtime. 4 hr window is a joke and so is PRIORITY service or CUSTOMER SERVICE. No wonder they have a crappy service rating!!! SWITCHING SERVICE PROVIDERS TODAY!!

I told them I was cancelling my service THREE TIMES due to high prices (I found another service that was much cheaper) and they still sent me a bill the next month! I even had a confirmation number that I sent back all my receivers. The customer service is impossible. I spent over an hour trying to convince someone that I cancelled my service and sent back all my receivers. DO NOT GET INVOLVED WITH THESE PEOPLE!! It will just make your life that much more difficult.

Complained about having slow internet and intend to get TWC about 4 weeks ago. Over the phone, a jerk told me that they will upgrade to faster internet for 1 year with no price change. They came and put a new box and increased the internet speed. I have been on the phone with them 4 times so far about the rate increase if I was promised free upgrade for 1 year with no rate increase. Every time they keep putting me on hold for several minutes and giving me different story regarding the rate change. So far I have not been able to get a satisfactory results. These people are liars and their managers and entire customer disservice department instruct them to tell lie and play with callers until they get tired and stop calling. AT&T is a criminal organization and it seems that nothing can change the culture of these giant companies who have monopoly for phone+internet+TV. Please stop their service and at least try another vendor is available.
How do I know I can trust these reviews about AT&T?
594,379 reviews on ConsumerAffairs are verified.
We require contact information to ensure our reviewers are real.
We use intelligent software that helps us maintain the integrity of reviews.
Our moderators read all reviews to verify quality and helpfulness.
For more information about reviews on ConsumerAffairs.com please visit our FAQ.

I recently subscribed with AT&T Internet services in OKC. What a huge mistake!! First of all, they offer you lower prices but their internet speed is super slow. They recommend a slow internet speed just so they can get you hooked in a contract and upgrade you later. It took three technicians to finally get it installed because the technicians are totally disconnected from the representatives you talk to in India somewhere and no one knows what is going on. The phone rep told me it was my fault and that I signed up for a self-install and I was just trying to get them to coordinate a time to run a line to the house after the first three technicians showed up and couldn't put a box on the house because there was not a line running to the pole in the alley. WOW!!
Finally after many hours on hold and multiple explanations they were able to get a linesman to the house and a technician hooked it up. However, the plan they sold me on the phone is apparently nonexistent and the bill is $25 more than what they quoted me, blah, blah, blah. The internet cuts off frequently and I wished I would of read these reviews before signing on with this company. Run and pay the extra money to go with a reputable company!!

I was told that on 9/2/16 I could receive Uverse Services, ordered it and AT&T tech came to my home for to install this on 9/7/16, and was told he could not do the work due to the sub-contractor need to come back and do some additional work on their end, before he could continue. Work order was put in on 9/7/16 and up to now 9/15/16 no one has even been to site where the work is to be done. Spoke with AT&T about this issue several times, and was given several dates when this work would be completed. When I ordered the service I advised them I was leaving my home on 9/20/16 and would not be back till November 2016, and wanted the service done before I left. The real problem is all they do is lie to you, and I don't know company should be run this way.

I'm not happy of AT&T Uverse at all. My internet is so slow (my internet supposed be 18mb, but speed test shows under 10 for downloads and under 1 for uploads) and the maximum is 45 mb in my area. That you have pay a lot. If you have any problem, they will sent at least 3 technicians, because 2 first one couldn't resolve it. It means you lose 3 or 4 days of your time, then they send you a new contract. Ridiculous. You are always patronized by them and they never help you to pay correct price.

We moved to Gallatin in June of 2016. We chose DirecTV and asked for the bundle with AT&T. At the time, it was not available in our area. They contacted us last week and said that the service was now available in our area and asked if we would like to switch our internet and home phone service. We chose to do so and scheduled an appointment for installation. They were to arrive between 12-2 today. At 3pm we had not heard from anyone and therefore called Customer Service. We were told that they had overbooked and would not be able to make it to us for about 5 days. We received no prior notification about this situation until we reached out to them.
My husband had our previous provider disconnect our service as of today. After a long wait and being switched from one person to another and never getting the same answer twice ("5 day", "we will make it happen today", "we will work it in tomorrow morning"), my husband and I are forced to give up our plans together tomorrow for them to come out of the generosity of their hearts and squeeze us in. We stayed home today to wait. We work opposite shifts, so we plan ahead for days off to spend time together.
Now, tomorrow I will be forced to attend an event without my husband due to such poor customer service and such lack of respect of our time. We totally understand that things come up, but we should have been notified as soon as they became aware of a schedule conflict so that we could arrange for such. I am furious that this poor organization costs me quality time with my husband. I doubt that if I overextended myself they would accept my payment getting to them just whenever it worked out for me to send it.

I can never expect any company to give such an experience to their customer. I called AT&T for move request and they connected me to some third world and they kept lying to me for 3 days regarding my move is set up and all set to go. And no one show up at my house. I was in contract with AT&T at my apartment. I bought my house and wanted to move. Asking AT&T to move my internet service. They did following to me:
Kept trying to sell me internet for more. I ask that I am under contract so I want same service for same price. Their answer was first that yes they will do that. And no action, white lies. They just hear me off like they are my customers; Their third world representative were horrible. Kept lying to me for 3 days that move is scheduled to next day 10 AM and it never took place; When I finally get to talk with local representative, they mentioned that it has to be new contract and now it is more than what it was before. I ask but under contract they have to give me same price. Their answer was sorry this is what I will get. I said, "OK I don't want your service" and they said then I have to pay early termination fees; I felt like stuck with AT&T and never was so frustrated with any company like this before. I highly recommend to stay away from AT&T.

I have never in my life had so much trouble with a company. I had Direct since 2010 but as soon as AT&T took over it's a total nightmare. I've tried to cancel my service 7 times and keep getting bounced around and still they have not disconnected. I don't know where to send boxes. My new roommate and I were opening up a new account with AT&T U-verse and 3 times they never showed up. We even had text confirmation. Three weeks of no tv then they send a tech out late Saturday and the tech says "Oh we need a lineman." So no service and if we don't hear from them by Monday am call him. Well guess what? We didn't and left message for tech. When he called back they don't have that service in our area. WTF. 3 weeks mind you... They said "Oh you can do satellite. Make an appointment"??? We said "Kiss our grits," and we called Cox.

This service has been frustrating. I have had issues with billing and payments. I was told upon enrollment for this service that had a deadline to request other optional payment methods for my bill, instead of online, by phone, or banking that I could receive a bill in the mail. Though in compliance with requirements, they sent me a letter in the mail saying they were continuously billing my bank but I requested 2 months prior to receive it in the mail. In a discussion with a billing representative. They tried to say AT THE MOMENT I CALLED that I was requesting for a bill by mail. Though you have private account information of mines, to pull funds (bank Account) info without my authorization is account abuse, identity theft and fraud. That man was stuttering on the phone. Know your legal rights and the law in your state.
In retaliation to that phone call, received a prompt from Credit Karma - they reported be to the credit bureaus. Service goes out and often. Once, service went out for over 14 hours. During the time being because I stay close to downtown, all neighboring businesses and residential neighbors that had this service, HAD their service except for my residence. Even though AT&T technical support said it was an "area issue". Though I'm am being billed by mail. AT&T services for internet. Was behind on a bill for a week of $55, paid it and advanced an additional monthly payment but received a letter in the mail a week later of $165! That is service for 3 months! I am not behind on my payments. I will be very glad to finish my contract. Early termination of the contract is $200.

Been customer since 2008 with wireless then rep talked me into getting U-Verse so I did. Last December was good then I moved across town in May. Since August I have had 6 techs out trying to fix problem with it dropping service. They ran new line from pole to house. Said that was problem. Also put in new box. Still having same problem. One line tech said I was taking up 50 percent of his day. I got pissed told him, "Well AT&T is taking up more of my time since I have to sit home wait on them even while I was on vacation." All they want to give is a 15.00 dollar credit. One day it dropped 204 times. Who in the hell wants this kind of service. When you call in they try and deny it even happens. When my contract is up I'll be switching to someone else. The hell with AT&T. While writing this review it dropped 7 times. Thanks AT&T for such a good service.

It was time for a new business contract with AT&T, was offered the Uverse plan with our 2 business lines and internet... the price was competitive to our previous price. I made the change and 24 hours later discovered we had lost our REMOTE CALL FORWARDING feature. When I called AT&T about it, discovered that the Uverse plan wasn't capable of offering it. Amazing that the sales rep had access to all services I previously had, and nothing was mentioned about losing any services - and that AT&T would market this product that is supposedly the wave of the future - and not be capable of providing a basic service. It will impact me severely that I have lost this service.

I can confirm Gaylon of Florida experience is happening in DFW area of Texas. Exact same thing, promise of BOGO on Samsung cell phones. Confirmed twice that would be back Friday (9/02) night to buy, yet suddenly the offer was not available. EXTENSIVE ongoing problems with home service of Uverse, landline & internet along w/ inaccurate invoicing. Today I discovered AT&T has outsourced entire 800-288-2020 number (same number I've used to contact them for 15 yrs). It's now a perpetual loop of "options" that never end; can't even get the virtual assistant any longer.
After 26 mins finally got a human by calling 800-222-0300 non US based. Could not understand a word. Told being put to their Customer Loyalty dept. That guy basically said: "We don't care, we don't have to- we are that large". It's now impossible to pay bill over the phone- what used to take 3 minutes to call 800-288-2020 will not be a viable option any longer. PLUS they finally admitted-after 47 mins, they lost channel 227-local weather "just today" and no idea if will get it back. What??? This isn't even a channel they have to pay a broadcaster for!!! After 15 yrs, I think I will go back to cable.

My sister was in a fire this morning at 4:18am. She was rushed to hospital with three other people. She was severely burned, lost all her hair, and had an extreme asthma attack due to smoke inhalation. I heard the news at around 8am this morning from my sister Sabrina, who was not in the fire. We got off the call at 10am and my phone was cut off. Unfortunately, I had a problem paying my past due balance, because due to a cell service issue my payment for my phone bill didn't go through as it should have, as I was quote "out of the service area" even though the map has coverage where I was.
Due to this fact the customer service agent I spoke to explained to me that there was nothing that they could do to help, but they were just so sorry I was having a family emergency. That in fact if I wanted to keep the arrangement and pay the $173.54 I absolutely could, but it would still not keep my service on. SO this morning I had to borrow from my boyfriend $400.00 to keep my service on so that I could call my family and make sure that my sister is alright. I would like to point out that I have NEVER been treated with so little respect while attempting to give a company money for a service! How dare you AT&T, how dare you!!!

I am letting you all know don't sign up with AT&T U-verse. Let me tell you they been calling my house for 3 years to get cell phone service so my boyfriend and I finally did. They said I would get a 10 dollar credit on the bill every month if I bundled. What a joke. Every month my bill was a different due date and I had to call them to change it and they would charge me a pro rated charge. What the hell and the dates never got fixed. When I would call in they would tell me the rep you talked didn't know what they were doing and I will fix it. The sad part is one of them even told me she worked for the company for 10 years and she would fix it and yet nothing. I even talked the supervisor. What crap. Get this finally I went to cancel my cell service I couldn't take it anymore and when I went to pay the bill a rep on the phone said she took my payment with my credit card over the phone even gave me a confirmation number and all.
I never thought of checking the account and then I get a bill I never paid and they cut my service wtf. When I called back after being on the phone for 3 hrs with them they couldn't locate the confirmation number and have no information of me calling in and talking to someone. I mean why would someone tell you the payment went through and give a confirmation number. So they made me pay 600 to turn on my service.
I want Comcast but it doesn't service my area. Stupid Comcast come to my area. I hate AT&T U-verse they make you pay a lot of money for stupid channels you don't need. I don't need Barbie channel or fire and fish channel wtf and I not Chinese or Spanish don't need all that garbage. Now I see why they were Cingular and went out of business. They should have stayed that way. VERIZON IS BETTER TO BAD. THEY DON'T HAVE TV SERVICE. I HAVE THEIR CELL SERVICE AND WAY BETTER.
Get this people. Tell me how AT&T when I signed up with cell service gave me a number that was taken and everyday I got text messages from someone? They wouldn't change the number. Kept tell me it's not taken and I text to prove it and wanted to call the police wtf or I could change it for 35 dollars. It was their fault. Verizon changed my number. No problem when I told them the number they gave me was taken online by someone and didn't even charge me. Love this company. EXPENSIVE BUT DON'T CARE. WORTH IT. BEST CUSTOMER SERVICE.

I've called to cancel my Uverse account after 12+ months of average service quality (internet is slow & TV is just ok) and little to my disbelief (I didn't know companies as big as AT&T were doing this these days), I was transferred 4 times over 40 mins just to get to the right department (customer relations) that processes cancellations. Every time I spoke to someone, they assured me that they were transferring me to the right department yet I'd still ending up talking to someone else from the sales. WTF??? That's just lowest of low. I'll never subscribe again to AT&T.

Everything happen when we first got AT&T about one year ago. They said it was not with contract and that it will be a great internet for our usage. First thing that happen one of them wrote down the wrong address and they sent the router to the wrong house. Well it's understandable that we all are humans and we make mistake. But AT&T wanted for us to pay $57 something for something that it wasn't our fault. That's one thing but the other thing is that we never knew about this bill until collection called and said that we needed to pay $252.42. Collection contacted us 3 months later. We never receive a bill about anything of this. I contacted AT&T and they told me that they did not see any bill that we needed to pay beside the monthly one and they told us everything is fine "to not worry about it. It might been a glitch on our end for sending you guys that. Just ignore it." Well I said "Great. Nothing to worry."
But then few months passes and same thing collection call and asking for that amount. I contacted AT&T again and they said the same thing that there is no bill beside the one we would be paying for. Well like a month ago collection called and this time I got really piss off because they been telling me one thing and collection said that we needed to pay that. So this time I contacted them and told them and the guys who was helping me said that they will get to the bottom of this and that they will investigate to see what happen and that they will contact me no later than 72 hrs. Then more than 72 hrs pass and I contact them saying what happen and I ask for a promotion or something to get out of because of all the stress passing thru when you have good credit. They told me that in their history said that last time we contacted them was about 11 months ago.
Hearing this tick me off because basically what I understood that I wasted my time on fixing this problem over 11 months. Anyways because of this reason they would not give me a promotion. I said "Screw it. We will get different internet provider." So we did and we got Time Warner Cable and so far this has been a lot better than AT&T. With AT&T we would pay $57 a month but we had a promotion that would discount $17 so we would pay $40 plus $7 account charges so it was about $47 and the speed is 12/1.5 (Anyone who doesn't know about the speed well this is to slow for the amount that we paying monthly).
Now with Time we pay $55 monthly and the speed is 100/10. Look at the numbers and look at the prices. Big difference right. Well going back to our experience after I tried to Cancel our service with AT&T they said I was not able to because it's with contract. I said really. This got me piss off, but at this time I was done with them. I just "Okay bye" and I click because I only need to pay one more payment in order to be able to cancel that service. With collection everything was fix (I hope) that they found another account and that we are not going to pay anything and that they cancel that account bill payment already.

Back in the year of 2011 we switched to Uverse for cable tv and internet, originally got the U300 package and 12 mbps package with 4 boxes for about $110-120/month but since then we upgraded to U450 and 18 mbps and got a 5th box and add in all the yearly increases. We now pay $270 or more per month. From 2011-2014 it rarely went out and when it did it was very short and didn't last long, but in the last 2 years we had to replace multiple modems. Uverse goes out for under 10 minutes about 3-6 times a month and went out 3 times for 16-24 hours each time in 2016. After hearing about how Xfinity has more advanced technology, faster internet, better cable tv and saving $50-70/month while getting more, that's why we are switching to them next week.

Went in Tuesday 08/30/2016 to get a new phone and everything really good and wanted to get my girlfriend's son a new phone and the sales person Carmen said "Oh yea we have buy get one free" so I said we would be back in on Saturday and she stated I had 14 days so no hurry and asked three times about the deal and she kept saying I was good to go. OK this morning 09/03/2016 we get there and she greets me and I say "We are here to the phone we talked about on Tuesday," she looked at me and said "That promotion ended on the 31st." I said "Well when we talked on Tuesday you said I had 14 days" and she then stated well if there were 14 more days in August I could get the deal but since it was September there was nothing she could do. Wow.
I again said "But you Sat right there at that table and said I had 14 days," then she said --get this- "Did you read the brochure." Again WOW and I said "No. After asking you three times that are we good to go I trusted you." Now I need to add that she did admit that on Tuesday she said "Yea come in on Saturday and we get this done" to the point they had a line on reserve for him.
So we left and I called AT&T and they kept saying how sorry they were but the iPhone 7 would coming out soon and they "might" have a buy one get one free sale but I would have to buy it, again WOW, so I took the phone back for a return and go with Verizon and was told there is a 45 dollar restock fee. At this point I'm trying not to lose it and told them "Whatever. Just get it done." I run a very large Ford Service Department and if we promised something we would follow through. I know this is just and rant and the first time I've ever done this and know it won't do much good but just at their rating you will understand what I just went through. Please stay away from these Liars. Thanks.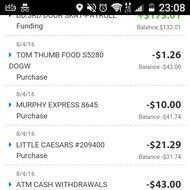 I have been an AT&T customer for about 7 months. I do not always pay on time because I don't always have the money. AT&T gave me grace periods when I first began with their company, sometimes up to two months at a time. Suddenly last month I was one week past due and they shut my internet service off. When I called to find out what happened they said that based on my payment history they couldn't give me Grace periods anymore which I understand. What I don't understand is they charged $45 every time they shut you off. They gave me no notice about the change in grace period policy so I didn't realize I was about to be disconnected. I paid the bill and they said they would charge me the 45 next month for last month's disconnection. I got home from work today and my service is off again, it hasn't even been 30 days since I paid my last bill. When you try to call or talk to somebody they're closed.
Last month when they shut me off for being a week late on my payment I tried to reason with them and tell them that I didn't know but I didn't have a Grace. But they refused to listen. Now with my service off again and the certainty that they're going to charge me another $45 I'm going to leave AT&T. I will not recommend them to anyone. Their policies are terrible. I have 3 kids, I'm a single mom, and I work really hard. They change the rules in the middle of the game and then they take your money. I will never use them again as long as I live and I will tell everybody I know not to use them. They are terrible and they don't listen and they don't give their people the room to correct their unfair policies.

I wish I had the ability to give AT&T U-verse tv and internet a negative star and that would still be too high. Service center gives you the runaround and never shows on time. The job never gets completed correctly and technicians need to return several times to get it right. From the beginning the service has been bad but my options are limited. Originally I was suppose to receive some deal but the store didn't set up the account right so I never received the special pricing and in fact paid more than what I was paying with my original service. Don't get me started with the internet. If you are not hard wired into the box the connection will bounce every 2 minutes. Hmm. I thought the purpose of AT&T was for the wireless ability. When you are watching tv try not to get invested in the show you are watching since at the best parts the tv will go out for no Internet connection. I never can find out who did it.
Then after hours of pushing or yelling into the phone to receive a customer service rep, did I mention the automated service told me I was a valued customer and that my service was expedited, you were better off with the automated service, since the only response you get is "let me check my screen one moment" or "I'm sorry to hear that" and the best part no resolution. So if AT&T U-verse is an option, run! My service is out again since a tech was working on my neighbor's line. Glad they have Internet and tv but I'm waiting for a technician.

AT&T promise to give phone and internet service by Uverse is a broken promise. I had 6 repair crews at my house trying to fix phone line and internet service that was going up and down 15x per hour. They even buried a new phone line to my house. Only Solution they could come up with was to lower my internet speed from 3 - 1.5. Which would give me reliable phone service but internet speed equivalent to dial-up. They finally told me there was nothing more they could do for me. Used AT&T for 54 years. Never thought I'd have to go to a different carrier for Reliable service.

They have partner with Directv. This has been 4 months of hell and my health has suffered. Sign up promise 300.00 Sam's Club card. Seems to be good to be true. It is. 4 months later and nothing but a headache. I get a letter I was told 4 weeks ago for the 100 gift card. Seriously. Scam. I think it too many of the Same things here. That's enough. I switched over in Last of may. June just now getting something. Number one in customer satisfaction. I don't think so. It was nothing but lies and bad customers service to put people there. Why didn't they just do what they are suppose to and tell you. My email was hacked. Horrible. My personal information was hack. I got a whole of Google too. Care of it first thing. Att it took them 2 years to fix. I was told to report abuse? Seriously. That serious. Your personal information. Something's wrong. This is false advertising plain and simple. ATT and directv should be held accountable.

I've been trying to cut my bills down and got an offer from Time Warner and then tried to talk to an art service rep to see if they can match or beat the offer but had no luck getting a hold of a human being. I think it's horrible business when someone needs help and all you get is a computer.

AT&T and all other cell phone companies offered buy one get one (BOGO) phone free in the month of Feb/Mar 2016. I attracted it and purchased AT&T iPhone 64 GB. From that day onwards my issues got started. They told me that you will get 2nd phone absolutely free, this free phone is never ever free. Don't get mad about these type of free offers please, AT&T charged more than market price on IPHONE first thing, 2nd thing we will struck in 24/36 months contract based on phone, you cannot decide that, they will only decided that. They will collect $140 in the beginning of phone delivery and asks us to pay remaining balance in installment basis. And you will come under assumption that, you purchased one phone, the other one is free... NO... it's not the case with BOGO.
They will keep charges you for 2nd phone... this is what I have experienced in my 5 months span, but they will not accept they are charging you. The other charges like state tax, federal tax... etc almost more than $18/20 in taxes they will charge you for 2 devices, and you will never get same bill in consecutive months, each month different bill, not sure why it is. I have almost spent 14 hours to get my correct bill but failed. Care team doesn't have full details about this plan, every time new person will come in to call, and tells different story. They will tell we will apply promotions but not sure when and what amount they will apply. Overall my experience is, AT&T guys will assure something and do something do not believe them please. Please start collecting ticket /case number for your issue, I have asked several time but they are not providing at all.
I don't know what to do in this case. Whenever they assured something or tell something please ask them to send a mail along with case number, because they will not believe their own guys and ask you mail confirmation for last assurance of deductibles or discounts. I have chat transcripts and pasted in chat requests but they will not at all consider those too. Not sure what they will consider... God knows. Almost 10 people in my surroundings facing the similar type of billing issues with BOGO.
U-Verse internet story is one more different, while taking new connection they assured me that $100 promotion but later not sure where it's gone, and they told me they will charge $99 one time charges for installing and it's free for next 2 location moves, until unless you do not have confirmation mail please do not believe it. If you moved in 6 months/1 year they again they will charge $ 99 for sure. But one big relief is at least I am getting right bill in this case. I am requesting you everyone, please do not go with BOGO plan at all, it kills your time, money and will give additional mental pressure with their billing every month.

WORST INTERNET I HAVE EVER HAD. Seriously, it's pretty ** terrible. I've actually NEVER had internet this slow, slow to the point where I have to reset the router all the time, deal with watching tv while my internet constantly stops (happens just as bad when I use my laptop). I even had to turn off my internet connection and use my phone's wireless internet just to make this review since my so called "high speed internet" doesn't ever want to ** work. After a year and a half of this ** I'm pretty fed up. ** you ATT, I'm going to cox. You guys suck. I wouldn't even recommend you to my worst enemy, that's how bad you suck.

I call the company because I was receiving a bill for a service that I cancelled 11 months ago. I talked to two reps, then I was transferred to an account manager. I was given the run-around about the cancellation then I was told it was standard to charge me rental fees for equipment that they already had in their possession!

I have been without cable for over two weeks now, on and off. AT&T are digging for new poles around my complex, and is leaving thousands of residents without service. I call the first time, and they did not want to hear my issue, and quickly told me it was the receiver, and they send me another one (4 days later!!!). New receiver arrived, and still no service. Now they tell me they are sending a tech. 2 days later, tech arrived and tells me is not the receivers, which I could had told them that if they would learn to listen to their customers. This tech now tells me, he needs to send an outside tech (1 day later).
The outside tech, was at my house the whole day and left without fixing or saying anything. I had to call back and two hours later it got fix. Today, again 4 AT&T vehicles are working on the outside, and one of them disconnected my service again. I am reporting this to the Better Business Bureau. I am also reporting to channel 7 and channel 10. I regret ever leaving Comcast. Horrible service. Even my health is affected now. My blood pressure is sky high.

ConsumerAffairs Research Team
The ConsumerAffairs Research Team believes everyone deserves to make smart decisions. We aim to provide readers with the most up-to-date information available about today's consumer products and services.
AT&T Uverse Internet service is provided by AT&T, one of the oldest utility companies in the United States. With over 10,000 patents and nationwide coverage, AT&T offers various Internet, telephone and satellite options to customers all over the country.
Online orders: Customers can order services directly from the AT&T Uverse website. Available options are based on zip code and street address.
24/7 support: Uverse technical support is available 24 hours a day via telephone, and live chat is available via the AT&T website.
Reliability: Users get a dedicated line with steady services and little variability in speed, even during the busy evening hours.
Easy switch: Moving from another company to AT&T is simple and quick as the company offers coverage to the majority of U.S. addresses.
On the go mobile viewing: Subscribers can download the Uverse app to view live or recorded TV straight from their mobile devices.
Best for Those who need a reliable connection for news, information and homework help.
Compare Internet Service Providers
Basic Information
Company Name:

AT&T

Address

208 S. Akard St.
Dallas, TX 75202
United States

Year Founded:

1983

Website:

http://www.att.com/