Consumer Complaints and Reviews

I subscribe to U-verse because they had wireless cable boxes, I've had them for about six month and it's been nothing but a nightmare. Can not watch an entire TV program without losing streaming, if I use more than one wireless item (cell phone, computer, etc.) I lose all service. Customer service is outsource so there is very poor communication. Because this is my summer home, I say to myself it will get better the next and it never does. It's time to change carrier. Stay away from AT&T. They don't care.

Currently living in South Korea, bought a home in Hendersonville, TN. My son went to live there in March mainly to try to get everything set up before I retire to that home. Through website, set up the installation of phone, internet and television. Received confirmation and an appointment for March 20 and AT&T was made aware that my son would be on site. The day came and they showed up for about 10 minutes and said they would need to come back. One week later, he called. Customer service was vague and said someone would be out. No one showed. Called again, vague communication and nothing happened. Called again and was told that since I made the request I would have to call.
Korea is 13 hours ahead of TN. So, I went on the chat line. Almost 2 hours later and 3 customer service representatives, someone came on and said that they could not complete the set up. I asked why and they said that there was no "box" at the address. OK, why couldn't someone tell my son who is well over 21? Why did it take almost a month to communicate that they could not do the installation? Apologies but no explanation. They had my email on the request form and no one contacted me as well. It could have been a simple solution. But, no.
As we are going back and forth, they are asking questions that indicate they did not know of my request. Example: what was my phone number on site, the previous provider wouldn't release the number, etc. I had to remind them that I was a new customer and asking for new services. OH, they claimed. Then I asked when would services be available. They couldn't tell me. What???? This is a nice neighborhood and I could have moved on IF there had been communication. It says that AT&T has about 98% of the services in TN. I will be one of the 2% that does not.

This happened over July - October in 2015. I'm still upset. My father passed mid-July. I contacted AT&T two days later to cancel his cellphone and cable/internet. The phone was easy enough. Then they transferred me to the Uverse people. They wouldn't cancel it without me knowing the answer to his security question. The question was who was his favorite actor. I got three guesses and they told me they couldn't help me. I would have to bring a copy of the death certificate into an AT&T store. I explained that I didn't have one yet and that I was warned it could take up to two months as death occurred at home and a hospital wasn't involved. I asked if they could note their system that I called so that when I provided a death certificate, they could backdate the cancellation. They told me that would be fine...
Two weeks later I still didn't have a death certificate but I had a few minutes on my lunch break so I went into a store to see if anyone would be reasonable. Hahaha!!! I was told I could NEVER cancel his account without power of attorney. I explained again that he was quite dead and his reanimated corpse would not be able to sign the legal forms for that to happen. When I finally got the death certificate, I went to another AT&T branch (because clearly the first one was staffed by morons). I showed them the death certificate and they said they couldn't help. They couldn't do anything but call the number and they had gone home for the day. I asked if they could keep a copy and call in the morning or take a picture of it. No no no.
So I go back on Monday. They called the same number I did. The guy told the woman on the phone he was looking at the death certificate. He then turns to me and says they can't cancel it unless I can answer the security question on file. I am serious. My head almost exploded. Thankfully, I guessed correctly this time. If anyone had told me I could have called again and guessed, I would have done it daily. Anything to get the cable box and modem out of my car. I asked the guy in the store to ask the person on the phone to backdate the cancellation to when I first called. He refused to even ask them. When I got the final bill, they couldn't take the autopay anymore as I had closed the checking account (specifically to stop them from stealing anymore of my money... so really I didn't need to cancel at all) and sent me a final bill.
I called AGAIN and explained I would not be paying that and they owed me money for continuing to charge me after I had tried to cancel repeatedly. I think I was on the phone for an hour when I got this amazing advice. They could retroactively change the cancellation date if I brought the death certificate into a store. Since no one at AT&T had seen it, they couldn't take my word for it... I nearly blew a gasket and explained vehemently that I had brought the death certificate in twice already and nobody cared. They eventually agreed to waive the bill that was outstanding but I never recovered my money, time, or embarrassment of standing in the AT&T store crying over my dead father while they tried to make this simple transaction as difficult as possible. If you care about your loved ones, do not get their service.

AT&T sucks! I have had to call them every month about invalid or unauthorized charges on my bill. I have been a loyal DirecTV customer for years, but when I moved to Atlanta, GA 5 months ago, I decided to bundle my DirecTV service with AT&T for internet service. Biggest mistake I ever made. Every month there is something wrong with the bill, extra charges that shouldn't be there. I've even been disconnected wrongfully while I had an arrangement with a manager. I have called 3 times in the last week alone. First, I called to get unauthorized charges for premium channels that were canceled months ago and suddenly reappeared without my knowledge. I was also charged a reconnection fee and late fee which should have never been on my bill since I had an email existing arrangement with a manager.
When I asked for a manager I was told that the manager was in a meeting, so the rep had to submit a request to the manager for credit to my account. In the meantime, I paid the part of my bill that I knew I owed. The second time I called to find out if my credits had been applied to my account. They hadn't been. This time the rep sees that I requested the credits and assures me that she will apply them and extend my billing cycle to avoid service interruption while credits take time to post to the account. A few days later I'm getting repeated calls from AT&T to contact them about my account. I call them back and they're telling me I still have a remaining balance to pay. I tell them, "No I don't because my account is to be credited for unauthorized charges." The rep looks at the account and sees the credit, but it hasn't got transferred from DirecTV to AT&T yet.
They also tell me that it will take a while for the system to transfer the credit and make my account current, so they have to further extend my billing cycle to allow time for the credit to transfer and avoid unnecessary service interruption. When AT&T is trying to get a customer, they don't tell you that AT&T and DirecTV don't communicate with each other because they are still 2 separate companies. No wonder my bill is screwed up.
It just doesn't make sense to bundle services provided by 2 separate companies, only to make their customer's lives a living hell from a billing standpoint. They need to either ditch the bundle and send out separate bills or start acting like one business and communicate with each other. If they don't do something, they're going to end up losing good customers. Long story short, I'm so sick of AT&T screwing up my bill. I'm seriously considering leaving them and taking my business elsewhere regardless of termination fees.

As most of you know, the only way to get a decent price for service is to bounce back and forth between AT&T and DTV. Even though they are the same company!!! That is the first lousy thing. Anyway when my DTV bill reached $150 it was time for another visit to the AT&T store. I switched to basic cable and wound up with a bill of $82. More reasonable. Well when I got my next bill it was still at $150, so another trip to the store. I was promised a $100 gift card for the billing error and scheduled to a switch back to AT&T for a 2-year agreement at $60 month. Not bad.
The next day I discovered my Yahoo account had been frozen. That created another avenue of fun. I went online and talked to AT&T chat who said that I would have to personally visit the store to get my acct unlocked. Another trip to the store and oh, did I mention that no change order had been placed for my TV? So back to AT&T for a visit. At one point I had all 8 helpers standing there like brainless idiots with no recollection of my previous visit. After singling out the "manager" I said walking out with no help was not an option. He wound up putting in an order for the $70 U-verse 200 pkg. It seemed the $60 pkg was no longer being offered (shock). But regarding my internet account he could offer nothing. So I contacted chat again. Oh wait, 5 mins after leaving the store with a handwritten order and confirmation number, Haji decides to call from India to inquire about my order, then asks me to hold while he confirms the information!
What an irritating joke! Now, back at home I contact the chat people again. This time I am told that I need to contact the tech line at 877-267-2998. Oh boy! They must enjoy pouring gas on fires as this line is nothing more than an endless string of "offers" from DTV and companies not even related to communications!!! Now I'm pissed! And nowhere to go. As soon as I can find a halfway decent alternate to these arrogant, stupid people I am out of here! Beware!!
How do I know I can trust these reviews about AT&T?
741,284 reviews on ConsumerAffairs are verified.
We require contact information to ensure our reviewers are real.
We use intelligent software that helps us maintain the integrity of reviews.
Our moderators read all reviews to verify quality and helpfulness.
For more information about reviews on ConsumerAffairs.com please visit our FAQ.

I signed up with DirecTV and U-verse internet back in July of 2016. It has been the worst mistake of my life. 1st the agent who set up my service lied about me being under contract for 2 years after I told her that I didn't want to be under contract because I am leasing my home and if I decide to move I don't want to worry about cancellation fees. She assured me that, "It was not a contract but it is to lock in your price for the 2 years." Lie number 2 was when she assured me that they would be able to set up cable in 3 rooms even though I only had 1 TV at the time. Lie 3 was told to me when they offered me a tablet for "free" and come to find out it was a whole lot of extra charges added to my bill as well my bill due date changed without me knowing this would happened.
I have had my service for 10 months now and I have had to call them for 9 of those months because there is always an issue with my bill. DirecTV and AT&T are the worst and they will LIE to you to either get a sale or rush you off the phone. If you are reading this and have the option to choose another cable and internet service PLEASE do so!!! I never write reviews but if I can save someone the headache of dealing with this scam of a company, it's worth it!!! I had them back in 2013-2015 and they use to be a much better company!! STAY AWAY IF YOU CAN!!!

AT&T service needs of improvement. If there were another option I would jump at it. My internet goes out several times a week and when I call I get if I go through all of the telephone prompts can take about 7 to 8 minutes before finally I get to talk with a person. The person that I have lately been connected with sounds like they are in India and from their responses reading from a notebook with canned responses. Unfortunately all of my issues are apparently not prewritten. I have nothing against people from India but their language skill is limited and frankly would prefer to talk with an American.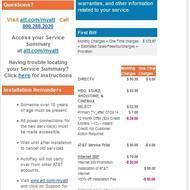 I ordered for AT&T 300 internet service for home. Today I received an order confirmation email showing the order of DirecTV with all bells whistles with internet 300 service giving a total bill of more than $170. I spent more than 50 minutes over phone but no answer to the issue why and who added DirecTV service to my order. We all have limited time to spend on different issues and don't have time to waste. So my request is to all those who are planning to order any service from AT&T is to make sure that you have lot of time to spend on phone for resolving the issues. PLEASE STAY AWAY FROM AT&T. THANKS.

AT&T Uverse ** up! AT&T Uverse has done nothing but to steal money from its customer. It teaches the reps to lure the customer to sign the TV and internet bundles with a remand card of $300 and then they will start to add $1000+ charge into your bill and will never take it off. I purchased a TV & internet bundle of 24-bit speed internet with a promise of only billing me $80/a month but it turned out my internet was only 6-bit. After I called their rep and told them this is not what I promised the rep said she will change my internet back to 24-bit for free and my rate will drop down to $69. But my first bill was $350, and my second month's bill is $250, and the third is $100! I called their rep and they said charge was "necessary for plan change."
I can't believe this company is lying to their customer to keep them onboard. And I can't quit my plan because it is the ONLY provider in my area! ATT has given me the worst experience ever, like a nightmare. Don't be a fool and don't trust anything ATT tells you, it is all nothing but a trap! I have never seen such a blood sucking shameless corporate in my life! Shame on you ATT! Over my dead body will I ever become your customer again once I get out of this area.

Congress is obviously in the back pocket of AT&T. This broadband service company has never been good. I pay for U-verse with a guaranteed download of 26 Mbps. I have had nothing but continuous problems. It burps, stops, starts, and is throttled back to speeds under 10 Mbps! Total ripoff. It took AT&T almost a year to finally put a booster in my home. They are CHEAP! Everyone who has problems with this company, make sure to do a speed test. Take screenshots and report this company to the Federal Trace Commission and the FCC! Scream loudly! They are ripping off the American public.

Everyone knows that when you pay a bill after that bill they are suppose to give you 30 days of service. Well I recently got the internet turned on and by itself it cost $140 for a month because they had to the installation which shouldn't of cost that much for just internet to be installed. Okay so I pay that on April 2... Now not even 3 days later I get a email saying "your AT&T bill is ready to be viewed online" and I'm like what?! I just paid $140 two days ago!! And that bill $40 is due this April 23. So why am I getting charged with again and also not even get a FULL month of service??? And the customer service guy was like "That's because the billing cycle is made up on 23 of every month" which I understand but still! Charging someone $40 in the same month where they just paid $140 is just ridiculous. Plus basically robbing me of a weeks worth of internet that I will not be getting but still have to pay.
I just feel like they could have done a better job at the billing cycle and I'm actually suspicious that this could have been done to "get over" on customers. Like TWC used to do for so long. I feel like this might even be illegal to charge for a whole month of service and the customer doesn't get a whole month. But who hears us? Who can help? I feel like my voice and so many others are drowned and who's really listening.

Here's the gist: we have had Uverse about 5 years, and each year, we renegotiate the contract. This year I decided to terminate, but I agreed to an offer from the "loyalty" dept (Charles) for a bundle of internet, phone, and Uverse for 110.00 monthly. Guaranteed for 12 months. Well, it's 2 months later, I have paid over 600 bucks and I have only Internet. I went on the ATT Community forum, which supposedly helps ATT customers resolve issues. I explained my situation, the rep responded, asked for my account number, etc. And the next day I get an email from the ATT forum saying my email address has been "discontinued ". So, they blocked me from further comments. Sinister... Very bad stuff. Stay away. It's so bad, you cannot believe a company is this corrupt.

AT&T, has the WORST Internet and phone service in the HISTORY OF THE WORLD! Their technicians are not properly trained and disrupt service at least 2-3 times a month when working in my area, then tell me I have to wait 2-3 days to just get an APPOINTMENT to fix what their technicians broke in the first place, and the audacity to tell me I might be charged $99 for the privilege! Then they don't show up within the 4 hour window. They gave me, and tell me someone will call me sometime today with a new ETA? When the technician has been working down the street all day! Maybe if AT&T had to EAT the service time their customers were down, and PAY for the time their customers had to wait and take off from work (especially when you work from home and can't!), I'd bet they'd have a different work ethic!

So I am moving in about 10 days to a new place where U-verse is not available. I called yesterday to inform U-verse that I would need to cancel my services at 7 AM on April 17th. That was repeated back to me and confirmed. When I got home several hours later, I had no service. I called and spoke to Adam, who was very nice and as helpful as he could be with the limited authority he had. He also said he could see that the services had been turned off by mistake. I asked that they be turned back on, or at the very least the internet turned back on, I could do without the TV. He went through the process to turn it back on and was told by the technician that they would have to run a credit check again. I told them no since my credit is frozen right now due to me being a victim of identity theft & that I wasn't a new customer so there was no credit check needed.
I had been a customer for 5 years and that obviously I had the credit to get the service. It would also cost me $10.83, to unfreeze my credit for the technician to run it and why do I have to pay money for AT&T to fix THEIR mistake? I then asked to speak to a supervisor because there wasn't anything else Adam could do (which I understood). I told Kafi the situation and she told me it was the law for them to run the credit check for all new customers. To which I replied, yet again, I wasn't a new customer and had been a customer for 5 YEARS, so they don't need to run the credit check for to turn my service back on to fix THEIR mistake.
I just wanted it back on without costing me money and making me have to jump through hoops to do it. She replied "Sorry, no, we need to run the credit check." I said, that as a supervisor and a customer service person she should have at least offered to give me a credit for the money it would cost me to lift the freeze, she replied she would need to run the credit check. That seemed to be her go to answer. I then asked to speak to her boss, which she replied no, because he wasn't in the office. I then asked to speak to another supervisor other than her, she said ok, put me on hold, to which I waited 40 minutes for someone to pick up, which they never did, before I hung up.
I am so very disappointed in U-VERSE's customer service, or really lack there of, and their unwillingness to fix THEIR mistake without costing me time, money, stress, and headaches. I guess I will deal with no internet or tv until the 17th & I will not be recommending U-verse to anyone and am also thinking about leaving AT&T wireless as well, to which I have been a customer for 15 years. This is just so disappointing.

AT&T U-verse and cancellation charge dismissed by AT&T U-verse and then charged. I never received the service they promised. No internet service at all. I was fooled again just for them to sell something that does not work in my area. 4 years ago the same thing happened but they did not charge me because I was not with contract. More than 30 calls and in a single day 5 technicians and a manager came to me house to try solve the problem. They run cables on the attic but the signal was poor. The conclusion is that the box that sends the signal to my house is more than the distance allowed to provide the correct service. They know that! But justified that the salesperson does not. In the sale process I was inform that in my area had already made updates of the signals, which was false. The person who attended me told me that they felt very sorry that they could not provide me the service.
I signed a contract for 2 years, for a service of tv and internet of 18gb, which received very low signals of 2, 4, up to 6gb speed. AT&T would give me a retroactive credit for being paid for an incorrect service, that there will be no charge for cancellation for the previously mentioned and they will send me a refund in two weeks. What I received was the following bill and as I have AT&T Wireless I got confused and I paid. When I realized I called AT&T they told me I did not have to pay. They would give me back that money, about $150.00. I never received that money. What I received In December a check of 97 dollars. I concluded after making several phone calls from August 2016 all the representatives told me that the case is in accounting that I do not worry that I would receive the remaining money. Today I call again and Michel informs me that I will not receive any money that the remaining balance is for the cancellation fee. $256.00

I got my Uverse equipment in the mail. Then the tech shows up to get me set up, and leaves without saying anything so I'm guessing I'm good to go. I hook up my modem and try to connect. It doesn't work so I call customer service. After half an hour of waiting and being transferred 3 different times I finally reach someone who will hear my problem. They tell me that the tech messed up my cables and another tech will have to be scheduled to fix it. They tell me they can send one the next week. I tell them I want to cancel my service. They cancel it for me but won't give me my 100$ I paid already for a service I am unable to use. I basically paid 100$ for them to come mess up my phone cables. None of the phone jacks in my house work now. Thank you so much AT&T. Thank you.

I was considering AT&T for cable and internet and was assured by the rep on the phone that they would not pull a hard inquiry and I told him specifically that I would not authorize a hard inquiry. Well, they pulled a hard inquiry and I have spent hours on the phone with AT&T and they refuse to remove the inquiry. I was passed around from department to department and wound up with an exceptionally rude woman who insisted that I authorized the credit check and refused to remove it. I don't even have your services, the least you could do after LYING to me about running a hard inquiry is to REMOVE IT.

Switcher rebate. This is a classic bait and switch. They get you switched and then come up with all kinds of excuses as to why they will not pay although the people in the store assure you that everything is in order. I wish I would have read this website before, now it is too late for me, hopefully you read this and are not taken by this scam. Stay away from AT&T.

Well first I called just to get internet to start doing school work at home so I'm home with my baby more. The girl sold me on 20 dollars more a month if I wanted cable as well. So total 60 dollars. I said "I'm sure you sold me." My total is now 146 a month. 40 for internet which is all I wanted in the first place and 96 freaking dollars for something I didn't want! I tried calling 10 days later after installation to cancel just the TV portion because I was told 60 dollars total not 146.
But AT&T has merged with DIRECTV. You would think since a company bought out another they would have the same cancellation fees and other type of plans as such. No AT&T has a 30 day gap where you can cancel but if I want to cancel DIRECTV it's 480 dollars for a buyout. You can't cancel after 24 hours after purchasing. I wonder why that is? I'll tell you why because they are scammers. Now I'm stuck with a 2 year contract I can't do anything about and probably can't afford and my credit will get ** now. Great. Thanks a lot AT&T.

I have complained on several occasions about disrupted service that's almost predictable to occur between 5 and 7 PM each day. The only response I have gotten was, "Oh, that's the time everyone gets home and gets on the internet." This is absolutely no excuse. I never had this problem when I had Cable. I am quite disappointed and would like to go back to Cable, but the problem of having to change my email address on all my accounts keeps me kind of "locked in" to AT&T. I would advise anyone to not sign on to AT&T internet service, unless it was absolutely the only option.

ATT Uverse is garbage, incompetent with high-speed internet and comparable to dial-up if that!! I can't even wait till my contract is over so I can GET THE HELL out of this garbage operation! I work from home and it's taken me twice as long and when I need to do bigger work loads, I use my cell phone bandwidth. I shouldn't have to do that!!! I'm so done with ATT's GARBAGE, never ever coming back. Learn my lesson and all you people out there reading this, don't experience it! Cancel your services and stay away. I didn't listen when a friend told me to stay away, I learned my lesson though. Good luck!! Anybody filing a civil suit, please let me know? I want my money back!! The speed they advertised is NOWHERE close to what I'm getting...

My husband called to discuss our options to lower our monthly bill (that is $330 a month). He was told to do that we needed to change over to DISH Network! So we agreed. The day came for them to install the dish and come to find out they couldn't due to trees. So now we discover they can reduce our bill with the old service... Great we were told the service would be turned on in a few hours that was 5 days ago!! The issue is not that I am without cable, but that I work from home and depend on my internet service!!! I assume you want to be paid and in order for that to happen I need to be able to work!
We keep calling and getting one excuse after another... "Ohh we will be there tomorrow" and then Sunday and then "Ohhh we're sorry one system said it was completed and another said canceled..." How is that my issue! You would think someone would come back out and get it corrected by now, but I guess if you're already a customer you are no longer important! If you have a choice choose another vendor!!!

We have had nothing but trouble since we got the service. We first got DirecTV and then we got AT&T internet. Been trying to bundle these two is like pulling teeth. Both the services are the same company and you have to call two different services to try to do anything. Each pole takes approximately 1 hour and you still can't get anything done. Not professional. Customer service is not professional can absolute disaster. I would not recommend any services from AT&T to anyone.

I have been a faithful customer of AT&T with both wireless and Uverse services. AT&T is making their Uverse customers go to DirecTV since their acquisition of the service. I fought going to DirecTV for quite some time but gave in and attempted to obtain the service. I called and set up an installation date. Now, at the time of them selling me the DirecTV package they offered me a $200 reward card for starting a new service. However, once the technician arrived for installation he found that I didn't have a direct line of sight and couldn't go further. He called AT&T and was able to work some things out for me to keep Uverse (which is exponentially better than direct television) without an increase in the price. Now, through his negotiations with the sales department he found that I had been overpaying as I was listed to have two land lines (only had one) and 54mbps of internet (only had 24mbps) since the beginning of my service (3 years).
For not having a direct line of sight they said that I could still receive the $200 reward card as well as they would send me a $300 reward card for a total of $500 as compensation for the overpayment. I agreed knowing that it would be a while before I received the cards. So, three weeks pass and I heard nothing, no email, no letter in the mail, no reward cards. I called twice to just get an update on the status of the cards. In the first call I got transferred so many times my head spun! Inevitably, I was transferred to the point that I was disconnected after their departments closed. So, I take a day to cool down because I had become frustrated with how my called was handled.
Two days later I call again and this time I was able to speak with someone. I tell them the backstory and what was promised to me as a verbal contract with one of their representatives. They keep me on hold for an extremely long time while researching the matter. After this representative completes her research of the matter she offers me a $200 reward card. The representative stated that they could only offer me $200 because there is a limit to amounts that could be sent out and offered to give me the remaining $100 in a credit to my account. Typically, I would have taken such an offer; however, I was knowledgeable to the fact that AT&T has offered $300 reward cards no issue to others. I just couldn't understand what was different in my case, given it wasn't my fault regarding the lack of a direct line of sight nor was it my fault that the company added services that I DID NOT ACTUALLY receive.
Now, I am a very docile person and would rather avoid conflict in any situation; however, given the irritation from the first call and now the reluctance of wanting to give me the $300 compensation for paying for services THE COMPANY CHOSE to add took me to a place that was very unhappy. I asked specifically why couldn't I be given the $300 reward card given my knowledge of previous instances. I was never given a reason! This is when the back and forth of department transfer happened AGAIN until it was after their closing hour and I got disconnected.
Needless to say I am not a happy customer and AT&T will be soon losing a customer because of the poor treatment I received. I have never been treated so poorly! In one transfer, one of the representatives said "nope not doing it" and transferred before I could really even tell him why I was calling. Up until this point I had no issues with AT&T; however, when I found out about their wrongdoing and began to call them out on it is when things changed. I am greatly disappointed!

Their entire customer service layout is horrible and unorganized!! If you only have internet they pass you along to the Philippines. There you will get disconnected over and over again! When I asked to go over my bill and that the service is bad they ignored me and was pimping a service DirecTV!! You will get hung up on. You will be directed to many different areas. Why did DirecTV join AT and T?? I will drop the internet service and will continue to use my Firestick!! Buyers beware!!! Do not use this service. Run like hell!!! You will have a hard time getting human. Do not use this service. Go get the Firestick!!

Cable and internet service have gone out three times in a week. Techs are unable to solve problem. My wife spoke to a manager yesterday and expressed her displeasure regarding service outages. She told the manager that she would cancel service if the outages continue. Manager told her "well you have to do what you have to do". This is the worst cable and internet company that I have ever done business with. Will be cancelling my service today.

We own an independent shipping store that is an "Authorized shipper" for UPS, FedEx, USPS. AT&T is constantly sending their customers to us for the return of their equipment. AT&T has a deal with "The UPS Store" to ship their equipment back for them. WE do not have that capability. We graciously explain that the NEAREST "The UPS Store" is 45 miles away, one way. For us to help them, they need to call AT&T to get a shipping label & then they can return it through us.
AT&T has the worse customer service people EVER! I have heard them YELL at older people, and at a woman whose son was in the hospital in a diabetic coma and she was trying to turn off his utilities, etc before moving him to an extended care facility! Just horrendous! Even IF their actual cable/internet/phone service did improve, some people will NEVER go back to them solely based on the way they were treated. AT&T better get a clue, in this new "Online society" Customer service is HUGE!!!

My internet peaks at 3 mbps usually for around 5 minutes then drops back down to its normal 0.5 mbps. Strangely whenever I'm on the phone with them it will shoot up to 15 or 20 mbps while I'm on the phone, drop back down to around 5 mbps for a few minutes after I get off the phone, and finally settle back below 1 mbps. Oh and their speed test on the AT&T website tells me it's running at 15 mbps all the time. Every other speed test on the internet tells me the actual speed of less than 1 mbps. If it was running at 15 I would be able to stream a video without letting it load for a couple minutes. I keep calling and nothing changes. So not worth the money. This isp is garbage, don't buy their stuff.

Company mishandles returned equipment. This is my second attempt with AT&T Uverse. Both times same result. Service is sub-par. BAIT AND HOOK used to encourage sign up. Rates are not truthful. Canceled my account in December. They continued to draft my bank account. Equipment was returned. Company still continues to draft my bank account. AT&T claims that they have not received equipment. I have a receipt showing return with serial numbers. They are not interested in seeing my receipt! They are only interested in passing me from one customer service rep to another. IT HAS BEEN ALMOST 4 MONTHS!!! They are yet to resolve this problem and return my money, which they drafted AFTER the cancellation of service. My last statements show credits. They show that I was overcharged! However, there has been no refund!

My family has been a loyal customer to Directv for over a decade. When they were acquired by AT&T, it occurred at about the same time that Clear, what was our Internet provider for many years went out of business. Knowing that we were going to be switching to AT&T for DirecTV service, and we also now needed a home phone and Internet service, my family decided to move our cell phone service from Sprint to AT&T to take advantage of the package they offered where everything would be included for one price. We jumped at this deal, because it meant instead of having three separate invoices we would have one and the price point we were offered was competitive with what the previous three invoices were on a monthly basis. Well, now we get to the service and were paying $550+ a month thinking that is covering everything (our prior cost for all services was about $600 a month) when in fact that was only covering the cell phones.
Then we get notices from AT&T saying that our Directv service is being suspended because we hadn't paid the bill, so we pay the bill to restore it again thinking that between the first phone bill and DirecTV bill which were now caught up and we were fine. So now we have two separate bills in this "bundled" package. Imagine our surprise when our internet and home phone get turned off and we are told we owe money for THAT bill as well. What is the point of offering a "bundled" package when every service is billed separately at the normal ala carte price? If you have the opportunity to go with another carrier than AT&T, don't walk, run to it. AT&T is nothing but a scam.

ConsumerAffairs Research Team
The ConsumerAffairs Research Team believes everyone deserves to make smart decisions. We aim to provide readers with the most up-to-date information available about today's consumer products and services.
AT&T Uverse Internet service is provided by AT&T, one of the oldest utility companies in the United States. With over 10,000 patents and nationwide coverage, AT&T offers various Internet, telephone and satellite options to customers all over the country.
Online orders: Customers can order services directly from the AT&T Uverse website. Available options are based on zip code and street address.
24/7 support: Uverse technical support is available 24 hours a day via telephone, and live chat is available via the AT&T website.
Reliability: Users get a dedicated line with steady services and little variability in speed, even during the busy evening hours.
Easy switch: Moving from another company to AT&T is simple and quick as the company offers coverage to the majority of U.S. addresses.
On the go mobile viewing: Subscribers can download the Uverse app to view live or recorded TV straight from their mobile devices.
Best for Those who need a reliable connection for news, information and homework help.
Compare Internet Service Providers
AT&T Uverse Company Profile
Company Name:

AT&T

Year Founded:

1983

Address:

208 S. Akard St.

City:

Dallas

State/Province:

TX

Postal Code:

75202

Country:

United States

Website:

http://www.att.com/