Consumer Complaints and Reviews

I really don't know how AT&T is getting away with all the wrong crap they do. I've never seen a company run over their customers as bad as AT&T and get away with it. You shouldn't be allowed to treat the people whose keeping your business open like their nothing but road kill. Wrong in every way. But they have wronged me for the last time, I guess AT&T likes being sued.

I would have given this company is zero rating but this was not possible. We have been dealing with poor service with AT&T for months. Most days we are not able to access our TV, telephone or Internet multiple times a day. Customer service representatives are inept and seem to be from somewhere outside the US. They can barely speak English and don't seem to understand how to help. I have demanded compensation for the hours and hours I have spent on the phone with customer service and Technical Support, the numerous hours I've spent waiting at home for the technician to show up at our house, let alone all the hours that we have not had any service.
I was told I was going to receive a $120 deduction in my monthly bill as well as a $75 gift card but this ended up being a lie. I was told this promise could not be fulfilled because it was not documented on my account. One man told me I could get $60 reimbursement while another woman said the most I could get was $50. They give me the run-around, transfer me to multiple different departments, and basically screw with me. When we had Comcast service we never had to call a technician once and we never had one problem with our service. Unfortunately, even though we have had horrible service with AT&T, they will probably stiff us if we try to get out of our contract. I would definitely think twice before signing up with AT&T no matter what package deal they try to sell you. Horrible company!! !

I'm so disappointed in AT&T and I'm even more disappointed in DirecTV. I have such a long story to tell about these two companies but I'm just so tired of repeating it. I will never go with these companies again. Bad customer services, inaccurate advertisement, and terrible service. Would not recommend this service to anyone and would not want anyone to waste the time I've already wasted. Lost so much time and money with these company. So glad it's all over with. You live and learn.

I received an invitation to join the network at a discount, however, I didn't realize that it was a DSL modem and needed a phone line which my complex did not have. I called the AT&T customer support and they told me to take the device to a corporate AT&T store which I did the next day. At the store I was told that they do not accept returns back and have a deal with UPS to receive returns. They said there was a UPS store across the street. I drove my car there since parking is strict in LA only to realize that the UPS store is closed. I then located an open UPS store, and when I went in there the guy said that their system is down and he cannot take the return. I have a very busy career and personal business and do not have time to run around down and call customer support over and over again. This is a nightmare.

AT&T as an ISP (Internet service provider) is just sad. Their wifi cannot handle 1 laptop and 2 wireless tv receivers without being slow. I'm a gamer I play competitive eSports so ping/latency means EVERYTHING. A good ISP would give me about 20-40 ping MAX. Whereas I'm lucky to get 50 ping with AT&T at 2 am with just my laptop (after I unplugged receivers) and god forbid a phone connects to the Internet goes up to 700 ping... 700 PING! 1 PHONE and I GET 700 ping not to mention just random spikes of ping when I'm home alone or up at 2 am. If I can say 1 thing about AT&T as an isp is they are so bad as an isp. I hate their phone/tv service. Charter over AT&T.
How do I know I can trust these reviews about AT&T?
609,643 reviews on ConsumerAffairs are verified.
We require contact information to ensure our reviewers are real.
We use intelligent software that helps us maintain the integrity of reviews.
Our moderators read all reviews to verify quality and helpfulness.
For more information about reviews on ConsumerAffairs.com please visit our FAQ.

I should have known I was in trouble when it took this company 6 days to do the installation. I have had service for 20 months and had repair at my home 18 times. I swapped a box once and was told 3 months later that I did not return the original box and was charged $168. I had my UPS receipt and proved to them 5 times the box was returned. It took 2 months to clear that up. Never again. I will be going back to Comcast in February. I was with Comcast for 26 years and never had a service problem. But the cost kept going up and I wanted a cheaper bill. I will gladly pay a little more to be worry free.

I accidentally overpaid my AT&T account significantly by almost $2500. I called after I discovered this and was told they would try and reverse my payment or send me a refund. I was told that I would receive an answer from AT&T within 2 days. Two days later I received no response so I called again. I was told there was no record of my call but was assured they would either reverse the payment to my account or issue me a refund check and I would receive the refund check in 5 - 10 business days. I was given a reference number to refer to for my records to verify the issue and track the overpayment of $2,580.
I called two additional times and was told my check was cut on October 5, 2016 and I would receive it within the same time frame. I called again on the 14th to check on the status. I was told that the check never was cut but that it was in processing. I still cannot get an answer as to when my check will be cut. These guys are crooks from Chairman Randall L. Stephenson on down and are committing consumer fraud. Stay away from AT&T. I guess I will need to file a complaint with the FCC and the Texas AG's office. That will be my next step on Monday.

Having problems with tv freezing up. I have 5 tv's hooked up to Uverse. Called for service appointment and talked to a Spanish (I guess) person named William. Told him what my problem was in detail and he suggested that I needed a technician to check into this and set me up an appointment for this afternoon. He was very professional and helpful. A good representative for your company. Right on time I got a call from a technician named Jon to see if I was home.
In a few minutes he was at my door and introduced himself. He discussed with me what his plan was to see what was wrong with my tv reception. He pointed out that some of my exterior equipment and connectors were outdated. This was because my neighborhood was close to the first in Arlington to have fiber optics. Well Jon went through all the exterior wiring and replaced the coax cable with CAT5. All through this call he showed me the noise content that was currently in my signal. It looked like a bunch of drunk ants on his device's screen. After his service, it showed a connected straight line, no noise! Jon did a knocked out job for me and I appreciate his attitude. THANKS JON.

Couldn't believe AT&T has turned so horrible in providing services. They have agreed a new service installation and given a date/time for service installation and they simply don't show up. I have wasted hours and hours leaving my work waiting for AT&T technician who never showed up and wasting hours and hours talking to multiple AT&T service representatives who doesn't even care about customers and no solution provided.

I had an issues with my bill from switching my plans. I called to discuss with a representative. First, it was hard to understand the person. She sounded like she was trying to figure out what word in the English language to use. Then when I was not understanding and she was not able to explain it to me, I asked for a Supervisor. She refused to put a Supervisor on with me. She would put me on hold for at least 10 minutes at a time for 4 different times. Every time I would ask to speak with a Supervisor and then she would put me back on hold and never get me the Supervisor. I was polite the entire time. I was standing my ground in requesting a Supervisor.
AT&T is providing a service and I am paying them for that service. I am the customer. They should treat me with better respect than that. I finally hung up after 30 minutes. I called again and spoke with someone else and finally understood my bill. I asked again to speak to a Supervisor just to complain about my previous incident. That person again did not give me a Supervisor to talk to and told me they do not have a Supervisor there. The Supervisor does not come in until 11:00 Central Time. We all know that if you have a business, that there are supervisor available. Needless to say, I will be changing providers when I am able to do so.

This is somewhat of a continuation from my Time Warner experience. I tried calling into order DirecTV, since I had to leave Time Warner/Spectrum. However, I get a sales representative for AT&T U-verse instead of a DirecTV representative. Long story short, I asked the representative for DirecTV cable with Wifi and the sales representative tells me I qualify and sets me up for an installment appointment the very next day. However, once the installer gets to my home, he installs Wifi and a phone through AT&T U-verse only.
I called in to tell AT&T to uninstall the service, because it was not what I'd asked for and they would not send their installer back out to uninstall the equipment. Thus, the AT&T representatives gave me the runaround for a week and just recently sent me a bill for service at 52.00; service I did not ask for and requested them to remove. Till this day, I continue to fight with them to reverse the charges, because they gave me service I did not originally request in the first place. "Bait & Switch Tactics" - watch out consumers the cable people are merging to take hang us all out to dry.

I was a Uverse customer for two years. I planned to move to a different apartment and since they don't have Uverse as their service provider, I decided to cancel the Uverse service. I called and scheduled the transfer for 15th of Oct. I saw the bill for the month of Oct has been charged for the whole month and I spoke with someone at AT&T over the chat and he confirmed that the connection is scheduled to be cancelled on 15th and I have to pay the bill in full and AT&T will refund the amount later.
This morning I see that I don't have internet. When I called AT&T I learned that they had scheduled it to be canceled on 11th Oct and not on 15th Oct as I had asked to. There was no email confirmation on the same, there was no instructions on how to return the device, which are the usual drill when a connection is canceled. After spending more than 30 mins on chats and waiting on calls and transfers I was told they need to run another credit check to put me back on internet. I have decided to live on my mobile internet (it's again an AT&T connection) for a few days since I can't afford another credit check for someone at AT&T put the dates incorrect. I will try not to move into any apartment of community that have Uverse from now on.

I have been with AT&T for two months and in these two months I have already had to call for 3 technicians to come and "fix" my internet situation. My "high speed" internet is slower than slow. The router they provided keeps dropping the connection and says I have no service! In order to reconnect, I have to disconnect the router for 30 seconds only for it to work for about a minute then it drops the connection. The 3 technicians that have came apparently "fixed" the problem but that is complete garbage. Then every time the technicians come, they make me seem like I have no idea what I'm talking about. Horrible service and horrible customer service! AT&T should not be an internet provider if they don't even know how to have running high speed internet.

Cannot even believe that a company, known nationwide and among the top competitors, is as disorganized and dysfunctional as they are. My husband and I literally moved down the street, not even a mile away and have had so many problems since our move. We upgraded when we moved 18mg to 45mg, we had a tech guy come out to install our new equipment. After about a week we noticed our internet was actually worse. My husband called, they said our account was actually canceled (we were never notified, and figured everything was okay and we had an account because you know SOMEONE CAME to our APARTMENT and INSTALLED EQUIPMENT?!?)
They then immediately shut down our wifi, and said "we will send a guy out on Monday" (that happened on Friday) to install our 45mg. My husband TOOK OFF WORK to stay home and wait for the tech WHO NEVER SHOWED UP! When we called they said the appointment was canceled...by who? Not by us, and apparently they don't know by who either. We have been on the phone for a total of about 4 hours, bouncing back and forth between people with No Results... and still no wifi after 2 weeks in our new apartment. BTW, we were still charged for all of this. I am a student in college who can't do their homework. I have to do it on my phone, which is making my phone bill through the roof!! FIND SOMEWHERE ELSE!!! Not worth it!

Using this company for two years is two years way too long. They did not have anything right in the beginning and they still don't have anything right now with their phone service, internet, and cable. None of these services are worth having for free much less to pay hard earned money for them. It will give you high blood pressure and anger issues to deal with them about anything even if you don't have any health or anger issues. They bring out the worst in people. Their product is good but their business sure needs some professional help from the product installation to technical repair problems with technicians. You can not just request a technician to come to your home you have to go through many a virtual operator before you can even to a human operators who then makes you do troubleshooting even when it's been done three times previously in the same day.
They set up an appointment for a half of a day for you to wait on them for them to only go to the wrong place and oops they're sorry you will have to start back at square one with an operator troubleshooting again. After two days of this I still have no internet or cable or no appointment to even be seen. This is absolutely miserable to deal with. Please take your money to company who will provide you with professional and dependable service and products because you Will Not get this from AT&T.

I have had the most MISERABLE experience with all aspects of the U-verse/DirecTV/internet customer service. First let me start with U-verse and DirecTV. After AT&T raised the price of my current U-verse package without notifying me, I decided to cancel my U-verse service. They suggested I try DirecTV. With a lot of hesitation, I decided to give DirecTV a try. I scheduled an appointment for a service tech to come and install the DirecTV. Taking time off work, I waited all day for the service tech to show up. The technician finally arrives 2 hours past the allotted 4 hour window and immediately the technician says he needs to reschedule. He said it was simply too late for him, it was getting dark, and he would not be able to do an installation in the dark. I let the technician know that I took time off work and rescheduling was not an option.
He immediately says that DirecTV would not be an option for me because there is a large condo unit next door to me blocking any kind of satellite signal. It seemed to me that he had determined that he was not going to perform the service that day regardless if it could be done or not. Highly annoying, but honestly, not unexpected when you're dealing with this sort of service. During this whole process of trying to switch/cancel my cable, my internet goes out. After calling technical support and them running all of the necessary tests, it was determined that my internet was not going to fixed and they needed to send out a new modem. An order was placed for a new modem and to my ignorance, I thought it was being sent. A week passes and I still have not received the modem. I call customer service and they say the order was never placed. They apologize for the inconvenience and say they will place a new order.
Seeing as my previous interactions with AT&T have been unfavorable, I called daily to check on the status of the delivery for the modem. Every day they told me the delivery was en route and would be delivered within the next day or two. Today I called and they told me the order was CANCELLED A WEEK AND A HALF AGO! How in the world could the order have been cancelled? I have spoken to someone at AT&T customer service nearly every day for the last 2 weeks!
I have wasted over (no joke) 10 hours on the phone with AT&T customer service and I am at my wits' end! In my 38 years of life on this planet, I have never dealt with such incompetence and lack of regard for a customer's time. It just feels horrible to know that when you are speaking to someone in the supposed 'customer service' department, your words are falling on deaf ears and you are unable to trust that the work is going to be completed as ordered. BEYOND UNHAPPY.

I relocated from San Francisco to Fort Lauderdale. I was told to keep my equipment and that I will be able to use the same at my new address. Apparently, San Francisco did not know the Fort Lauderdale rules. I was told by FL to return the equipment. The timing was off and AT&T charged me for the equipment. My tracking confirmed that AT&T received the equipment in July. When I contacted Customer Service, they told me that I will receive the refund in August. I was told by multiple reps in my follow up calls (many conveniently disconnected) that I will receive the refund. 2 months later and still nothing. What do I do next? I will be sure not to subscribe to DirecTV/AT&T Uverse once I am out of my lease. We need to prevent these companies from getting too big by petitioning our congressmen. I am done with AT&T.

We recently took AT&T up on an ad that was sent out for "The Ultimate Bundle" "Bundle 3 great services from AT&T for the Same price, every month, for 2 years - guaranteed!" It included DirecTV, High Speed Internet and Home Phone (25 + features including unlimited local and nationwide calling). We switched from DISH to get this bundle. We already had AT&T and "not very high speed internet." After dropping DISH and having DIRECTV Installed, and many phone calls and talking to MANY people at AT&T, we were told we do not qualify for that Bundle because we don't have U-Verse. We can't have U-verse because they haven't run the cable for that in our area yet. (It's not my fault that we don't have the cable in our area).
So, now, we are paying much more than we thought we'd be paying when we decided that their ad looked good enough to switch to. Instead of paying about $108 per month, plus taxes, on ONE BILL, as advertised, we're paying about $146 per month, and on separate bills from AT&T and DIRECTV. AT&T was no help at all through all of my phone calls. On one phone call, I talked to 8 (Eight) different, then was told someone would call us back tomorrow. Tomorrow never came. I'm checking to see if anything can be done about this. Or if not, are there any class action lawsuits concerning this type of false advertising that my husband and I can join in on.

I am very dissatisfied with AT&T customer service, and loyalty department. I was offered a discount promotional rate for home internet back in May 2016 and they never honored a promise. After spending hrs talking back and forth with representatives and account manager who was not helpful at all, I finally had to cancel my account. AT&T lied to me disrespected me and took advantage of my trust in them. Very unreliable and low trained service and company.

I cancelled service with AT&T U-verse and returned to Comcast. My Comcast service couldn't start until my contract was over, which was 8/26/16. I just checked my email from AT&T and they are charging me 239.77 for the month of September. I called and told them I was going back to Comcast in July because of their on demand service. They only have certain channels that offer on demand, where as Comcast have all channels on demand. I returned the equipment and paid the last bill and they are charging me because they say, just because I called and told a customer service rep I will be cancelling, I should've ask for another department to cancel. What sense does that make if you no longer have their service or equipment.

I've been a customer for over 10 years with AT&T and unfortunately have multiple accounts/services with them. They have not been able to consolidate my bill and continue to charge for closed accounts/services. I've spent the last 4 weeks, over 5-6 hours on the phone with multiple representatives and/or "supervisors" whom claimed they were going to make sure my accounts were charged properly and credits would be issued. They said they would call me back when the issue was resolved; I am yet to receive that call. I am at a loss, they cannot resolve my issues and no one wants to take accountability for their unfair practices. I've also requested a name change since I have been divorced for 3 years, this small request has also yet to be made.

I recently moved my ATT service from old address to new address, I was told there was not a new contract by moving. My new address did not have ATT U-verse TV available, so I called and was going to terminate, a manager asked me if I would try DirecTV. I said yes, scheduled the install and again I was told that DirecTV could not be installed at my address, so I cancelled. ATT is now charging me $150.00 early termination fee for a service I never received. Customer service can only say that the early termination fee can not be removed, they are liars and thieves.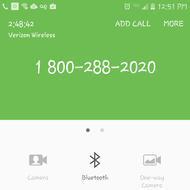 I was very happy with Uverse for the first two years.. Ever since they became partners with DirecTV it is horrible customer service. There's a lot of fees they add on to your service without giving a reasonable explanation!!! They give you false information to convince you to stay. And when the next bill comes in you have a bunch of overages on the account that they can't explain... And they'll transfer you to different reps saying they can't fix the problem and keep you on hold for 2 hours and 50 mins!! They apologize, but you would still have to pay. Thank God my cell phone contract is through Verizon. As soon as my AT&T-DirecTV bundle contract expires I'm done with them!!! They should seriously be sued!!! Taking advantage of people that way is just awful!

I have ATT DSL Internet service for the past few years. First, The DSL cable outside of my house was on the surface, it is visible from the cable box to my house junction box. I asked ATT to bury the cable. The technician came and gone twice, the cable still on the surface and visible. Second, I am out of ATT internet service for the past week, ATT posted the repair completion time, but it changed from one day to another, and no ending in sight. The ATT internet service is so bad, they should be out of this business. Let someone else takes over ATT internet business.

For about a year our U-verse internet connection was great. Now it's off almost as much as it is on. I call it in and after about 10 minutes dealing with artificial intelligence and I finally talk to some of the nicest people who can't help me because the problem isn't on my end. They tell me they are aware of the problem and are working on resolving it which they might or might not resolve it for days and weeks, or apparently never. Believe me I am just waiting for Att alternatives in my area and we will part ways with ATT. U-verse is a half step up from Suddenlink.

I called AT&T yesterday around 8 am because I noticed the CW was not appearing in my list of channels, which is odd considering in the Toledo area it is a local channel. I watch a LOT of CW shows. I called and spoke to a sales rep. She could not figure out why it was not appearing. We got talking and she asked me how much our bill is each month. I explained to her that I was going to ask about my bill because it has not been a consistent price and it has never been the price I was told when I signed up. She told me that she could save me a good chunk of money because AT&T was running a new promotion… for $89.99, I would get U-Verse internet and change my TV to DirecTV. I was VERY skeptical. My family and I moved in June and before that we had DirecTV and U-Verse internet and it was WAY more than $89.99 a month. One of the reasons we switched everything over to U-Verse was because it would save us money.
Anyway, I asked a bunch of questions, double and triple checked to make sure the pricing was correct. She promised me that it was. She went through all the details and discounts that I would receive. I agreed to the contract, the only thing changing was that we were changing the name on the account to my husband's name instead of mine because he was handling the bill. We finished and she set up the installation for DirecTV for Saturday. She said the only thing I needed to do was to call DirecTV and give them the account number so that the bills would be consolidated. I called DirecTV and spent roughly 10-15 minutes on the phone with another rep. She could not locate the new account and could not find my husband's name either. I was at work and I asked how much longer it would take. She took down my information and promised to call me back at noon when I was on my lunch.
I waited until about 12:15 and never got a call. I called back and spoke to another AT&T rep. She explained that they put my husband's name in backwards and that there was a hold on the account because in order to consolidate the accounts the U-Verse account needed to be in my husband's name and it was still in my name. (We were never originally told this.) The rep sent me a link to "transfer responsibility" to my husband. Once I completed that, I had to call back and verify that it was complete and get the new information. Once I got ALL of that done, I had to call DirecTV back and give them the information to consolidate the bills. This is where it all went downhill.
The DirecTV rep told me that the original AT&T rep that sold me the new package did not have the authorization to give me the discounts that she did and that DirecTV would not honor the discounts that I was promised. If I chose to keep the package they offered, it was going to cost me $20 more than I'm already paying and it would be for less channels! I told her to cancel the DirecTV order. I called AT&T back because after spending ALL day trying to get this figured out because I was back to square one. I also had to call and make sure that my U-Verse wasn't going to be disconnected. The rep I spoke to told me that my account number also changed and that the original rep never put in a disconnect order. He told me he could not help me with the channel and suggested that I call the sales department.
The automated phone system sent me to 3 different people before I ever got to where I needed. Finally I get to talk to another sales rep and I ask her why the CW isn't available. She couldn't figure it out either. She saw where it was channel 14, but didn't know why it wasn't showing. While she's trying to figure it out, she had the audacity to try and sell me ANOTHER package. Are you kidding me!? Stop trying to sell me another package and fix the one I have! She talked to a specialist and they told me that the reason it was not appearing was because they were currently in "contract negotiations" and she didn't know how long it would take to come to an agreement. Then I asked what they were going to do about everything that I went through. (Everything that happened was noted on the account.) I told her that I wanted my bill lowered like I was promised. She said she couldn't do anything.
They lowered it a whopping $10 but that was because of the "discount" we got for changing the name on the account to my husband's. After all the hoops I had to jump through yesterday it's ridiculous I was not offered a better discount. Last night I decided to do some research on the contract negotiations with AT&T and the CW. Come to find out there are no contract negotiations. I was lied to, not once, but twice. Yesterday and the day I signed up with U-Verse. U-Verse has NEVER offered the CW. When I signed up with U-Verse I specifically asked for that channel because we watch so many shows on that channel. I'm LIVID. I called today and talked to another sales rep and she informed me that my research was correct and that the CW was only available on DirecTV. To top it off, my internet was down for a while last night. I have been continuously lied to by this company. I have had promises made and AT&T has not kept up on their end.
I'm sick and tired of how this company treats its customers. Also, AT&T and DirecTV need to decide if they are going to run as one company or two separate companies. Right now you are basically running the companies separate, but intertwining deals and apparently your sales reps don't know who qualifies for what discounts or what discounts they are supposed to be selling. I'm angry by the events of yesterday and for the complete and utter lack of respect this company has for its customers. I will make sure all of my friends and family know about the kind or should I say the lack of customer service that AT&T offers.

This service was ok initially but after my promotion ended and I wanted to end my service, this company gave me HELL! I have literally talked to anyone who would listen and I was either hung up on or transferred EVERY single time! My bill went up 100 bucks and I was not willing to pay! Finally we agreed on a new rate and I literally did not have a single channel I watch on tv! They were rude and OBVIOUSLY very MONEY HUNGRY! I will NEVER use this service again!!!

We installed the AT&T Uverse service a month ago. During the installation process, a very friendly and helpful representative, Rachael, told me that the $99 installation fee would be waived. Not surprisingly, the fee showed up on our bill. When I called a representative today, I was told that she had no indication of the fee being waived in the notes and proceeded to tell me how the earlier representative should have taken care of it and almost sounded exasperated that she had to take care of it.
After a lot of fuss, she said she finally waived the fee and transferred me to the automated service to pay the adjusted amount due. Turns out she never waived it at all! I called customer service again and this time the person tells me that it's there in the notes, but the fee was not waived. Again, there was a problem with the automated payment and I had to call customer service for the third time and yet again I was in conversation with an extremely rude representative. I spent an hour talking to customer service about something that should never have been an issue to begin with. I have finally paid my bill, but this was an extremely frustrating experience (usually is the case with AT&T customer service).

I am posting this here because I have not been able to find how to post a review ON AT&T's site. I have been an AT&T internet and TV customer for years, approx 6 at this house location alone. In 2015 when they went to raise my U-verse rates by $60/mth without any sort of "improvements" to justify the price increase, I called to see if they could give me a better deal. The rep talked me into going with DirecTV with a 2 year contract with lower rate the first year, but was assured, that "They have already been told you could go back to U-verse as a new customer at the end of that first year."
Well, 10 days into the DirecTV service I lost the signal 7 times - all weather related - leaving me without a way to watch for violent weather. I decided to call and see if I could switch back and just pay the higher cost. Day 14 was Sunday. Thinking they wouldn't be open (1st mistake), I decided to call on Monday and then ended up calling on Tuesday.
AT&T told me I had to call DirecTV, and that no they would not charge me to cancel and GO BACK TO U-VERSE - this is very important. DirecTV was very quick to point out: If I had called by day 14 I could cancel and go back to U-verse no problem. But on day 16 they would charge me $480 to go back. I asked why I would pay almost $500 and still stay with AT&T? I didn't get a good response, so I can assume they haven't been asked that question before. I should also note that the email contract I received stated if I cancelled it would be $15/mth fee or $360. She told me No, my fee would be $20. She didn't have a good response for why my email was different, even when I read it to her. Not cancelling then was my 2nd mistake.
I Sat out my year, calling every time I lost service - they have a record of it!! I called when the year was up to change back. Rep stated I may have to pay $240 cancellation fee. I told him "no. I was told I would not." He asked someone and told me they would waive the fee. I signed up for U-verse. It was not installed correctly: they cancelled directv day before installing U-verse vs on the day, wasn't hooked to surround - what 20 something doesn't hook it up to surround sound? I had to re-route everything, it did not have the HD channels I ordered, and did not show channel 11 (the only reason I was paying for service).
I called back the next day when I got an email bill stating my first month would be $460+ to get an explanation. Jennifer was the first rep in all the conversations I had with AT&T would sounded like she was actually concerned about all of this. She submitted a case ticket. Told me to wait to hear back from them in 7-10 business days before making any more changes (turning on the HD).
Day 7 I get a bill from DirecTV for $194 to pay the cancellation fee. It had a service credit accounting for less than $240 charge. I called AT&T again. "Do I really pay this?" I ask the girl to put a note on the case ticket that if I did not hear from someone by the 10 day, I would cancel U-verse. I never received a phone call. I called that Friday, cancelled the service and was assured that my internet would not change. It has.
In all of this - AT&T has failed. I have talked to people in Texas, Arizona, California, and 2 other places. This is just in the last 2 weeks. All but one of them said the same thing: U-verse and DirecTV are owned by AT&T. You do not pay a cancellation fee to go from one to the other. I called again yesterday - got my U-verse bill and it was almost $200 because they added a DirecTV bill on that I had paid on the last months bill. That gentleman is the first to state that everyone else was wrong and you would pay a fee to cancel one AT&T TV product and go to another. The guy I talked to when I cancelled said that everyone else was wrong about the fee - they were new and didn't have all the right AT&T information.
AT&T offers 2 versions of TV service. They sell them both on their website. If a customer is dissatisfied with the service and reception they have received they should be willing to continue to keep that customer by giving them the more reliable service. I understand and agree if I had just wanted to cancel altogether, paying a cancellation fee would be expected. (That fee is too high, and is used solely to force people to keep the service.)
However, that was not the case. Their failure has cost them a customer. I plan to never use AT&T for TV service again, and I am going to shop around for internet service. If I thought it would do me any good to try to arbitrate any of this I would. They failed in their obligation to me as a customer. I'm pretty sure that contract states that they owe me something even if it was a get out free card. I will point out that I also have AT&T cellular service and I have NEVER in the 22 years I have had it, had issues anywhere close to what I have had with their TV service.

I called AT&T when I recently moved to bundle my internet service and cable TV with DirecTV. When they came out to install it, the only option was to place it in the middle of my yard. That doesn't work for me and it was cancelled before it was ever set up. After it was cancelled, I started receiving calls to activate my service and then I started receiving bills. I have spent hours on the phone, I have been transferred numerous times to no avail. On one phone call alone I was transferred 6 times! Several AT&T employees said I didn't have an account with them but now I am receiving disconnection notices for a service I don't have. Very, very frustrating. I would never recommend AT&T, the customer service is the worst I have encountered.

ConsumerAffairs Research Team
The ConsumerAffairs Research Team believes everyone deserves to make smart decisions. We aim to provide readers with the most up-to-date information available about today's consumer products and services.
AT&T Uverse Internet service is provided by AT&T, one of the oldest utility companies in the United States. With over 10,000 patents and nationwide coverage, AT&T offers various Internet, telephone and satellite options to customers all over the country.
Online orders: Customers can order services directly from the AT&T Uverse website. Available options are based on zip code and street address.
24/7 support: Uverse technical support is available 24 hours a day via telephone, and live chat is available via the AT&T website.
Reliability: Users get a dedicated line with steady services and little variability in speed, even during the busy evening hours.
Easy switch: Moving from another company to AT&T is simple and quick as the company offers coverage to the majority of U.S. addresses.
On the go mobile viewing: Subscribers can download the Uverse app to view live or recorded TV straight from their mobile devices.
Best for Those who need a reliable connection for news, information and homework help.
Compare Internet Service Providers
AT&T Uverse Company Profile
Company Name:

AT&T

Year Founded:

1983

Address:

208 S. Akard St.

City:

Dallas

State/Province:

TX

Postal Code:

75202

Country:

United States

Website:

http://www.att.com/